Rent A Beach House In Lincoln City – Perfect Getaway For Families!
This post may contain affiliate links and I may be compensated for this post. Please read our disclosure policy here.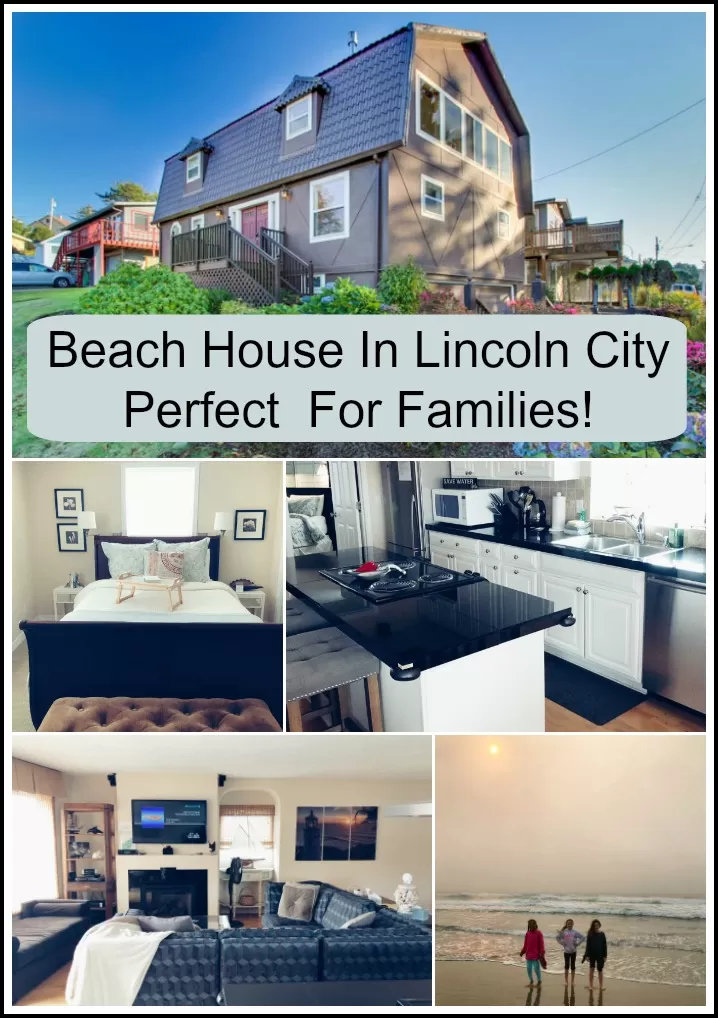 We recently headed down to Lincoln Beach on the Oregon Coast, for a girls beach getaway vacation, before school started. We had so much fun, and stayed in the most beautiful beach house. There were three generations of ladies that enjoyed this getaway, and it is a perfect idea for a multi family stay as well if you want to save some money.
We actually stayed in a hotel just across the street on the other side of the 101 last summer, in this same location, so it was nice to compare doing this trip in a hotel verses a rented house. While we enjoyed our hotel stay, my family preferred the beach house experience much more. The beaches of the Pacific Northwest Coast can be on the cooler side (we had a beautiful 80+ degree day, but that is not always the case), so I really enjoyed having a spot we could come back and comfortably spread out, and even get the fireplace going if we wanted to. It also helped us to save, by not having to eat every meal out (we cooked most of them in the fully equipped kitchen of this home). I loved being able to plan day trips out, spend time at the beach, and then have a cozy home to come home to at the end of the day (or for mid day breaks). It made it much easier with kids, as we were able to have more space and things to do back at the house.
All in all, we love the Lincoln Beach area, and have provided lots of ideas on what to do in the area for families here, as well as some details on the beach house we rented, in case it is a good fit for your family too (it was amazing)!
Save 20% off a Stay in this Wecoma Beach House, in Lincoln City, with this special promo code for Thrifty NW Mom readers!
We have a special promotion available to help Thrifty Northwest Mom readers saved on this amazing beach house in Lincoln City, when you book through Meredith Lodging. Just use coupon code WECOMA20 to save 20% off your stay!
Here is how to get the extra 20% savings:
Head to the Meredith Lodging website here, and select the Wecoma Beach House (in Lincoln City).
Select the available dates that work for your families travel.
Use promo code WECOMA20 to take an extra 20% off your stay total
The Beach House:
We stayed in this Wecoma Beach House, courtesy of Meredith Lodging. This home sleeps 9 people, so if you have family or close friends you like to travel with, this is a great option to share and split those costs.
This home is located a couple of blocks off HWY 101, in Lincoln City and was just a few blocks from the ocean (you could see the ocean from the living room).
The home was spacious (space for kids, pets and adults!), and was well equipped for everything we needed during our stay.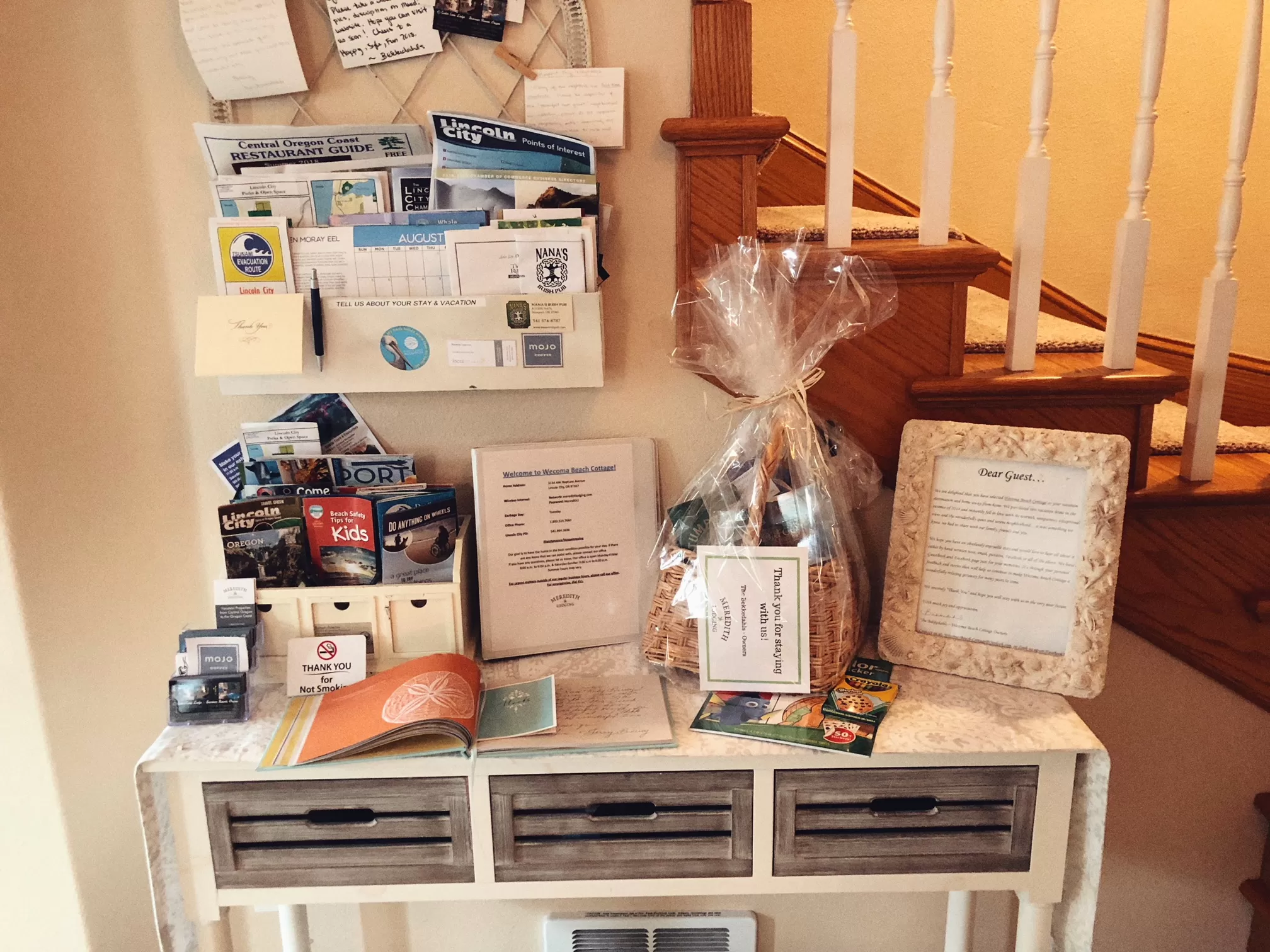 Prior to arrival you are provided a code to get in and out of the house, making it really convenient no matter what time you arrive. As you enter the home, there is this table stocked with local flyers and information about what to see and do in the area, as well as event listing, restaurant guides and much more. This was a super perk, and I have not seen something like this in many homes we have rented before.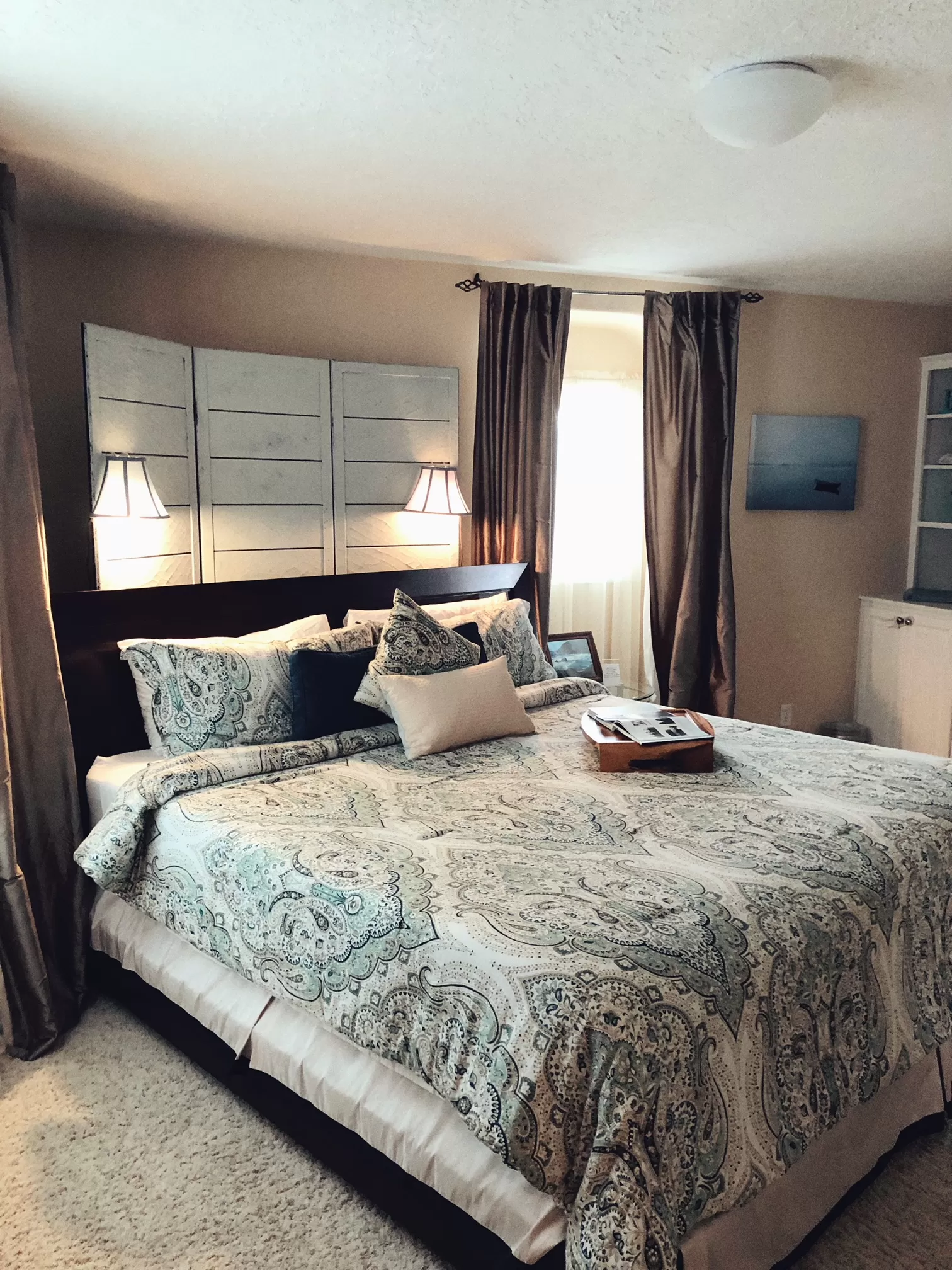 This home can sleep up to nine people, making it ideal for two families to go in on together. There is a master upstairs, a room downstairs, and a kids room that can easily sleep 4 kids. There is also a spare single bed in the closet upstairs that can be set up, or a porta crib too, if you have a little one.
Here is a picture of the Master bedroom (which had a walk in closet and bathroom off of it). The bed was so comfortable and I know I was not the only one to think so as many commented in the guest book about its comfort. It was wonderful to fall into this bed at the end of a day exploring the area and enjoy a great nights sleep.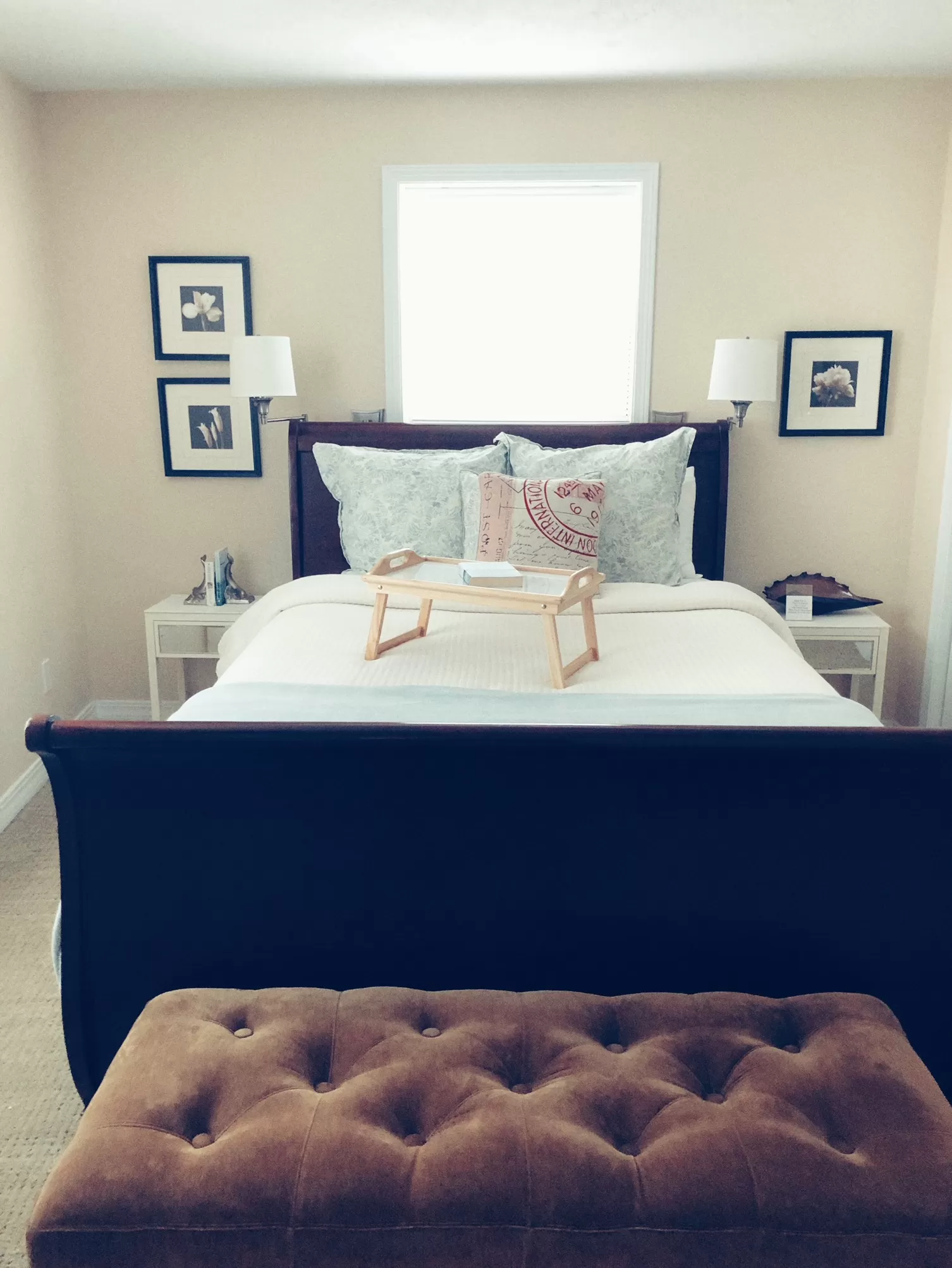 This is the guest room downstairs next to the kids room. It also has a comfortable bed and there is a bathroom downstairs too, so it is very comfortable.
Then there is the kids room, which my kids loved! There is this bunk bed, that has a full bed on the bottom and a single on top. There is also another single bed in the room, and a table that the kids can color on or play with toys etc. They even had it set up with fun stuffed animals, and a dresser if the kids want to unpack (or a closet if they want to keep their clothes in there). I loved that the kids had a space that they loved.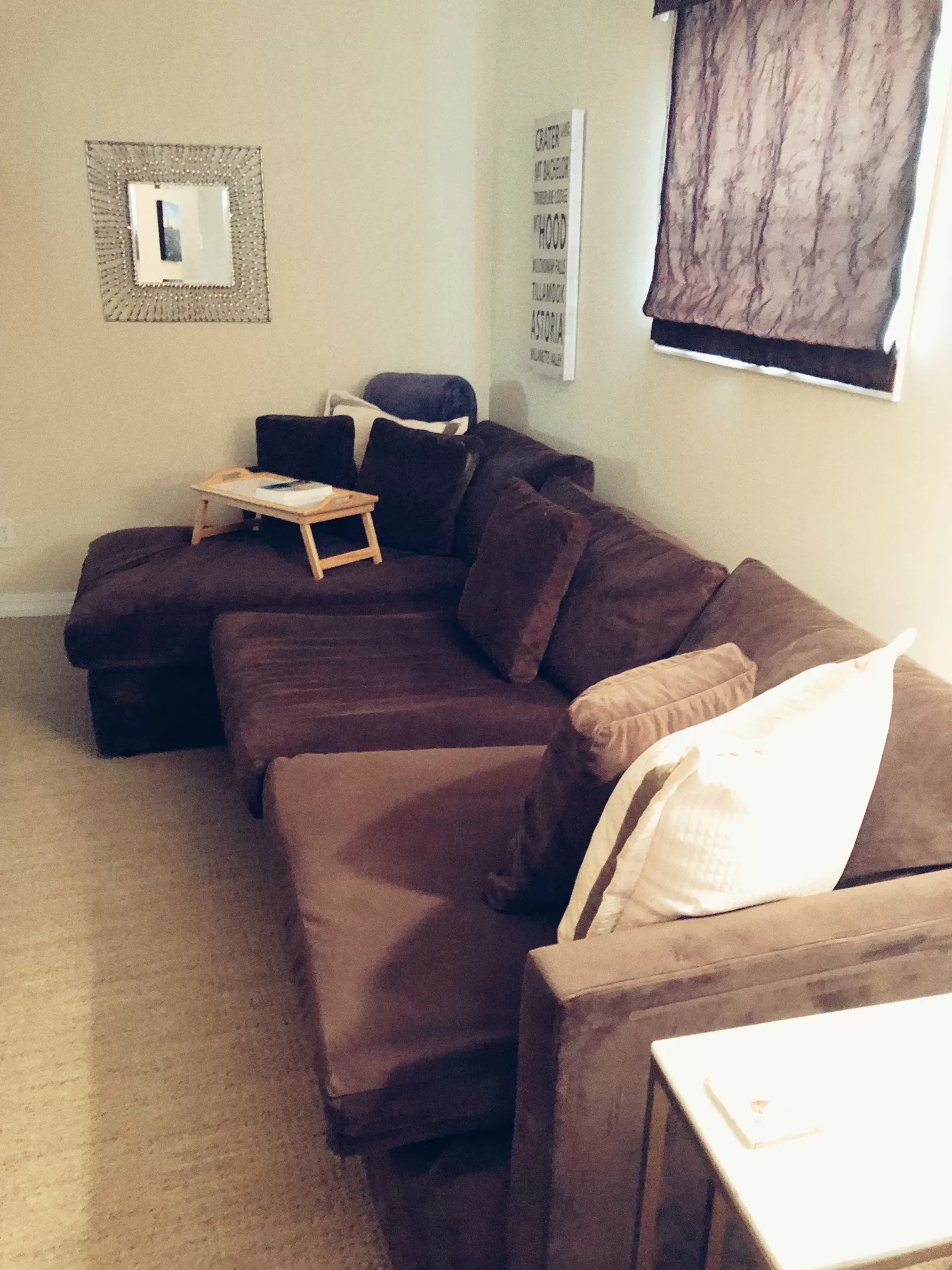 There are two living room spaces, both set up with a tv that has Netflix and On Demand movie options if you like to have movie night at the end of the day. They also have stocked the home with some board games, so you can set up a game night too. There was a living space down stairs (shown above) and one set up off the kitchen upstairs (shown below). This was ideal if the kids wanted to unwind to a show or play a game downstairs and the parents are able to relax and converse upstairs.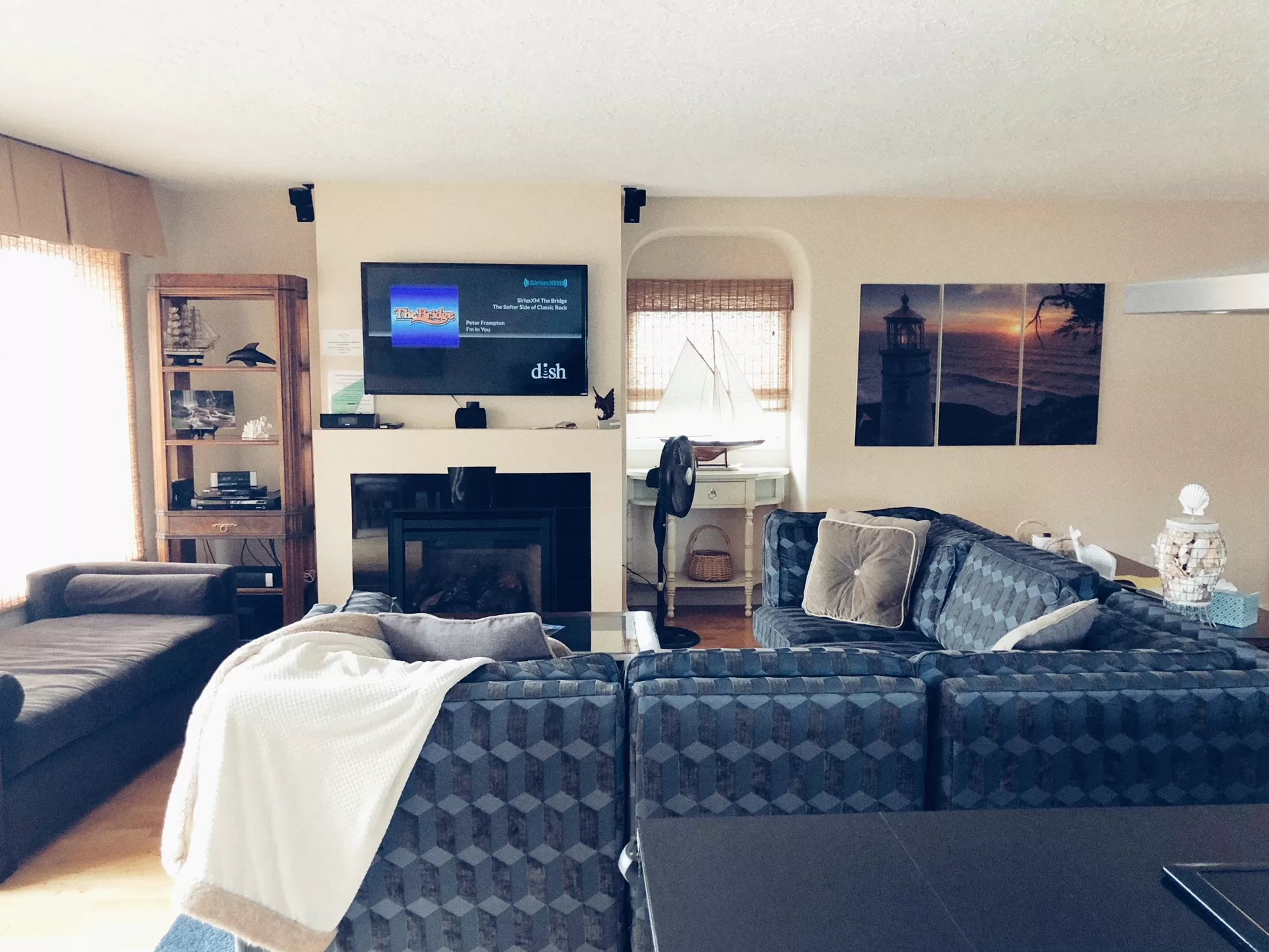 The main upstairs living space is open concept. The windows here have an ocean view when the clouds are not blocking it!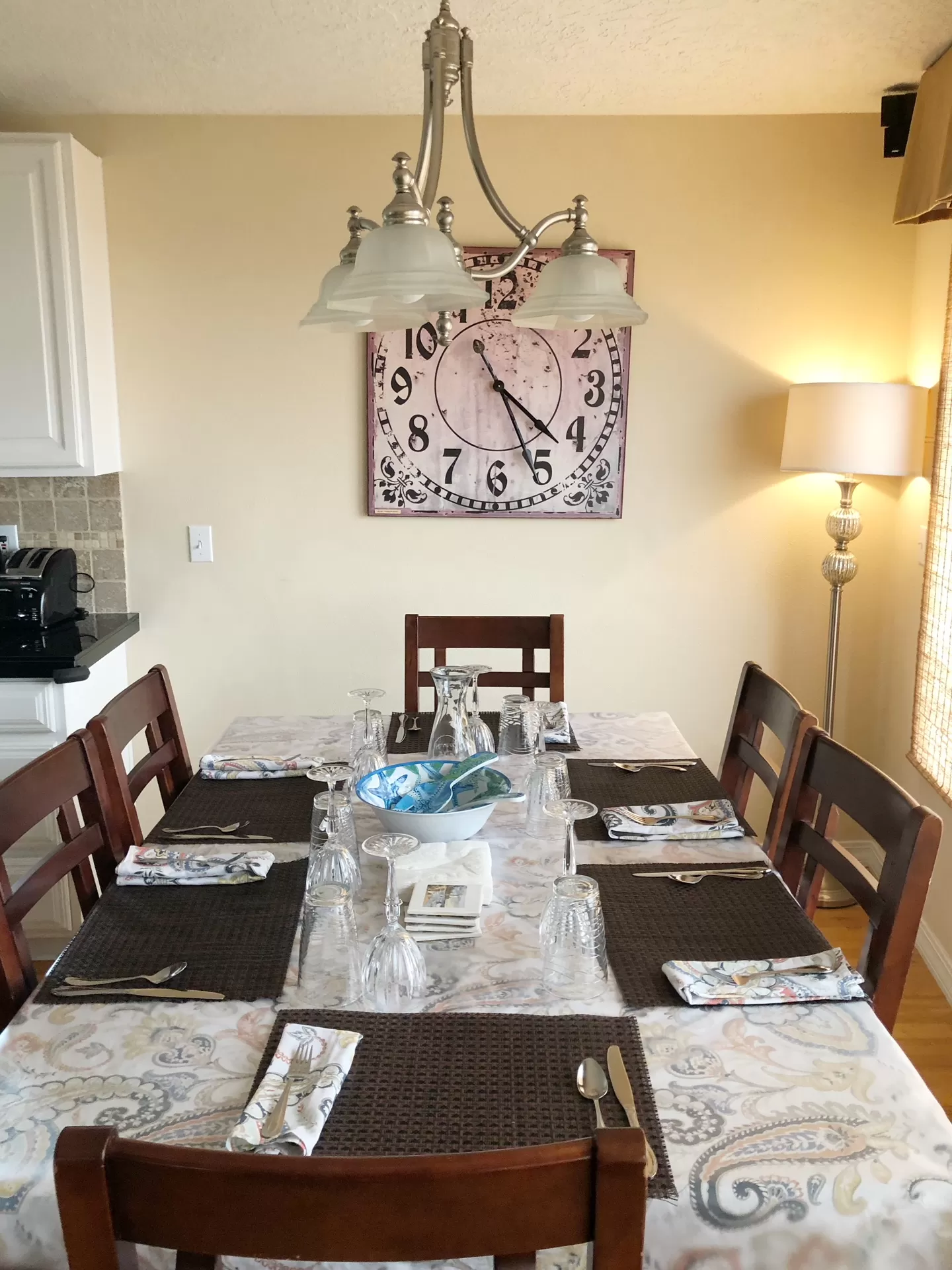 Plenty of eating space in this house! There was a kitchen table, a game table and a bar area, so you could easily sit over 10 people for meal times in the home.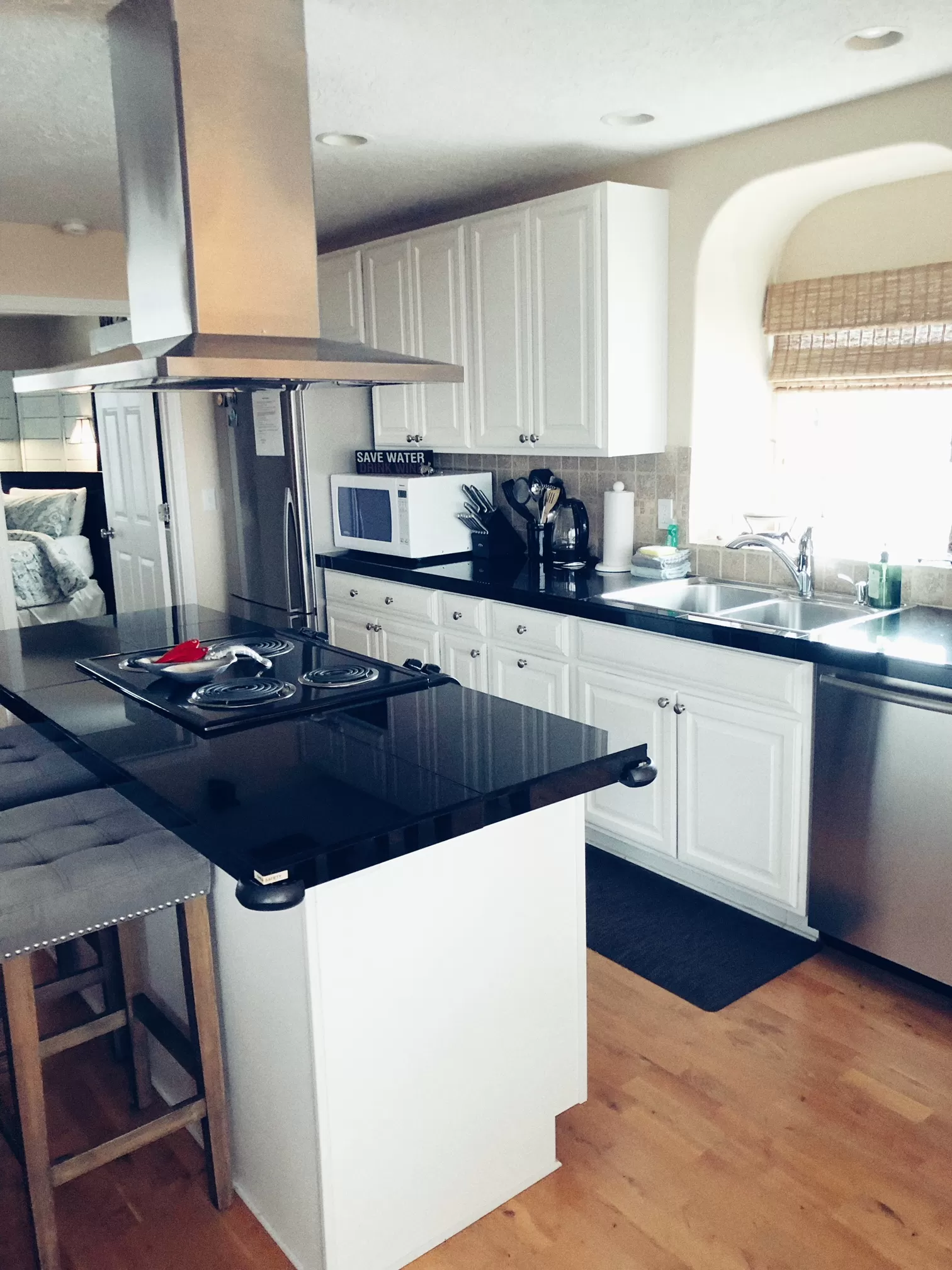 We loved the kitchen area in this vacation home. It was stocked so well, which can save you space packing. Don't worry about bringing a crockpot or spices, they have all that waiting for you in the home (along with standards like dishes, silverware etc.). They even have a filtered water pitcher in the fridge for tasty drinking water and chilled mugs in the freezer we used to make root beer floats!
We packed a cooler with our regular weekly groceries that we brought down and were able to save big on our eating costs by eating more of our meals in the home. We splurged on a couple of meals out, but ate most of them here. Last summer, when we stayed at the hotel, we had to eat each meal out, and spent quite a bit more of food. There is a small convenience store in walking distance from the home to take the kids to for a treat or if you forget to pack something, as well as grocery stores in town if you want to do your shopping here. I planned a couple of crockpot meals and would throw them in before we headed out, and then dinner was ready when we came in from the beach without a ton of work required on my end. Cereal for breakfast and sandwiches for lunch kept things simple so I did not feel like I was stuck in the kitchen, but still saved on eating all the meals out.
The entire front of the house was lined with picture windows that provided an ocean view when the clouds where not covering it. It also kept the house nice and bright.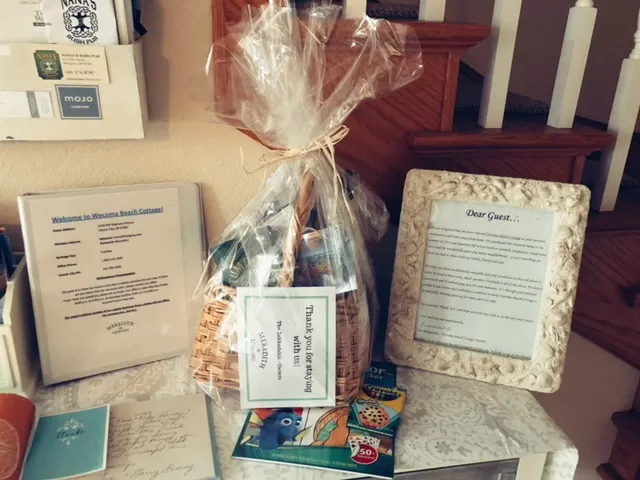 Something that stood out about this home immediately, was the extra lengths they went to, to make sure your stay would be comfortable. This home had so many "extras". I have never stayed in a a rental home that had provided so many comforts for our stay. It felt like home away from home!
Some examples include: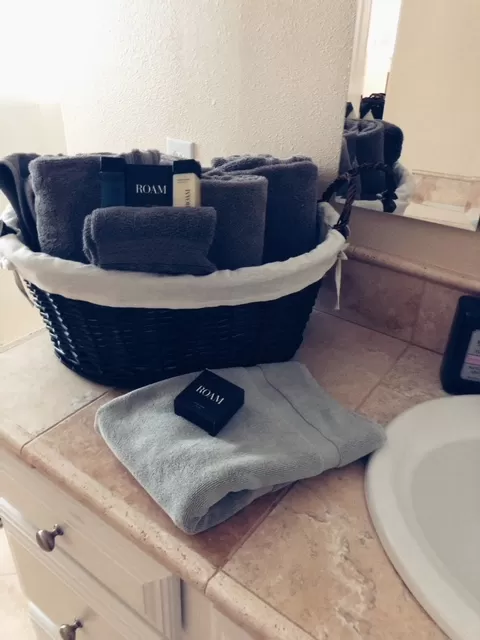 Plush towels to use were a nice plus!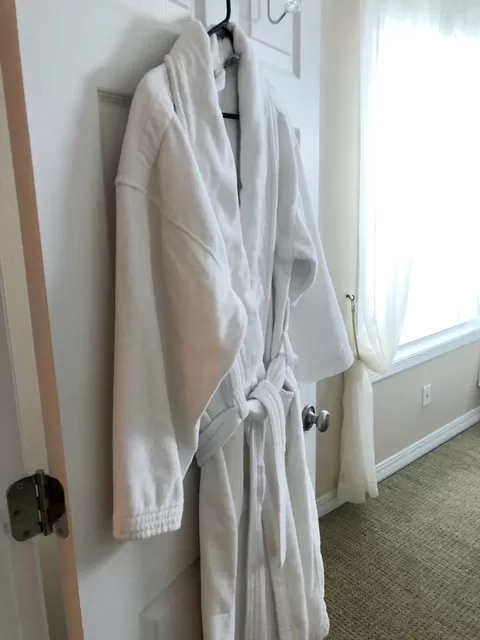 Bathrobes and the extra comfort of the beds, and so many supplies for pets are examples of other extras you will find here! Cupboards stocked with not only dishes, but also so many seasonings and a beautifully set table are more examples. They really did think of everything, making for a super comfortable stay!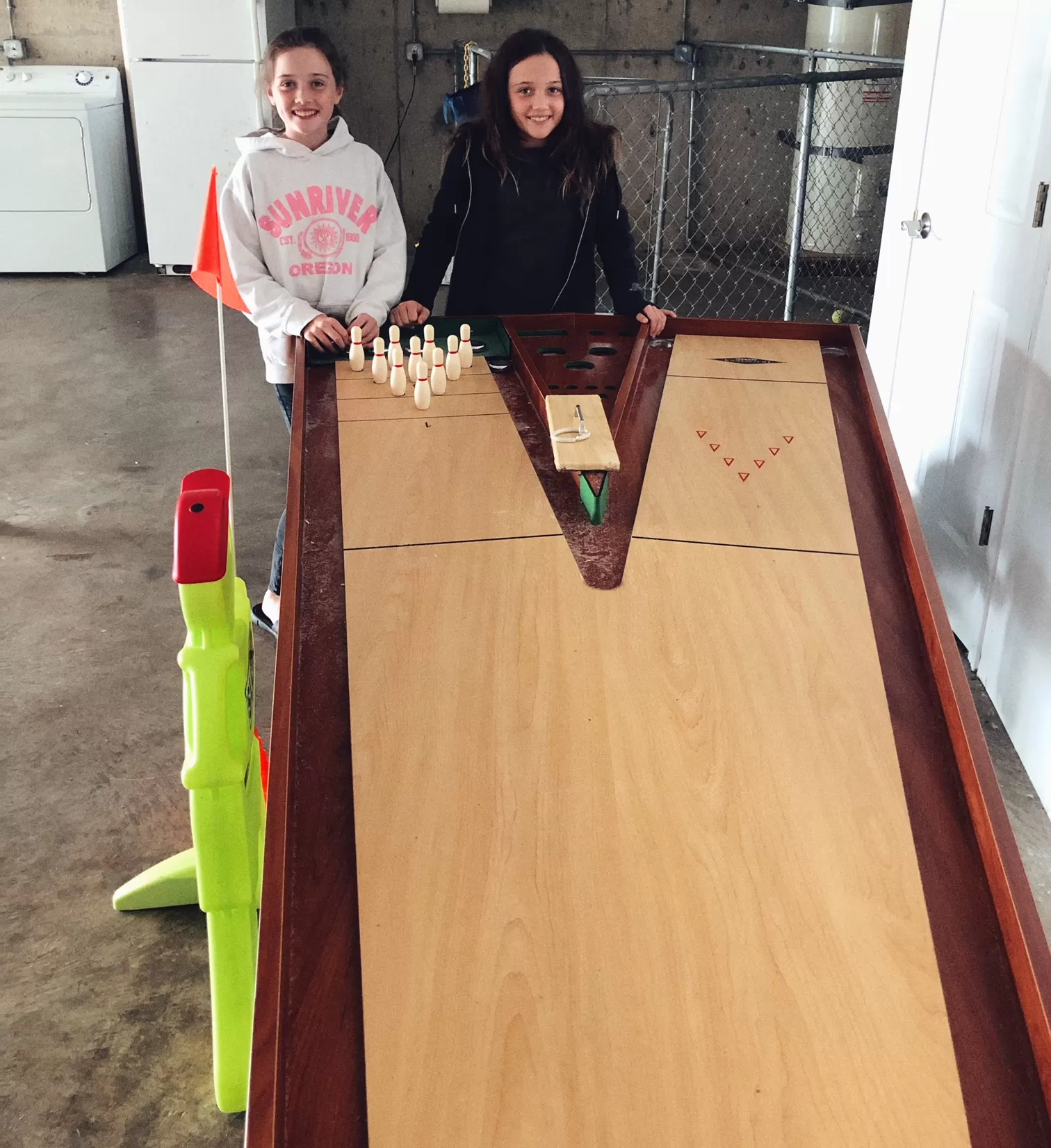 There was a nice large garage that they had this game set up in. The house was also the most pet friendly home I have ever stayed in, if you travel with your pets. They had a kennel in the garage for larger pets or one in the laundry area for smaller pets. Because they kept pet areas centralized in these locations, the rest of the house did not smell like animals if you are not traveling with them.

We loved that the home was set back off the busy 101 highway, but still close enough to walk to the beach or a few restaurants/stores. It was in a quaint little neighborhood that we walked daily and had no problems. There were also a handful of restaurants that we felt were in walking distance, so we did not have to get in the car much after a long drive there. And we always walked to the beach. I loved that!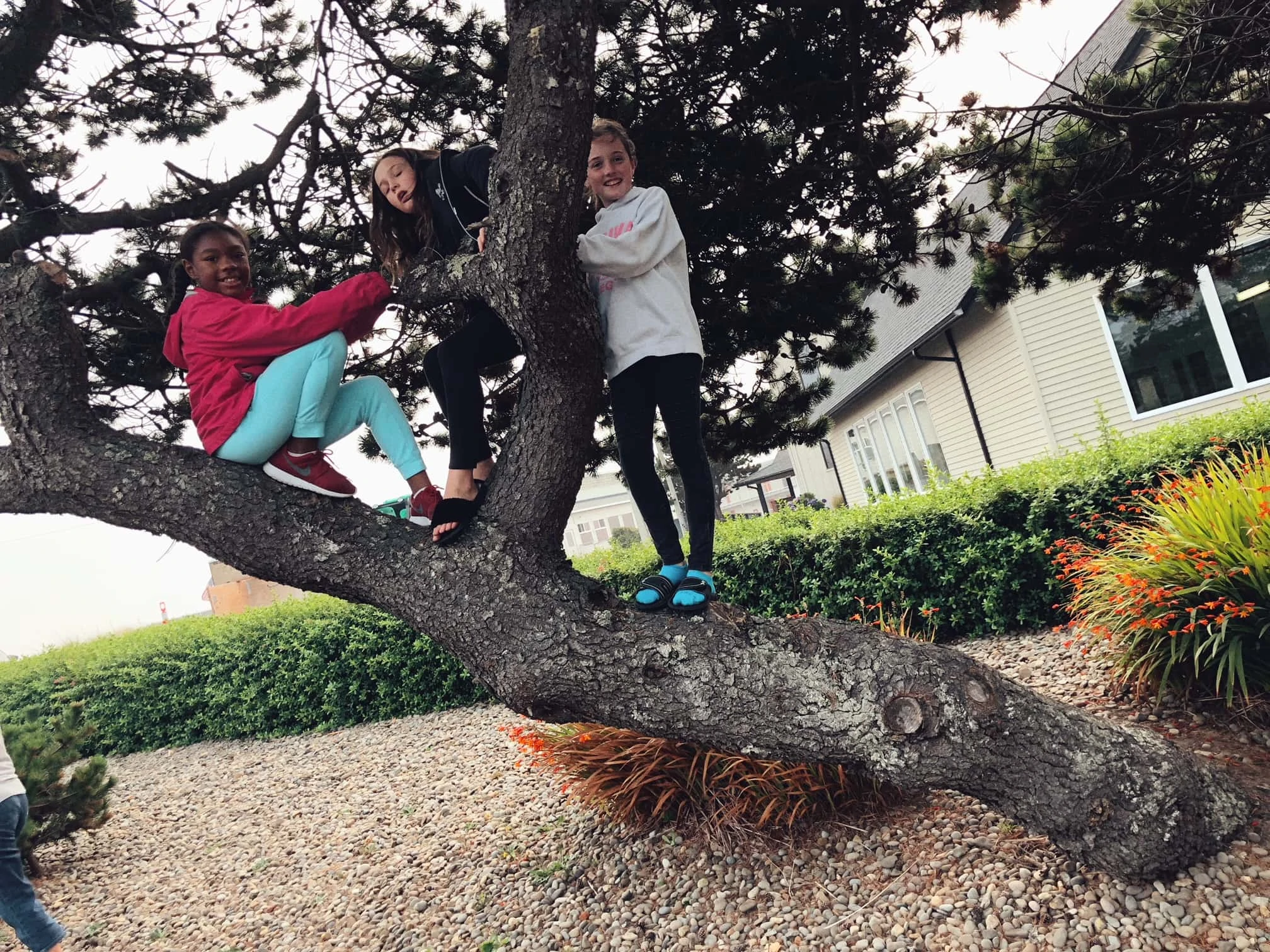 There is a park about a block down the street, with some playground equipment and some beautiful trees. There was a basketball court as well if you want to take the kids out in the afternoon to get some energy out.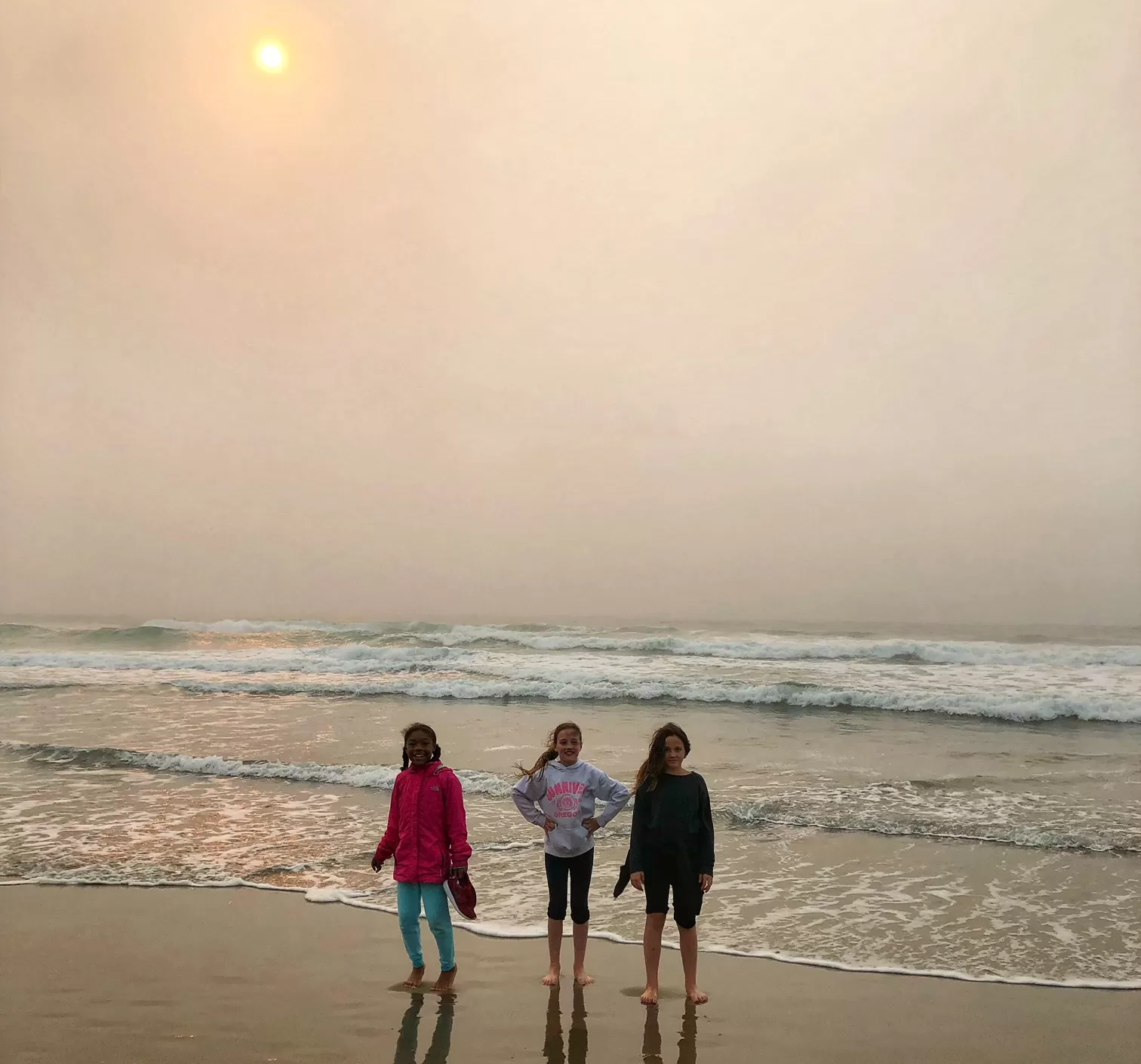 Of course, the best part of this beach home was that it was in walking distance to a beautiful beach. During our stay, we had 80 degree weather and windy weather and it was all great beach weather. The kids ran in the waves on the warm day and dug in the sand. And on the cooler days, they flew kites and chased waves. We visited the beach more than once every single day we were there and it was wonderful.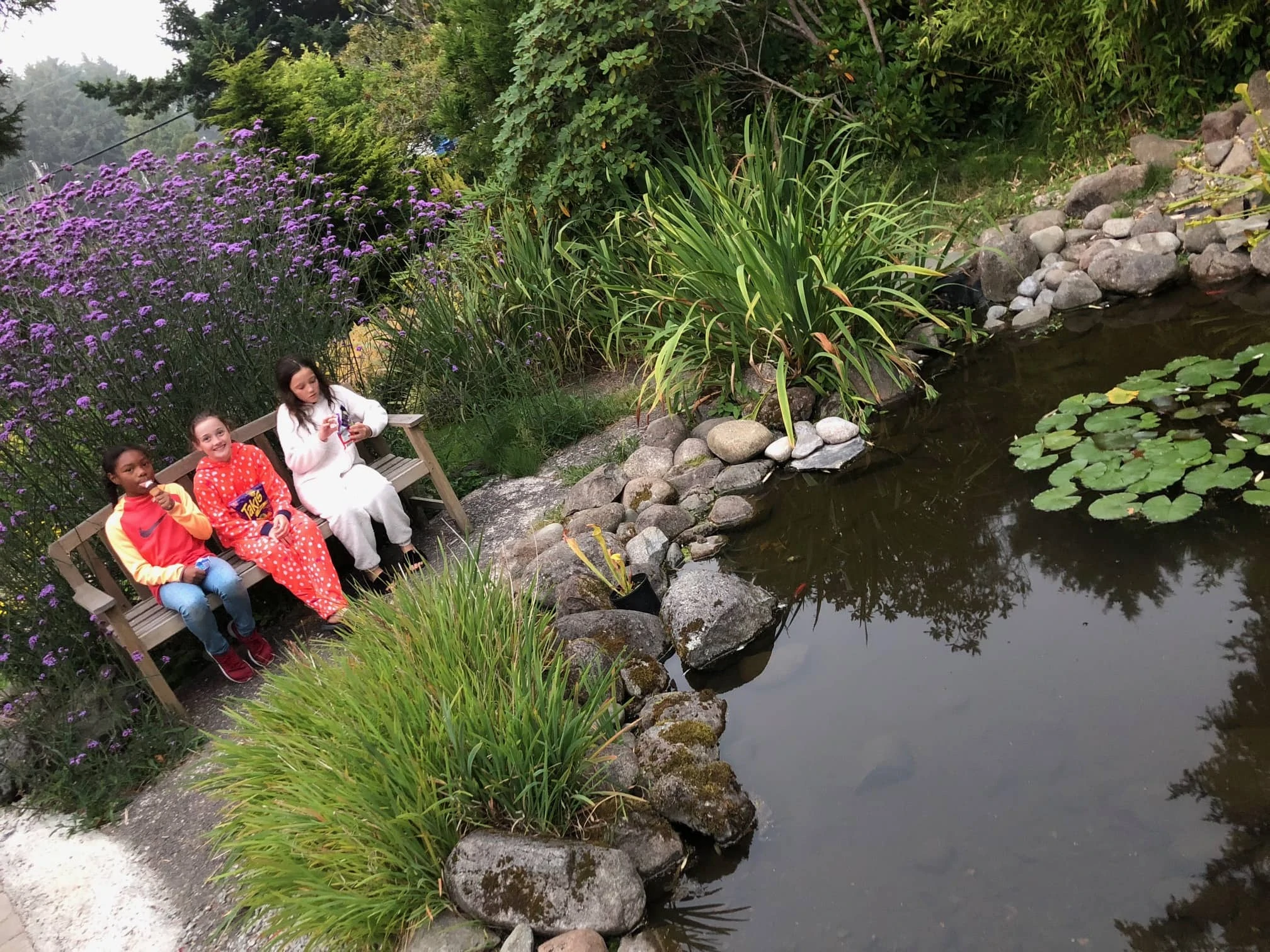 The Connie-Hansen Garden was just down the street from where we were staying. We headed there in the mornings and the evenings and enjoy a nice walk through the gardens. It was a great place to enjoy a cup of coffee in the morning or take the kids on a walk before dusk.
What to do in the Area: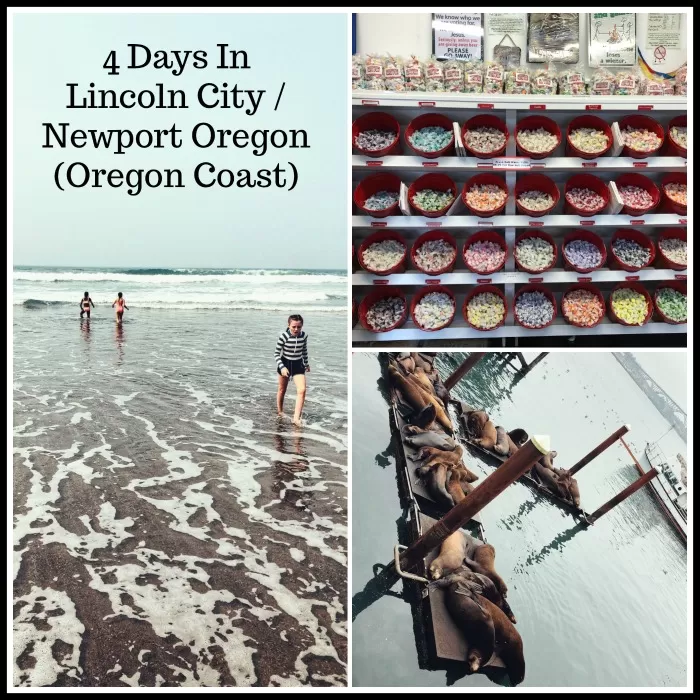 Check out our article on Things To Do In Lincoln City Oregon & Surrounding Areas For Families! We loved every minute of our Lincoln City getaway, and staying in this Lincoln City Beach house really made the difference for us. The truth is that we enjoyed our vacation much more this time, then when we stayed in a hotel room across the street from this neighborhood. There are definitely some decent hotels in the area, but we just found it so much easier to relax and sprawl out in the house.
Don't forget you can save 20% off on your stay at the Wecoma Beach House here on the Meredith Lodging website, when you use coupon code WECOMA20. We loved it here, and hope you enjoy it as much as we did.
Disclosure: Meredith Lodging hosted us at the Wecoma Beach house so we could review it here. All opinions are 100% my own.