Cirque du Soleil Volta (Seattle) Review – Lots of Fun For The Entire Family
This post may contain affiliate links and I may be compensated for this post. Please read our disclosure policy here.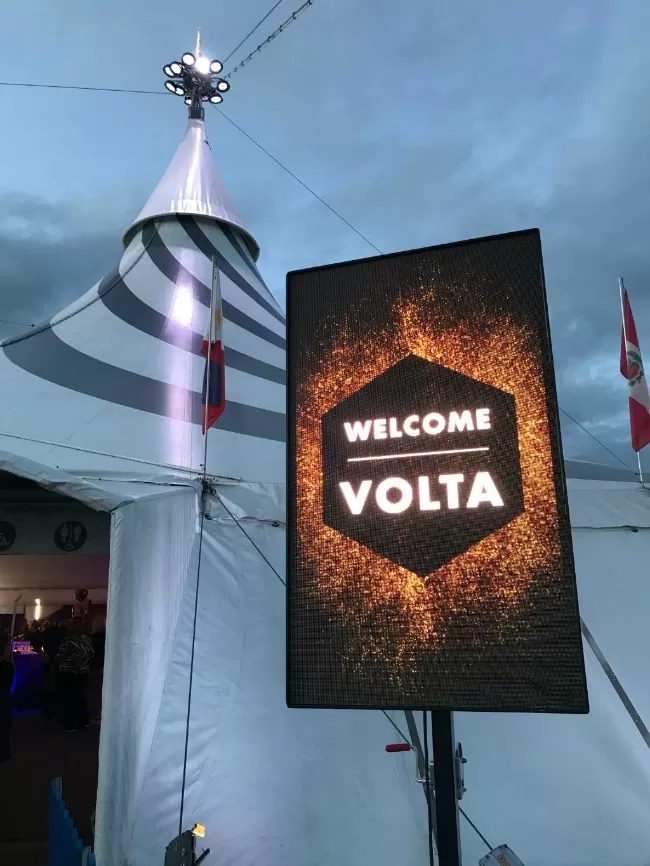 Cirque Du Soleil VOLTA Review (Seattle/Redmond) 
I have been wanting to go to a Cirque Du Soleil show for years now, and I am not sure why I had not made it happen until recently. We hear so many great things about their shows, and so I knew it would be great, but I just kept thinking it was something I would do someday soon. So when they offered us tickets to come review it, we jumped at the chance. I took my two girls, and honestly the best part of the show for me was watching how much fun they had. They absolutely loved it, and that made it ever better then I anticipated.
This is Cirque du Soleil's newest production & it will run in Seattle (at King County Marymoor Park in Redmond, WA.) this fall. It was written & directed by Bastient Alexandre and will bring a space-age future pop sound from the international electronic group M83 & Anthony Gonzalez. The Cirque du Soleil shows are always very popular and often sell out fast, so start looking into ticket options now if you're interested in attending.
From the minute we pulled into the parking lot, you could see the big top tents. The sky was a beautiful color and full of clouds that seemed to blend in with the look of the big top tents, building our excitement before we even got there.  Once you pass through security, there was entertainment out in front of the tents before entering that my kids really enjoyed.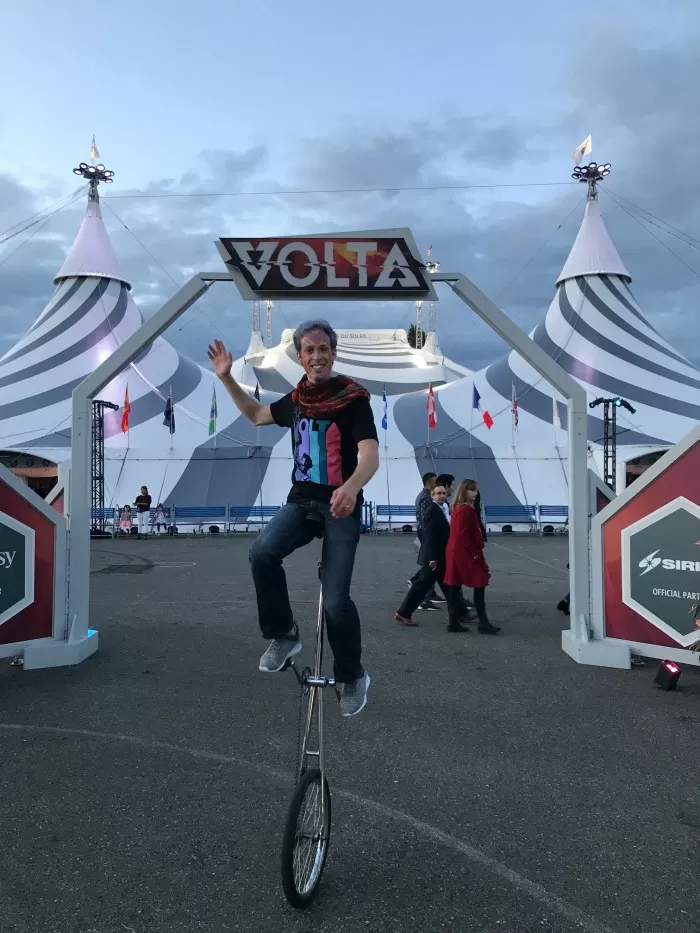 This uni-cyclist was part of the pre-show entertainment and was very friendly and engaging. We also watched roller skaters zip in and out of the crowd. They were all willing to stop and take photos with you.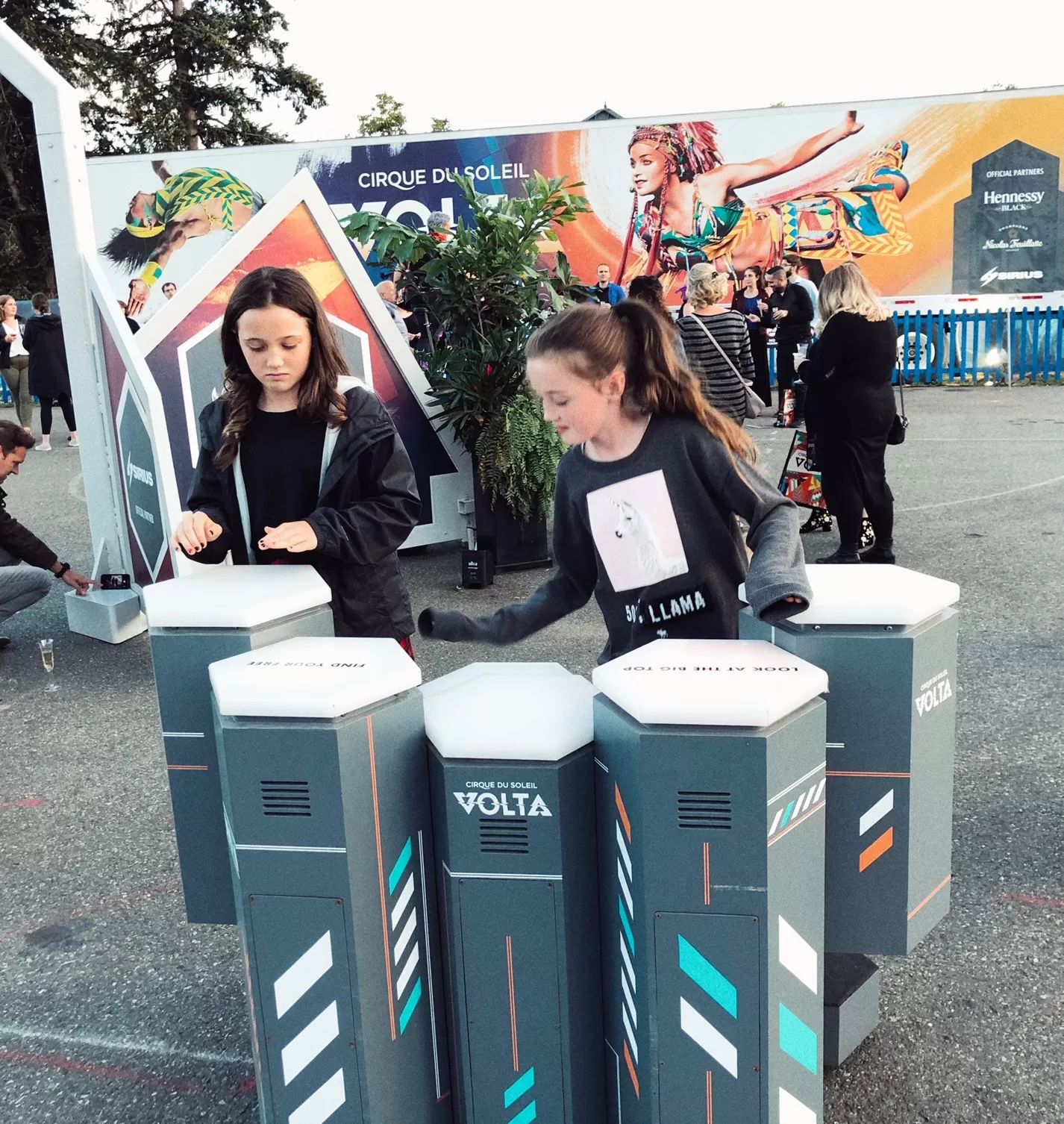 There were even some fun drums outside for the kids to try their hands at performing. They looked like they were not just for kids, though, as we saw many adults drumming away too!
One of the cast members was handing out red noses (for kids and adults). My kids loved those! After lots of fun outside, they opened the doors and you were able to go into a smaller tent area where there was seating and food and beverages for purchase, as well as merchandise and plenty of photo opp areas. From here,  you are able to enter the big top tent where the performances occur. The girls had so much fun before the show started, that it almost could have been enough. But there was plenty more to scream and clap for once the show started.

There really did not appear to be a bad seat in the place. We were seated just off to the side, and up towards the back, and the view was fine. The show is advertised as kid friendly, and for the most part it was perfect for them. There were a couple of places where there were some sexual innuendos, that were just a little uncomfortable (my kids are 10 and 11, so they picked up on them) but in general, it was awesome for the kids as well as adults. With my girls entering the tween years, I love to find events that are entertaining for all of us.
I did talk to many couples who got a baby sitter and used it as an adults' night out and they seemed to be loving that opportunity to make it an adults only night too. I think this is one of those events that is perfect for both. There were a number of other kids there as well, but not so many that it seemed like a kid-centered event. It really looked like both those that chose to make it an adult night out, as well as those that brought their kids, were having a great time.
The show kicked off with Mr. Wow and from there we saw so many things you would hope to see at a Cirque Du Soliel show.  The scene above is where they are doing a double dutch jump.
There were acrobatics atop unicycles, a funny comedy scene with a washer and dryer and one actor – and it was surprisingly entertaining (one of our favorites – my 10 year old was laughing and clapping through that entire segment).
They had a trampoline act that was a real highlight too. There were a number of acrobats flying through the air, doing flips and more. It was pretty exciting. We also loved watching the performers jump through super high hoops, one lifted into the air by her hair, and so many more fun and high energy performances.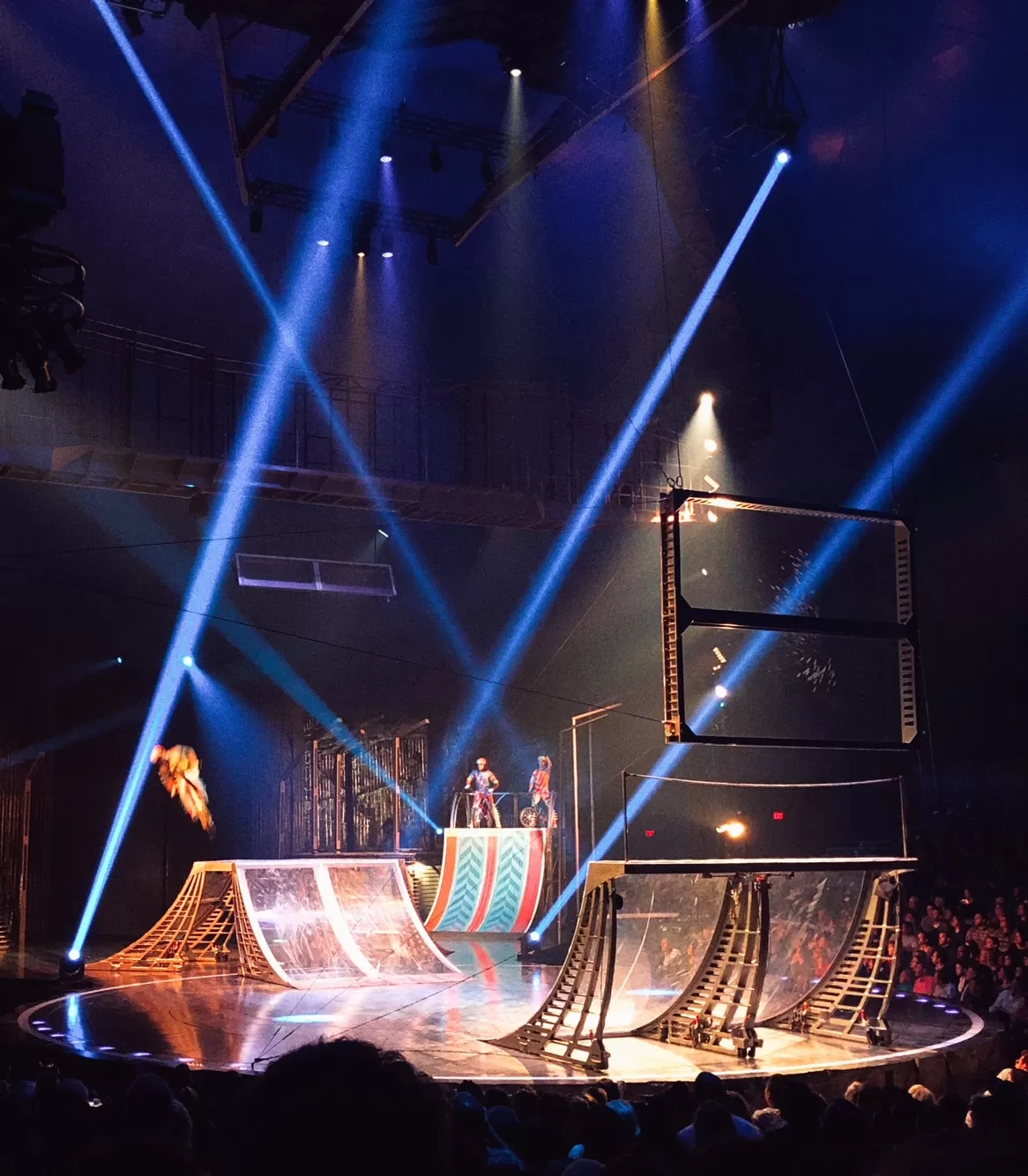 The show ended with action packed bicycle stunts. The performers were high energy and captivating to watch, not to mention seriously talented.
Things to Know Before You Go:
The event is held at Marymoor park in Redmond. Traffic can get congested getting off the freeway and too parking, so plan for that.
There is a $20 parking fee for regular parking (unless you bought a VIP ticket, or one that includes parking).
Food and drink is available for sale, but it is pricey. I brought bottled water and a bag of snacks for the kids, and we had no problem bringing it in.
Merchandise is also available for sale, if you want to buy souvenirs, so bring spending money if that is the case.
You will need to go through security lines, and bag searches before entering. The lines where not too bad for us, but plan a little time in your schedule to go through these lines.
The show runs just over 2 hours, with a 25 minute intermission. If you are taking young kids, you might want to consider a 4pm showing vs. the 8pm.
More information about Cirque Du Soleil's VOLTA Performance::
VOLTA is a captivating voyage of discovery. Inspired in part by the adventurous spirit that fuels the culture of street sports, the show weaves acrobatics in a visually striking world driven by a stirring melodic score.
VOLTA is a story of transformation. It is about being true to oneself, fulfilling one's true potential, and recognizing one's own power to make it possible. Ultimate freedom comes with self-acceptance, and with the liberation of the judgement of others.
VOLTA explores the themes of celebrating differences and unique qualities in a world where technology often isolates people from one another rather than freeing them. Using the rise of the celebrity culture and reality TV as a subtext, VOLTA teaches us that the path to fame, is not necessarily the path to freedom.
Where to Get Tickets::
You can get tickets here, starting at $58.
There is a 20% discount available for Family Packs as well, which is 3+ tickets.
And don't forget to check out our list of FREE & Frugal Events & Activities around the Northwest each week!
Disclosure: We were provided press tickets in exchange for an honest review. All opinions are 100% my own.