Water Parks in Washington, Oregon & Idaho (The Master List!)
Water Parks in Washington, Oregon & Idaho (The Master List!)
Update for 2022 – If you love a great water park, here is a huge list that will include water parks in Washington, Oregon and Idaho. You will also find:
Aquatic Centers
Outdoor Pools
Splash Pads
and Surf Riders too!
We have the master list of the big parks, smaller and more affordable ones, and resources for spray parks too! Beat the heat and create lots of fun family memories with a day of water play at one of these parks.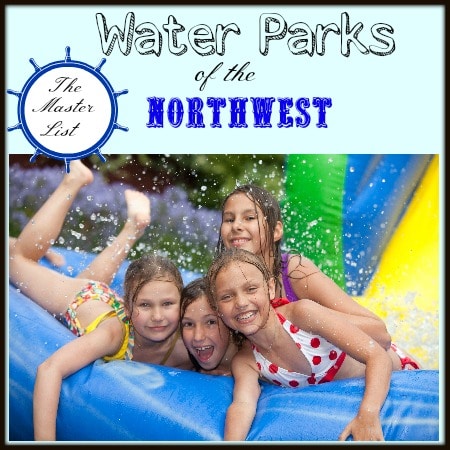 The sun is out in the Northwest, and what better way to enjoy it then at a waterpark with the family! We have compiled a list of waterparks in the NW for you to enjoy! If you have a favorite spray park or water park that you would like to see included please comment below and we will get them added in as we are able to.
We share some deals for the bigger NW waterparks, but many of the local city waterparks are where the real savings opportunities are. There are free spray parks all over, and some of the city aquatic centers have great water attractions/amenities for much more affordable prices!
We would also love to hear your favorite tips for visiting the water park (items to bring, best picnic items, when to go, etc), so share those below too!
Be sure to sign up for emails, or follow them on their social media sites to get possible water park coupons too!
The BIG Waterparks
These are waterparks that you can schedule your vacation around. They are bigger parks, and generally have some other amenities too (like they are in a resort, or some are theme water parks too, etc). These will also be more expensive, and require a little more planning.
Water Parks In Washington State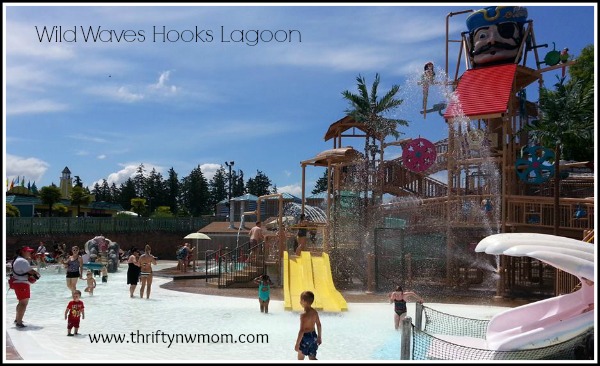 Wild Waves Water Park & Theme Park (Federal Way)
Wild Waves is probably the largest outdoor water park in Washington. They also have amusement park rides, and carnival games, shows, food spots and more! Plus be sure to check out our review of Wild Waves here, or find out how to get the best deals on Wild Waves tickets here!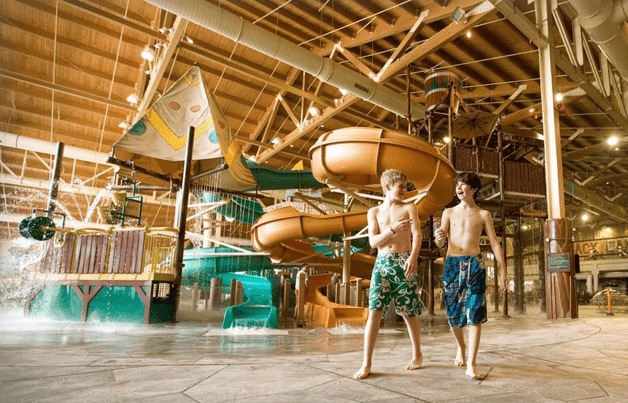 Great Wolf Lodge (Grand Mound)
Largest indoor water park and resort in the NW area. You get free waterpark access with your hotel stay. We have Great Wolf Lodge Promo Codes currently available here, and tips on how to save on your stay here. They do offer promo codes for extra savings, and we have those listed here.
Slidewaters Lake Chelan (Chelan)
Slidewaters is a large water park in the Lake Chelan area, so you could plan a getaway around the lake and enjoy the waterpark too! This is a very popular spot in the summer, so be sure to plan ahead (especially if you want to stay in the area and enjoy some lake time too).  Sometimes we find discounts on this park on Groupon, so look for those.
Make sure to check out our tips for visiting Lake Chelan area too!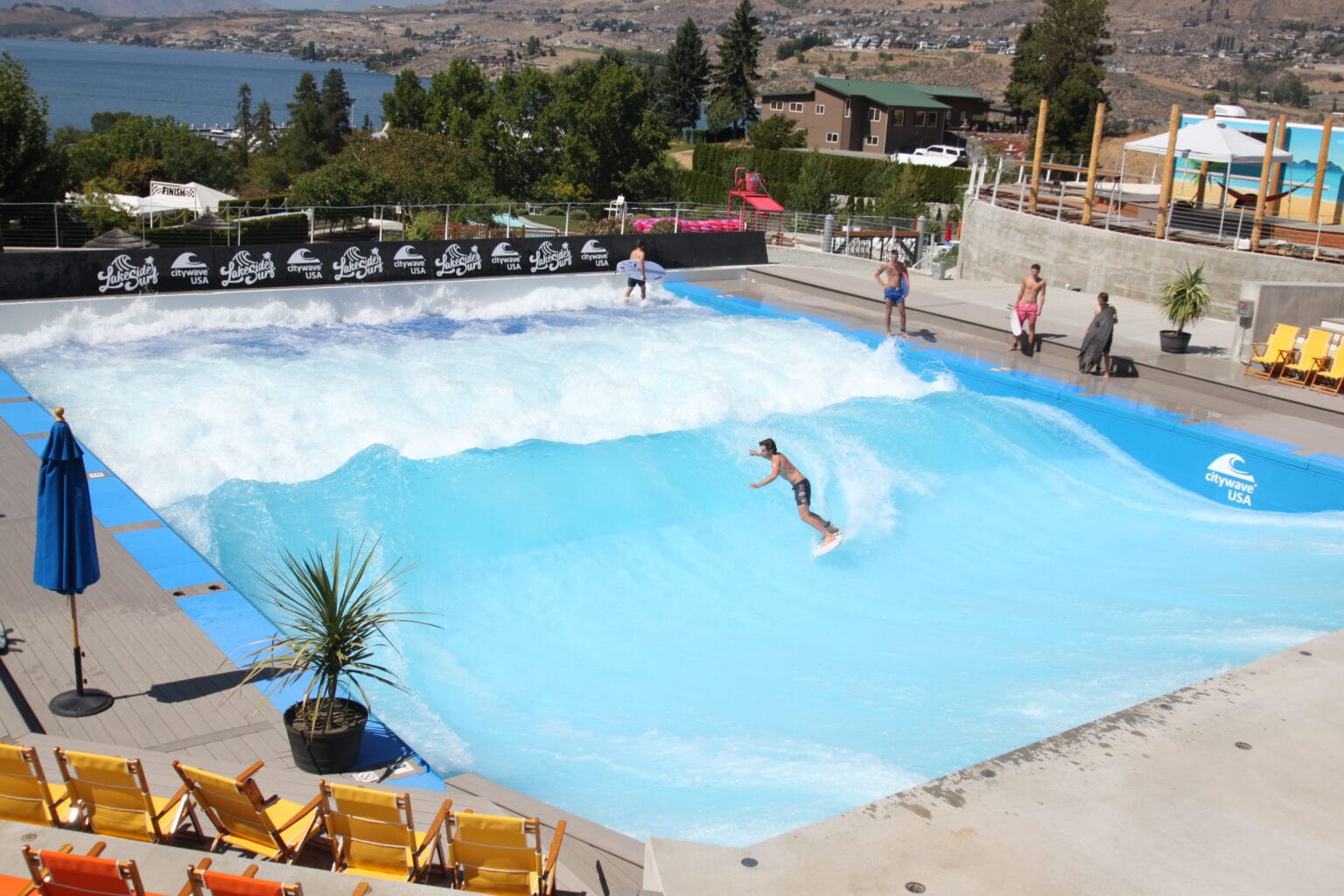 Lakeside Surf
This is a brand new adventure in Chelan right next to Slidewater  & a new aerial adventure park (High Trek). Lakeside Surf is the world's largest wave pool, surf rider opening up.  These are 45 minute sessions with 12 riders maximum during each session.  If you are visiting Slidewaters & have admission there, then you get a break on the price.
Birch Bay Waterslides (Blaine)
 Birch Bay Waterslides opens on June 11 this year! Birch Bay Waterslides are in Blaine (up near Bellingham). This one is a little older, but still lots of fun for families, and is pretty affordable for one of the larger parks. You can bring in outside food.
Water Parks In Oregon
Evergreen Wings & Waves, McMinnville
The Evergreen Wings & Waves water park seems to be a local reader favorite for the Oregon area. We had heard many good reports from folks who have visited, and so we had to take a trip out ourselves, and it did not disappoint. We have a review of what you can expect at this waterpark here, and there are often discounts available for tickets here too.
The Evergreen Wings & Waves Waterpark is an indoor, all-season waterpark where you will find ten waterslides (ranging from slides for the little ones to slides for daredevils), a wave pool and more. There is also a hands-on museum dedicated to teaching students about the power of water next door, and that requires separate tickets.
One perk about this waterpark is that there are discounted tickets for those who just want to go in to watch your kiddos play (nice to not have to pay full price for that).
The Flowrider at the Aquatics Center in Sunriver
(Note this spot is temporarily closed)
While this is not technically a waterpark, it is the only Flowrider in Oregon, so we thought it was worth a mention. You can reserve a session on a Friday, Saturday or Sunday. There is also a swimming pool, hot tub and small splash pad for kids to enjoy (and a rock climbing wall), the Flowrider is the big attraction here. You get access to all of it for one daily fee per person.
You will also find the SHARC Outdoor Waterpark in Sunriver (near Bend) and can find more info on that in our Sunriver review here.
The Sunriver Resort has also recently added The Cove Aquatic Center to their resort for guests to use. It is a small waterpark, but you do have to stay at their resort to get access to it.
Water Parks in Idaho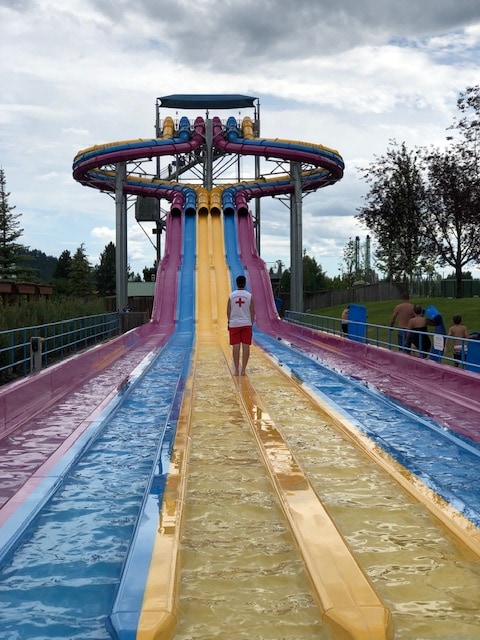 Silverwood
Silverwood is one of my family's favorite summer time destinations for vacation. It's the NW's biggest Theme Park / Water park and is lots of fun! Half of the park is a Western-themed theme park and the other half is a great water park. There are all kinds of fun things to do here and some great local campgrounds to make the vacation more budget-friendly.
If you are a die hard water park fan, there is even a local hotel called Triple Play resort (read our review here) you can stay at with an indoor water park. You can read our review of Silverwood here for more money saving tips for your visit! You might also want to check out our article on where to get discount tickets here.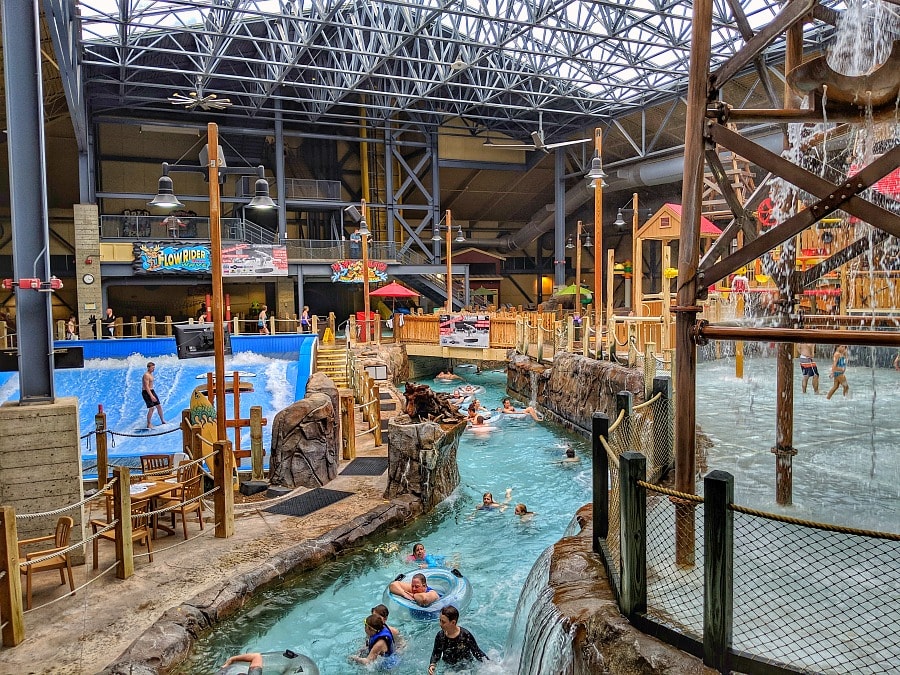 This is a hotel with a year round indoor waterpark (similar to how Great wolf Lodge works). This waterpark entrance is only for guests of the resort, and your admission is included in the price of the room, so it is nice to not have to pay extra for it.  It has lots of fun for the entire family, and there is much more to do in the area too (like take a gondola ride to the top of the mountain, explore gold mines and more). You can read Jens review from her recent family trip here.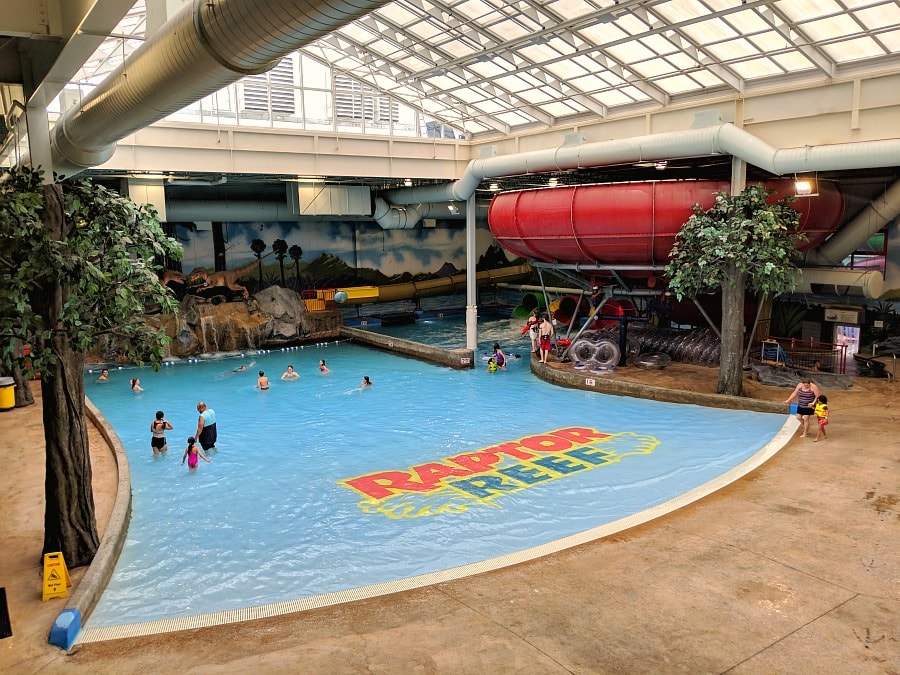 Raptor Reef Waterpark – Hayden, Idaho
Raptor Reef is an indoor, year round waterpark not too far from Silverwood. It has a hotel called the Triple Play resort that you can get rooms to stay at (and you will either need to buy a package that includes entrance to the waterpark, or pay for the tickets separately), but it can be a full destination spot if you want it to be.
Roaring Springs has a wave pool, float river, two family raft ride, bowl slide, racing slide, tube slides, kiddie play area, 6-story speed slide, full service restaurants, gift shop and more.
Plus they offer Friday & Saturday Family Slide Nights where moms, dads & kids can slide under the stars and enjoy cool summer evenings as the sun sets on Roaring Springs.
More Waterpark Fun
These are smaller to mid sized waterparks, and are the waterparks that my family enjoys the most, many times. They are smaller, but that means less expensive usually. It also means that they are often less crowded, but still offer plenty of water play for kids of all ages! If you live in the city of these waterparks, all days passes will often be less than $10 per person, and some offer a family pricing option. You will often pay a few dollars more if you do not live in city limits.
More Water Parks in Washington State:
King County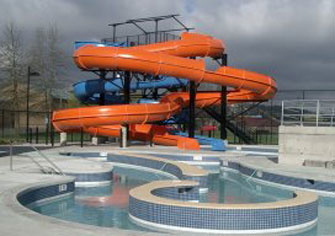 Henry Moses Aquatic Center (Renton)If you are a Renton resident, this outdoor aquatic center is a super deal in the summer. If you're not a resident, you will pay more but can still have fun. This is a great outdoor waterpark for the price. There are 26 feet high water slides, multiple pools, a wave machine, water spray play area, a water play structure, a lazy river and an island lagoon and more!
Federal Way Community Center (Federal Way, Wa)  (it currently says the slide is not working & the river is turned off during family swims, but keep checking back on this one) This one is great for indoor water play. The water park indoors includes a fun spray park for little ones, a couple of water slides, a lazy river and swim area. They also have rooms you can rent for parties, or there is lots of outdoor park space with picnic tables and more. There are soccer fields and an outdoor playground and park that is next to the Aquatic center too.
Covington Aquatic Center (Covington, Wa)  This is open now with limited capacity & guidelines The Covington Aquatic center is basically a city pool that has a water slide, and rope swing, and brings out a big floating octopus and water bridge on the weekends for indoor waterplay for kids. They also have a family swim area, where kids can play with noodles, floating boards, water basketball and more!
Rainier Beach Community Center Pool (S. Seattle) This pool includes a waterslide, baby pool, lazy river and spray and play park plus a six-lane lap pool and more. (Check out this page for current opening info)
Colman Pool  (West Seattle) –  (opened June 18th & daily on June 25th, 2022) This is an Olympic-sized saltwater pool with diving board & corkscrew tube slide. It does not have a wading pool for little ones though.
Mounger Pool (Seattle) –  (opened June 18th & daily on June 25, 2022).  There are 2 pools here – the big pool has 5 ladders & a 50 ft corkscrew slide (kept at 85 degrees). The little pool is shallower & great for relaxing & for little ones (& it's kept warmer at 94 degrees)
Peter Kirk Pool (Kirkland) – (It is open now thru Sept 2022). There is a deeper area in the pool with a diving board as well as a wading pool for younger kids.
Center Fountain (Seattle Center, Downtown Seattle) – If you are looking for more urban water fun, kids (or all ages!) can play in the fountain at the Seattle Center. Plus be sure to check out our Seattle Staycation post for lots more ideas on free and affordable fun in Seattle too! 
Pierce County
Kandle Pool (Tacoma) (the pool will open on July 6, 2022). This one has a wave pool if your kids love those as much as mine do!  There is also a separate shallow tot pool and sprayground ensure a fun time for the whole family. Admission prices range from $5-$9.
Stewart Heights Pool (Tacoma) (this will open on July 5, 2022- keep a watch on this page) This is another great outdoor summer option, for a small to mid size water park. There are food court style snack shacks so you can make a day out of it. They have water slides, zero entry pool, lazy river, water basketball and small spray fun area for kids. Plus there is a park right outside if your kids want to continue to the fun there. My kids had a blast in the wave pool a few summers back! Prices range from $5-$9.
Snohomish County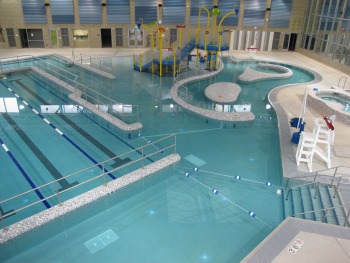 Photo Credit – Snohomish County Aquatic Center
Snohomish County Aquatic Center (Snohomish) It's a large indoor facility with waterslides, spray park, wave rider & much more. Plus they have a wave rider (basically a surf simulator). My teen loves these, so this might be a great spot if you have kids of multiple ages (as there is a toddler spray area too)
Yost Pool (Edmonds) – (Opens June 27th, 2022). This is an outdoor pool run by Cascade Swim Club. There is not a toddler wading pool here, but just the large main pool. There are a lot of swim lessons & swim team times taken up but there are some open swim times for families every day, too.
Outside of Puget Sound Area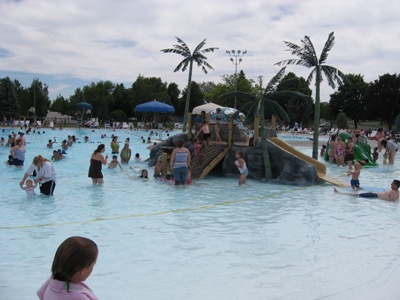 Photo Credit – Surf and Slide
Surf and Slide Water Park (Moses Lake)

This is a fun one, as it provides a fun and affordable getaway from the Seattle area if you're looking for a quick summer break! It's all outdoors, so its perfect for summer fun. They have a surf simulator, lazy river, water slides, kids play area, full concessions, olympic size pool and more. Plus there is a large sandy beach area with kids playground for sand play and a playground, and it's very affordable for families! You could camp nearby or stay in affordable motels. Plus there is the lake and some of its beautiful parks to enjoy too! My family had a wonderful short getaway here a few years back.

SHARQ Aquatic Center (Sun River Oregon) – They are open year round, but the outdoor part with the lazy river and slides is only open during the summer months, so check the website to find out. My kids love everything about Sun River, so this is a park that is fun to plan a vacation around. Besides the aquatic center there is a fun village near by, tons of biking trails and so much more.
Splash Down (Spokane Valley)  – Permanently closed now.
Spokane Riverfront park has a splash pad at the entrance and at the new Ice Age park! Plus, there is so much to do here too.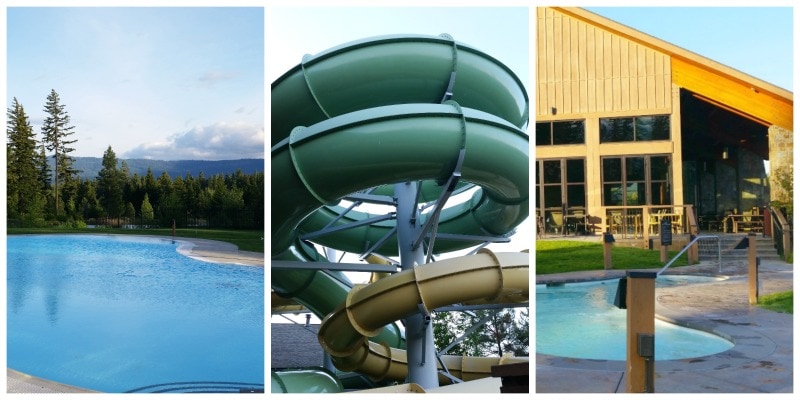 Also, be sure to check out our Best Hotel Pools if you're planning a vacation:
More Washington Waterpark & Spray Park Resources: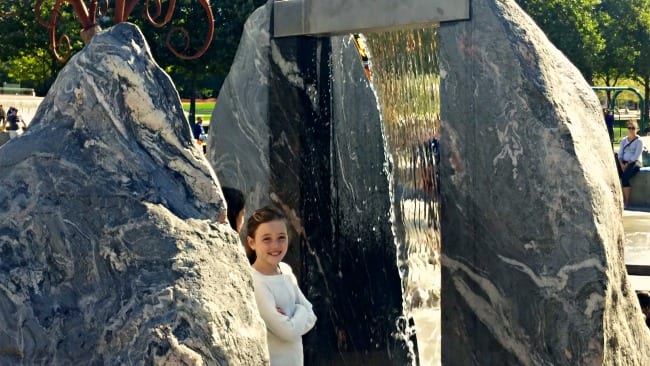 Downtown Bellevue Park review with spray park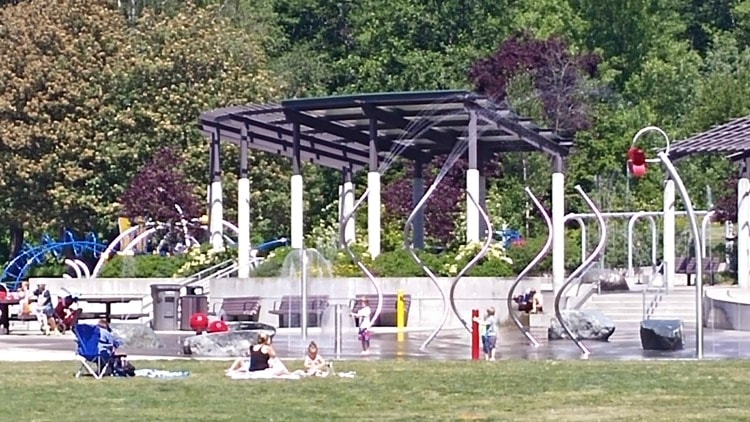 Titlow Beach in Tacoma – playground, beach and spray park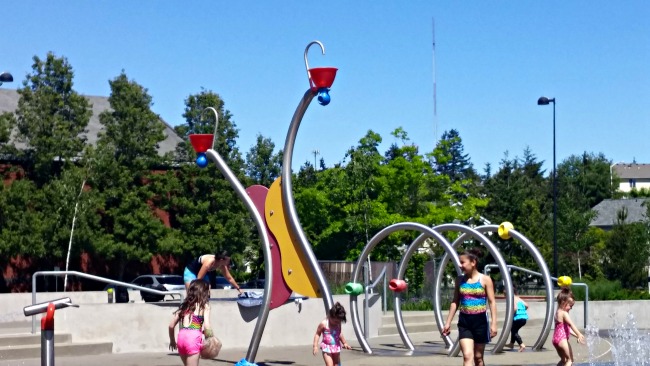 Norpoint Park in Tacoma, with playground with zipline and spray park
Park review of Les Gove in Auburn (with a Spray Park)
Park review of Georgetown (with a Spray Park)
Park review of Forest Park in Everett (with a spray park)
Highlights for More Waterparks In Oregon & Idaho
Oregon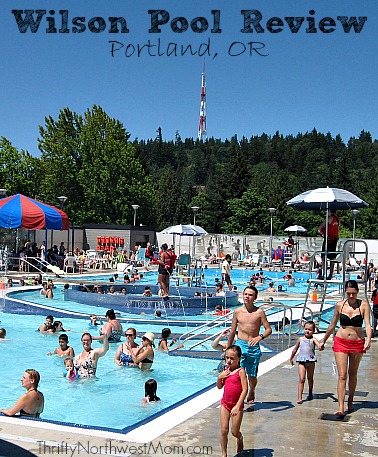 Splash! Lively Park Swim Center, Springfield 

A family of four can visit this indoor water park for as little at $20 (and $3.50 per extra person) for the day!
Idaho