Wild Waves Review – What To Expect When You Visit & How To Save!!
This post may contain affiliate links and I may be compensated for this post. Please read our disclosure policy here.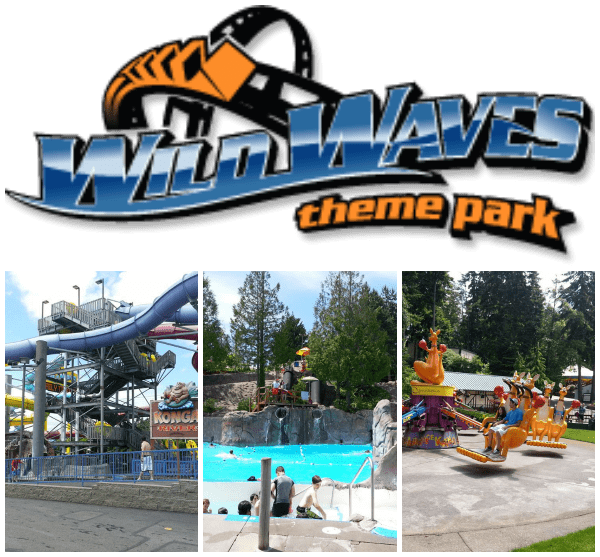 This is the last week you will be able to get into Wild Waves for just $14.99 pp (through the end of June), so we thought that we would provide a review of the park for those of you thinking about visiting soon!
We have also teamed up with Wild Waves to provide two Thrifty NW Mom readers a FREE 4-pack of tickets to Wild Waves for this summer! That is eight free Wild Waves tickets we will be giving away, so be sure to check that out and enter before its over.
Its been a number of years since we have been to Wild Waves during the summer, so I was excited to pack my crew up and head out for a day of fun recently. Wild Waves deals are very popular during the summer, so we thought it might be useful to have a review on the blog for those of you who have not visited before.
We visited before the local schools had let out for the summer, so crowds were not bad for us. Wait lines for rides were short, and the water park still had seating areas available. That may be different as we get further into the summer (comment below and let us know what your experience has been).
I had kids from 4 to 15 with me, and we started in the rides area. There is a nice wooded area with some rides good for the younger crowd mainly. It also provided a nice break for mom from the sun, there are good walking paths and the park was clean.
From there we headed down to the kiddie ride area for my youngest, and then off to the bigger rides for the teens.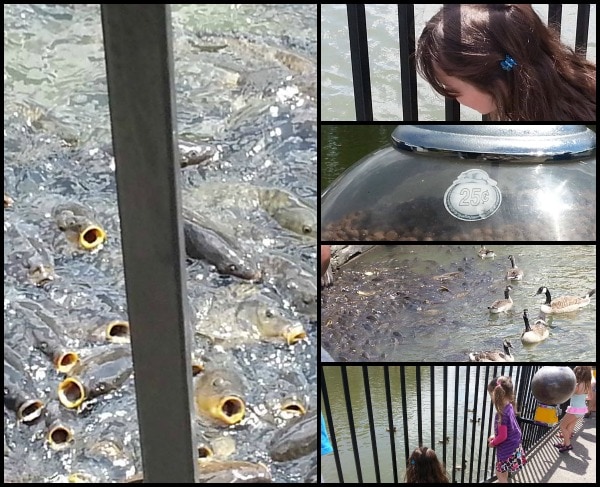 Between the rides and waterpark area there is a lake stocked with these fish you can feed. There are food machines, where you can get a handful of fish food for just $.25. There was a swarm of fish a few ducks to feed. All of my kids loved feeding these crazy fish – well worth a few quarters!
We ended our day over at the waterpark. My kids had a blast cooling off and playing here. The water temps were cool in the kiddie area, so my youngest did get cold.
Highlights from our Wild Waves trip
Wild Waves is made up of two main area: The Water Park and the Amusement Park.
The Amusement Park Area (you may remember it as Enchanted Village if you have lived in the area for some time):
All amusement park rides are included with admission, with the exception of the I-5 Dive and the new Soaring Eagle Zip Line which are an extra fee.  A handful of the larger rides (like some of the roller coasters and log ride) were closed while we were there, so you may want to check ahead of time to see what rides will be operational during your visit.
The ride area is broken up into 4 main sections: Celebration Square, Old West Territory, Kiddie Land and Northwest Territory. Many of these areas provide shade coverage, so its a nice break from the sun.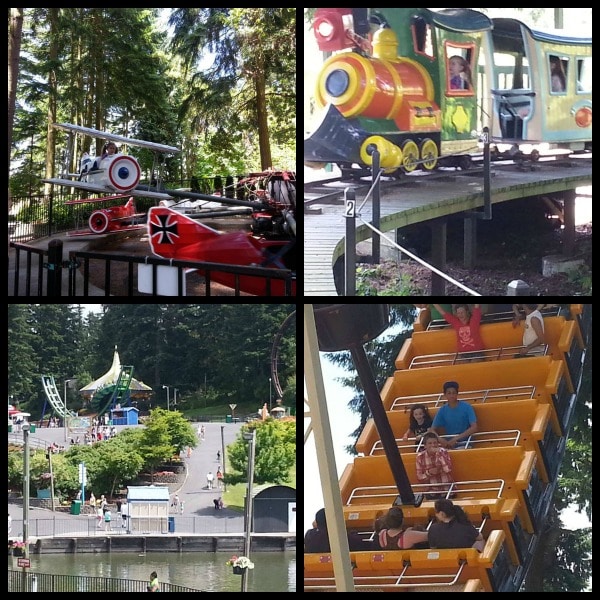 There are kiddie rides, adventure rides and lots in between. All of my kids enjoyed the ride areas at Wild Waves! We prefer to  do the rides first before we are wet, and then head over to the waterpark area. You might rather use it as a break during the heat of mid-day though. Either way, its a good time!
The Water Park at Wild Waves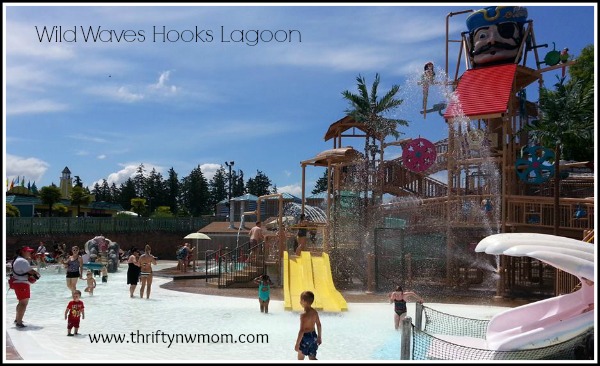 The waterpark has activity areas for kids (and adults) of all ages. For your kids there is a play section called Hooks Lagoon, packed with wading pools, small water slides, waterguns, a climbing structure with more water play and more. There is seating around it for parents to keep an eye on their kids (but you might want to grab a seat early, they can fill up.
Beyond Hooks Lagoon, there is plenty of fun for all with the Wave Pool, Activity Pool, a Lazy River and a handful of different waterslides, for older kids / and the adult crowd. You can find a list of all of the Wild Waves water attractions and height requirements here.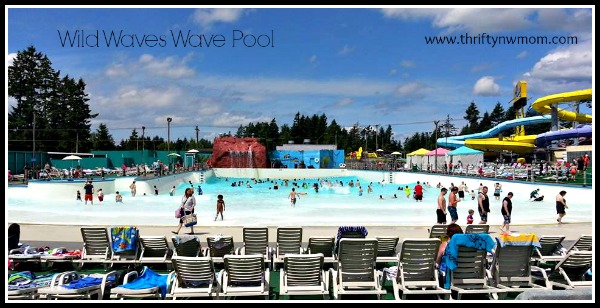 The large wave pool – suitable for all ages. This is a popular spot, but has more seating available then some of the other areas, so you might want to head here if you are looking for a spot to sit down.

We spent the day there for just the cost of admission and parking (and had drinks and snacks in the car). There are other things that do require some additional fees if you choose to use them though.
You can rent the Cabanas picture below, but they are expensive (around $200 for the day, depending on when you rent). Alternatively, if you want a spot to call home base all day a more affordable option is the bungalows over by the wave pool area. You will still get shade covered reserved seating but for $130 instead of over $200. You can add up to 4 additional ppl at $10 pp, so if you were a group of adults going and wanted to split the cost it would be as low as $21.25 per person if you had a group of 8.  Your best bet is to rent these online ahead of time if you know you will want to use one.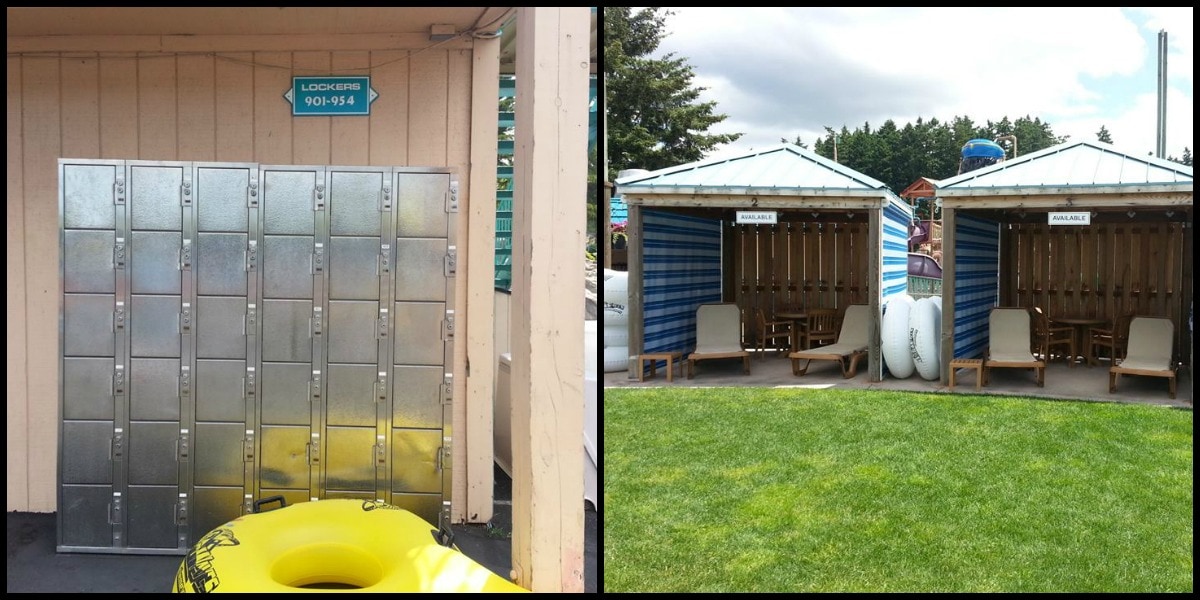 It will cost you an additional $9 – $14 to rent a locker for the day (plus another $5 deposit fee that you should get back when you return the key). You can get in an out access with a stamp, so storing items in your car is the free option if you are willing to go back and forth.
Things to know:
General Parking will cost you an additional $10

There is no outside food or drink, so I recommend bringing a cooler with lunch packed in your car. You can get a stamp for in and out access, and head out to the parking lot for lunch if you want to save money that way.

There are changing rooms and lockers on site if you want to bring clothes for the kids to change into between rides and water play.

Set up camp earlier in the day, or later in the afternoon at the waterpark if you hope to get a seat. It can get crowded. We found a grassy area just past the main water area and at the entrance of the amusement park area that had plenty of space to lounge (but not sure what it will be like now that schools are out). You could bring a blanket and set up a central camp here to relax for awhile.

Your admission ticket covers unlimited access to the rides and the water attractions (except the two noted above in rides section). It does not include any of the carnival style games, if your kids like to play those. Those run around $3 – $5 per game.

Food is available on-site for purchase. Its a little higher priced then what you will find outside of the park (i.e. burgers run around $8).

Shoes are not allowed on water attractions, but they are required for the rides, so you will want to be prepared for that.
Deals and Discount Ticket Option for Wild Waves:
Visit before the end of June to get admission tickets for $14.99 (or $9.99 for military)
If you plan to visit more then once in July or August, you might want to consider a Wild Waves annual pass (pays for itself in 2 visits, and includes many other money saving opportunities like coupons, etc).
If you are a BECU member, the BECU Wild Waves Coupon will give you $15 off admission starting July 1st, and is typically offer the best coupon each summer. This coupon gets 6 ppl in, so be sure to ask everyone going in your party if anyone banks with BECU!
Purchase Wild Waves tickets online ($32.99 vs $39.99 at the front gate). You will pay a processing fee and tax on top of that price. Kids 2 and under are always free.

Head to Wild Waves after 5pm, and get in for $19.99. 

Get Half off on August 25th when you bring a donation for Foster Kids (shop those back to school supply sales to get your donation for cheap!).
If you want to turn it into a mini vacation, you could camp at nearby Dash State Park for just over $30 a night too (includes beach access too)!
You might also be interested in this review of Silverwood that we did last year, and how to save money while visiting there!
Disclosure: Wild Waves provided us tickets to visit the park.  All opinions are 100% mine. See our disclosure policy  for more details.