Wilson Pool in Portland – Frugal & Fun for Families with Slides, Lazy River & more!
This post may contain affiliate links and I may be compensated for this post. Please read our disclosure policy here.

Wilson Pool in Portland – Reader Park Review
We love hearing about new parks & favorite summertime spots around the Northwest and today we have reader Stephanie from Portland sharing about her favorite spot to head with her family in the summer – Wilson Pool in Portland!
We would also love to hear your thoughts and opinions on these parks. Comment below with your review, additional tips, or anything else you want to add.
We'd also love to hear from you & hear your favorite parks or campgrounds around the Northwest! You can submit a park review or campground review & get a $10 Amazon Gift Card if we use your review !
Don't forget about our master list of Water Parks around the Northwest!
Highlights: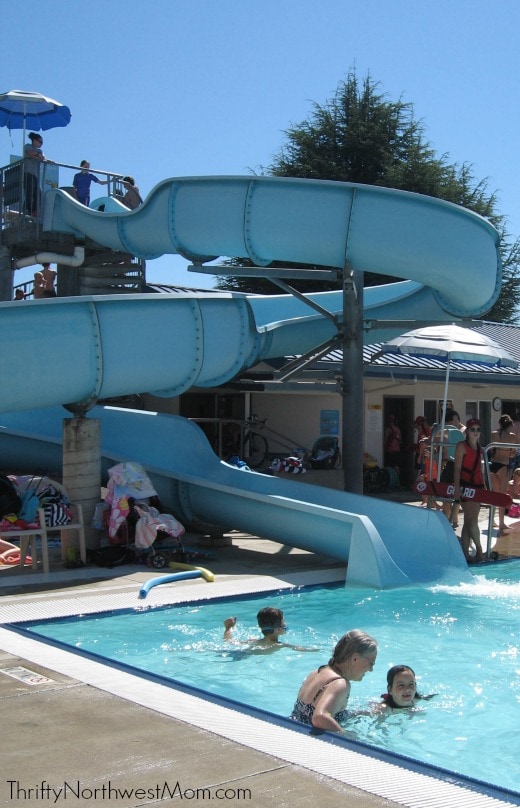 Wilson Pool is the neighborhood pool we all wish we had growing up. This popular local watering hole has pricing typical of public pools, but amenities similar to a full water park. Don't miss this pool for a fun and frugal day in Portland!
Things To Know: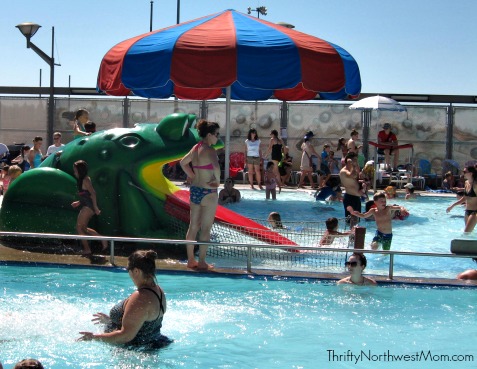 Little ones under 48″ tall can enjoy the frog slide as well as bubbling geysers and a giant pole periodically dumping buckets of water on the gleeful kids. There is a large area where small children can play in shallow water and an enormous umbrella offering shade for those easily burned. The lazy river features a swirling whirlpool center, thrilling young ones and older kids alike. The giant twisting slide is great fun for kids of all ages, though kids under 48″ will need to ride with an adult.
There are restrooms and changing rooms available on site, as well as a small family changing room complete with a shower stall. The snack shack offers slushy drinks, popcorn and swim essentials like extra goggles or swim caps for a modest price.
Entry fees are $5 for adults, $4 per child (ages 3-17) and free for kids 2 and under. There is no fee for parking. Open swim times are typically 12:30-8pm on weekdays and 12-6 on weekends. Confirm times for the dates you wish to visit on the Portland Parks & Rec site.
Because the Wilson High School track is currently under construction, parking can be a bit tricky. If possible, find street parking or a space in the small high school lot on SW Vermont. If needed, pull into the high school parking lot and drive all the way around the building to the back of the school. There are additional spaces here only a short walk to the pool entrance. The pool entrance faces the high school track on the west side of the building.
Recommended for ages:
This park is great for all ages. Parents should know that children under 48″ are not allowed to use the diving board, but may ride the largest slide with an adult. The frog slide is reserved only for children under 48″. This park can easily accommodate families whose children are a variety of ages.
However, note that this park is very popular with families and there are many young children here. There is limited shade and limited chair space on the deck, so this may not be an ideal choice when traveling with grandparents or others who prefer a quiet spot to sit and watch the kids swim.
Location:
Wilson Pool is adjacent to Wilson High School in the Hillsdale neighborhood of Portland. You can find directions & more information about Wilson Pool on the Portland Parks & Recreation site.
Review: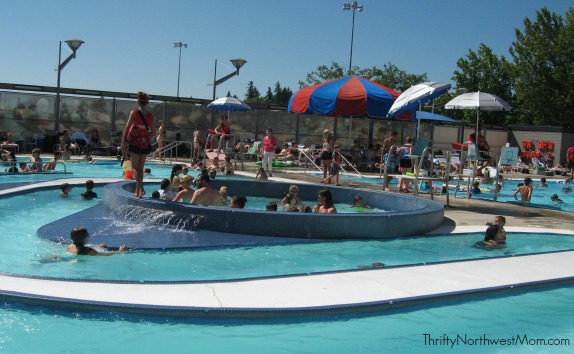 We love this park for the wide variety of activities. Every time my kids spend an afternoon here, they sleep like logs all night! This pool offers such variety of playtime that it pleases all my children and is a fantastic spot to entertain visitors from out of town on a hot day. Consider visiting in the late afternoon and taking a dinner picnic for less crowded environment.
The only caution I would offer a parent visiting for the first time is that lifeguards lean toward the young teen and do not exhibit as much caution as I've seen at other pools. Be sure to bring sufficient adult supervision for your crew.
If you visit on a Sunday, consider a lunch stop at the year round Hillsdale Farmer's Market. Or load up on fresh fruit and veggies for your after swim snacks!
Current construction zones will force you to park at the farmer's market and again at the pool, because walkways are blocked between the two. Once the construction has ended the farmer's market is only a short walk from the pool.
Thank you to reader Stephanie for this fabulous review of Wilson Pool in Portland! If you've been to Wilson Pool & have additional tips or thoughts, we'd love to hear from you!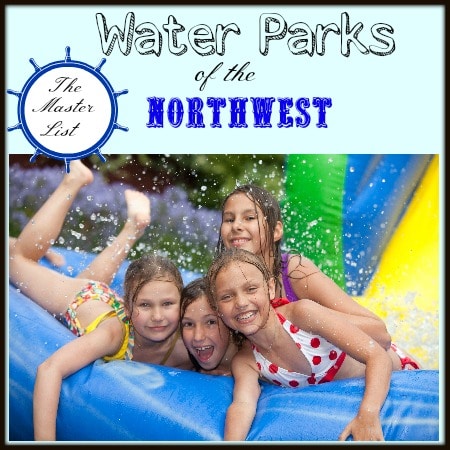 For more water park & pool fun, check out our master list of Water Parks around the Northwest!
Check out more park reviews around the Northwest! And don't forget to check out our Pinterest Northwest Travel Board.
Don't forget that we are still accepting park reviews and campground reviews by readers! If you'd like to submit a park review, we will send you a $10 Amazon Gift Card if we use the review !