Sunriver Oregon – 12 Things To Do For Families In The Summer!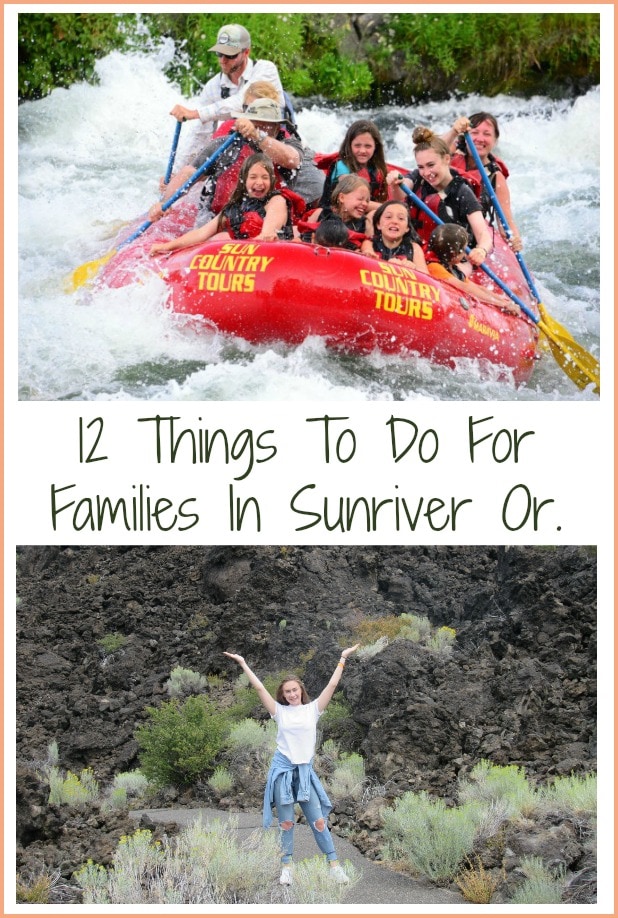 Sunriver Oregon – 12 Things To Do For Families In The Summer!
Sunriver Oregon is one of my families favorite Northwest vacation spots. My aunt owns a timeshare there, and has blessed us with stays in the Winter and the Summer, and there has never been a time we have visited that we did not love it there. There are lots of Sunriver vacation rentals in the area to choose from, and many are really family friendly. The kids love the freedom they have to roam a bit. I love the beauty of the area. I also love that once we get there, there is so much to do within walking distance.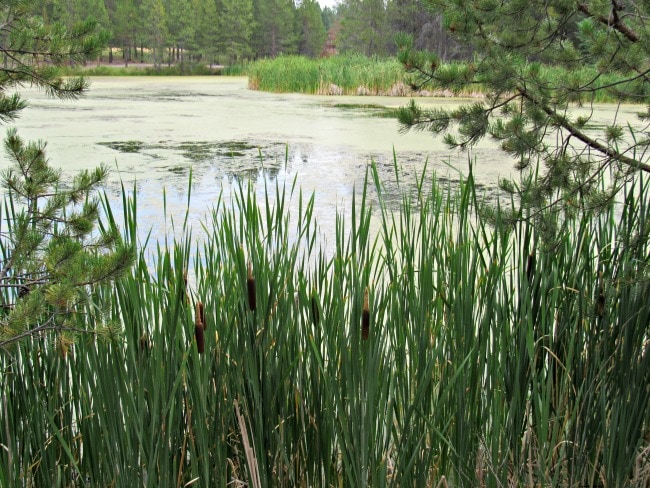 One thing that I love about Sunriver, is that there is so much natural beauty around. It runs at a nice relaxing pace, but there is also plenty to do for all ages. Here are some of our favorite things to do on a summer getaway in Sunriver, that are all family friendly, and great ways to keep the kids active.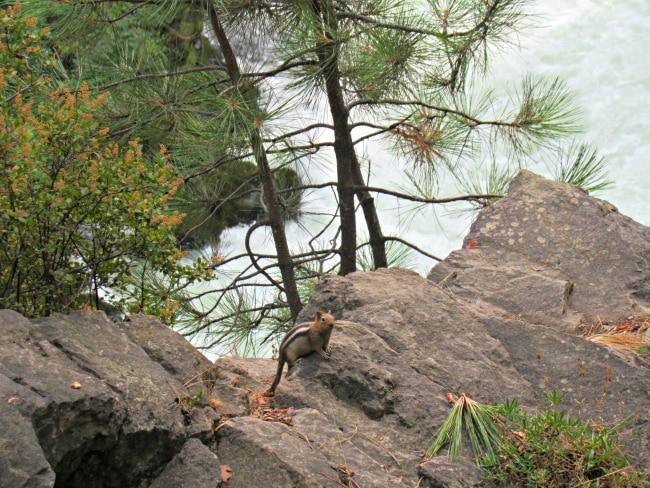 We saw chipmunks all over the place. They were so cute!
Here are some of our favorite things to do with kids on a Summer getaway to Sunriver Oregon: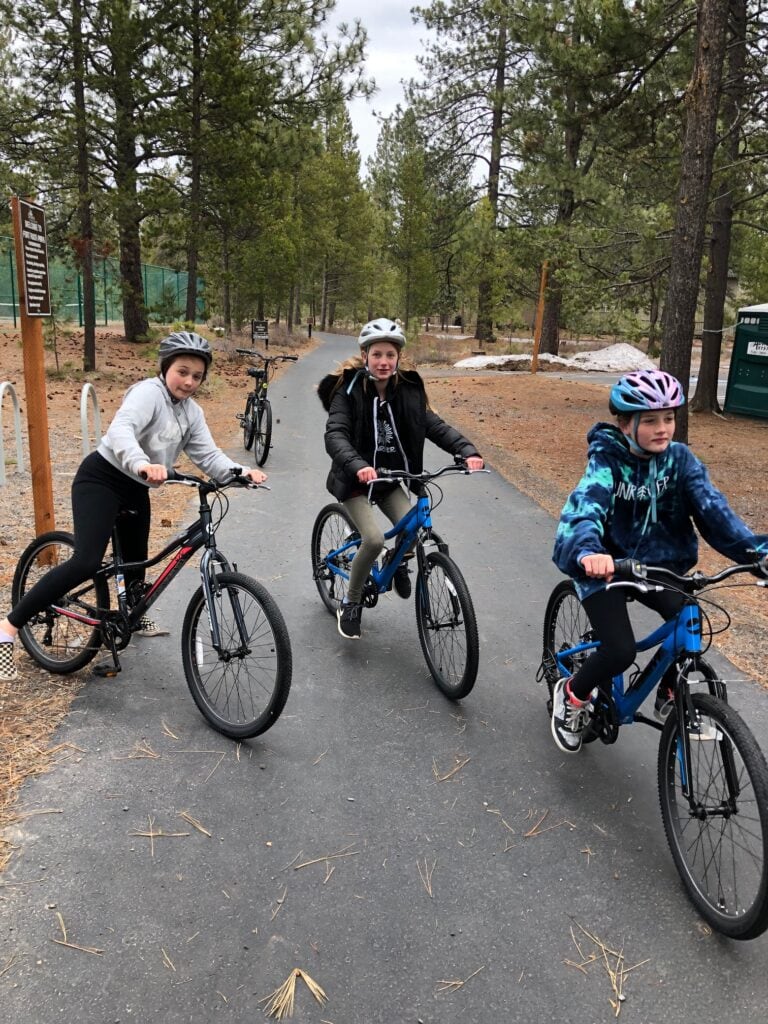 It is not uncommon to come across families of deer while out on a bike ride in Sunriver, Or.
Bike Riding
Many of the condos that you can rent in the area will include bikes to use free of charge. You can also rent from rental spots in the Village, but it's a good idea to look for a spot that includes them to save some money (or bring your own bikes). The places we have stayed have always provided bikes, but sometimes they are geared to adult sizes, so if you have young children you may want to bring their bikes with you.
The area is paved with very easy to ride bike trails, and miles of them! It is peaceful to spend a day enjoying the area on bikes. You can also ride bikes into the village, and down to the Sunriver resort. We like to plan a down day where we enjoy the area by bike, verses getting the car and going anywhere.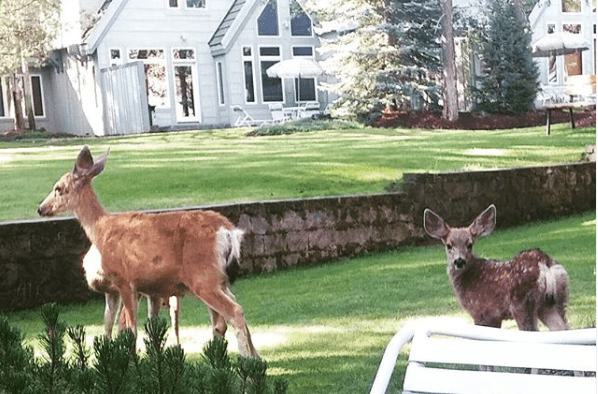 One of our favorite things about Sunriver, is that we can get so many places by bike, and spend more time outdoors. Do not be surprised if you run into deer while you are out enjoying a beautiful bike ride or walk too. I cannot think of a trip we have made there where we did not!
Day at the Village
The Village is packed full of fun for families. You can buy an all day pass to enjoy the bumper cars, putt putt golf, climbing wall, trampolines, train and more. This stuff is great for elementary age kids.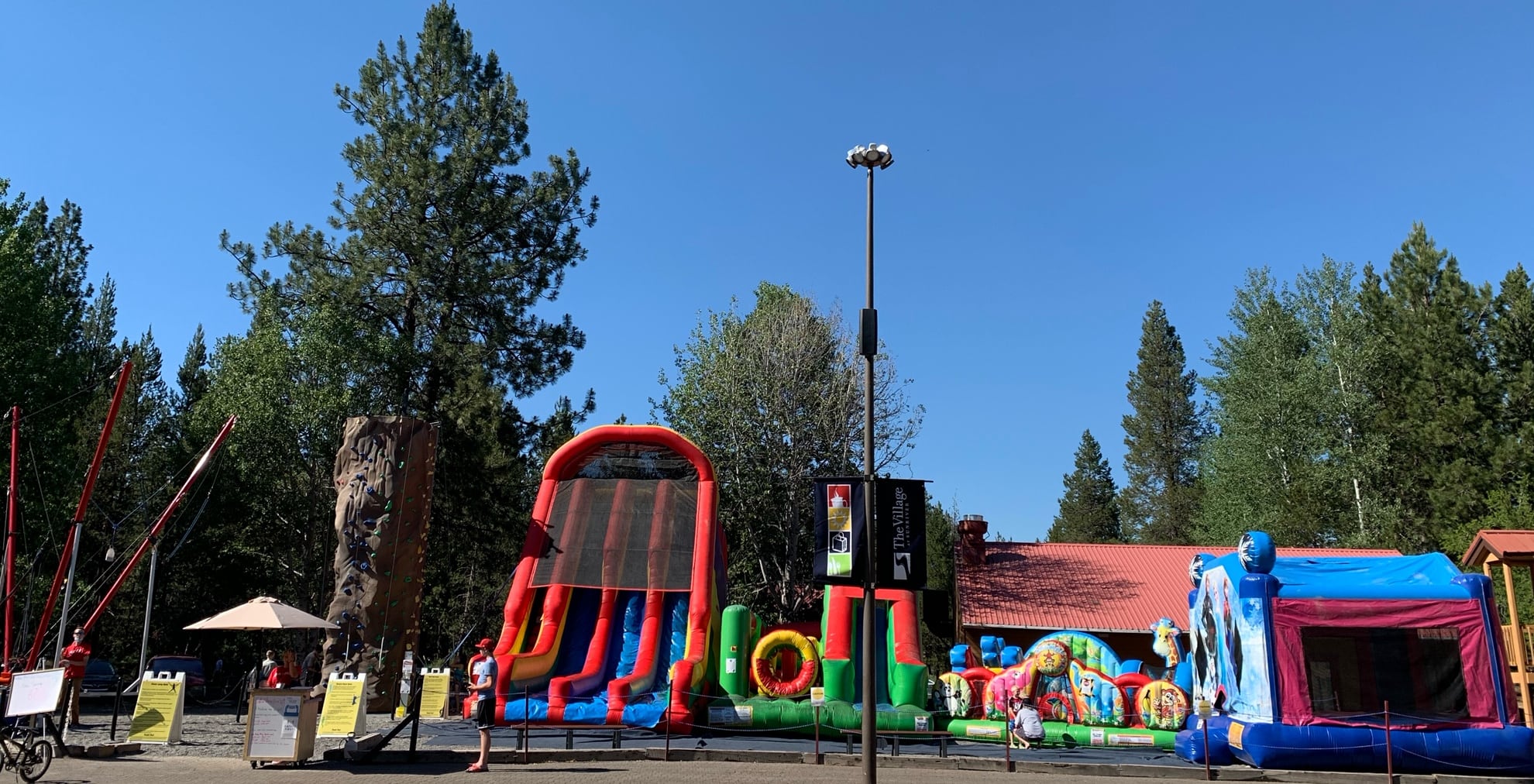 There is also an art store, where you can make wooden signs and more. I let the younger kids play with the all day bracelet, and then took the teen to the art store to make a wooden sign. This was a bit pricier then other activities, so we used it as one of our splurge days (since most of what we did in Sunriver was free, or low cost. The kids really enjoyed the day in the Village. There is a great ice cream shop and candy store, as well as other shops and restaurants to check out.
There are also often free events like outdoor movies, and concerts, so check the schedule for the time you will be visiting.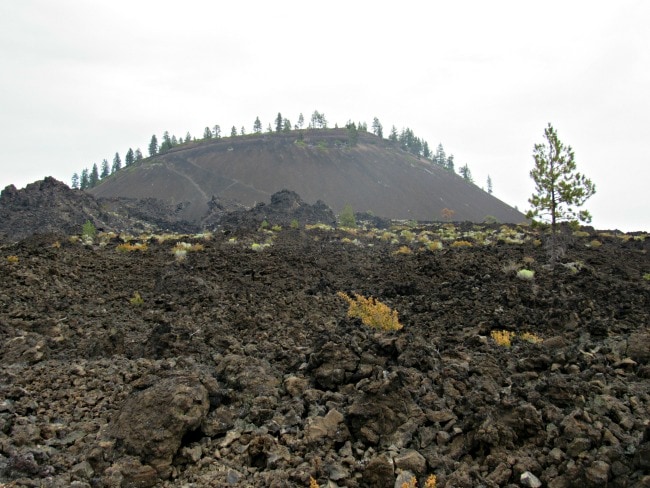 This was a highlight for us. We took part of one day to hike the top of the lava caves (you can stop in and get a map of different trails you can walk). We then came back a second day and did the lava caves. You could have done these all in one day easily too if you wanted to. This is a National Park, so you will have to pay to park and access (we had a 4th grader with us, so used our free pass for 4th graders making it a free day)!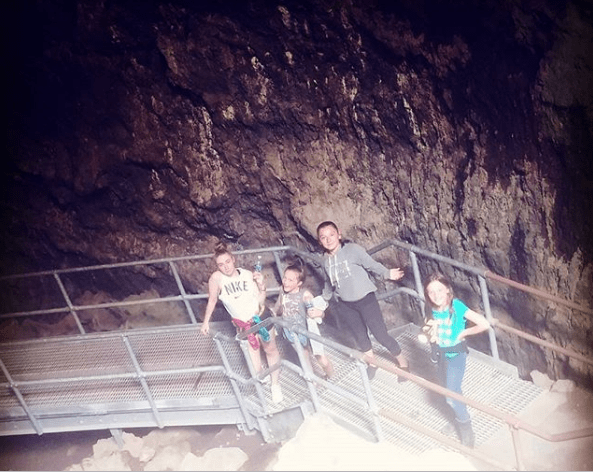 I really enjoyed the hikes, but the kids favorite was clearly the caves. They were pretty cool. You will need a light much stronger than a phone light (or even many flashlights) to see in the caves. You can rent lights there at the park for a fee, or bring your own. We had a couple of lights with us but ended up renting one as our lights were not strong enough to see down in that darkness.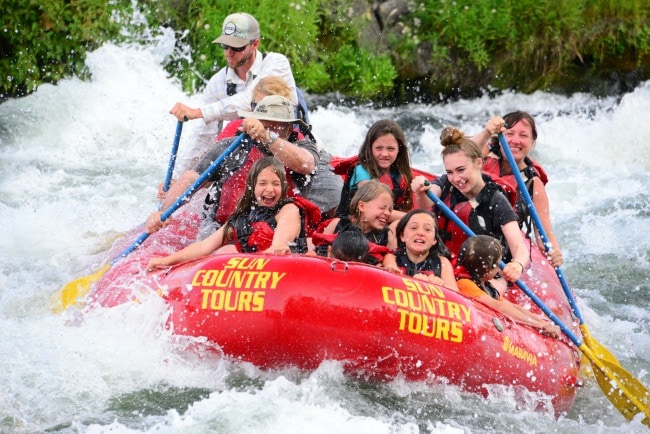 River Rafting & Riding the Rapids –
Riding the rapids was by far the highlight for my gang. Out of all of the wonderful things we did during the week, this was everyone's favorite. It was also the most expensive thing we did.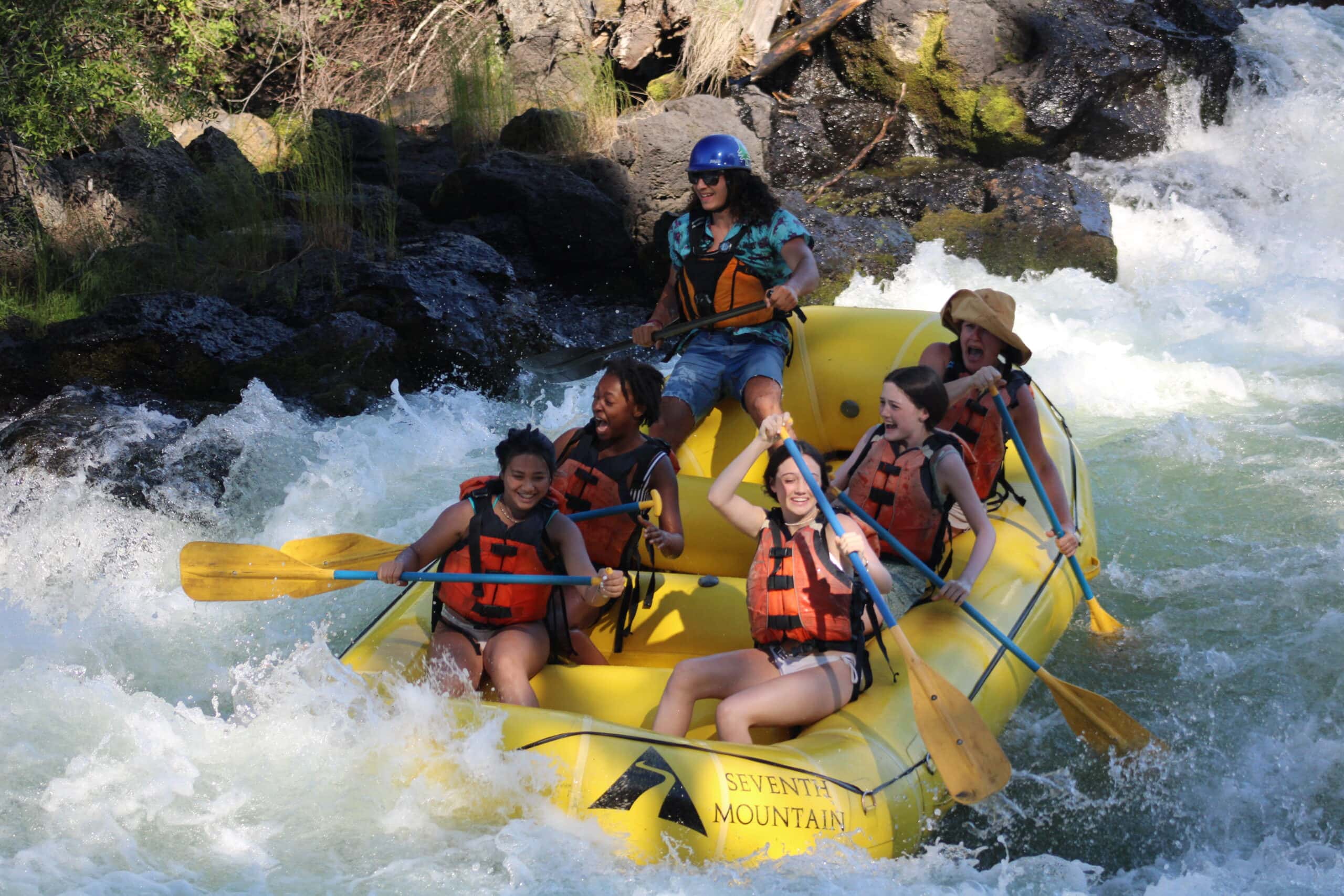 We have now enjoyed river rafting with both the Sun Country Tours, and Seventh Mountain (both times we selected the Big Eddy Thriller), as it was the most affordable. Its 1.25 hours on the river, and the drive there and back (I think it ends up being around a 3 hour adventure with transportation etc. from Sunriver).
If you are in Sunriver, the Sun Country Tour is the most convenient (you can walk to their shop and they transport you from there), but Sun Mountain was by far the most affordable (book on Tuesdays for a steeply discounted rate). That was the most affordable option for river rafting I was able to find in the area. If you are able to do a splurge event, we all thought this one was worth it! We did an early evening ride in both late June and August, and the kids floated much of the river (in the water) after we got through the rapids as it was plenty warm that time of the year.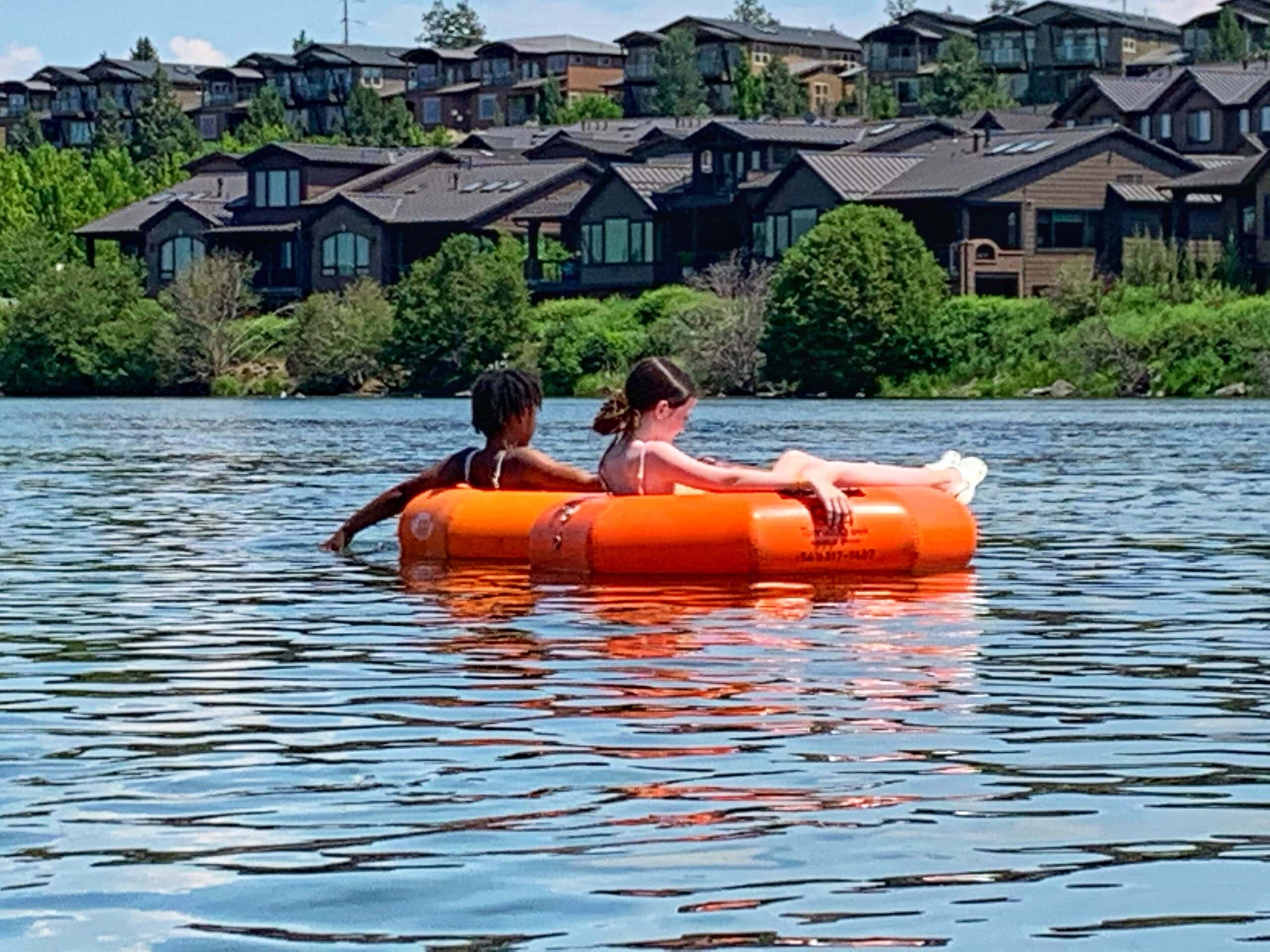 River Floating for FREE at Bend Whitewater Park –
Near Sunriver Oregon, lies Bend Oregon. It is the larger of the two areas (Sunriver is more of a resort destination in this area) and offers lots of fun shopping, restaurants and outdoor activities – including many river activities. A favorite for my kids is the Whitewater Park in Bend.
If you do not want to splurge on a white water trip, you can float the Deschutes river for free at the through the Bend Whitewater Park, if you have your own floats. We saw people floating on tubes, rafts, SUPs and more.
This park in Bend, is where you can float down three sets of rapids – and yes it is FREE! You will need an inner tube (and life jacket, these are required but there are a couple of places you can rent for a fee if you do not have your own). You can use your own tube if you have one, or there are multiple spots you can rent from if you don't.  Be sure to read through all of the details on what you need to know before heading out, but this is a great budget friendly alternative to an actual white water trip.
My kids loved the Whitewater park area. You can go through it a few times before continuing on down the river, and it is lots of fun in the summer.
If you decide to float the Deschutes river, we booked through Tumwater rentals for $21 per person. It included tube rental, transportation to the float drop off area, and then back to your car when you were done, and life jackets if you want them. I thought that was a great value for the convenience of just showing up and enjoying the float trip.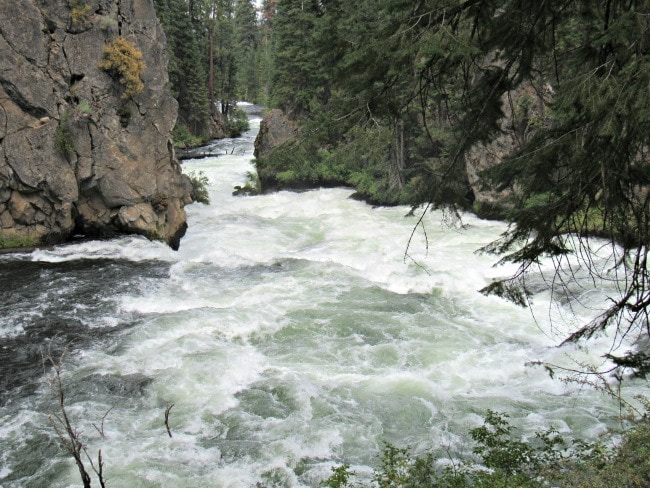 This is a really easy hike, just outside of the village area (and near the volcanic caves). The Falls are beautiful, and we thought it was well worth the short hike. It is a wide trail up to the falls, and there were many hikers on the trail the day we visited. We saw chipmunks and you could hear the roar of the falls for much of the hike. There are a handful of view points for the river on the way that make great photo opps as well, and then there is a walk out area once you get to the falls for more great photo opps.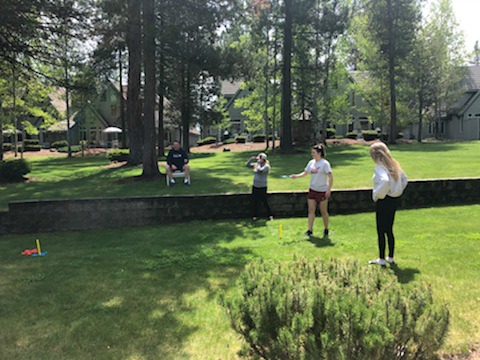 Check the events schedule for both the SHARC and the Village during your stay. There were free movies on multiple nights while we were there (one night at the Village and one night at the SHARC). My kids really enjoyed this. We brought sleeping bags, and grabbed some ice cream or other treats ahead of time, and enjoyed the outdoor movies. The movies themselves were free. They did have food trucks or little concession stands set up at both locations, where you could buy treats for a fee.
In addition to the free movies, there were also a few concerts on the lawn during our stay too. You might also want to check to see what is going on at the main Sunriver Resort (its in walking or biking distance from the Village). They had a family night when we were there, and there were lawn games (like giant connect four game, etc) as well as live concerts on a stage they set up going on, and all of that was free of charge.
They do have another putt putt course down there that is in a much more natural setting then the one at the Village. There is a fee to play this, but it is fun if the kids want to do night time (glow in the dark) golf.
Plus, there is lots of green space in the Sunriver Oregon area. Our vacation rental has a beautiful common backyard area we could BBQ and play lawn games at whenever we wanted to. Some will supply a few games, or bring your own. We saw people who brought their own out playing each evening. Sometimes the deer may even prance through your game if your lucky!
This was lots of fun for one day. It is big enough for one day of fun, but not big enough that you have to visit for more then one day to enjoy everything it has to offer.
The condo where we stayed provided one day free to the water park with our stay, so that is something to pay attention to when you are booking your accommodations. Some places in the area will include SHARC passes. We had considered buying extra days, but after spending one day there we decided that was enough. We had a wonderful day there, but we had a pool and spa at our condo, so decided to use our money for other things the rest of the week. The kids all said its a must do for one day, during a Sunriver stay though!
(Update for 2021 – this location is still temporarily closed)
There is also a Sunriver Fitness and Aquatic Center that my kids love. You pay for a day pass, and then get access to the full facility.
My kids enjoyed the pool, some basketball, rock climbing wall and fun on the only Flowrider in Oregon!
This is a fun spot to check out for night time or day time viewing (be sure to check the schedule during your visit). I hear that the night time viewing is the coolest (we stopped by on a cloudy day, so you were not able to do any sun viewing during that particular day). We were still able to check out a few fun exhibits though, and the folks working there had lots of great information to share with the kids about the observatory, etc.
The Observatory is right next to the Sunriver Nature Center, so its very easy to do these two things at the same time if you are doing a day time viewing.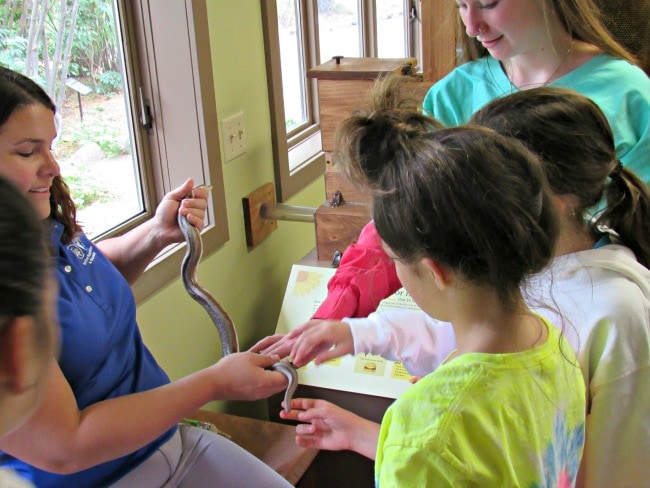 The Sunriver Nature Center, is a small nature center, but fun to visit. There is a fee for the nature center, and we usually spend around an hour to hour and half there. They do have a small reptile room. If you ask they will likely bring out one of the snakes for the kids to view and touch up close too. The fee for this covers the Observatory too, if you want to walk over and explore some of their equipment. There are also some trails outside you can explore, and owls and other birds to view up close as well.
Jen shares lots of great details on the High Desert Museum from her recent trip. We enjoy it more in the Winter (simply because we like to spend more time outdoors in the Summer), but it is a great museum with lots to explore for kids, and definitely one to add to your list for a day of fun.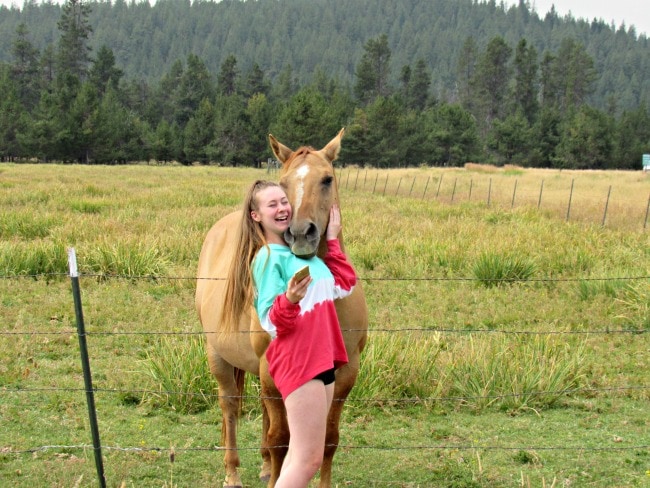 Horse Back Riding (or just pet the horses)
If your crew loves horse back riding, you can head down to the Sunriver Stables and book a horse back ride during your trip. Although we wanted to do the horse back rides, we had splurged on the river rapids trip, so did not want to spend the extra money here this trip. I did take the kids down to the stables though, and they were able to pet the horses and they loved that. We spent a good hour just enjoying the beauty of the horses, and I had to pry them away after that.
They have also put in a new Virtual Reality spot across the street from the Village that my kids really enjoyed if you are looking for a break from the heat!
If you are planning a trip to Central Oregon,  be sure to check out this article on 5 Family Friendly Restaurants in Bend and Sunriver Oregon, for recommendations on where to eat. Many of the rentals in the area have kitchens in them, and there is a grocery store in the village, but it is always fun to eat out on vacation too, and there are some great options in the area.
If you are just starting to plan your getaway, here is a great vacation home to consider if you want to share with another family or have a large family, and here are 6 Reasons to Use a Vacation Rental in Sunriver Oregon. We have always stayed in timeshare condos on our stays, and loved it, but you will also sometimes see the Sunriver resort and other Bend area resorts show up on Groupon too. I prefer the Sunriver vacation rentals, as you get more room, a kitchen to cook in, and often times other freebies (like bike rentals and SHARC tickets at some), but some of the resorts have some great amenities (like special events, and kids clubs, etc) so it really depends on how your family likes to travel.
Sunriver is one of those locations that is nice all year long. If you plan to visit in the Winter instead of the Summer, be sure to check out 5 Winter Activities in Bend and Sunriver Oregon the Whole Family Will Love!