Sunriver Oregon Vacation Home Rental – Perfect for Family Reunions or Multiple Family Vacation! Plus 20% Off!
This post may contain affiliate links and I may be compensated for this post. Please read our disclosure policy here.
Disclosure: We were hosted by Cedar Cove Lodge for review purposes. All opinions are 100% my own.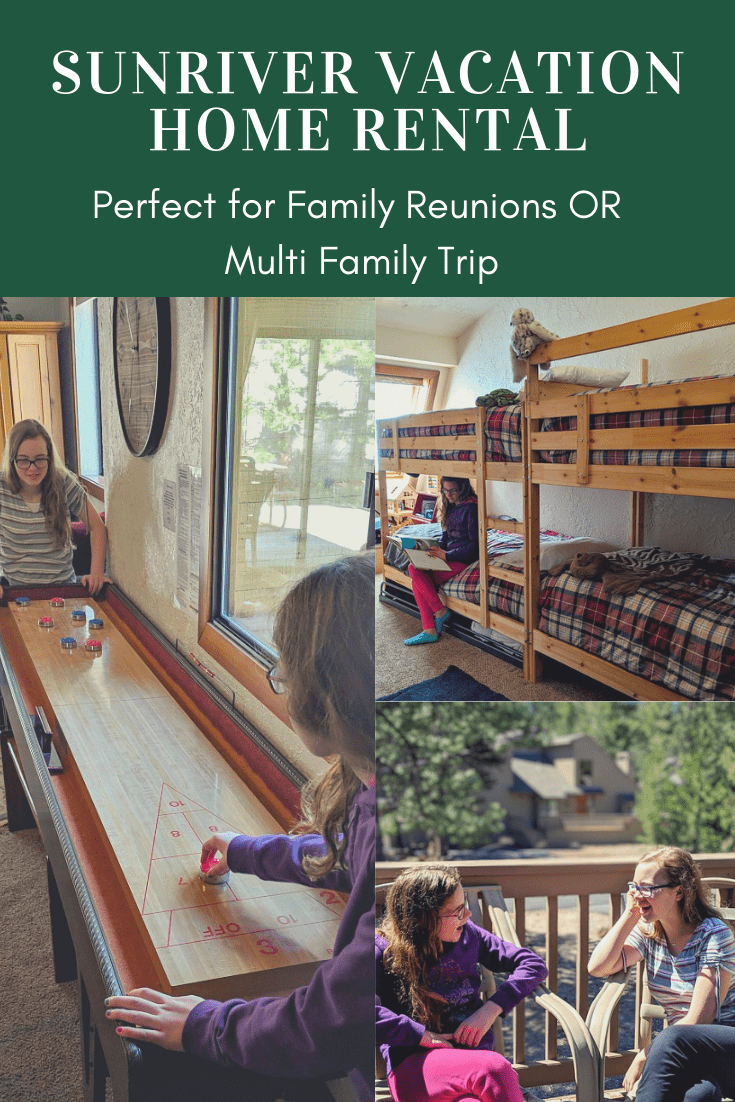 Sunriver Oregon Vacation Home Rental
If you are planning a trip with several families for a getaway or looking for a place for a family reunion during any season, central Oregon is such a fun family-friendly destination. I have been hearing so much from families around the Northwest who grew up going to this area for family reunions & vacations because it really has so much outdoor recreation to offer. This was our 2nd time to visit central Oregon & we are all in love with this destination & want to make it a regular vacation spot for our family, too.
Sunriver specifically is filled with families and is such a welcoming community for families vacationing here. The area is connected by over 40 miles of bike trails and the Village in the center has a number of kid-friendly activities for any season. There are playgrounds & parks all around the community as well as hiking walks & trails just 10 minutes away. The SHARC (Sunriver Homeowners Aquatic & Recreation Center) is also located in the heart of the community with a large indoor pool, snow tubing hill,  and waterslide park in the summer. Mt Bachelor, a popular ski and mountain biking destination, is just a 30 minute drive away. It really is an outdoor lover's dream spot because there are just so many outdoor recreation activities to participate in around the area with such varied landscape – high desert, mountains, waterfalls, volcanic lands & much more.
The Sunriver community consists mainly of vacation homes in the area to keep with the community & family feel of the area & we had the opportunity to stay at the perfect Sunriver Oregon Vacation Home Rental for family reunions or multiple families because of its size & amenities.  The Cedar Cove Lodge is rented through Meredith Lodging, an Oregon vacation rental service for coastal & central Oregon.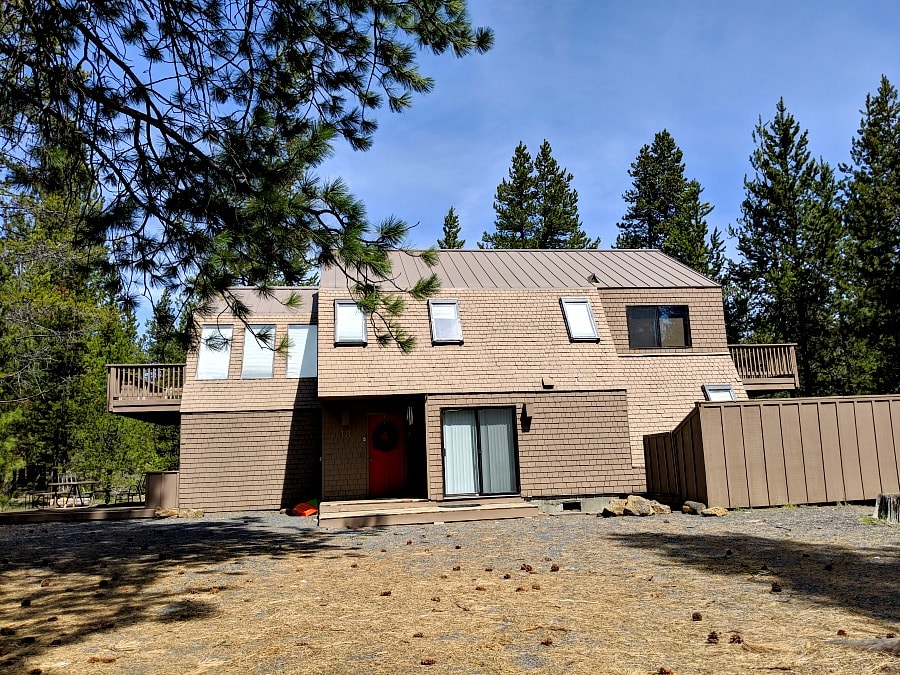 The Cedar Cove Lodge is on a quiet cul-de-sac right in the heart of the Sunriver community and is a large 5 bedroom 2400 square foot home. It sleeps 15 people and they have a number of amenities & features that make it such a great fit for families of any age. The home backs up to greenspace with lots of trees, which gives it a lot of privacy & quiet. It is just minutes from miles of bike paths, the Sunriver Village, Fort Rock Children's Park, the SHARC pools, and so much more.
The 2 story home not only has plenty of bedrooms for several families but it also offers 2 upper decks and a large deck off the family room, so you can enjoy plenty of time outside in the sun. An outdoor hot tub, bikes for everyone & SHARC passes will keep you busy outdoors.  But, the inside of the home lends itself to relaxation & comfort with all the cozy book nooks & plush couches for movie nights. I wish we had more than a few days to stay here – it definitely feels like a cozy home away from home to stay for a week or two on vacation with all the necessities & comforts of home.
20% off Code for Thrifty NW Mom Readers:
We have a special promotion available to help Thrifty Northwest Mom readers saved on this gorgeous Sunriver Vacation Home when you book through Meredith Lodging. Just use coupon code THRIFTYMOM20 to save 20% off your stay!
Here is how to get the extra 20% savings:
Head to the Meredith Lodging website here and select the Cedar Cove Lodge  (in Sunriver).
Select the available dates that work for your families travel.
Use promo code THRIFTYMOM20  to take an extra 20% off your total stay
Additional Savings:
The owners of the Cedar Cove Lodge in Sunriver are also the same owners of the Wecoma Beach House in Lincoln City, Oregon. Sia & her family stayed there in 2018 & they had a fantastic experience (make sure to read her review of the home).  The Wecoma Beach House is just a few blocks from the beach and it sleeps 9 people, so another great option for large families or several families to enjoy this beautiful beach home on the gorgeous Oregon Coast. Thrifty NW Mom readers can get a 20% off savings on your stay too. 
The Home:
Cedar Cove Lodge is the perfect multi-family vacation home as it has 5 bedrooms, 3 1/2 baths & sleeps 15 people.  You read that right – 15!  Not only does it have enough places for a big group to sleep, but there is also plenty of room in the house for eating as a large group and relaxing with two living areas, upstairs and downstairs.
First Floor: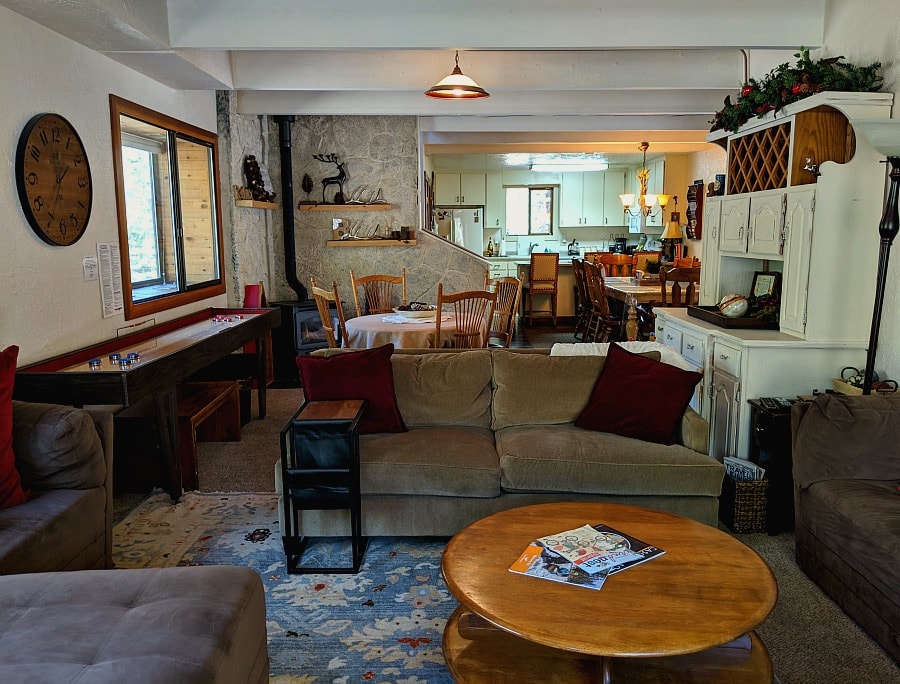 This is the downstairs living room, dining room & kitchen of Cedar Cove Lodge. They have big comfy couches in the main room for everyone to hang out in the evenings,  as well as a shuffleboard game to keep kids & adults entertained.  They stocked the entertainment center with lots of family-friendly movies too.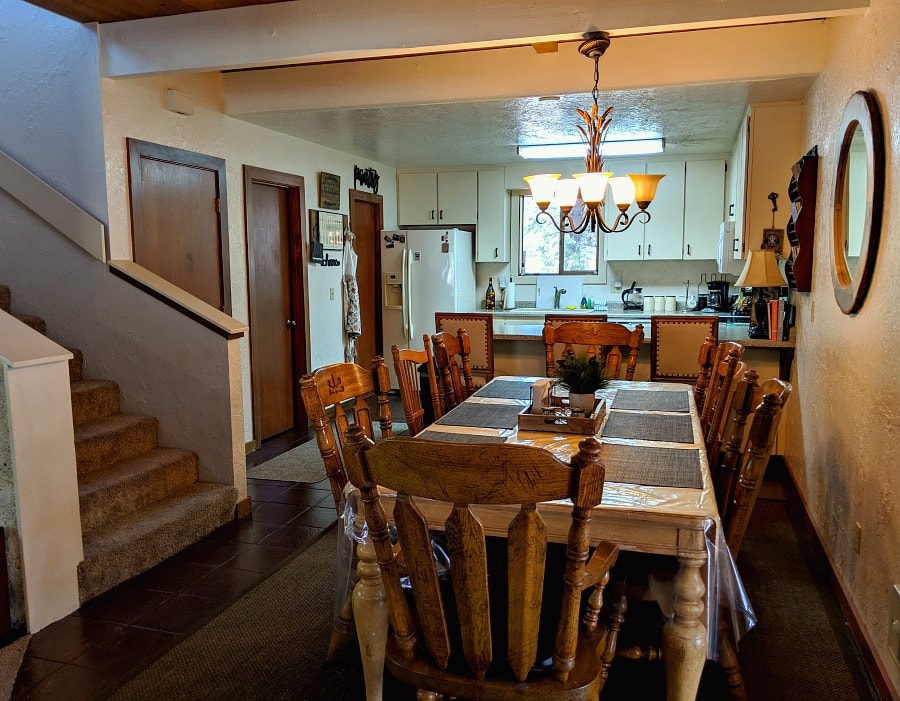 The whole family can gather together at mealtimes with the way the house is set up – they have a long table which seats 8, a round table for 4 as well as 3 bar stools at the counter. There is even a small kids table with a few chairs as well if the little ones would like to sit by themselves.
The kitchen is stocked with everything you need to be able to eat all of your meals at home if you'd like. There's a fridge, stove/oven, microwave, coffeemaker, toaster & even a griddle (& a BBQ on the side deck if you'll be grilling in the summer). You'll also find all of the dishes, cups, utensils & much more you'll need for cooking & enjoying your meals at home. They even have an old-fashioned highchair in the pantry, always thinking of the needs of families.
This is one of the best benefits to staying in a vacation home – the amount of money you will save on meals by eating in. Even if you just eat breakfast & bring picnic lunches with you if you want to enjoy some of the restaurants around the area, it can really save quite a bit of money as compared to staying in a hotel. With a large group or multiple families, this savings can definitely add up.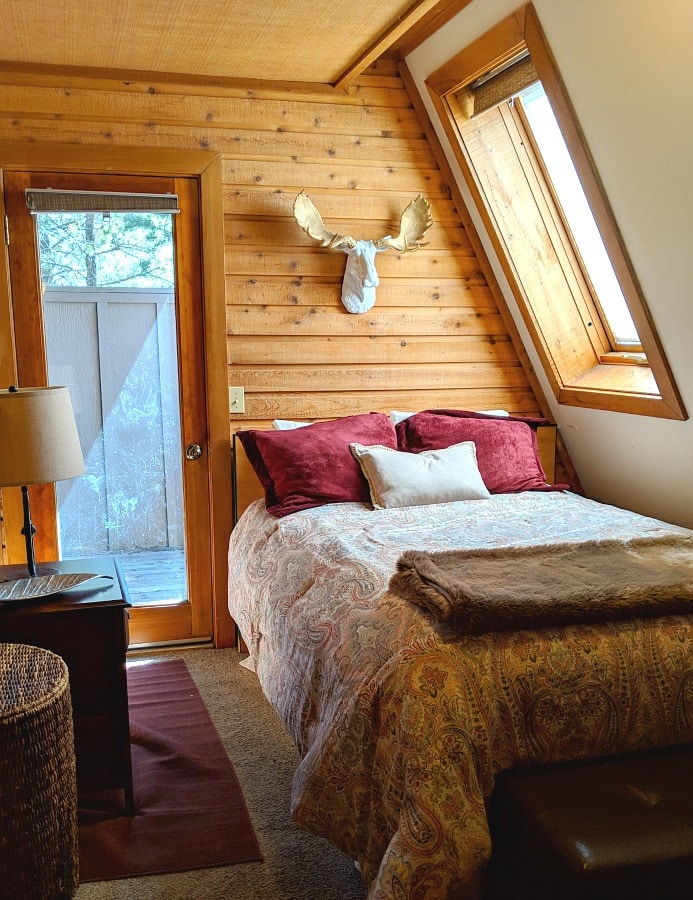 There is one queen bedroom on the ground floor and it has a door which leads out to the outdoor hot tub, so this is a nice room to stay in for easy access to the hot tub. It's also a cozy, relaxing spot to snuggle up with a good book.
There's 1 1/2 baths on the bottom floor as well as a little gated pet area for well-behaved pets to stay.
One of the coolest touches was this unique "mudroom" which we called the "Welcome center" when you first walked in the front door.  This was a hub for all the information you would need for visiting Sunriver and Bend, as well as a central location for recreation items. They had a set of golf clubs, bike helmets, outdoor games, a central place to find the SHARC passes, walking stick & more.
This is where we could find all of the information related to the vacation home,  as well as a number of pamphlets for the area so we could plan out our visit. Such a useful little room for us!
2nd Floor:
On the 2nd floor of Cedar Cove Lodge, there are 4 bedrooms,  2 full baths and a washer & dryer in the closet (this always comes in handy when you come home from swimming & need to get those bathing suits dry. Or if you stay here in the winter & need to dry those snow clothes too).   There are also 2 upper decks off the bedrooms at each end of the hall. With a living area in the middle,  it doesn't feel cramped at all, there is a lot of space for families to stay here. So many extra touches for families, too, such as a few extra diapers & wipes in bathroom cabinets, books for bedtime reading for kids or adults, and cozy blankets everywhere.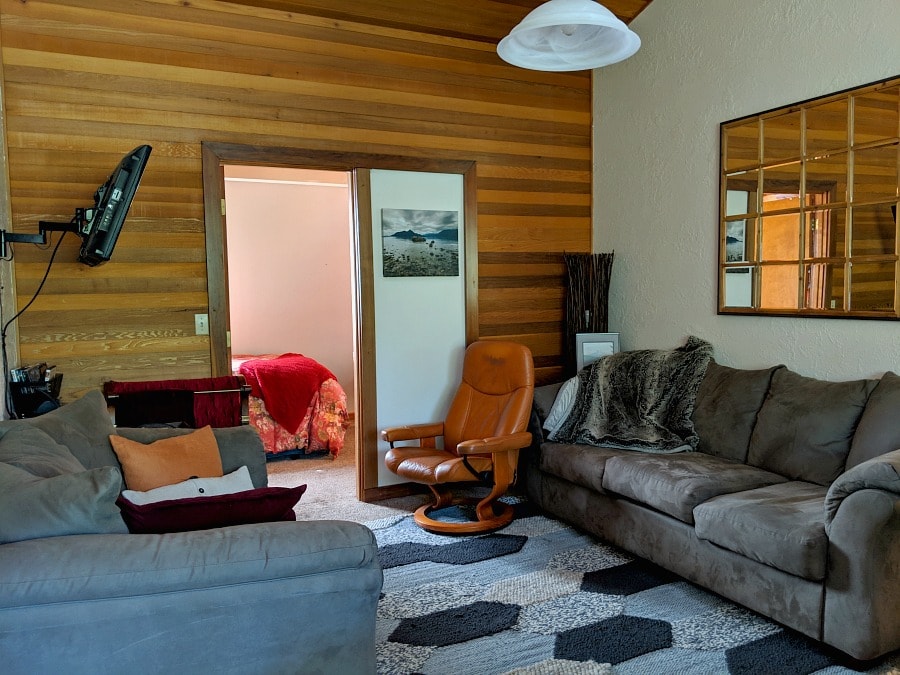 This is the 2nd living area upstairs with comfy couches & chairs as well as a tv.  It is in a central location right at the top of the hall. This was the perfect movie room for us in the evening.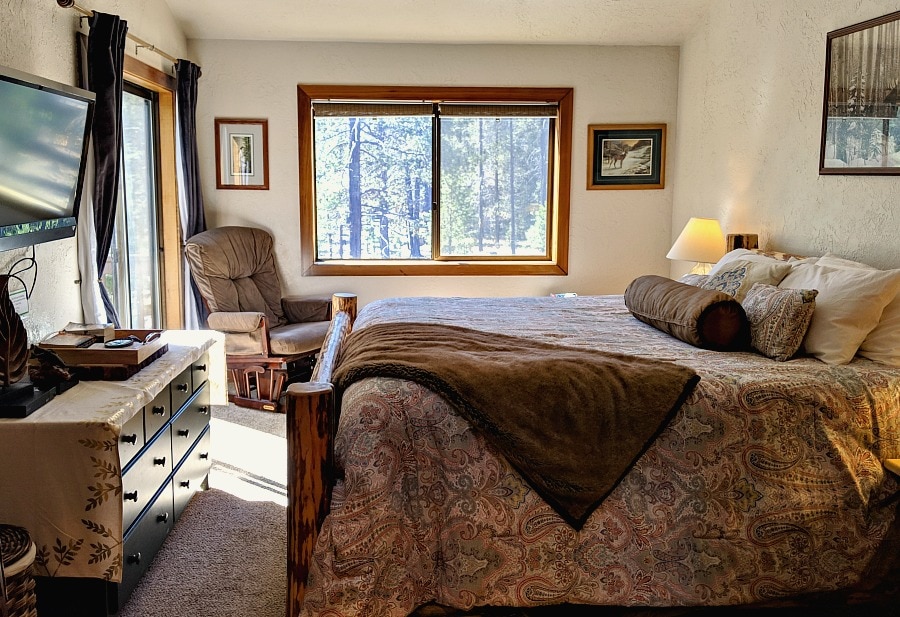 The master suite had a large king size bed with tv and a glider too.  There was a full bathroom  attached to the room as well.  Off the room is a private upper deck , which my husband loved, sitting outside on the deck, drinking his coffee & enjoying the peaceful forest & neighborhood.
At the other end of the hall upstairs was another queen room with a daybed, which also featured an upper deck. My daughters loved hanging out on the daybed or outside on the deck to read.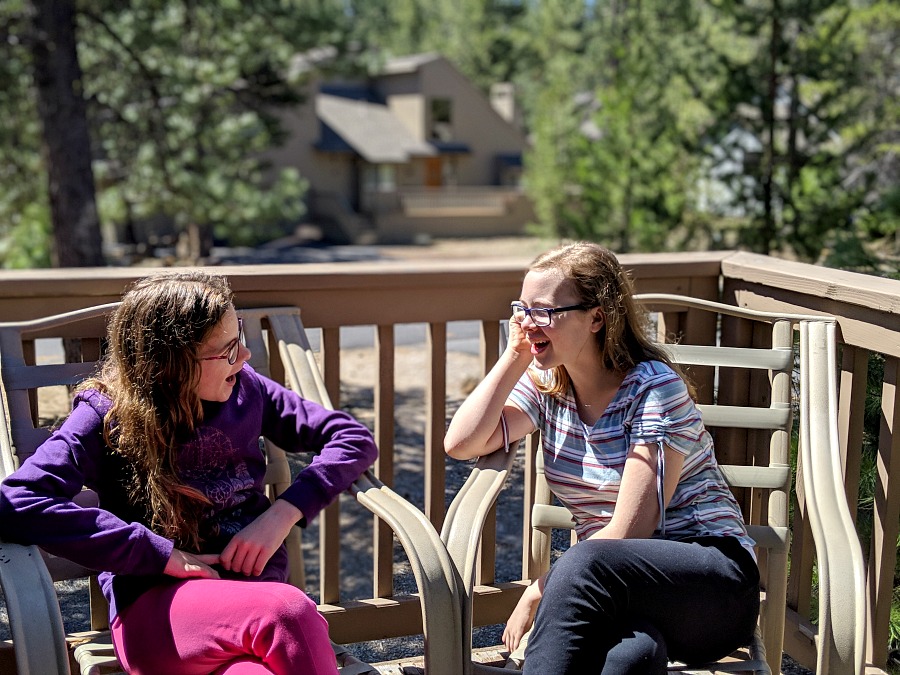 We sure do love all the sunshine in central Oregon! Since they are over the mountains, they get so much more sun than western Washington or Oregon, so my girls were soaking up all this sunshine & enjoying any time outdoors.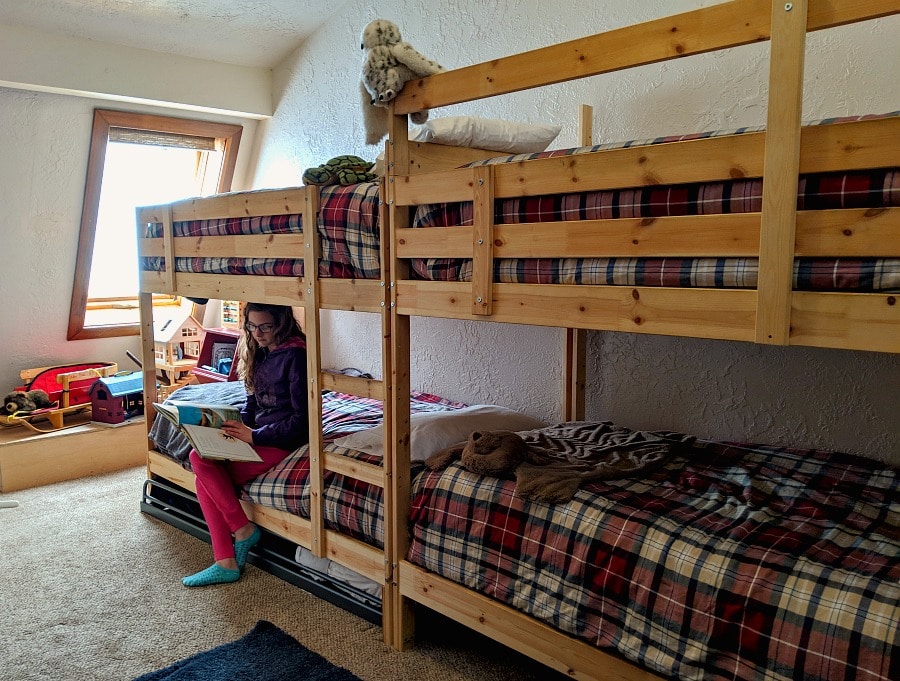 The kids' room was a double bunkbed room. It sleeps 4 kids in the bunk beds & there is even a pull-out trundle bed, too. This room had some great touches for kids, with dollhouse, toys & books. There were stuffed animals to sleep with, too. I love that they have these special touches for families, so that kids can feel comfortable & entertained while staying in the home.
Amenities at the Vacation Home:
Whenever we look at vacation homes, one of the things we always look at is what type of extra amenities are available at the home that we can use. Cedar Cove Lodge has so many extras that make this home such a great fit for multiple families of all ages. Here are a few of the amenities that the home offers:

Outdoor Hot Tub
One of my favorite amenities for a vacation home is an outdoor hot tub and this hot tub was a perfect . There is nothing better to me than sitting in the hot tub at night under the stars and relaxing those muscles after a hike or busy day exploring. It's even more fun in the snow, which Sunriver definitely gets a lot of snow in the wintertime. You can stay warm in the hot tub while the snow falls all around you.  There is a privacy wall all around the hot tub & the door is right off the downstairs bedroom, so not far to walk if it's cold.
Bikes for the Whole Family
If you have ever been to Sunriver, you will know that this is a huge bicycling community in the spring, summer & fall. The entire community is paved with easy-to-ride bike trails all around and there are over 40 miles of bike trails around the community,  making it easy to head to the SHARC recreation center, theh village & more. This is also a popular way to get to some of the outdoor recreation sites nearby, such as Benham Falls along the Deschutes River Trail (this is such a pretty area –  check out our post to see what it looks like in the wintertime).  Bike trails also can take you to the Lava Lands Visitor Center & the Trail of Molten Lava.
The Cedar Cove Lodge will save you money in that you don't need to rent bikes on your trip or deal with the hassle of bringing a bunch of bikes with you on your trip. They have enough bikes for everyone, including kids bikes & even a tandem bike too! You'll find a few bike helmets inside as well if you forgot yours (although I'd still bring my own just to make sure you have the right sizes for your group as there are just a few).

SHARC Passes 
Another important thing to consider when looking for a vacation house rental in Sunriver is to look for homes with SHARC (Sunriver Homeowner Aquatic & Recreation Center) passes as this will be a big money-saver for you, especially if you have multiple families staying with you. The Cedar Cove Lodge offers 12 passes for unlimited access to the SHARC center for your entire stay.
During the winter & off-season, the passes are $16/person & during the summertime when the waterpark is open, too, the passes are $26/person.  That's $192 savings for just one day of use if 12 people use the passes in the off-season and $312 savings for one-day use for 12 people during the summer season! So, definitely factor in those savings when you look at the rates & what activities you are wanting to do when you visit Sunriver.
The SHARC will definitely be a hit with any age during any season.  There is a huge indoor pool to use any season, which includes a large outdoor hot tub, water basketball, splash pad area,  lap lanes & more. In the winter, you will also get free access to the tubing hill when open (this is $10/person for tubing if you don't have passes).
During other seasons,  you'll have access to the disc golf course, tennis & pickle ball. In the summertime, there are waterslides, lazy river, water jungle gym,  tot pool & sand area. So, this is definitely a place your family may want to spend time each day. We enjoyed hitting the SHARC after an early dinner to relax in the pool & hot tub before bed. There were few people during the off-season when we went and it was so relaxing to end our day there.  We loved the option of being able to go each day with the passes.

Indoor Shuffleboard Game
This is definitely a house that is made for big groups. One of the fun indoor activities was this shuffleboard game they have in the main living area. My girls loved playing this game during downtimes & I can see friendly competitions happening if you have a group of friends or family members enjoying the house together.

Outdoor Decks 
The weather is so pretty in Sunriver, even during the off-season when we stayed there, so we loved being outside any chance we could soaking up that beautiful sunshine! They have a large deck off the family room on the side of the house, which has a BBQ, picnic table and lounge chairs so you can eat your meals outside & relax while the kids play on the deck & in the forest. There's even a water table table for the little ones to splash around in during the warmer temps.
On the 2nd floor, each of the bedrooms at either end of the house have a deck.  The master bedroom suite has a deck, as well as the bedroom at the other end of the hall  (with a queen bed & day bed). These were the perfect spots to enjoy a cup of coffee to start your day or sneak away for a little quiet reading time.
More Information about Sunriver and Bend:
There is such a wide variety of activities to do around Sunriver and Bend during any season! We have a list of different activities during the winter & summer as well as some of our favorite family-friendly places to eat around the area, too.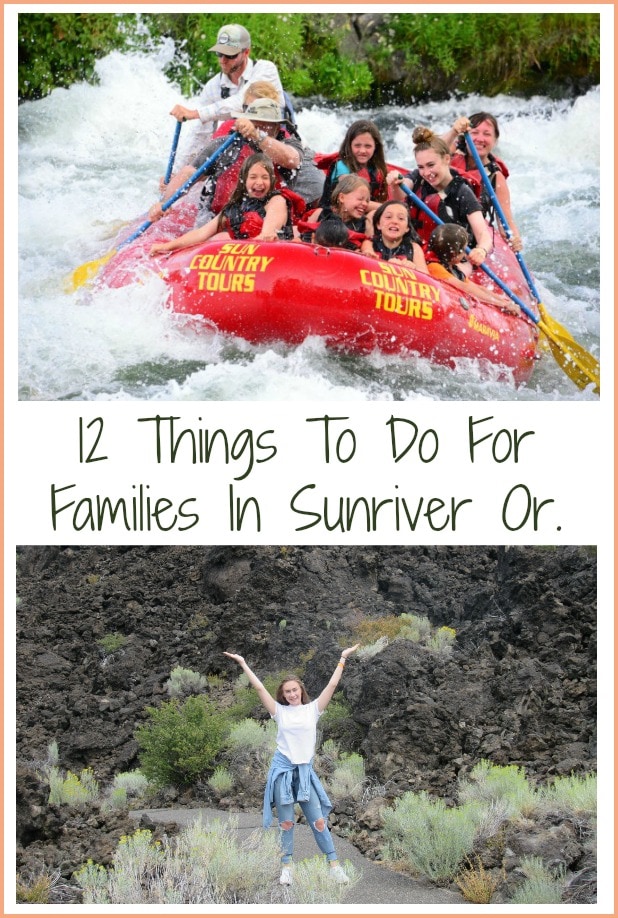 12 Things to Do for Families in Sunriver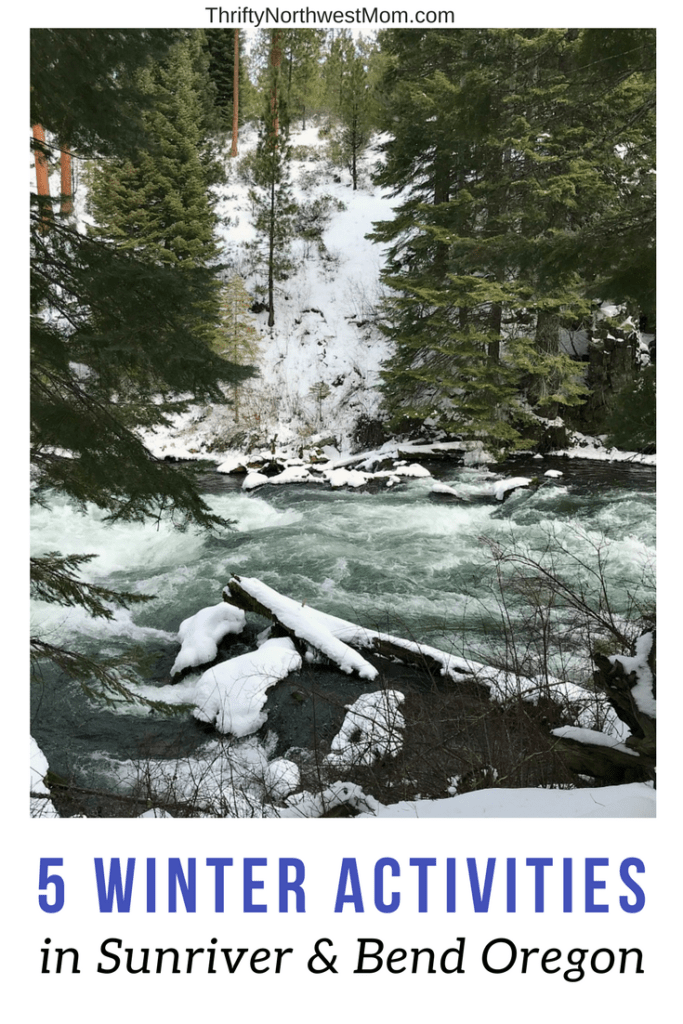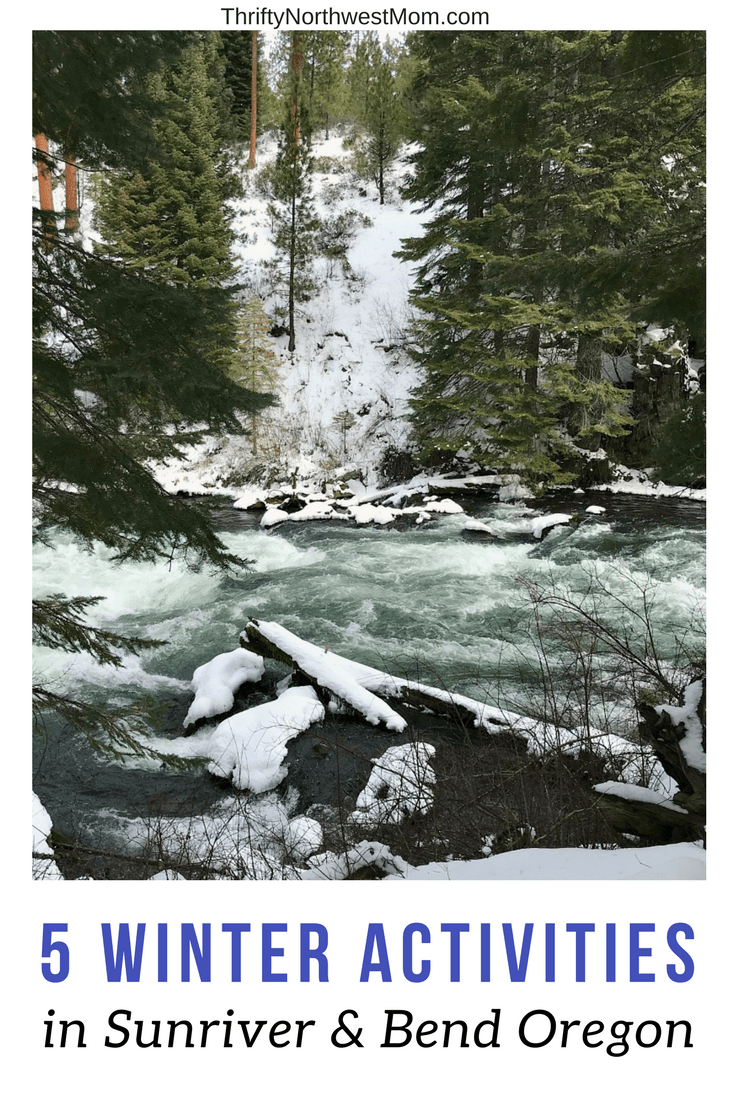 5 Winter Activities in Bend & Sunriver for the Family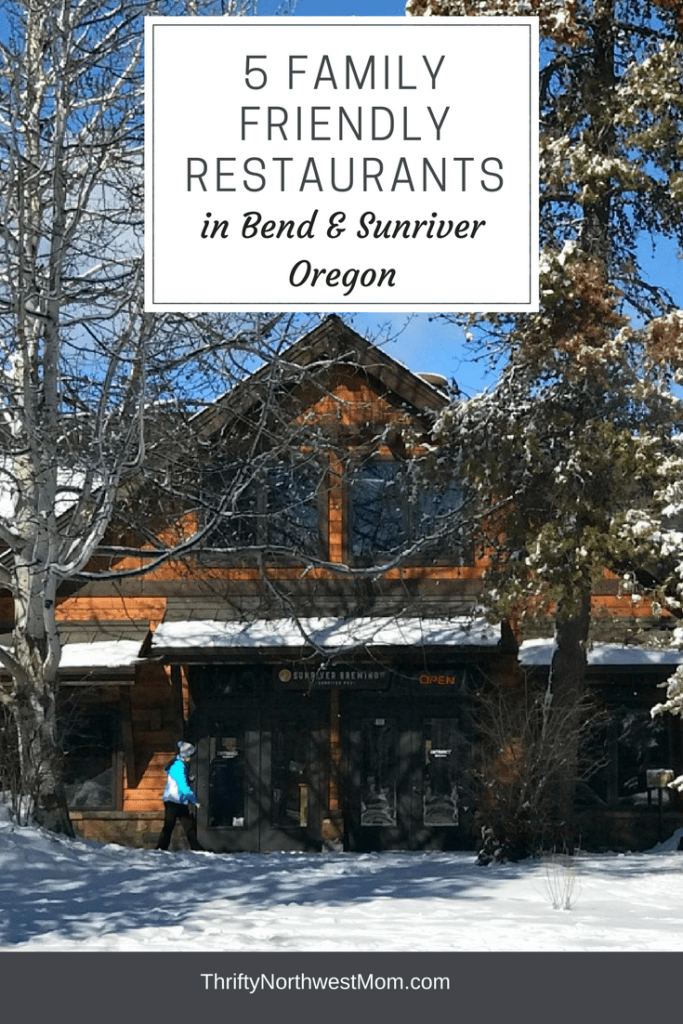 5 Family Friendly Restaurants in Bend & Sunriver
Beach House on Oregon Coast:
And don't forget about checking out the Wecoma Beach House in Lincoln City, Oregon if you are wanting to head to the Oregon coast for a vacation getaway. The owners of Cedar Cove Lodge also own the Wecoma Beach House (which gets rave reviews!) – check out Sia's review of the home).  The Wecoma Beach House is just a few blocks from the beach, sleeps 9 people,  and a great option for large families or several families to enjoy this beautiful beach home on the Oregon Coast. Thrifty NW Mom readers can get a 20% off savings on your stay too.
What are your favorite things to do around Sunriver & Bend Oregon?