5 Family Friendly Restaurants in Bend and Sunriver Oregon
This post may contain affiliate links and I may be compensated for this post. Please read our disclosure policy here.

5 Family Friendly Restaurants in Bend and Sunriver Oregon
If you're headed to central Oregon for vacation, you'll be quite impressed with the restaurant scene in the area!  Bend is known for their amazing restaurants, so it was a hard decision for us on deciding where to eat with so many great options of where to go.  There is such a wide variety of cuisines and we found the area to have a number of family-friendly restaurant options.  I am already planning another trip, especially during the warmer months,  to try out more restaurants as they have some awesome restaurants with outdoor dining by the river in the summer, as well as some interesting food carts to visit as well.
We have included 5 restaurants that are a great fit for families and we'd love to hear your favorite places to eat in Sunriver and Bend, too, so we can add more to our growing list of places to try!
More Posts about Bend & Sunriver:
Deschutes Brewing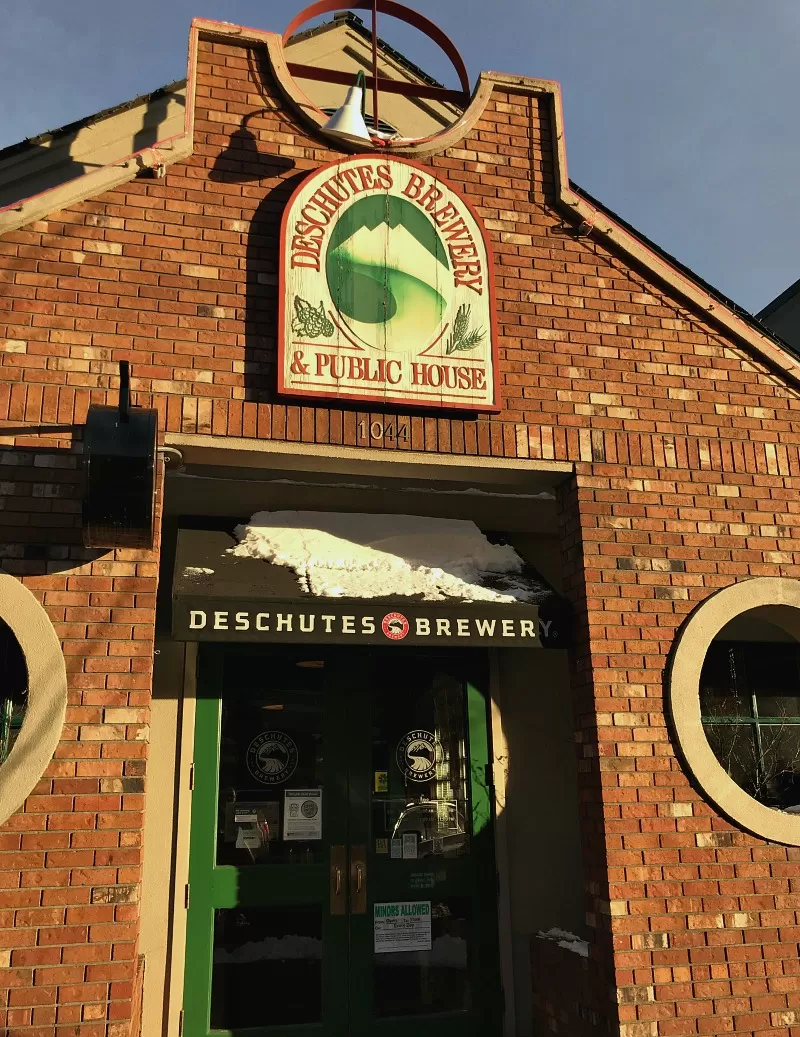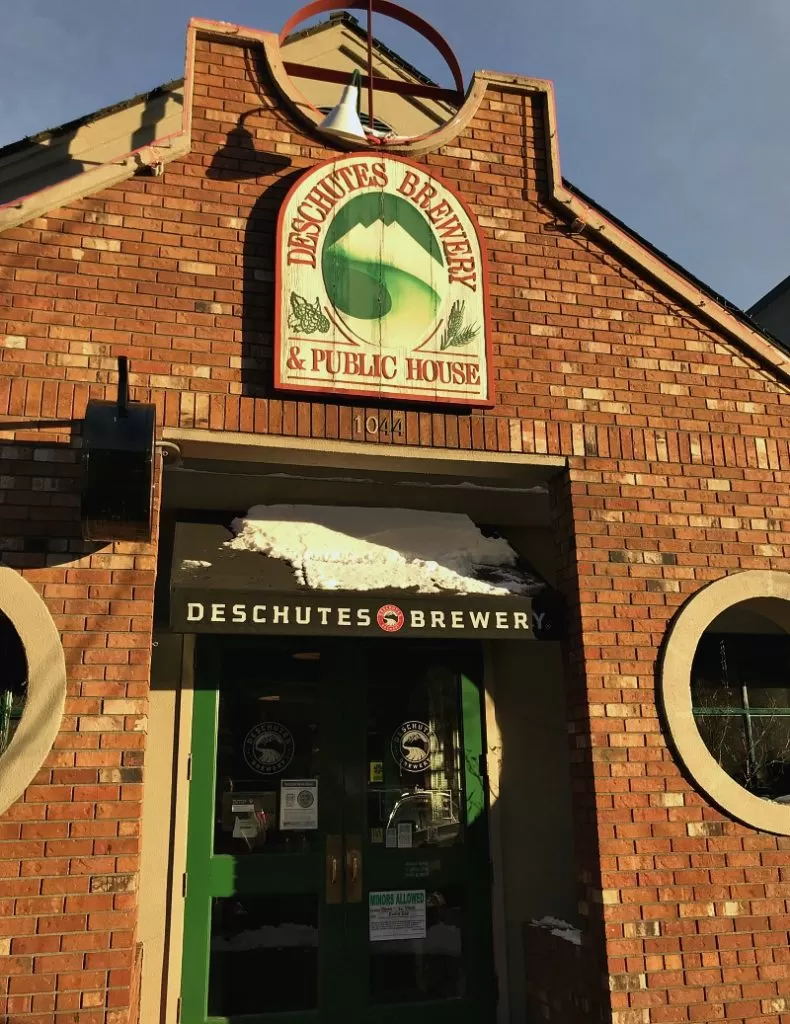 The Deschutes Brewery is definitely a local hot spot right in the heart of downtown Bend. This is a bustling, lively place with 2 floors & a lot of space in the dining areas. Even so, the dining room was packed when we left (we got there around 5pm on a Saturday night in February), so I'd definitely recommend getting there early evening especially with kids, so you don't have too long of a wait. It really was the perfect spot for kids, though, with such a fun atmosphere and a place where you don't have to worry about kids being too loud as there were so many families there.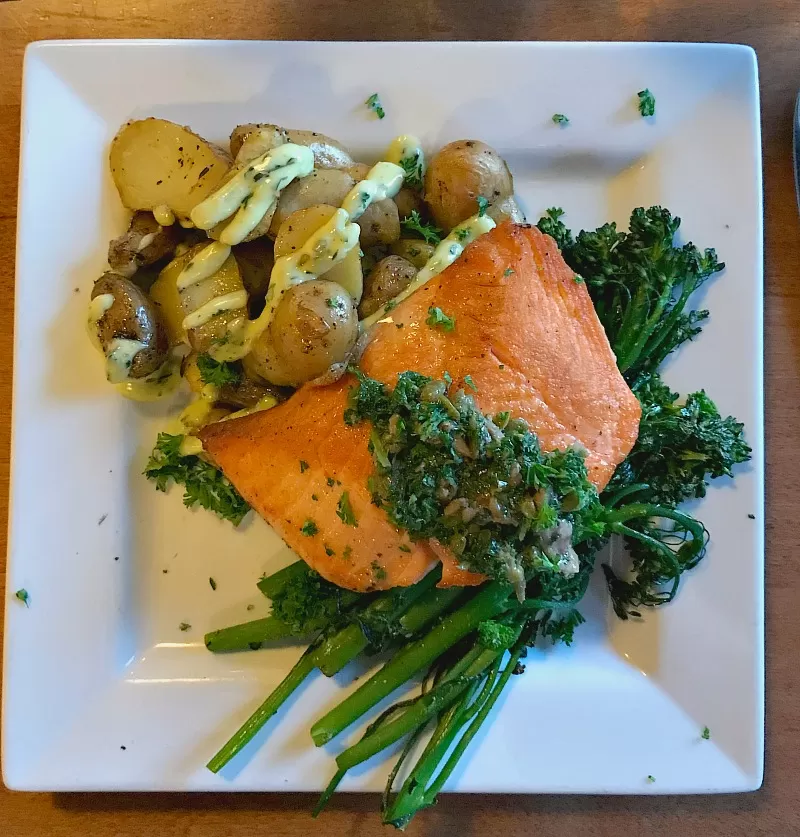 The food is made with locally sourced, fresh ingredients and is distinctly Northwest fare. My husband had the popular Elk Burger and he felt the flavor was very authentic without being overwhelming. I had the Coho salmon, which was moist & flaky, with a caper & anchovy sauce.
Sunriver Brewing
The Sunriver Brewing Company is located right in the heart of Sunriver at the Village of Sunriver, which makes it so convenient if you're staying nearby, so that you don't have to head to Bend for a delicious & very kid-friendly meal. The food was outstanding & we loved that they had a separate section just for kids in the restaurant, so that parents could enjoy their meal while the kids played nearby.
The menu consists of your typical pub fare, but with a variety of other options as well for different palates. The food is delicious as it is locally sourced and they use fresh & natural ingredients as much as possible.  I loved this flavorful Chicken Rice Bowl that I ordered. And my older daughter got the Pulled Pork sandwich, which we all decided that we needed to help her eat because the meat was just so tender!

And check out this amazing kids' play area – this is one of the best kids' areas I have seen in a restaurant. Such an amazing play area for them & the parents can sit nearby & enjoy dinner & a drink while the kids have a blast!
Blondie's Pizza – Sunriver
Pizza is always a hit with kids and Sunriver has a popular pizza spot right in town called Blondie's Pizza. They serve pizza, pasta, calzones & salad and they are an affordable option for dinner right in town. They are open for lunch, dinner & offer delivery as well.
We did not have time to visit here, but Sia said that this is always a must-visit restaurant for her family & their extended family on all of their visits over the years. Blondie's Pizza is just right across from the Village at Sunriver, so it's very centrally located.
McKay's Cottage – Bend
I knew this was a restaurant we needed to visit at some point during our visit due to its high ratings & multiple recommendations, so we headed to McKay's Cottage on our way out from Sunriver for brunch before our long drive home. And it was the perfect place to go for filling food as they give you such hearty portions that we all still felt full many hours later. McKay's Cottage is rated as the #1 best restaurant in Bend on Trip Advisor, but more than that, I had heard from multiple people that this is a must-visit restaurant! And we were not disappointed!
The restaurant is located in a charming and cozy historic Craftsman home with a restaurant & bakery as well as outdoor seating (with heat lamps on the porch)! It looks like they have outdoor seating on their front lawn in the warmer months, too.
The food – oh my, the food is just delicious! Breakfast is my favorite meal of the day &  this would be a place I would come back to over & over  if I lived in Bend! They offer everything from fresh Strawberry Crepes, Croissant-style French Toast, White Bean Chicken Chili Omelette & much more! Many of the breakfast dishes come with a fresh, homemade scone, too (& these were amazing!)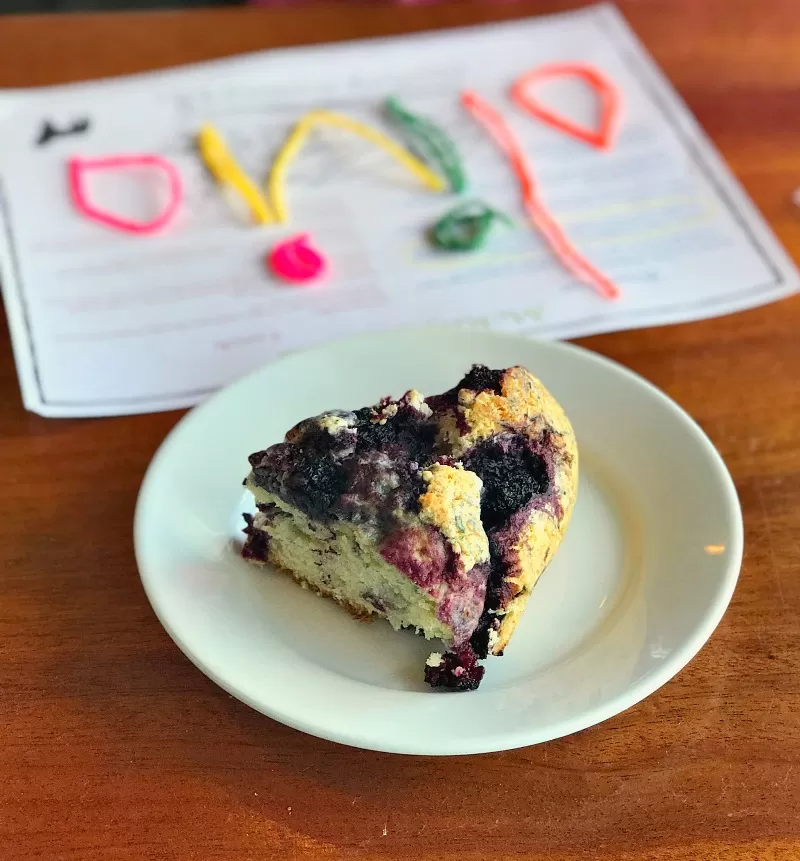 My girls loved the fact that the kids menus came with Wikki Stix – this occupied their time while we waited for the food making all sorts of different creations. And then they brought it with them for the ride home, too. So, this is definitely a very kid-friendly location!
More Places to Visit:
Goody's Chocolates  – Sunriver
Right across from the pavilion at the Village at Sunriver (where they have an ice skating rink in the winter & fun activities in the summer) is the Goody's Chocolates store. This will definitely be a kid-favorite as it's a candy store + ice cream shop. We had been freezing all day & then went to do ice skating at night at the pavilion, but my girls were still craving ice cream afterwards – crazy girls! Their ice cream was delicious, though, & there were so many delicious looking chocolates, plus lots of other candy options in the displays. Sia did mention that Goody's can get very crowded in the summer with long lines, so just keep that in mind if you're wanting to make a stop – to pick a less popular time to head there.
I saw on their website that there is also a Goody's Chocolates factory store in Bend – this would be a fun one to visit! Definitely going to remember that for our next visit to Bend/Sunriver as it can be a great way to save by visiting the factory store for the "seconds" they will often sell at a discount.
Good to Go – 
One of Sia's family's favorite places to head in the summer is the Good to Go  shop for their Shave Ice.  She said the kids always love the taste & they are so large that two people can split one shaved ice. This is a little shop that offers all sorts of outdoor adventure rentals (tubes, kayaks, etc), but they also have a little walk-up cafe on site as well.  It is a great, budget friendly option for a quick meal, as they offer boxed lunches, sandwiches and wraps that are pretty affordable, along with the shaved ice, for a treat. You can eat at tables outside around the village or bring it with you to go for a picnic lunch.
Hot Lava Baking Company –
The Hot Lava Baking Company bakery is located in the Village at Sunriver as well and it is a great place to stop in for a doughnut or bakery treat in the morning or a sandwich at lunchtime. They have affordable prices & tasty treats!
Sunriver Resort –
The Sunriver Resort also offers a variety of dining options to check out, everything from an Italian bistro to a Northwest Grille. In the summertime, they have family nights where you can eat outside & enjoy concerts on the lawn & lawn games for a fun family atmosphere.
More Posts about Sunriver & Bend: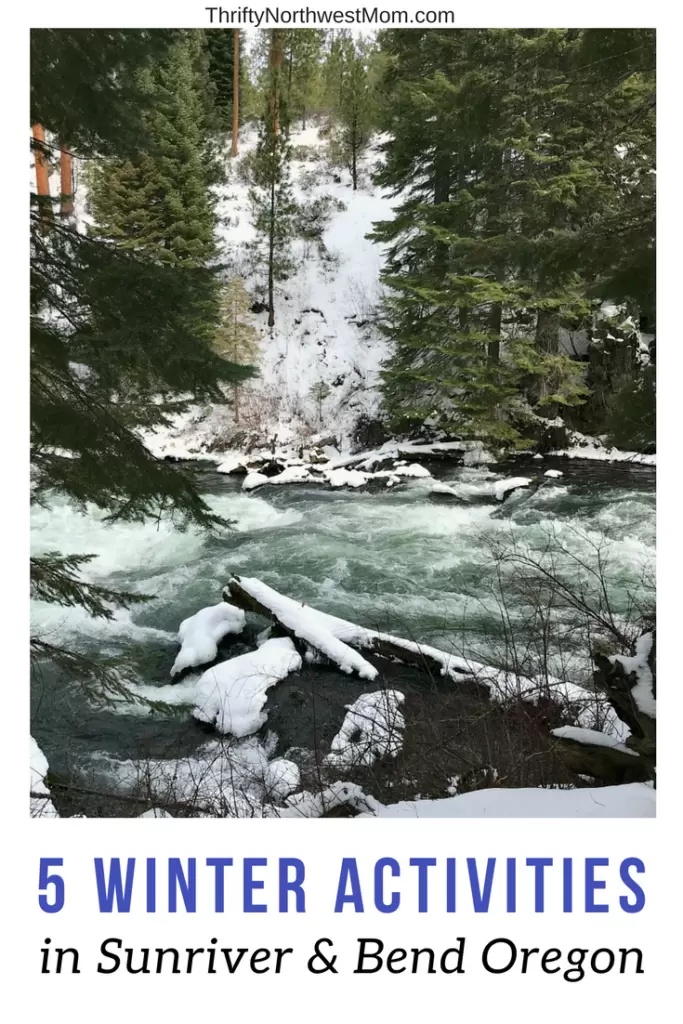 5 Winter Activities in Bend and Sunriver for the Family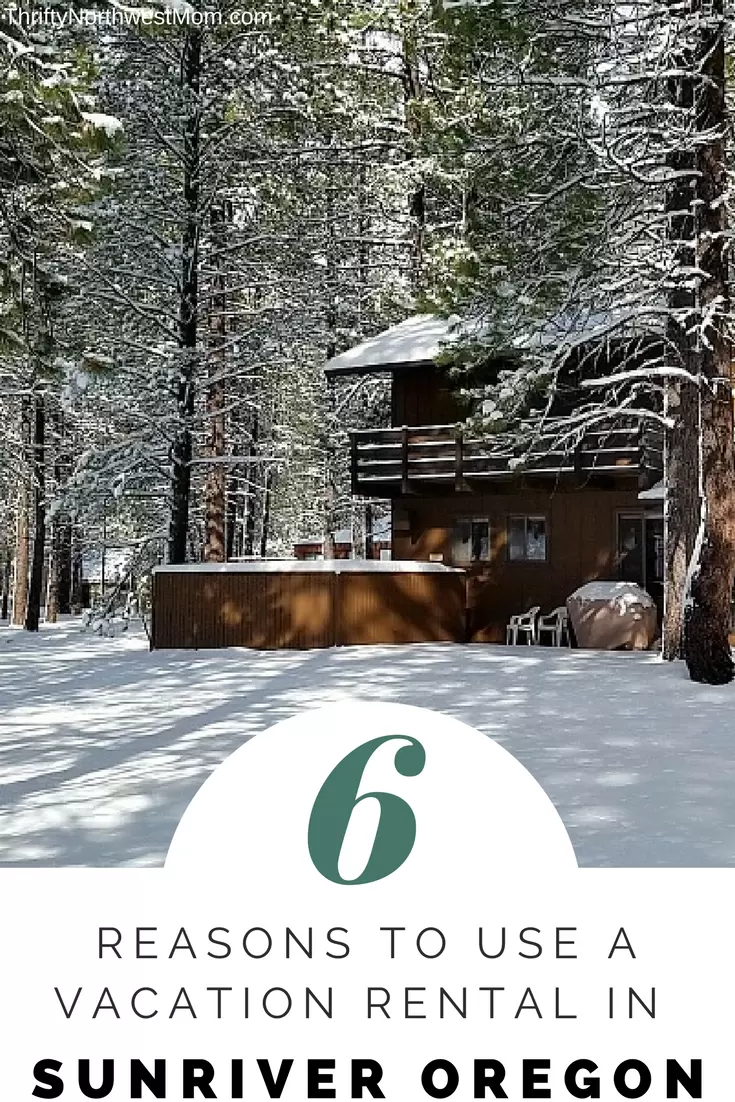 6 Reasons to Use a Vacation Rental in Sunriver
Where are your favorite restaurants in central Oregon?