Tiny Houses, Yurts & Cabin In the NW – MANY Beautiful Options!
This post may contain affiliate links and I may be compensated for this post. Please read our disclosure policy here.
Renting A Cabin In the NW – MANY Beautiful Options For All Price Ranges!
Staying in cabins has long been a favorite way for my family to travel. We love them for their outdoor spaces, extra room to spread out as a family, and ability to cook in our own rooms at our spot. We also love that many have outdoor amenities that keep our family busy when we are at the campgrounds too.  These days if you are looking to do some travel, chances are you might be interested in a stand alone cabin that you can rent to have a little more space all to yourself, too!
Cabin stays can vary from the rustic (use a public restroom) to the luxurious. Prices will also vary accordingly. One thing I like to consider with cabin stays, is that many offer small kitchens to cook your own meals in – so you can save on food costs vs having to eat all of your meals out.
They can be harder to find through traditional travel engines, since many of the cabin offerings will not show up on a standard travel site inquiries. Often times they are part of an RV park, or a mom and pop shop, and so we wanted to make sure you knew about some of these. There are so many wonderful options in the NW. We have compiled a number that you will find here in the Northwest here. Let us know if we missed any of your favorite spots?
One more thing to keep in mind. Cabins are popular in the summer especially, so you will likely need to book ahead at the more popular destination spots for summer stays. You can save on your stay if you are willing to stay in off seasons too, so that is something else to think about. We have stayed in cabins or tiny houses during all four seasons, and there are wonderful things to explore all year long.
Cabins, Cottages or Tiny Houses In The PNW:
Washington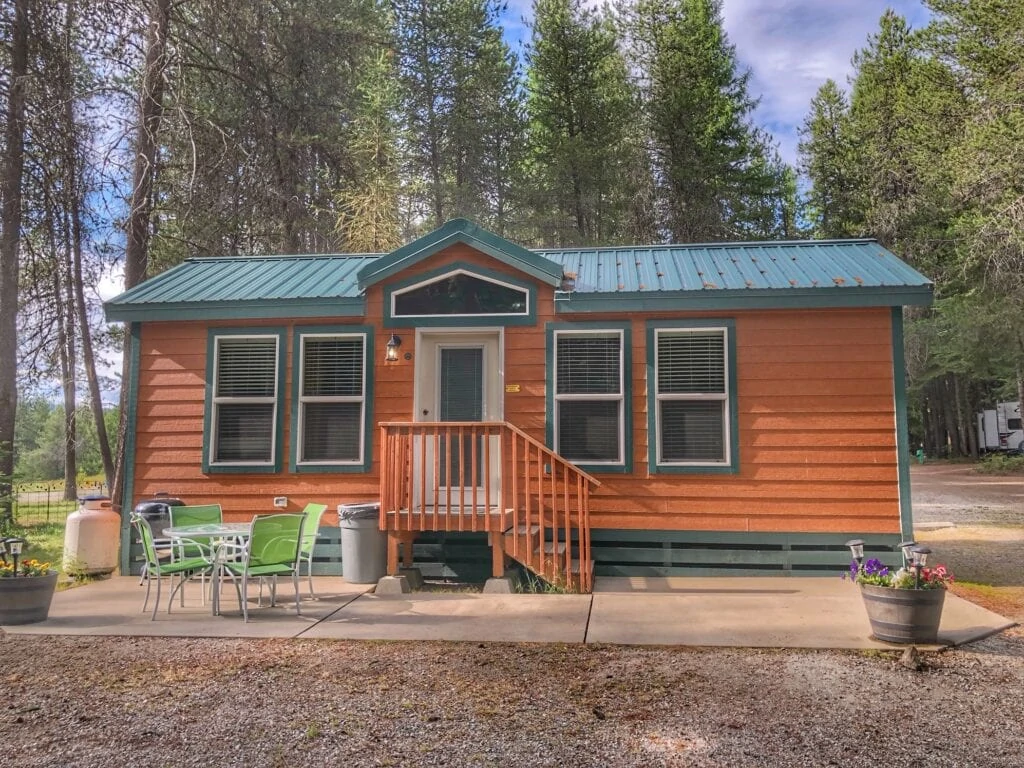 We loved this location, as it has a lake and pool on property. There was a small camp store that you could rent boats and get supplies from too. It is near lots of outdoor activities, and about 45 minutes from Spokane and an hour from Silverwood.  Each cabin has its own outdoor entrance, and is not facing anyone else's cabin. There are only a handful of cabins at this site (lots of tent and RV spots) so you will likely need to book in advance to get one.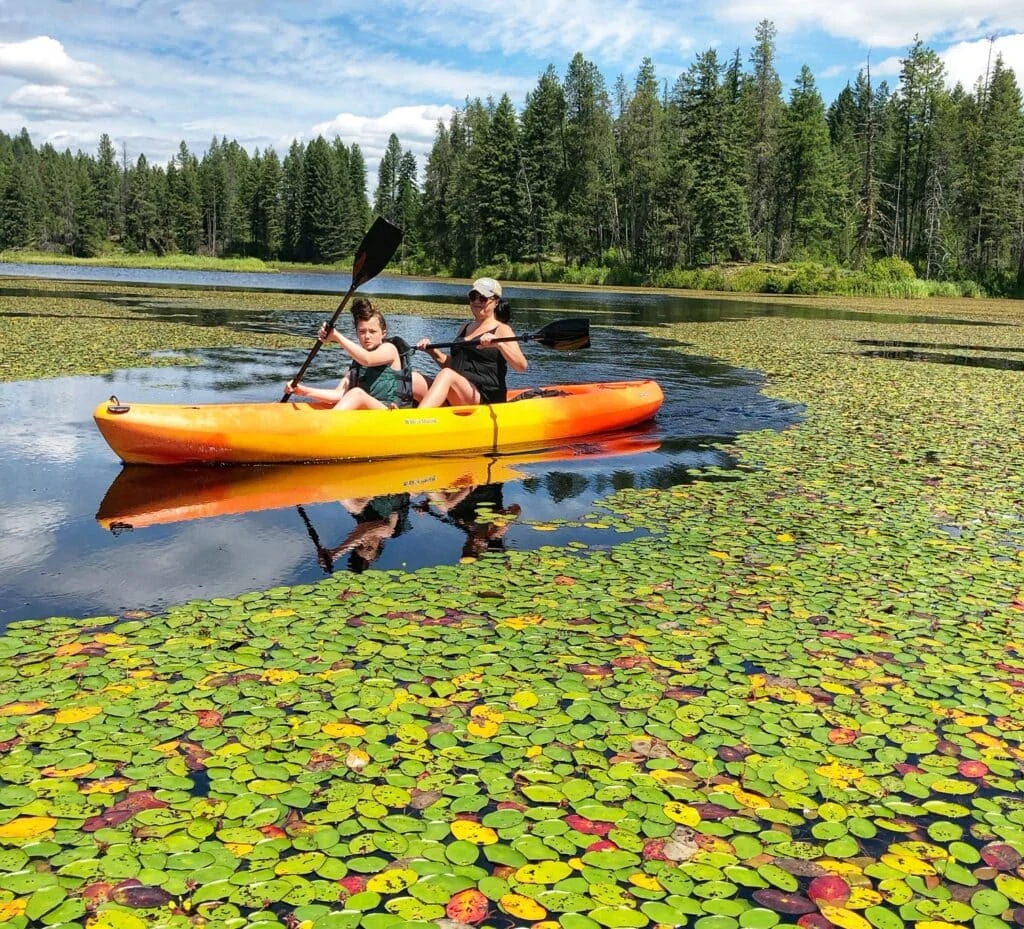 We saw some folks fishing on the lakes, and we took the canoes and paddle boards out ourselves one afternoon.
Read our full review of staying in a cabin at this location here.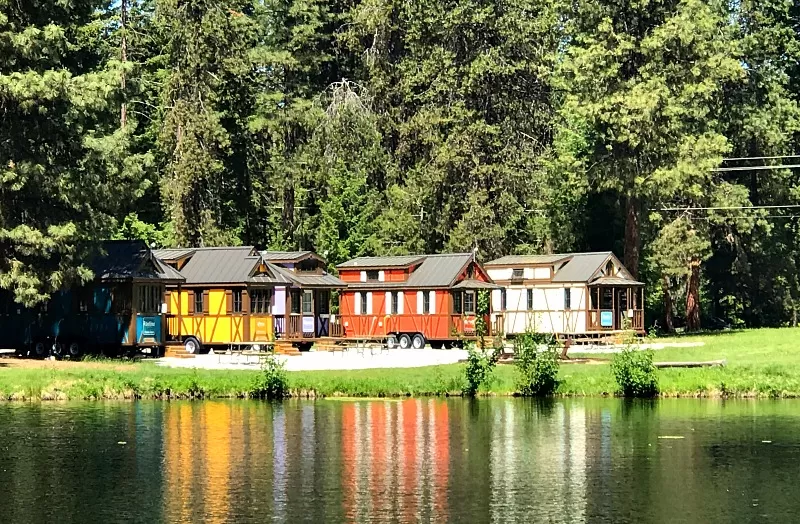 These tiny houses near the Leavenworth area, are a fun adventure for those looking for a tiny house adventure. There are 5 tiny homes to choose from when booking, and they are all situated around this private lake front too. Nothing like waking up to that view first thing in the morning!
The grounds themselves offer plenty for families to do, but you also have a number of options to enjoy in Leavenworth itself, on the Wenatchee River, or make a day trip into the town of Wenatchee too (and enjoy their Market, bike ride around the waterfront and more).
Read our full review of staying in a cabin at this location here.
Thousand Trails Cabins – La Conner, WA
These Thousand Trail cabins are located right on the beach about 10 minutes from La Conner & about 20 minutes from the Skagit Valley fields (perfect for the Tulip festival) & 20 minutes from Deception Pass state park & Anacortes, if you're headed to the San Juans. Such an ideal, central location for all sorts of outdoor activities in the Skagit Valley & Island county to access Whidbey & Fidalgo Islands.
This is a great family-friendly destination with lots of nearby hikes and about 1/2 a mile of saltwater beach to explore, too, as well as some nearby beaches to check out for further fun. You'll love the antique shopping, charming restaurants & cafes & more in La Conner & Mount Vernon too!
These cabins will cost you a bit more than some of the others mentioned here, and might be harder to find availability for, but they are wonderful. They are all set on a private lake owned by the Sun Mountain Lodge Resort, and you can bring your own gear or rent all kinds right on site. They had paddle boards, canoes and much more. There is also a swimming area there, and we saw folks fishing too.
You will also have access to the amenities up at the Sun Mountain Lodge (like restaurants and game rooms), plus there is plenty for families to do in the small town of Winthrop, just minutes away too.
If you want to stay in the area, but are looking for something a little more affordable, there is also a KOA in Winthrop, that you can rent cabins at.
Read our full review of staying in a cabin at this location here.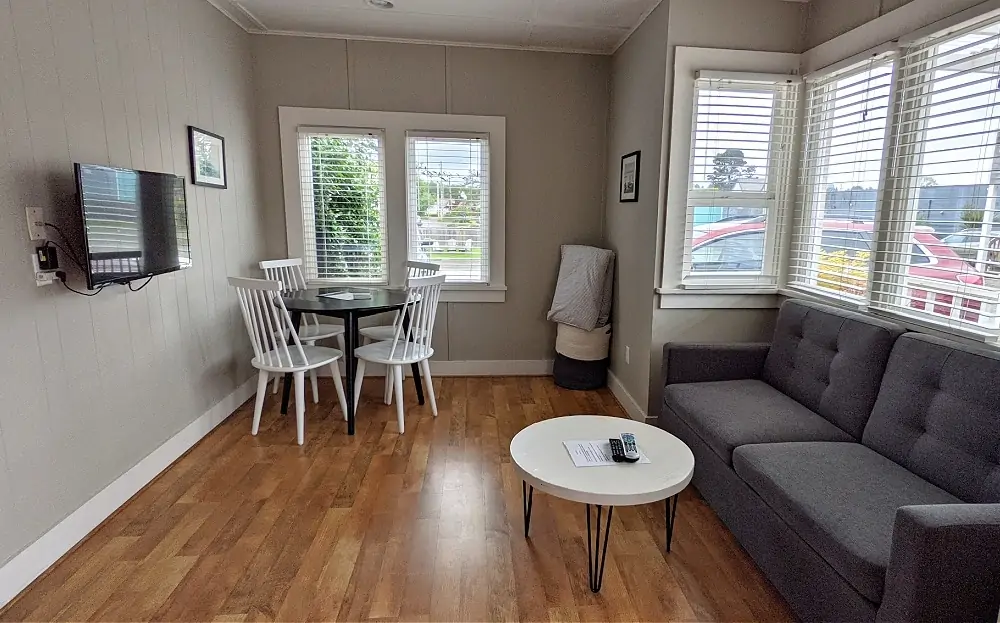 Enjoy the Washington Coastline in Long Beach at the Boardwalk Cottages
The Washington Coast is beautiful, but can be cooler, so a great spot to call home is wonderful to have there. Check out all of the things you can do in Long Beach with a family, as well as more about Jens recent stay at the Boardwalk Cottages here.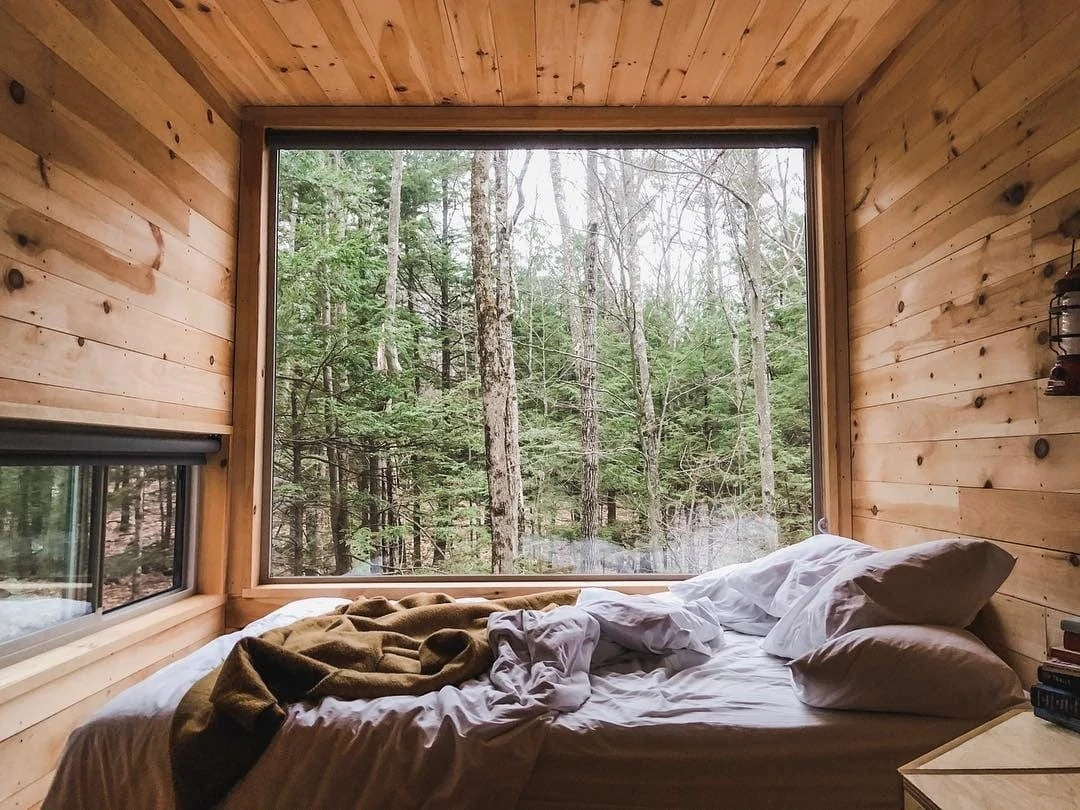 This spot is not only beautiful, but it is unique, in that it has a modern feel to it (versus the more rustic cabin ascetic). These modern cabins are spread across 80 acres of wooded area in Glenwood, WA, at the base of Mount Adams. It offers access to many beautiful outdoor adventures nearby as well. They offer options for 2 or 4 people, so no options for larger groups. Another draw to these cabins, are the large windows that bring nature indoors for you. This spot can also be very affordable (especially when booking the 2-person cabins).
Book your cabin at the Getaway House here! They also have a Mount Vernon, WA location, too!
We have never stayed here, but a few Thrifty NW Mom readers have recommended it as a place they enjoy. It does look like it is in walking distance to the Alderbrook resort, to enjoy their restaurants too.
We often find them on Groupon too, at a nice savings, so be sure to check the Groupon travel pages to see if they have a deal available for your travel dates.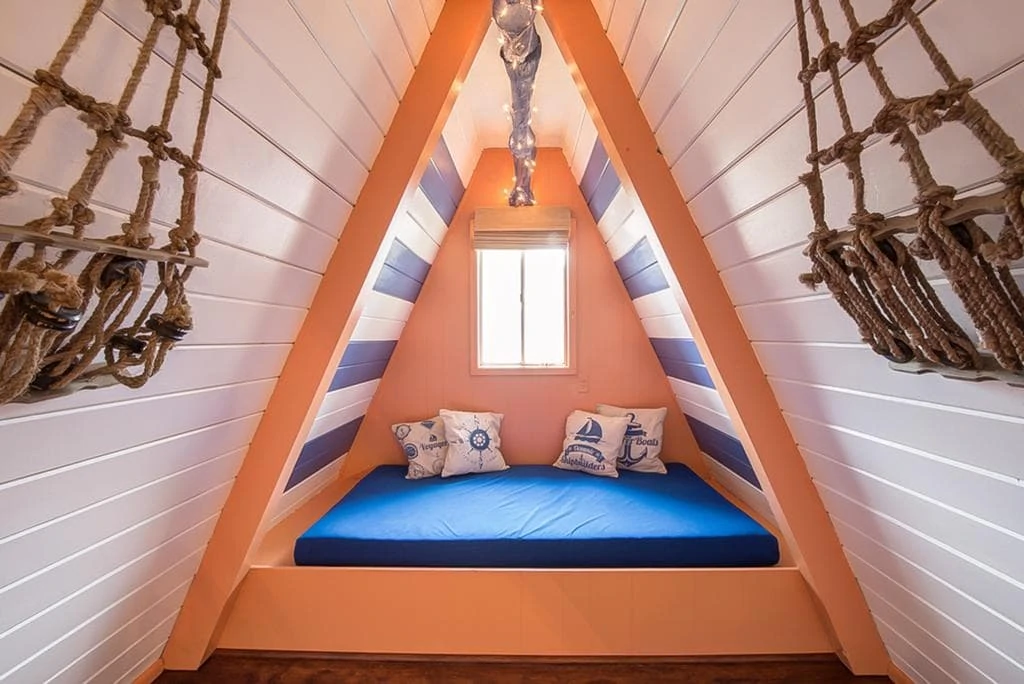 If you are looking for a fun spot in Ocean Shores, this one gets good review. These villas are themed (Hawaiian themed for example) spots, if you are looking for something fun and funky to enjoy. They are in walking distance to town and the beach in Ocean Shores. It is also on the more affordable side for family friendly getaways too!

Westport Marina Cottages  – Westport, WA
Here is another great waterfront option that gets some nice reviews. They sit directly on the Jetty at the Westport Marina, and you can even reserve a cabin with a jacuzzi! In addition to beautiful views, these cottages are in walking distance to shops and restaurants and beach access as well.
We often find them on Groupon too, at a nice savings, so be sure to check the Groupon travel pages to see if they have a deal available for your travel dates.
Oregon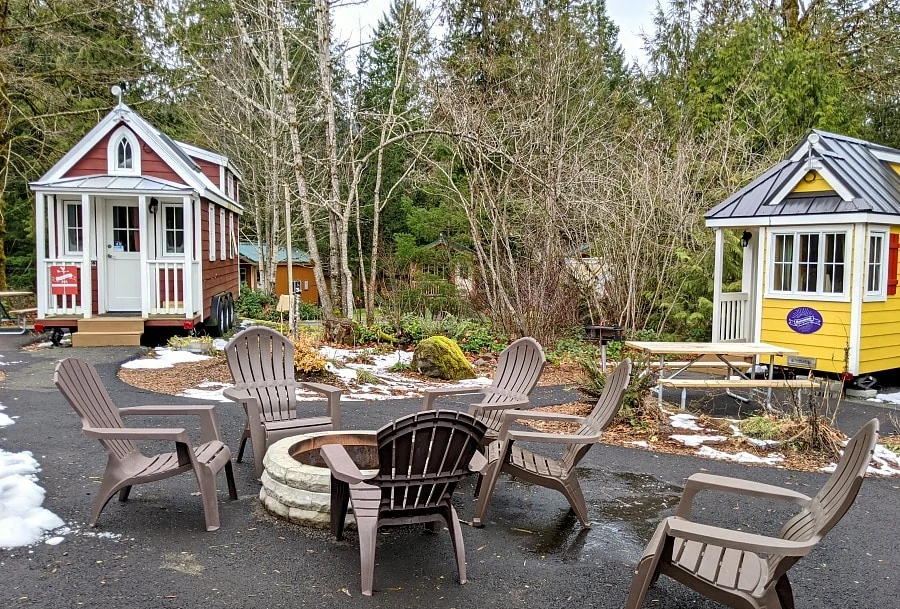 This spot provides you access to year round fun! In the summer the Adventure Park at SkiBowl offers an alpine slide down the mountain, go karts, zip lining and much more. There are many wonderful hikes and outdoor recreation spots to explore too. In the winter you have access to tubing, skiing, snowshoeing, hiking and more!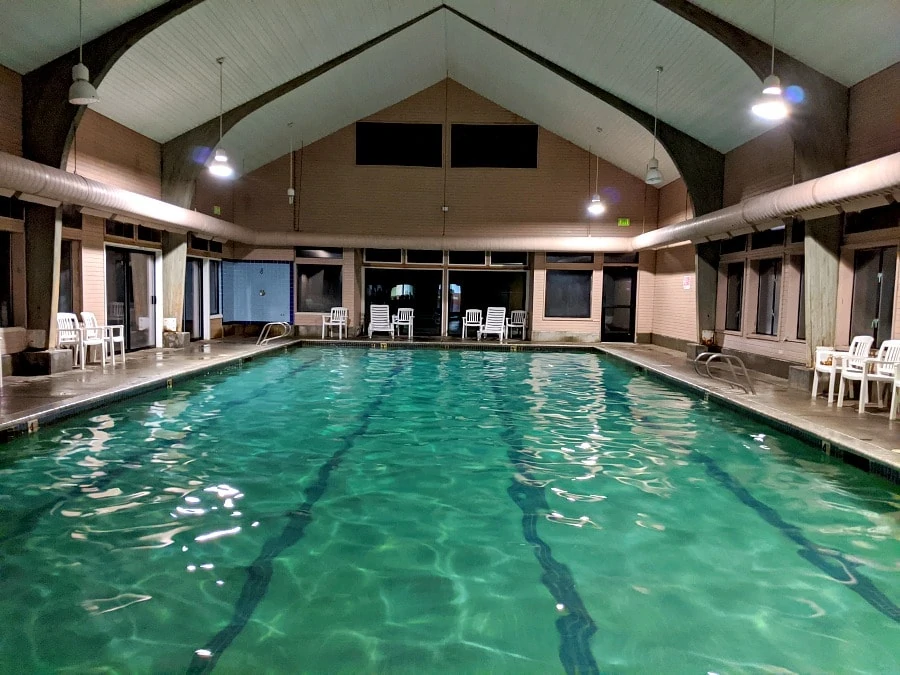 You will also found many amenities at this Tiny House resort in Oregon. There is a beautiful indoor pool, Hot Tub, Sauna, Fitness Center, Playground, Horseshoe pits, Badminton, Volleyball and Game Room! Although this area is full of things to do for families, you could spend your entire stay at the resort and have a wonderful time.
Read our full review of this spot, as well a video tour of the tiny houses here.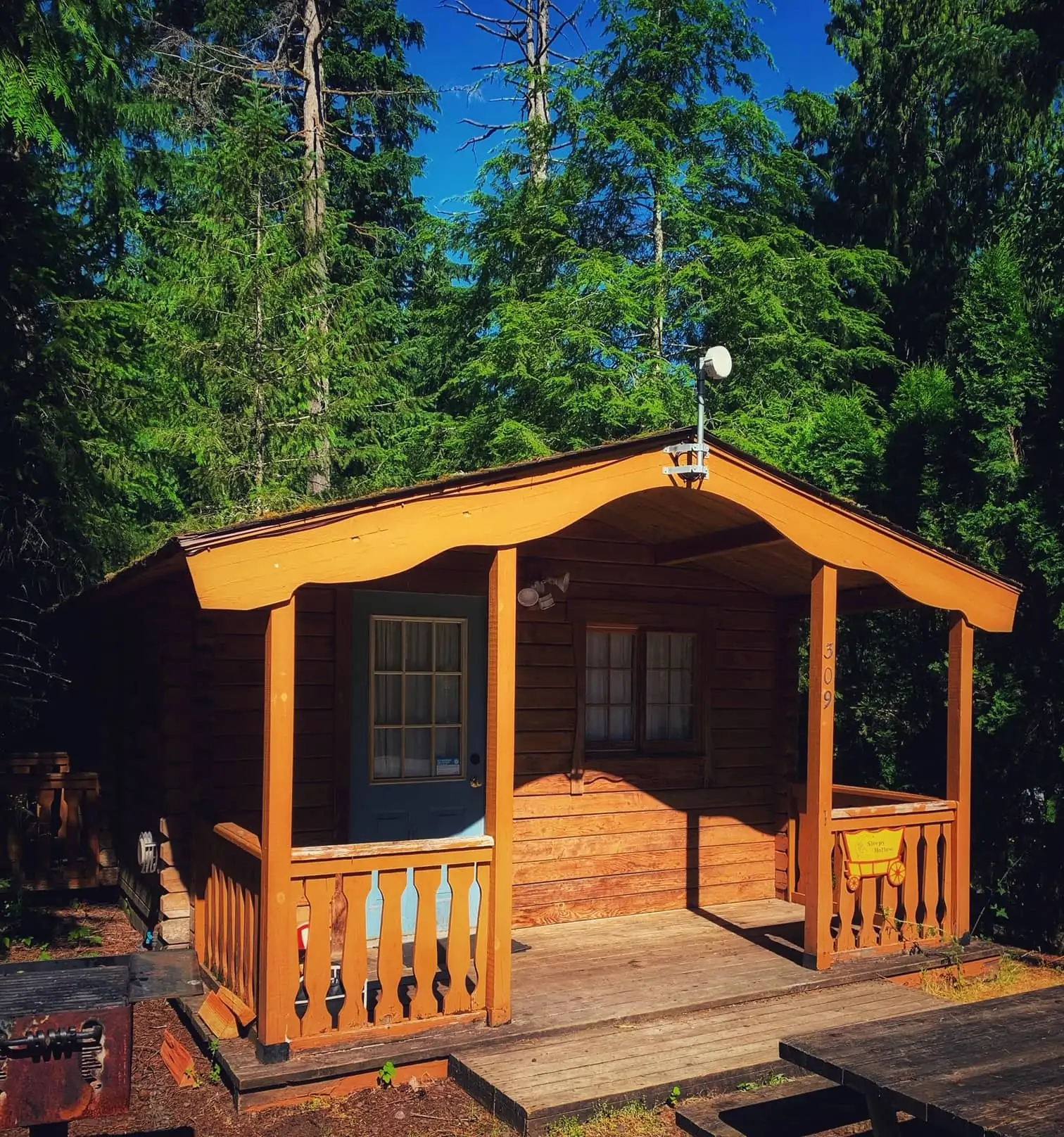 We also share a review of our summer trip to MT Hood Village RV Resort here (where we stayed in a rustic cabin, that will run you under $100 a night generally – and sleeps 6)!
Whalers Resort on the Oregon Coast, just outside of Newport Oregon
We loved our stay in a loft cabin (sleeps 6) at the Whalers Resort in Oregon. We had walking access to the ocean (with a beautiful stretch of beach), tons of amenities and were just a few minutes drive from lots of dining and attractions in this area of the Central Oregon Coast.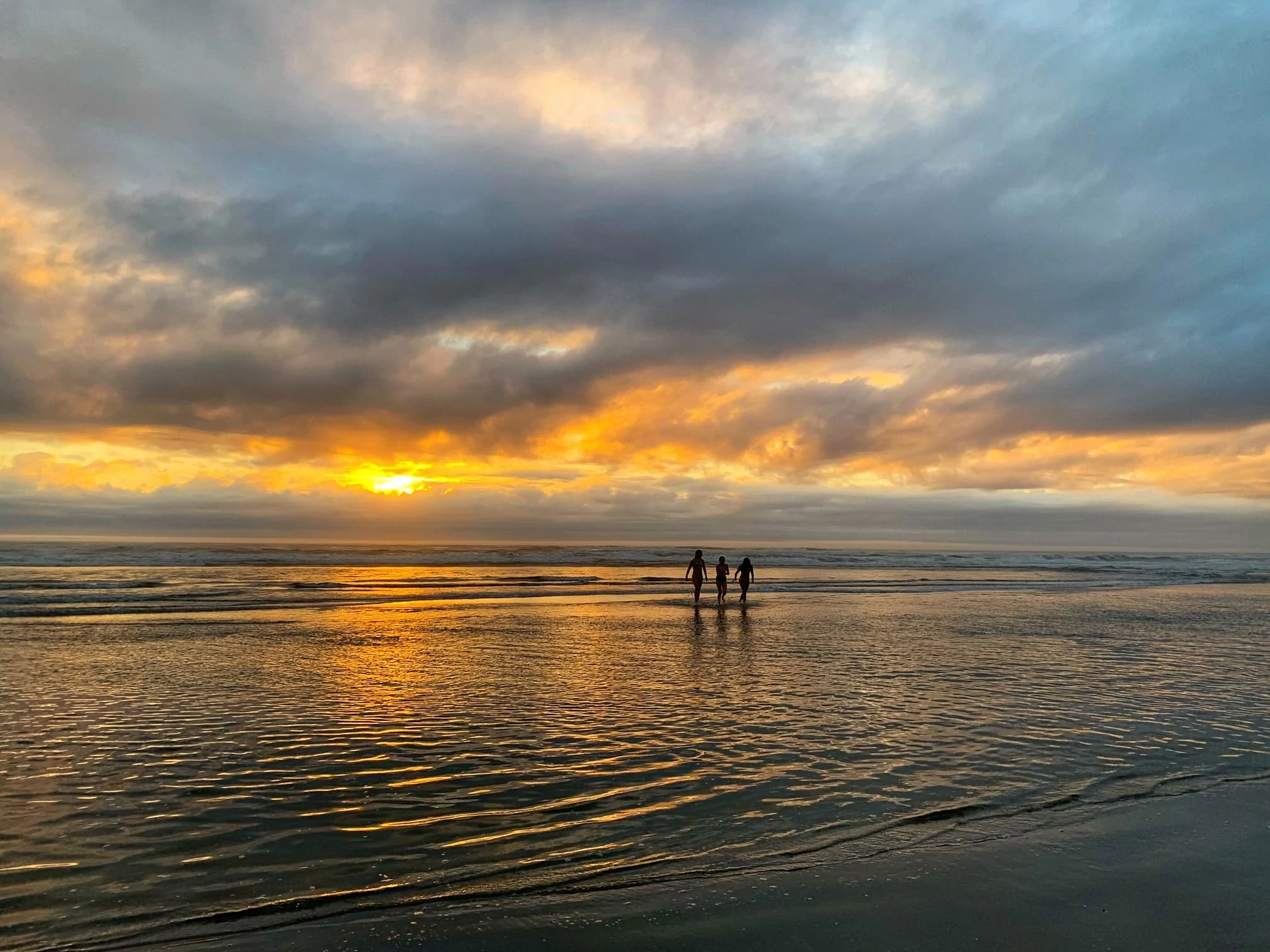 If you love the ocean, this is one spot you will want to consider for sure!
Read our full review of this spot, as well a video tour of the cabin here.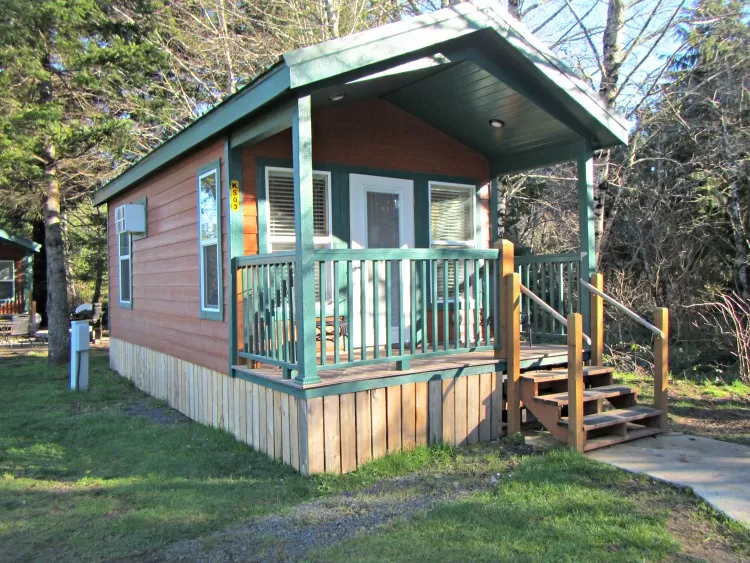 This spot is a wonderful location if you want to explore multiple beach towns in this area like Astoria and Seaside (read all about what to do in Seaside on a family getaway here). We always enjoy the amenities of KOA camps as well (we share how to save on KOAs and more here too).  This location has a number of different cabin styles to choose from. You will find everything from rustic log cabins (you have access to camp bathrooms and showers with those) to some pretty deluxe options with kitchens and bathrooms.  This means there is something for all budgets here. We have stayed in many different types. The log cabins are kind of like camping (you bring your own linens), and the other cabins come fully stocked with linens and kitchen items, so you choose what is the right fit for your family.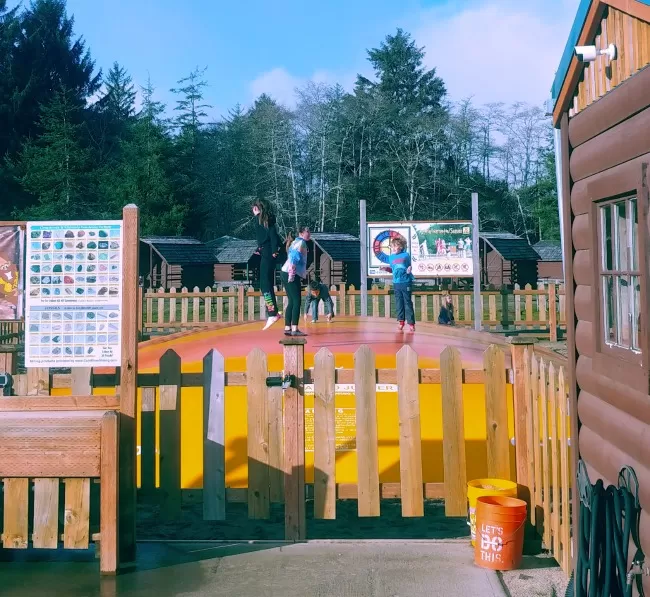 This is the jumpy pillow at this camps location. My kids had lots of fun on this. There is a playground, pool, HUGE game room, and even an onsite restaurant! It is also directly across from Fort Stevens, so you can easily explore that area too.
You can read our full review of this location here.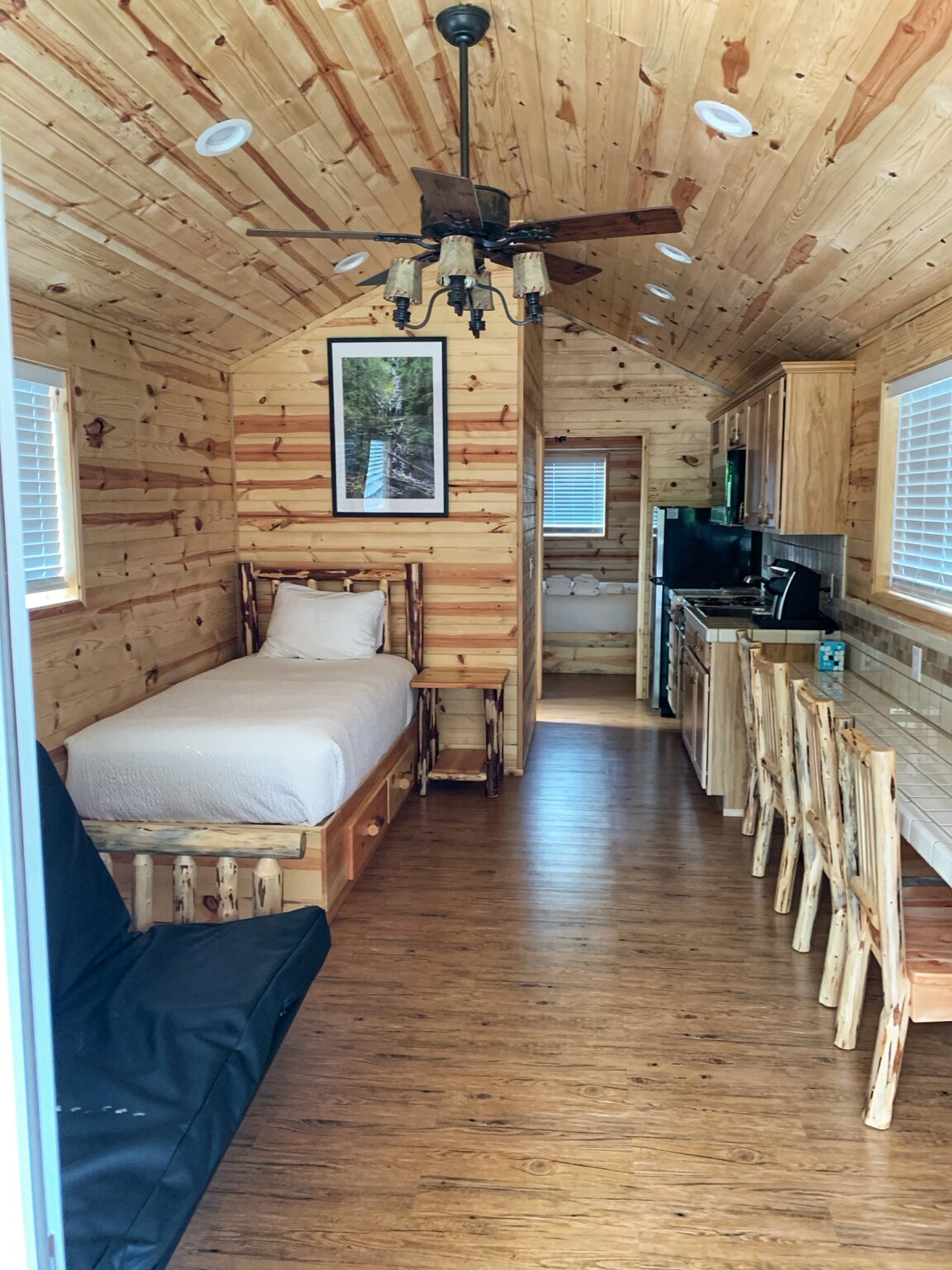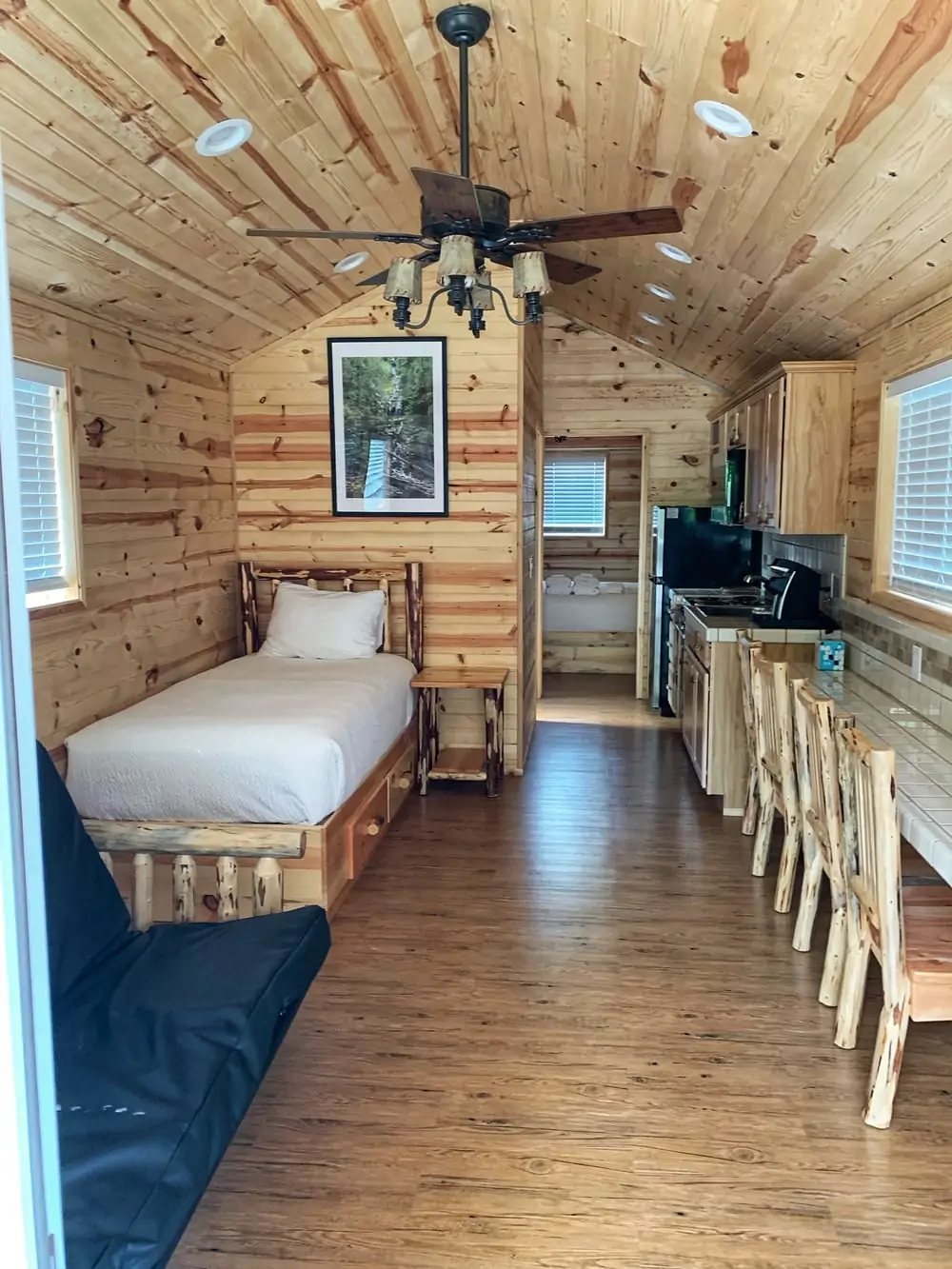 Brand new cabins at the Seven Feathers RV Resort in Canyonville Oregon (Southern Oregon)
We loved our stay at the Seven Feathers RV resort, as it was so clean, beautiful and quiet. There was also plenty to do to keep us busy. It makes for a perfect stop on a road trip down 1-5 (like from Washington to California), or can be a destination all in itself. Read our full review on our recent stay here. 
Bend / Sunriver Oregon Cabins
We love the Sunriver and Bend areas of Central Oregon, for wonderful family vacations. The summers are gorgeous and the winter full of snow activities. You will find both cabins and yurts at this area, and the grounds include swimming, country store, tennis courts, putt putt, and access to the river. That is alot of bang for your buck!
Make sure to check out all of our tips of things to do around Bend & Sunriver as well as restaurants to check out, too!
Glamping Tents / Huts & Other Unusual Stays:
Washington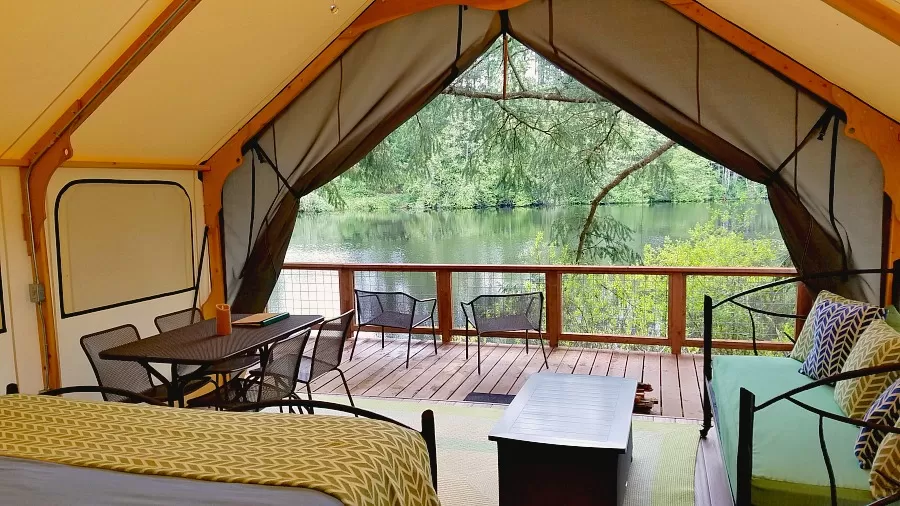 The Lakesdale Resort is a wonderful way to explore the San Juan Islands, glamping style! This resort offers canvas tents, luxury yurts, Airstream glamping and cabins for family enjoyment. This spot sits on an 82 acre property, and not only offers great access to the outdoors, but there are many amenities to enjoy at this resort too (and explore the surrounding San Juan islands!), like fun on the lakes, an activities tent, life size Jenga and more lawn games, biking and much more. Plus breakfast is included with many stays too.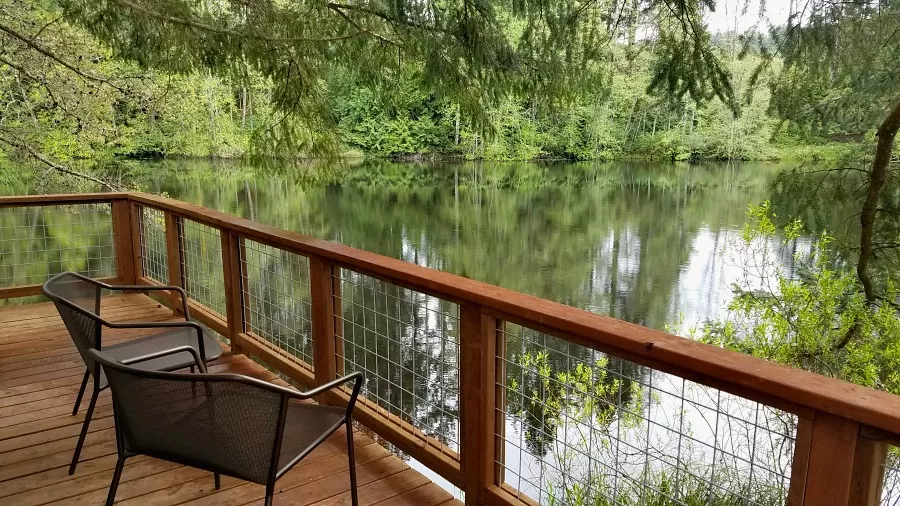 Many offer stunning lakefront views as well! This spot really is wonderful for families or couple getaways. It is packed with beauty and fun, so it is a great combo of relaxing, but also plenty to do to keep boredom away.
Check out our full review of the Lakedale Resort here.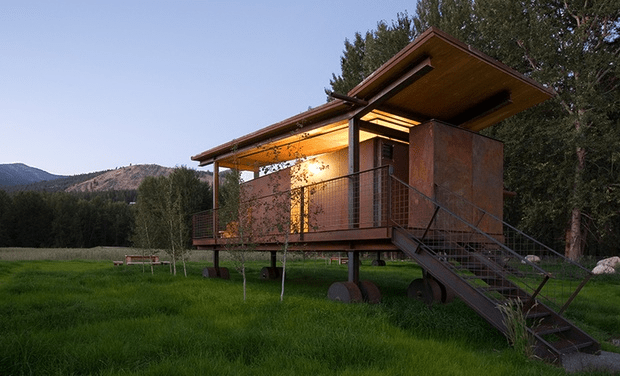 Rolling Huts / Canvas Tents – Winthrop, Wa.
We love the Methow Valley. The drive over is beautiful, and there is lots to do outdoors in the area. You can find these Modern Rolling Huts or Glamping Canvas Tents from Methow Tents here to stay in. Both of these are pretty affordable options generally too. Plus, check out lots of activities for families to enjoy in Winthrop here too.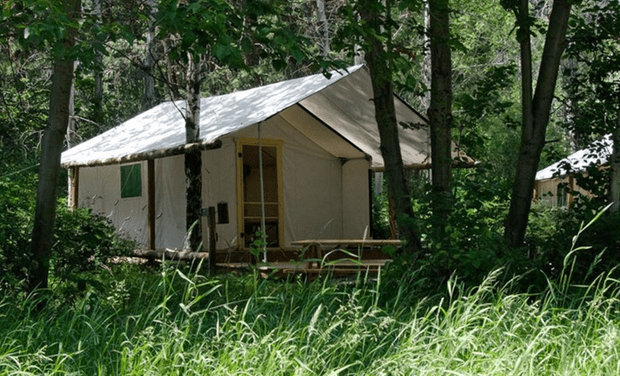 We often find them on Groupon too, at a nice savings, so be sure to check the Groupon travel pages to see if they have a deal available for your travel dates.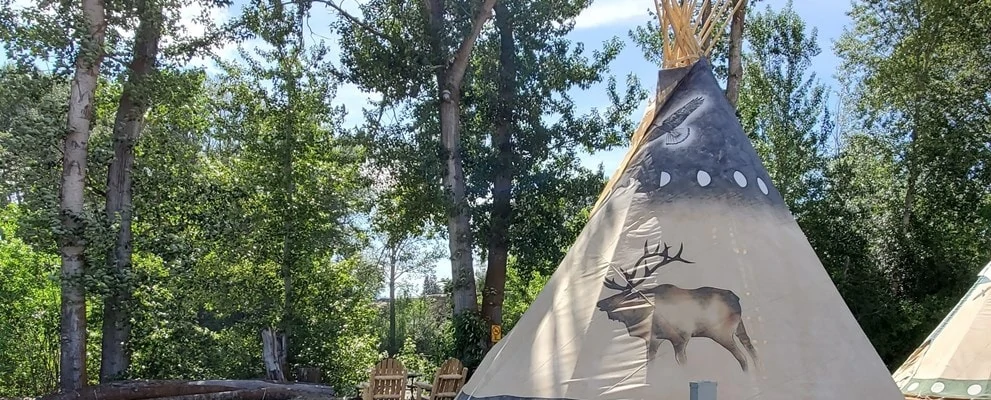 KOA Ellensburg Wa
Stay on the river in the Ellensburg area at this Koa camp, for just over $100 night. You can find a listing of trails and hikes to explore in the area too. We love to fish in this area (have caught plenty) too! They rent out teepees for glamping, or cabins too.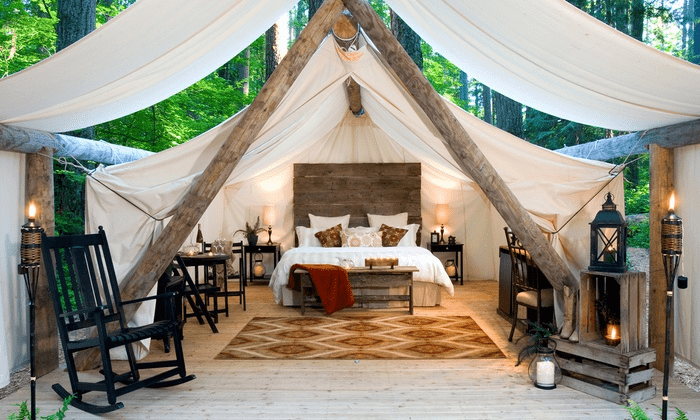 This is a great option to get out in nature to glamp, without having to drive too far. Pampered Wilderness is set in Millersylvania State Park. You will find hiking, Deep Lake and other outdoor activities nearby. My mom stays here usually once each summer, and she does not typically enjoy camping, but loves this spot.
We often find them on Groupon too, at a nice savings, so be sure to check the Groupon travel pages to see if they have a deal available for your travel dates.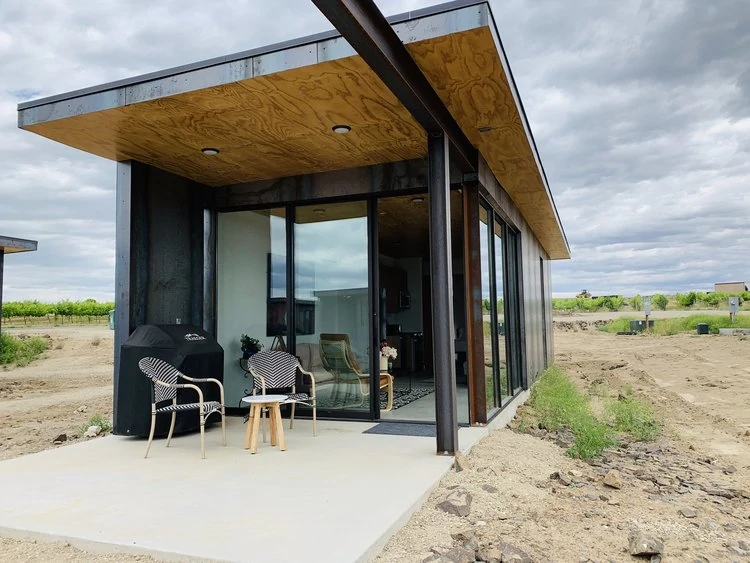 This is going to be a bit of a luxury stay too, but if you are looking for unique meets luxury, this might be the spot for you. There are a number of options to stay in, but a couple of highlights include luxury yurts, cave rooms (with cave like entrances) and these stand alone condos.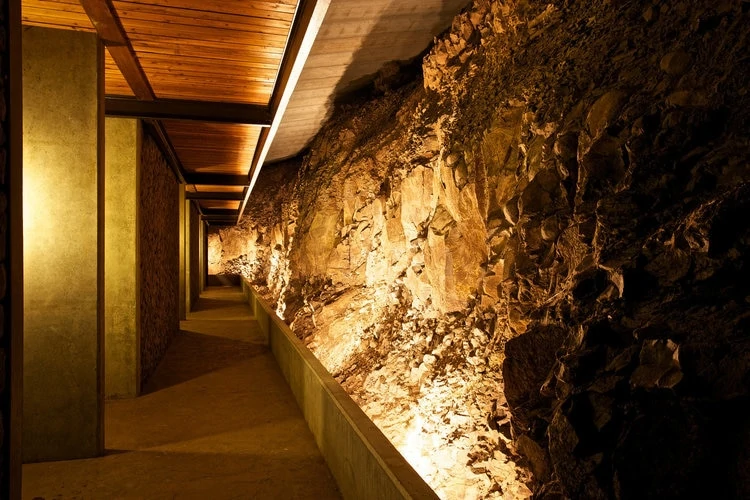 They also feature a beautiful infinity room (it may be closed right now due to current circumstances), onsite winery, and is near the Gorge amphitheater!
Here is a great opportunity to glam teepee style on lakefront property! This resort sits waterfront on Soap Lake, which is said to have healing properties to it. Not only will you have access to the lake, but also can access their Swimming pool and 2 hot tubs.  One all ages and one for adults only. There is also a steam room, playground, putt putt golf and more.
You won't have your own bathroom, but you will have plenty of comfort to "camp" in-style at this campground. Not only will you find teepees here, but they also offer cabins if you want some additional amenities.
These train cars look like so much fun to stay in. The only downfall (or maybe it is a perk for you) is that they do not look like they are very kid friendly, if you have kids under 12 (no kids under 12 allowed to stay). On the bright side, they include free breakfast with their stays, which is a perk you do not usually find with these kinds of stays. They might be a fun option if you want to explore the Olympic Peninsula too.
We often find them on Groupon too, at a nice savings, so be sure to check the Groupon travel pages to see if they have a deal available for your travel dates.
These guys offer 30+ renovated Vintage Travel Trailers from the 1950s and '60s in Seaview Wa, if you want to enjoy the Long Beach area.
Oregon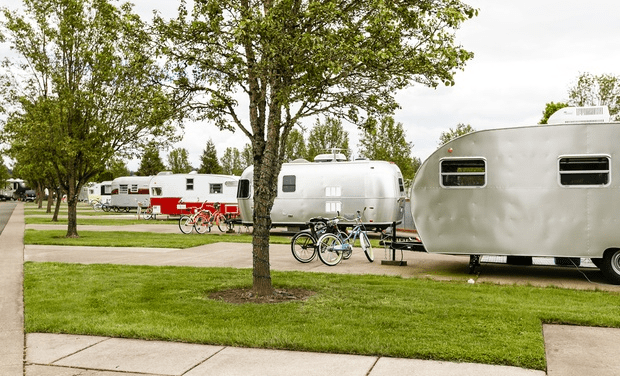 Rent a vintage trailer halfway between Dundee, Oregon, and Historic Downtown McMinnville, Oregon. McMinnville is lots of fun to explore if you have not before (and it is near the Wings & Waves Waterpark), if you are looking for an affordable spot to stay in this area.  You are also in the middle of Oregon wine country, if you are looking for ideas for a couples or girls trip.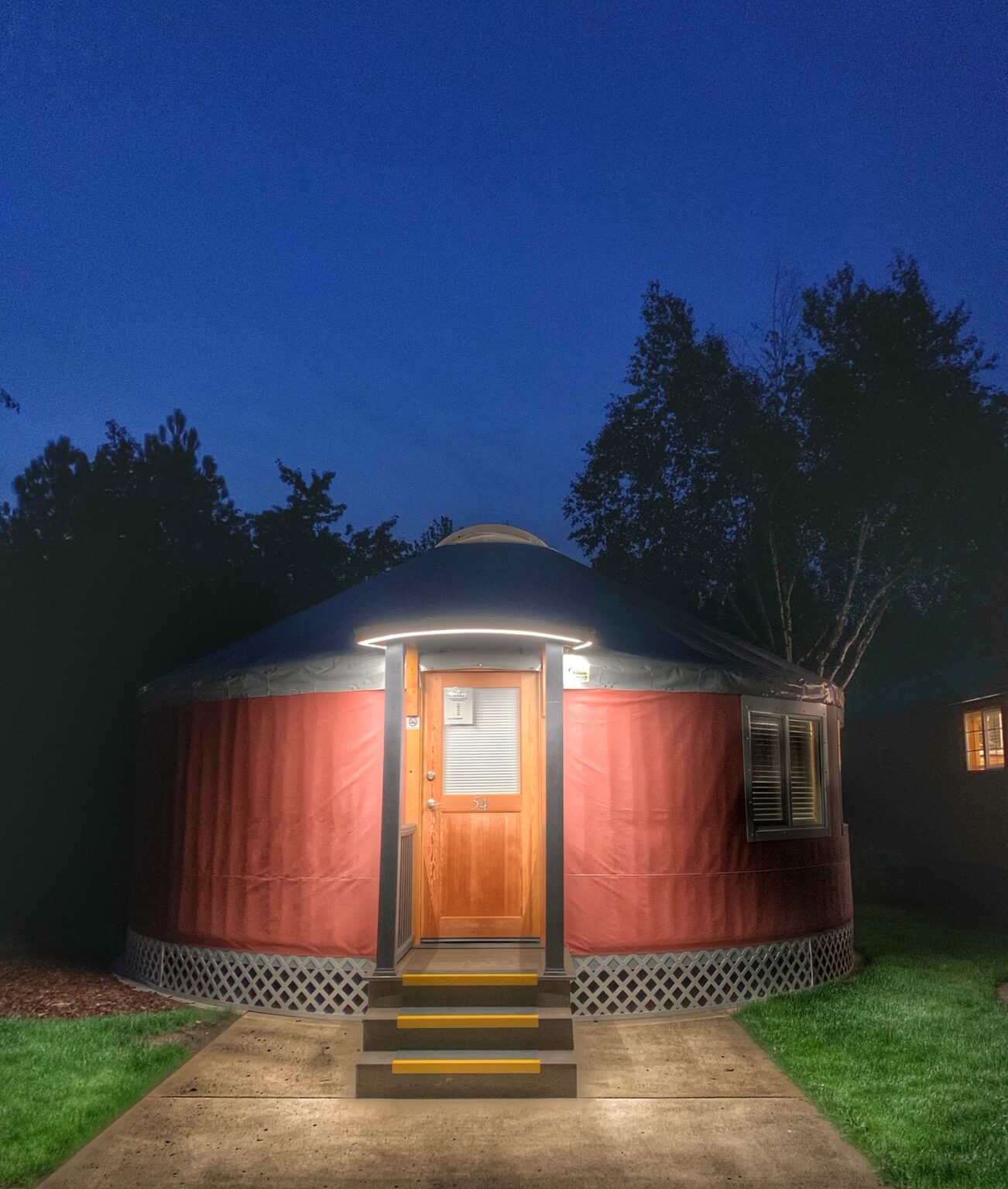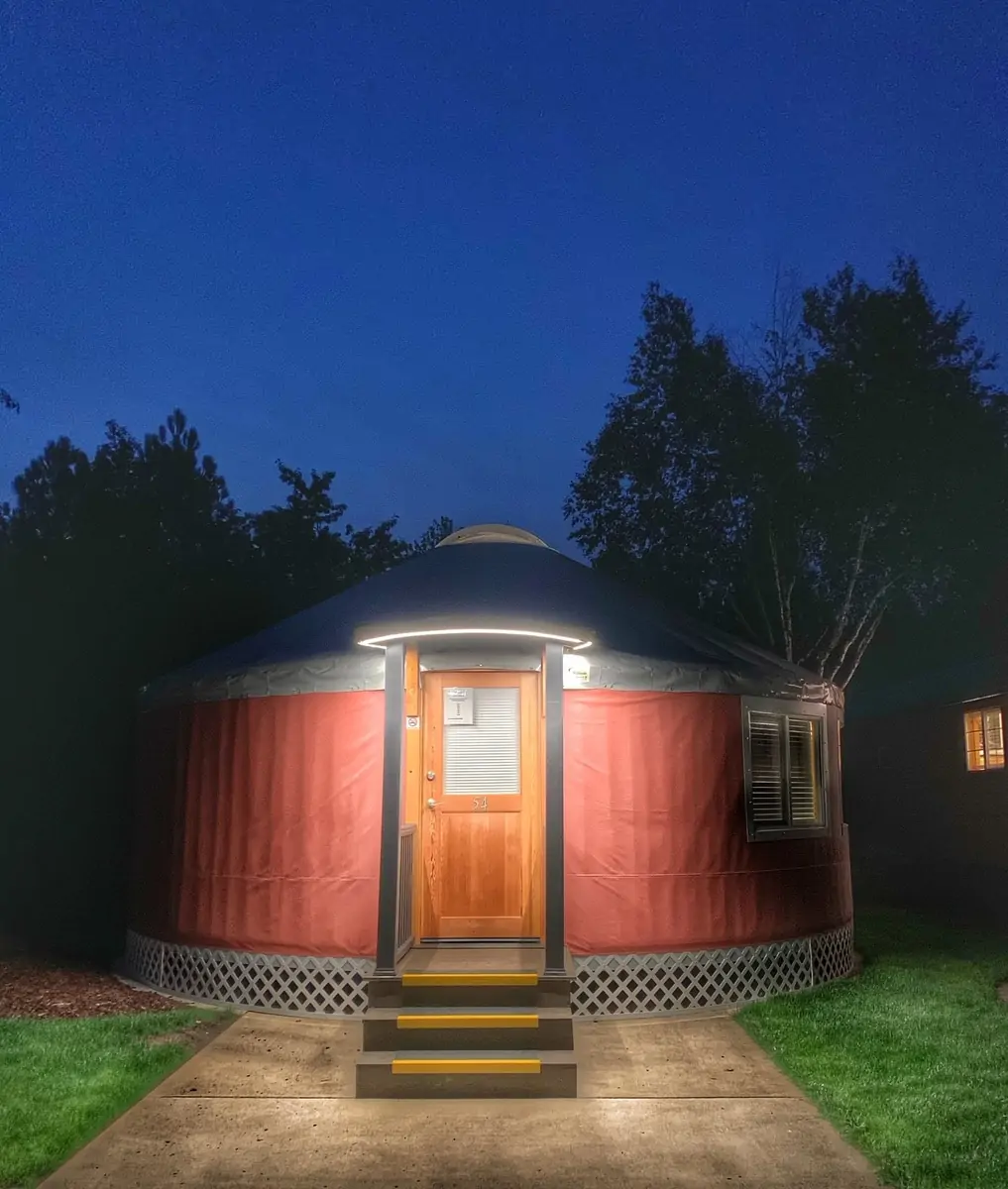 Beautiful (and new) Yurts at Seven Feathers RV Resort – Canyonville Oregon
We mentioned the cabins here above, but they also have gorgeous yurts that sleep 4, and come with plenty amenities. You have your own bathroom and kitchen, heating and cooling, and bedding and linens included as well.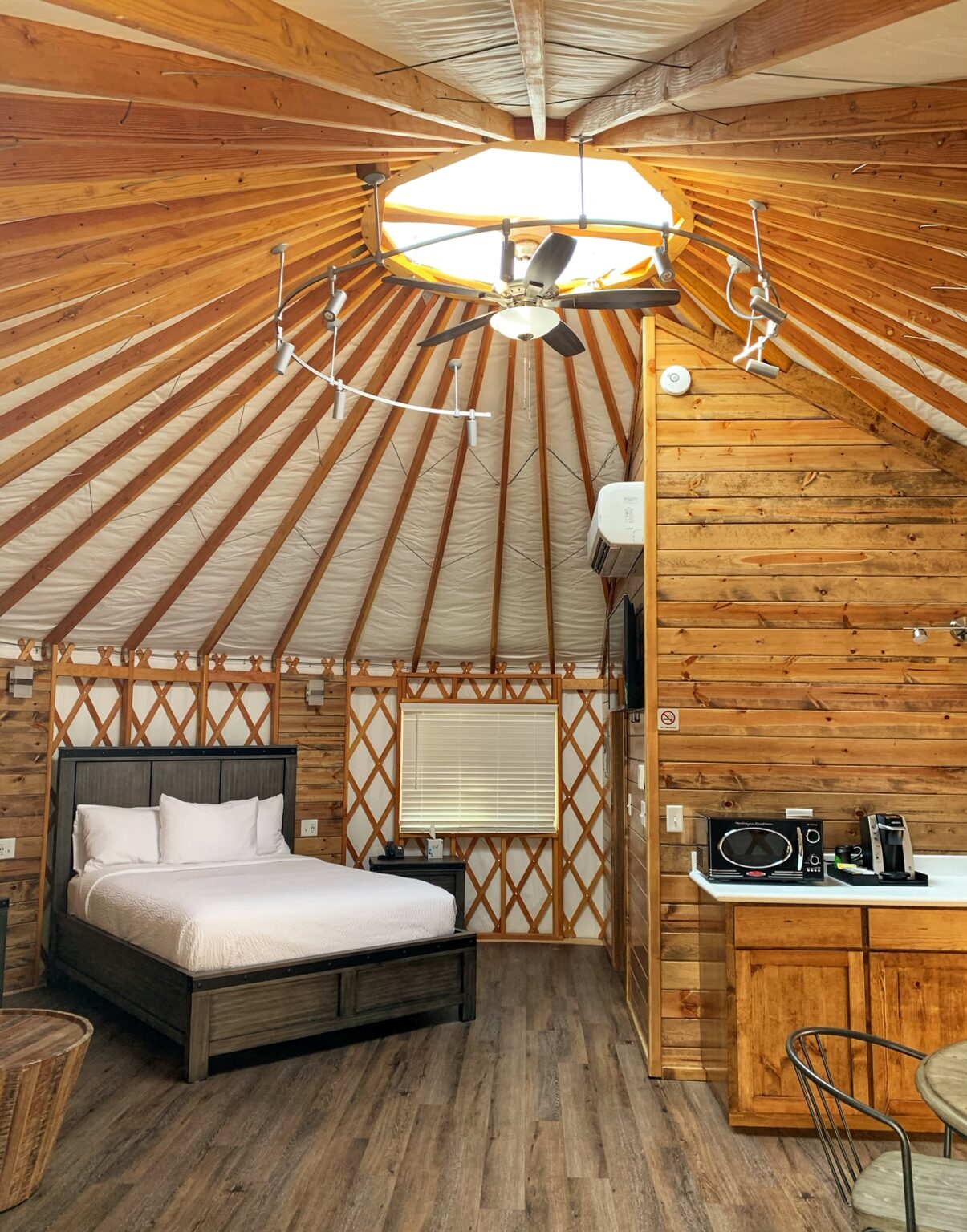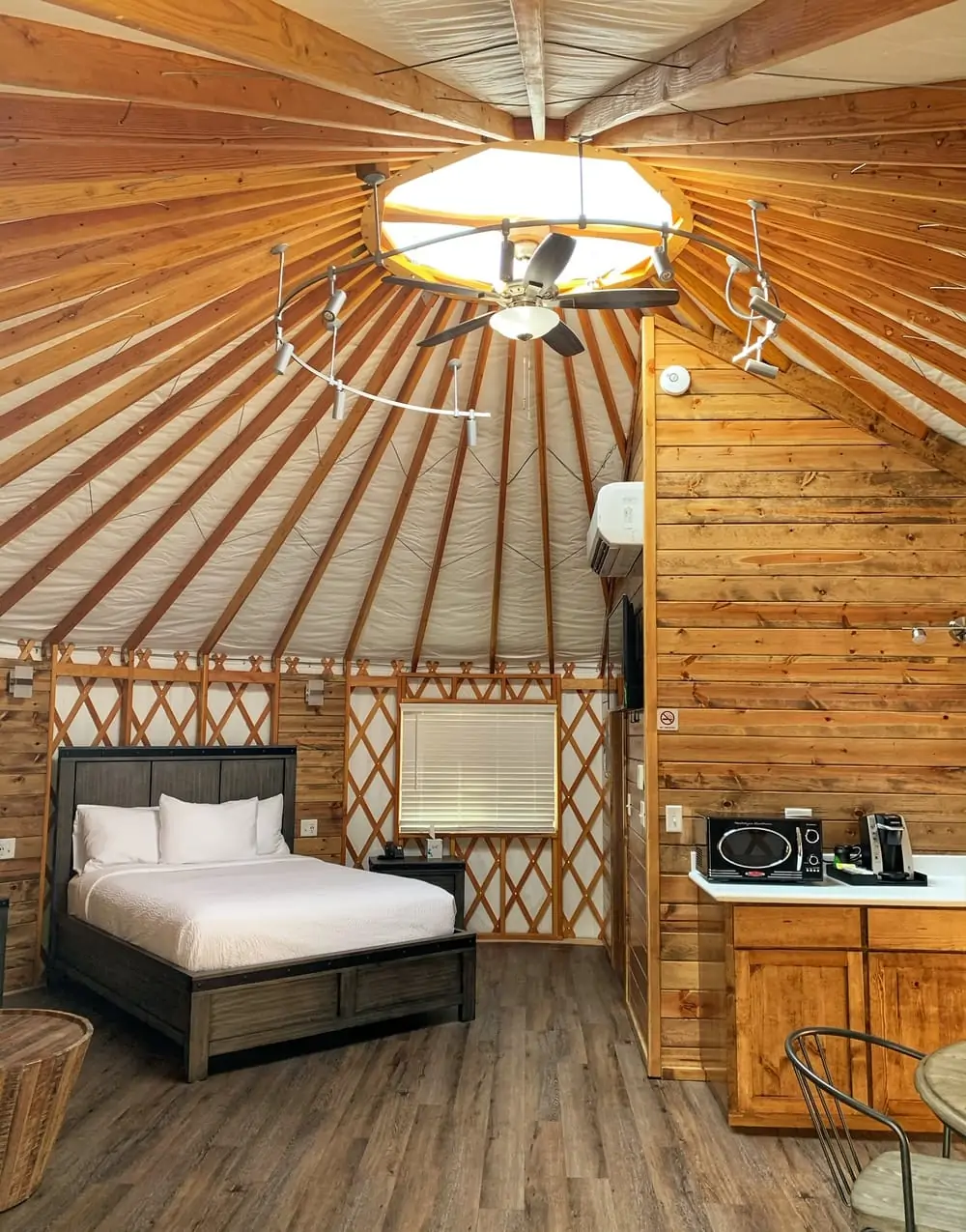 The resort is also beautiful, and you can read more about that here.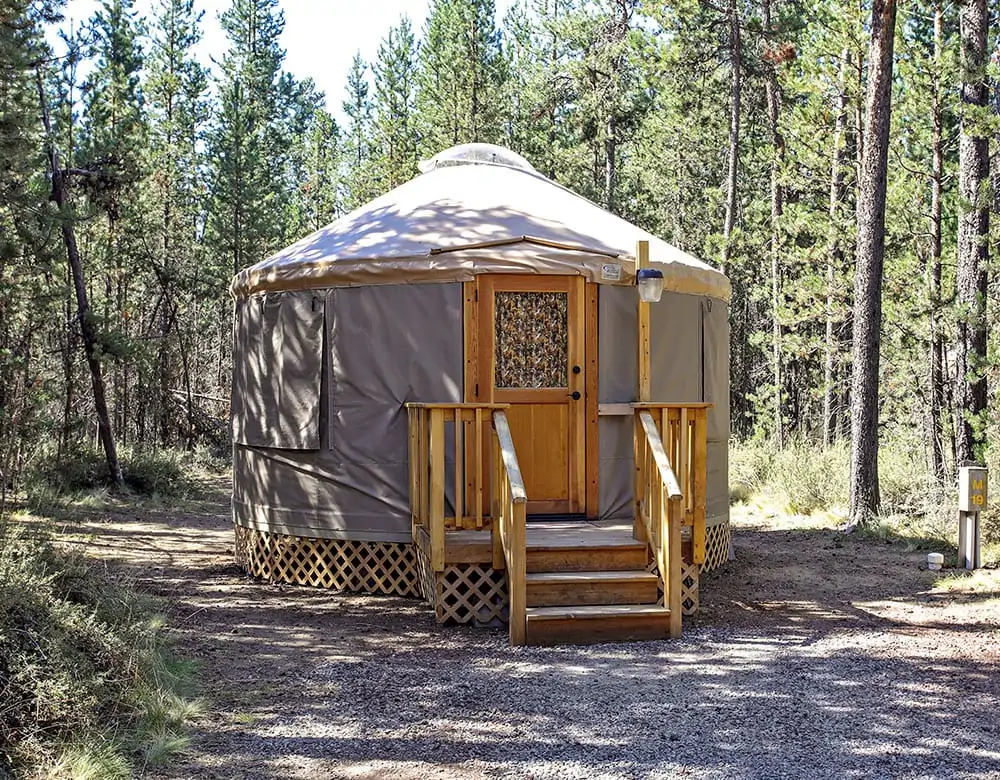 We mentioned the yurts you can rent at the Bend/ Sunriver Thousand Trails Campground above too. These are a great value, and there is so much to do right on site, and in the area as well.
Cottage Resorts
Washington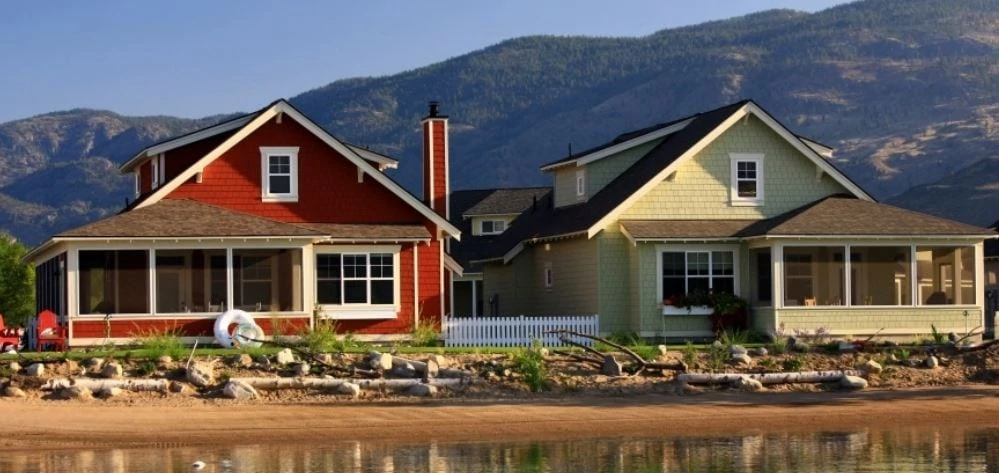 I am not sure how I have never heard of this resort, but it looks amazing for families! This is a 50's style resort, set on the lake, and this place looks like it has everything families need to enjoy a great summer vacation. Sandy beaches, outdoor movie nights, smores, pools and there is even suppose to be an aquatic center coming soon. You can rent lakeside cottages or vineyard cottages, and it is all set within a village community providing access to shops, restaurants and more. I have to try this spot out soon!
This spot is still on my must visit list. We had planned to go this summer, but travel plans changed and it remains on my list of places I want to take the kids. If you love a good NW beach vacation, this is a great spot to consider. You can rent cottages right on the water, and some in town – providing for lots of different price range options for various budgets. There is beach fun, bike riding, restaurants and shops to explore and more.
Oregon
These cottages are a few minutes walk to the beach, in a beautiful area of the Oregon Coast, near Haystack Rock! These cottages are set around a garden area that includes a fire pit, picnic tables, and Adirondack chairs, and more. You have access to amenities like a DVD library with over 400 titles, salt water taffy, games and more.  Rates can be very affordable for this area too.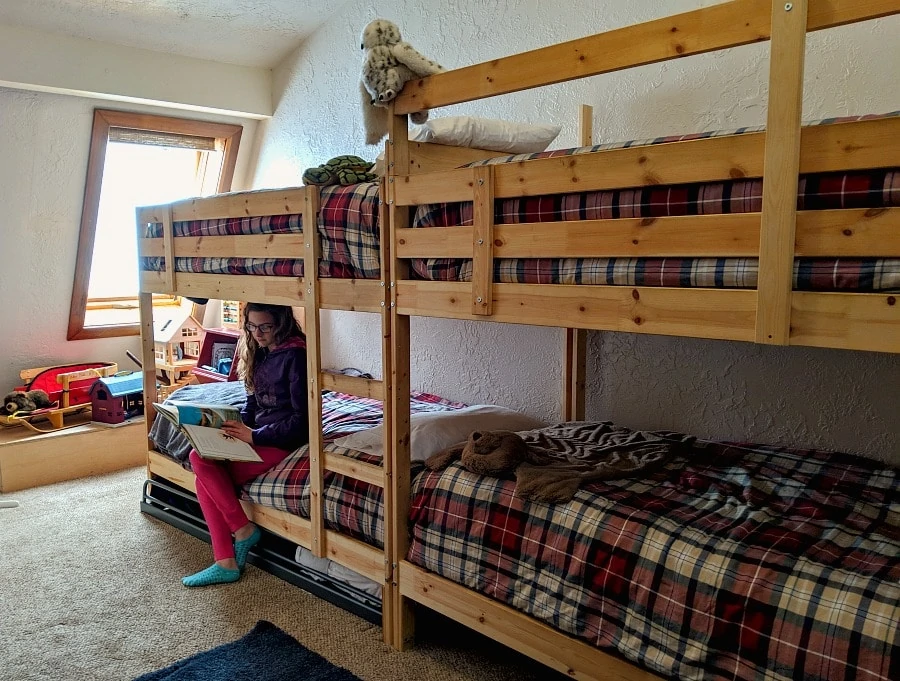 Sun River has long been a family favorite of ours to get away too, and it is full of cabin, house, condo and cottage rentals to enjoy as a family. There is plenty of outdoor space to explore, and miles of bike or walking trails. We have lots of ideas for things to do in the Sun River area for families in the summer here, or in the winter here if you decide to check this spot out. It is also a wonderful option for larger families, and many of the rentals come with bonuses like bikes, and passes to the aquatics center.
Tips for Searching for Cabins vs Hotel Rooms:
I have found the best ways I can find the more rustic cabins for rent (vs personally owned cabins through an Airbnb for example) are:
Check the Encore / Thousand Trails Website here, and select "Cabin Rentals" in the Camping Type Box, and then the State you want to stay in. It will pull up locations that offer cabins where you want to travel.
Check out the Petite Retreats site, where you can search for cabins, cottages, tiny houses, and glamping options in the Northwest. We have loved all of their locations that we have stayed at so far!
Check the KOA site, and then search by state you want a campground in.
Check State and National Campground sites, and search by cabin or yurt rentals. Many sites have these options – and they can be some of the most affordable options – but they will often book up far in advance, so check these early.
Glamping Hub is a site, like AirBnB, but you can find lots of unique booking options like cabins, teepees, yurts, tree houses and more. Check out their PNW page here, or their Oregon page (and select by camping type desired) as a couple off ways to start your search with them.
You can find lots more travel options that we have reviewed for locations in the Pacific Northwest, on our travel pages here too!