Mt Hood Village RV Resort, Tiny Houses, Cabins & More – Summer Review!
This post may contain affiliate links and I may be compensated for this post. Please read our disclosure policy here.

Mt Hood Village RV Resort, Tiny Houses, Cabins & Camping!
We recently headed down to the Mt Hood Village RV Resort and had a blast. I loved this camp ground for so many reasons. It was very clean, and the beauty of the mountains is your backdrop. They have accommodations that will range from a little more rustic (and really affordable), to fun trendy options like tiny houses too. So there really is something for most budgets.
This area is really easily accessible from Portland, and there are so many fun outdoor adventures to enjoy too – so it makes a great basecamp for all kinds of getaways.
Year Round Camping, Lodging and RV Options:
This area offers not only year round activities, but you will find comfortable accommodations at this resort, year round too.
I share about our summer trip here, but Jens family also spent some time there in a tiny house in the Winter (the mountain has great, skiing, tubing and more winter fun options too).
Be sure to check out the Winter review about staying in a Mt. Hood Tiny House Village here. It is a great spot to have a base camp for enjoying all that the winter has to offer in this area as well, like skiing and winter tubing!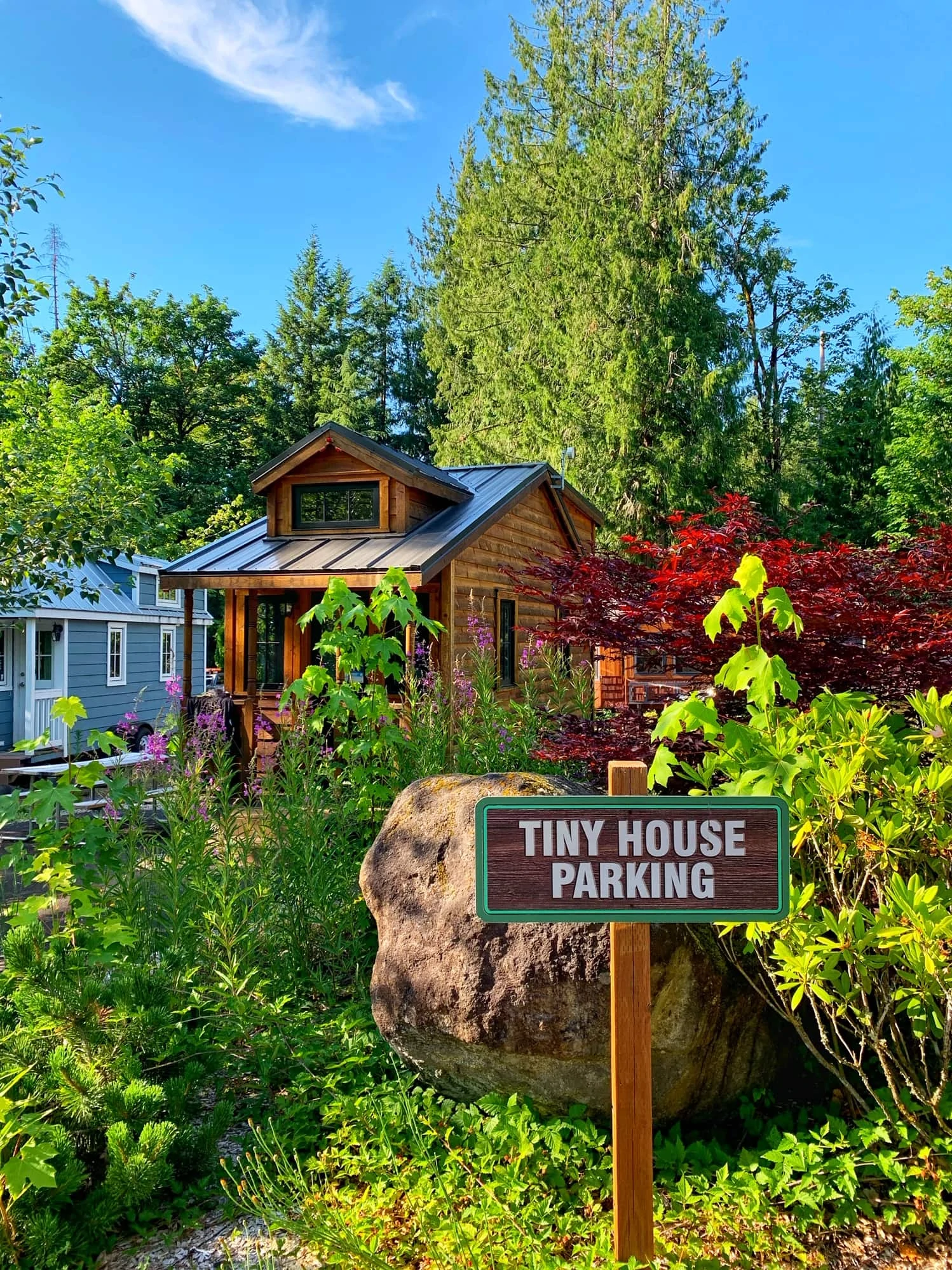 Lodging Options At Mt Hood Village
The Mt Hood Village RV Resort is very large, and there are quite a few different lodging options. If you are staying in an RV or trailer, there are a number of different loops with plenty of spots.
If you are looking for lodging options ready to go for you, they offer everything from:
Rustic cabins, and Yurts (like glamping)
Fully supplied deluxe cabins
Super cute and trendy tiny homes
Tent camping, or stay in an RV too
The Tiny Houses are actually set up as their own village onsite, and come equipped with everything you need to stay. These will range in prices, but offer families affordable ways to enjoy a vacation in this beautiful area of the Northwest.
Tiny House Village
(Tiny Houses generally range from $125 – $175 nt).
This area is its very own village. The tiny houses are fun, as they come equipped with everything you need to stay (so you don't have to pack much with you). They even have little kitchenettes, so you can eat at your own home (saving lots of money).
Tiny houses will accommodate anywhere from 2-7 people, depending on which one you book. This is such a fun way for your family to have its own space, and amenities (like shower and kitchen) while enjoying a camp like setting.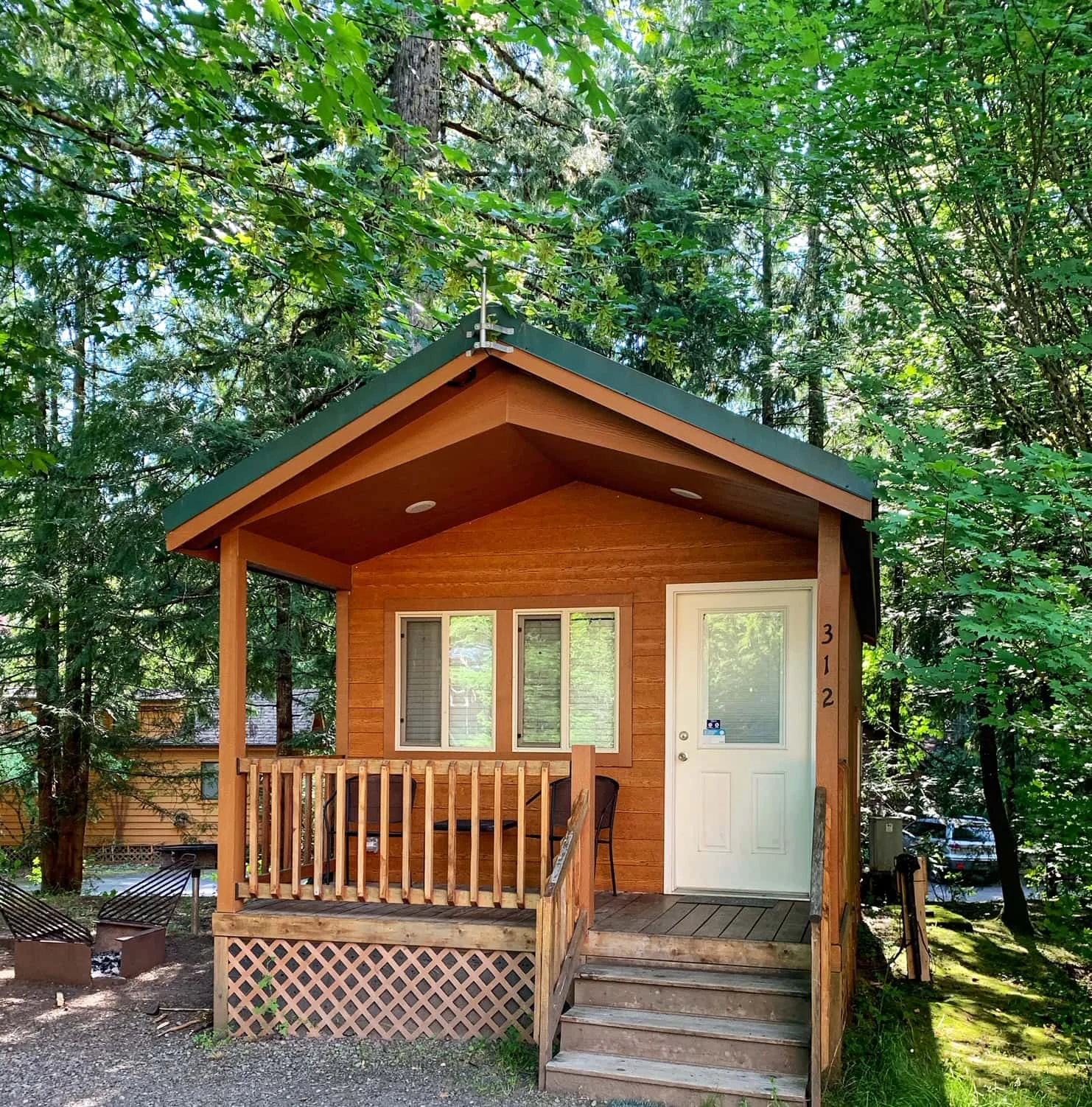 Mt Hood Village Cabins & Yurts
(range from $55 – $150 night)
Yurts start at around $55 for 2 people to $85 for 4. Cabins start at under $100 for the rustic, and can go up to around $150 for the Deluxe fully equipped cabins). Prices will range depending on when you book, and for how many people.
There are cabins and yurts that will accommodate all kinds of families. Generally, I love to stay in cabins with their own bathrooms and kitchens (and they have these here), but this time we opted to say yes to a rustic cabin – which will be one of the most affordable options for your stay.
If you are looking for a step above camping, but still want the most affordable option, check out their yurts. You will need to bring your own sleeping bags (or bedding), but you will not have to set up a tent. They also provide locking doors, and heat if it is cold in the evenings.
If you want something more like a hotel stay, in a camp ground, then the tiny houses or deluxe cabins are what you are looking for.
And then, right in between those two is the rustic cabin, that sleeps 6 (and it includes heat, locking doors, your own front porch, and even a tv).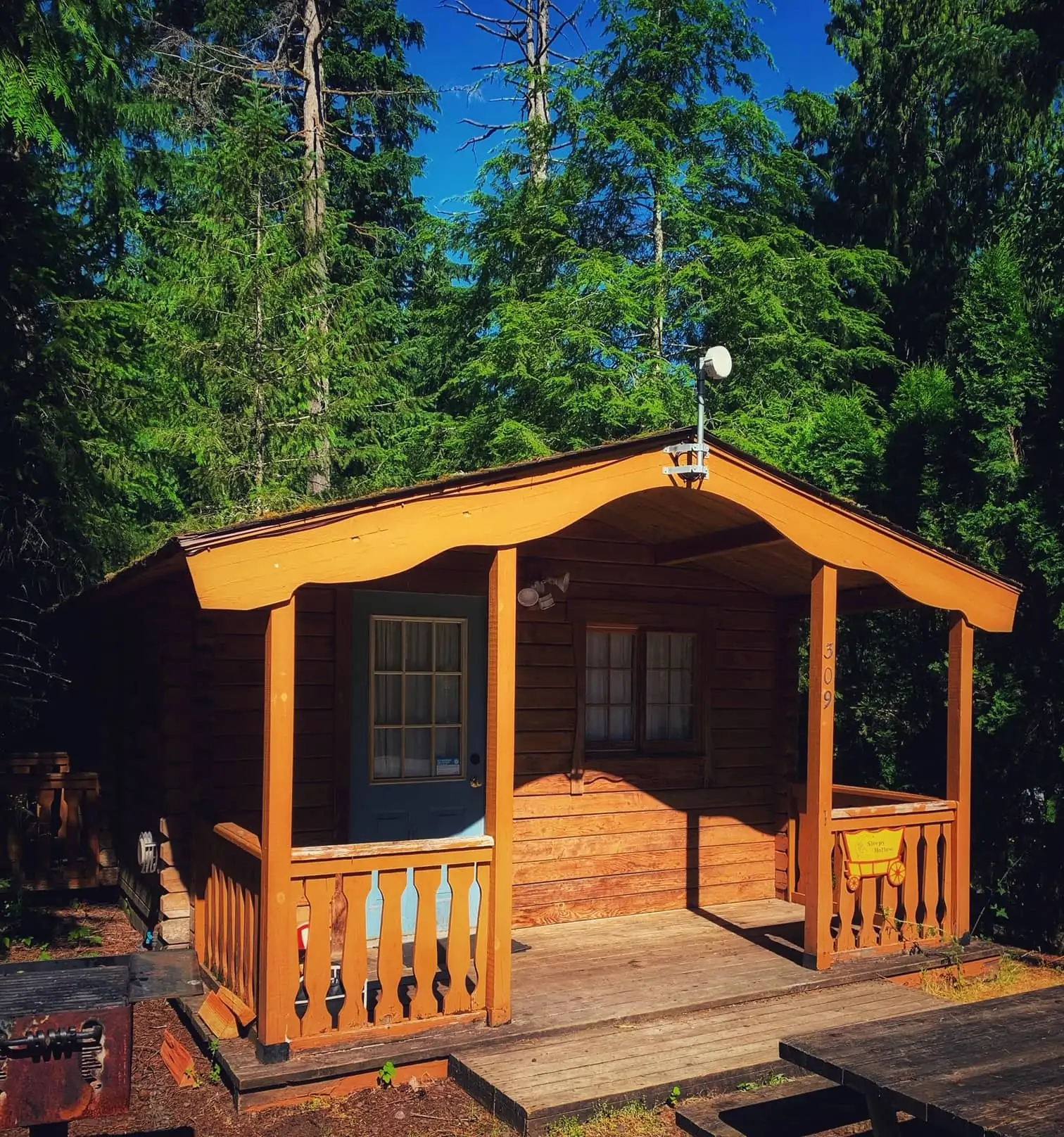 This small rustic cabin was our home for a few days while we visited Mt. Hood. It sleeps 6 people, and you can get them for under $100 a night many dates throughout the year. There is a BBQ, Fire Pit and picnic table all in your "front yard". they sleep 6 people, so can be a very affordable option for families, without requiring you to set up a tent and all of that equipment. They are also in walking distance to locked bathrooms (they give you a key), with showers in them.
There is a highway that backs up to this campground (that did not bother us, but important to note in case it is something that would bother you). The area is covered in trees, so you do not see it, but you can hear it from time to time.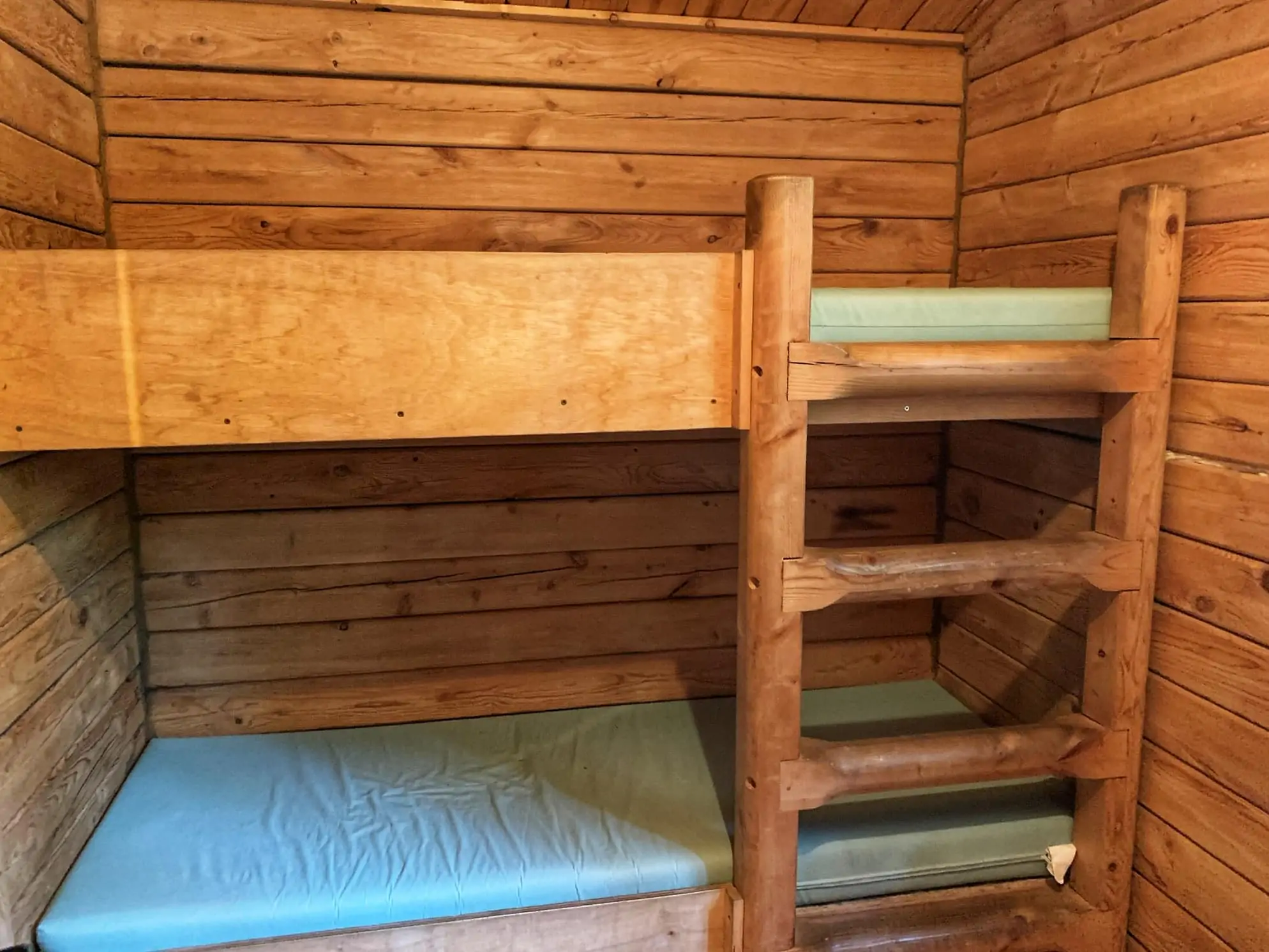 The rustic cabin sleeps 6, with a set of bunk beds and a full size bed in a back bedroom that has a closing door.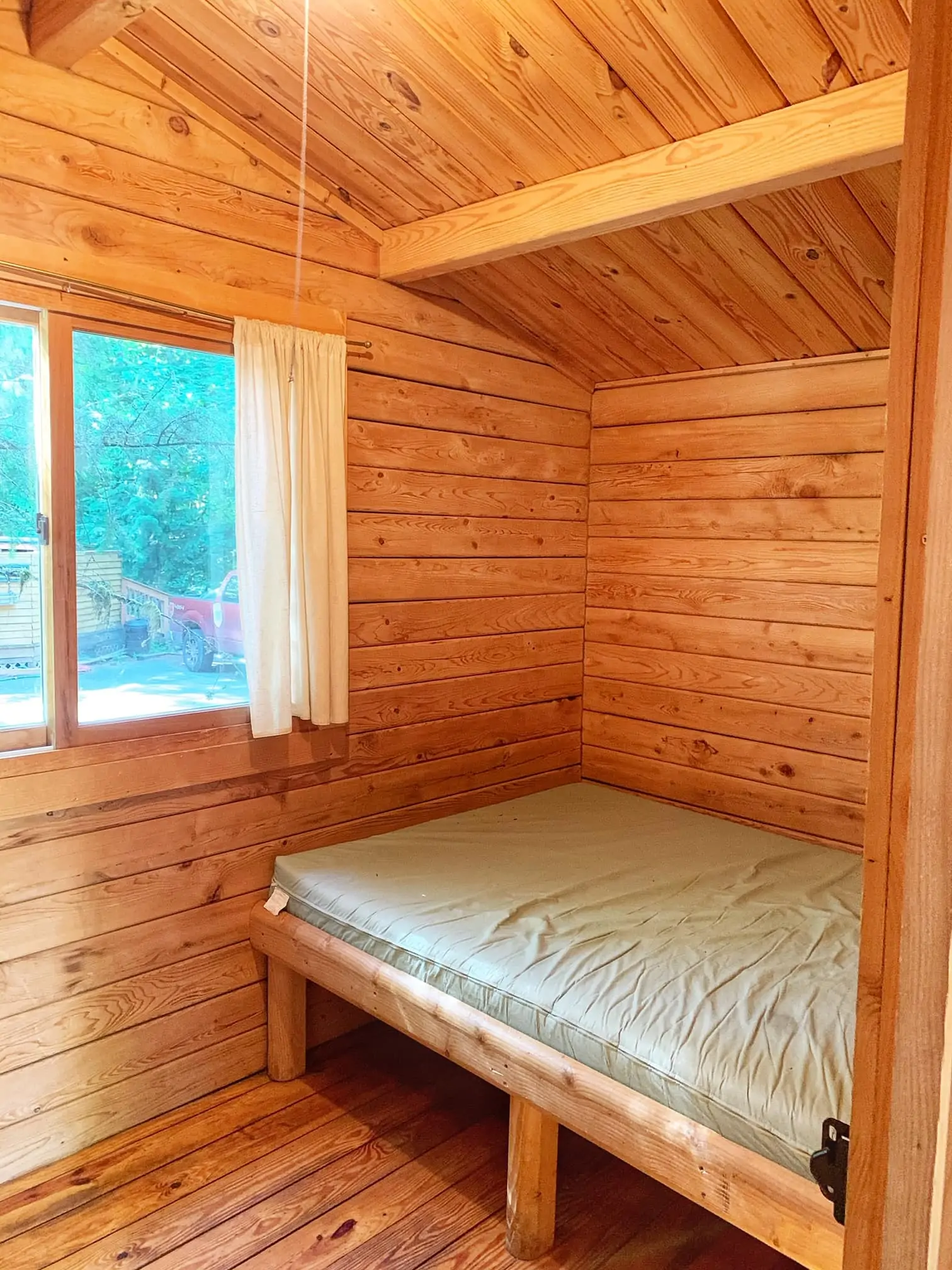 We had 4 kids with us, so this is where we set them up, and they seemed pretty content with their room.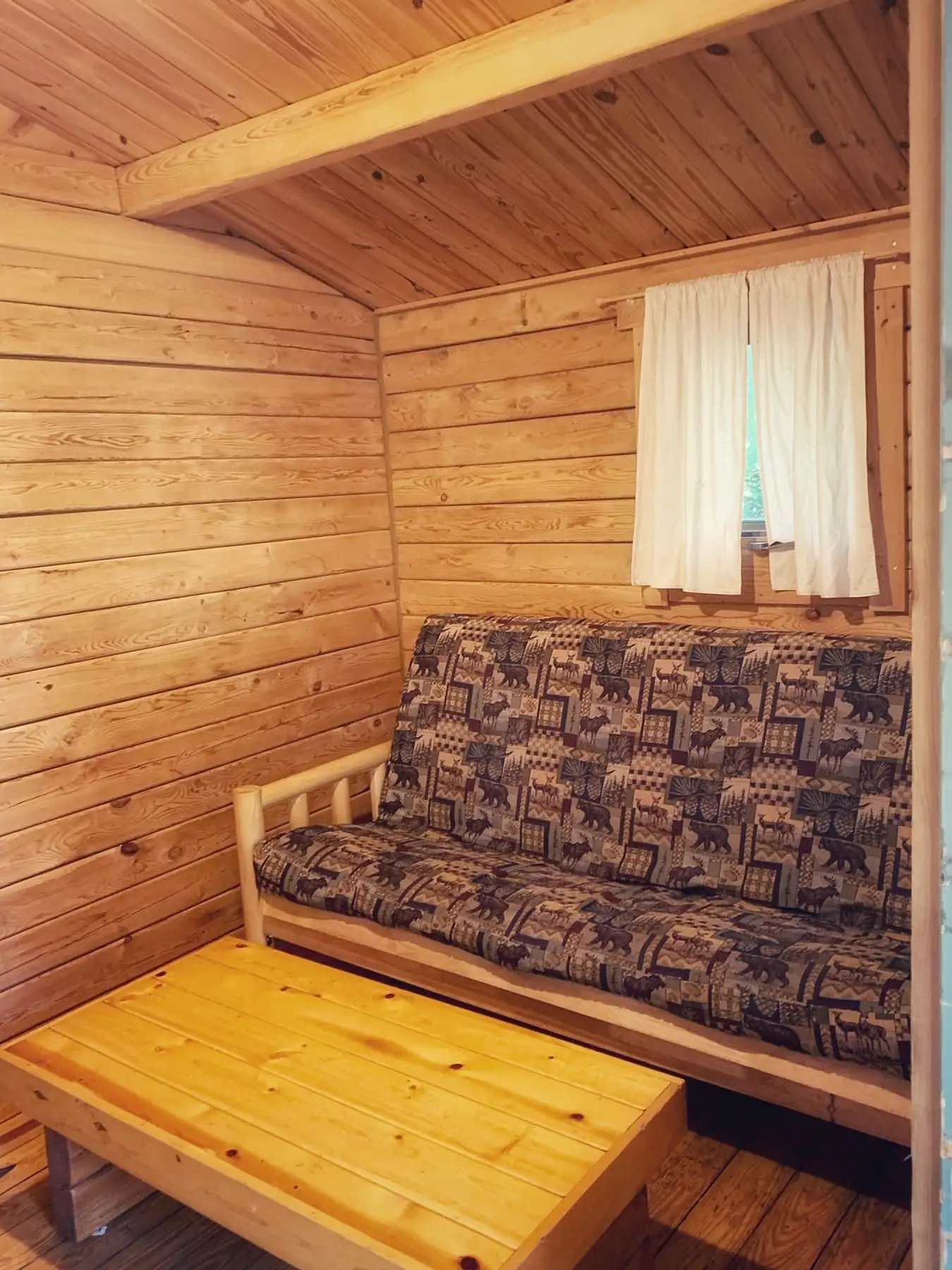 Us adults slept out in the main room on the fold out futon. Honestly, it was so much more comfortable then I anticipated. I did not have any trouble sleeping on it (and I was worried I might). There is even a TV with cable in this room, if that is important to you. We did not use it, but did turn on some HGTV for a minute to make sure it worked.
The bathroom situation was also not bad for the price. All of the rustic cabins where in easy walking distance to the bathroom, and it was lit well at night in case you needed to get up and use it then. There were a handful of shower stalls, so we never ran into an issue of getting into those when we needed them either.
The park is pet friendly, and we saw a number of other visitors there with their dogs too.
RV Spots
The RV part of the park was huge, and there were a number of spots you could get. Many where in gravel areas, but we did spot a few down by the river, in case you can get into one of those.
Amenities at the Mt Hood Village RV Resort & Things To Do
The Mt Hood Village RV Resort has its own store, where you can access ice, wood and other things you might have forgotten to bring with you. Store hours are a bit unpredictable, so be sure to ask at check in so you know when it will be open during your stay.
The Dragonfly Cafe is right on site, and gets great reviews. The food smelled amazing daily, and it is a great option to eat right on site if you are not making your own food (or don't want to leave the grounds). Again, with life being as it is currently, you will want to double check on hours and when it will be open during your stay.
You will find hiking trails accessible right in the resort itself. Although Mt Hood is full of great hiking adventures, you can start without ever leaving the grounds.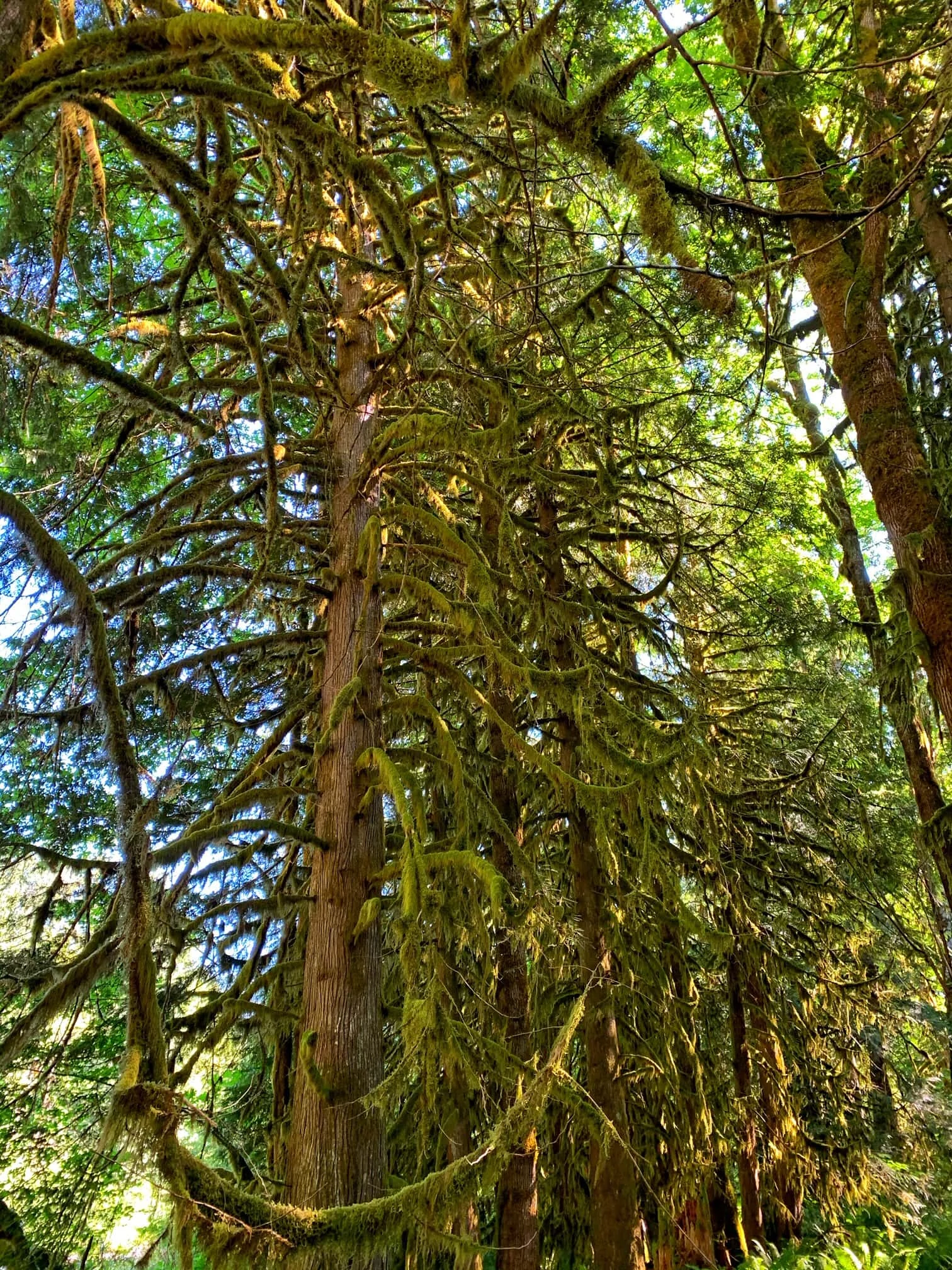 We started each day here with a cup of coffee, and then a hike out into the shade covered woods. It was such a peaceful way to ease into our day, before we ventured out to explore other adventures in the area.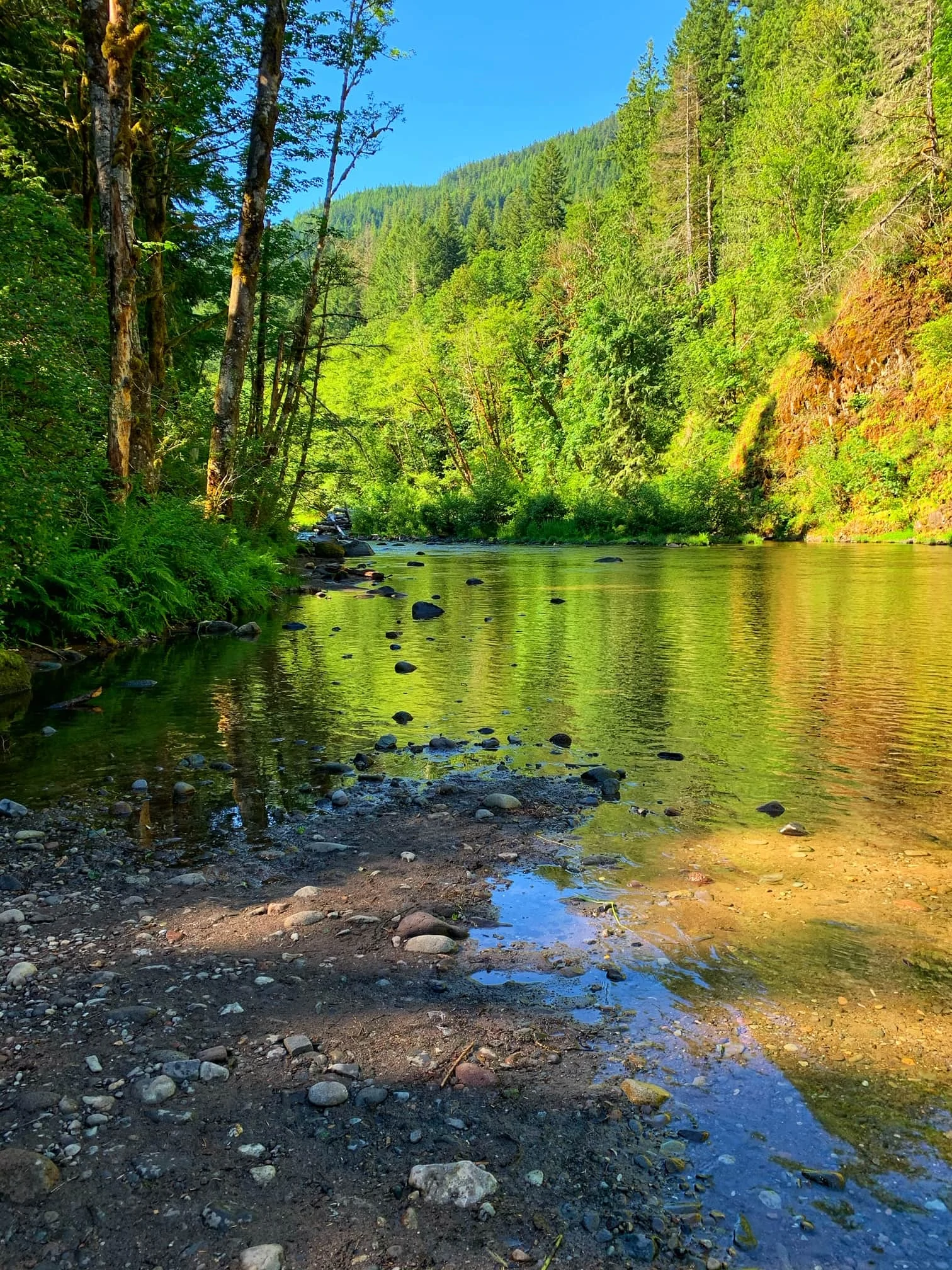 There is even river access from the trails on the campground. Ask how to get to the river at the front desk, as it is not well noted on the map they give you. There are a few small beaches where you can wade in, or just enjoy the beauty and sounds of the river.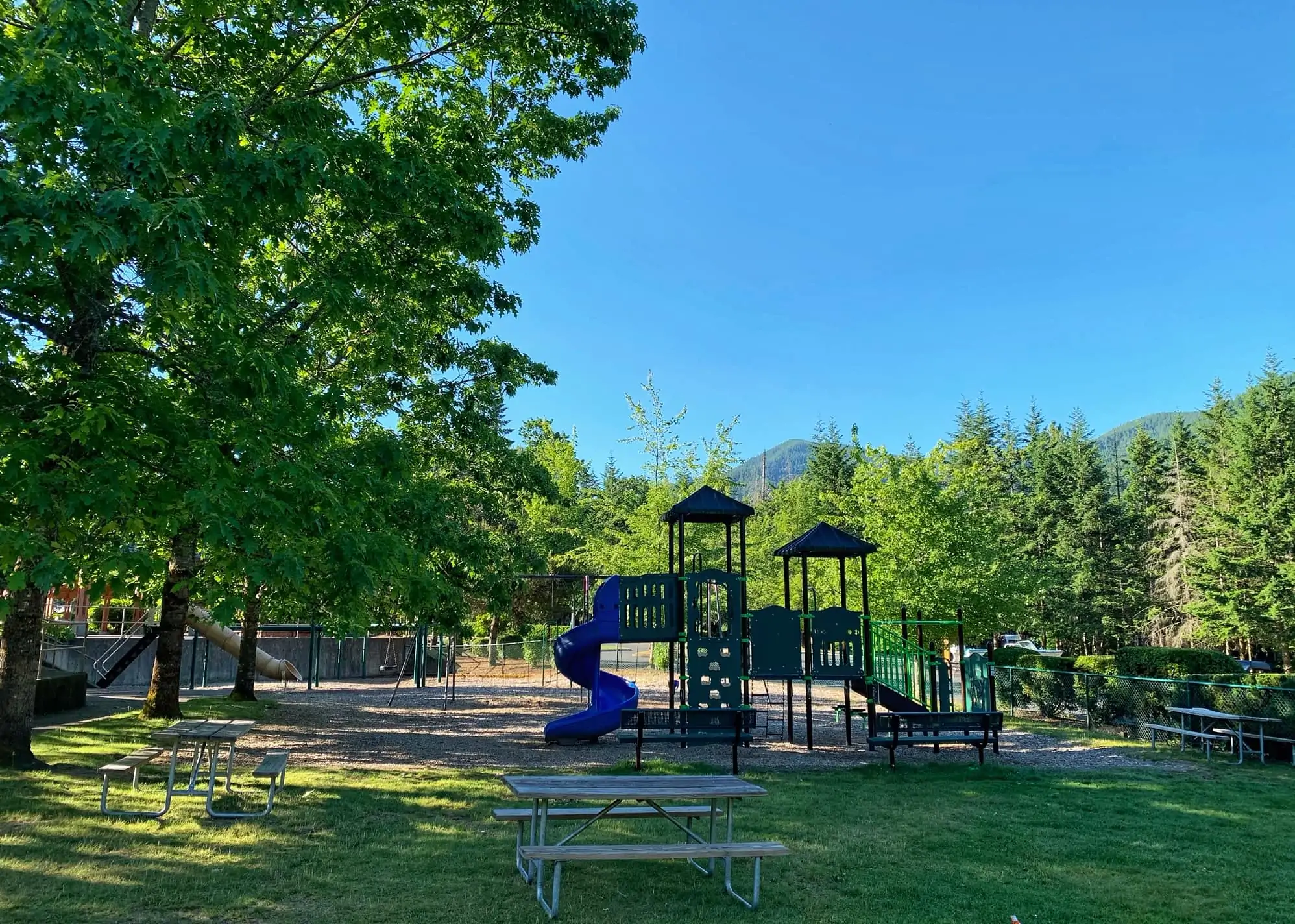 If you are traveling with younger kids, there is a well maintained park up by the lodge. The lodge area is also where my teens would wonder to, to get internet access from time to time too.
Another area my kids enjoyed at the lodge, was the game room. It was a nice hang out space for them, but also provided some fun games to keep them occupied (and an opportunity to cool off on hot days).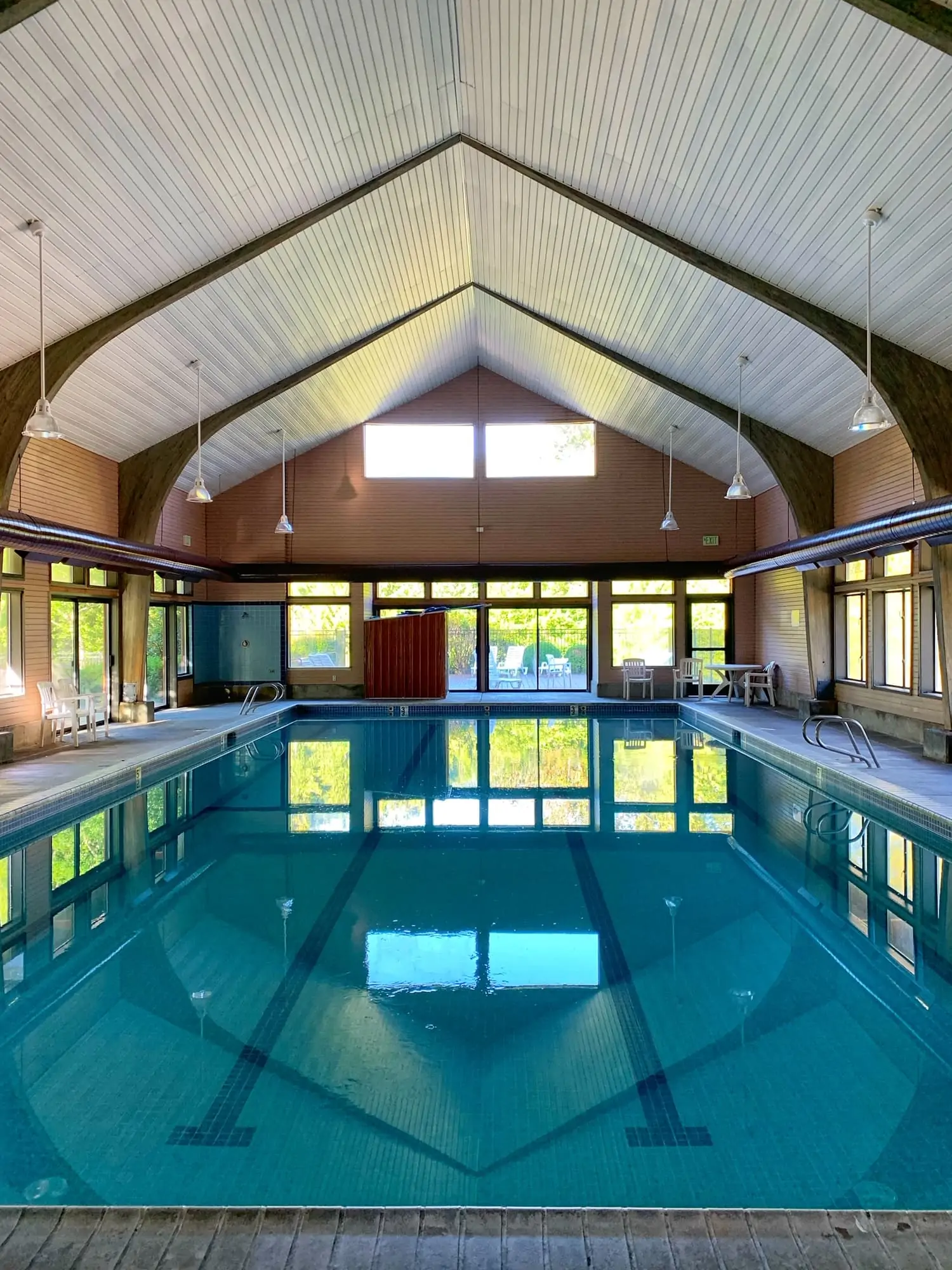 (Note – call ahead to see if the pool will be open during your stay. While it was open for us, I did hear they would be doing some remodeling to it this summer, and it will be closed during those times).
There is also a sizable pool and hot tub area at the lodge, as well as some outdoor seating areas if you want to lay in the sun. The pool area is also surrounded by sliding glass doors that can open, and let some fresh air in on warm days, and stay closed to protect you on colder days.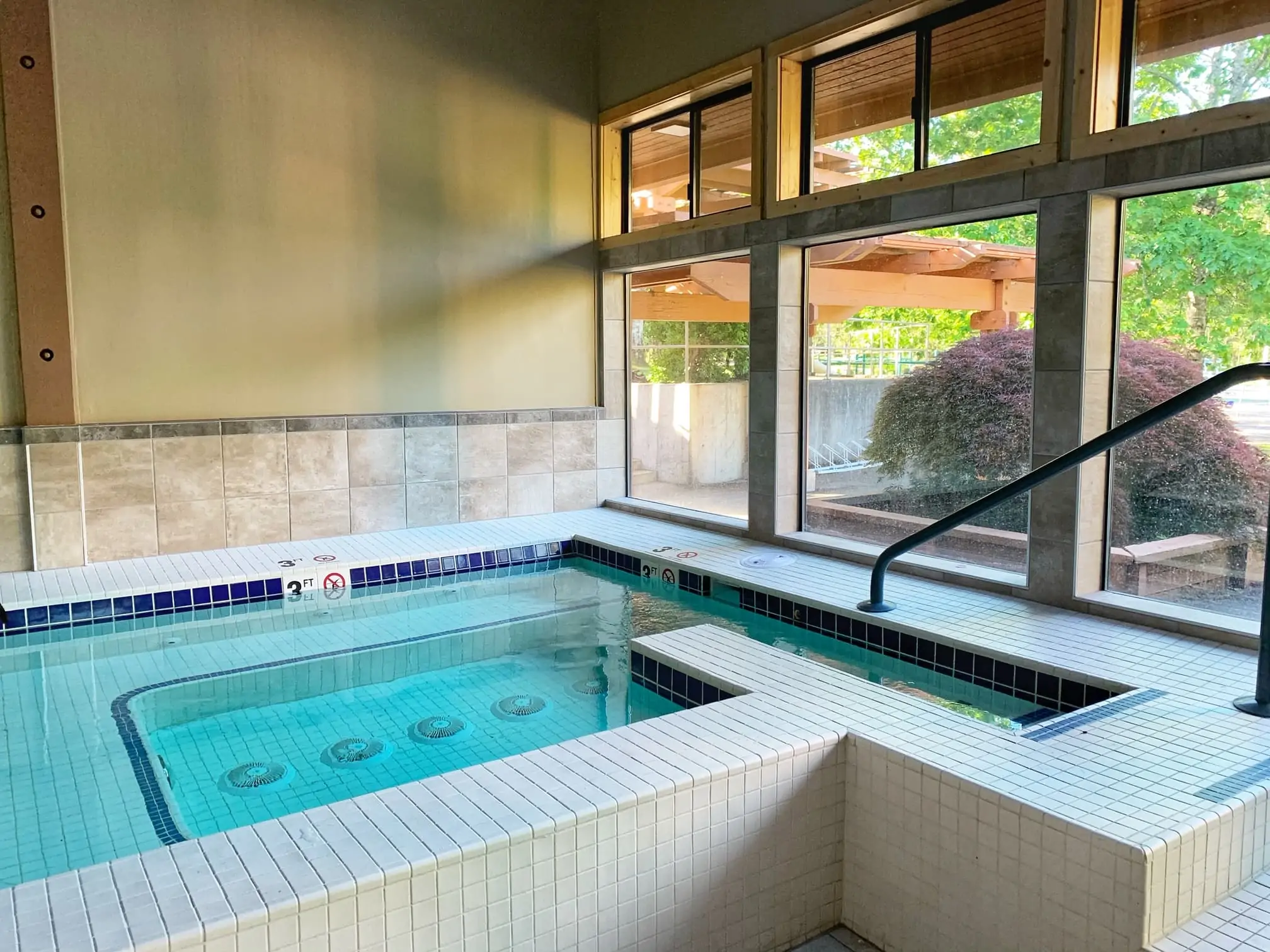 This spa area was in the same building as the pool, but separate from it, so we rarely saw it being used (which was great when you want to get in it)!
Things to Enjoy In the Surrounding Area While Staying at Mt Hood Village RV Resort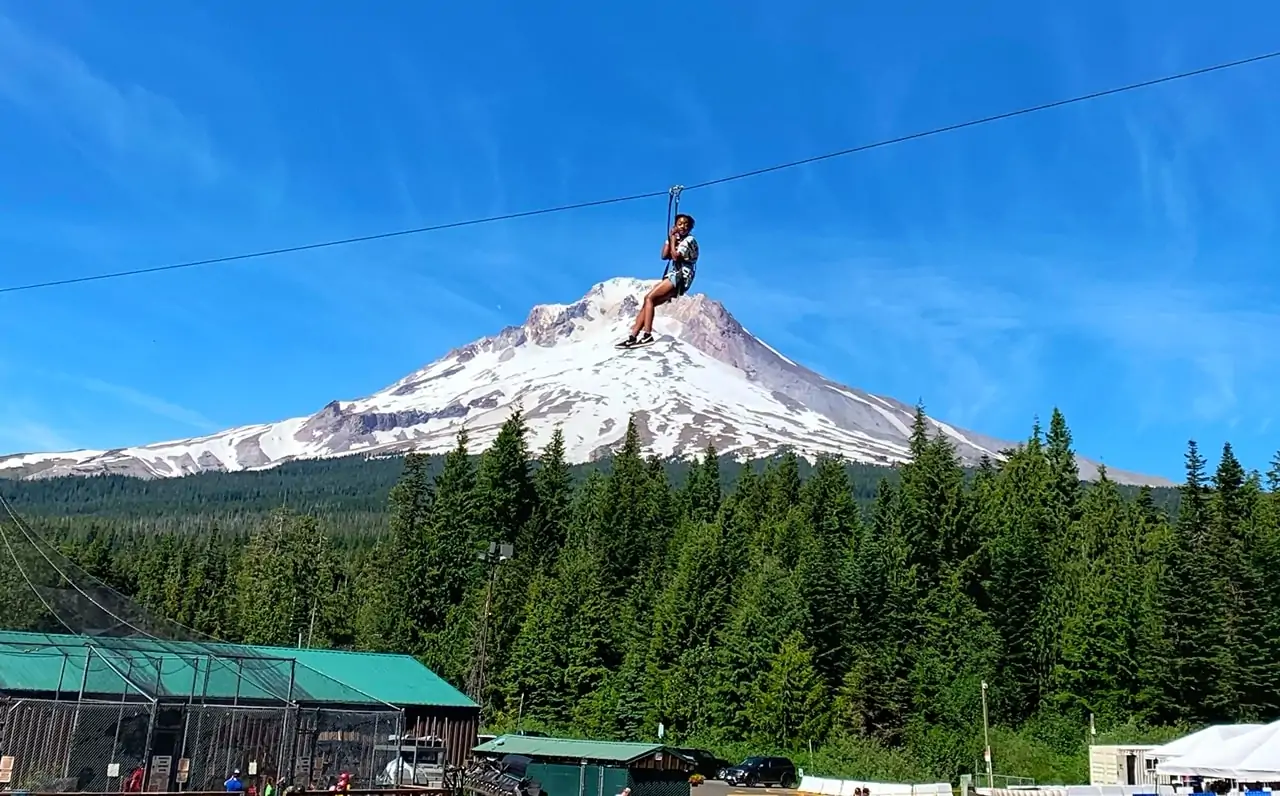 Having fun on the Zip Line at the Skibowl Adventure Park!
The Mt Hood Village would make a great destination on its own, and year round. We were traveling through to the Sunriver/Bend areas, so decided to stop here for a few nights to enjoy the Mt Hood Ski Bowl Adventure Park, as well as just relaxing and enjoying the Mt. Hood Village park too.
The Mt Hood Ski Bowl Adventure park is around a 20 minute drive from camp, and packed full of outdoor activities for families to enjoy, like a half mile Alpine slide, ziplining, bungee jumping, race car riding and more. There are also a number of activities for younger kids to enjoy. You can find our full review here, to see if it is a good fit for your family. I think a few nights at the Mt Hood Village RV Resort, combined with some of these activities make a really great family summer getaway.
In addition to the hiking onsite, you will also find the Wildwood recreational area accessible nearby, and there is just a small fee required to access this site with hiking and recreation areas.
Plus, check out our article on Mt. Hood Family Friendly Activities available for all season, here too!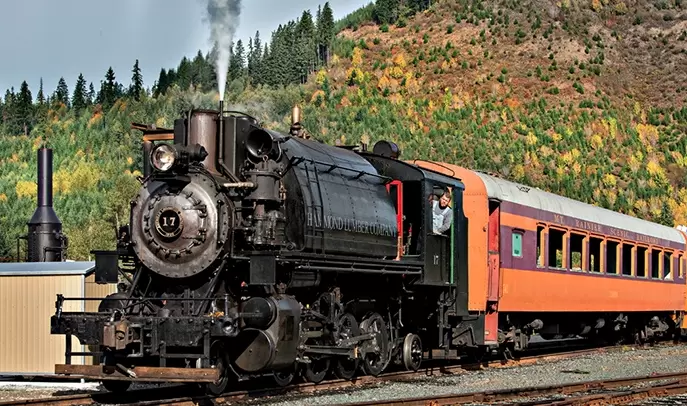 Another idea is to enjoy Mt Hood by rail through the Mt Hood Scenic Railroad trips.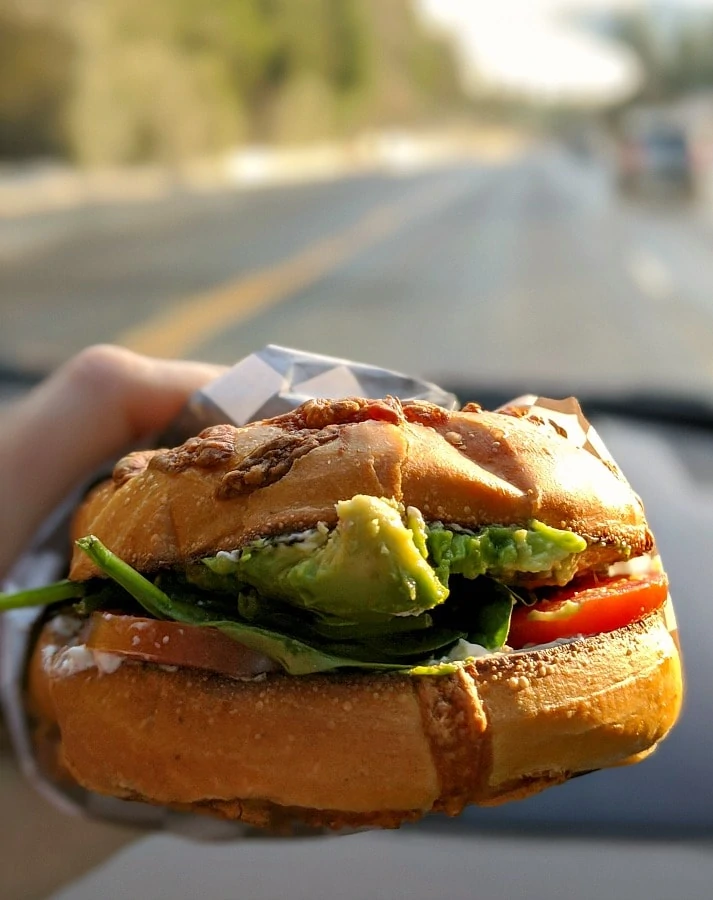 The Dragonfly Cafe is right onsite in the park and their breakfast and lunch menu looked and smelled delicious. They do have a kids menu too, with some great prices. The hours where a bit unpredictable during our stay (things were not fully opened yet during our visit), so we had to find some other options in the area as well.
You can find a list of wonderful dining options in the Mt Hood area here, including some in Welches, ZigZag and Government Camp areas.
Welches is the nearest town with a few more options in addition to our favorites in the list above: 
Looking for a cup of Java? Check out Coffee Brewsters for many options, including one of my favorites – Oat Milk Lattes.
Koyas Kitchen was  another spot we kept eyeing. The ambiance was beautiful in the evenings (picnic tables set out in forest setting, with lanterns hanging down all through out), but we were not able to make a stop in during our short trip to tell you about the food. If you like the romance of outdoor dining, with beautiful lighting – it might be worth a stop.
Sandy Oregon
If you want more food options, driving back to Sandy you will find quite a few options. They even have a food truck area, that is fun to visit. It will be a further drive then the others listed above, but more options too.
All in all, I think the Mt Hood Village RV Resort is a great option for family getaways, that offers accommodation options for many different budgets. Check it out and let us know what you think?