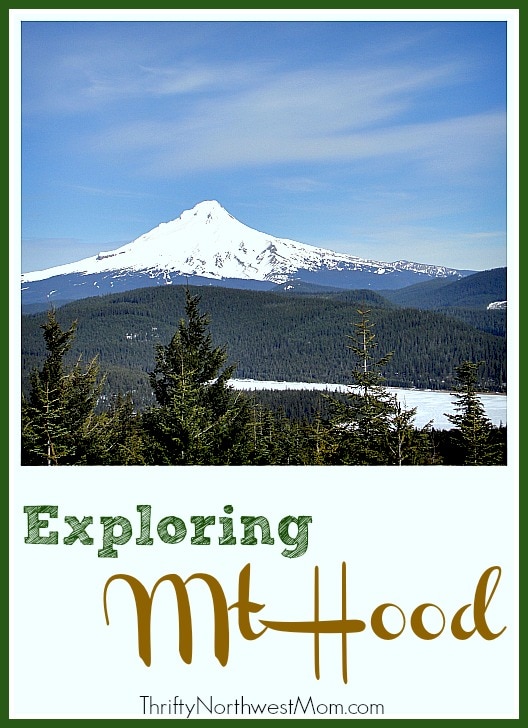 Family Friendly Activities at Mt Hood
If you're looking for a location that has a variety of activities to keep all of your family members happy during the sunny or snowy seasons, the Mt Hood area has a lot to offer families with the variety of activities, proximity to Portland and the natural beauty you'll find with the gorgeous snow-capped mountain & all the surrounding wilderness.  While Mt Hood is a bit of a trek farther south for those in the Puget Sound area (it's about 3 1/2 hours from Seattle to Welches, OR), I think the drive is worth it!  I love this area because there is such a wealth of family-friendly activities all within about 20-30 minutes of each other and the best part is that they are all easy to access without the steep mountain passes & difficult highways to travel through. {Plus you don't have the traffic to get through the pass which we got to deal with going over the Snoqualmie Pass Memorial Weekend – not fun, let me tell you!}
We were at Mt Hood in early March this year when they were still in the midst of their late winter snowfall time, but we've also visited in the summer as well as in the later spring. It's a great destination anytime of year – whether you're going for the snow play (skiing, snowboarding, tubing,  cross country skiing & more) or if you prefer to head there in the summer for hiking & sightseeing around the beautiful mountain or fly fishing & river rafting.
Make sure to check out our review of the Resort at the Mountain, too, as that resort offers quite a bit of family-friendly options just there at the resort, as well as being a great, central location for participating in all these events that the Mt Hood Wilderness has to offer year-round. I also shared some great options for dining around the Mt Hood area in that review as well.
Summer Sport Options:
Hiking

There are around 1,000 miles of trails to hike just in the Mt Hood National Forest area, so as you can imagine, there is quite a variety – everything from the family-friendly short, flat hikes to steeper, more difficult hikes. I found a great website called Portland Hikers Field Guide, which has a comprehensive list of hikes for the different areas around Mt Hood, showing whether a hike is easy, moderate or difficult.  I'd also recommend stopping in at one of the Mt Hood Ranger District Offices and talking to a ranger to get recommendations on the type of hike you're interested in. The Resort at the Mountain's nature concierge, Nate, recommended these hikes to us as interesting family-friendly hikes:
Fishing & Fly Fishing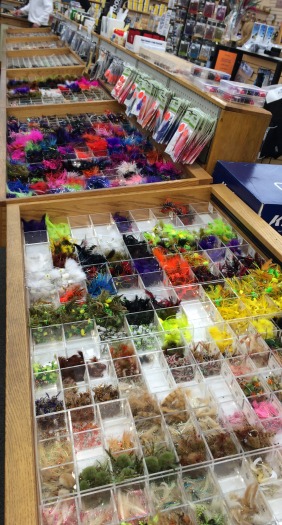 If you have family members who love fishing, the Mt Hood area is filled with a variety of different fishing opportunities, from fishing in the rivers & streams to the lakes around the area for trout, bass, & salmon. The Deschutes River is well-known for being a hot spot for anglers & that's only an hour or less from Mt Hood area.  Fly fishing is also very popular & they have a large fly fishing shop right there in Welches, OR – the Fly Fishing Shop, filled with every type of fly fishing equipment you could need (they also sell online). The Fly Fishing shop offers training for kids & adults, as well as guided fishing trips if you'd like some guidance in finding the right fishing spots.
Rafting
The popular place to go White Water Rafting in the northern part of Oregon is on the Deschutes River & one of the best locations is out of Maupin, OR, which is just over an hour away from the Mt Hood area.  I did this about 10 years ago myself & had a blast! It's definitely a once-in-a-lifetime opportunity if you've never been white water rafting before and the Deschutes River definitely provides adventure & some thrills.
If you're interested in rafting, Get My Perks has a special deal for half off a 1/2 day trip on the Deschutes River out of Maupin (only a little over an hour away) for just $30/person. This voucher is good all summer long & expires in Sept 2014, so you have plenty of time to use it. I'm pretty sure this is the tour group that we used when we went rafting & the guides were very experienced. You'll definitely make some exciting family memories on a trip like river rafting!
Kayaking / Canoeing
Mountain lakes are some of the most beautiful lakes to me as they are always have such sparkling blue waters. Mt Hood Adventures offers rentals of kayaks and inflatable canoes and they will  deliver them right to the lake for you for $10/boat if you don't have the type of vehicle to carry them (they offer this for 3-4 lakes). Trillium and Frog Lake are two of the most popular lakes, offering non-motorized boat access, but check out this large list of lakes offering non-motorized access (& a few motorized boat access) locations to try out kayaking or canoeing to get some incredible views. In the warm summer months, these lakes will also be great for just enjoying the water to cool off for your family, so make sure to check them out for some water play, too, as you can drive up close to several of them or just hike in a bit.
Mt Hood Adventure Park at Ski Bowl 
Make sure to check out Sia's full review of the Mt Hood Adventure Park, located at Ski Bowl in Government Camp. Sia provides all the information on the kid-friendly & teen-friendly attractions, as well as ways to save at Ski Bowl. Sia and I have both visited in the summer and you could definitely spend all day or at least all afternoon having fun at this park. There are actually 2 different locations to check out – SkiBowl West & SkiBowl East. My favorite part was the Alpine Slide – you take a chair lift ride up  and then slide down the mountain in a little sled, with a brake in the middle to help control your speed. You can go in between the two locations of this park via a complimentary shuttle.
This Adventure park is definitely one of the highlights of a trip to Mt Hood in the summer with kids – there are so many fun activities for all ages, so I'd plan on spending at least an afternoon here if you can. Watch the Get My Perks website, too, as the previous years they have offered discount tickets to Mt Hood Adventure Bowl throughout the summertime.
*Groupon is now offering half price admission for 2 to Mt Hood Adventure Park right now, with 2 Alpine Slide Admissions for $23 for 2 people or 1/2 day Adventure Pass for 2 people for $34 right now! 
Camping 
If you're wanting to head to Mt Hood for some camping, there are a number of different options for camping at Mt Hood. Check out this big list of Mt Hood Forest Service campgrounds,  as well as options to hike in to some more remote camping spots, too.  Let us know if you have a favorite campground around Mt Hood!
Clear Lake Fire Overlook Cabin Rental (panoramic view of Mt Hood with windows on all sides)
If you're not wanting to totally rough it, consider a cabin rental too – when we were at Mt Hood on our snowmobiling adventure, we found the Clear Lake fire overlook cabin, such a cool way to explore Mt Hood & wake up surrounded by the beauty of Mt Hood right outside your windows. Have any of you ever done this before – this looks so cool! It may not be the most kid-friendly as the outhouse is all the way at the bottom of the stairs – might make for an interesting late-night trip!
Wildwood Recreation Area
Wildwood Recreation Area is just outside Welches and it's a fun place to take your kids. We went there a few years ago when my girls were 4 & 2 and it was a nice & easy kid-friendly trail along the Salmon River.  The main trail is just 3/4 mile along a paved path (great for strollers) and there flush toilets at the site as well (always important to know with kids!). The coolest part for us about this trail was the underwater viewing area (pictured above). We were able to view the fish as they travel in the river and this would be the perfect viewing place when the salmon are heading back upstream to spawn.  This area is suitable to visit anytime of year, rain or shine, sun or snow.
Here are a few other outdoor options to check out around Mt Hood for summer fun:
Winter Sports Options:
Skiing / Snowboarding – 3 ski resorts 
Mt Hood is unique for the Northwest as they have 3 ski / snowboard resorts all within about 20 minutes of each other. Mt Hood Meadows, Ski Bowl & Timberline are the 3 main resorts located at Mt Hood. There are also 2 small ski resorts at Cooper Spur & Summit Ski area, providing even more diversity if you're looking for different places to ski as a family.  Timberline Ski Resort is located right on the mountain & is  very unique in that it is the only location in the country where you can ski in the summer on the mountain and even a chairlift operates to take you up to the Palmer Glacier at 7000 feet to ski down. They only close for maintenance for a few weeks in September (weather-dependent), so it's basically year-round skiing, a rarity in the Northwest.  Ski Bowl is also unique for the largest night skiing available, with over 2/3 of their 65 slopes open at night.
Tubing / Sledding
There are a number of areas around Mt Hood where you can go tubing or sledding on your own with your own tubes/sleds. Most of these are Sno-Parks, so you will need a Sno-Park pass. You can also head to Ski Bowl, Summit Ski Area & Cooper Spur Ski areas for tubing as well, but you will need to use their tubes & pay for a day pass. The Snow Bunny area also is a great area (my husband & I tried tubing here years ago & had a blast) and  it requires a day pass which includes tube rental – $15/day for adults & $5/day for kids under 5.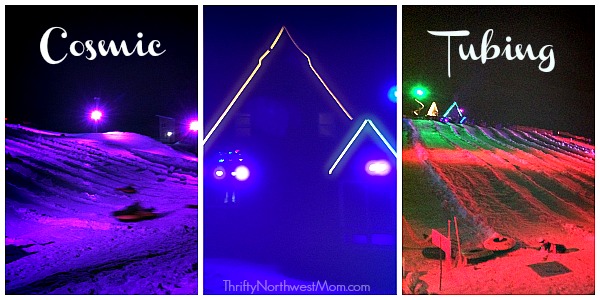 Mt Hood Ski Bowl also has a big kids area in the winter, with a large tubing area, indoor kids play area, kiddie snowmobile rides & more. They also offer cosmic tubing at night on the weekends, which is an absolute blast. We got a chance to try this out & LOVED it! Great activity with the kids or just for the parents for a fun date night if you have grandparents to watch the kiddos. They have a cute chalet-style lodge where you can warm up with drinks & food, too, if you need breaks.
Snowmobiling

Snowmobiling is definitely not a frugal adventure, but after trying it out for the first time, I think this is a must-do experience to try at least once in your life (although once you try it, you're going to want to do it again, I promise you! :) ). It really was the perfect way to really experience Mt Hood during the winter & see views that you may not normally get to see due to the trails you can take (mostly old closed Forest Service roads) & the speed at which you can travel those trails. Mt Hood Adventures took my husband and I out on a snowmobile adventure for a few hours around several Mt Hood area lakes (Frog Lake, Trillium Lake) as well as up to the Clear Lake Fire Lookout for impressive views of Mt Hood (see the above picture). Our Mt Hood Adventures guide was very knowledgeable about the area & he knew just when to stay closer & let us me get the hang of the machines & the turns, as well as when to let us have more space & just enjoy the ride at our own speeds. This snowmobile tour was definitely the highlight of my whole trip to Mt Hood as it made me realize that I do still have that craving for adventure that I don't get to experience as often with having young kids – plus the incredible views of Mt Hood, the mountain lakes & the snow-capped forest were so worth it! I can't recommend this experience enough if you're looking for a unique experience on your visit to Mt Hood!
Cross Country Skiing & Snowshoeing
When my husband and I lived in Oregon, we headed up to Mt Hood several times during the winter & tried out both cross country skiing & snowshoeing & we really enjoyed them, plus got a great workout in. What a great way to experience Mt Hood by traveling on hiking trails & old Forest Service roads and see the beauty & calm of the whole area, along with gorgeous views. You can rent cross country skis & snowshoes at a number of locations, too, even some down as far as Sandy when you're traveling to Mt Hood. I found rates as low as $10/day with $5/day for extra days for snowshoes & $15/day for all the gear for cross-country skis at MtnTracks.com in Government Camp.  You can find a list of cross-country & snowshoe trails or head into one of the rental shops at Mt Hood & they will have maps to give you too.
Day Trip Ideas from the Mt Hood Area:
If you're planning on staying in the Mt Hood area for a few days or a week, there is plenty to keep you busy not just around Mt Hood, but also in the surrounding areas.
Some of my favorite places to check out within an hour or two driving distance from Mt Hood: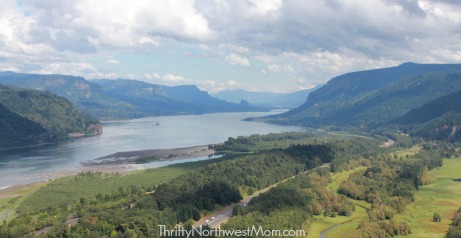 Historic Columbia River Highway Scenic Byway – We have done this route multiple times, including last summer, and it is one of my favorite scenic drives in the US. You start off the drive with a breathtaking view of the Columbia River at Vista House at Crown Point (pictured above), a special visitor's center perched up at the highest point of the scenic drive.  There are also numerous waterfalls along this drive, many that you can see from the road & others you would have to get out for a short hike or a few with longer hikes. Technically the drive ends at the Dalles, but we've always stopped  around Multnomah Falls & Bonneville Dam, where the scenic, older highway ends. The Bonneville Fish Hatchery is also nearby -we spent a few hours at the Fish Hatchery over Christmas & our girls loved seeing the underground fish viewing areas.
Hood River – If you're headed to Mt Hood in the summertime, you may want to take the longer way around & hit Hood River (this would also pass thru the gorgeous Columbia Gorge). Hood River is well known for their abundance of fruit orchards, U-pick farms with awesome prices, numerous farm stands, vineyards, & more.
Portland – The Mt Hood area is only about an hour away from Portland and there is so much that Portland has to offer for families – everything from the Oregon Zoo to the Oregon Museum of Science & Industry (OMSI), Portland Children's Museum & more! Make sure to check out our family-friendly activities around Portland as well as family-friendly restaurants around the Portland area.
 Resources for Mt Hood Area:
There are some great websites with tons of resources on hikes, camping spots, winter & summer activities & more at Mt Hood.
Here are a few of the best resources I found:
If you'd rather not drive on some days while exploring Mt Hood, there is an option with the Mt Hood Express bus, which runs from Sandy all the way thru to Timberline Lodge with stops along the way for $2/one way trip. I love this option as you can stay down in Welches or Government Camp & not have to worry about driving to get up to Timberline Lodge.
For more Summer Fun around the Northwest – check out these ideas:
Disclosure: Mt Hood Adventures provided my husband and I with a snowmobile tour so I  could share my thoughts & opinions about the experience. We were also provided tickets to go Cosmic Tubing from Ski Bowl, so we could share our experiences. However,  all opinions are completely mine.   See our disclosure statement for more details.