More Money Saving Tips For Disneyland – Save on Salons, Mementos, Disney Clothing & More!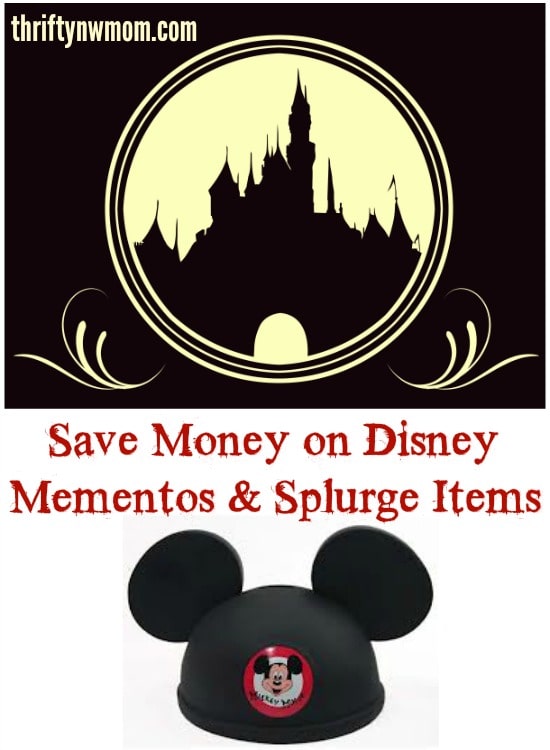 One of the ways that I find it easiest to save for a Disneyland trip, is on things like mementos, Disneyland clothing, and special activities while you are there. While these things could really add up, a little planning ahead of time will save you tons of money while at the parks!
I shop ahead of time, and pack these items in a separate backpack. It does require you carry an extra bag there, but we find it worth the savings.
If you are planning a Disneyland trip you will probably be spending lots of time in the parks, but one way to save on your trip is to buy one day less in the park and enjoy so many other things that Disneyland has to offer (like some of the deals in Downtown Disney, or amenities of your hotel). Don't forget to check out our Disneyland Deals page for many for savings tips for your Disneyland trip, as well as our Travel: Disney Pinterest board.
Here are some of my family's favorite tips on how to save on Disney Mementos & Splurge Purchases: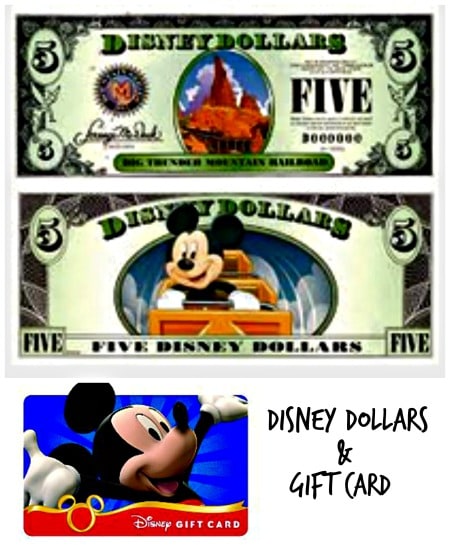 Use Disney Dollars or Gift Cards for Kids' Spending Money!
We get our kids a Disney Gift Card each with some spending money on it, so that when we are there they are not asking us for stuff the entire trip. They can choose when and where to use their money, and when its gone its gone. We buy ours at Safeway to get the extra gas rewards, helping us save more. Another idea is to get the kids Disney Dollars. You can purchase them at the Disney Resorts, right inside main street, or at some Disney Stores (if they are in stock). One dollar buys $1 in Disney Dollars, and can be spent on all the Disney properties. They are fun for the kids to spend, plus you can keep one and then you only spent $1 on a cool memento!
Free Souvenirs at Disneyland
In addition to the Disney Dollars, there are other souvenirs you can get for FREE at Disneyland. Since souvenirs can really add up (especially if you have more then one child), these free Disney souvenirs can really save you!
Stop by the Disney Animators attraction and participate in a free drawing class. You get to keep your drawing afterwards (frame it when you get home for a personalized souvenir).
Ask for a free map of the Jungle Cruise when you are leaving the ride.
Be sure to ride the Autotopia ride. You will get a souvenir drivers license as part of that ride, that is a fun keepsake!
If you stop in at City Hall (near entrance of Disneyland) you can pick up a free button pin if its your first visit, or birthday or other occasion. Just request yours at the front desk.
Head over to the Redwood Creek Challenge Trail in the California Adventure park and your kids can get free Explorer map and then earn a sticker when they have finished all the tasks in the exploration.
Plus, Disney is really great about replacing items when an honest mistake has been made. For example, if you purchase a balloon and your child accidentally pops it, go back to the balloon vendor with your popped balloon and chances are they will give you a replacement one for free. We bought a big jug of popcorn one year, and the kids stumbled and spilled it all before we got more then a few feet away. The popcorn vendor graciously refilled our bucket with no additional charge. Its those small things that can really make your Disney visit special.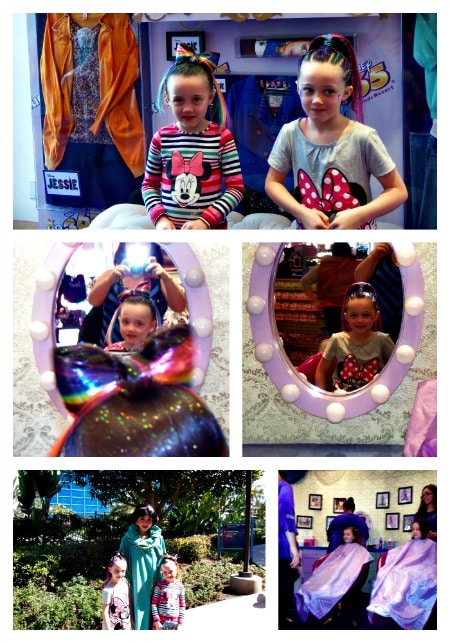 Consider Frozens Anna & Elsa Boutique vs Bibbidi Bobbidi Boutique Salon –
*** Update – Disney recently announced that it is transforming the Studio 365 to Frozens Anna & Elsa Boutique. It also looks like the prices will be going up (compared to what was available at Studio 365), but it still looks like you can get a better value then Bibbidi Bobbidi Boutique. Prices at the Frozen Boutique will start at $34.95 for Elsa and Anna inspired makeovers! Let us know if you visit, and what you think?
The Bibbidi Bobbidi Boutique is a very popular stop for little princesses. If you are traveling with a little princess, consider getting them a makeover at Studio 365,  where styles start at $19.95 vs over $50 at the Bibbidi Bobbidi Boutique. This really makes a difference if you have more then one child. Prices at Bibbidi Bobbidi Boutique start at $54.93.  With two girls that would put me at over $100 for just starting prices. I can get both of them makeovers with hair and makeup, a big fuss made over them and a goodie bag to take home for $40 + tax in Downtown Disney.
Plus, I preferred the less crowded area of Studio 365 to get in and out of. We did this two years in a row, and my girls just love it! We have never had to wait in line, and service has been great. Last year the dressed in their princess outfits before getting their hair done. This year they just wore a comfortable Disney outfit. The bow hairstyle you see above is just $19.95 and the other style was $29.95. They get to keep a makeup pallet and hair comb too (plus the $29.95 style came with Face Gems, some they put on her and some to keep), so they leave the shop with something special too!
Once they are finished, they make a big production of showing them off in the store. There is a big reveal, where they are announced as "Rock Stars" and everyone claps for them and they get a certificate. Its lots of fun!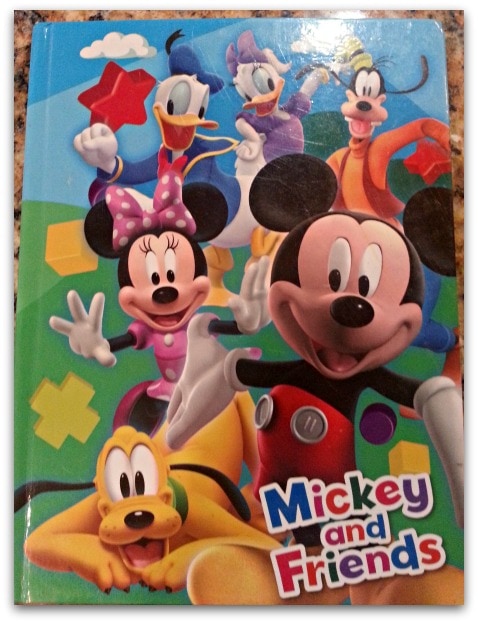 Autograph Books
Autograph books are a very popular item that kids love to have at Disneyland. They are small books that kids have the characters autograph and can get pictures with the characters to add to the book later on. You can make your own, but we found these cute Disney themed ones at our local Dollar Tree before our trip. We spent $1 per book, vs the around $15 -$20 they can cost in the park, and I did not get a single complaint from my kids. You might also want to look for a special pen at the dollar store too!
Amazon also has these Minnie and Mickey autograph books, if you cannot find them at the dollar store, or this Mickey pen and autograph book set.
Another idea here is to get your kids a Pillow Case, and have them design their name on it. Then get a permanent ink pen and have the characters sign that. They will be able to use it to sleep in when they get home for more great dream time!
Penny Machines
Many people collect the trading pins while at Disneyland. Many of the cheaper versions of the trading pins are knock offs or frauds, so one thing we started with our kids years ago was to collect the pennies around the park. Unfortunately, many of the machines have been taken out over the years, but there are still a few left and my kids continue to love to make these. We buy them a book to store their collection in and keep it safe. You can download a pdf of the Penny Machine locations throughout the parks here. They cost $.51 per penny (you put in 2 quarters and 1 penny and choose your design). We still have a book my oldest started over 10 years ago, and they are fun to reflect back on and pass down to the younger kids too!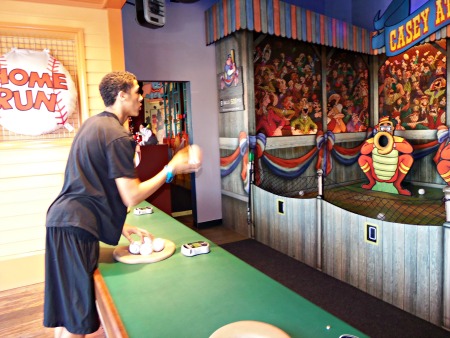 My son won 2 of those huge Home Run pillows…good thing we drove down!
Stuffed Animals / Toys Onsite
If your kids want a stuffed animal, they can be pricey at the Disney Stores. We found that the carnival game section on Paradise Pier was a fun way to get stuffed animals for the kids. They get to play a game and get a toy! For example, the Fishing game on Paradise Pier makes everyone a winner when they play (you get a small, medium or large stuffed toy depending on the fish you play). If you can get into things like the water gun game, or horse race game with just members of your family, then one of you are guaranteed to win a prize too! My kids ended up with too many toys this way, and it cost us less to have them play games and get the stuffed animals then it would have to purchase toys in the gift shops.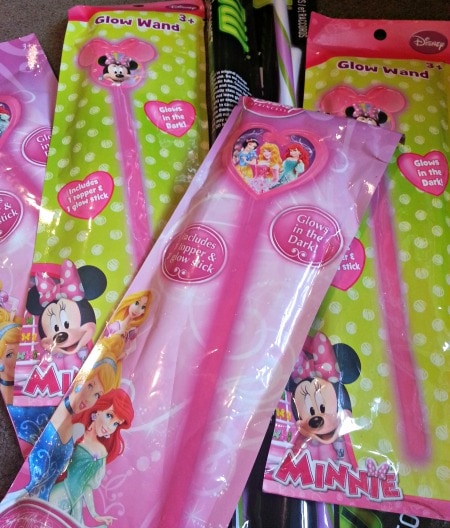 Glow Toys
Glow toys are very popular at Disneyland. The kids love them after dark, and Disney charges quite a bit for them. We hit up the Dollar store and Walmart ahead of time, and got some glow wands, and even found Disney Princess and Minnie glow toys for $1 each! This will save you a ton if you're inclined to get your kids glow toys for the evenings!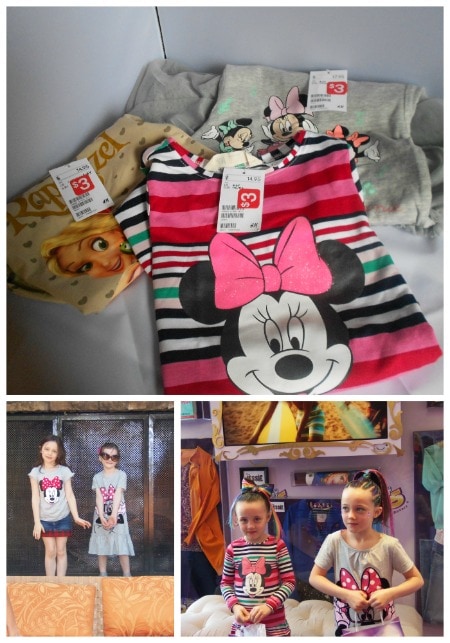 Disney Clothes –
The gift shops at Disney are full of Disney clothes for quite a bit. This might seem a bit excessive, but I always buy my kids new Disney PJs and a few Disney outfits before we leave on our trip, just to add to the magic of our vacation! I do this, because I can generally find them for around $5 per outfit with a little pre-planning! A couple of my favorite resources for affordable Disney clothes include:
* H&M – This is always my first stop as I have gotten them Disney items for so cheap and they have held up year after year (they then come home and wear them to school all year). The outfits you see the kids in above are from H&M. I got them for $5 or less during one of their clearance events online, so start to watch those if you are planning a trip! The $3 items shown above are all from H&M.
* Amazon – Amazon offers some great deals on Disney licensed items these days. This Disney outfit cost me under $5 per piece recently!
*Disney Store Sales – currently the Disney store is having its Twice a Year Sale and you could save half off many of the items you would likely find onsite too!
* Kohls – I found the girls princess PJ sets for $3 ea (I paid $6+ tax for a set of two on their clearance racks). Another favorite of mine is to look for the Dollie and Me PJ sets on sale. I will get my kids those and then they can use the doll PJs for their Build A Bear to sleep in at night with them!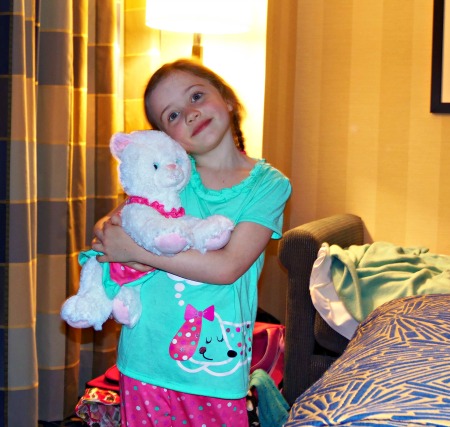 Here is one of my kids with her Build A Bear & the Dollie and Me Matching Pjs I mentioned above too!
Saving at Build A Bear in Downtown Disney:
Downtown Disney is full of many great spots, including a Build A Bear Workshop! One thing we did with our kids was to grab a $6 off coupon that was recently available at Living Social and used it on one of the $15 bears, to get a Build A Bear for LESS then $10! We did this the first night of our stay, so the kids had their animals to sleep with each night during our trip. Costco sometimes offers gift card deals too, so you could save before even getting there (and gift cards should act like cash, so you could use them with the other deals too).
Be sure to join their rewards program here to earn more when you shop too!
To save on outfits we did the following:
We had the option to buy a $10 Build a Bear Gift card for $5 during our initial visit.
We signed up for the Build a Bear rewards program and they sent us a $5 off $25 coupon for signing up on our mobile phones.
We then took advantage of their 2/$15 outfit sale on the top floor of the store, and let the girls each pick out a hat too to bring our total to just over $25.
So after coupon and gift card we paid just over $15 (including cost of gift card) for two outfits. We were able to get our girls a bear and outfit for about $16+ tax each and they loved coming back to the hotel to their new build a bears at night!
RideMakerz
Ridemakerz is another fun shop in Downtown Disney where you can build your own remote control cars. They are not cheap, but you can print out this $10 off $40 coupon from the Anahiem Visitors center to help you save!
Be sure to share your favorite money saving tips for mementos & visit our Disneyland Deals page for more Money Saving tips for a Disneyland trip, or our Disneyland Secrets & Tips to help you plan your vacation!