Disneyland Secrets and Tips!
This post may contain affiliate links and I may be compensated for this post. Please read our disclosure policy here.
Most information out there on Disneyland secrets tells you about the hidden Mickey Mouses around the park, or about Walts apartment above the Fire Station, but we wanted to share some lesser known tips about visiting Disneyland. These may not be tightly held Disneyland Secrets, but they are not advertised well and can be great tips to make your trip to Disneyland more enjoyable.
If you are a Disneyland regular, you may already be familiar with these "Disneyland Secrets", but if not, here is a fun list to check over before heading off to Disneyland, to see if any of these things will make your trip better!
Be sure to check out our Disneyland Deals page too, for more great ways to save on a Disneyland Vacation!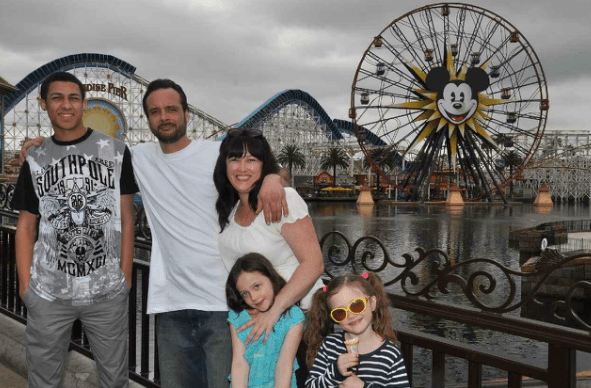 We love the California Adventure Park, it's a bit less hectic then the Disneyland Park as far as crowds go, in general.
There is a special entrance to The Grand California Lodge Hotel into the Disneyland California Park.
While this entrance is generally reserved for hotel guests during busy seasons (and you do have to show your key, but you can use it if you are staying in any of the three Disneyland Hotels), in my recent experience they told us you only had to be a hotel guest until 11am, and then they opended up the entrance to all (this was during the down season). This may change during more peak seasons, so you will want to check with the hotel during your visit, but if it's open to everyone, it's a great shortcut into the park if you are staying near the Grand California Hotel or visit their character breakfast, etc.
Also, they generally allow anyone to come out of the park into the hotel via this entrance, so it's a nice way to get to Downtown Disney from that park for a lunch or shopping break.
Disneyland Hotels offer Great Amenities For Some Down Time
One of our favorite early evening breaks is to head over to The Grand California Hotel and enjoy story time. In our experience, it has always taken place at 7:30pm, but you will want to double check with the concierge desk when you get there. Storytime happens at the indoor fireplace, so grab a favorite drink and relax by the fire while the kids listen to a fun and interactive story. My whole family goes each year and loves the break from the crowds!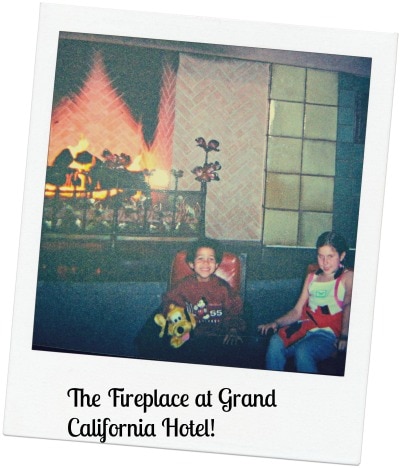 Here is an old picture from about 12 years ago, enjoying story time (they have kid size chairs). We went earlier this month (March 2014) and my younger kids still enjoyed great stories in the same kids chairs! My kiddo in that picture is 16 now – and he still comes with us to relax.
During our March 2014 trip, there was also a movie night by the outdoor fireplace at the Grand California Hotel. You will want to check with the concierge desk again to find the current schedule. They had cushions set out for the kids and played a new Disney movie every couple of days during our stay. Another way to end the night on a quieter note during a busy vacation.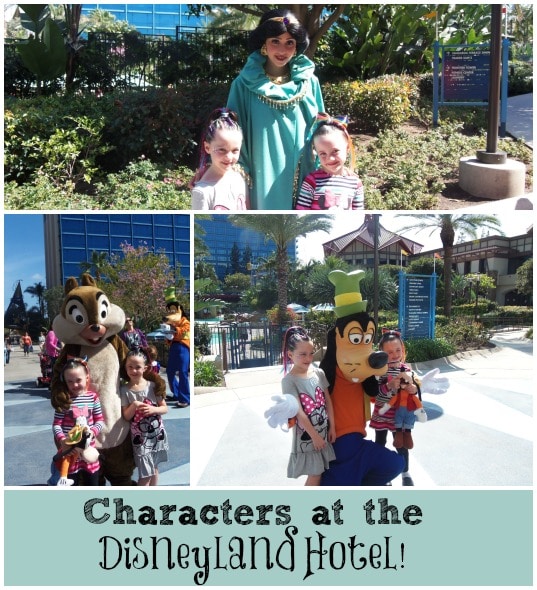 Tired of Character Lines at the Parks, Find Characters Roaming the Hotels!
The lines at Disneyland for characters can get very long, and sometimes you wait in them and the characters have to leave before you get to the front, so this year we avoided those lines and visited with characters at The Disneyland hotel. We found Princess Jasmine, Pluto, Goofy, Minnie, and Chip and Dale roaming the grounds and no lines for pictures!
We also  learned a special solute at Storytime at the Grand California Hotel, and they told us that most of the characters (and certainly the Critter Characters like Chip and Dale) know this salute and will do it back. Its a fun way to let your kids feel like they have a special connection with the characters. You might want to ask at the concierge desk about the special character solute too!
Ride in the Front Cab of the Monorail / Drive the Mark Twain Boat & More!
This is easiest to do if you are visiting in off season (and if you use early entrance hours). Just request to ride in the front of the monorail (there is room for 4 ppl). If they have the ability to accommodate you, you will get those front row seats. If there is more than one party that has requested this, it can delay your wait time, but it looked fun!
(Note – I heard they had discontinued this at Disney World, but they were doing it at Disneyland as of March 2014).
One cast member told us that if we took the kids on the Mark Twain boat and asked for them to be able to visit the wheel house, they would take them up there and allow them to drive the boat (like many Disney rides, its an automated boat ride, but they feel like they are driving). They are even suppose to get a momento certificate. We ran out of time to try this, but the cast member assured us it was a special experience for the kids! I did read that not everyone is told yes, and that you need to ask nicely – so its not a sure thing, but it is possible!
I have also heard that there is a special Tender seat you can ride on the train around Disneyland, but it was closed during our recent visit so I could not confirm this is still an option. Be sure to comment below if you can confirm it. You are suppose to just need to tell the conductor at Main Street Station that you want to ride in it (its a seat for two).
Shorten Your Wait Times
The best way to shorten your wait times is to visit in off season, but there are a few other tricks you can use to help keep your wait times to a minimum. I think everyone knows about Fast Passes now, but here are a few other tips:
Use Ridemax– this tool will cost you $15,  but it can cut out hours of waiting if you use it to plan your ride schedule out. If having wait times is more important to you then leisurely working your way through the park then this is for you! There are also free Disneyland wait time apps you can use as well here and here.
Visit the Disneyland Vacation Club for Fast Passes. During our stay, we were told that if we took a brief tour of the Disneyland Vacation Club (set behind the Disneyland Hotel) we would get Fast Passes! It actually looked really interesting, and low pressure, so we had wanted to check it out – but we ran out of time. Be sure to leave a comment if you have done the tour and let us know if it worked out for you! Tours opened at 8am while we were there.
Ride the Monorail to avoid front gate wait times. This worked particularly well for us during the early entrance hour. It takes you directly to Tomorrow land, so only works if you are going into Disneyland and not California Adventure, plus my kids loved riding the Monorail too! You can catch the Monorail in Downtown Disney, so if you are looking for an affordable breakfast jump over to The Earl Of Sandwich before getting aboard ($3.99 for breakfast sandwiches – cheapest we found in the Disney area).
Use the Single Rider lines, or Switch Passes to get through lines quicker.
If your kids are older and you don't mind splitting up for rides hit the Single Rider line. This worked really well on the Cars ride for us. We were on the ride in about 10 minutes. I went with my teen and he was in the car in front of me (so you have to ride with strangers) but it was a great way to get in a second trip on a long wait time ride after we had all ridden together as a family once.
If you have kids of mixed ages like we do (5 to 16), you will love the Switch Pass. When one of our younger kids dont want to go on a ride (or is not tall enough etc), my husband will go with the other kids and ask for a Switch Pass when he gets in line, while I stay with the younger ones. Once they are done riding I can take the switch pass and one more person from my party and go through the fast line to get on the ride in a very short amount of time! We love this accommodation that Disney makes for families.
Fastpasses help you get on rides faster.
If you have been to Disneyland in the past then you are probably aware of how Fastpasses work. If its your first trip to Disneyland then you probably have questions on how it works. It is a pass you can get at all of the  bigger rides that will allow you to get in a special line that is much shorter then the regular line. You simply put your park ticket in the Fast Pass machine at the ride of your choice and it will give you a pass that allows you to use the shorter fast pass line during a specific one hour period (that time will be noted on the Fast Pass machine). Read the fine print at the bottom of your pass, and it will tell you when you can get your next Fastpass (note – Fastpass tickets for Fantasmic and World of Color don't count, so you can another one even if you grab those with no wait).
You might also be interested in reading: