Staying at Disneyland (and Disneyland Hotel Deals) –
Here are some tips on how to save the most on Hotels and Disneyland stays in the Anaheim area. Be sure to check out our Disneyland Deals page too, for more great ways to save on a Disneyland Vacation!
We have included lots of ways to save the most on hotels near Disneyland in this post. The topics you will find covered below include: 
Current Disneyland Hotel Deals (the best promotions we could find available – update weekly on Thursdays)
Save by staying at Good Neighbor Hotels (or offsite hotels) – Includes tips and tricks to save the most in general
How to Save the Most on Disney Hotels – Includes tips on the benefits of staying at the Disneyland Hotels and how to find the best savings for these.
Current Disneyland Hotel Deals:
Here are some of the best hotel deals we could find for Disneyland for this week. If you are looking to do a package deal we recommend that you check out Get Away Today. We have heard from many readers that they have purchased their packages through Get Away Today and had a great experience.
We have also found great Hotel + Ticket and just Hotel deals through aRes Travel. This is another trusted travel site that focuses quite a bit on Disneyland area travel. If you are just looking for the most affordable stay, they offers for as low as $50 per night.
We have listed out some of the best deal highlights below, with some info on the hotel/motel and location, etc.
Good Neighbor Hotel Deals (Disneyland Resort Deals Below):
Red Lion Hotel Anaheim Resort (3.5 star review on Trip Advisor) – Anaheim, CA starting at $69 per night. After a long day at Disney, you can snuggle up around the hotel's outdoor fire pit. Other amenities for the hotel include heated outdoor pool, fitness center, complimentary WiFi & more.
Hotel Menage (4 star review on Trip Advisor) – Anaheim, CA starting at $116 per night. This hotel is great for both families and business travelers. The hotel has fitness center, outdoor jacuzzi/hot tub, outdoor heated pool and more!
DoubleTree Suites by Hilton Anaheim Resort (4.5 star review on Trip Advisor) – Anaheim, CA starting at $116 per night.  This hotel is located one block from the Anaheim Convention Center and one mile from Disneyland. Amenities include fitness center, guest laundromat, outdoor pool and more.
Anaheim Portofino Inn & Suites (4 star review on Trip Advisor) – Anaheim, CA starting at $99 per night. This inn has newly renovated rooms, 2 pools, hot tube and more all within walking distance to Disneyland! They do also have stroller, beach bag and beach toy rentals available.
Holiday Inn Hotel & Suites Anaheim (4 star review on Trip Advisor) – Anaheim, CA starting at $132 per night. Enjoy your stay an only be one block from Disneyland. They have fitness Center, outdoor hot tub, outdoor pool and more. Your stay includes free WiFi.
Anaheim Hotel (3.5 star review on Trip Advisor) – Anaheim, CA starting at $119 per night. This hotel is directly across the main entrance to Disneyland resort. Amenities include outdoor pool, outdoor hot tub, fitness center and more.leasure. Amenities include outdoor pool, fitness center, outdoor hot tub and more. They also offer free Wifi.
Stanford Inn & Suites (4 star review on Trip Advisor) – Anaheim, CA starting at $124 per night. This inn is right in the heart of Anaheim Resort District area. Amenities include outdoor heated pool, outdoor hot tub and more. Plus you will get free WiFi and free hot breakfast.
Holiday Inn Anaheim-Resort Area (3.5 star review on Trip Advisor) – Anaheim, CA starting at $105 per night. This hotel is just minutes from the Disneyland. It is also close to several topnotch golf courses. Amenities include complimentary newspaper, fitness center, in-room refrigerator, hot tub, outdoor pool and more!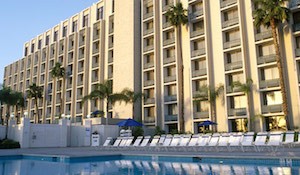 Knott's Berry Farm Hotel (4 star review on Trip Advisor) – Anaheim, CA – starting at $109/nt!  This is the official hotel of Knott's Berry Farm, plus it has a free shuttle to Disneyland!  So, it will be further from Disneyland then the rest of the hotels listed above, but it is themed and walking distance to Knott's Berry Farm if you plan to do that. This hotel is fun for the entire family with a Snoopy-themed wing, children's activity area by the pool, lighted sports courts, and more.  Amenities include on-site restaurants, outdoor hot tub, seasonal pool complimentary WiFi and more.
Here are some of the discounts available from Get Away Today:
More Tips on Ways to Save on Disneyland Hotels
There are two ways to save the most on your stay when looking at Disneyland Hotel Deals:
1) Stay during the off season. The off season for Disneyland runs from:
Mid-January through mid-March (except for President's Day Weekend)
Mid-April through mid-May (except during Spring Break)
Mid-September through mid-November (except during Halloween Time at the Disneyland Resort)
Generally speaking, you will save more if you book a weekday stay vs weekends too (plus you miss more crowds this week, but may run into shorter hours, etc).
Disneyland offers a resource here on when to visit Disneyland, with information on what to expect for weather, crowds and more.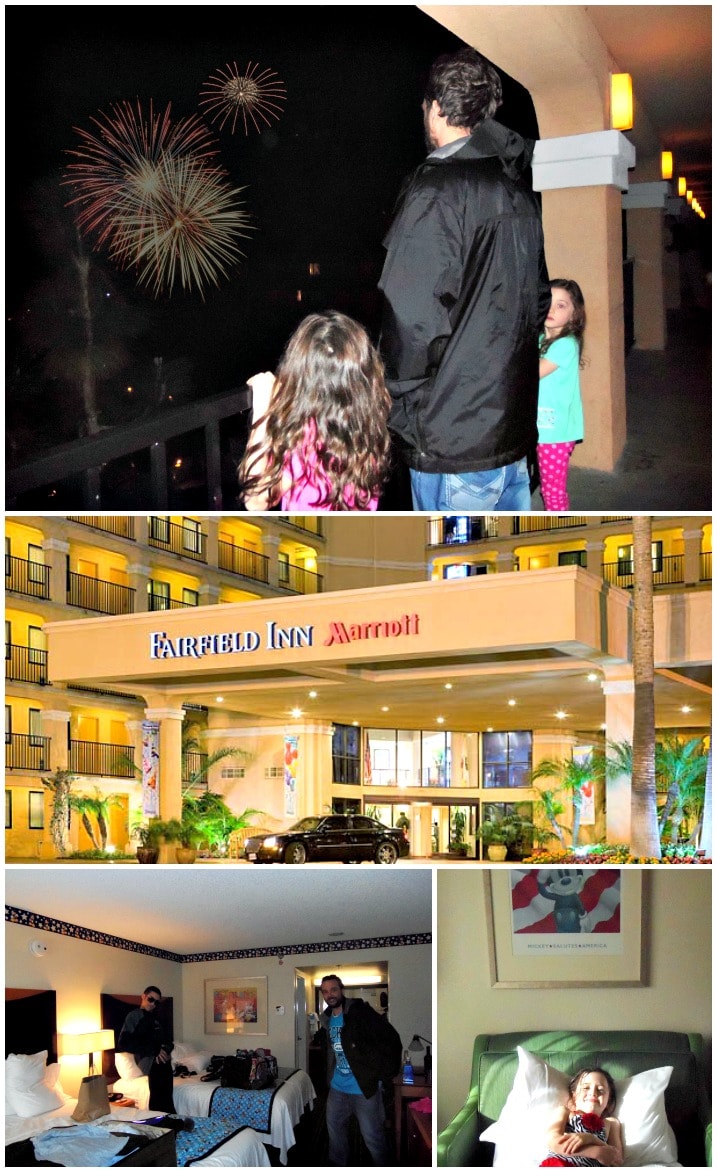 We spent one night at the Fairfield Marriott Anahiem, across the street from Disneyland
2) Stay off site at one of the Disneyland good neighbor hotels ( a non-Disney Hotel) – Staying at one of the Disneyland good neighbor hotels vs a Disney Resort will save you lots of money! I have to be honest and tell you that I am a Disney Resort fan personally, but its really a personal decision so I will point out some of the pros and cons of both (and where to find the best deals). My family has stayed onsite at all three Disneyland Resorts, and off-site in walking distance and off-site requiring a shuttle. Every stay was great, and I recommend them all. Here is some more info when trying to decide whether to stay onsite or off site.
The Disneyland Main Gate area is a great place to stay if you want to be in walking distance to Disneyland. Some of these hotels are directly across the street from the Disneyland Maingate (you walk through the transportation area of Disney where the shuttles drop people off). Two that get great recommendations are The Fairfield Disneyland Maingate and The Howard Johnson Anahiem. We stayed at the Fairfield for a night on our latest trip and we had a front row seat for the evening fireworks from our balcony. The room also accommodated our family of 5 nicely (pull out couch and two queen beds). Customer service was great, there was a pizza hut and arcade on the third floor, Mcdonalds in the parking lot, nice swimming pool and a really easy walk to Disneyland! Plus their online booking system is awesome. Book your hotel stay in advance to secure your rate, but you can keep an eye on the rates and if they drop you can cancel and rebook for the lower rate with no penalty (as long as you are more then 24 hours out from your stay)!!
Photo Credit: Howard Johnson website
The Howard Johnson is a little bit of a longer walk, but it includes a small water park on site, so may be fun if you have little ones. I have not stayed here personally, but the reviews are good, and it is the only non-Disney hotel with a waterpark.
Another benefit of staying offsite is that you will have easy access to many more affordable restaurants then if you stay in a Disney resort.
I find Trip Advisor to be a great spot to read the reviews and decide which hotel might best suite your family.
Best ways to save on Off Site hotels near Disneyland:
Take advantage of travel site promo codes for sites like ARes Travel, Expedia.com , Cheap Tickets or Orbitz.com promotion codes. Here are some examples of current ways to save:
ARes specializes in offers in the Southern California area, so you can often find some great hotel prices through their site.
Cheap Tickets is a branch of Orbitz (legit site for both Disneyland hotels and park tickets – we bought ours through them for our recent stay). They almost always offer a 20% off coupon code, that can really help you save. Find their current promo codes here!
Orbitz also offers promo codes good to use on Hotel deals. Find a list of current promo codes with them here.
Expedia often offers special promotions too. See site for details.
Get Away Today offers some of the best Disneyland discounts as far as travel sites go.  They often include extra promotions (like currently they are offering a free night stays, free kid's backpacks, discounted Character Meals and more).  I found one deal for the Clarion in Anahiem for my family for around $1500 for a 4 day 3 night stay, and includes free parking and free breakfast (and kids eat free for other meals too). This included a 3 day park hopper ticket, and the price of the tickets alone for my family ran around $1200, so this is a pretty amazing deal! I was looking at packages with tickets included, and they were running approx. $500 less then comparable packages on the Disneyland site. Plus TNWM readers can save an extra $10 off with promo code ThriftyNW14  Another benefit for Get Away Today is that you can use their layaway program and make payments on your vacation to spread the cost out over time.
Check to see if your preferred hotel has an online booking site that will not cost you any cancellation penalties (like the Marriott site I mentioned above). That way you can book far in advance, and then keep an eye on rates and cancel and rebook at the lowest rate you find. Many of these sites guarantee lowest rates too, so if you found a lower rate on one of the travel sites you can submit for that rate.
Don't forget to join the rewards programs of these hotel sites too. You could get close to a free nights stay with some, if you are booking 4 or 5 night trips.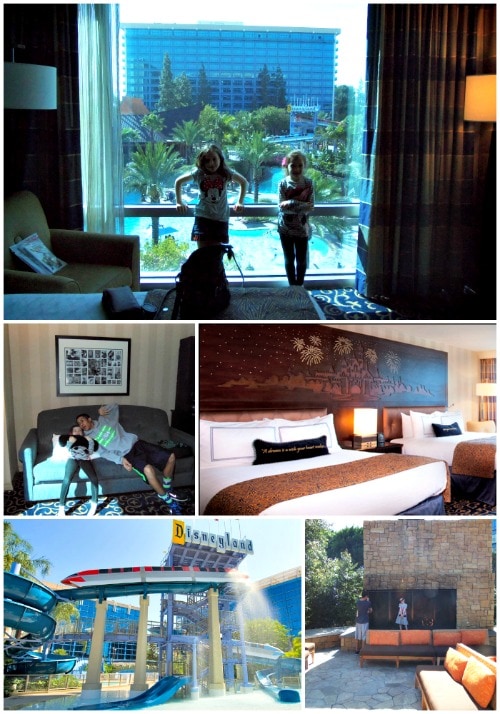 Disneyland Hotels:
Members of the U.S. Military Can Get Great Rates at Disneyland Resort Hotels through October 3, 2015
While it will almost always be cheaper to stay off site, there are some reasons that you might choose to stay at a Disneyland Hotel. They are primarily for convenience, because the rooms are not spectacular for the price you pay (but we loved our room, with all the extra Disney touches).  That being said, if we can afford it and find a deal, we generally choose a Disneyland hotel over staying off-site (just our personal preference). The primary reason for us is that Disney is never a very frugal vacation option, even if you are saving everywhere you can. So, if we are going we want to cut down on the stress and really enjoy the parks, and staying on site helps us do that best.
Here are some of benefits of staying on-site at a Disneyland Resort:
– Early Park Entrance Hours – this is the best benefit in my opinion. When you stay at a Disneyland Resort you get early entrance into one park or the other each day of your visit. You can get one day of early entrance with a multi-day ticket if you stay off-site too, but having this option each morning of our visit was great! We were able to easily get on Cars one day by utilizing early entrance. It was a nice way to enjoy many of the harder to get on rides, and then we would take a breakfast break during the morning rush after they opened the park to all. Even better, the Monorail is open during this early hour for hotel guests so you can avoid the crowds at the front gate.
– Disney Theming throughout the hotel and grounds (you never leave the magic of Disney). Our headboard in the Disneyland Hotel could light up at night with a fireworks theme, they played Disney music from the alarm clocks, you can have a Disney bed time story on the TV in the evenings and more. You can also request to have a character call in the morning to wake you up!
– There are many other Disney events for your downtime out of the park (like movies, storytime, character sightings and more).
– Convenience. We were able to enjoy many conveniences while staying at the Disneyland Hotel. We were able to pick up our park tickets at the front desk while checking in, and avoid the ticket lines. If we purchased anything in the parks (or won prizes) we could have them sent back to our hotel for free, and not carry them around the park all day. Guest services is located right in the hotel so we were able to easily set up restaurant reservations, get info, etc.
You can read more about some of these in our Disneyland Secrets and Tips post here.
Ways to Save on Disneyland Resort Hotels:
We got our rooms for 25% off this year, by using a promo code they sent us. Here are some tips for saving on Disneyland Hotels beyond just booking during the off season:
Check out the Disneyland Offers and Promotions page for current specials.
Sign up to get special offers and promotions sent to you from Disneyland here!
Get on Disneys mailing list, to get emails from Disney and promotions (they sent ours to us in the mail). You can do this when you request a free Disney Planning DVD or Cruise Planning DVD, or if you have stayed with them before.
If you are booking online at the Disneyland website, pull up a chat box and ask the representative if there are any travel promotions available (they sent me a link to book the 25% off directly online, so I would have been able to do that even if I had not received the post card from them).
Book through Costco Travel to get extra perks. For my family this worked out to be more then $200 in extras! I just compared vacation packages and they were the same price on Costco travel and Disneyland site, BUT if you book through Costco you also get:

Premium Disney Character Dining Experience (one per person, per stay) – a value of $45 per adult and $22 per child (ages 3 to 9)♦
$20 Disney Gift Card (one per package)♦♦
Exclusive collectible pin with matching luggage tag and lanyard (one per person)
(plus check out Thrifty and Thrivings tip on how to use the character dining to save even more on dining while at Disney here)!

Call the Walt Disney travel company directly and ask for promotions (note – I always do this just in case they have a lower rate for me – but in this years case I found a rate online that was lower then they could even find in their system, so be sure to check all avenues first!). The number is (714) 520-5060.
Take advantage of Expedia.com or Orbitz.com or Cheap Tickets promotion codes (see the staying at Non-Disney hotels above for current promotions)!
Military Discounts – Military families can get up to 40% off at Disneyland Resort hotels, now through Sept. 27th, 2014. Call their travel company for more info (714) 520-5060.
Check Get Away Today for current promotions (Plus TNWM readers can save an extra $10 off with promo code ThriftyNW14 )
Lastly, if you have your own RV, here is a list of RV parks near Disneyland that you could stay at. If you really want to save, you can consider camping near Disneyland. There is a list here of some sites that include actual camp sites (but I recommend checking reviews on Trip Advisor too).
You might also be interested in this article (and stay tuned for more posts on saving on food at Disneyland, How to Get There, Souvenirs, Tickets and more coming soon!).