Best Deals on Hotels Near Disneyland!
This post may contain affiliate links and I may be compensated for this post. Please read our disclosure policy here.
Should you stay at Disneyland or one of the Hotels Near Disneyland, and what are the best current deals for Disneyland area hotels?
Here are some tips on how to save the most on Hotels and Disneyland stays in the Anaheim area. Be sure to check out our Disneyland Deals page too, for more great ways to save on a Disneyland Vacation! We have general tips on how to save on Disneyland Resort Hotels, as well as current hotel promotions and specials in the Disneyland area for Disneyland Resort Hotels as well as Disneyland Good Neighbor Hotels.

For more details on some of the good neighbor hotel options, check out this article that reviews some of our favorite hotels near Disneyland and provides more detail on staying there.
We have included lots of ways to save the most on hotels near Disneyland in this post. 
Current Disneyland Deals for Hotels:
Here are some of the best hotel deals we could find for Disneyland right now. If you are looking to do a package deal we recommend that you check out Get Away Today. We have heard from many readers that they have purchased their packages through Get Away Today and had a great experience, and we personally have booked all of our trips in the past few years through them.
Plus, if you are purchasing a package deal with them, save an extra $10 off with promo code THRIFTYNWMOM
We have listed out some of the best deal highlights below, with some info on the hotel/motel and location, etc.
Current Disneyland Resort Hotel Deals:
Here are some of the discounts available from Get Away Today:
All package prices include:
3-nights hotel stay at the listed hotel
3-Day Disneyland® Resort Park Hopper® Tickets for 2 adults and 2 children (ages 3-9)
Taxes and fees
Get Away Today Lanyards at Check-in
August 22-25, 2021 – Enjoy low wait times and get in a last minute trip!
Hilton Garden Inn Anaheim: $1,714
Best Western PLUS Stovall's: $1,746
Springhill Suites Anaheim Maingate: $1,778
Disney's Paradise Pier® Hotel: $2,497
Disneyland® Hotel: $2,716
September 3 – 6, 2021 – Kickoff Halloween Time and Enjoy Labor Day Weekend!
Best Western PLUS Pavilions: $1,734
ALO Hotel by Ayres: $1,762
Cambria Hotel & Suites Anaheim Resort: $1,831
SunCoast Park Hotel: $1,885
Disneyland® Hotel: $3,202
October 10-13, 2021 – Experience Halloween Time
Hilton Garden Inn Anaheim: $1,714
Hampton Inn & Suites Anaheim/Garden Grove: $1,772
Residence Inn Anaheim Resort Area: $1,882
Disney's Paradise Pier® Hotel: $2,743
Disneyland® Hotel: $3,145
You are also able to put these vacations on an interest free Layaway program. This way you can lock in todays deals, but it gives you some extra time to get them paid off with no penalties. Find all of the details on that program here.
Even better – California Residents can save an average of $204 MORE per package off the prices above when they travel by September 30, 2021!
In order to get the California Resident offer, guests will need to visit the ticket page, and then add a hotel once tickets have been added to their cart here.
More Tips on Ways to Save on Disneyland Hotels
There are two ways to save the most on your stay when looking at Disneyland Hotel Deals:
1) Stay during the off season. The off season for Disneyland runs from:
Mid-January through mid-March (except for President's Day Weekend)
Mid-April through mid-May (except during Spring Break)
Mid-September through mid-November (except during Halloween Time at the Disneyland Resort)
Generally speaking, you will save more if you book a weekday stay vs weekends too (plus you miss more crowds this week, but may run into shorter hours, etc).
We have  more information on hotels you will find in the area here, as well, including: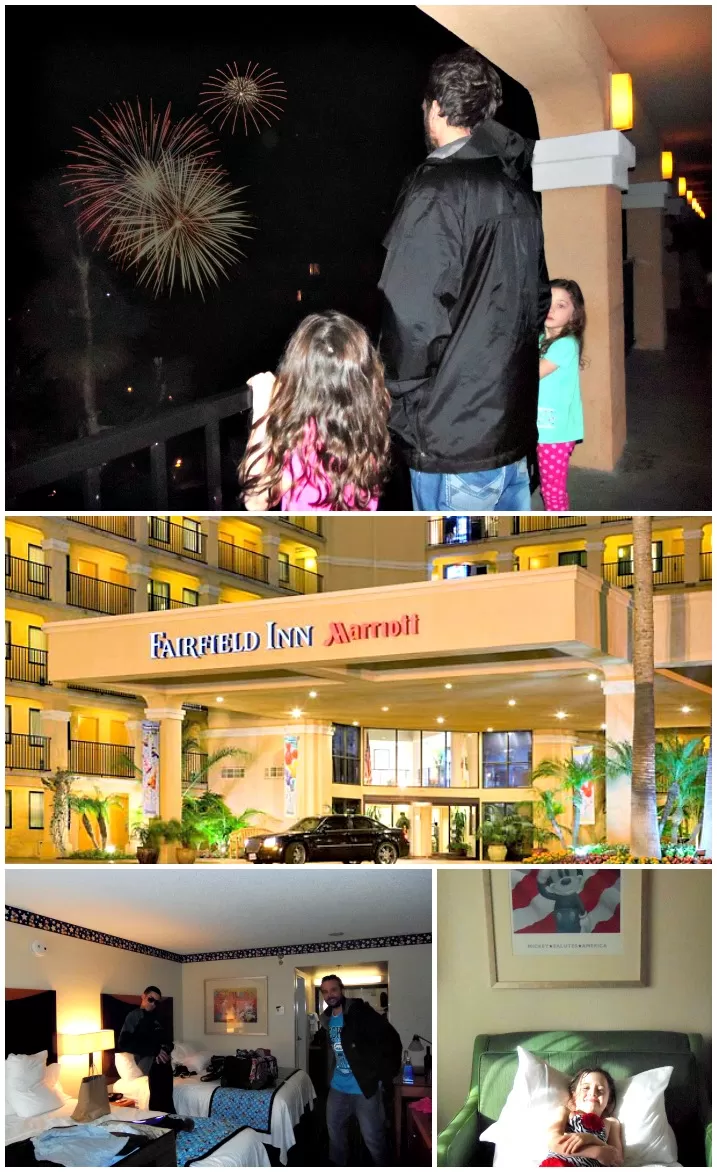 The Fairfield Marriott Anahiem, across the street from Disneyland
2) Stay off site at one of the Disneyland good neighbor hotels ( a non-Disney Hotel) – Staying at one of the Disneyland good neighbor hotels vs a Disney Resort will save you lots of money! I have to be honest and tell you that I am a Disney Resort fan personally, but its really a personal decision so I will point out some of the pros and cons of both (and where to find the best deals). My family has stayed onsite at all three Disneyland Resorts, and off-site in walking distance and off-site requiring a shuttle. Every stay was great, and I recommend them all.
We share some specific suggestions, and reviews of many of the good neighbor hotels in the Disneyland area in this article: Staying Off-Site When Visiting Disneyland – Best Hotels By Disneyland To Stay At!  A few even have small water parks!
The Disneyland Main Gate area is a great place to stay if you want to be in walking distance to Disneyland. Some of these hotels are directly across the street from the Disneyland Maingate (you walk through the transportation area of Disney where the shuttles drop people off).
Staying off site can be a particular good option for larger families, as Disney rooms will require you to get multiple rooms generally. There are larger suites at some hotels, that will accommodate larger families better.
Another benefit of staying offsite is that you will have easy access to many more affordable restaurants then if you stay in a Disney resort. Many even include free breakfast with your stay, which is a big perk! Be sure to pay attention to things like parking costs, and transportation to the parks when looking at good neighbor hotels too (or transportation to the hotel from the airport if you will not have a car).
Best ways to save on Off Site hotels near Disneyland:
Get Away Today offers some of the best Disneyland discounts as far as travel sites go.  Plus TNWM readers can save an extra $10 off with promo code THRIFTYNWMOM  Another benefit for Get Away Today is that you can use their layaway program and make payments on your vacation to spread the cost out over time.
Don't forget to join the rewards programs of these hotel sites too. You could get close to a free nights stay with some, if you are booking 4 or 5 night trips.
Disneyland Hotels:
Here are some of benefits of staying on-site at a Disneyland Resort:
– Early Park Entrance Hours – this is the best benefit in my opinion. When you stay at a Disneyland Resort you get early entrance into one park or the other each day of your visit. You can get one day of early entrance with a multi-day ticket if you stay off-site too, but having this option each morning of our visit was great! We were able to easily get on Cars one day by utilizing early entrance. It was a nice way to enjoy many of the harder to get on rides, and then we would take a breakfast break during the morning rush after they opened the park to all. Even better, the Monorail is open during this early hour for hotel guests so you can avoid the crowds at the front gate.
– Disney Theming throughout the hotel and grounds (you never leave the magic of Disney). Our headboard in the Disneyland Hotel could light up at night with a fireworks theme, they played Disney music from the alarm clocks, you can have a Disney bed time story on the TV in the evenings and more. You can also request to have a character call in the morning to wake you up!
– There are many other Disney events for your downtime out of the park (like movies, story time, character sightings and more).
– Convenience. We were able to enjoy many conveniences while staying at the Disneyland Hotel. We were able to pick up our park tickets at the front desk while checking in, and avoid the ticket lines. If we purchased anything in the parks (or won prizes) we could have them sent back to our hotel for free, and not carry them around the park all day. Guest services is located right in the hotel so we were able to easily set up restaurant reservations, get info, etc.
Be sure to check out the Disneyland Insiders Tips, for more ideas on how to plan your Best Disneyland Vacation possible!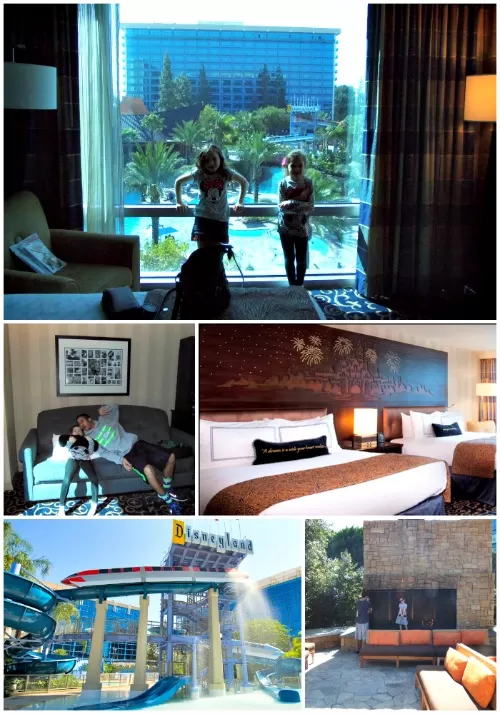 Ways to Save on Disneyland Resort Hotels:
We got our rooms for 25% off this year, by using a promo code they sent us. As far as I can tell nobody knows exactly how to get on their mailing list to get these codes, but we get them yearly usually, and I think it may have started when we booked a Disneyland hotel stay (or possibly ordered the vacation planning DVD). Sometimes they provide the promo codes on their deals page too, for slower times of the year (which are our favorite times to travel to Disneyland).
Here are some tips for saving on Disneyland Hotels beyond just booking during the off season:
Check out the Disneyland Offers and Promotions page for current specials.
Check Get Away Today for current promotions (Plus TNWM readers can save an extra $10 off with promo code THRIFTYNWMOM )
Get on Disney's mailing list, to get emails from Disney and promotions (they sent ours to us in the mail).
If you are booking online at the Disneyland website, pull up a chat box and ask the representative if there are any travel promotions available (they sent me a link to book the 25% off directly online, so I would have been able to do that even if I had not received the post card from them).
Book  your Disneyland travel through Costco Travel to get extra perks. Costco is a popular spot for families to check out Disneyland deals, but be sure to compare – they are not always cheaper.  For my family this worked out to be more then $200 in extras! Costco does sometimes offer packages with free character dining vouchers, or extra perks like those, so if you can get one of those they can be a good deal.
Military Discounts – Members of the U.S. Military Can Get Great Rates at Disneyland Resort Hotels . Disneyland offers some direct deals to members of the military and their family. You will also want to check out this Military Disney Tips site, for more tips and discounts available. You can also call their travel company for more info (714) 520-5060.
Lastly, if you have your own RV, here is a list of RV parks near Disneyland that you could stay at. If you really want to save, you can consider camping near Disneyland.
Do you have any great tips on how to save on your stay at Disneyland that we missed?
You might also be interested in these articles: