5 Great Hotels with Family Suites Near Disneyland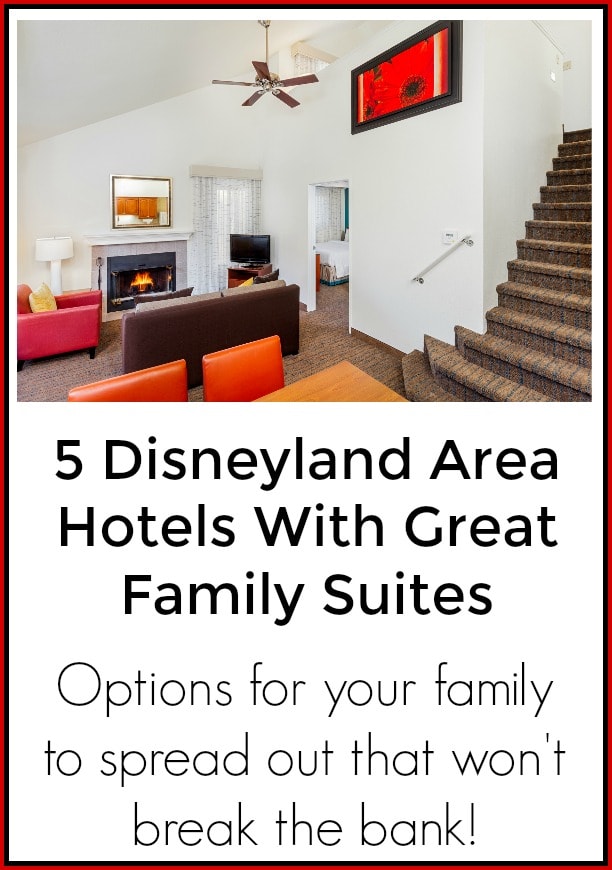 5 Great Hotels with Family Suites Near Disneyland
Have you ever considered booking a family suite when you travel to Disneyland? It can add a few extra conveniences to your vacation that you probably don't even realize you've been missing! With the help of my friends at Get Away Today, I'm highlighting hotels near Disneyland with the BEST family suites so you can plan your next vacation with ease.
Having multiple rooms when traveling with a large group makes a big difference in comfort and
convenience. It makes nap time easier since the little ones can be in a separate room while other family members enjoy the living space. Partial or full kitchens in suites make meal time a breeze. And if you book a suite with more than one bathroom, it probably goes without saying that it makes a vacation easier.
If you are planning a Disneyland trip for a larger family, you might also want to check out our Tips for Traveling to Disneyland for Larger Families here too.
Hotels Near Disneyland with Family Suites
There is no shortage of hotels near Disneyland; but what about hotels with family suites? There
are a number to choose from, and here are the recommendations from the travel experts at Get
Away Today. They share their favorite picks for Family Suites near Disneyland (and they offer great prices on these suites too). Plus. we asked Thrifty Northwest Mom readers what their favorite places to stay with lots of room to stretch out, and share their feedback below.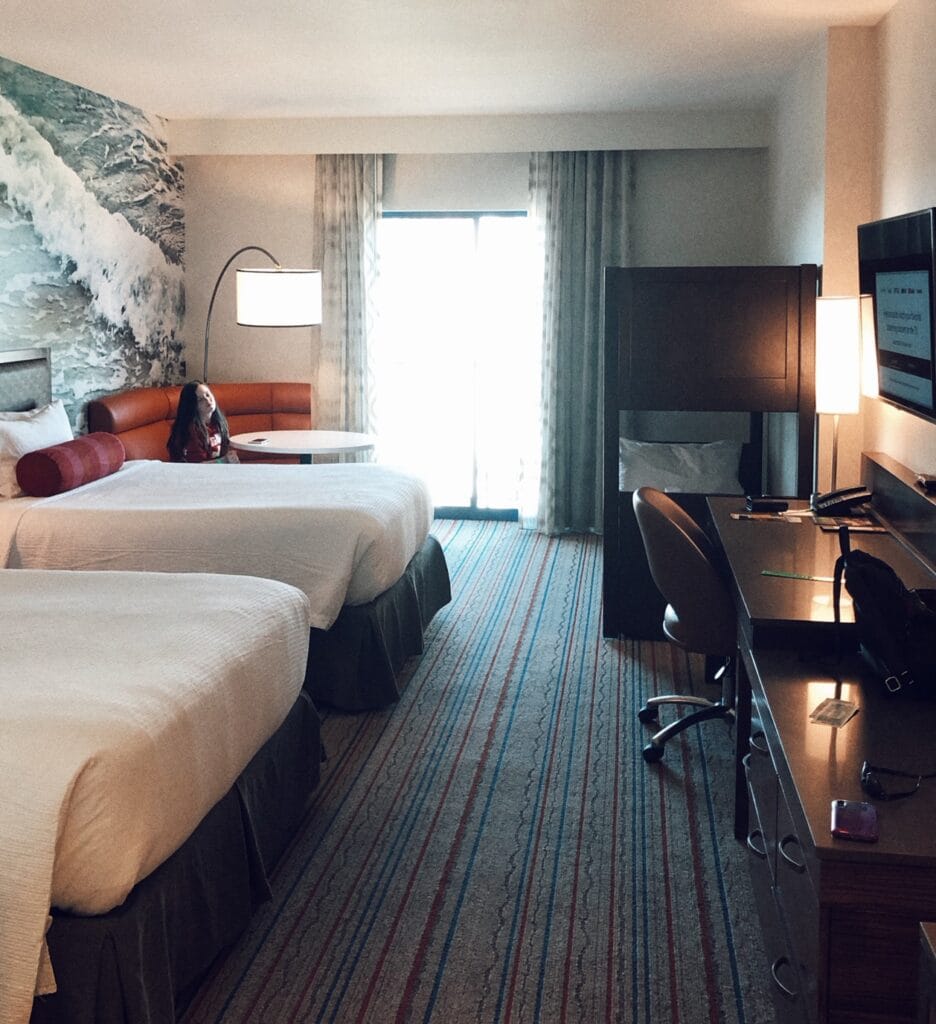 (This is the standard room at the Courtyard Anahiem, from a recent trip my family took. The standard rooms sleep 6 and include 2 showers, but you can get even larger rooms here too)!
This hotel comes as a recommendation from Get Away Today, and we had a number of readers share how much they loved staying here too, when we asked for recommendations. My family stayed here on our last trip, and enjoyed it as well!
Being close to the Disneyland Resort is a highlight for many families. Courtyard Anaheim
Theme Park Entrance & Waterpark is only 0.2 miles from Disneyland, letting you stay close to
all the magic! As its name implies, it also offers its very own waterpark, so you'll want an extra
day just to enjoy the hotel. With rooms that sleep up to six guests, Courtyard Anaheim Theme
Park Entrance is an ideal choice for large families. Book with Get Away Today and enjoy a
spacious Two Queen, Bunk Bed suite, some with views of Disneyland's fireworks. With beds for
everyone, it is important to note that they are all in one room, so keep that in mind if you're
looking for suites with separate sleeping and living spaces. Amenities at Courtyard Anaheim Theme Park Entrance & Waterpark include a $5 shuttle to Disneyland, in-room coffee maker, microwave and refrigerator plus complimentary Wi-Fi. There is also on-site laundry so you don't have to haul everyone's dirty laundry home after your vacation.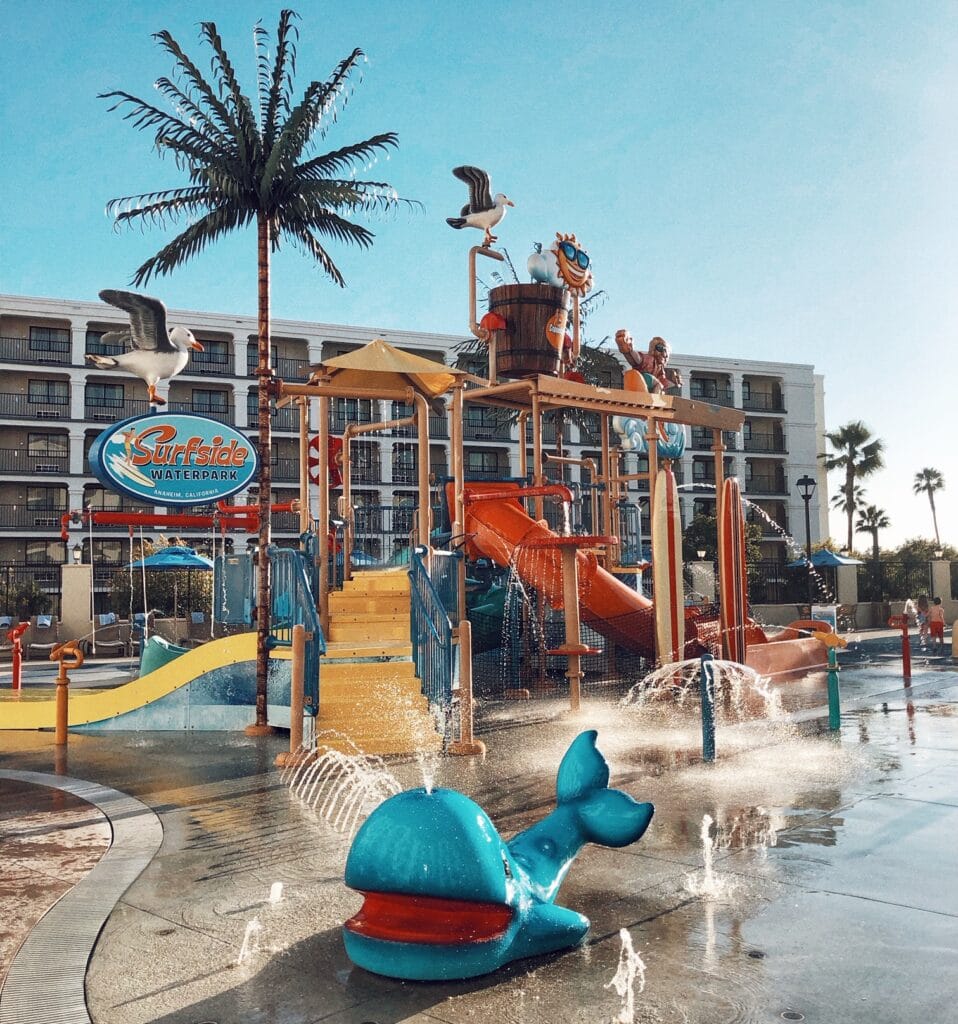 The Surfside Waterpark includes a pool, a wading pool perfect for young swimmers,
hot tub, drop buckets and waterslides. There is also an in-house restaurant if you'd like to grab
a meal at the end of the day.
See a more detailed review of the Courtyard Anahiem in our article on hotels with waterparks near Disneyland here.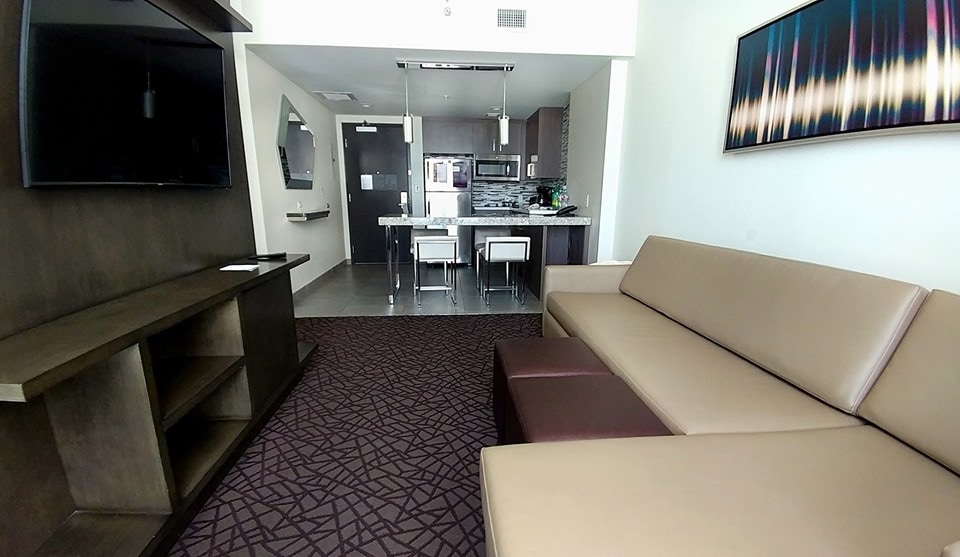 (This photo was shared by Julie, from a recent stay she enjoyed with her family (she shared more details on her stay in our Thrifty Northwest Mom group here).
Residence Inn at Anaheim Resort Convention Center is about 3 blocks (0.5 miles) from the
park, so you can either walk or grab the ART shuttle. Next door an ART stop is located on the
corner in front of the CVS. When you book with Get Away Today, you have two spacious family
suite options. The one bedroom suite at Residence Inn Convention Center sleeps up to
six guests. For larger families, book the two-bedroom suite that sleeps up to eight.
One Bedroom Suites Include:
● 2 Queen bedroom
● 1 Pullout sofa bed in living area
Two Bedroom Suites Include:
● 2 Queen bedroom
● 1 Pullout sofa bed in living area
● 1 Bunk bed kids' room
The suites offer easy access to all sleeping and living areas, with a sliding door to partition the
kids' room from the rest of the suites. One huge perk at Residence Inn Anaheim Resort
Convention Center is having two bathrooms. Getting the whole family ready for the day has
never been easier! Both suite options provide amenities such as an in-room kitchen with everything you need to prepare meals, a safe and complimentary Wi-Fi. Other amenities include free hot chocolate in
the lobby each evening, rooftop pool with hot tub and splash pad and complimentary breakfast
buffet each morning.
Pro Tip : if you get a room with a kitchen, order groceries from Amazon Fresh or Safeway to have them delivered right to your hotel)!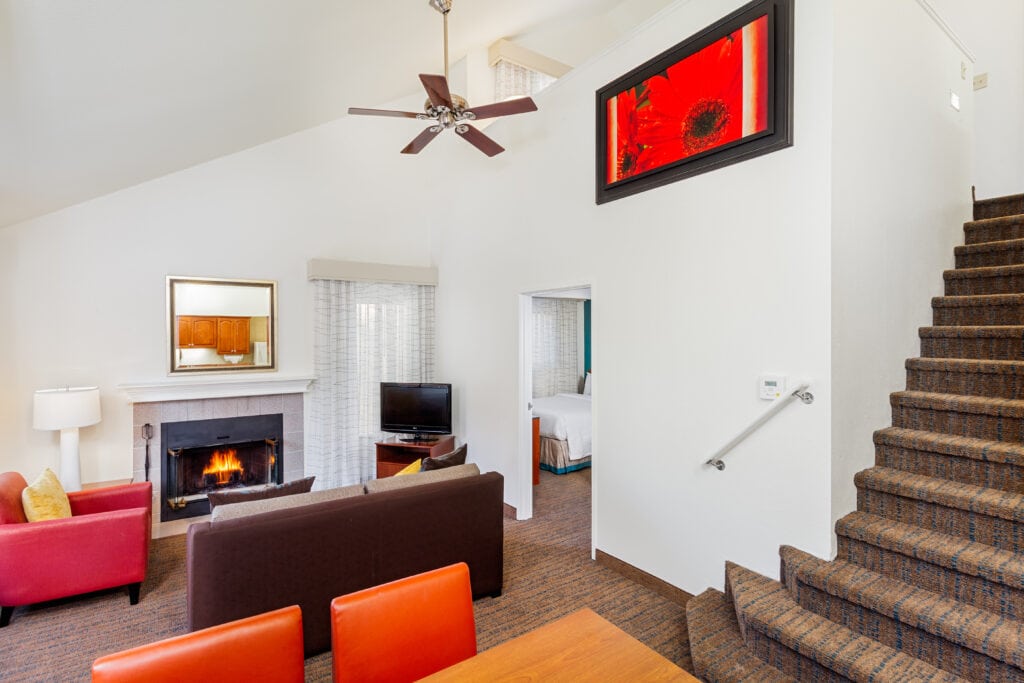 (The penthouse suite at the Clementine hotel!)
Less than 1 mile from Disneyland (0.7 miles), Clementine Hotel and Suites Anaheim is a great
choice for families. With suites that feel more like condos than hotel rooms, it serves as your
home-away-from home while visiting Disneyland Resort. This hotel is family friendly, and in addition to spacious suites they also have a playground onsite and a mini sports court.
As a Get Away Today guest, you have three spacious suite options for your family. With Studio, One Bedroom and Loft style family suites, Clementine Hotel can accommodate anywhere from 4 – 8 guests in comfort.
Studio Suite Includes:
● 1 Queen plus pullout sofa bed
● 1 Bathroom
One Bedroom Suite Includes:
● 2 Queen bedroom
● Pullout sofa bed in living area
● 1 Bathroom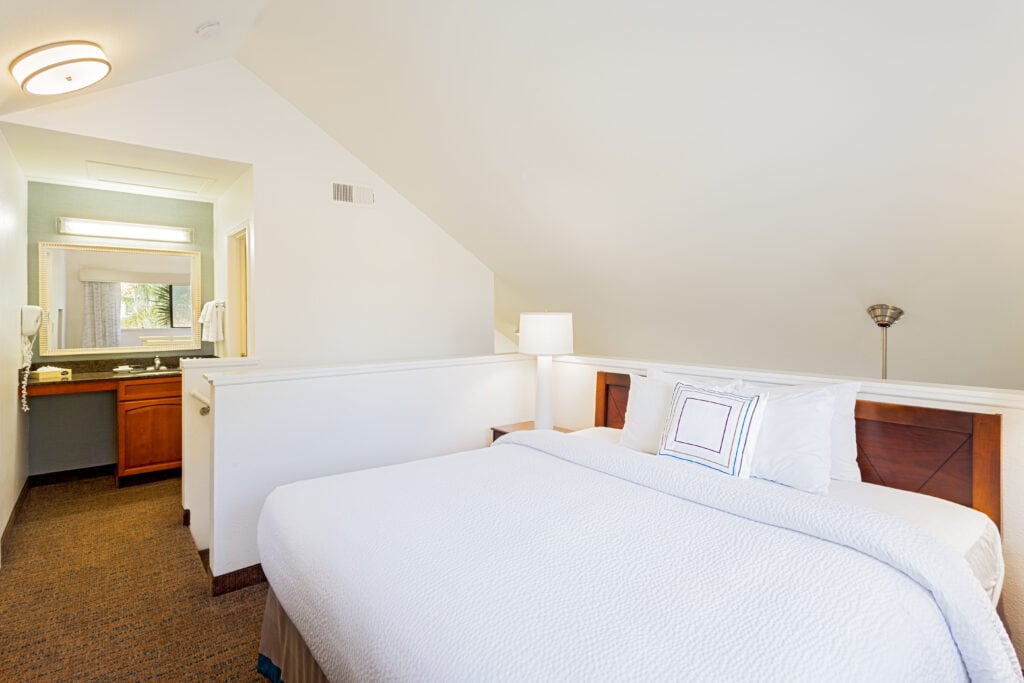 Two Bedroom Suite Includes:
● 2 Queen downstairs bedroom
● Pullout sofa bed in living area
● 1 King in upstairs loft
● 2 Bathrooms
All suites feature a number of amenities, including full kitchens with everything your family
needs to stay fueled for Disneyland adventures. You'll also enjoy an outdoor pool and hot tub at
the property, plus on-site laundry and an exercise room. When you book with Get Away Today
you also get complimentary breakfast, which is a fast and convenient way to start your day.
Another highly recommended hotel is Staybridge Suites Anaheim at the Park. Located just 0.7
miles from Disneyland, Get Away Today guests can take advantage of complimentary
breakfast, full in-suite kitchens and spacious suites that sleep up to six guests. This hotel is owned by the Hilton Chain, and the family suites come with a number of amenities, including free Wi-Fi and cable TV, on-site pool and hot tub and a $5 shuttle that will conveniently take you to and from Disneyland Resort.
Studio Suites Include: 
● 2 Queen plus pullout sofa bed
● 1 Bathroom
One Bedroom Suites Include:
● 2 Queen bedroom
● Pullout sofa bed in living area
● 1 Bathroom
When it comes to the best family suites near Disneyland, The Residence Inn Resort Area has a
number of options for Get Away Today guests. Perks include being less than two miles from
Disneyland (1.6 miles), complimentary hot breakfast buffet daily, in-room kitchens, free Wi-Fi
and an outdoor pool, basketball court, BBQ area and more.
One Bedroom Suites Include:
● 2 Queen bedroom
● Pullout sofa in living area
● 1 Bathroom
Two Bedroom Bunk Bed Suite:
● 1 King bedroom
● Pullout sofa in living area
● 1 Bunk bed in kids' room
● 2 Bathrooms
Two Bedroom Twin Suite:
● 1 King bedroom
● Pullout sofa in living area
● 2 Twin beds in kids' room
● 2 Bathrooms
Two Bedroom Queen Suite
● 1 King bedroom
● Pullout sofa in living area
● 2 Queen bedroom
● 2 Bathrooms
These spacious suites can sleep up to eight people, making them ideal for large families, or
multiple families traveling together.
Bonus Recommendations from Thrifty Northwest Mom Readers:
We asked you all where you preferred to stay if you have a larger family, and here are some of the tips we received from Thrifty Northwest Mom readers.
Anahiem Desert Palm and Suites – Jessica said "the rooms are spacious, it's close to an entrance gate and also near out of parks restaurants"
Homewood Suites – Misty said "Hands down the best for price and room plus free breakfast and a free managers reception m-t.
Other recommendations from Misty also incude:
Tropicana Inn & Suites
Park place Best Western
Anahiem Springfield Suites by Marriott
Disneyland Hotels – if you want to stay at a Disneyland hotel Cindy told us that "There were 12 of us. They shut off one end of the hallway. We had 3 bedrooms, 4 bathrooms, living room, and kitchen.
We had 5 beds, a chair that made into a twin, and the hideaway couch. We never had to go into the hallway, they just closed it off and it became a massive suite. All self contained in the room and it overlooked the park with large glass sliding doors and big windows to watch the fireworks. Very reasonably priced for all of us."
Get Away Today is probably best known for discount Disneyland tickets, but did you know those
ticket savings can be bundled with a hotel? Booking a Disneyland package offers perks such as
Magic Morning privileges, complimentary breakfast, free parking and more. All those savings
add up quickly, leaving you with more money in the churro budget. You can view and book
vacation packages at www.getawaytoday.com, or call a travel specialist at 855-GET-AWAY.
Enjoy the benefits of having someone help you every step of the way when planning your
vacation, all with no extra fees! When you book with Get Away Today, let them know Thrifty NW
Mom sent you, and use promo code THRIFTYNW for an additional $10 in savings on your
Southern California vacation package.
More articles you might like:
5 Hotels With Extra Night Free at Disneyland + Free Breakfast & Free Parking Right Now!
Best Disneyland Ticket Discounts – How to Save On Disneyland Tickets & Current Deals!
Disneyland Area Hotels With Waterparks!
Staying Off-Site When Visiting Disneyland – Best Hotels By Disneyland To Stay At!