Disneyland Ticket Discounts & Best Deals!
This post may contain affiliate links and I may be compensated for this post. Please read our disclosure policy here.
Best Disneyland Ticket Discount & Deals!
(Disneyland Ticket Discount Updated for 2023 to 2024 Season)
Are you planning a trip to Disneyland and looking for cheap Disneyland Tickets? While they are never usually cheap, we do have some tips on the best ways to save. We share where you can find the best Disneyland ticket discounts for sale from legitimate sources. Here are the current deals available.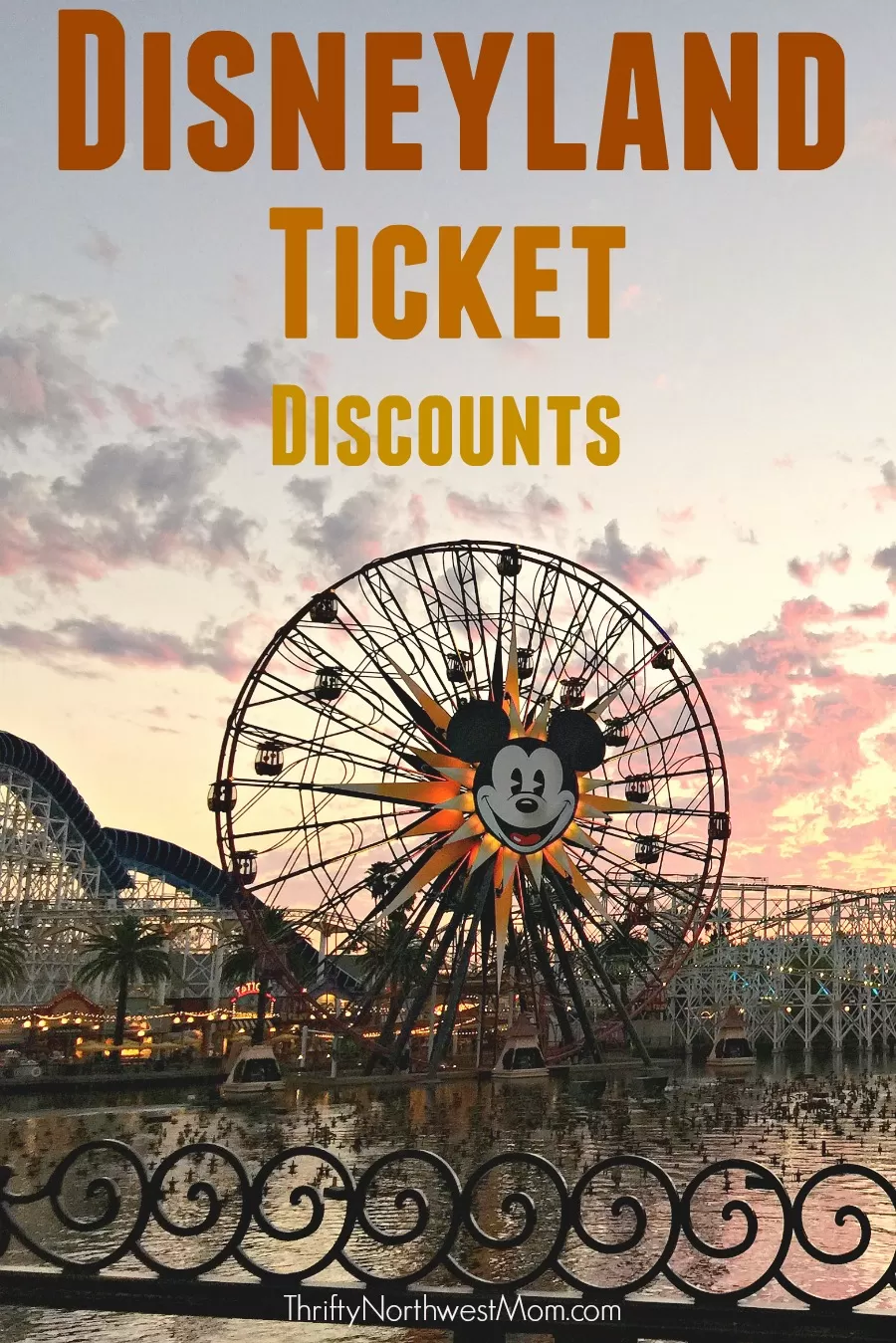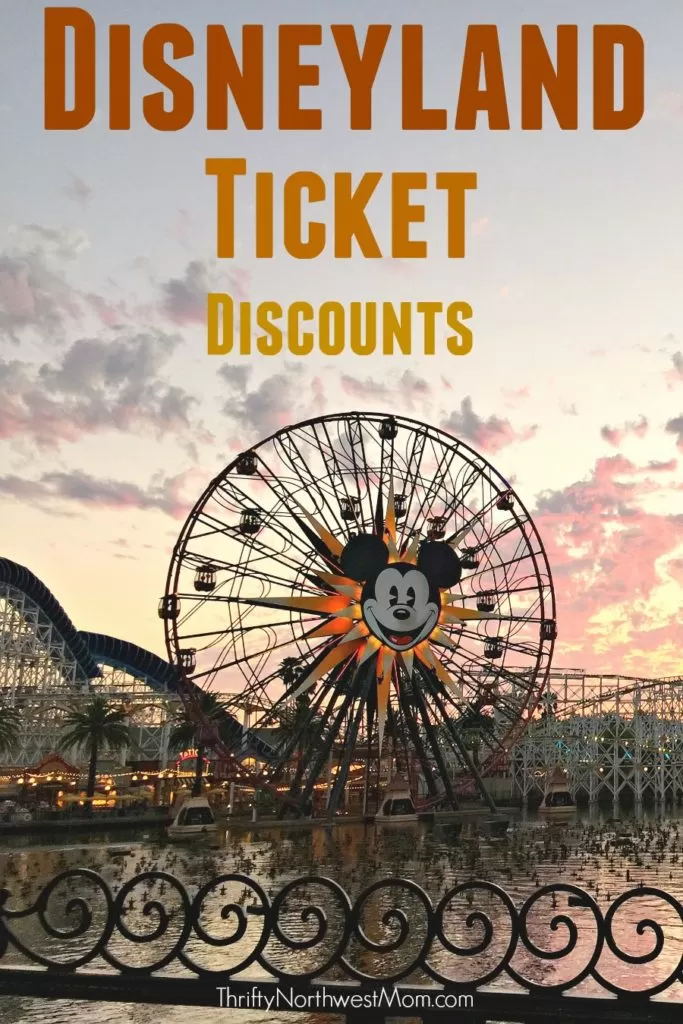 Disneyland Ticket Discounts- What Are The Best Deals?
It is one of my family's favorite destination spots and we have been a number of times over the years.
While Disneyland is never a cheap trip, there are some saving strategies I have learned over time. This article will provide you with many tips on how to save on Disneyland Tickets. We update the current Disneyland ticket deals weekly below, with all of the best Disneyland Discount Tickets currently available.
Looking for more savings opportunities at Disneyland beyond just Disneyland cheap tickets. We share lots more ideas here too –
Now, let's look at how to get the best Disneyland Ticket deals. This could possibly be the biggest expense of your trip. Saving on Disneyland Tickets will be one of the best ways to bring down the cost of your vacation.
There are a number of legitimate Disneyland Discount Tickets available, and we have personally used all of these sites (and heard from many readers who have as well) so can confirm they are the real deal!
Sometimes you save more when you buy your tickets separately vs part of a vacation package. It's always a good idea to see what current Disneyland Ticket Discounts are available. You can then compare the cost of buying a package vs purchasing them separately. Get Away Today is a good source to check for vacation package prices to compare with.

Here Are Disneyland Ticket Discounts That We Know Are Legitimate:
Our Favorite Current Deal – 
Well this is exciting. We love this free day sale on Disneyland tickets. Right now you can get an Extra Day Free at Disneyland, when you buy a 5-Day Disneyland® Resort 1-Park per Day or Park Hopper® Ticket (you'll just pay the 4-Day gate price). This offer is available through Get Away Today.
That's a $20 savings per ticket – and a whole extra day of fun for FREE! That $20 savings adds up quickly if you are buying tickets for a family. Find the details below.
If you are considering upgrading your tickets to a Magic Key pass – this is the best ticket to bridge that gap. It will provide the most savings because you are getting the full value of a 5-day ticket applied to whichever Magic Key pass you plan to upgrade to, but only paying the 4-day price. You will want to upgrade on the last day of use in order to use your theme park reservations and not worry about any blackout dates. Find out more details on how that works here.
More Current Disneyland Discount Tickets available now:
How Much Are Disneyland Tickets? 
Here are the prices you will pay if you purchase your tickets directly through Disney this year. You can use these prices for comparison, when looking for the best deal for your Disneyland trip.
Disneyland Ticket Prices 2023 (purchased directly through Disney) –
(adult tickets are for 10+, kids tickets for ages 3-9)
One park per day options –
2 day adult tickets – $285
2 day kid tickets – $270
3 day adult tickets – $360
3 day kid tickets – $340
4 day adult tickets – $395 ea
4 day kids tickets – $370
5 day adult tickets – $415 ea
5 day kids tickets – $390
Park Hopper options –
Add $60 to the above options, for a park hopper option.
There have been big changes in Disneyland tickets in recent times. We saw the biggest changes this year. You now have to reserve the dates you will be going into the parks when you buy your tickets (or shortly after). A Disneyland Park ticket does not get you entrance into the park, you will also need a reservation for that.
Offers great savings on Disneyland tickets PLUS entire vacation packages.  They are a legitimate site to purchase from. They planned all of my families most recent trips to Disneyland, and covered all the details for us. We were very happy with our trip through Get Away Today! We have heard from many TNWM readers who have purchased package deals through them, and were very happy with their experience.
Plus, use promo code: THRIFTYNW to save an extra $10 off   Get Away Today's already discounted packages. Book at getawaytoday.com or call 855-GET- AWAY to book your vacation. Just mention that Thrifty NW Mom sent you!
Here are some of the Disneyland Ticket Deals available from Get Away Today:
Note that park hopper tickets now allow you access to the second park after 1pm each day.
Adult 2-Day 1 Park Per Day eTickets – $283 / Child for $268
Adult 2-Day Park Hopper  eTicket – $343 / Child for $328 
Adult 3-Day 1 Park Per Day eTickets – $355 / Child for $335
Adult 3-Day Park Hopper  eTickets – $415 / Child for $395 
Adult 4-Day 1 Park Per Day eTickets – $390 / Child for $365
Adult 4-Day Park Hopper eTickets – $450 / Child for $425
Adult 5-Day 1 Park Per Day eTickets – $395 / Child for $370 (Savings of $20 a ticket – currently it is Get One Day FREE on 5 day passes)!
Adult 5-Day Park Hopper eTickets – $455 & Child for $430 (Savings of $20 a ticket – currently it is Get One Day FREE on 5 day passes)!
They are also a great place to shop for discounted tickets to other area attractions like Universal Studios, Knotts Berry Farm and Legoland (save up to $15 per ticket)!
Another thing to note about Get Away Today is that you can book your Disneyland Vacation now, and put it on layaway for as little as $200, if you are wanting to pay for it over time (vs all at once).  This might help some families to budget for their Disneyland vacation better.
Disney has released an amazing ticket offer for California Residents! California Residents can save up to $146!
Guests will save up to $146 per ticket for WEEKDAY travel January 9 – May 25! This is an incredible opportunity for locals to come experience all of the magic happening at the Disneyland Resort
We found great discounts for Disney Tickets from aRes Travel! I have purchased my family's tickets through aRes Travels discount ticket deals in the past, and can assure you they are the real deal. We just printed our tickets off and redeemed them at that gate, and were able to save.
Bundle & Save on Three Days of Fun! Disneyland® Resort & Universal Studios Hollywood Combo Pass – Park Hopper

Bundle & Save on Four Days of Fun! Disneyland® Resort & Universal Studios Hollywood Combo Pass – Park Hopper

Better Together! Bundle & Save on Disneyland Resort Park Per Day & Universal Studios Hollywood Three Days of Fun

Better Together! Bundle & Save on Disneyland Resort Park Per Day & Universal Studios Hollywood Four Days of Fun

There is a $2 convenience fee added to ticket purchases, but they still are some great deals on tickets (prices above should reflect that).

Some examples of current offers include:

Find all of the aRes Travel discount Disneyland Ticket deals here!
More Places to find Legitimate Discounts on Disneyland Tickets for Sale:
Disneyland Tickets Costco: Costco Disneyland Tickets Update
Looking for Costco Disneyland tickets? Sadly Disneyland Tickets Costco options no longer exist, but the good news is that vacation packages do.
The bad news first – Costco no longer sells Disneyland tickets. We are often asked about buying Disneyland tickets at Costco. This used to be a thing you could do online, or sometimes in the Southern California Costco locations. The Costco Disneyland Tickets you would find in the warehouse stores where generally only for California residents, but last we heard these are no longer available either.
Now the good news. Although, you can no longer get Costco Disneyland Tickets Discounts as stand alone purchases, you can still get Costco Disneyland Vacation Package deals though, through Costco Travel Services. So although you cannot get Costco Disneyland tickets alone, you can still get a good deal on them as part of a Disneyland Vacation package you would purchase through Costcos travel service. We do talk to folks that prefer to buy their Disneyland vacations through Costco, since it is a trusted source for them. They do often have great discounts, and offers, but we always encourage folks to shop around (check out the Get Away Today Packages to compare) as we have found that many times you will get a better priced offer through them.
Examples of Costco deals on Disneyland vacations that you will want to look for include:e a Costco Gift Card with purchase of a Disneyland Vacation Package. Most often though, we find that folks that specialize in Disneyland vacations offer better deals, like Get Away Today, so be sure to do some price comparisons.
If you are planning to do more then just Disneyland on your trip, the CityPass for Southern California is a great option for discount tickets for Disneyland as well as the other locations you are wanting to visit.
The Southern California CityPASS is now a customizable product allowing customers to choose any combination of theme parks in Southern CA, including Disneyland, Disney California Adventure, Universal Studios Hollywood, SeaWorld San Diego, LEGOLAND California, San Diego Zoo and the San Diego Safari Park to purchase discount tickets. You just purchase whichever theme parks you are interested in at a discount price.
Buy at your Grocery Store during rewards offers
This is a great way to save significantly on your tickets. Plan ahead and purchase during a rewards offer at one of your local grocery stores. Another tip about saving at grocery stores – they are not required to dispose of their Disney Tickets if the price increases. This means they will continue to sell the lower priced tickets until they are gone. I found some at last years prices at one of my local Safeway stores this Feb.
     Some examples of ways we have saved in the past included:
    Target Disneyland Tickets Savings – These tricks to help you saving on Target Disneyland tickets is probably the most popular one        out of the store options. You can save 5% off if you use your Target Red card to purchase Disney Gift Cards/Tickets at Target online          here. While 5% off might not sound like alot, those savings will add up (up to over $17 off per ticket, depending on what tickets you      select). You can get a Target Red Card as a debit card (attached to your bank), credit card or now they have pre-paid options too.
Safeway runs a get 4x the gas rewards on gift card purchases from time to time. They sell Disneyland tickets (or Disney gift cards) in their gift card section. For my family of 5, a 3 day park hopper ticket would have earned us 5000 in gas rewards – or 5 $1 off discounts. Since I can use them for up to $25 per fill up that means that this offer would have saved me $125 in gas that month (and so I consider that a $125 savings on the tickets!).
Fred Meyer (Kroger Stores) pays you on your rewards points
Albertsons runs promos from time to time where you will get a certain Dollar amount off your next grocery store purchase with gift card purchases.
If Disney is offering a Disneyland discount ticket deal that you can buy at the ticket gate during your visit, then consider buying the Disney Gift cards during one the promo offers mentioned above. Then you can *double dip* on the deals. You will get the savings for buying the Disneyland gift cards. Pus you will also use those cards like cash at Disneyland to take advantage of the ticket offer you found through Disneyland.
Disneyland Military Tickets
Disney salutes our Military by offering the following Disneyland Military Tickets at a discounted rate:
3-Day Military Promotional Park Hopper Ticket: $245
3-Day Military Promotional Park Hopper Ticket with Disney Genie+ Service: $320
4-Day Military Promotional Park Hopper Ticket: $280
4-Day Military Promotional Park Hopper Ticket with Disney Genie+ Service: $380
This offer is only valid through a U.S. military base ticket office, so you will need to contact your local base to purchase your tickets through them.
Do you know of additional Disneyland Ticket Discounts we missed?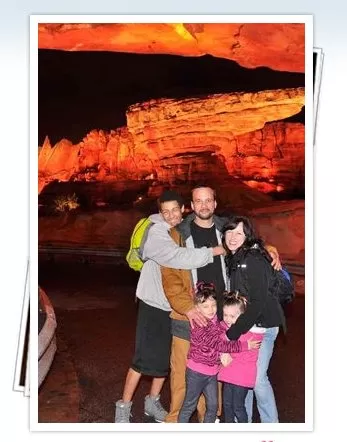 Cars Land at night – so pretty!
Things to Consider When Buying Disneyland Tickets:
We share more details in this post about what to consider when trying to decide between buying a park hopper ticket or not here. Non park hopper tickets can save you up to $60, so they are definitely a cheaper option. For the Disneyland park though, I always opt for the Park Hopper tickets. They are just more convenient for the way my family likes to visit the park. Some folks are fine with staying in one park per day – and if that's you then its a good way to save.
Unlike Disney World, the Disneyland and California Adventure Park are right across from each other. Because of the proximity, its nice to have the option to go back and forth. This can be especially true if you are staying in one of the Disneyland hotels. They have a special entrance into the California Park for those staying at the hotel, and so its more convenient to walk through one part to get to the other sometimes. It is also nice, when one park opens earlier or closes later – to maximize time in the parks for the full day. If you are only visiting the parks for two days, its less important (as you can do each park in a day).
      One more thing to consider when looking at park hopper vs. one day park tickets, is this. Will you be visiting during a special ticket                  event. By that I mean one that charges you to get into the special event (like Disneyland After Dark, Oogie Boogie Bash – A Disney                  Halloween Party and Disneyland Grad Nite are just a few examples of events that may impact park operations or hours. You can find a             full list of those here. If you are visiting during one of these times then I again recommend a park hopper ticket. The reason is that you            can then jump over to the other park if one is closing early for a special event. Also, these events can make the crowds bigger, and you            may want to head to the other park for shorter wait times. If you opt to not get a park hopper ticket during these events, just be careful          to schedule your admission to the park that is not hosting the event for those dates – so you can spend the full day and evening there.
How Many Days to Visit
One tip that not everyone realizes is that you can upgrade your ticket once you are at Disneyland. For example, if you buy a 2 day ticket and decide to visit three days, you can upgrade at the park. You will need to have one day left on your tickets to do this, and then you can upgrade to more days (do this at the ticket booths). So, when in doubt buy the lesser number of days. If you decide to visit the park an extra day or two you can upgrade your tickets onsite. Just be sure to make your decision before using that last day.
That being said, we always prefer a 3-4 day hopper ticket with young kids. This allows us one day to explore each park at our own leisure. We then have a third day to finish off the rides we might have missed the first two days. If we do day 4 we use that as an opportunity to jump in and out of the park, and do a second round of rides on our favorites, etc. We enjoy a pool break daily, and like to take our time working our way through the parks and not feel pressured to do everything right away, which is the main reason we prefer this length.
You could do both parks in two days though, if you like a more aggressive schedule and less time out of the park. 5 days would be too much for my crew – by day 4 we don't even spend that full day in the park (but we have been more then once too).
      However, when there is a sale like the one going on now, where the 5th day is free – you might as well grab that! If you use it great, if not        it did not cost you anything.
There is also plenty to do for a full day out of the park, in the Disneyland area – so we generally plan one days stay where we don't have park entrance. Downtown Disney has Build A Bear, ESPN Zone for fun, and much more. Pool time is also fun, and there are plenty of day trip opportunities in the immediate area.
Early Entrance
Multi-Day park hopper tickets will provide you one day of early entrance into one of the parks. If you stay at a Disneyland hotel you will get early entrance for each day you visit the park. This early entrance opportunity is a wonderful opportunity to get on the more popular rides like Cars, without extreme wait times!
One last tip 
Some of the ticket deals above provide you a voucher that you have to turn in to redeem your actual tickets. Many of the hotels will allow you to pick your tickets up at check -in. All of the Disneyland Hotels do. If your hotel offers this service, it can save you time as you will be able to avoid the ticket lines in the park. This is a big perk when the lines are long!
Another important point: You will want to be careful when purchasing discounts for Disneyland tickets. There are plenty of scams you will want to avoid. In the past folks have thought they were getting a great Disneyland ticket discount and bought tickets off of ebay and Craiglist, and we highly recommend you stay away from this practice. These are fraudulent in most cases, and you will lose your money.
Folks sold tickets that had only been partially used for the remaining days. Disneyland has really cracked down on fraudulent ticket sales. They will take your photo with hand held computers at the gates. If someone else's picture is attached to the ticket, you will not be able to use it. You will have lost that money. I would only buy tickets from a vendor you know is reputable.