Disneyland Payment Plans – Vacations On Layaway + Cancellation Protection
This post may contain affiliate links and I may be compensated for this post. Please read our disclosure policy here.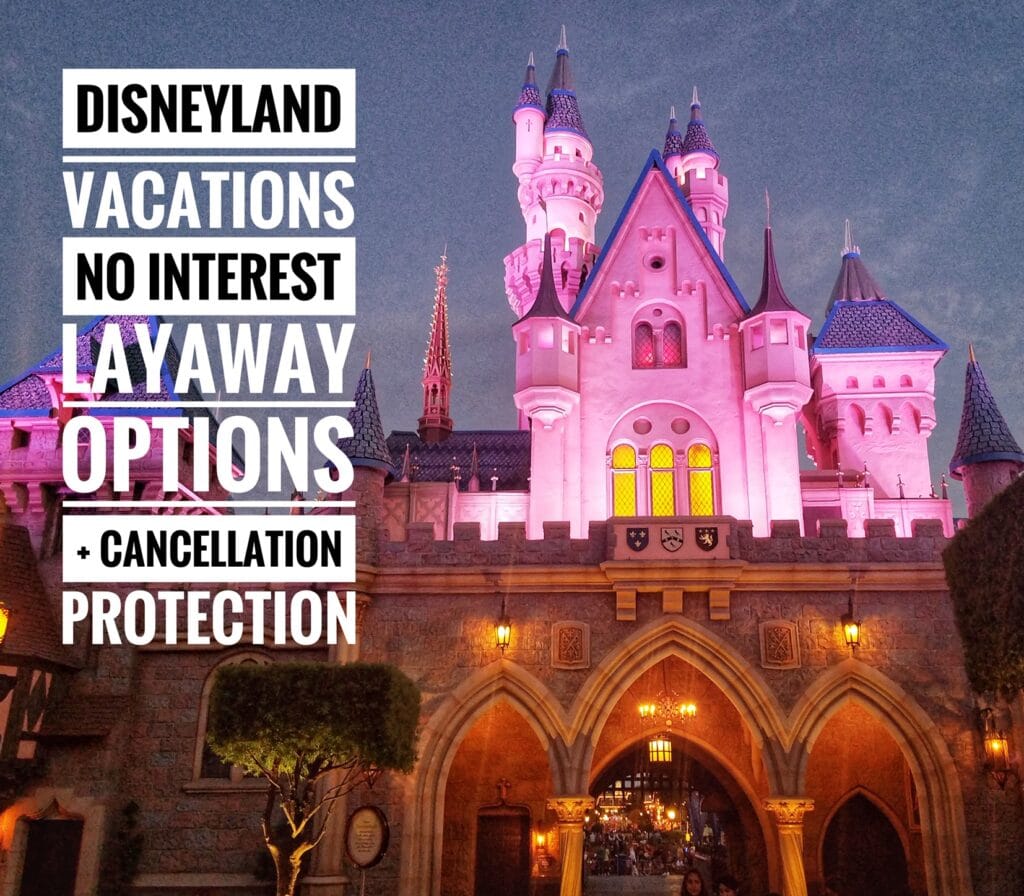 Disneyland Payment Plan Options –
Put Your Vacation On Layaway + Get Cancellation Protection With Peace Of Mind Plan
Did you know that there are Disneyland Payment Plan options for your Disneyland vacation, if you want to pay over time. Get Away Today offers interest-free Disneyland Trip Layaway Plans! Their Disneyland layaway packages will not cost you anything extra, but will allow you to spread your vacation payments out over time with a small deposit, and at no extra cost to you. This will allow you to book when you want (or when the best deal is available), and then budget your payments from there.
Another super perk, if you want to book ahead of time. They also offer a great protection plan allowing you to make changes and cancellations for your trip. We share about both in more detail below, but they will allow you to take advantage of current Disneyland sales and promotions with little risk.
You can also find a round up of all of our best Disneyland ticket deals here as well. The really wonderful thing about the layaway plans from Get Away Today is that you can still take advantage of all the sales and promotions they offer.
Be sure to also check out our Disneyland Deals page here for more tips to save and plan your vacation!
I love this deal, as it allows you to budget for a Disneyland Vacation if you don't want to spend the large investment up front – and they do not charge any extra fees to pay it off this way! You can even use it with other special promotions going on, like an Extra Day Free promotion, or 25% off hotels deals.
This means that you can have a Disneyland Vacation for your families Spring Break, Summer Vacation or any other time, for as little as $200 out of pocket, when budgets can get tight.
$200 down payment includes non-refundable $99 Layaway Plan fee.
$200 down payment for the first room, and $250 for each additional room if multiple rooms are purchased. $99 Layaway Plan fee only applies once if rooms are booked together.
Payments can be made in any amount in as many installments as you'd like.
Vacation must be paid off in full seven days prior to travel.
In the event that the

Disneyland

® Resort raises ticket prices prior to your visit, your original ticket price will be locked-in and you will not need to worry about the price increase.
Their Layaway Plans can be used for any of our Southern California vacations and can be combined with any of our specials – like Extra Day Free Tickets and Extra Night Free Hotel Specials.
Fees may apply for any changes.
Find out more here.
Pro Tip – If you're traveling during peak-travel dates (Spring Break, Halloween Time, Holidays, etc.) to the DISNEYLAND® Resort, we recommend paying off your package at least 120 days prior to travel in order to make theme park reservations.
Can I just get Disneyland layaway tickets (without a package purchase)?
YES! Disneyland layaway tickets are available too. You will need to make the non-fundable deposit of $175, and you will not receive your theme park tickets until your Layaway Plan is paid in its entirety.
Once your Layaway Plan is paid off, your vacation documents will be delivered via email to the email address provided at time of booking.
How to Book a Disneyland Trip Layaway Plans or Disneyland Layaway Tickets:
You can book online, or by calling 1-855-GET-AWAY to set it up for you. Be sure to tell them Thrifty Northwest Mom sent you, to get an extra $10 off your vacation package (or use promo code THRIFTYNW.
At the time of booking your vacation, they will charge your card the $200 deposit fee.
You can then, either authorize Get Away Today to automatically charge your account when a payment is due, or if you'd like to make payments on your own, when you want, you can choose to do that too.
Find out everything you need to know about Disneyland payment plans through Get Away Today here.
Cancel or Modify for your Disneyland Vacation without Penalty with Peace of Mind Plan
You can also get the Peace of Mind Plan for your Disneyland Vacations. Get Away Today is the ONLY travel company that offers refundable tickets, and with the Peace of Mind Plan guests can make changes to their vacations without accruing fees.
The Peace of Mind Plan can be applied to ticket-only bookings, or packages that include tickets and a hotel. In this current travel climate, this is one of the best offers in the travel market you might find.  The Peace of Mind Plan is $25 for just ticket purchases, and this one-time fee will cover any and all ticket changes/cancellations. Or get a $75 plan for vacation packages, which covers any and all changes (excluding airfare) made up to 72 hours before your check-in date on most of our Southern California vacation packages.
Find full details on Get Away Todays Peace of Mind Plan here (including comparisons for normal price change fees).
*Peace of Mind Plan fee covers one package at a time. Some hotels (Disneyland Resort Hotels) require 5-7 days advance notice in order to avoid the first night's charge. If you are purchasing multiple rooms, you must purchase the plan for each room. Peace of Mind Plan must be purchased at time of booking to qualify and does not cover rush shipping or payment plan fees that may apply. In the event that the Disneyland® Resort raises ticket prices prior to your visit, your E-Tickets will be sent immediately in order to lock-in your low price if your package is paid in full. If you select to use our Layaway Plan, please see Layaway Plan rules for disclaimer.
If you are looking for some fun ideas on how to reveal to your kids, that they have a Disneyland Vacation coming up, check out this page full of inspiration here too.