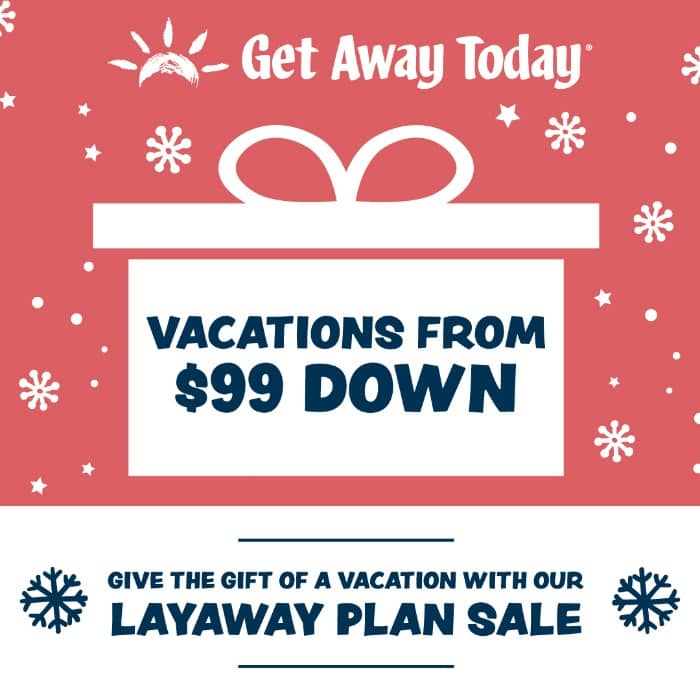 Disneyland Payment Plan Options – Put Your Vacation On Layaway From $99
If you are looking for a deal on Disneyland Payment Plan options, Get Away Today is running a special limited time sale on their interest-free Layaway Plans.
You can also find a round up of all of our best Disneyland ticket deals here as well. The really wonderful thing about the layaway plans from Get Away Today is that you can still take advantage of all the sales and promotions they offer, but just set up a Disneyland payment plan for as low as $99 down right now to pay for it.
I love this deal, as it allows you to budget for a Disneyland Vacation if you don't want to spend the large investment up front – and they do not charge any extra fees to pay it off this way! You can even use it with other special promotions going on, like an Extra Day Free promotion, or 25% off hotels deals.
This means that you can have a Disneyland Vacation to put under the Christmas tree for your family, for as little as $99 out of pocket during a month like December, when budgets can get tight.
Be sure to also check out our Disneyland Deals page here for more tips to save and plan your vacation!
For a limited time, your followers can reserve their trip for just $99 down using our interest-free Layaway Plan!
Layaway Plans must be booked by December 25, 2019 to get the $99 reduced deposit.
Your followers can book for travel through December 31, 2020.
Payments can be made at any time and in any amount, with final payment due just five days before travel.
Our Layaway Plans can be used for any of our Southern California vacations and can be combined with any of our specials – like Extra Day Free Tickets and Extra Night Free Hotel Specials.
Find out more here.
If you are looking for some fun ideas on how to reveal to your kids, that they have a Disneyland Vacation coming up, check out this page full of inspiration here too.