Amazon Try Before You Buy – Try Items On at Home
This post may contain affiliate links and I may be compensated for this post. Please read our disclosure policy here.

Amazon Try Before You Buy – Try Amazon Prime Wardrobe Items at Home
Are you someone who loves to shop in stores or do you prefer online? I do occasionally enjoy going into a store & browsing the clothes to see something that appeals to me, but as a busy mom, I have come to love the convenience of online shopping more & more. I just don't have the time to scour the stores in person & head to multiple locations. If that is you too, you will want to know about the Amazon Try Before You Buy program available for online shopping from Amazon Prime Wardrobe.
After the last year, especially, I have come to almost exclusively do all my shopping online for clothes & necessities & of course, Amazon Prime Wardrobe is one of our top places to shop because it's so fast to receive items.
So, I love this new Amazon Try Before You Buy Program that you can find here. It's a way for my girls & I to try on more items at home in our free time & not have to worry about whether the items we pick are returnable & the shipping is so easy as it comes with a resealable box & label.
We can also wear the clothes items around for a little bit, longer than the length of time in a dressing room, to see how it fits when we sit down in our chairs, walk up & down stairs, etc. Plus, you are not buying them until you decide what you want to keep, so it keeps the costs down more than just ordering a bunch of items from Amazon to try on.
What is Amazon Try Before You Buy
This is a program that is for Amazon Prime members and it gives you the opportunity to try on clothes before you buy.  They offer thousands of styles for men, women, girls, boys & babies – clothes, shoes, jewelry & accessories, too, are included. You can choose up to 8 items to try on and then you will have 7 days to try them on & decide what you want to keep. You can return anything you don't want to keep for free & just keep the items you do like.
Amazon Try Before You Buy rules:
If you are new to Prime Wardrobe, these are the Amazon Try Before you Buy Rules, with all you need to know to get started with your first order:

1 – Select anything you want to try on – it can be shirts, pants, swimsuits & more from the Prime Try Before You Buy page. Pick women's, mens and/or kids, all in the same box. You can also choose shoes, jewelry & accessories, too. So many options to choose from!
You can put up to 6 items in your box to try on.  Just make sure that any of the items have the Prime Try Before You Buy logo, showing they are included with the service.  You can choose from going thru this link to see all the options or when you are searching on Amazon, just look for that logo.
2 – Items sent to you all in one box – Your box will be filled with all of your items & sent to you all in one box. This means that it will take a bit longer than the 2 day shipping that most Amazon Prime items are shipped by. It could take 4-6 days to receive your items, but that's because they are putting them all in the same box, which you will then use to return the items.
3 – Try on your items in the comfort of your home – you will have 7 days to try on all of your items – your clothes with the jewelry, shoes, etc & see how they feel & if you want to keep the items or return any items.
4 – Pay when you decide what you are keeping or returning – you won't pay for the items until you decide whether or not you are keeping them or returning them. If you are keeping any items, you will then pay for them when you checkout. And any items you are returning, you won't be charged, as long as you checkout & return the box within the 7 days.
5 – Easy returns – Amazon has made it easy by making returns happen in the same box they sent you. They will have resealing materials to just package everything back up in that same box with the prepaid address label & then you just drop it off at your nearest UPS store (like most Amazon returns)
How much is Amazon Prime Try Before You Buy
Using the Prime wardrobe service is totally free – you just have to select clothes that are part of the service (not all of the clothes on Amazon's site qualify for Prime Wardrobe). And shipping will be free to you! But there are no extra costs to using this service.
There are occasionally promos for Try Before You Buy, too, so check their website to see if there are any current ones (& we'll keep them updated when we find them, too)
Prime Try Before You Buy Returns
Returns are always free & they make it easy for you. They will send you a resealable box & a prepaid label. Package the box back up using their resealing materials & then bring it to your local UPS store.
Personal Shopper by Prime  Try Before you Buy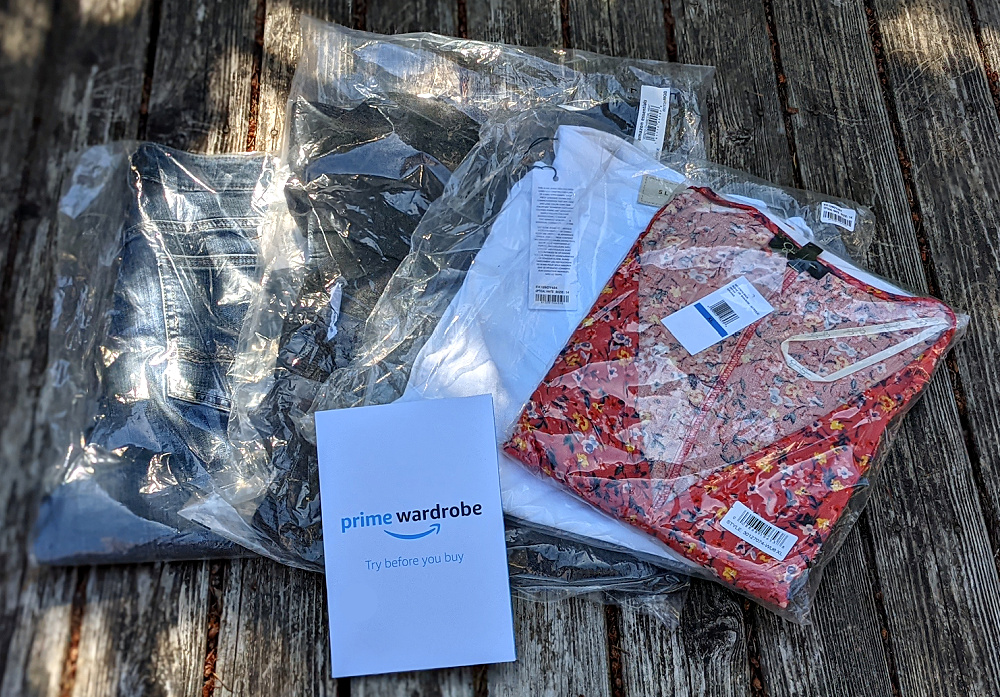 Another awesome option that Amazon now offers is their Personal Shopper service for Prime Wardrobe.  You can sign up to have a personal shopper curate some looks for you based on your preferences. It is very similar to Stitch Fix, which is one of my absolute favorite services!
The Personal Shopper program is a mix of real fashion stylists & AI technology to send you a variety of clothing items from hundreds of brands. This service is offered for sizes 0 – 24 & sizes XS – XXL/3XL.
Your personal shopper will choose the items for you & you can choose up to 8 items at a time to try on from the stylist's picks to try at home for free! The first step is to fill out a quick questionnaire to find out your clothing preferences. If you have specific requests, you can ask for those from your stylist – it is definitely customizable.
The same terms apply with returns like Prime Wardrobe – you have 7 days to try on the items & decide what you want to keep/return. When you checkout, that's when you will be charged for any items you are keeping. Otherwise, you can return the items you don't want to keep in the resealable box with prepaid label. Then drop back off to the UPS store.
This service typically costs $4.99 for the Personal Shopper service.  Just sign up here!  You can cancel this service at any time.
Amazon Prime Wardrobe Review:
I just tried the Personal Shopper program for the first time to take advantage of the no fee to try a box. The way it works is that within about 24 hours, they had selected the items for me (after I filled out the brief survey). They then provided several options of items that I could choose from to try in my box. I selected 4 of the items & I was sent the items within 3-4 days.
They sent my items in a bag, but some will come in a box, but either way, it can all be sent back in the bag if you choose to return any items. They also included a return shipping label. I had 7 days to try the items on & then keep or return anything I don't want.
I had asked for both shorts (longer) & tops for summer & they found 2 pairs of shorts, a top & a light cardigan for summer. Unfortunately the items weren't a fit for me, but it was so easy to try things on & now I can put the items back in the bag & send it again. Super easy & a great way to try things on & see if I liked it before making the purchase.
Have you tried the Prime Try Before You Buy service from Amazon Prime Wardrobe service – let us know what your experiences have been?
More Clothing Subscription Services: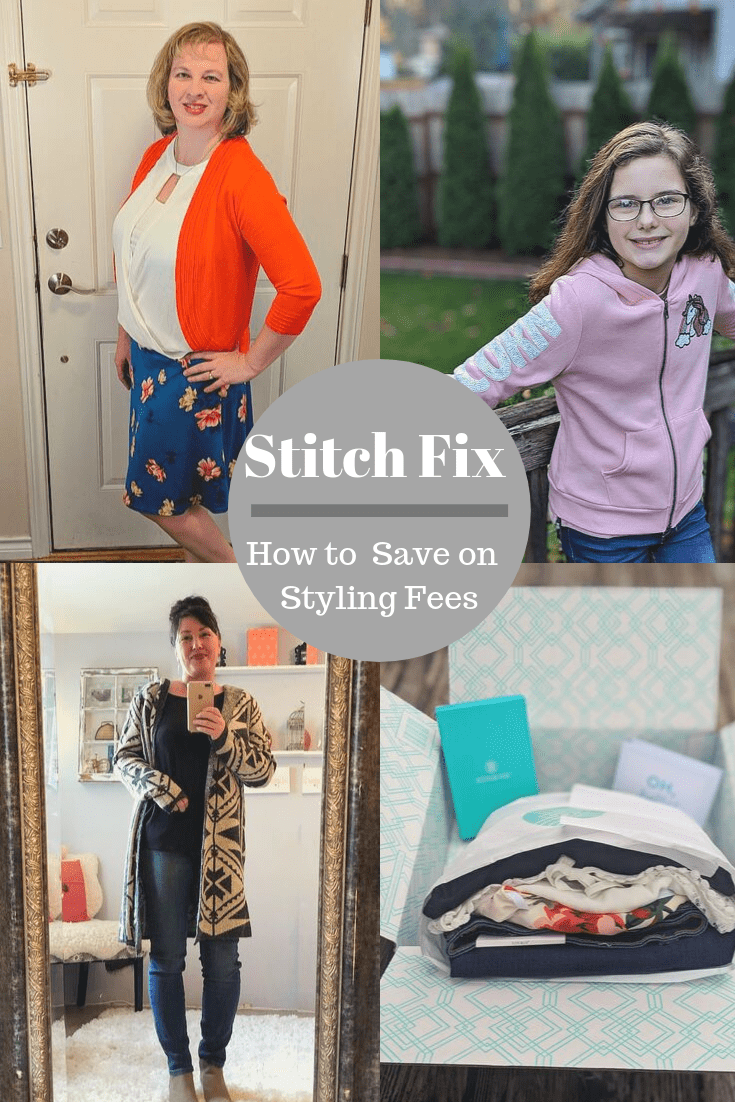 Stitch Fix for Men, Women & Kids