Wantable Reviews – Clothing Subscription for Men & Women
This post may contain affiliate links and I may be compensated for this post. Please read our disclosure policy here.
Wantable Reviews – Clothing Subscription Service for Men & Women
We are big fans of clothing subscription services especially during the last 12 months with much more limited access to retail shopping in person. Online shopping is definitely huge right now, but I honestly can get overwhelmed with the amount of choices to sift thru & look at when shopping online, even if I am shopping from favorite retailers. It just takes a lot of time to look thru all the options & find clothes that I would enjoy. So, I am so grateful to receive a curated box of clothing options that have been personalized to my interests & preferences, as well as giving me ideas of different outfit options.
I recently learned about Wantable, a clothing subscription service for men & women & I was excited to check it out. I have been using & loving Stitch Fix, but they can sometimes tend to send some of the similar types of brands/looks, so I thought it would be fun to check out Wantable & see what their stylists had to offer for curated clothing options for me. You'll get personalized items specific to what you are interested in & can try them on from the comfort of your home. Then just send anything back in the pre-paid envelope if you decide there is anything you don't want to keep. These curated boxes are called "Edits" from Wantable. So, we wanted to share our Wantable reviews with you so you can see how it all works.
What type of Wantable boxes are available?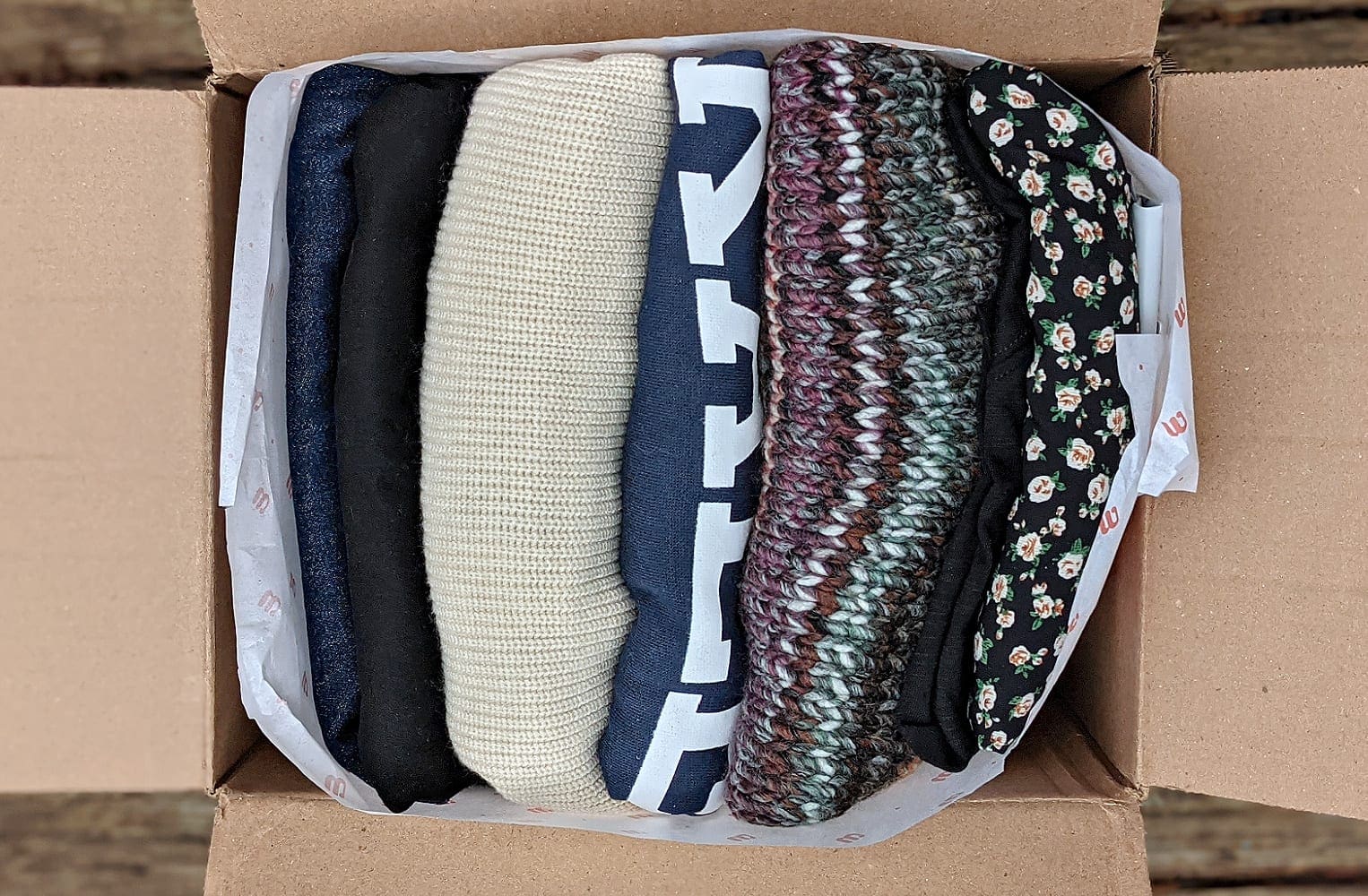 They have 3 Edit options (boxes) available right now from Wantable. You'll decide which one you prefer & then take the style quiz for that particular edit (box). Each edit contains 7 items.
Women's style edit – These are items that can range from casual & relaxed to more dressy for work, going out to eat & more.
Women's active edit – these can be not just fitness/exercise clothes, but also more comfy/lounge-style clothes for casual work from home days.
Men's active edit – these include both activewear & loungewear for working out, video calls or just chilling.
How it Works:
Take the Quiz for the Edit you Want – The first step when you are ordering a Wantable Edit is to decide which type of Wantable Edit/Box you want – women's style, women's active or men's active box. You'll then fill out the quiz based on what type of box you are interested in receiving. There is a $20 styling fee per Edit to pay for the stylist to curate the items for your box (however, if you keep even just one item, that $20 fee is applied to your order, so that you are not paying for the stylist fee). If you send all of the items back, then you will be charged the $20 fee.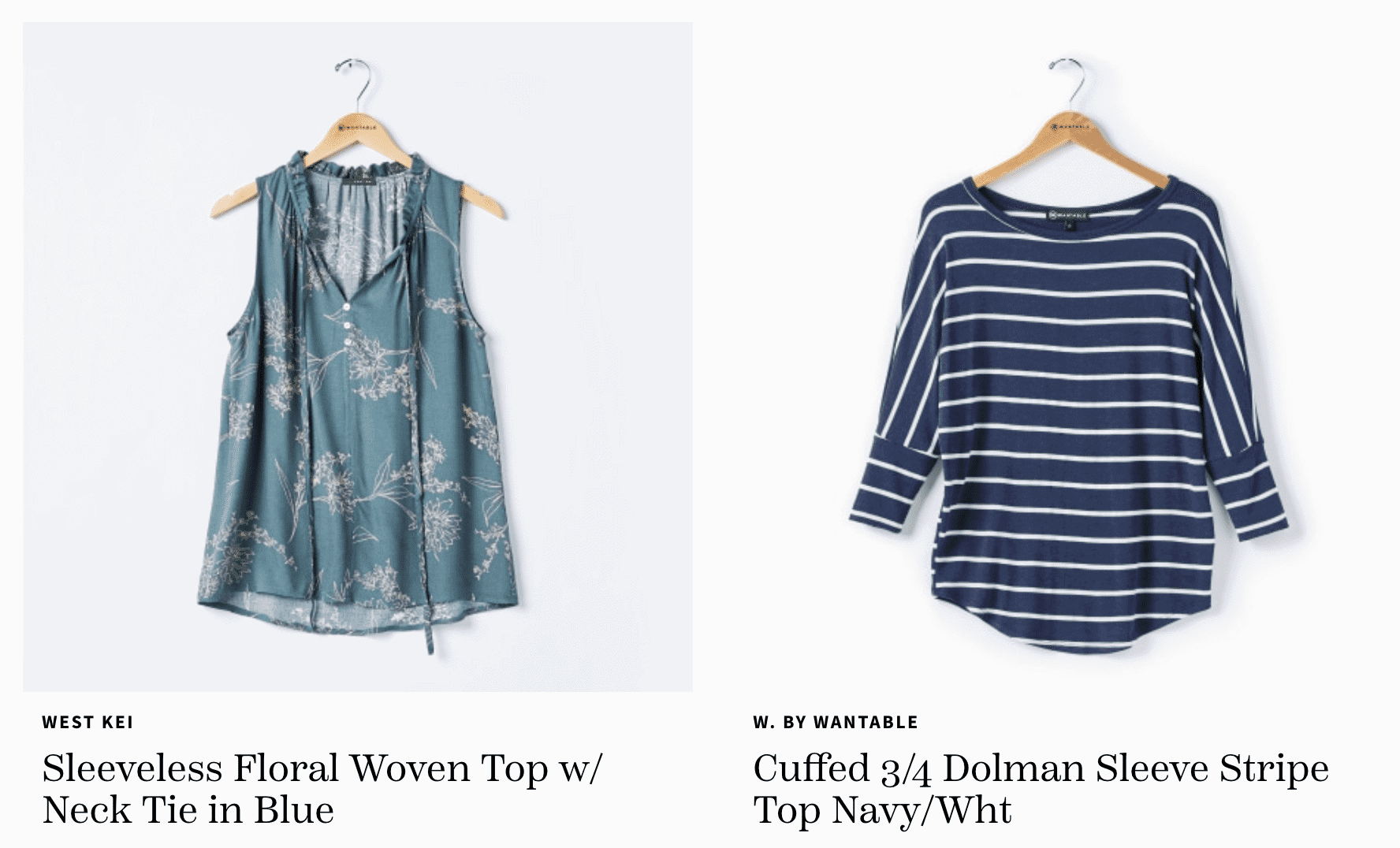 Visit the Stream to request any specific items – This is an optional step, but if you would like, you can click on the "Stream" at the top of the Wantable website. They feature the latest arrivals that match your preferences. You can actually pick out some items to be added to your Edit from these options. You just click on the "Request" button. Or choose decline if you choose not to see it in the search anymore & this will also let them know your preferences for colors, styles, etc to not choose those type of items for you.
You can view all of the options at once in your stream or you can filter the items by category (denim, tops, bottoms, accessories, sweaters, jackets & more).
Keep what you want, Send back what you don't want – When your Edit arrives, you can have 5 days to try everything on & see how it fits in the comfort of your home. Keep only what you want & then you will send back what you are not interested in. They offer free returns and exchanges with pre-paid envelopes. Free drop-off/pick-up for returns.
If you keep all of the items, you will get an automatic 20% off your whole Edit. Also, if you keep even just one item, the $20 styling fee will be applied to your order (so that it was free).
Provide feedback – This is optional when you send back an item, but if you want to improve the items that your stylist sends you each month – providing very specific feedback is SO helpful! I have found that the stylists will definitely read thru all of the information you share from previous boxes, so the more specific you are about the styles you like and don't like, then you will find that you will have more items you like in future boxes.
Reasons to try Wantable: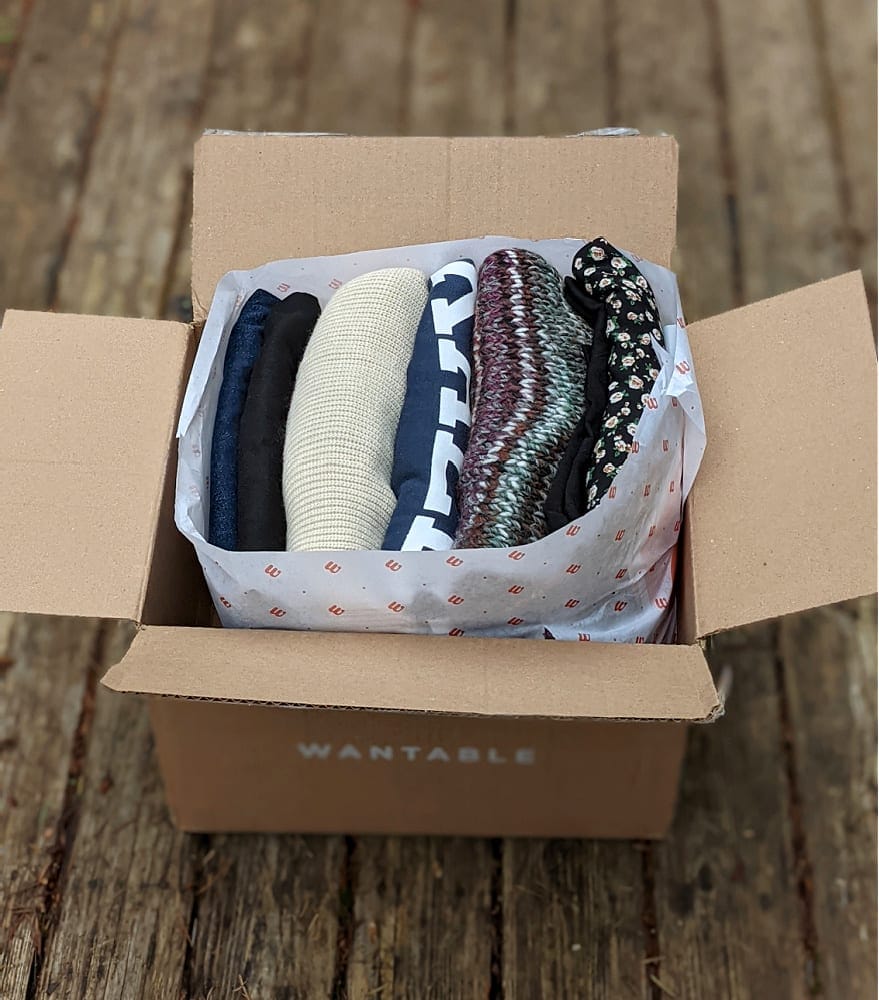 I love that Wantable sends 7 items per edit.  They offer more options to try out in each edit as that makes it more simple for me to try on more items at once to see what I like and it's less trips to the post office if I need to return anything.
Another great benefit to Wantable is that you can choose to either have all of the items sent to you curated by the stylists & have it all be a surprise. Or you can take a peek in the "Stream" & pick some items to be sent to you out of the options they share. This is kind of fun to have maybe half of the items be a surprise & sent by their stylist and then also maybe pick a few items from the stream that you like & would like to try on & see what you think. If you don't like always being surprised or don't find that you always will have the same style as the stylist, this might be a great option for you to try.
Wantable also has either a style edit or an active/loungewear edit – for those of us that are looking for more casual/comfy clothes like leggings, joggers, yoga pants, & more, this is great to have that option. Just fill out the quiz for either one that you are interested in – or both! If you fill out the style quizzes for both, then you can see the different options of what they will pick for you in your stream based on your preferences, just to get an idea of price, clothing options, etc.
Ways to save on Wantable Edits:
The best way to save on Wantable is when you decide to keep all the items – you will receive a 20% discount on the entire order. They also have said that occasionally they will send you items that are discounted – you can tell they are on sale as the invoice you are sent will list the sale price in red.
We will update this post as we learn of any more sales or discount offers as well.
Wantable Reviews:
Style Edit Box
I was sent my first Wantable edit box to review it for all of you for our Wantable reviews. I filled out the Style Edit questionnaire as I was hoping to find some new items to add to my wardrobe for clothes for out & about (I have a ton of comfy / lounge clothes I hang out in so much after this crazy 12 months that I needed a refresh on my regular wardrobe for when I am out & about).
Here are the 7 items I was sent: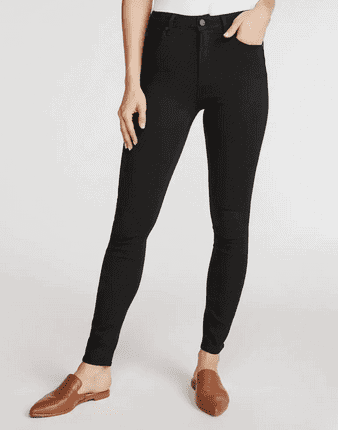 Articles of Society Hilary High Rise Skinny Jeans in Higgins – $66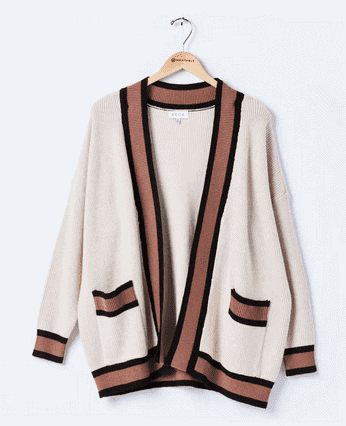 Acoa Color Block Open Cardigan in Ivory – $69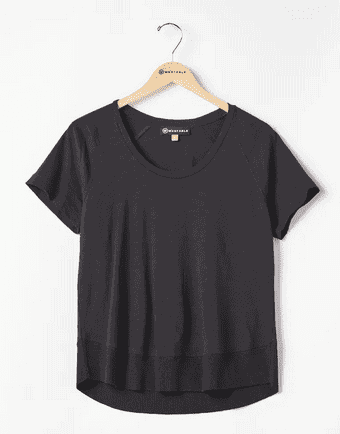 Lilla|P Short Sleeve Scoop Neck Tee in Black – $44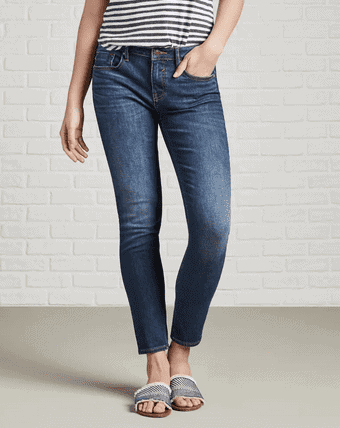 Vigoss Jagger Classic Fit Skinny in Dark Wash – $68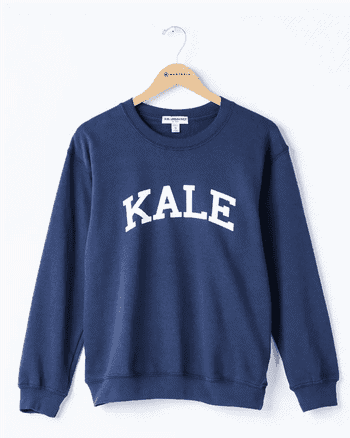 Sub_Urban Riot Kale Willow Sweatshirt in Navy – $64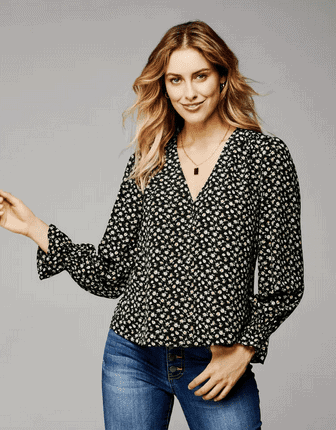 Acoa Floral V Neck Button Down Top in Black – $54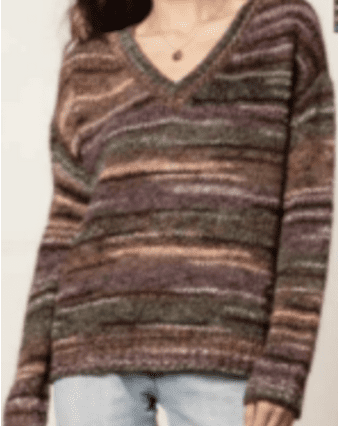 BB Dakota Mellow it's Me Sweater in Multi – $89
Wantable Active Edit Box: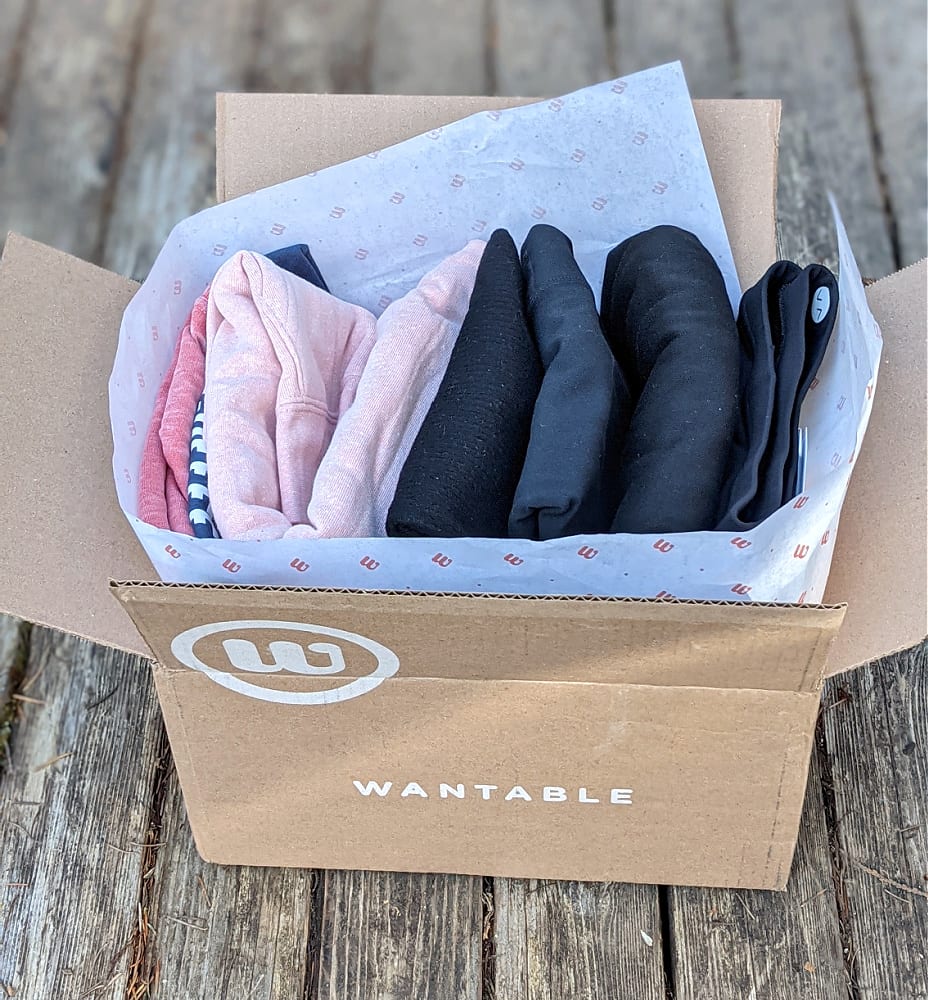 I decided to try another Wantable box this late Winter (almost spring) & I got an Active Edit box this time. I am all about the comfy clothes as I work from home & homeschool my girls, so we are home a lot. If I'm not home, then we are getting outdoors & being active, so this was the perfect box for me to order!
Here's what was in my box:
Threads 4 Thought Triblend Zip Hoodie in Casablanca – $68
Interval Key Bra in Black – $48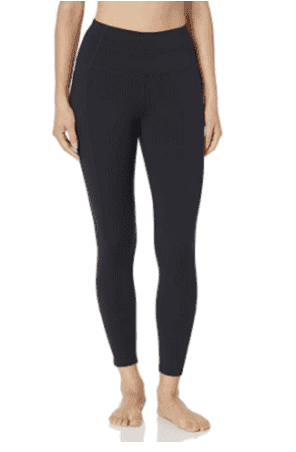 Skechers Go Walk High Waisted 7/8 Legging in Black – $49

Marc New York Performance Fleece Jogger in Black – $59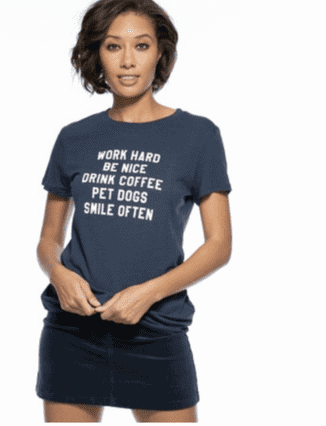 Sub_Urban Riot Work Hard List Loose Tee in Navy – $38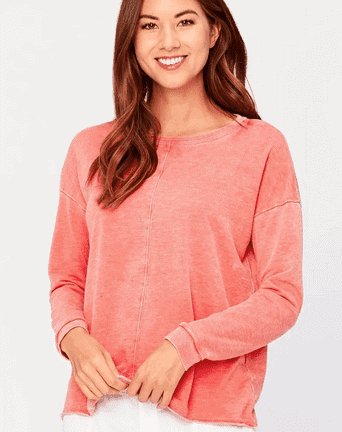 Lily Mason by Wearables Alish Burnout Pullover in Cherrywood Burnout – $58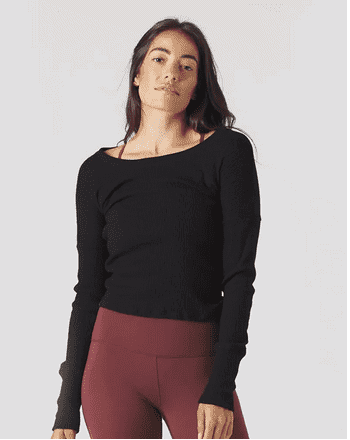 Glyder Comfort Long Sleeve in Black – $64
My honest review of Wantable Style Edit:
I think it always takes some time with new clothing subscription boxes for them to learn your style & your favorite colors, patterns, etc. I am always very specific in my instructions when I send any items back as well as for items that I keep, what I did not like about the item or what features I did love. This information all goes into your file so they can keep track of what your preferences are. So, it always takes me a few boxes for them to get a really good idea of what my style is like & to send more items that fit that style.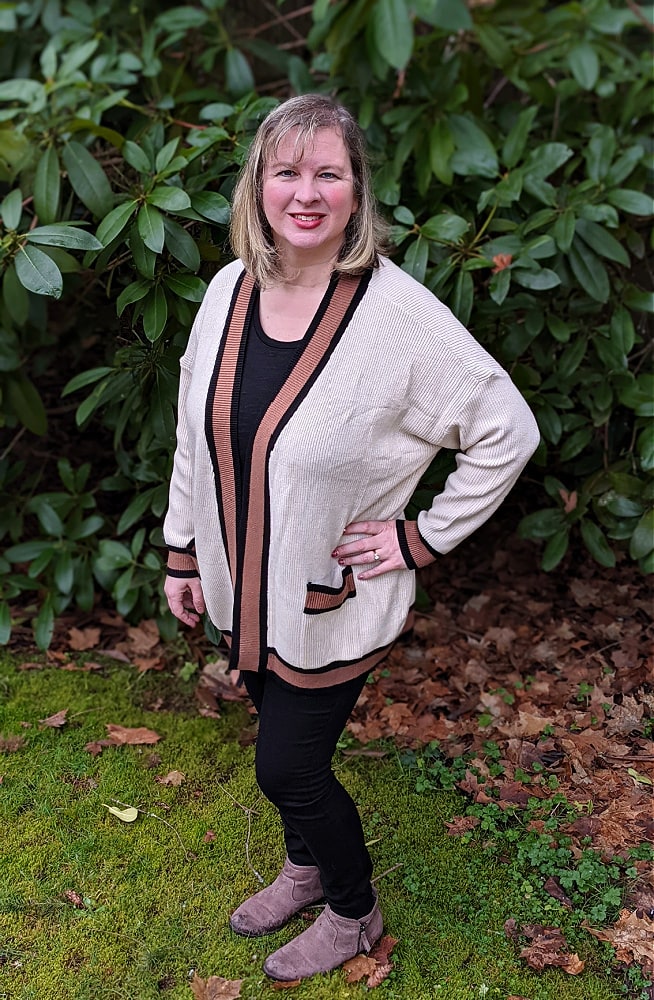 The first outfit I tried on was the Color Block Cardigan in Ivory & Tan, along with the Scoop Neck Tee in Black & the Articles of Society High Rise Skinny Jeans. The black jeans were very comfortable and slimming and the black short sleeve top was a great layering top.
The cardigan is honestly not my favorite as those colors are not the best look for me, so I just need to be more specific in my feedback about my favorite colors & colors that are not good options for me. The cardigan was a bit oversized too, so I would definitely size down one size. (I had told them I was kind of between sizes – because let's face it, the year of the pandemic has not been good to many of us, ha!). But I'd definitely get this in a smaller size.  I did like that it has nice big pockets and it's very cozy & a great layering option for winter, when you need to grab a cozy sweater. I love cardigans because they are so easy to layer & take on/off for the different temperatures especially working from home and then heading out for errands, etc.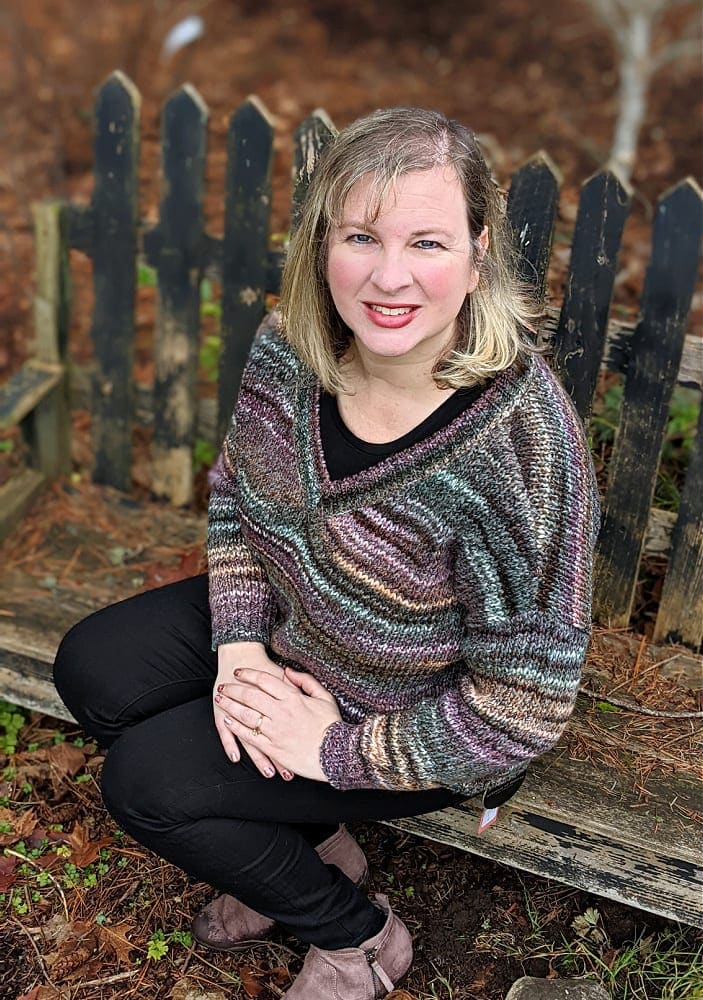 I kept the black jeans & black top on & tried another sweater option with this BB Dakota Mellow it's Me Multi-colored sweater. This is a very cozy sweater as well, definitely a great option for winter with how thick it is as it will keep you nice & warm. They definitely listened to my feedback about providing tops with a v-neck, which are my preference, too. This sweater was a bit too boxy in the waist for me, maybe again because the size was too big for me. And the colors were not my favorite, but in another color combination and smaller size, I definitely might have considered it. It definitely feels very high-quality.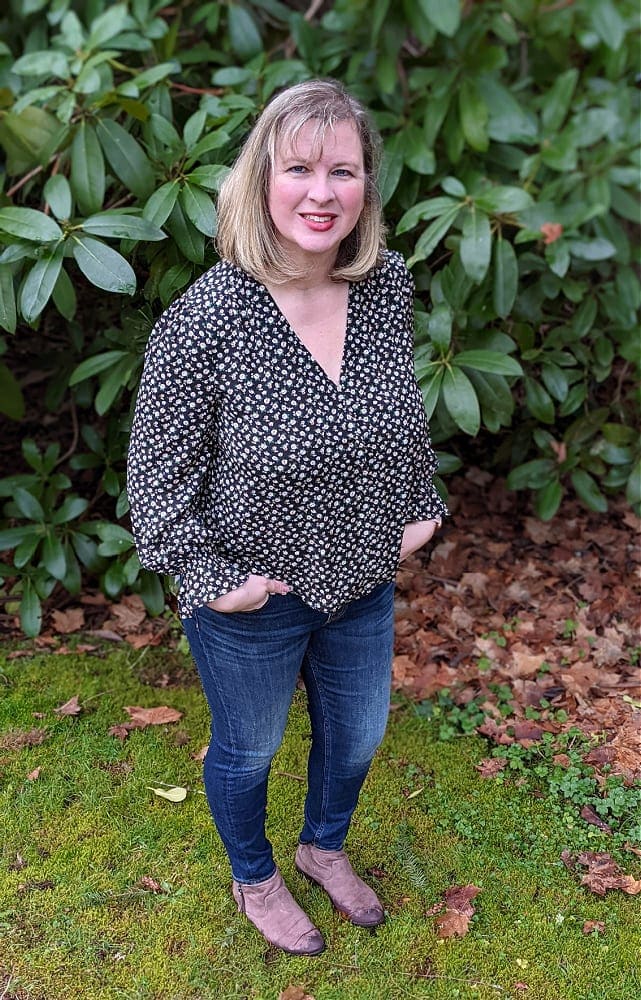 This Acoa Floral V Neck Button Down top paired with these cute Vigoss Classic Skinny Jeans is definitely my favorite outfit that Wantable sent me in this Edit. This top is very flattering with the V neckline & I love the flowy sleeves that billow out a bit with a ruffle type of cuff. It's a very comfortable top, too, and a bit longer in the back for a slimming look.
The Vigoss Classic Skinny Jeans have a great slightly distressed wash & are comfortable & fit well, so this pair of jeans was definitely a hit with me. It is so hard for me to find jeans that fit well for me & that don't end up sagging a bit after a few hours, so this is the beauty of having the items sent to me to try on at home. I can wear them for several hours (just with the tags) & see how I like the fit, even several hours later. This is the true test for me – how well can a pair of jeans hold up not just when I initially try them on, but after a few hours. So, I love that I can take my time & try them on at home – without having to search & search online for the perfect pair of jeans. My Wantable stylist definitely found a great pair that I love!
The last item I tried from my Wantable Edit was this Kale navy blue sweatshirt from Sub_Urban Riot. This sweatshirt is a nice option for a sweatshirt that is not too heavy or hot, but still comfortable for working from home or heading out for errands. I can get hot in sweatshirts (which is why I usually stick with more cardigans or zip-up sweatshirts), so I definitely liked the lighter weight of this sweatshirt. I don't think crewneck sweatshirts look the best on me, though, so this was one that I passed on. (I just couldn't get in to the Kale graphic, either, ha!)
Overall,  I had a great experience with ordering my Wantable Style Edit box. The website was very easy & user-friendly to use. I loved that I could check out more options for the future & possibly choose a few items to be a part of my box, along with being surprised by the other items. And the process for returning any items I don't end up keeping is very easy with a pre-packaged envelope.
Having a personal stylist go to all the work for me of searching & finding the best options to match my preferences is honestly such a huge timesaver for me. I just don't have the patience or time to be searching for clothing ideas for myself as a busy mom, so this is well worth it for me to try these clothing subscription boxes. And I love that it encourages me to broaden my wardrobe & have a stylist put together looks for me that I might not otherwise choose.
Have you tried a Wantable Edit – what did you think?