Hotels Near Disneyland With Water Parks!
This post may contain affiliate links and I may be compensated for this post. Please read our disclosure policy here.

Hotels Near Disneyland With Water Parks!
If you have traveled to Walt Disney World, you may have spent a day at one of their Disney Waterparks. Disneyland does not have a Disneyland water park per se, but you can book an Anaheim water park hotel in the area, that will have mini waterparks to enjoy during your Disneyland vacation. There might be more options for this than you realized for hotels near Disneyland with water parks! Also, although there is no Disneyland water park, the Disneyland hotels do have beautiful pool areas as well with waterslides, so we include those are more options below.
There are a handful of Anahiem area hotels that have waterparks on site, some that offer waterslides with their pools, and some that offer spray pads for younger kids, also in the pool area. I love this because it helps you extend the Disney magic beyond the time you spend in the parks. The Disneyland Hotel pools are also great options, as they all offer waterslides too.
For example, we booked a stay with one of the hotels near Disneyland that had an onsite waterpark, and we were able to spend the day before our park visit and the day after just enjoying the waterpark and downtown Disney area. It still felt like part of our Disney vacation, but we were able to pay for fewer days in the park and still have a great time. If you are a guest of these hotels, access to the waterpark will not cost you anything additional beyond your hotel stay fees.
Before we get into the list of hotels near Disneyland with water parks, here are some ways to save on your trip:
If you are looking to book at one of these hotels, be sure to check out Get Away Today, for some of the lowest rates. Plus if you use promo code THRIFTYNWMOM  you can save an extra $10 off vacation packages.
If you have not got your Disneyland park tickets yet, find a round up of all the BEST Disneyland Ticket deals here for great savings as well.
Hotels near Disneyland with Waterparks:
Here are a list of the Disneyland area hotels that have found that have waterparks, or special slides for families to enjoy. There are a couple of honorable mentions, where they have a pool and splash pad, and we share those at the bottom too. These hotel options range from very affordable to the higher end on the Disneyland hotel price spectrum, so there really is something for every Disneyland Vacation budget, if you love water play too!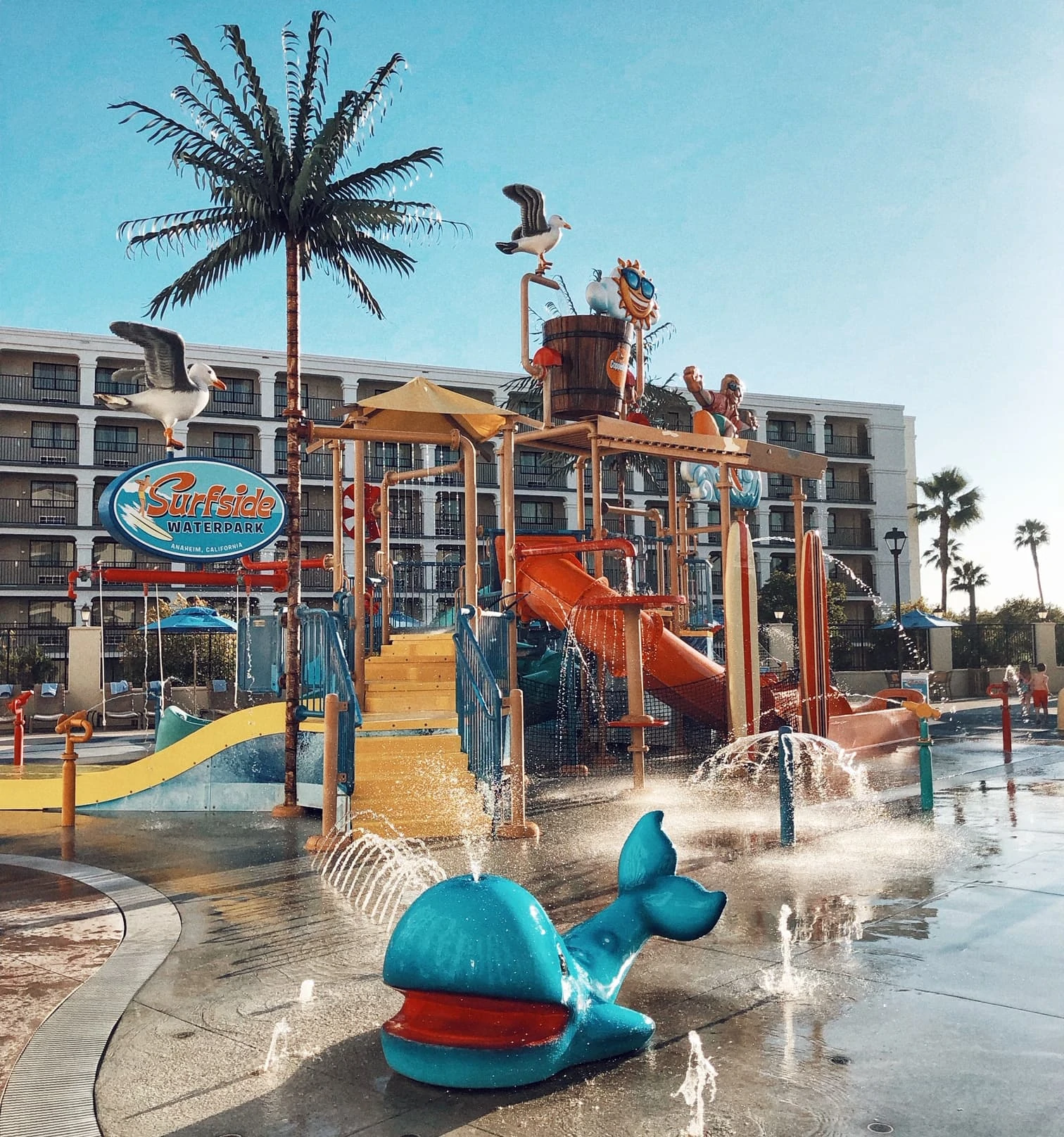 We stayed at the Courtyard Marriott Main Gate Disneyland on our most recent stay, and I highly recommend it if you are not staying at one of the Disney Resort Hotels.  It was not the most affordable hotel, but was a big savings over the Disneyland hotels on our recent trip, and we were not disappointed.
Pros – 
It is in walking distance to Disneylands Main Gate. If you are staying offsite (not at one of the Disneyland hotels) this is a short walk over to the main gate. The only draw back here is that the security line can get quite long during busy times (but you will run into this issue with all the hotels that are in walking distance, or shuttles drop you off at the main gate entrance)
Large rooms (reg. rooms have two queens, bunk beds and two showers – one of the nicer rooms we have stayed in near Disneyland without getting a suite)! It was probably the largest non-suite room we have seen.
Waterpark on site that you get free access to as a guest. This waterpark has a couple of waterslides, a large water spray park (including bucket that dumps on you) and a pool and hot tub. You can spend a day just playing here!
You can see Disneyland fireworks shows from some rooms (fun if you have younger kids and come back earlier).
Cons – 
Check it was awkward (initially we were told we would not be able to check in until 4pm, and we were not offered access to waterpark, etc, so if you are planning to arrive before 4pm, have a back up plan in case you get the same reception).
The waterpark is fantastic for smaller kids. If you have holder kids it closes fairly early (which includes the pool and hot tub area), so there is no coming back from the park later and relaxing in the pool or hot tub. The pool itself is fairly small, so if it is pool time you are interested in vs the waterpark as a whole, this may not be a great fit).
They only offer valet parking, and it can get pricey per day.
Find current deals for the Courtyard Main Gate on Get Away Today here now.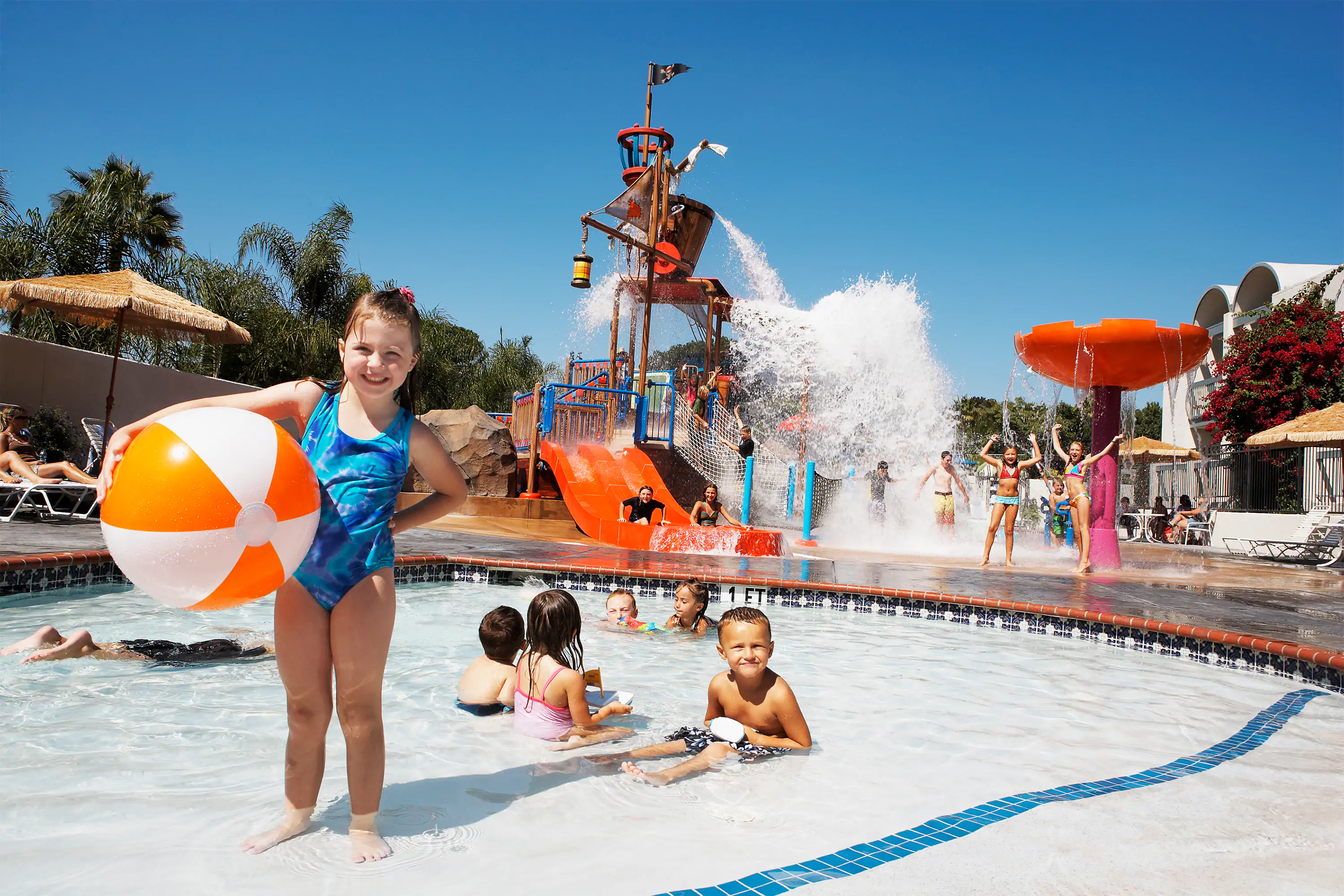 Image Credit: Howard Johnson
Howard Johnson Anaheim
The Howard Johnson is next to the Courtyard (a bit further from Disneyland, but still close enough to walk in my opinion. This hotel used to be the main hotel available if you were looking for some water play, but many new hotels have popped up giving it some competition. It can be on the more affordable side, and is a great option if your traveling with younger kids especially. Out of all of the hotel with waterpark options this one may likely give you the best value for the dollar (it will be on the more affordable side).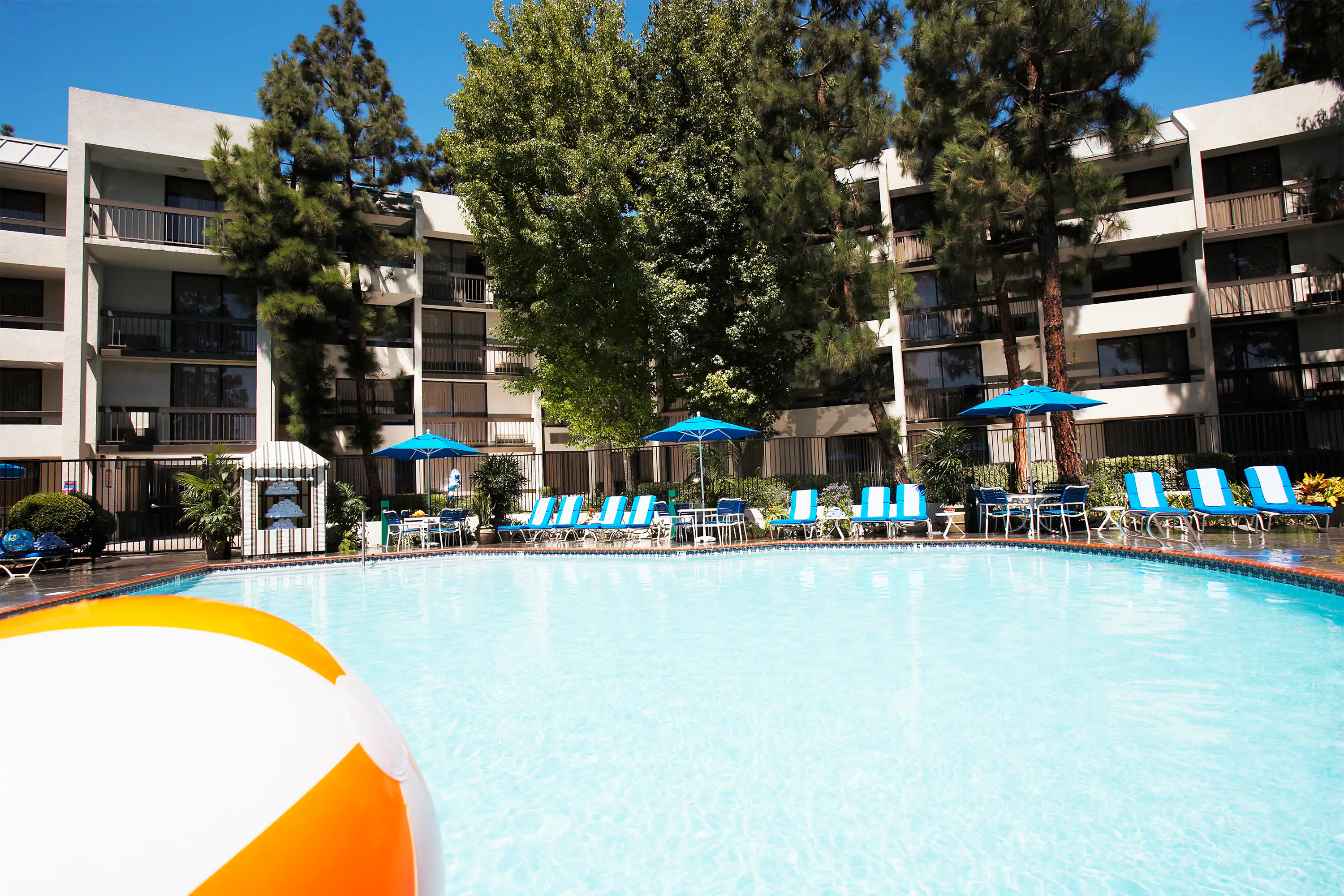 Pros –
This one will be on the more affordable side, if you want these kinds of amenities at your hotel. For a long time they were the only hotel outside of the Disneyland hotels to offer this kind of waterpark.
They offer complimentary parking, which is a big perk if you will have a car with you during your vacation.
They do also offer rooms with bunk beds, which is fun for kids.
You can see Disneyland fireworks shows from some rooms (fun if you have younger kids and come back earlier).
Cons –
This hotel is still in walking distance, but you do have to cross a small side street after you pass the Courtyard Maingate hotel mentioned above.
It is a bit older then some of the others on this list (and has not been recently updated), but still is a great option.
Find current deals for the Howard Johnson on Get Away Today here now.
Image Credit: Cambria Anaheim
Cambria Anaheim
This hotel has lots of water park fun for families, which includes a year round water park with water slides, pool areas and more! I "might" be eyeing this hotel for a future visit! It includes a 30,000 foot outdoor waterpark. Other amenities will include a putting green and outdoor movie wall and more, so it will be a nice destination resort in the area it sounds like. Another great perk for the Cambria is that they include a free hot breakfast. This can save you quite a bit on your food budget when traveling with a family. It also includes some more affordable eateries right now site, like Jimmy Johns and The Habit.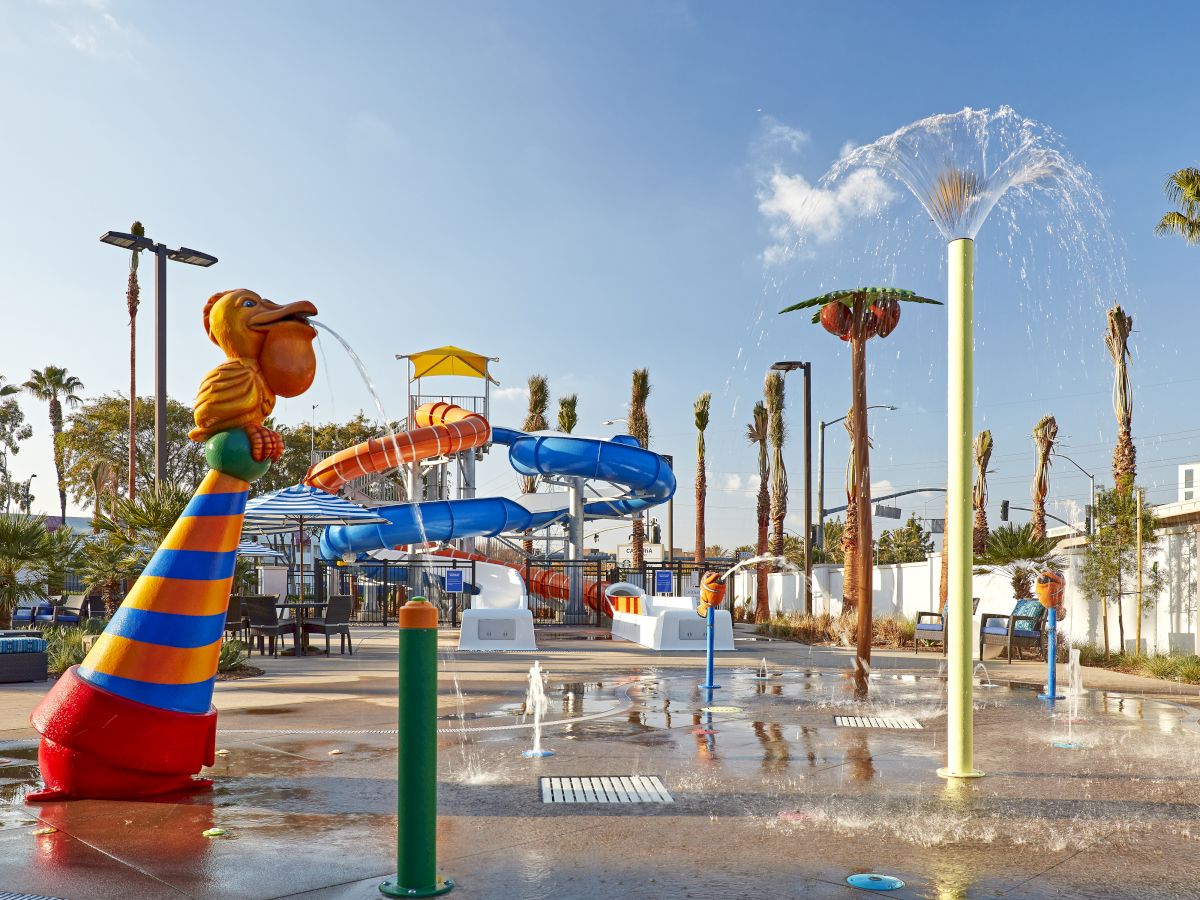 It looks like this one is very nice (and perhaps one of the largest) waterparks in the area.
Since we have not stayed here, we cannot provide pros and cons for this one.
Find current deals for Cambria Anahiem on Get Away Today here now.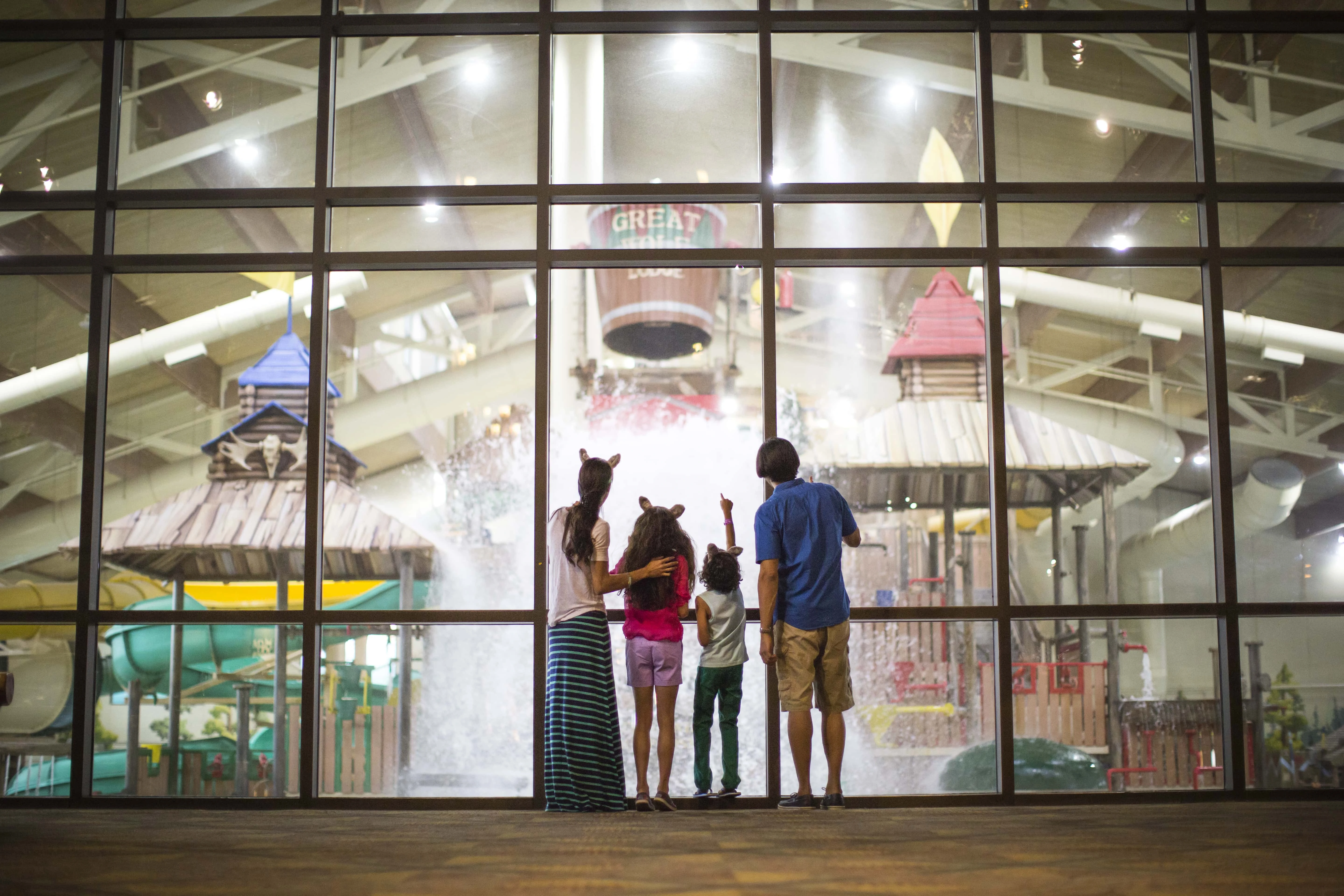 Image Credit: Great Wolf Lodge Anahiem
Great Wolf Lodge Anaheim
The Great Wolf Lodge Anaheim has everything you would expect from a Great Wolf Lodge hotel. It has the full indoor and outdoor water park amenities, and more to offer. You will need to take a shuttle to get to Disneyland, but if you are a hard core Great Wolf Lodge fan this can be a pretty decent deal.
When we were looking at Spring Disneyland travel deals, the Great Wolf Lodge was much cheaper then the Disneyland hotels (and even much less then the Courtyard for our travel dates). For me, it seems like a bit of overload (to be at the park all day, then come home to a hotel the kids are going to want to play in all night) but if you have the energy this one can be a great option to provide your family something to do for your entire vacation.
Pros – 
The Great Wolf Lodge hotels are destination vacations in themselves, so it is a nice way to enjoy more vacation days and have to pay for fewer days in the parks.
Not only does it have a huge indoor waterpark kids love, but there are tons of other activities for them to enjoy too.
Many of the activities will be free to you, when your a guest at the hotel (like story time, special activities for kids, waterpark entrance, etc). It is a lot of bang for your dollar, that is for sure!
Cons – 
It can be a bit overstimulating for some. If you are one who likes to leave the parks, and not have some quiet time, this might not be the spot for you. It stays pretty active all day, but you will run into that at the Disneyland hotels too. If you like the action to be available all the time, then you may love this option.
It is farther from the parks, so you will need to take a shuttle to get to Disneyland.
We also share about Great Wolf Lodge deals on Groupon here, as well as promo codes available for Great Wolf Lodgeto help you save on that visit here.
Find current deals for Great Wolf Lodge on Get Away Today here now.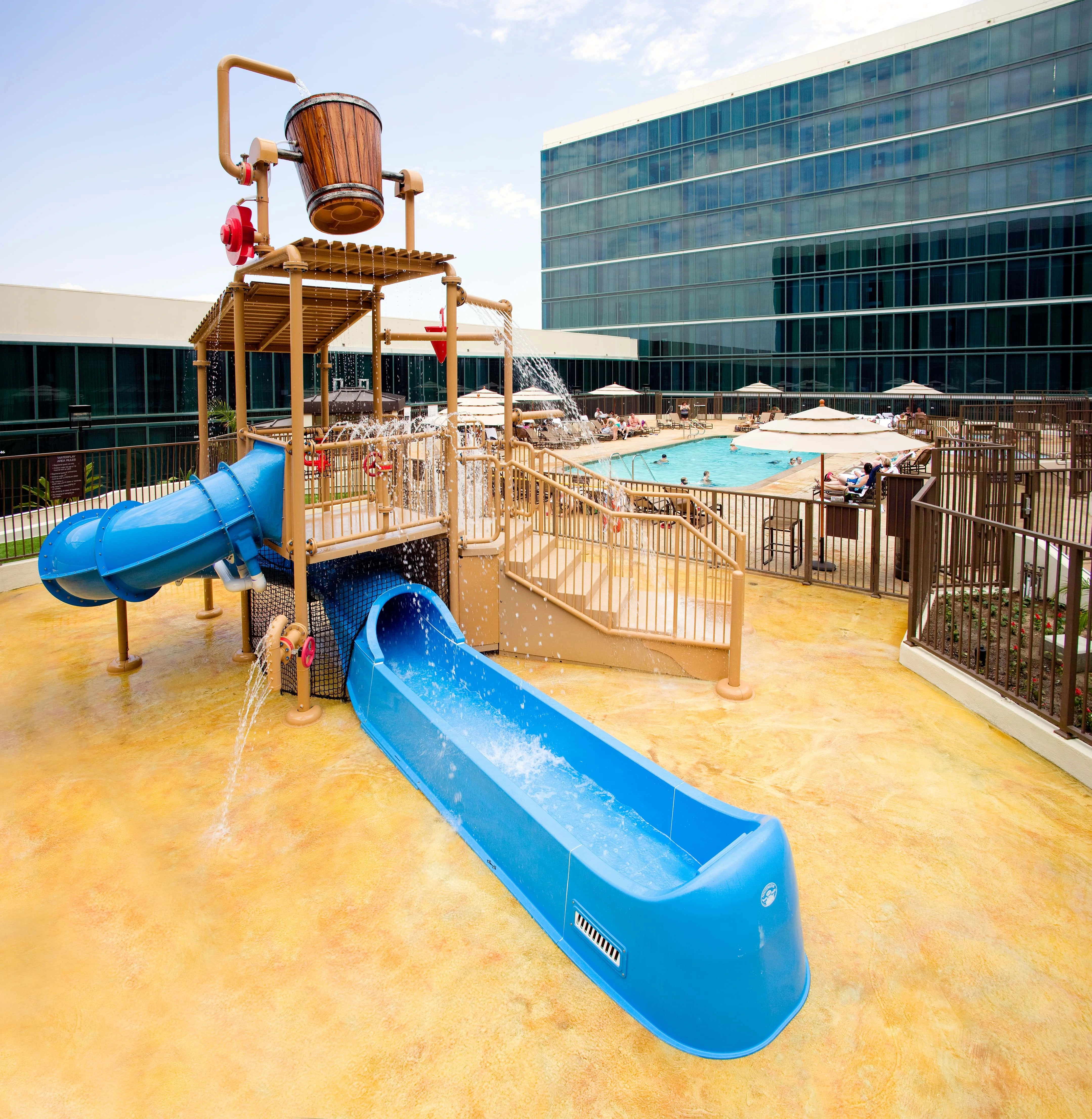 Image Credit: Hilton Hotel Anaheim
Hilton Hotel Anaheim
The Hilton Hotel Anaheim is located over by the convention center. The ART provides easy transportation to the parks, and there are many restaurants to access in the area. We have stayed at the Marriott across the street, and met a number of folks staying at this hotel (as the two hotels share the same ART Shuttle stop and trip), and they seemed to love this hotel. It is in a convenient area, and is a nice hotel if your looking for something that will provide some great amenities, but is not at the higher end prices.
Pros – 
There is quite a bit to do in this area, and it is a great option if you have something to attend at the convention center. There were food trucks out during the day, that we could enjoy in this area, and many dining options.
You can get room options with a complimentary breakfast buffet, which will also help you save lots of food during your stay.
You can walk from this hotel to Disneyland, but it is a long walk We walked it two days, then got tired after all the walking in the parks, so took the shuttle the rest of the time. I would recommend getting and ART pass if your staying here (especially if you have little ones with you).
Cons – 
It can get very busy if there are many events booked at the convention center, so you may want to check on that schedule. We stayed in the area during a dance competition, and it was hard to get in the pool some days as all the folks from the competition where there, so that is something to consider.
Find current deals for Hilton Hotel Anaheim on Get Away Today here now.
Hotels near Disneyland with Waterslides :
The Disneyland Resort Hotels may not have official waterparks, but they do offer beautiful pool areas with waterslides. If your kids are a bit older especially, I prefer this set up to a full blown waterpark sometimes. Sometimes the spots with waterparks do not have pools that are as nice, or close earlier, so if what you are looking for is a great day of water fun, these are definitely worth considering. We have stayed at all three Disney resorts, and have enjoyed the pool area at all three. Here is some more detail on what we liked best about each one too.
Image Credit: Disneyland Hotels
Disneyland Hotel Pool
My kids love the Disneyland Hotel Pool (and well just the entire hotel). What is not to love? Besides all of the amenities that come with staying at one of the Disneyland Hotels, the Disneyland Hotel pools are always wonder, with nice large swim areas and waterslides themed after the monorails. My kids loved that the waterslides where different levels (so something for everyone to enjoy) and I (mom) loved that I could easily keep track of my kids when they were playing at the Disneyland hotel pool and waterslides. You will find something fun for all ages here.
Out of all three of the Disneyland resorts, this one offers the largest pool area and the most waterslide options.
Pros – 
I was always able to find a spot to sit. which was a perk for sure. Plus, you could order pool side food service, and relax while the kids play. I found this pool area to be one that was fairly easy to keep an eye on the kids, and comfortable for adults as well as kids. One thing I love about this hotel is that you are not trading a pool for a waterpark. They have done a great job of making both areas really enjoyable. My kids loved the waterslides, and I loved the pool area. It was a win win all around.
The pool area features two Monorail-themed slides: the 180-foot-long Monorail Red slide and 80-foot-long Monorail Yellow slide.
The 4-foot-deep, D-Ticket pool is a shady oasis next to the Monorail water play area, and the E-Ticket pool is perfect for families. There also are outdoor Minnie and Mickey-themed spas.
Pools stay open into the evenings, so it is a great way to relax in the evening, or take a mid day break.
You get all the Disney magic even after you leave the park. I love not having to leave the Disney bubble during a stay. Plus you have access to all of their perks, like package delivery back to your room, early entrance to the parks, etc.
Cons- 
The biggest con for my family with the Disneyland hotels is cost. They are usually the most expensive hotels in the areas, and sometimes by quite a bit. I like to look for deals that often come in the Spring or early Fall time (September) for these stays, when it is still warm enough to enjoy the pool area.
Find current deals for the Disneyland Hotel on Get Away Today here now.
California Lodge Hotel
There are three pools here, all set in a lodge style pool area that is pretty relaxing. There are the: Fountain, Redwood and Mariposa; two whirlpool spas; and a 90-foot Redwood Tree waterslide. This area is very well themed if you like lodge or wilderness styles. I also find the pool area at this hotel to be a bit less crowded then others for some reason. I love the relaxed vibe of this pool. There is only the one waterslide, so if your kids are looking for more then that, you might want to elsewhere, but I think this one is a great mix for keeping the adults and kids in the party happy.
Out of the three Disneyland resorts, this one is my favorite for theming and luxury touches.
I would say that the pros and cons of this hotel are very similar to the Disneyland, with one main extra pro. You get your own entrance into the park from the California Lodge Hotel! This is a huge convenience if you are traveling during busy times. The longest lines into the park are usually the security lines, so by having your own special entrance into the California Adventure park, it can save you up to an hours wait time during peak seasons!
The other thing I love about that private entrance is that it makes mid day pool breaks really easy to take. It is easy to get from the hotel to the parks, and vice versa – making more time to relax around the pool!
Find current deals for the California Lodge on Get Away Today here now.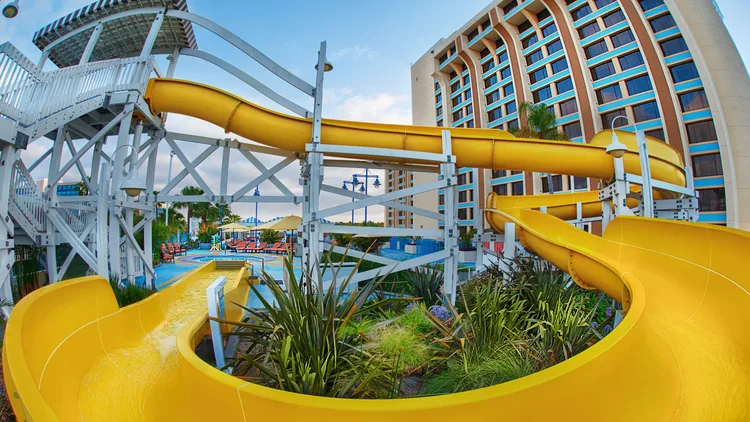 Image Credit: Disneyland Hotels
Paradise Pier
The theming for the Paradise Pier waterslide and rooftop pool area was inspired by the boardwalks of California beach towns, so will offer that more laid back vibe. The waterslide is separate from the pool, and spa areas here. It is the smallest pool of the three resorts, but offers a nice large waterslide.
The California Streamin' waterslide stands at 186 feet high, twisting and turning into its own miniature pool on the rooftop deck of this Disneyland hotel.
Although out of the three Disneyland hotels, this one is also usually the most affordable option – it does have the least impressive pool. However it is still a fun pool and waterslide, and so can be a great way to stay onsite, for less then the other two Disneyland hotels will cost. It has also been less crowded and bit quieter then the other two hotels during our stay, but I bet it gets pretty busy during peak seasons.
Find current deals for the Paradise Pier on Get Away Today here now.
Honorable Mentions for Anaheim water park hotels – Spray Pads :
Are you traveling with young kids, and just looking for a great spray pad for them to enjoy. Check out these options.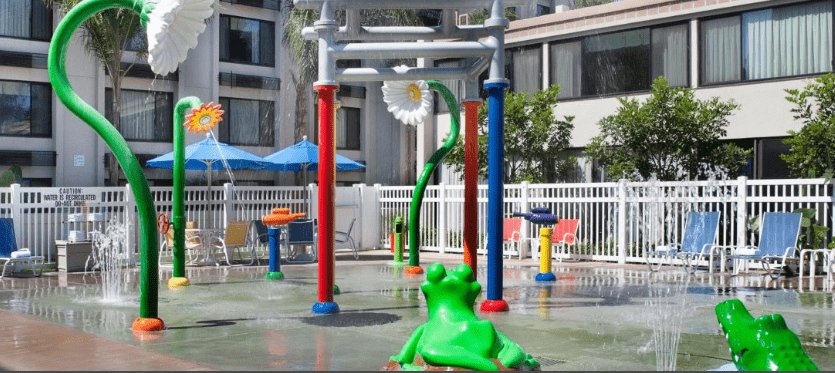 Image Credit: Holiday Inn and Suites Hotel Anaheim
Holiday Inn and Suites Hotel Anaheim
The Holiday Inns have been great options for us, when looking for a value hotel to stay at. I have not stayed at this hotel personally, but have recently been pleasantly surprised about other Holiday Inn locations we have stayed at. They have been clean, and offer many of amenities for the price. This location offers kids eat free packages, as well as free parking and breakfast packages. This location also has this new spray pad area that could be a great option for younger kids, in addition to a pool. It is located about a 15 minute walk from Downtown Disney, or you can take the ART Shuttle to get to the parks.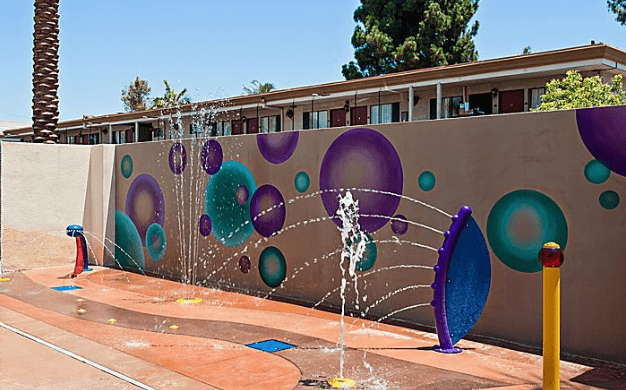 Image Credit: Holiday Inn Express Anaheim
They do have a newer Holiday Inn Express in Anaheim, that has a smaller spray park too, that is another one to consider.
Find current deals for Holiday Inn and Suites Anaheim on Get Away Today here now.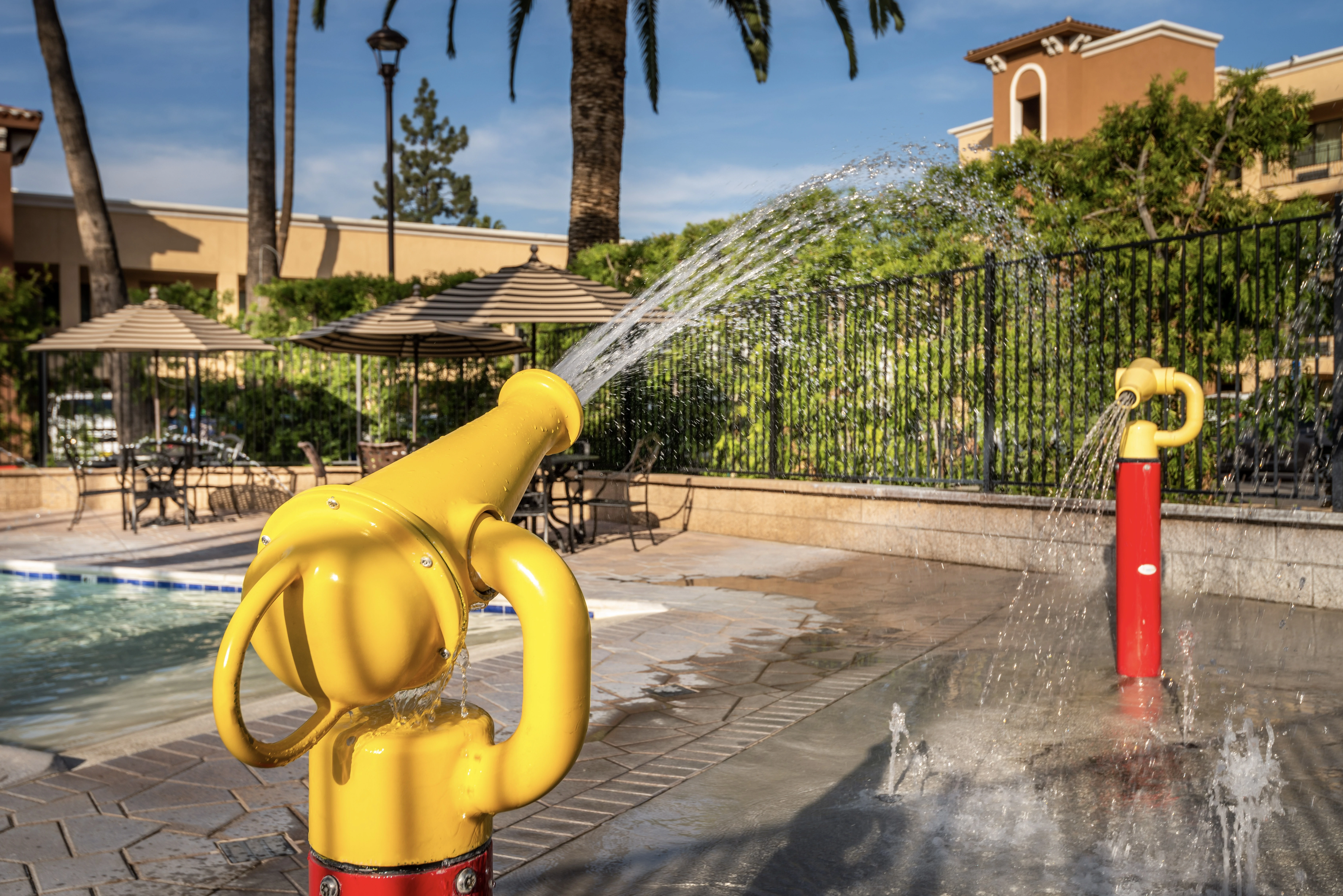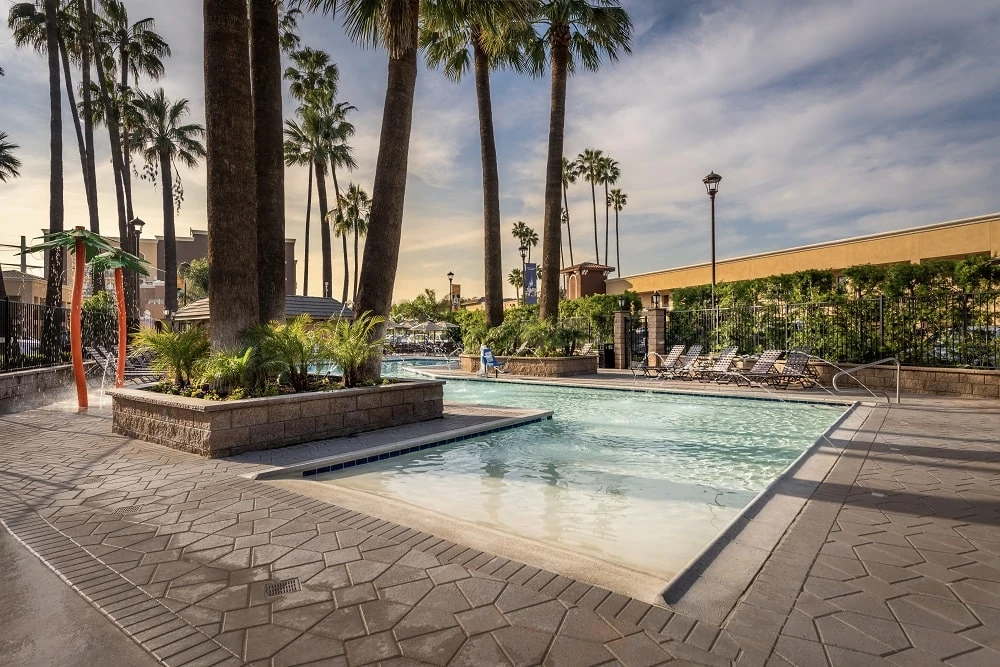 Grand Legacy At The Park
The Grand Legacy might not have an official waterpark, but they do offer this large beautiful pool, plus a splash pad for younger guests to play in! It is also in walking distance from the park, and will come at a much lower price tag then some of the others. They offer some perks too, like a snack bag with your stay, and roof top dining.
Find current deals for Grand Legacy at the Park on Get Away Today here now.
Now let us know which Anaheim water park hotel is your favorite?
More Disneyland Hotel Articles You Might Like: