10 Disneyland Insider Tips – Making The Most Out of Your Disneyland Trip!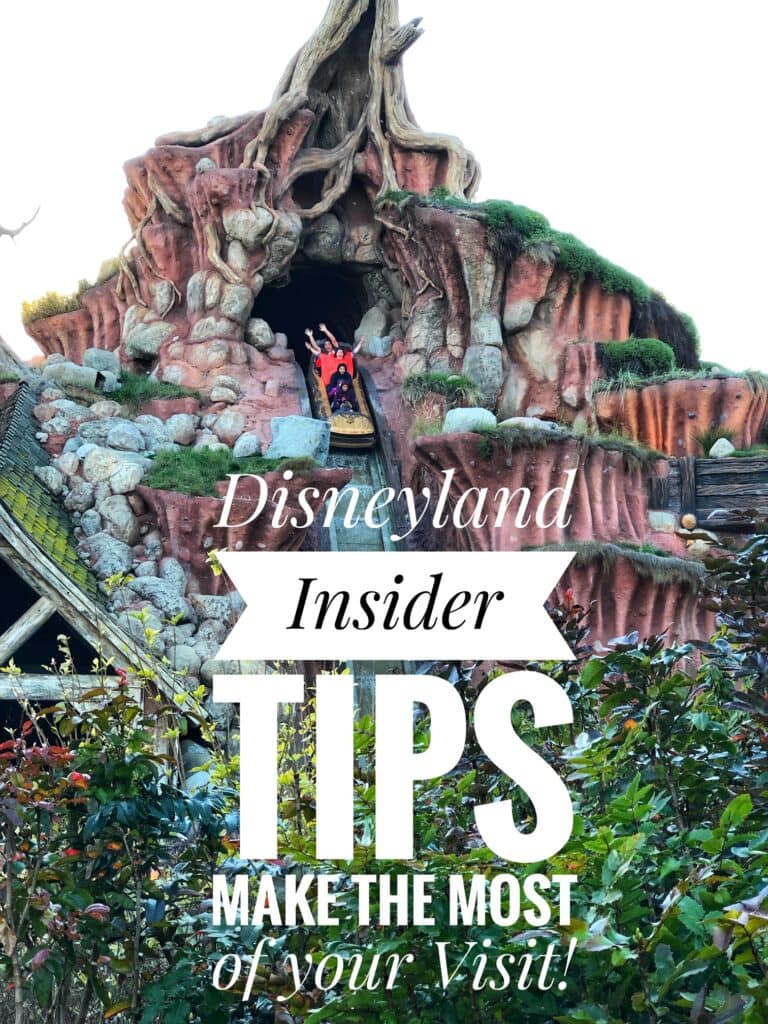 10 Disneyland Insider Tips
Use These To Make The Most of Your Visit!
The Disneyland Resort is filled with thrilling attractions, delicious food and memories to last a lifetime. So, what could make The Happiest Place on Earth even happier? Having expert knowledge to make your next vacation the best one yet. Luckily, we've partnered with our friends at Get Away Today to give you Disneyland insider tips for your next trip.  
If you're traveling to Disneyland soon, make sure you check out the amazing vacation offers through Get Away Today.  They offer discount Disneyland tickets, and incredible hotel deals too!
Here are some Disneyland Insider Tips to Make Your Trip the Best It Can Be!
1 – Install the Disneyland Mobile App before your visit, and then use it during your visit
This tip has become more important than ever, as with all of the recent park changes you will need this app to do quite a few things during your trip, like make park reservations, order food, or restaurant reservations, get into virtual ques, check wait times and more.
The Disneyland mobile app, will help you plan and enjoy a much smoother trip. You can use it to view wait times for rides, so you can plan where you want to go and when (**tip  – watch the wait times a week ahead of your trip, on the days of the week you plan to travel, to get an idea of the possible times of the day when the lines are shortest for each ride.).
You can add your Disneyland tickets in here too, to manage them that way. Now days you need to make a reservation for park entrance too, so do that right in your app after you add your tickets.
If you want to ride the new Star Wars Rise of the Resistance ride, or the Spiderman ride, the easiest way to get a boarding pass for that is to have this app installed and ready to grab that. You will want to be on right at 7am for best chances. They do have a second que at 12pm, but that is riskier in terms of getting a boarding pass.
Other things you can do with the Disneyland Mobile app, include making dining reservations (and checking in), managing your PhotoPass photos, locate characters and more. You can even order and pay for your food at counter service restaurants in Disney (to skip the lines to pay) and pick up at the mobile order counters. This is a great way to avoid waiting in more lines!
We visited recently, and the mobile app was used for so much more than it used to be, so this is a must!!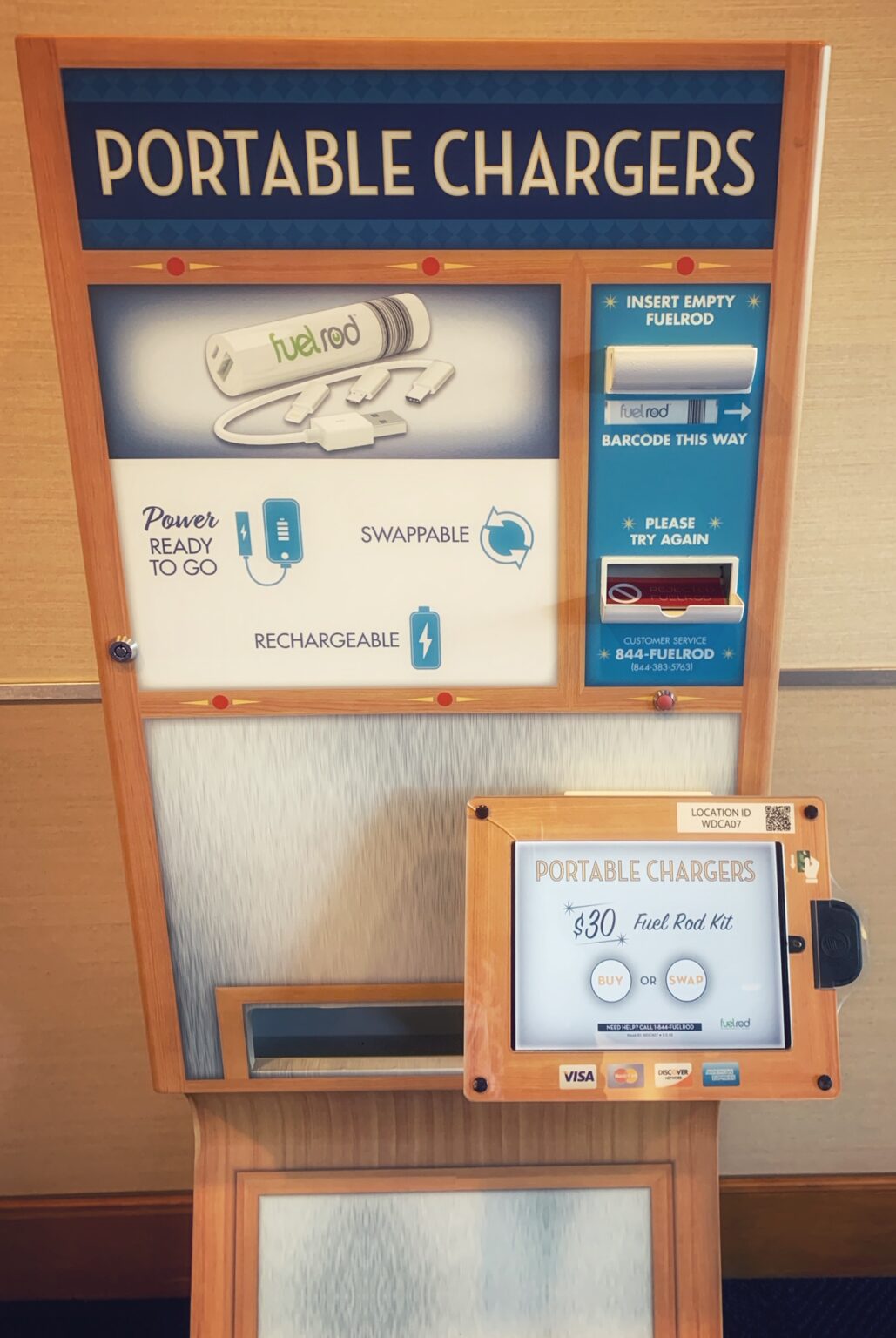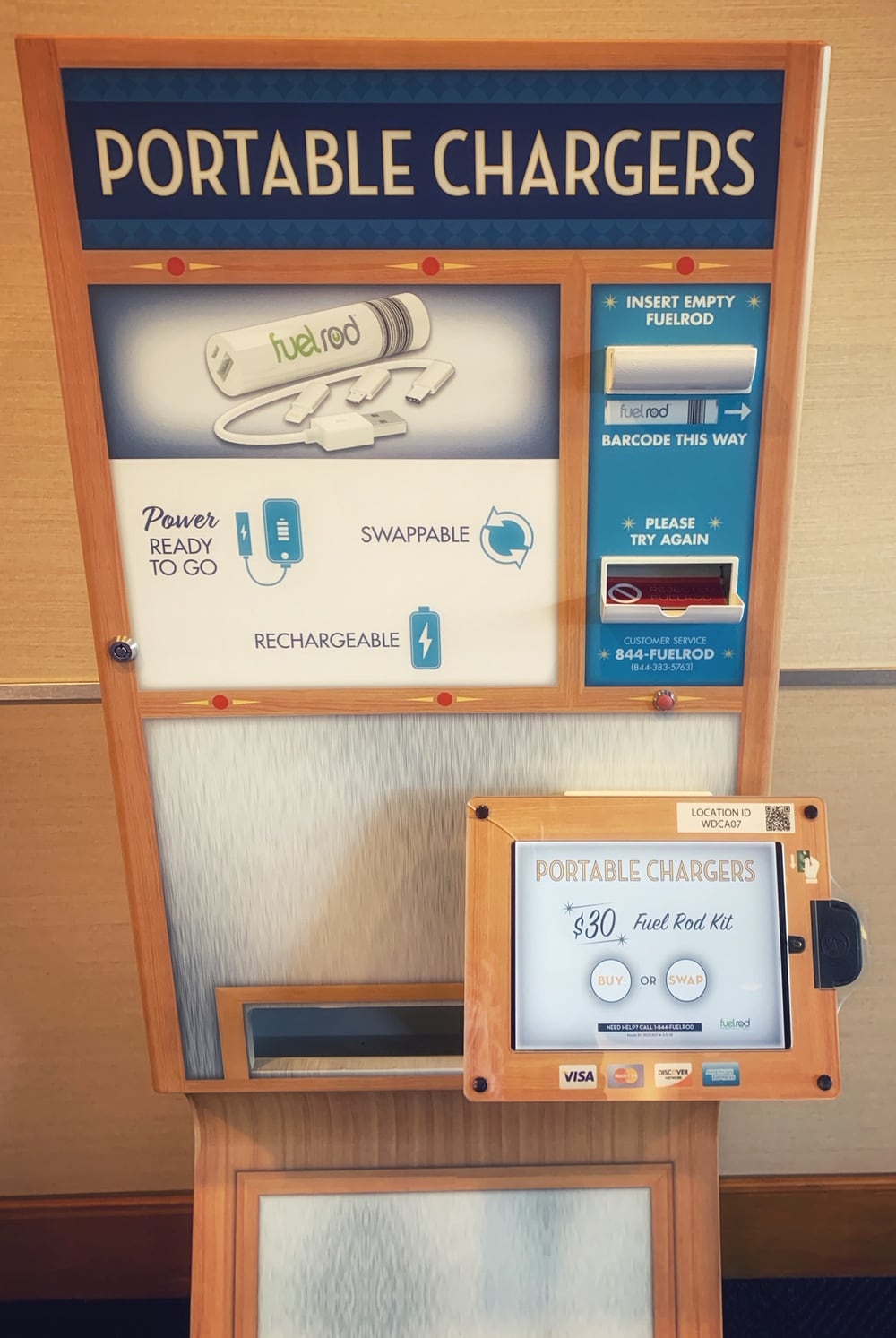 2 – Make Sure Your Phone Is Charged – or Bring a Portable Charger
With so many things depending on using the mobile app, it is more important than ever to have a fully charged phone that will last you throughout the day. You will likely use your phone to enjoy things throughout the park, much more than you have in previous years, and so it will need to be charged and ready. After taking pictures, and using the app all day, I was surprised how quickly my battery was used during our recent trip. If you have a virtual que boarding time this is even more important (as you will need to pull your boarding pass up in order to access the line). Our que was later in the day, and I barely got through the boarding line before my battery was about to die the first day.
There are a few kiosks in the parks and hotels, where you can grab a portable charger at in a jam (but it will cost you), so it is better to be prepared ahead of time.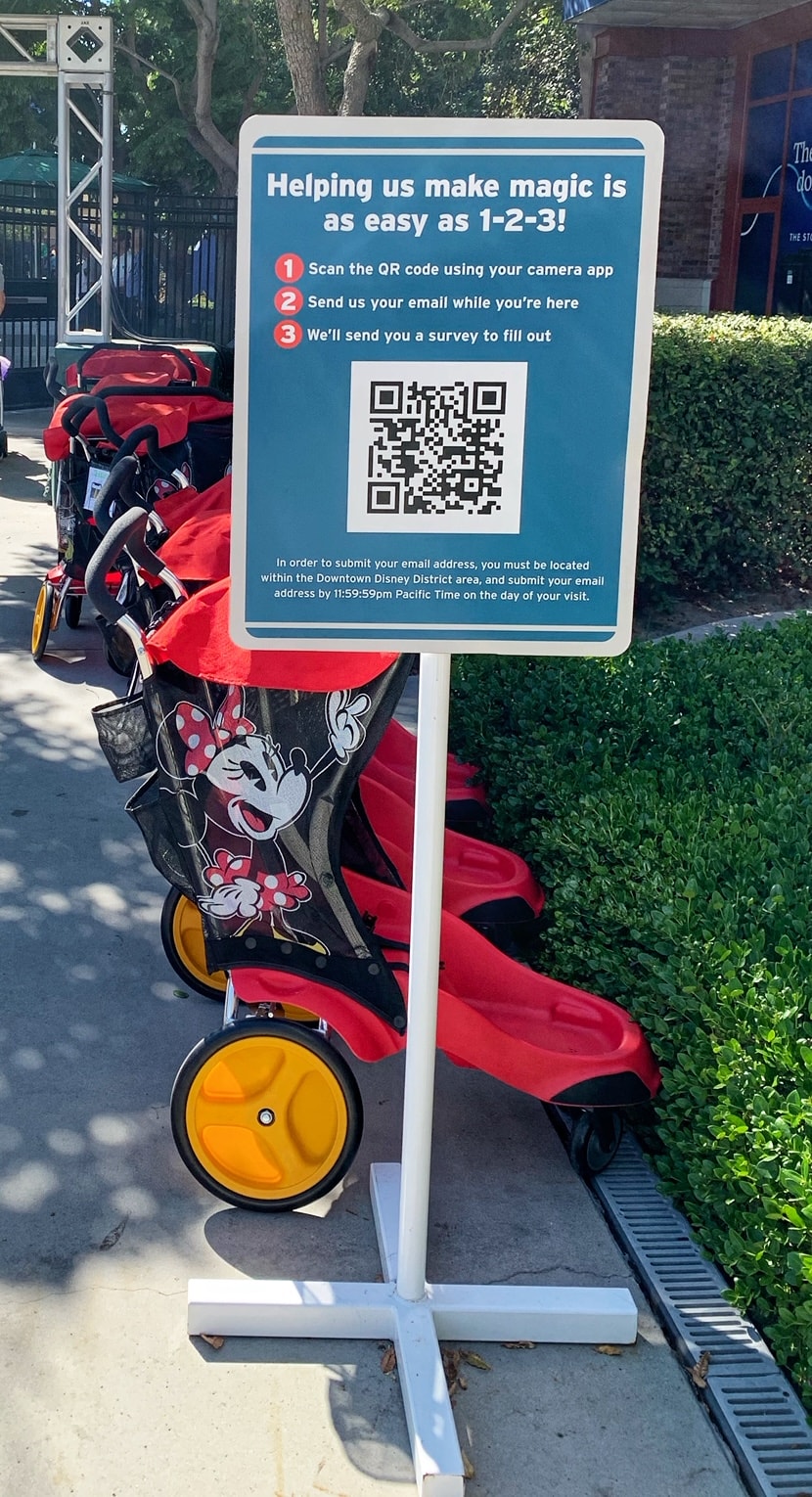 And make sure you have a phone with you that is new enough to use the QR codes. You will find those throughout the park now, to do everything from access mobile ordering menus, to renting strollers!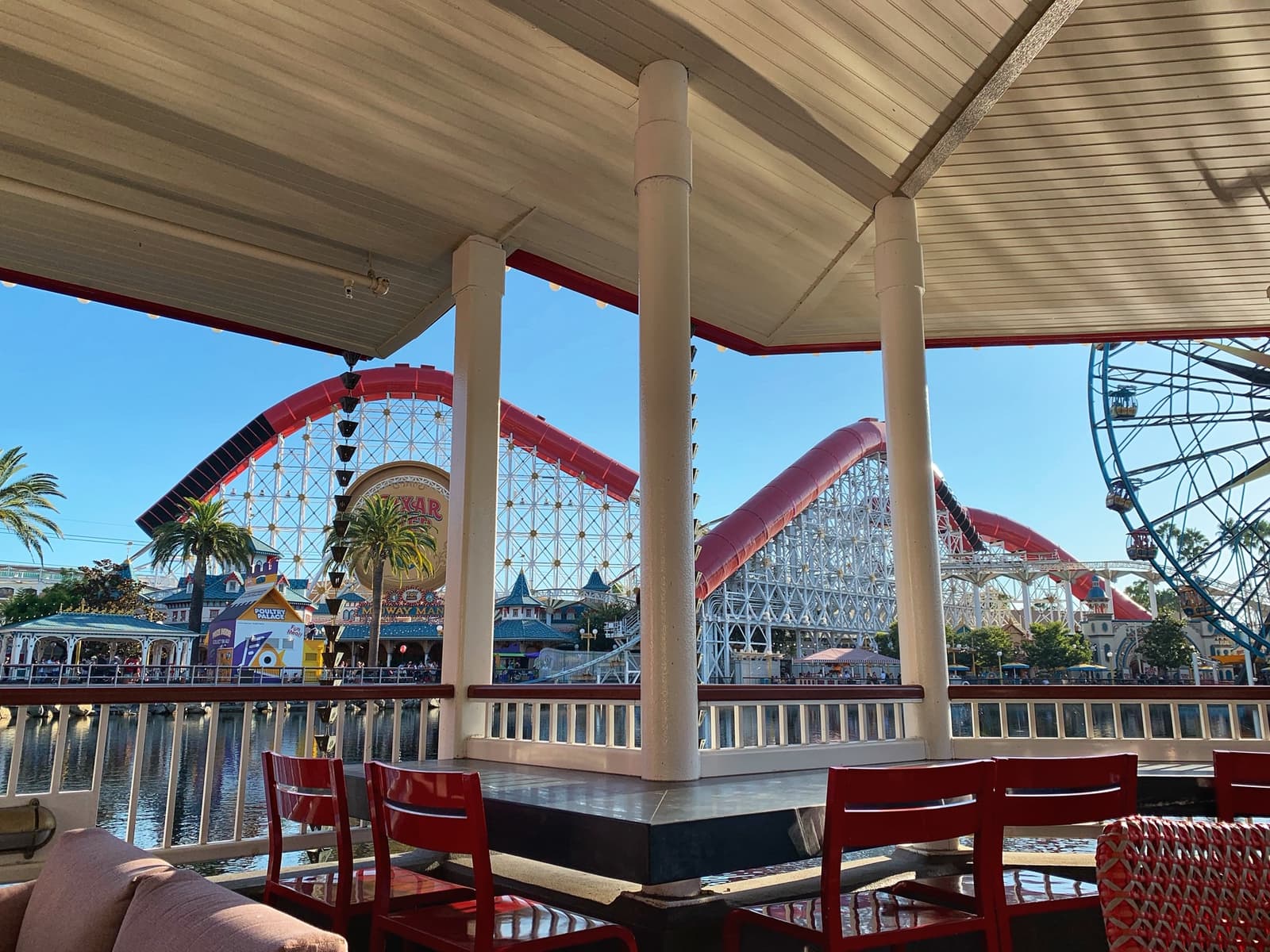 3 – Make Dining Reservations Ahead Of Time & Know The Cancellation Policy (+ A Few More Dining Tips)
Dining reservations have become a necessity at Disneyland in recent times, and if you are there during a busy time, you may find it pretty hard to get into many restaurants without them (at least without having to wait quite awhile). There will be some self serve restaurants you can grab food at, but if you want to sit down at a full service restaurant I highly recommend making reservations ahead of time, and as soon as you possibly can (like once you buy your tickets and reserve your hotel). You can change them, but this will give you the best chance of getting the schedule you want.
The good news is that they are really easy to make and change in the Disneyland app. The bad news is that you have to use a credit card to secure them, and if you do not adhere to the cancellation policy you can be charged $10 per person for a no show. Most spots require that you cancel a day ahead, so that gives you plenty of time to get it all figured out – but make sure you read each locations cancellation policy ahead of time to be sure.
Pro Tip – Look for reservations during off hours (like a late lunch or late night dinner) and grab the reservations at your preferred restaurant if you find them. Then keep checking the app regularly for your preferred seating times. Reservations will generally continue to pop up, so if you find one at a time you like, you can grab that one and cancel the other – but at least you have a back up plan if you do not get to secure the more popular dining times. 
What To Do If You Do Not Have a Reservation?
If you do not have reservations and are interested in a spot while you are in the parks, you can use your app to try to get in to these as well. Disneyland has launched a new feature for walk ups. When you are at the location you are interested in, pull it up in the app and tap Join Walk-Up List. This should put you in a waiting que (and they usually go much faster than they say). One tip a cast member gave us, is to keep hitting refresh on the restaurant page (you can do that by dragging your finger down), as it keeps updating every few minutes. For example, we wanted to get into Ogas Cantina, but there were no reservations available at all. While we were there we did this (had to refresh like 10 times before we were able to join walk up list). It told us the walk up list was a 30 minute wait, but it was really only 10-15 (which we were told is often the case).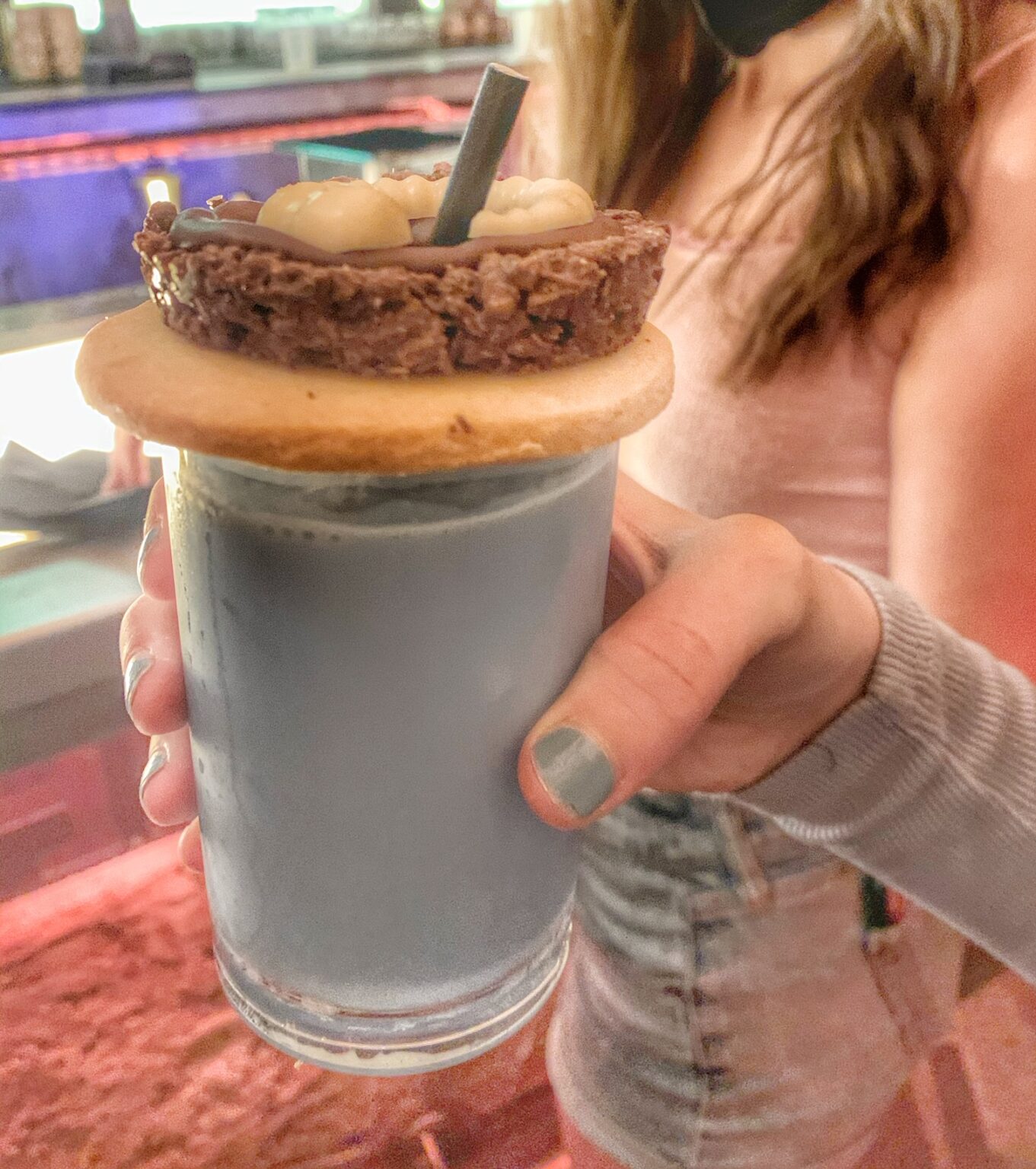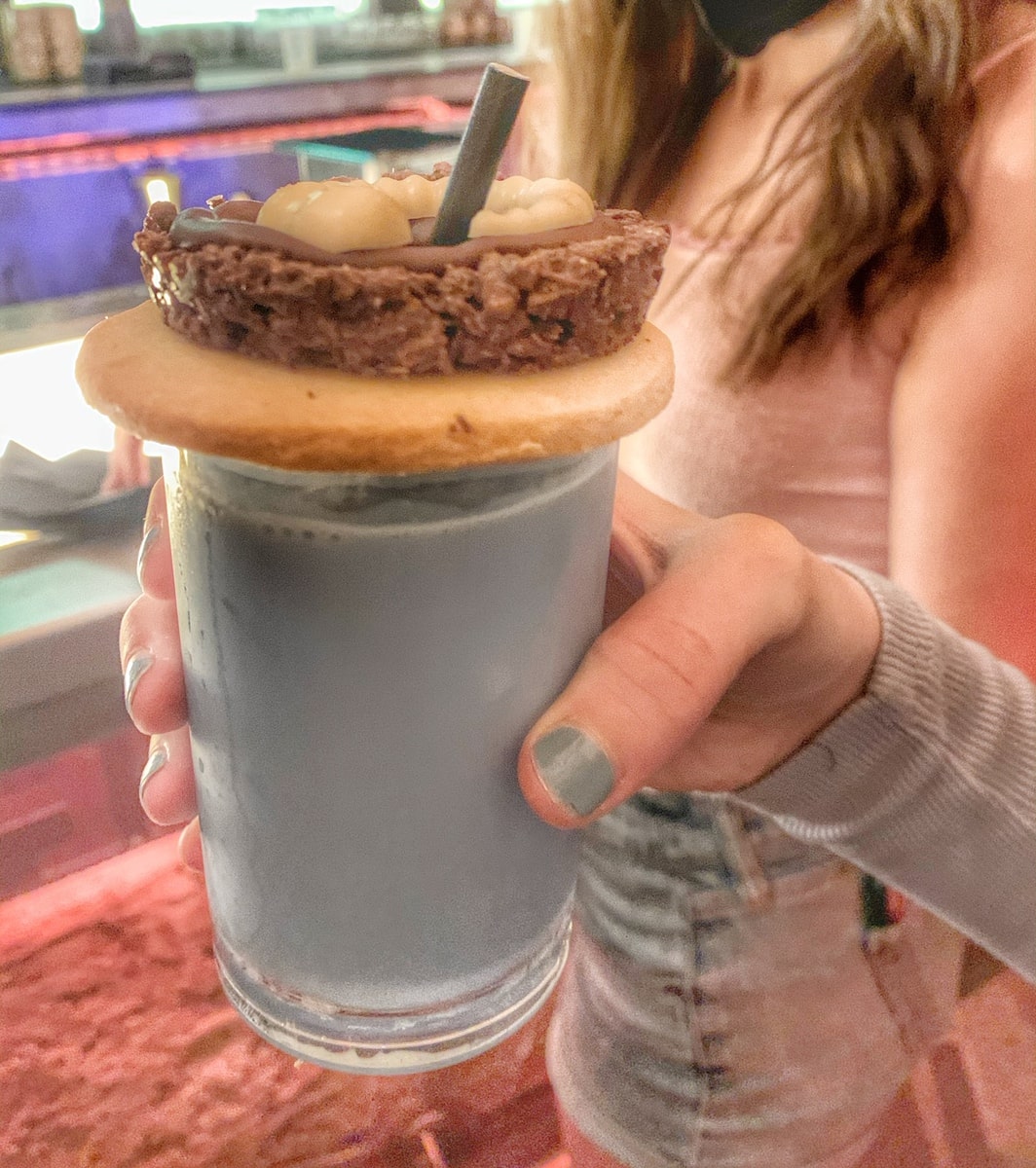 Be sure to check menus ahead of time too, and know what you are getting yourself into. Not all spots offer chicken strips and other kid friendly meals anymore. We found the food to be much different then past trips, and sometimes had trouble feeding picky kids. Another example of a learning experience was Ogas Cantina for us. We got on the waiting list quickly, were excited to get the seating notice after about 15 minutes, only to find out we were being seated "behind the bar". Basically that meant there was no seating or bar area for us, we were just being let in to stand around in traditional bar fashion. That might have been fine if we were expecting it, but after a long day of walking around Disneyland, and having grandma and kids who were ready to sit down, my crew was pretty disappointed. We paid $70 to gulp down 4 drinks and get out of there to find someplace to sit and relax for a few minutes. That could have been avoided if we would have been better prepared for what to expect.
Dining Tips Beyond Reservations –
Bring Your Own Water Bottle & Fill Up at Water Stations
Water is expensive to buy in the parks and on warm days you want to keep your crew hydrated. If you plan to buy a water bottle for everyone in your party when they get thirsty, it is going to add up really quickly.
Instead, bring your own water bottle and fill up at water stations. You can also ask for a cup of ice at any spot that sells fountain drinks, and then fill that up at a water station if needed.
Food options are more limited than usual right now, and so I recommend eating breakfast before you go. We did not the first day, and there were some grumpy moments trying to figure out where we could feed the kids. Took us about an hour and a half before we were able to get som food in them. We ate breakfast at Earl of Sandwich the following days (no long lines there, and affordable food), and those mornings in the park were much more pleasant.
If you have special dietary needs you will definitely want to research where you can get that food ahead of time, and plan accordingly.
I've listed some restaurants that will give you the most bang for your buck while at the park here too.
Another way to save money on food is to bring in your own snacks, drinks and sack lunches. While they won't allow you to haul in a cooler full of goodies, you can still bring foods that will keep you going throughout the day. 
Alternatively, you can splurge on some of the Disneyland snacks that will run you around $5 or less, and then eat your meals back at your hotel for less (like breakfast in your room, take out pizza, etc).
4 – If  You Can Visit Disneyland Without a Bag It Will Save You Time (or have a designated bag carrier) 
This will allow you to avoid longer security lines to get in. They usually always have one line available to those that do not have bags to go through, and this one generally has not line or a very short one.
For our family, we designated one bag carrier (usually me) to get in line, and the other adult (grandma in our case) went through the no bag line with the kids and their tickets, so they could get in the parks earlier. This method worked well for us, but regardless it is good to have a plan for what works best for your family ahead of time.
If you stay in one of the Disneyland hotels that makes the security lines easier too. The California Lodge has its own entrance into the parks, so your line will be very reasonable. The Disneyland Hotel and Paradise Pier both go through the entrance in downtown Disney, and that one is generally much shorter then the one at the main gate too.
You will also want to check out the Disneyland Security restrictions before you get in line, so you are not surprised once you get to the front of the line and get turned away for not being in compliance.
Find 5 more tips for Managing Large Crowds at Disneyland here, to make the most of your time there.
5 – Wake up Early or Stay late & Other Tips for When to Find The Shorter Ride Lines
If you're looking for another way to beat the crowds, make sure you take advantage of mornings at Disneyland. Magic Morning morning hours are not currently running at this time, but they are often opening the parks a little early – so if you are a morning person be there and ready. 
Even without Magic Morning hours available right now, try to get to the park as early as possible, and head straight to your favorite ride. The lines are often shorter first thing in the mornings. Since a lot of locals will come after work, the park is much busier during the afternoon and evening. If you get there as soon as the park opens, you'll be able to move around the park with ease and with minimal wait times. Head to the biggest rides at this time, as their wait lines will grow soon after opening.
Other tips on when when you might be able to find shorter ride lines include: heading to the rides during a parade and during weather extremes (if it rains while you are there, its a great time to find shorter lines – or if there is a heat wave, the crowds will be much lighter)!
If weather shuts down a ride you are in line for, be sure to see a cast member on your way out of line. They usually give you a special pass that will work on almost any ride in both parks for that day – so you don't want to miss out on that.
And, get in a ride line just before the park closes. As long as you are in line when the park closes, you should be able to ride the ride – and squeeze a few extra minutes of fun out of your park visit.
One last tip – plan to shop Main Street, U.S.A. and Buena Vista Street at the very end of the night, to maximize your time in the parks. They both stay open an hour after park closing time, so you can shop and enjoy the ambiance this time of the night.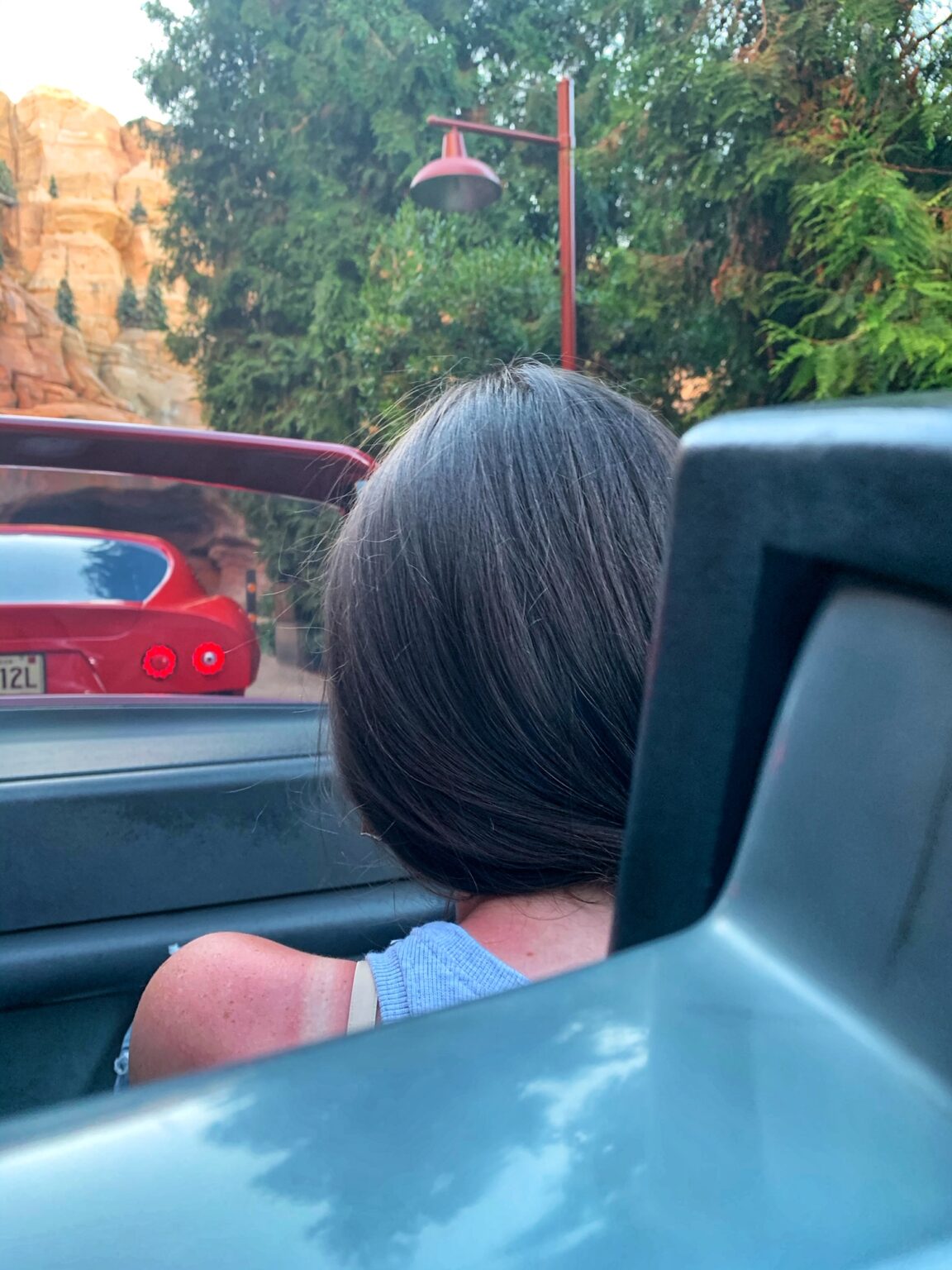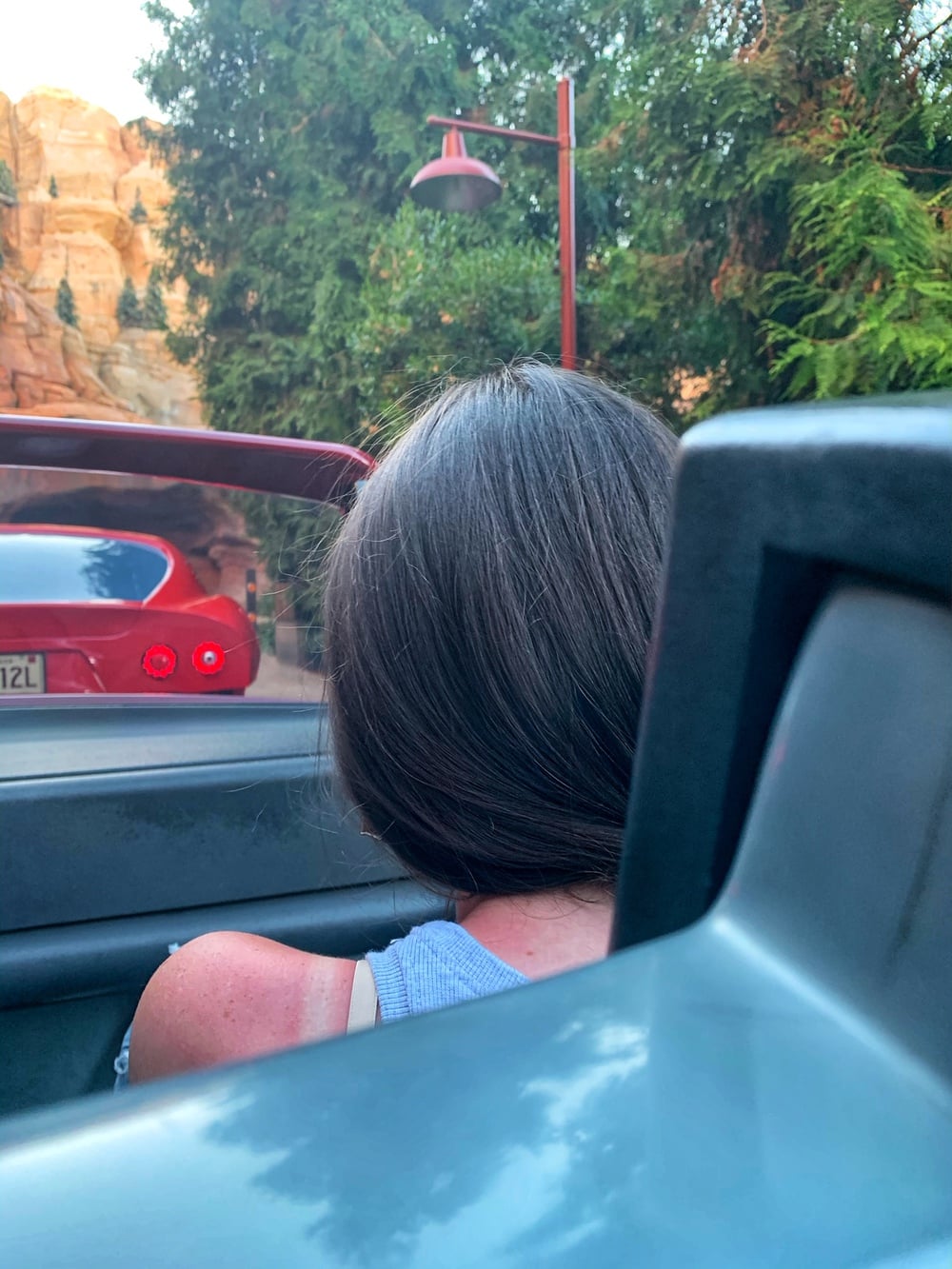 (This is one of my kids sitting in the seat directly ahead of me, after we used the cars single rider line…my other daughter was in the car ahead of us).
6 – Use Single Rider Lines
Wanting to get on a popular ride like The Cars Ride at Radiator Springs, but don't want to wait in the long lines for it? Use the Single Rider line! Chances are it will be MUCH shorter, and you will get on the ride in a fraction of the time. You can go in the line as a family, but you will not likely all ride in the same car (and definitely will not sit next to each other). Our kids are old enough to do this, so what we will sometimes do is get in this line with mom in the front, kids in the middle and dad in the back. That way when I get off I wait for the kids, and dad brings up the rear. This ride for example, has three seats across the front of the car, and three across the back. So when there are parties of two or four, there is an extra seat in the front seat and back seat, and they fill those with people in the Single Rider line. It is a great way to save time in lines if you are ok with not sitting next to your family members.
7 – Look for Characters in the Disneyland hotels, and avoid the long character lines
We have always run into characters roaming the grounds when we have stayed at one of the Disneyland Hotels. If you want to take a lunch or dinner break, consider eating at one of the hotel restaurants and look for character sightings there. This could help you avoid long character lines in the parks.
They have recently changed character meet and greets, so they are distanced (the characters are often behind a fence or something like that). So the Disney hotels are closest we saw folks coming to characters at this time.
8 – Talk to Cast Members
If you don't talk to the cast members at every attraction, you're definitely missing out. While some might be new to the job, I've found that most cast members have a crazy amount of Disneyland knowledge. Have you ever wanted to know how to get the high score on Toy Story Mania or what celebrities they've seen at the park? When you talk to Cast Members, they'll be able to give you tips, tricks and stories that you can't find anywhere else. Plus, I've found that if you are especially nice to them, they might even let you go to the front of the line.
9 –  Buy a Park Hopper Ticket if you Want to Maximize Your Time at Disneyland
We have an article here on comparing the Park Hopper Tickets with the Single Park Per Day tickets, so you can really drill down on the details and decide which one is best for you. One thing you will want to know in the planning stage, is that the park hopper tickets will give you more time in the park. The California Adventure Park usually closes sooner than Disneyland Park, so once that closes you can use your Park Hopper Ticket to jump over to the other park to finish the night out. It is also a convenient option if one of the parks gets really busy, to be able to head to the other park for a break from the larger crowds.
Currently park hoppers are working a little differently. You have to reserve the park you want to start your day at each day, but after 1pm you can hop back and forth. Honestly, this did not impact much of how we usually use them, and I still find them to be the best way to enjoy the Disneyland parks.
10 – Put Your Disneyland Vacation on a No Interest Lay Away Plan to Spread Out Payments, By Booking with Get Away Today
Last, but certainly not least, consider putting your Disneyland vacation on a Layaway Plan with flexible and affordable payments, when you book through Getaway Today. For just $125 down, you can book your Southern California vacation as soon as you dream of it. Plus, keep reading to get an exclusive promo code to use on your next Disneyland trip exclusively for Thrifty NW Mom readers. with Get Away Today on your next Disneyland vacation. You'll be able to take advantage of discount Disneyland tickets, hotel specials and more on your next trip to The Happiest Place on Earth, and have more time to pay for those costs with the layaway plans!
Now that you're a true Disneyland expert, what are you waiting for? To book your next Disneyland vacation, visit getawaytoday.com or call 855-GET-AWAY to speak to a travel expert directly. Make sure you mention promo code THRIFTYNW to get an additional $10 off your hotel and tickets package. Let them know that Thrifty NW Mom sent you!
More Articles You Might Be Interested In :