Disneyland Crowds – 5 Tips for Managing the Large Crowds On Your Visit
This post may contain affiliate links and I may be compensated for this post. Please read our disclosure policy here.

Disneyland Crowds – 5 Tips for Managing the Large Crowds On Your Visit
As you know, we love Disneyland! This year, there is so much coming to the Disneyland Resort that it is going to be a magical time to travel. From new rides, reopening attractions and returning parades, a Disneyland trip is a must. There is one particular new attraction opening, that will take managing crowds to a new level at Disneyland, and that is the Rise of the Resistance, in Star Wars Land. But in general we have tips on how to manage crowds and line wait times around the park, to make the most of your trip.
When you book your Disneyland trip, make sure you call Get Away Today. Their agents are experts in everything Disneyland and have the lowest prices around! On top of their discounted park tickets, reduced hotel rates and exclusive specials, you can use promo code THRIFTYNW to save an additional $10 off your Southern California vacation package.
With much excitement in store, you are sure to have a great time! However, it's no secret that summer is one of the busiest times of the year at the Disneyland Resort but we have compiled some of our best tips for beating the large crowds.
And be sure to check out our Disneyland Deals & Tips page here, for lots more ideas on how to best plan your trip, and save too!
5 Tips for Managing the Disneyland Crowds:
The first is to take advantage of the Disney Genie+ system. Get all the information you need on the Genie+ system here and how it works.
2) Arrive Early / and or Stay Late
When going to Disneyland, try to get to the parks as early as possible. By getting there a half hour early, you will beat the security check crowds and will get into the parks before the masses. That way you can hit a ride or two before lines get too long.
Be sure to take advantage of your Magic Morning when you purchase a 3-day or longer park ticket. This will get you into the parks an hour before the general public and you can hop on your favorite ride with hardly any wait time. If you opt to stay at a Disneyland Resort Hotel (there are three), you will have access to Magic Morning hours for each day of your stay, so that really allows you to take advantage of that extra time.
Tips for arriving early – 
Not all rides are open during magic morning hour, so be prepared to head to the most popular rides as soon as the ropes drop. That means planning your early hour to enjoy the rides that are open, but be prepared to head directly for that big ride as soon as the rope drops for those.
Be sure to buy a multi-day pass, or stay at a Disneyland Hotel to get access to Magic Morning hours.
If you are heading into the park at opening hour (not a magic morning) go to the park that did NOT have a Magic Morning opening – there will be fewer crowds there that day.
Tips for staying late – 
If you have older kids, this is a great way to enjoy some of the rides with smaller lines, as many families with younger kids will head back to their hotels earlier as the kiddos wear out.
This is also a great time of the night to enjoy rides when parades and light shows are going on. Some of the rides will be shut down during those times, but if the parades and shows are not important to you, this is the perfect time to run from ride to ride!
3) Ride less popular rides or watch a show during the popular peak hours
This tip goes along with the tip about eating at odd times. If you can be flexible with your schedule a little bit & do a little pre-planning, you can definitely avoid the bigger crowds by sticking to areas where there will be fewer crowds during the prime times of the day – mid morning, afternoon and after dinner before the parades & fireworks. So, head to those less popular rides such as the People Mover or go to a show. Visiting a show during the prime riding times can also give you a little breather and chance to relax in the heat of the day, too. Then, head to the more popular rides or visit the characters with the long lines when there will be fewer crowds. We managed to get the lowest wait time to see Elsa & Anna for a Meet & Greet a few years ago by getting in line right when the fireworks were going off. Everyone's attention was on the fireworks, so we were able to sneak in to the line for just a 30 minute wait (instead of a 1 1/2 – 2+ hr wait).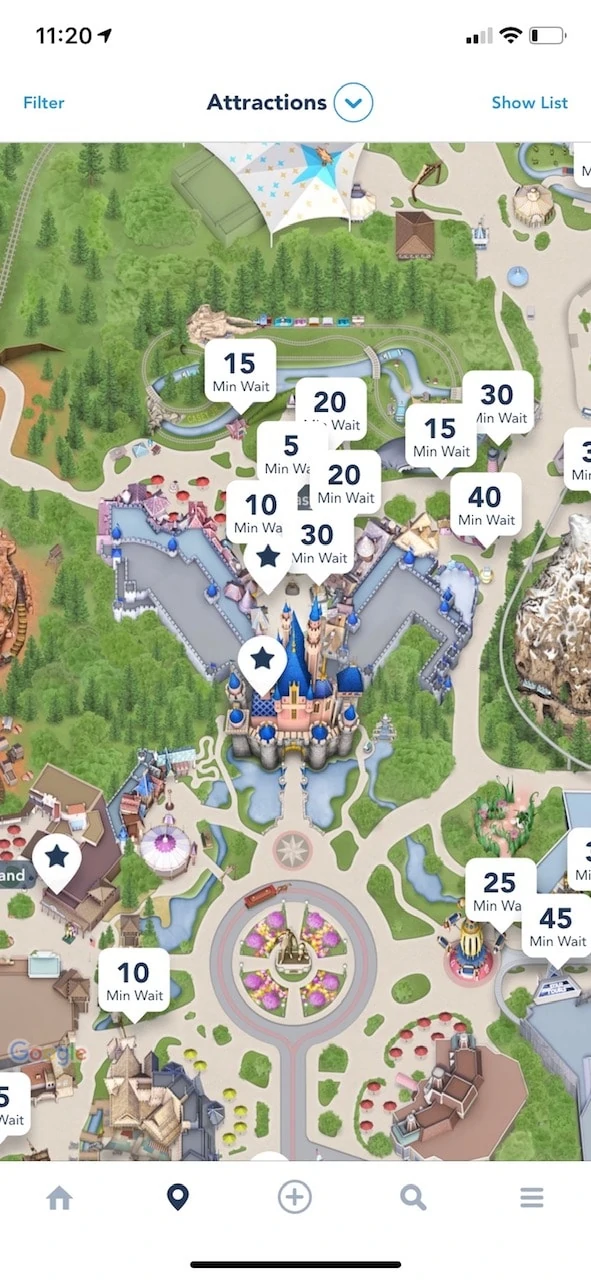 4) Use Apps to Plan your Route
Apps helped us determine our routes while in Disneyland, and what rides to run to when line wait times dropped down. The Disneyland app
5) Use Single Rider Lanes, Switch Passes
If you are traveling with older kids, single rider lines can be a way to spend less time in line, and more time on rides. Now that my kids are tweens and teens, we will get in the Single Rider line for Cars, and although we all end up riding in different cars, we spend half the amount of time in line.
Find which rides have Single Rider lanes here.
Switch passes allow both parents to ride a ride, while one waits with kiddos to small to go on the ride. Just ask for a switch pass when you get on, and then you can give that to the parent who stays with your little ones, and they can go through the fastpass lane afterwards.
Find more details on how Switch Passes work here.
Bonus Tips for avoiding Disneyland Crowds:
Travel During the Slower Seasons / Visit Mid-Week / Avoid Holidays
This is the best tip of all. Avoid the busiest times of the years (Halloween, Christmas, New Years seasons, and summer and school breaks (especially those in California where annual pass holders will be coming).
We love to travel in Late Winter to Spring (outside of Spring Break), and September right after school has started back up, for some of the best times where we have experienced shorter wait times.
Disneyland used to have pretty predictable high and low seasons, but I will mention that in recent years as more folks have tried to avoid crowds, that has become less predictable and more spread out than we have seen in the past, but there are still some of those months (like February/early March and September) that have always worked well for our family.
Head Left
This is a trick that will often work for some small ways to avoid crowds. When you enter spots like Star Wars Land, etc, head left instead of right. Most people are naturally inclined to go right, so if you head left first you can possibly avoid larger crowds heading right.
Rainy Days & Hotter Weather Mean Smaller Crowds
This is the tip that has gotten us on the most rides, with the least amount of crowds – but it is not without some sacrifice. If you are traveling on a day that is hotter than most, and are willing to endure the heat, the crowds almost always thin out mid day as people head back to cool off at the pool.
Also, if it begins to rain and you are willing to get in line during those times, you can enjoy many rides with almost no wait time. The caution here though, is that some rides will close down if the weather gets too bad. We have been standing in line for Cars on a couple of occasions where the rain shut the ride down. If this happens to you, be sure to see a cast member on your way out to get a FastPass. They will generally give you a FastPass that is good for most rides at Disneyland, that will need to be used that day. Those are wonderful to have, so do not get out of line without it!
Break Up Line Waits, By Enjoying Less Popular Attractions
I use this trick to keep my kids feeling like they really enjoyed lots of attractions at Disneyland, versus waiting in long lines all day. If we just got off a ride with a long wait line, I will check my Disneyland app to see if there is something with a short to no line near by, and we will head to that. It really helps to break up line fatigue when you do that.
Download Apps to Keep Your Family Occupied In Lines
We have shared lots of tips to do what you can to avoid as many crowds and lines, but the reality of a Disneyland trip is that you will be dealing with crowds. One tip is to make wait times fun for the family, especially your kids. Disneyland has recently released the Play Disney Parks, in their Disneyland app. It will need to be downloaded, even if you already have the Disneyland app, but it will provide family fun throughout the park.
We saw many people in line using apps to have fun while waiting, and another popular one was the Apples to Apples app.
Eat at odd times
Eating at odd times is also a great tip for handling the crowds. By eating a late lunch or an early dinner, not only will the food lines be shorter, but the ride lines will be shorter while everyone else is eating! This will help you hit more rides during peak meal times and get back to the park quickly.
If you plan to enjoy a sit down service meal, you will want to make advanced dining reservations for those spots (to avoid long wait times), and if you are using the walk up counter service, you can order ahead in the Disneyland app, and pick up in a special line at the counter to save time too.
Purchase a Multi-Day Ticket for Less Stress
Last but not least, give yourself plenty of time in the parks with a multi-day ticket. Get Away Today sells a 5-day ticket for the price of a 4-day ticket. This will give you an extra day in the park to get to all your favorite rides, the new shows and anything your heart desires! More time in the parks means more fun and less stress worrying about fitting everything in. More days in the park also gives you more leniency during the day for a pool break or nap.
Summer is a great time to visit the Disneyland Resort. By taking advantage of all that Disneyland has to offer and implementing these tips, you're sure to have a magical time. Begin the magic early and book your Disneyland Resort vacation with Get Away Today! You can put your package on their flexible layaway plan for only $125 down. With their discounted park tickets, reduced hotel rates and excellent customer service, you will be glad you booked with Get Away Today. Head over to their website at getawaytoday.com or call 855-GET-AWAY to book. Be sure to use promo code THRIFTYNW for and additional $10 off your Southern California vacation package and let them know that Thrifty NW Mom referred you.