The BEST Disneyland Snack Options, Including Healthy Snacks!
This post may contain affiliate links and I may be compensated for this post. Please read our disclosure policy here.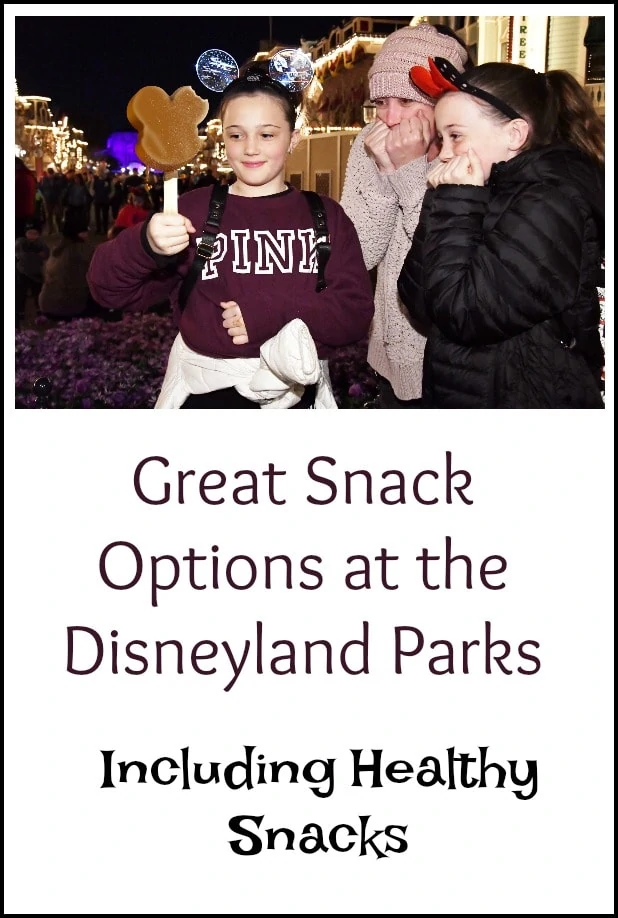 The BEST Disneyland Snack Options, Including Healthy Snacks!
Planning a trip to Disneyland and wondering what the Disneyland snack options might be? We have some tips on snacks that you will find in both the Disneyland Park and the California Adventure park here. Disneyland is a great place to snack your way through. There are many favorites, and it is a good way to keep stomachs full in between meals. One way that we will use snacks in the parks to save money on food sometimes is to eat a later breakfast, then use a snack to hold us over until dinner, verses buying three full meals a day. Another way to save on snacks, is to get the big ones, and then share them. This will make some of the snacks really affordable. We have even used a few snacks to share to put together a mid day meal for our family.
However you choose to snack at Disneyland, here are some tips on where you can find great snacks, and enjoy your time there without anyone in your party getting "hangry"!
In addition to snacks, you can find the Best Value Dining options at Disneyland (Which Restaurants in the Parks To Eat At)! And if you need park tickets, we share the Best Disneyland Ticket Discounts too (all completely legit and risk free ways to save on park tickets).
Healthy Snacks at Disneyland Parks::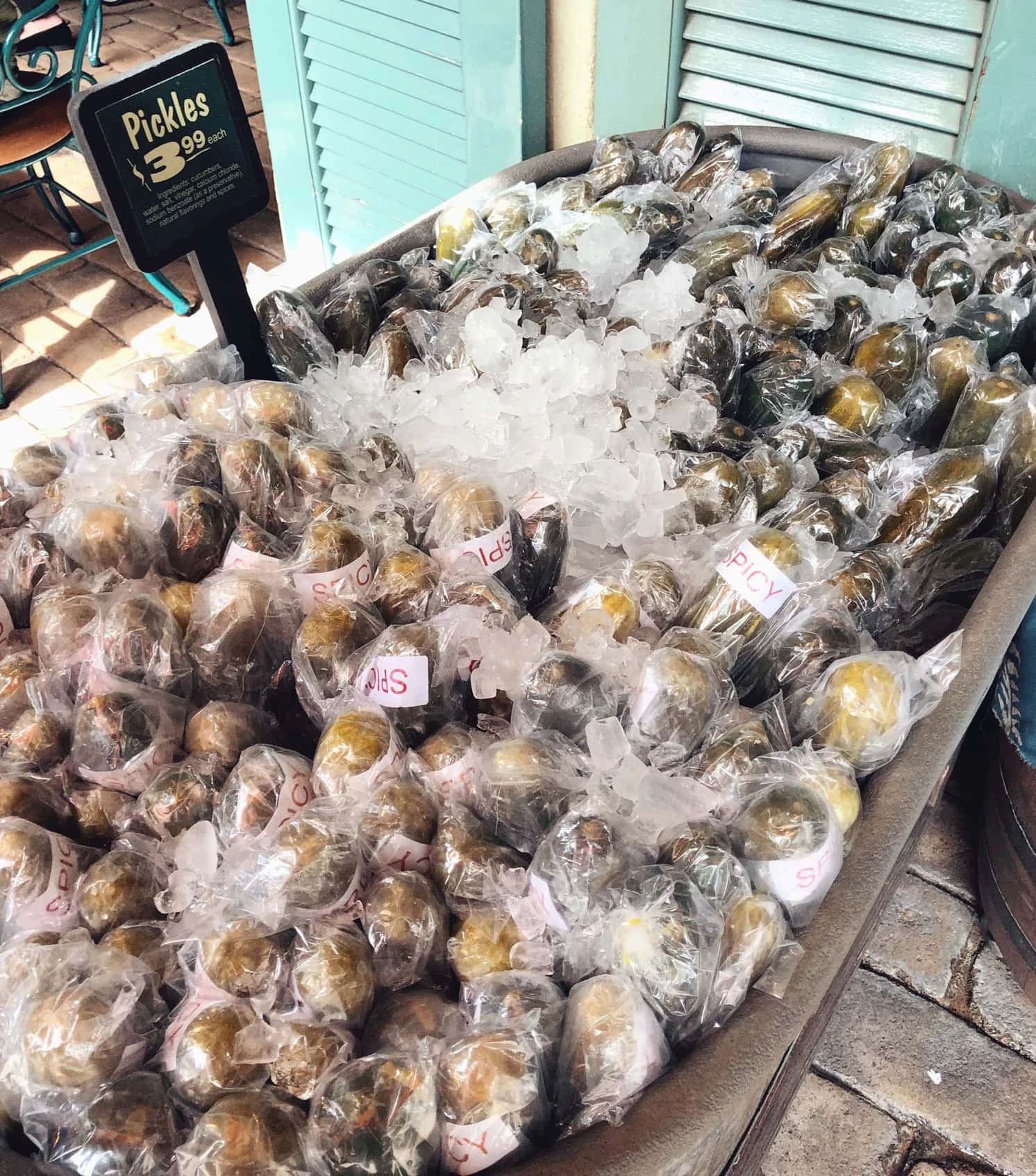 Disneyland has done a great job in recent years of adding plenty of healthy snack options. In fact they are some of the most affordable snack options in the park! One of my kids favorites are these giant pickles. They are so refreshing, and pretty filling. You can choose from regular dill or spicy, and you will find them throughout both parks in these snack stands. The one shown above is in Adventure Land, and they had plenty of seating inside at this location. It is a great spot to grab a couple of snacks, and have some downtown if you need a spot to rest and refill during your vacation.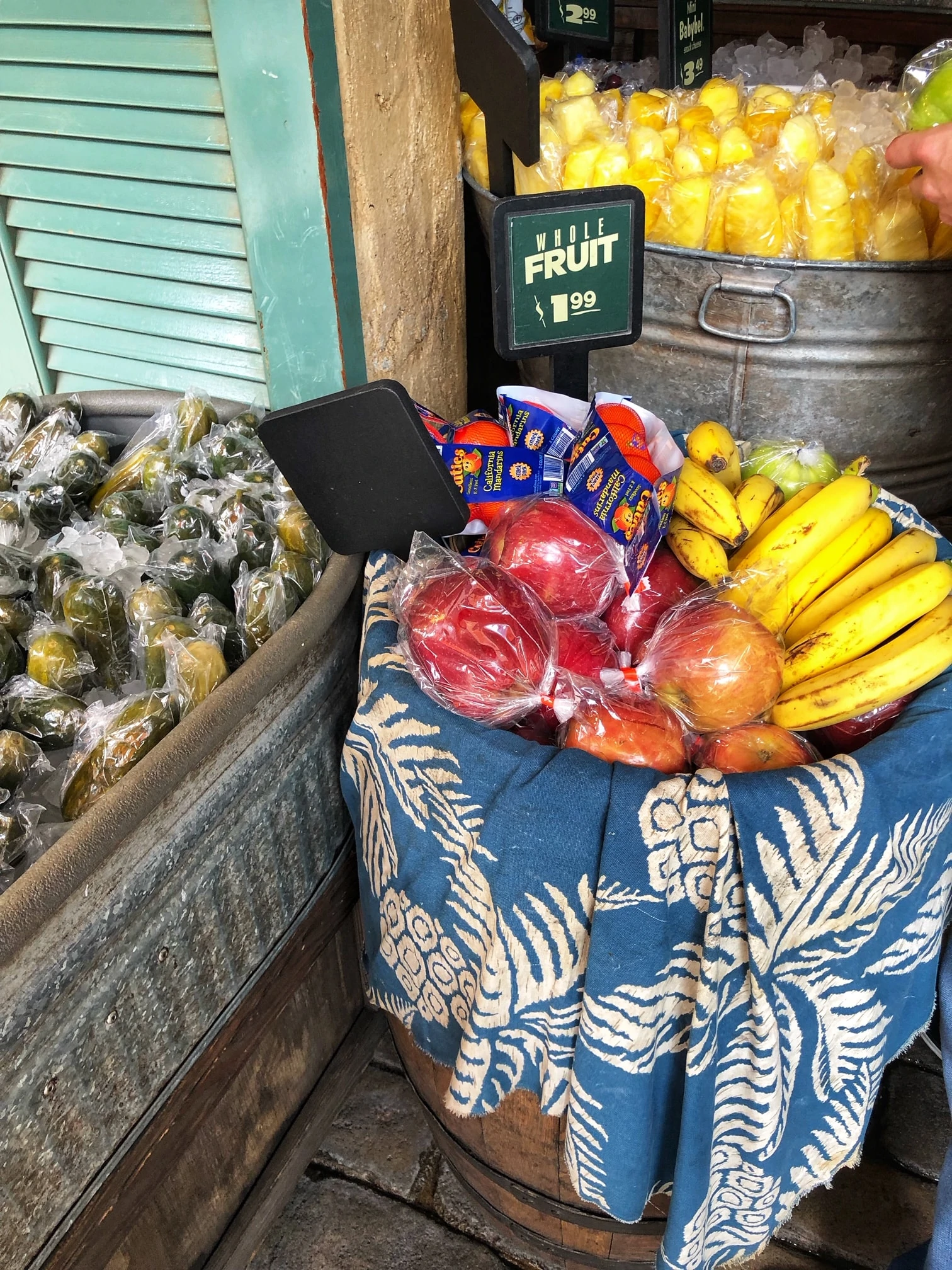 There are also a number of whole fruit options throughout the park. While $1.99 might not be a great deal for an apple in the store, it is definitely one of the lower cost food options you will find in the Disneyland parks!
Another snack option to consider, is on the food menus at many of the walk up restaurant counters. It is the Kids Power Pack. It is one of the best snack deals in the parks. Currently it is selling for $5.99 and it includes kid favorites like Dannon® Danimals® Smoothie, Cuties® Mandarin, Carrots, Petit Banana, and Whole-Grain "Fish" Crackers served with choice of Small Lowfat Milk or Small Dasani® Water.  Consider grabbing one of these and sharing it between your group to hold off hunger pangs.
These bags of grapes or slices of pineapple taste great on a warm day at Disneyland, and are easy to share among kids too.  You will also find packs of hummus and veggies cups too for $3.99, and that is a great option for parents and kids who love veggies and dip too.
Best Deals on Beverages in the Disneyland Parks::
As far as beverages go, your most affordable option is free cups of water. You can request one at any spot that has the fountain drinks in Disneyland parks. On hot days they often have cups of water and ice prepared and ready for you to just ask for. You can also bring your own water bottles in to the park, and refill at water fountains (we even found some water stations – like one in a covered wagon at Rancho Del Zocalo in the Disneyland park)!  This soft sided Brita filtered water bottle is my favorite, as it is light for packing, and it includes it's own water filter if you have kids who can be picky about the taste of their water.
If you are looking for something other than water, the juice boxes will be the next most affordable option at $1.99 each.
Another great deal we found on beverages was the Starbucks on Main Street in the Disneyland Park. I was able to get an iced coffee with cream and sugar, and half iced tea half lemonade, for under $2 each! That is a steal in the parks!
Other than those options you will likely pay $4 and up per beverage in the parks, and that can add up quickly when you are buying for multiple people in your party.
There are a couple of spots in the park where you can get things like Frozen Lemonades or Icee drinks. We order one, and ask for a second cup, and then I will split it between my girls to bring that cost down, but help cool them both off with a treat.
If you are looking for adult drinks (wine, beer and margaritas) these are only sold in the California Adventure park. Disneyland is an alcohol free park.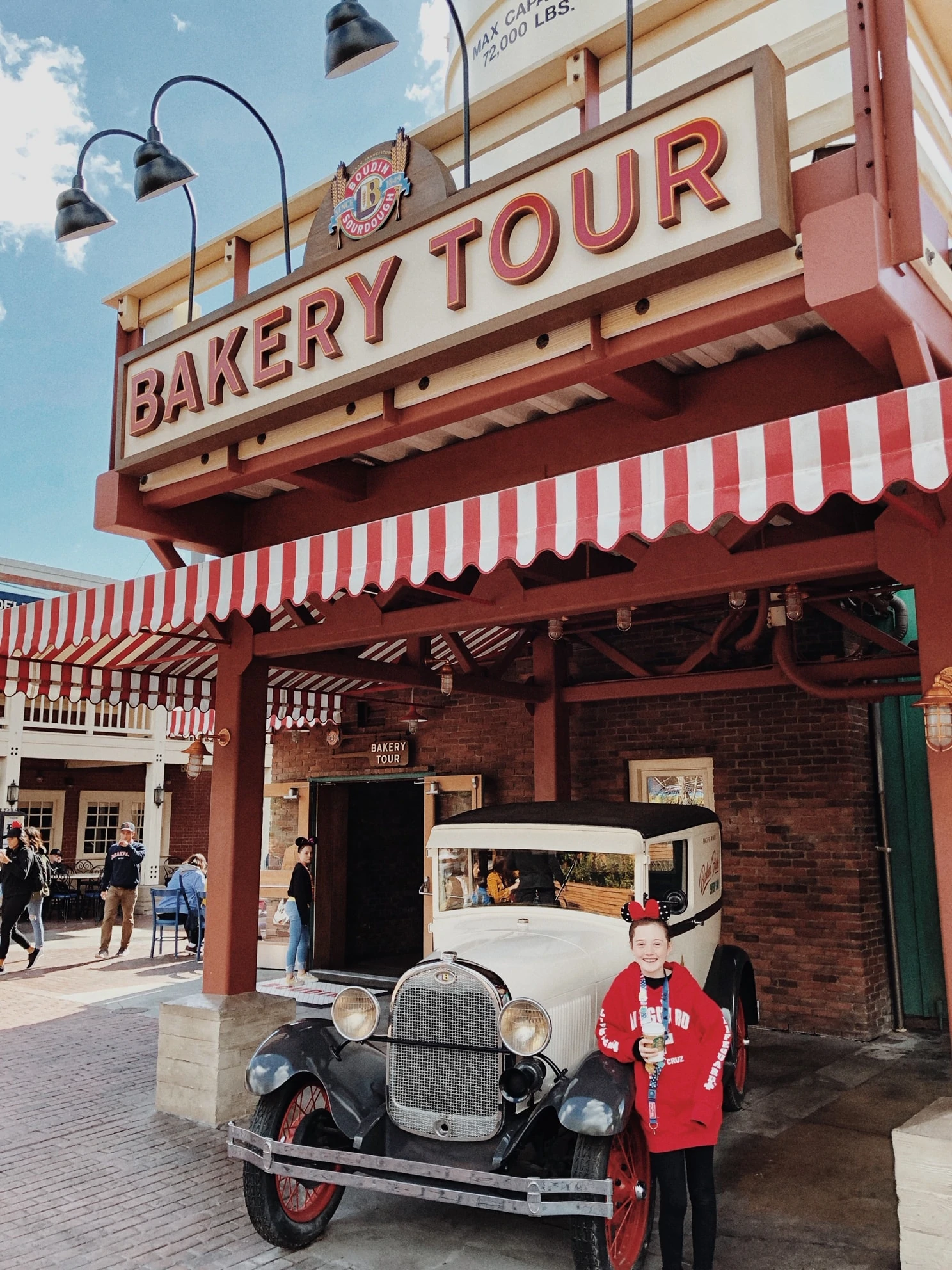 The Sour Dough Factory Baking tour will provide small samples of sourdough bread. While we have seen many articles list this as a snack option, it really is just a bite and not a snack. However it is a fun tour if you are interested in bread making, and at the end of it you can buy a small loaf of sourdough bread (freshly made on site) and share that with your group, and that is a real snack option!
Here is the cart just outside the store that the tour starts in. They have Mickey shaped loaves, long thin loaves and others to select from. If your family loves a great loaf of sourdough this is a nice snack option to share.
My Kids Favorite Disneyland Snacks in the Parks::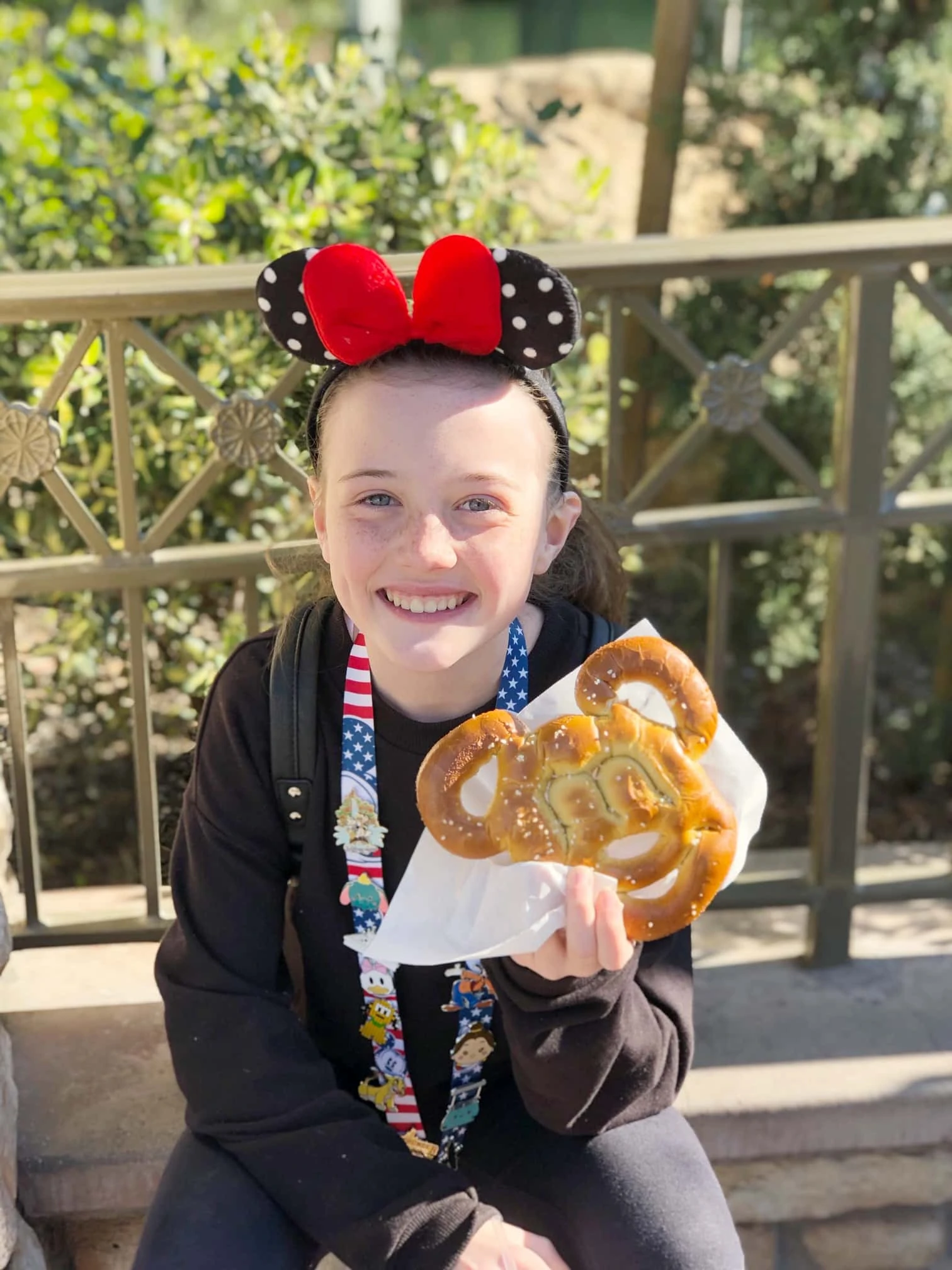 I have one kiddo who just loves the Mickey Pretzels. These are big enough to share, or a nice filler between meals if you do not want to share.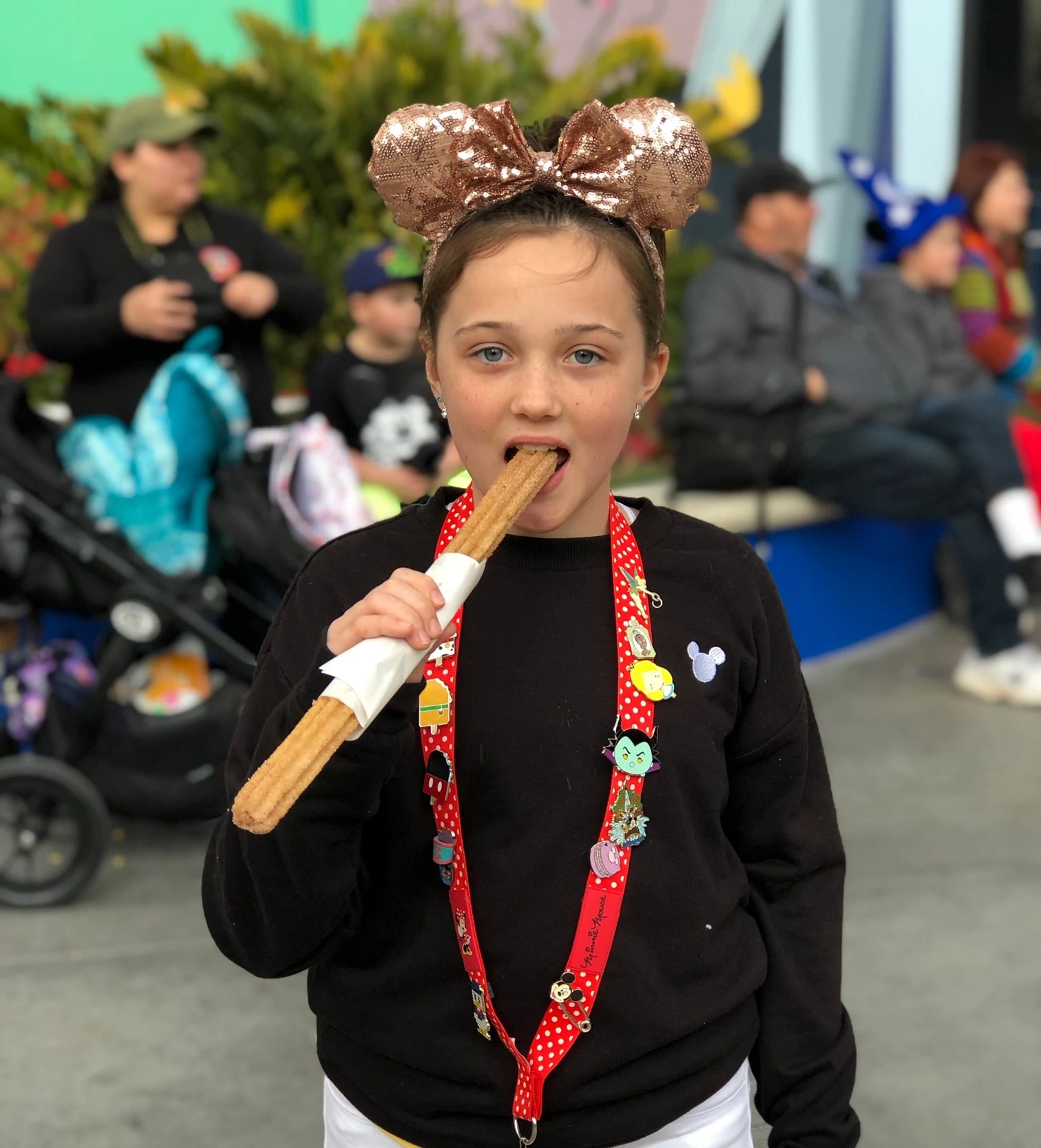 The Churros are always a hit with my crew, and you can easily split them in half to give two of you a nice snack. My kids favorites are still the standard churros, but you can now find them in different colors and flavors throughout the parks and in Downtown Disney. We found glittering blue and red ones in Frontier Land, and Caliente Churros now too.
Dole Whips seem to be at the top of many peoples favorite Disneyland snacks. They are refreshing and you can get them served up a couple of different ways. You will find Dole Whips in the Tiki Hut in Adventureland, in Disneyland. This area is generally crowded, so this is one treat you might want to consider ordering via the Disneyland app, and pick up at the window to save yourself some time.
More Snack Options at Disneyland and California Adventure Parks Include::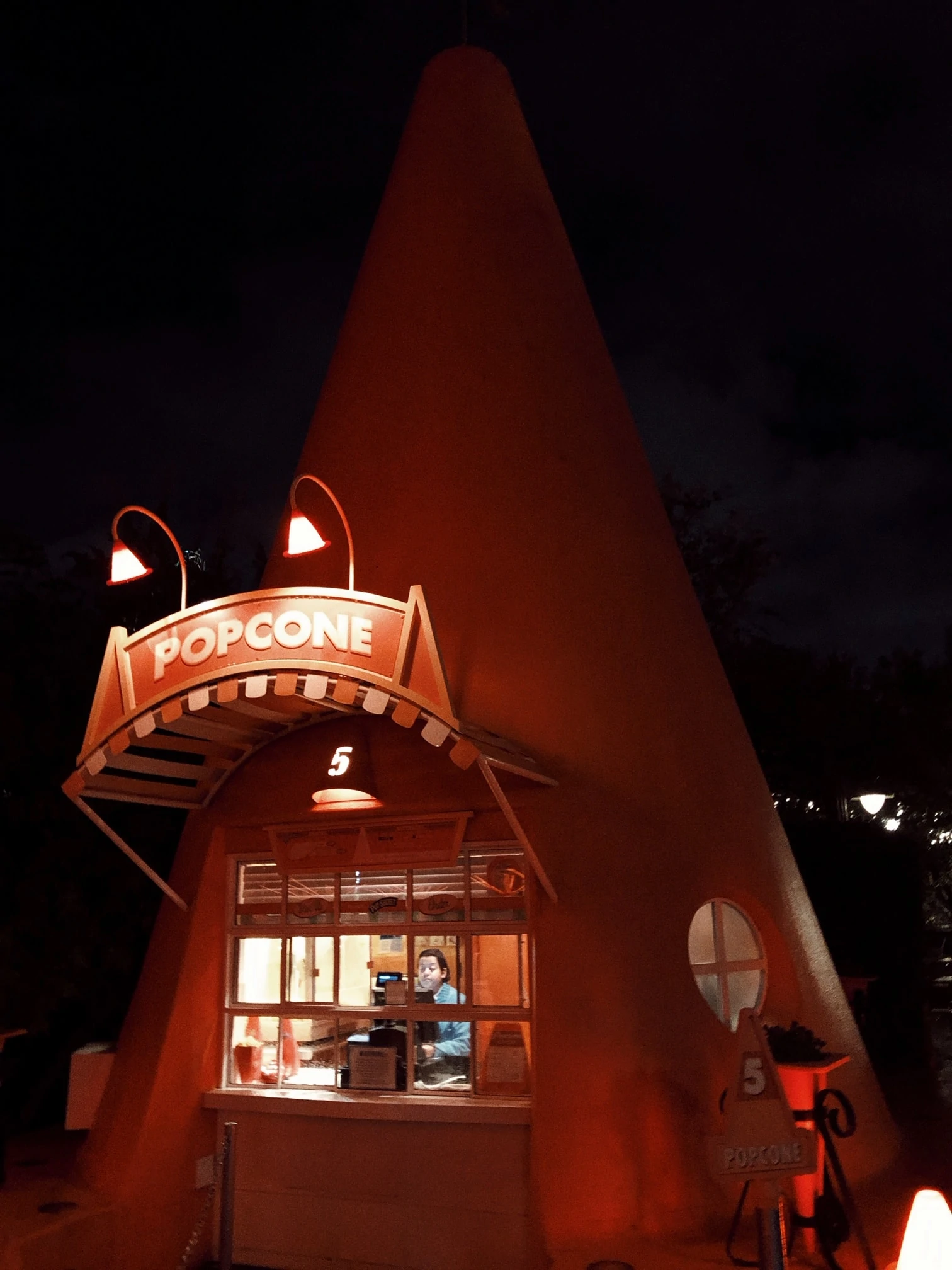 The Cozy Cone Motel over in Cars Land in California Adventure is a great option, if you have a crew with you and they do not all want the same thing. You can get popcorn, soft serve ice cream, pretzel bites and more. It is also a great spot to pick up the free water cups. This is my kids favorite spot to grab ice cream. The soft serve ice cream dishes are big enough for two people to share, and you can get fun topping (like road gravel)!
Another popular spot in the California Adventure park is Ghiradellis on the Wharf. They have quite a selection of ice cream and chocolate treats, and something for everyone to pick from.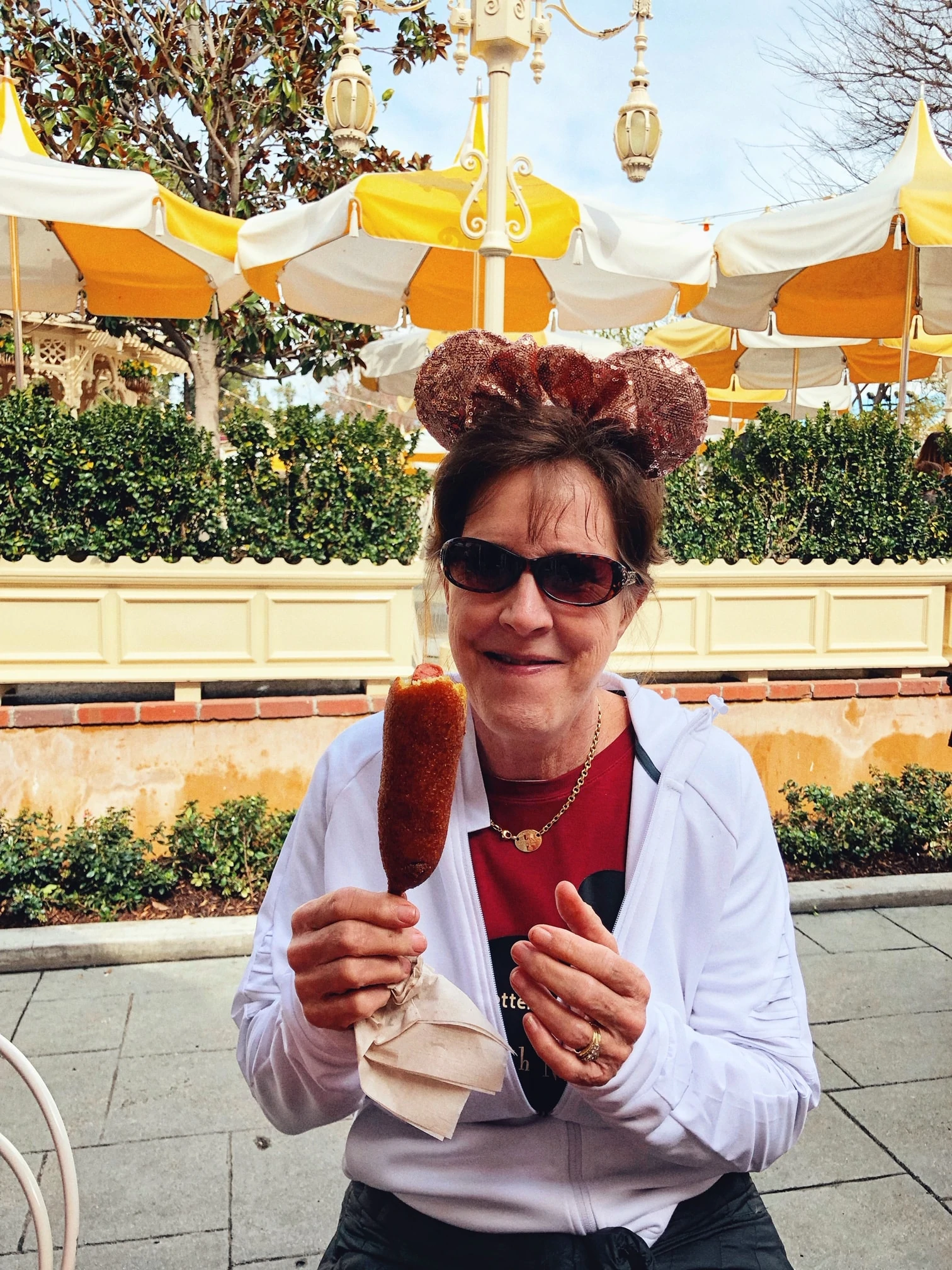 The hand dipped corn dogs that you can get at carts in both parks (there is one at the end of Main Street in Disneyland) are a long time favorite of many Disneyland guests. The only time my mom eats a corn dog is at Disneyland, and she craves these everyday until she finally gets one!
And then of course there are the other favorites. Caramel Apples, Mickey Mouse Macaroons, or rice krispy treats, candy and bakery items, and Mickey shaped ice cream treats you can purchase in carts throughout the park. If you are over in the New Orleans area, check out the Mickey Beignets. Giant Turkey Legs are also sold at the carts in Frontier Land, and those are more like a meal then a snack, but a great way to feed folks craving protein.
Let us know what  your favorite snacks at Disneyland or the California Adventure park are!
If you are looking to book a Disneyland Vacation, and want to save the most, call 855-GET-AWAY to speak to a travel expert directly (let them know Thrifty NW Mom sent you for your extra savings discount too)!