Mt Hood Ski Bowl Adventure Park Summer Review – Family Fun Outdoors!
This post may contain affiliate links and I may be compensated for this post. Please read our disclosure policy here.

Mt Hood Ski Bowl Adventure Park Summer Review – Family Fun Outdoors!
Mt Hood Ski Bowl Adventure Park, is fun for the entire family, and set mostly outdoors for great summer adventures. My family had so much fun spending the day there. I cannot believe I had never heard of this place until well into my adult years. It is a NW gem for sure! Here is how our trip went, to give you a better idea of what the park has to offer (it has been 5 years since we have been, so some things may have changed – it looks like they have added some cool new things like a huge maze – check their website for current details).
Review of Mt Hood Ski Bowl Park –
My family and I headed up to the Summer Adventure Park in Mt Hood, called Ski Bowl recently, and had a really great time. It was a perfect spot for us since there was something to do for all of our kids (this was our second trip here, but we have traveled with kids in age ranges from 4 – 15). All of our kids have asked to go back, and mom and dad had a nice time too – so we will be looking to visit again.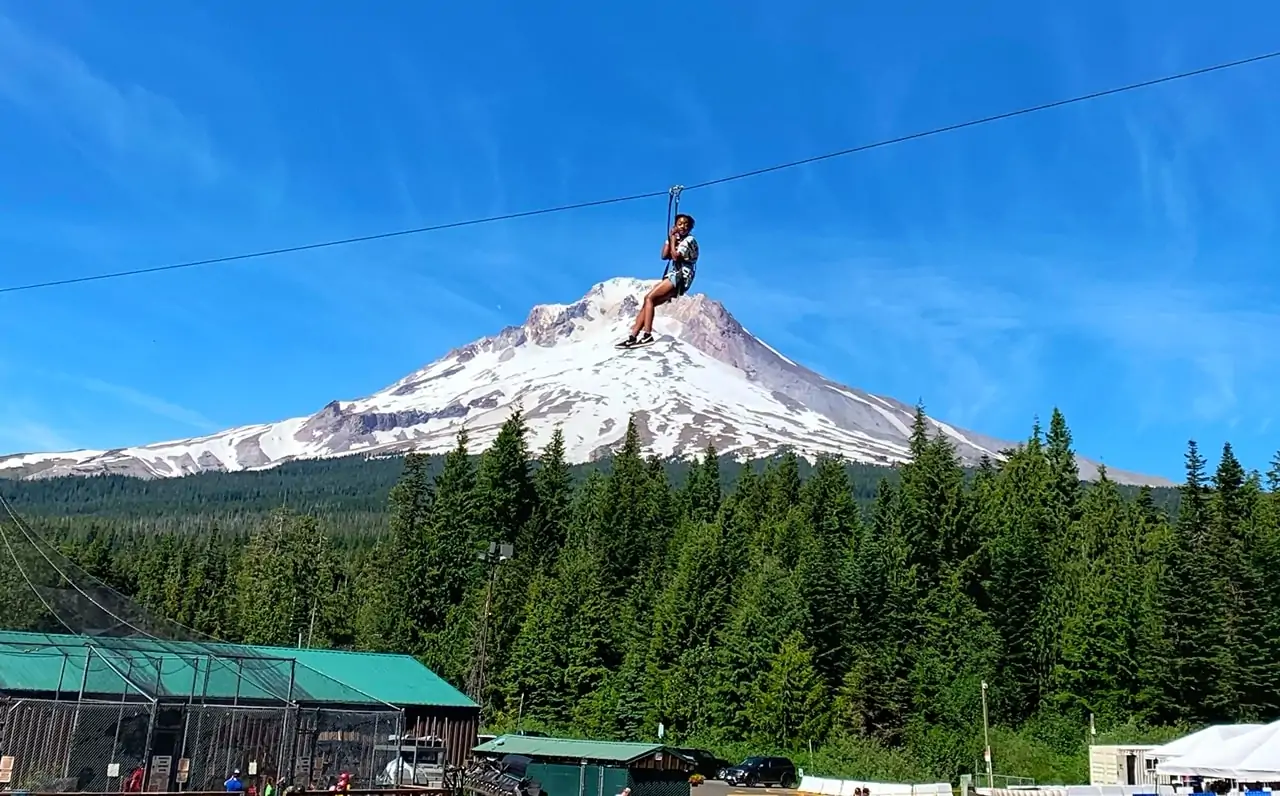 While the passes to get into the Adventure Park themselves can be expensive, we were able to come up with other ways to save. I do find it to be affordable for some of the larger attractions to (like zip lining and bungee jumping), which can be expensive where ever you go.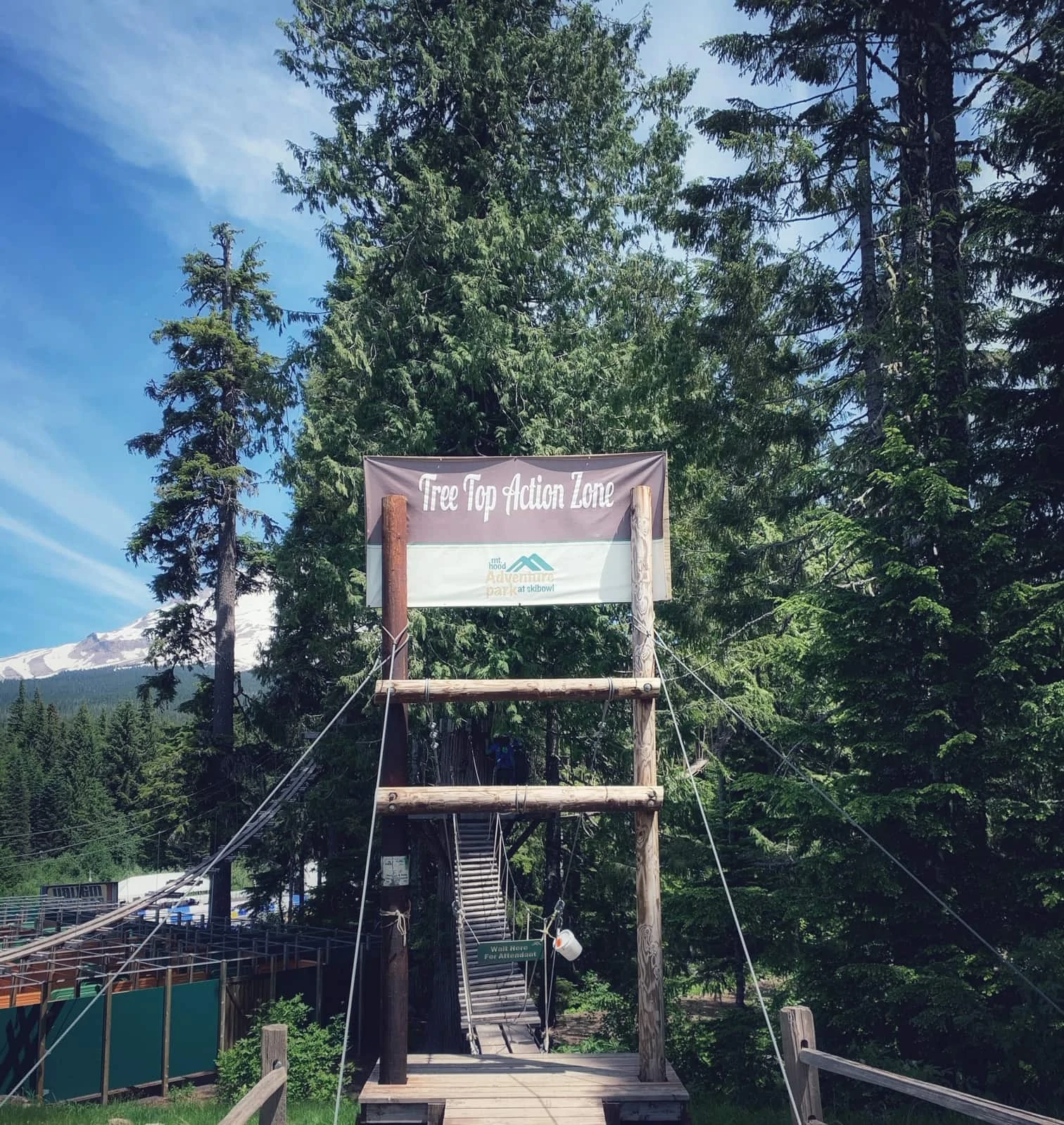 Location & Getting There:
The Skibowl Adventure Park is located on Mt. Hood in Oregon. It has a summer and winter adventure park (skiing and snowboarding in the winter), but it was the Summer Adventure Park that we visited.
Mt. Hood is approximately a 4 hr trip from the Seattle area, or just over an hour from the Portland area. There are some nice resorts, or even camping in the area if you wanted to make a weekend getaway out of it (some ideas on where to stay are at the end of the post!).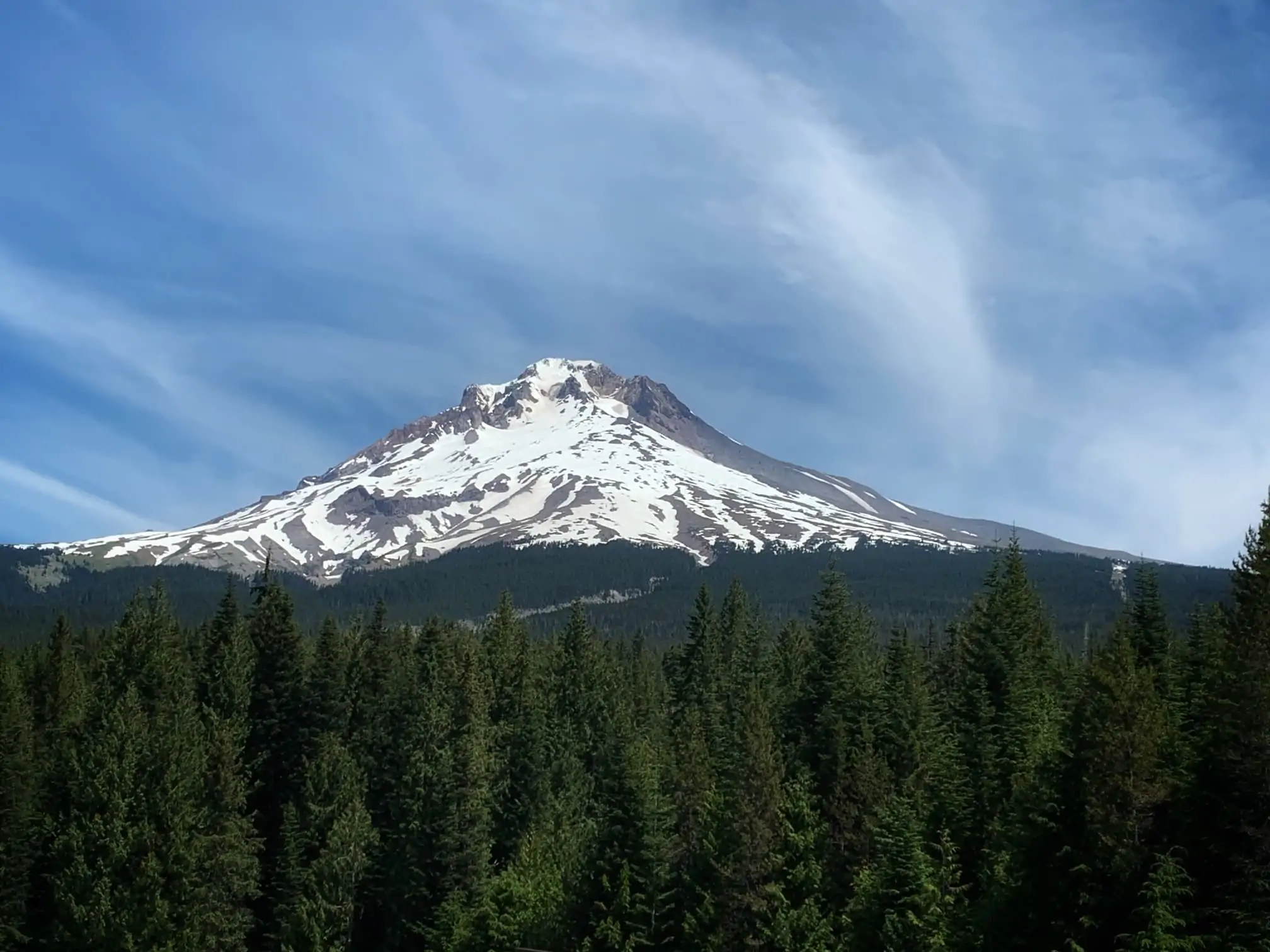 The Adventure Park has the mountains as their backdrop and the town of Government Camp nestled right in between the two parks. For those of you that may have been to Leavenworth before, it felt to me like a mix between Leavenworth and a Ski Lodge town. We really liked the area – and found it worth the drive. You will find gorgeous views of Mt. Hood from many areas in the parks.
There was free parking at all locations of the park once you arrive, so that is a plus.
What is the Cost & What Pass Should I Buy:
This could be an expensive day if you have more then a couple of you in your family. However, on the plus side, you only have to buy a pass for those going on the rides/attractions. You do not have to pay to enter the parks. Since I usually just follow the kids around mostly anyway, this saves me money when I do not have to buy passes for us adults to get in (unless you want to do the rides too!).
Here is a break down of how the passes work. There are three levels of passes to purchase –
Adrenaline Pass for $79
Action Pass for $45
Junior Adventure Pass for $20
You can also buy rides Ala Carte at the Mt. Hood Ski Bowl park, if you do not want to do a pass. So if you are passing through, and just want to stop in to try out the Alpine Slide, you can get a 2 ride ticket for $25 to do that.
The pass system had changed since the last time we had visited. I did not pay enough attention to this, so I went ahead and bought the kids all the Adrenaline pass for $79 each. After spending a day at the parks with them, and seeing what they did and did not do, I would opt for the Action Pass next time around, for the cost savings. I had tweens and teens with me on this trip (4 of them) and they all went on the Alpine Slide 3 times. So the 5 scans would have been plenty, since they did not really use anything else on the unlimited use list that was not also included in the Action Pass. All of them loved the Go Karts – so that could add up if you need to pay for them more then once, but that is the only thing that they used on the Adrenaline pass that was not include in the Action Pass.
As for the add on attractions, all 4 of the kids with me did the zip line. I only had to pay $7 each, since we had the Adrenaline pass – however even at the $15 fee with the Action Pass I would have saved money with them all doing the zip line too. Only one child did the bungee jumping, and I still would have saved money (minus their Go Kart fun).
If you have little ones, the Junior Adventure pass is the most affordable, and will probably be perfect for them.
How Long Should You Plan To Spend At Skibowl Adventure Park –
How long you spend at the park, is going to depend on how many times your kids want to do the unlimited attractions on the list. If you were to do everything once, it would take just a couple of hours at the very most.
In terms of planning your day I suggest you consider the following: 
Will you visit both parks? 
If the answer is yes, plan an extra 15 – 20 minutes going between parks.
What are your meal plans? 
Will you be heading in to Government Camp to enjoy lunch. If so, maybe plan an extra 45 minutes to an hour and half, to walk into town, dine and maybe explore more of the town too.
Will you do any of the hiking trails included? 
Add on the extra time for what your family plans to do here.
What are your ride plans? 
If you are biking that can be an all day thing. If your kids will go until you make them leave, then you could spend all day here. Here is the amount of time my kids spent at each park (and I did not push them to leave, this is what they wanted to do).
We hit the Alpine Slide twice, and it took them around a half hour to ride the slide twice each time.
At Skibowl East we spent a few hours here, but took a long lunch break in between. I would say my kids took about 1. 5 to 2 hours actually on rides and playing putt putt etc.
All in all we spent the bulk of our day here, but where easily home in time for dinner back at our camp. That included going between parks, exploring town, taking a long lunch, and such too.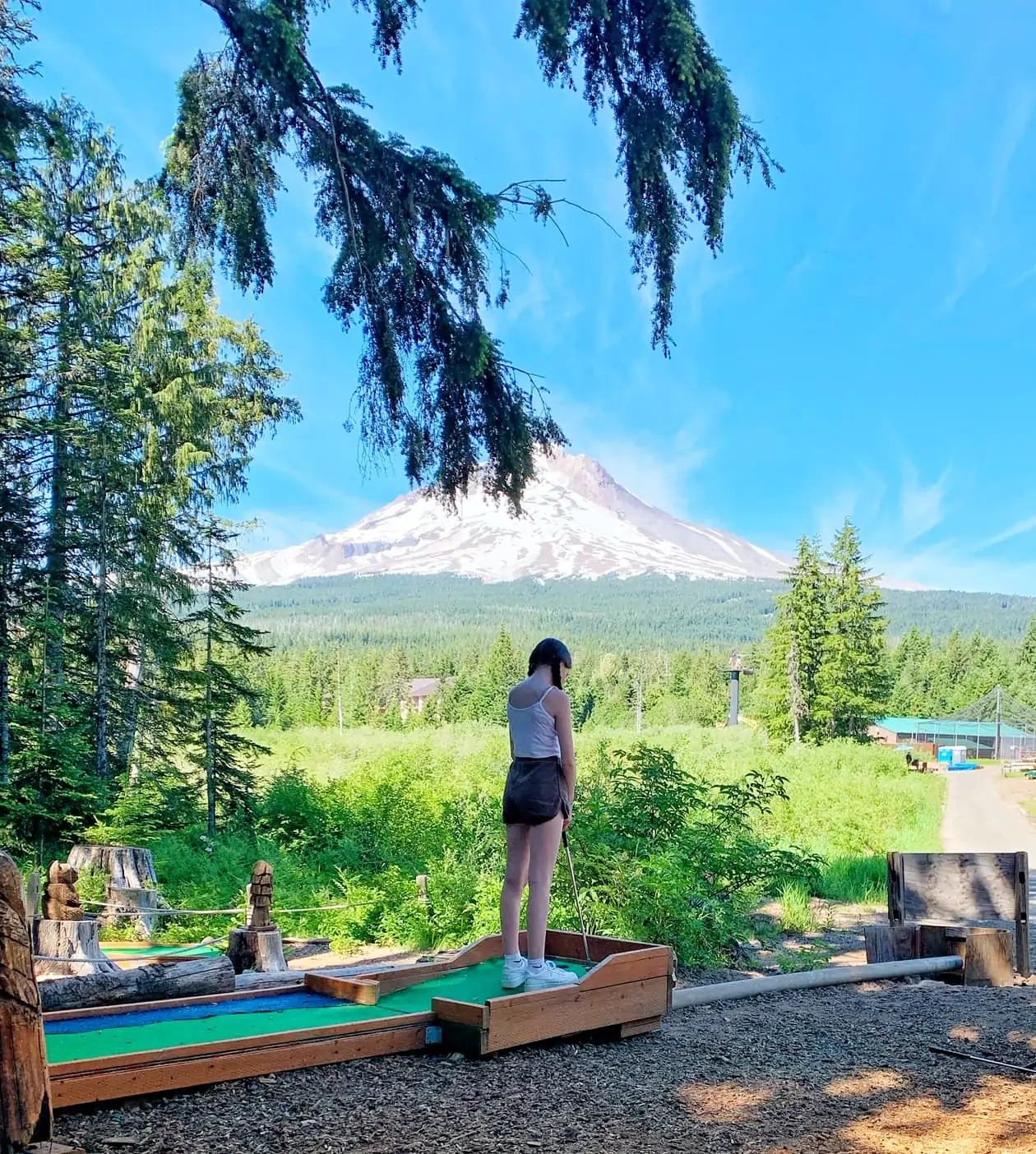 The Adventure Park At Ski Bowl:
The Adventure Park at Ski Bowl is made up of:
Skibowl West –
With the Half Mile Alpine Slide and Chair Lift.
Skibowl East –
With most of the rest of the attractions, and in walking distance to Government Camp town.
Both Skibowl West and Skibowl East have parking lots, but there is also a complimentary shuttle that you can take between the two parks if you want to just park and enjoy your day. They also have hiking and biking trails on park grounds, and nearby as well.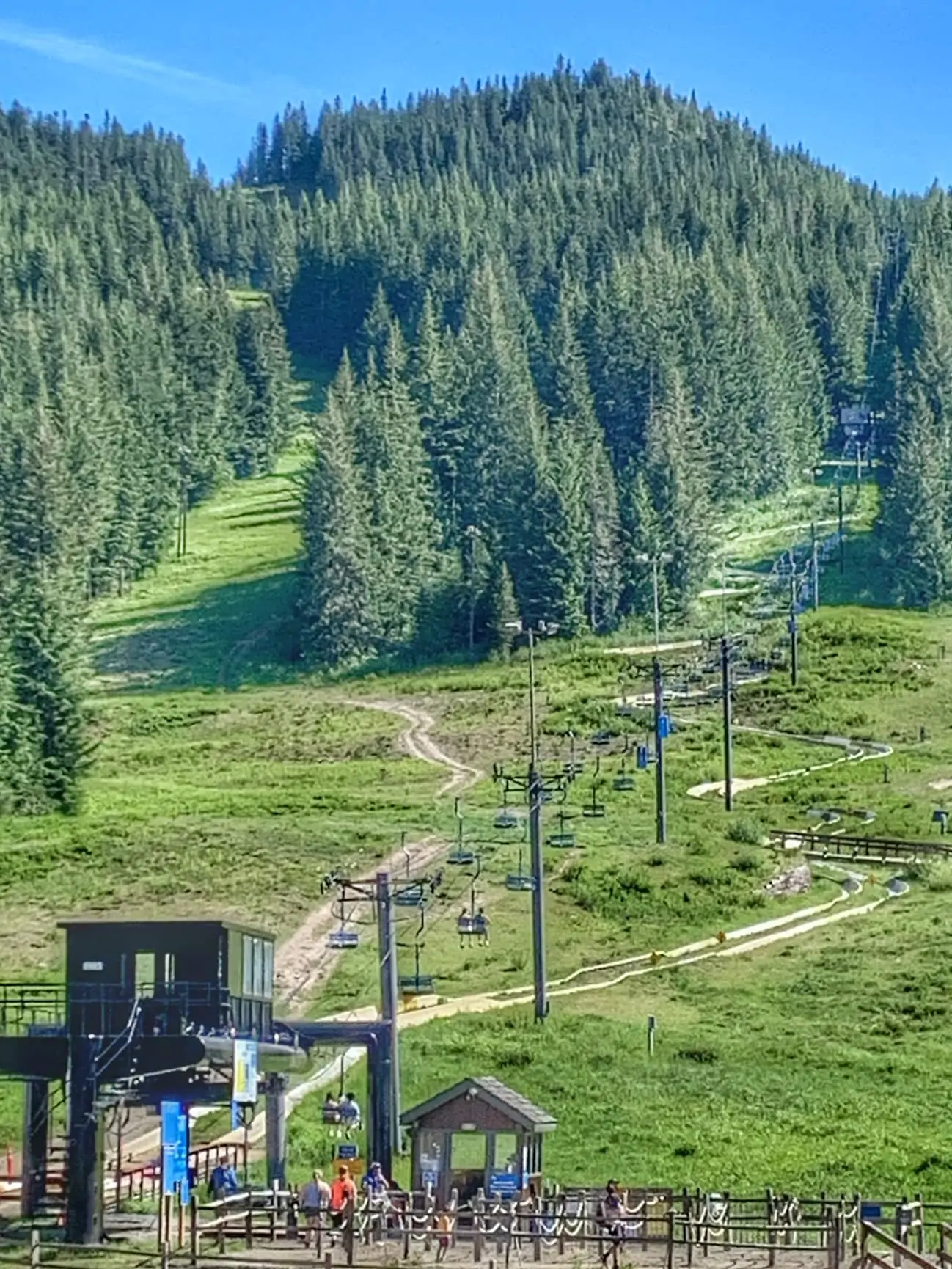 Skibowl West includes the Guest Services office, the Alpine Slide, Mountain Biking, Disc Golf and restaurants etc. We started here to enjoy the well known 1/2 Mile Alpine Slide. To ride the slide you will take the chair lift a half mile up the mountain, and then ride the slide down in a small toboggan like sled, on one of two tracks. You can also ride the Upper Bowl Chair lift further up the mountain when it is open (select days, weather permitting).
There is also some extreme mountain biking going on if you are a fan of that (like attaching your bike to the ski lift and heading up the mountain, then riding your bike down dirt trails on the mountain side).
As for the Alpine Slide you must be 48 inches to ride by yourself. Smaller ones (3+) can ride with you. I took my 6 year old up with me during a previous trip, and she loved every minute of it. Its more like a bobsled ride then a slide in actuality. You get into this small sled that has a brake handle in the middle (so you can control speed). There is also a fast and slow lane to pick from, but at the end of the day you are really at the mercy of the person in front of you regarding how fast you can go, but they generally do a pretty good job of spacing you. All in all, we all had a great time riding the slide, from young to old.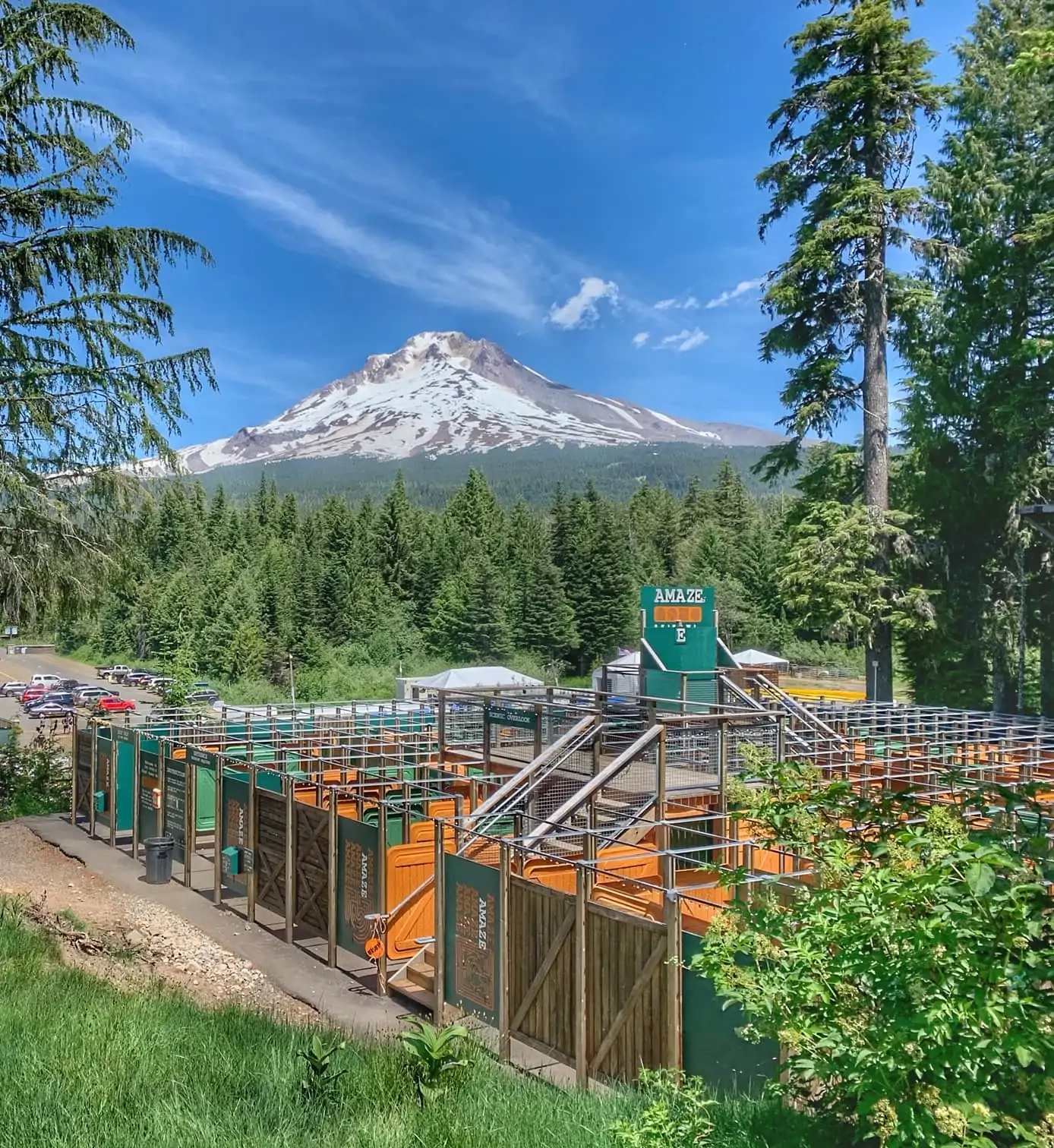 Skibowl East has all of the other stuff (and where we spent most of the day). Its also the park that is closest to the town of Government camp if you are wanting to spend some time there. We went on a Friday and did not have to wait in many lines. Best part is that there are activities for all ages.
Here are some of the things we did: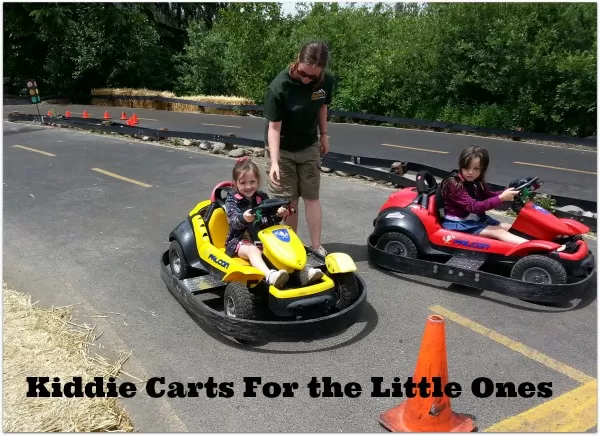 This picture was from years ago during our first visit, when I had little ones with me. They still have the smaller go karts for them to enjoy. 
The Race Cars have always been a highlight for anyone we take to the park. I think it is probably the attraction everyone uses the most.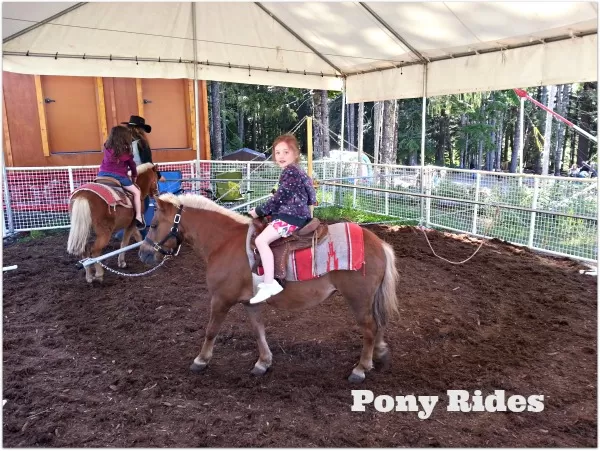 Lots of activities for the younger crowd, like pony rides, peddle carts, and more.
Note that Pony Rides and Horseback Riding are available for an extra fee.
Plus activities that everyone in the family can enjoy, like trampolines, putt putt golf, summer tubing hills, and more!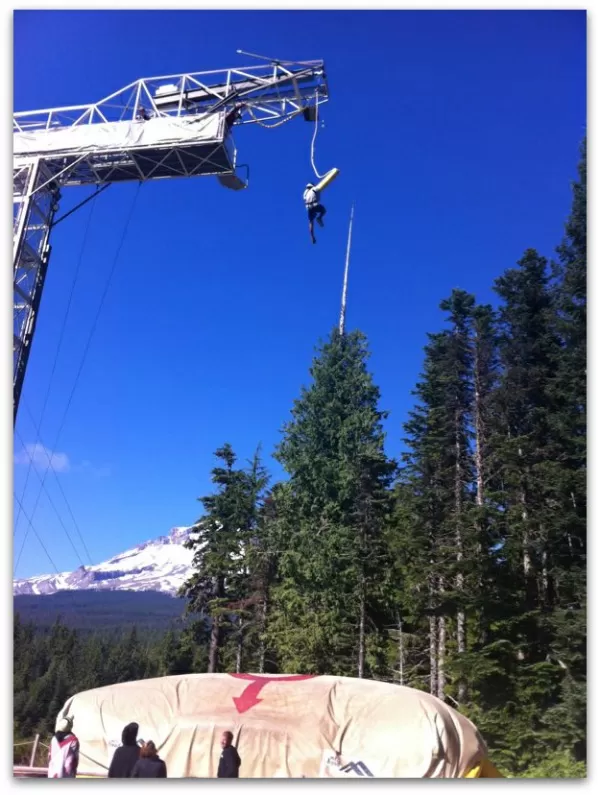 And then there are the extreme activities for the older kids/adults like Zip lines, and bungee jumping and Arial park. My 15 year old jumped our first visit, and this year his 14 year old sister took the plunge off the bungee jump crane.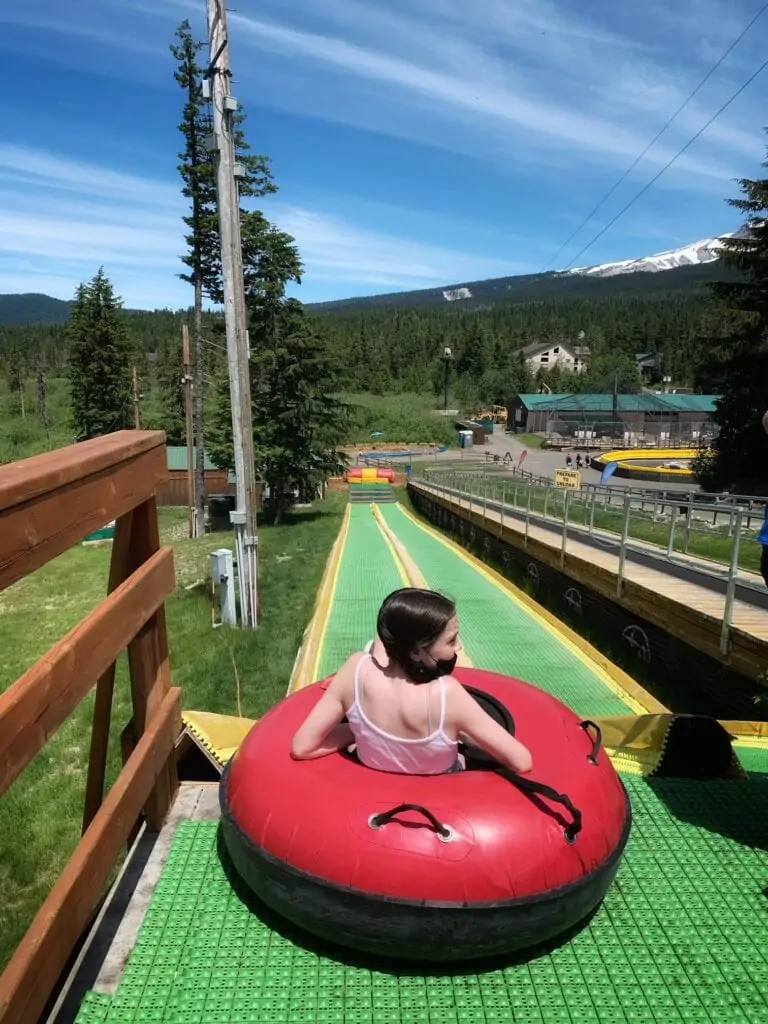 There is a summer tubing hill for kids to enjoy.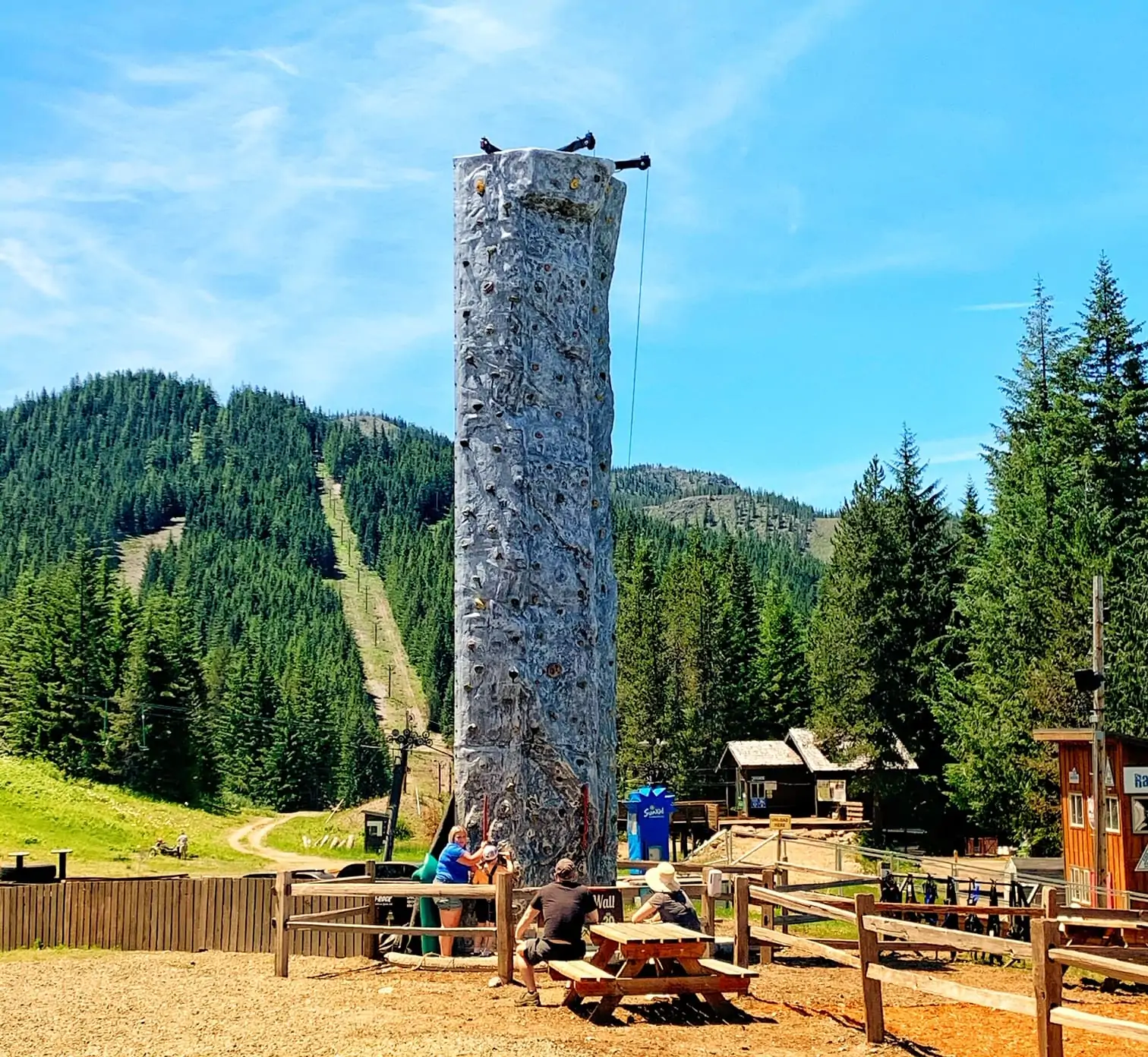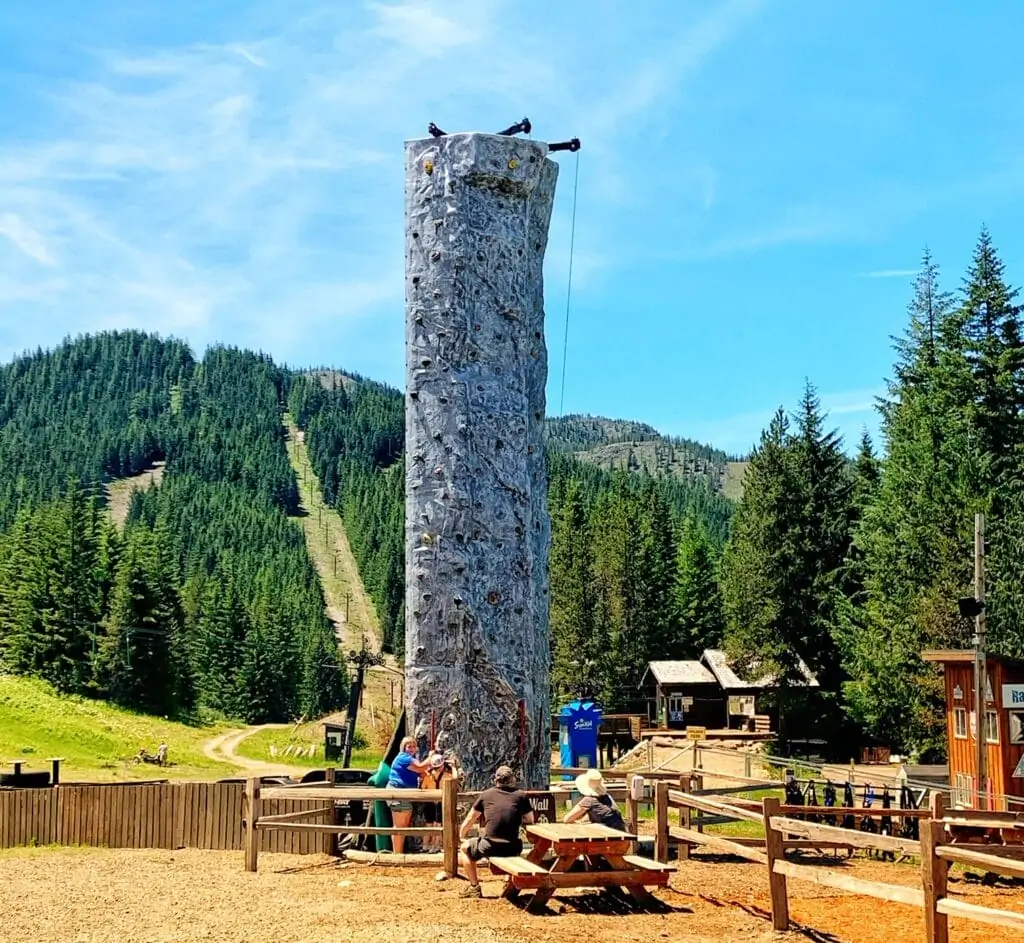 And a rock climbing wall, plus more.
Eating & Breaks At Mt. Hood Ski Bowl –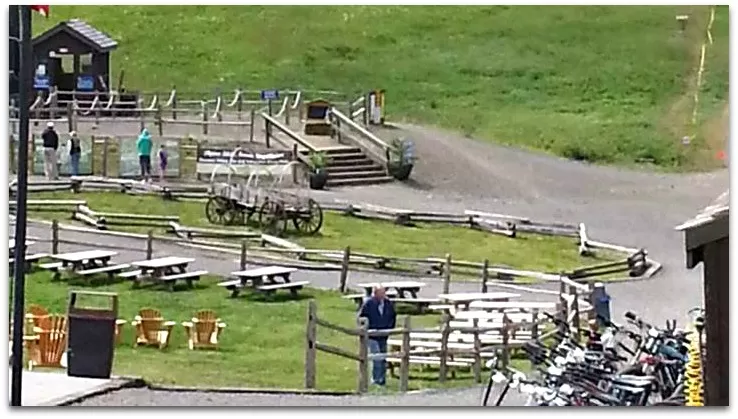 You can bring your own food with you if you want (and this is the most affordable option). We saw many families with coolers enjoying a picnic mid day. Skibowl West had many picnic table areas you could easily set up at, and not have to spend much beyond your regular grocery budget. There is a food truck here with small bites and drinks too.
Skibowl East is in walking distance to town, and offers a shaved ice hunt in the summer months.
We chose to head into Government camp to eat, and did not regret it. From Skibowl East, it was an easy 5 minute walk into town (and over a beautiful bridge). The town is a beautiful area (Ski Lodge style ambiance), and we grabbed a pizza at Ratskeller Bar and Pizzeria – and loved it.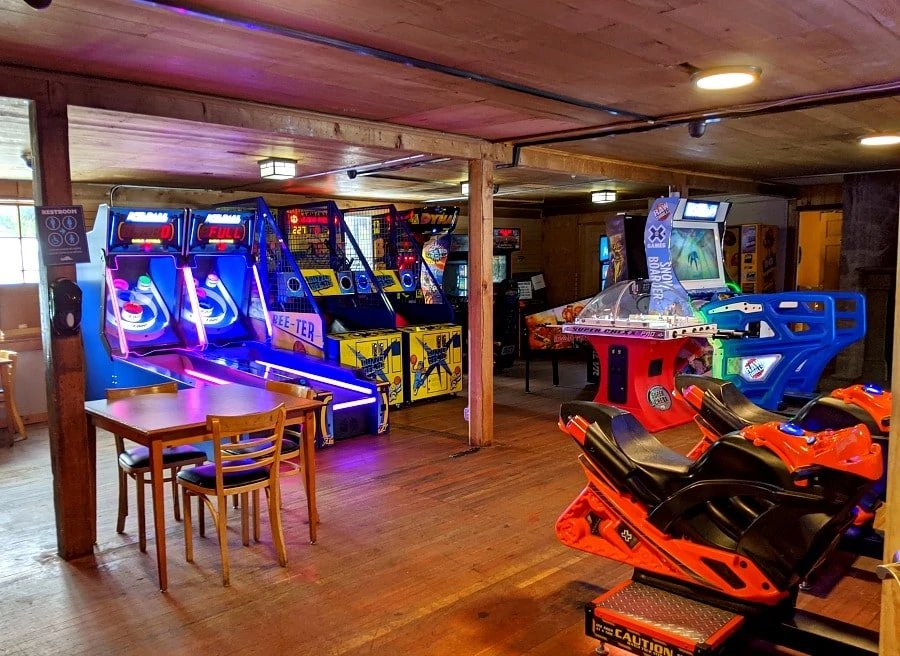 For a break you could grab a Shaved Ice either in Skibowl East or in town. The large is big enough to share it amongst a few of you!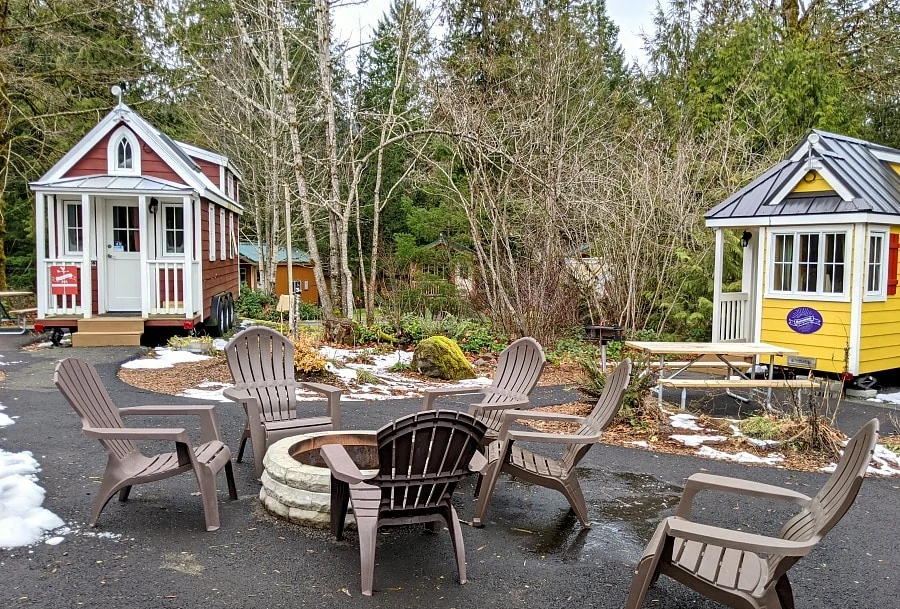 Where to Stay:
The most affordable option is going to be to camp.  You can find a list of nearby campgrounds here.
There is also the Mt. Hood Village Resort in Welches, which is a nice option for families. Camp sites are very affordable, but you will also find options like tiny houses and cabins too. Plus amenities like a swimming pool, playground, onsite store and more. Jens family stayed here during the Winter season, and you will find her review here with more details.
We have stayed at the Resort at the Mountain before in Welches and loved our stay there. Its a nice option, because the hotel often has deals available on various deal sites.
Here are some more suggestions for Family Fun things to do at Mt. Hood, to use when planning your trip (provides info on other things to do in the area, etc).
Things To Know:
It can be cold in the morning and evenings, so bring something warm to wear.

It heats up mid morning so don't forget the sunscreen – I got burnt as I did not realize how much sun I was getting with the cooler breezes that come through. 

You can take a free shuttle between adventure park East and West

The park is use at your own risk. It is truly an adventure park, and there is more risk of injury then might encounter someplace like Disneyland. A couple of my kids did get some bumps and bruises – but nothing too serious. There is a nurses station on site – but with all of their safety measures it is still an adventure park. 
My family loves the more laid back casual pace of the park (vs a theme park where you are running from ride to ride). I felt like I had the opportunity to really enjoy my family for the day, rather then just running from activity to activity.
Mt Hood Ski Bowl Adventure Park really is something that is fun for the entire family, and a little more unique then a theme park!