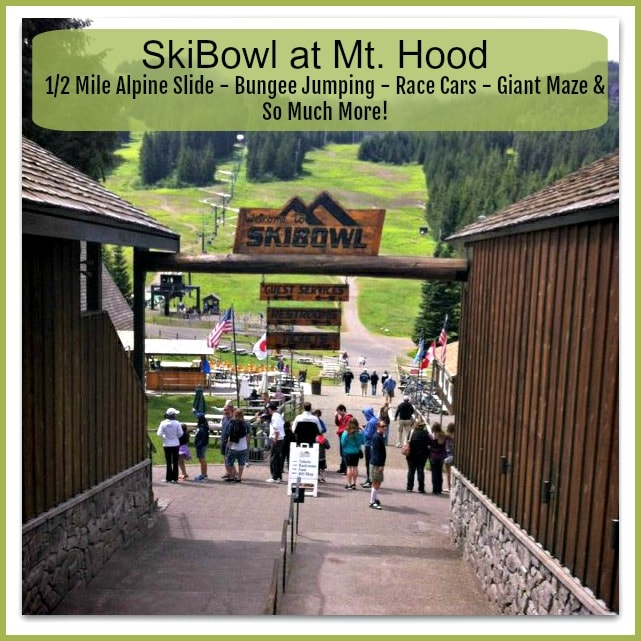 Mt Hood Ski Bowl Adventure Park Summer Review – Family Fun Outdoors!
Mt Hood Ski Bowl Adventure Park, is fun for the entire family, and set mostly outdoors for great summer adventures. My family had so much fun spending the day there. I cannot believe I had never heard of this place until well into my adult years. It is a NW gem for sure! Here is how our trip went, to give you a better idea of what the park has to offer (it has been 5 years since we have been, so some things may have changed – it looks like they have added some cool new things like a huge maze – check their website for current details).
Updates for 2020 –
Some changes that will be occurring this year in response to the virus concerns include (read them all here):
You will need to reserve your tickets for the specific day you plan to visit, and tickets will be limited to manage daily capacity numbers.
Face coverings are required for indoor spaces for all.
Hand sanitizer stations throughout the park, and distancing in line ques, etc.
Review of Mt Hood Ski Bowl Park –
My family and I headed up to the Summer Adventure Park Ski Bowl  a few summers back (so let us know if you have been more recently, and there are changes to add), and had a really great time. It was a perfect spot for us since there was something to do for all of our kids (age ranges 4 – 15).  All three of our kids have asked to go back, and mom and dad had a nice time too – so we will be looking to visit again.
While the passes to get into the Adventure Park themselves can be expensive, we were able to come up with lots of ways to save, making this a very budget friendly family getaway. We did this by using vouchers from deals sites and more, so I wanted to share our experience in case you are looking for some ideas for a fun, budget friendly family getaway.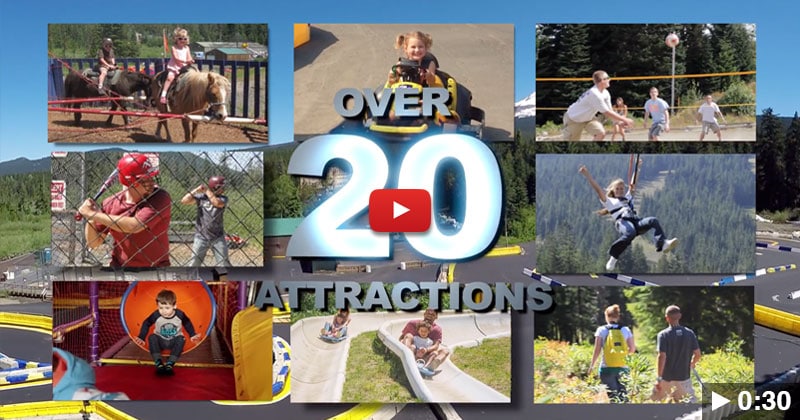 Location & Getting There:
The Skibowl Adventure Park is located on Mt. Hood in Oregon. It has a summer and winter adventure park (skiing and snowboarding in the winter), but it was the Summer Adventure Park that we visited.
Mt. Hood is approximately a 4 hr trip from the Seattle area, or just over an hour from the Portland area. There are some nice resorts, or even camping in the area if you wanted to make a weekend getaway out of it (some ideas on where to stay are at the end of the post!).
The Adventure Park has the mountains as their backdrop and the town of Government Camp nestled right in between the parks. For those of you that may have been to Leavenworth before, it felt to me like a mix between Leavenworth and a Ski Lodge town. We really liked the area – and found it worth the drive.
There was free parking at all locations of the park once you arrive (they are currently requesting that you leave one space in between your car and the next for distancing practices).
Cost:
This could be an expensive day if you have more then a couple of you in your family, but we found the best option was to get a Action Pass for all day fun.
If you have little ones (or just don't care much about the larger attractions) then just stick with the Adventure Pass, which is much more affordable then the all day action passes. The Adventure Pass will let you access everything but about half a dozen of the big attractions. You can add on some of the others too, if you wanted to do just one or two.
You can find the full break down of price options at the Skibowl website here.
The Adventure Park At Skibowl:
The Adventure Park at Skibowl is made up of Skibowl West and Skibowl East, with Government Camp town in between the two. Both Skibowl West and Skibowl East have parking lots, but there is also a complimentary shuttle that you can take between the two parks if you want to just park and enjoy your day.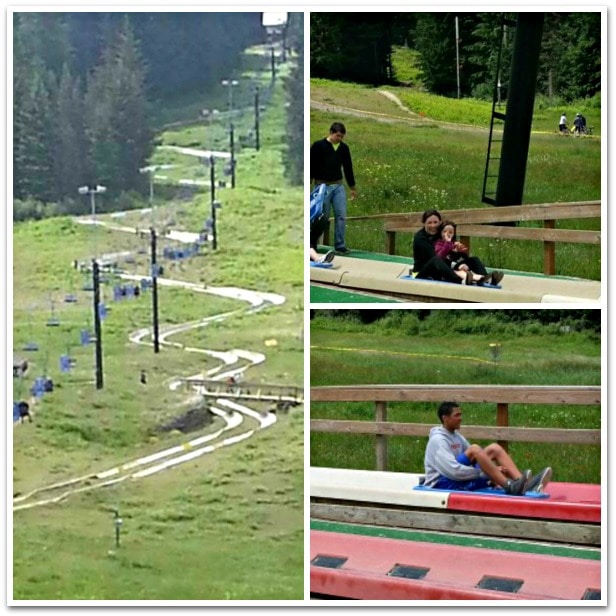 Skibowl West includes the Guest Services office, the Alpine Slide, Mountain Biking, Disc Golf and restaurants etc. We started here to redeem our vouchers and enjoy the Alpine Slide. There is also some extreme mountain biking going on if you are a fan of that (like attaching your bike to the ski lift and heading up the mountain, then riding your bike down dirt trails on the mountain side).
As far as the Alpine Slide is concerned you take a chair lift up the mountain. I have a fear of chair lifts personally, and found this part of the ride caused me more anxiety then the slide itself! You must be 48 inches to ride by yourself. Smaller ones (3+) can ride with you. I took my 6 year old up with me, and she loved every minute of it. Its more like a bobsled ride then a slide in actuality. You get into this small sled that has a brake handle in the middle (so you can control speed). There is also a fast and slow lane to pick from, but at the end of the day you are really at the mercy of the person in front of you regarding how fast you can go (and you can derail off the track – my 15 year old did not listen to the rules very well and took a corner too fast, and his scabs can testify to this)! All in all, we all had a great time riding the slide, from young to old (me).
Skibowl East has all of the other stuff (and where we spent most of the day). Its also the park that is closest to the town of Government camp if you are wanting to spend some time there. We went on a Friday and did not have to wait in many lines. Best part is that there are activities for all ages.
Here are some of the things we did: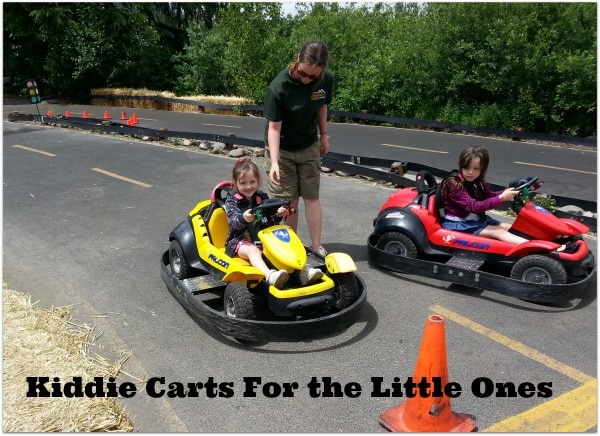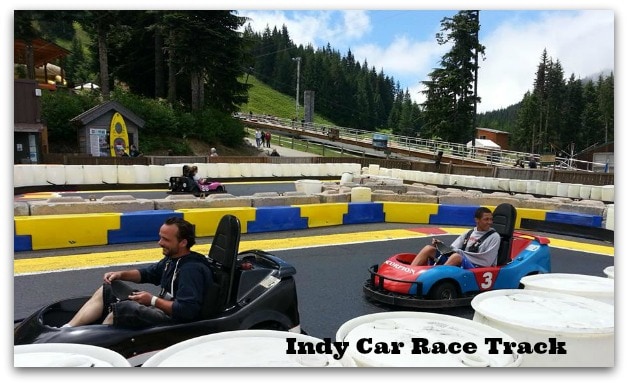 Both my big kids (yes, my husband turned into a big kid in the park, and so did I for that matter!) and little kids enjoyed the Indy Race Cars (my favorite part of the park – my 6 year old and I were able to ride doubles in the Malibu Race Track)!
Lots of activities for the younger crowd, like pony rides, an indoor play area, canoes, swings and more.
Plus activities that everyone in the family can enjoy, like trampolines, tight ropes, putt putt golf, summer tubing hills, and more!
And then there are the extreme activities for the older kids/adults like Zip lines, and bungee jumping. My 15 year old was the only one in our crew brave enough to attempt these (yep, that's him jumping above)!
Eating & Breaks: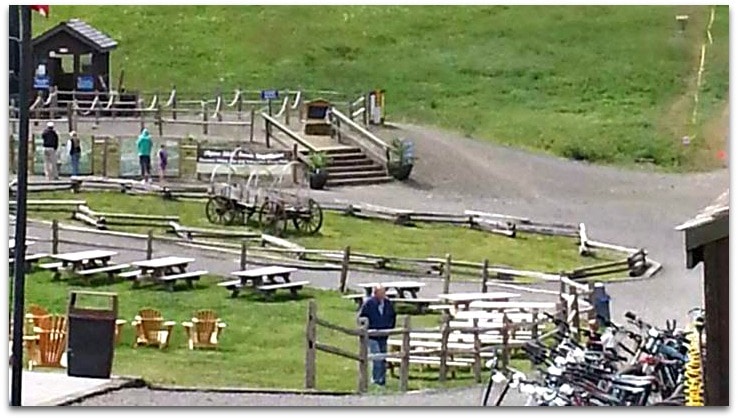 You can bring your own food with you if you want (and this is the most affordable option). We saw many families with coolers enjoying a picnic mid day. Skibowl West had many picnic table areas you could easily set up at, and not have to spend much beyond your regular grocery budget. Skibowl East also had picnic tables scattered throughout the park area, and it was in walking distance to town.
Both Skibowl West and East also had onsite restaurants and food carts (or vending machines for drinks).
We chose to head into Government camp to eat, and did not regret it. From Skibowl East, it was an easy 5 minute walk into town (and over a beautiful bridge). The town is a beautiful area (Ski Lodge style ambiance), and we grabbed a pizza at Ratskeller Bar and Pizzeria – and loved it.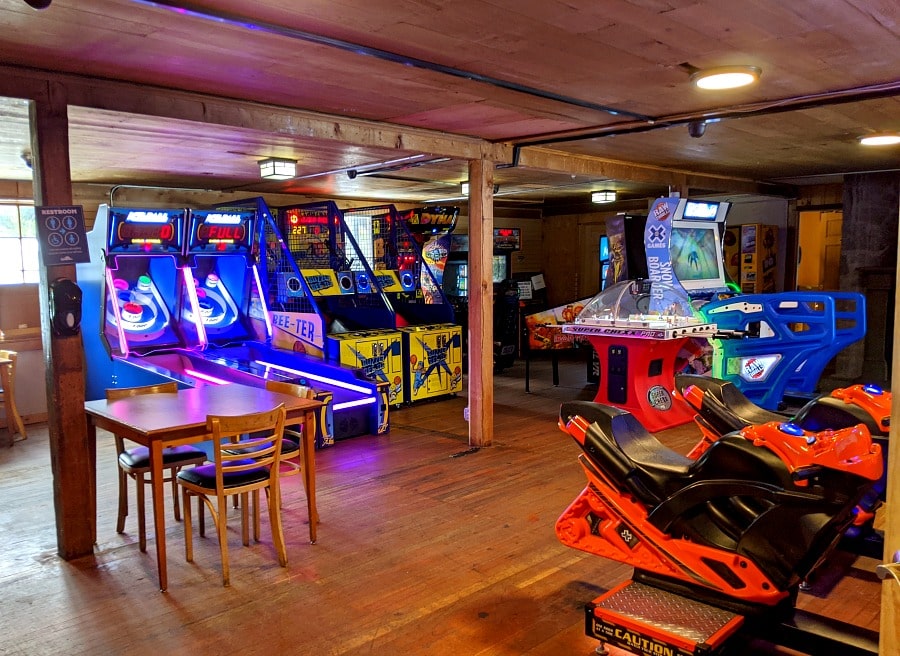 For a break you could grab a Shaved Ice either in Skibowl East or in town. The large is big enough to share it amongst a few of you!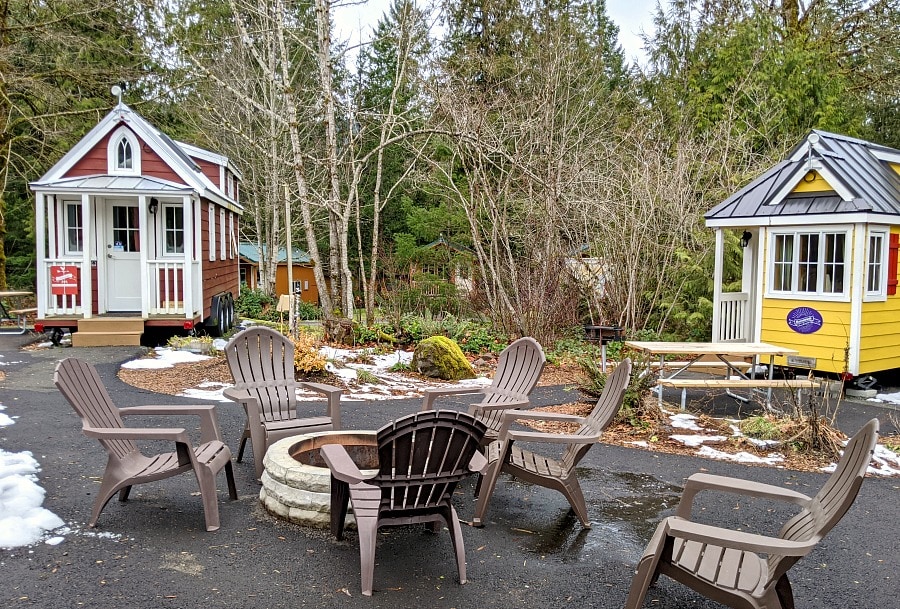 Where to Stay:
The most affordable option is going to be to camp.  You can find a list of nearby campgrounds here.
There is also the Mt. Hood Village Resort in Welches, which is a nice option for families. Camp sites are very affordable, but you will also find options like tiny houses and cabins too. Plus amenities like a swimming pool, playground, onsite store and more. Jens family stayed here during the Winter season, and you will find her review here with more details.
We have stayed at the Resort at the Mountain before in Welches and loved our stay there. Its a nice option, because the hotel often has deals available on various deal sites.
Here are some more suggestions for Family Fun things to do at Mt. Hood, to use when planning your trip (provides info on other things to do in the area, etc).
Things To Know:
It can be cold in the morning and evenings, so bring something warm to wear.

It heats up mid morning so don't forget the sunscreen.

You can take a free shuttle between adventure park East and West

The park is use at your own risk. It is truly an adventure park, and there is more risk of injury then might encounter someplace like Disneyland. A couple of my kids did get some bumps and bruises – but nothing too serious. There is a nurses station on site – but with all of their safety measures it is still an adventure park. 
Both my husband and I loved the more laid back casual pace of the park (vs a theme park where you are running from ride to ride). All of the employees we encountered were very nice, and we found the overall experience to be great for everyone. I felt like I had the opportunity to really enjoy my family for the day, rather then just running from activity to activity.
It really is something that is fun for the entire family, and a little more unique then a theme park!