10 Winter Activities with Kids at Mt Hood Oregon
This post may contain affiliate links and I may be compensated for this post. Please read our disclosure policy here.
Disclosure: We were hosted by Mt Hood  for some of the activities; however, all opinions are our own.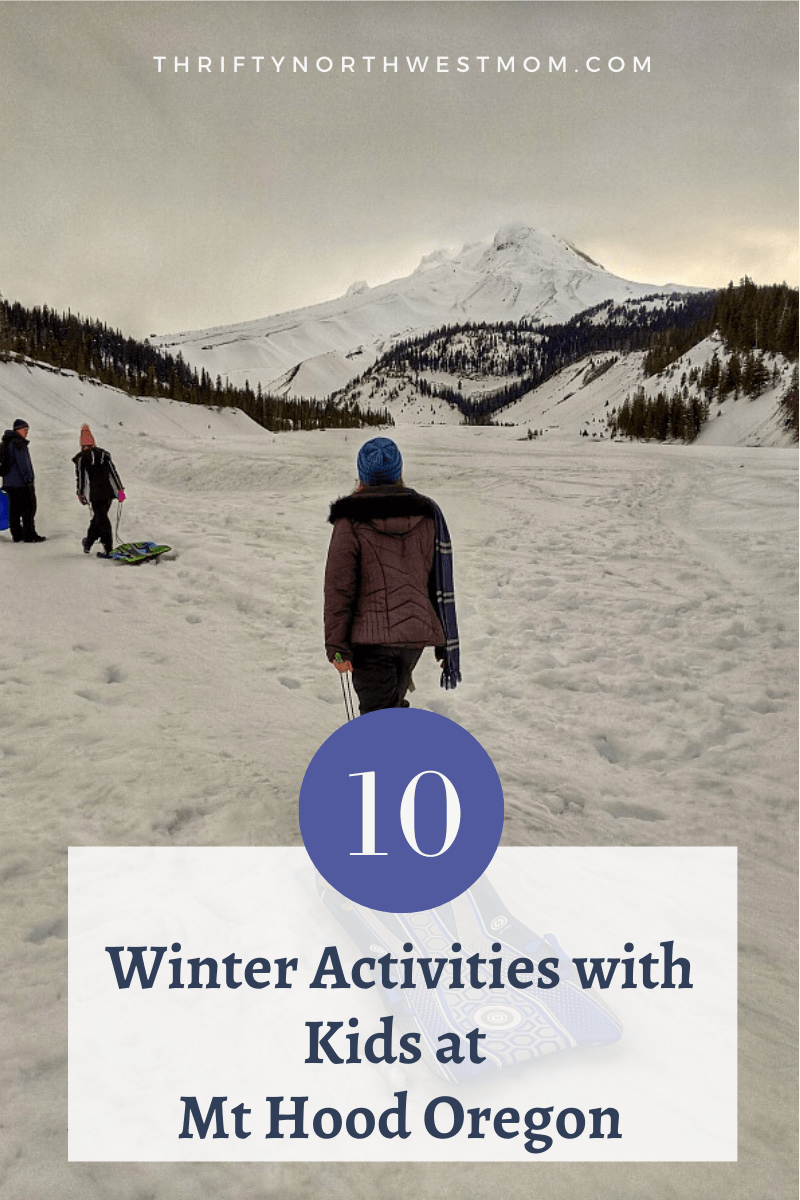 10 Winter Activities with Kids at Mt Hood Oregon
If you're looking for a winter destination in the Northwest for your family to spend time in the snow, Mt Hood, Oregon really has so much to offer families. You can be up at the village right on Mt Hood in Government Camp in just a little over an hour from downtown Portland. It is also just 3 1/2 hours from Seattle to Government Camp on Mt Hood, so the location is very convenient & easy to get to from most anywhere in the Northwest.
Mt Hood is Oregon's tallest mountain at 11,245 feet. It really is the ultimate snow play destination for families with so many different & varied options of outdoor winter fun activities to enjoy together around the mountain and the national forest.
It's also a destination to visit when you are traveling with multiple families as there truly is something for everyone in this resort area. Head to Mt Hood with friends or extended family  and you could all participate in your own snow fun activities during the day or visit different ski resorts, but then all meet up in the evenings for dinner, games & more.  Families could change up your activities each day with the wealth of options and everyone from little ones to teens to adults will enjoy all that Mt Hood has to offer.
10 Winter Activities with Kids at Mt Hood Oregon
One quick tip if you are headed to Mt Hood during the winter to enjoy snow fun – make sure to purchase an Oregon Sno Park pass either before you arrive online or you can pick up a pass at a number of locations around Government Camp (& on your drive in before you get there too). A sno-park pass is required for parking anywhere around Mt Hood including all of Government Camp (even street parking) as well as in parking lots at ski resorts, trailheads & more.
Mt Hood Skiing / Snowboarding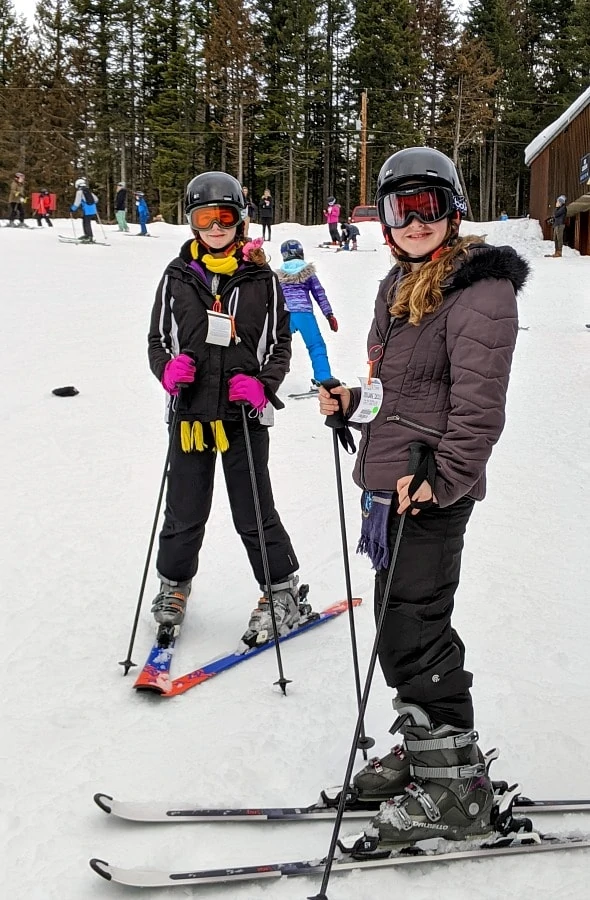 Skiing & snowboarding is definitely one of the top reasons why families choose to visit Mt Hood in the winter as there are a variety of ski resorts to choose from all within about 20 minutes of each other, which makes it very ideal to visit this area. It really has options for whatever skill level you are at as well, which is also great for families with multiple ages & skill levels or for multi-family trips.
Timberline Ski Resort –  The most well-known ski resort is Timberline Ski Resort, as it offers the longest ski season in North America, typically open all 12 months of the year. They are located up high on Mt Hood and have over 3,690 vertical feet of ski terrain in the winter (Nov – Memorial Day), more than anywhere else in the NW. Timberline's historic lodge is located at 6,000 feet & the highest operation point of the ski resort is at Palmer ski lift (which requires a snow cat in the winter) at 8,540 feet. During summer months, the Palmer Express high-speed quad lift allows them to operate through the summer (typically June 1st – Labor Day). There are shuttles up to Timberline Lodge from Government Camp during the winter, too, for easy access.
Mt Hood Meadows – this ski resort is located on the east side of Mt Hood (about 20 minutes from Government Camp), which is the sunnier and more wind-protected side of the mountain. You can easily access it from both Portland, Hood River & the Central Oregon area. This resort has quite a wide variety of terrain & options for every skill level. They offer gorgeous panoramic views to the east & south of Mt Hood with the highest lift at an elevation of 7,300 feet, which is still quite high up Mt Hood. There are over 2,150 acres to enjoy for skiing & snowboarding.  There are also opportunities for those who are wanting more of a challenge with special areas for those higher skilled skiers & snowboarders wanting to test their skills.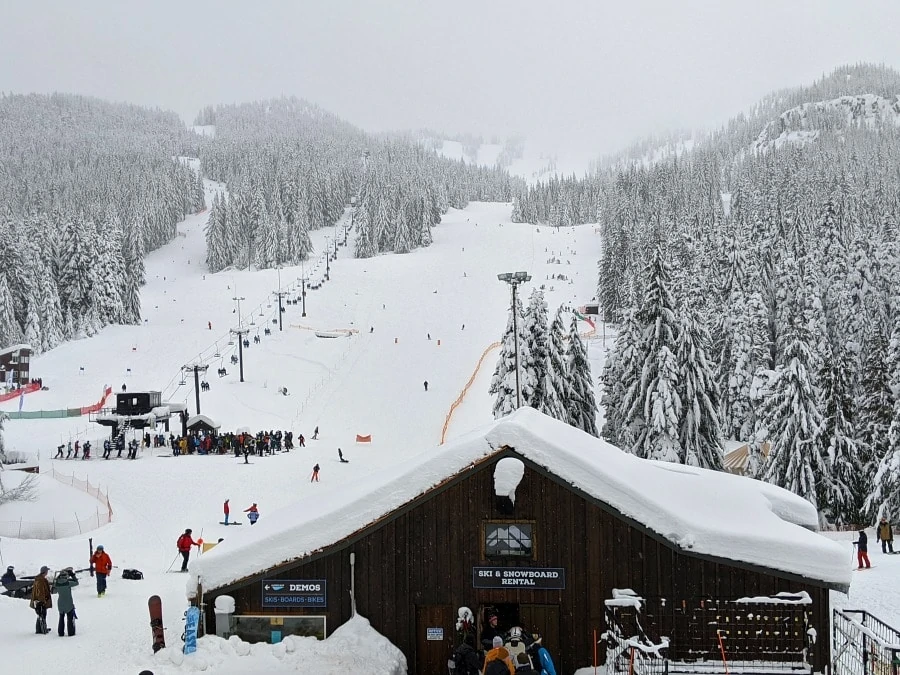 Right now Mt. Hood Skibowl is offering a special promotion where you can ski for free with them for a day, in exchange for 4 hours of volunteering on the mountain (indoor and outdoor opportunities to volunteer). Find details here. 
Mt Hood Ski Bowl – This resort is located right in the heart of Government Camp,  easily walkable from accommodations in the village & only 20 minutes away from the town of Welches. This resort features 34 fully lit runs, 65 runs total & a vertical drop of 1,500 feet. It has the most Black Diamond runs of any resort in the state & two fully lit terrain parks.
With these fully lit ski terrain areas, this means it's a great option for night skiing. All of the lifts have lighting so there are 34 lit runs to enjoy at night. So, this is a great option for families who want to get the most time on the slopes as they are open until 10 or 11pm at night.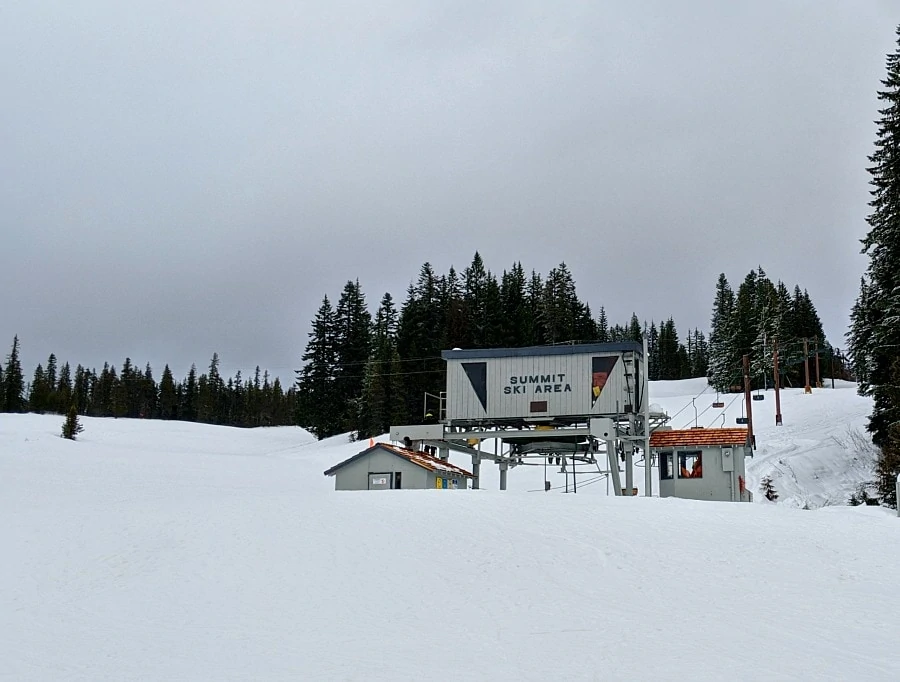 Summit Ski Area – The Summit Ski Area is also located right in the heart of Government Camp & easily walkable from lodging in the town. It is a very small ski resort geared towards families & beginner level skiers/snowboarders. The base elevation is 4000 ft & it has 306 ft of vertical lift for skiing & snowboarding.
We heard from other ski families that they really enjoy this ski resort because of its size & it's a great place to work on building your skills as a beginner-level skier/snowboarder. With no worries of advanced skiers coming thru down the slopes to get to the bottom, it can give them more confidence to grow and opportunity to work more on their skills.
Summit Ski area also offers kids ski free 6 & under and 71+. They offer BOGO lift tickets on Mondays & Fridays & their lift tickets say that it also includes Brunos at Timberline too.
Cooper Spur Ski Resort – This resort is another great option for families & those who are looking for more beginner ski opportunities. It is located out on Mt Hood's north/east face past Mt Hood Meadows, about 35 minutes from Government Camp. There are 10 runs for skiers & snowboarders with 50 acres of beginner & intermediate terrain & 350 feet of vertical (4000 – 4350′). There is a double chairlift & and a beginner rope tow.
There is also a covered outdoor deck with a view of the entire ski area, which makes it great for parents waiting for kids to have a good eye on what's happening on the slopes, plus an alpine lodge to warm up & recharge. Younger kids can enjoy the snow play activities, too, with tubing & a snow carousel for little ones.
Kids 6 & under and seniors (70+) are also free. It's just $10 for the rope tow if kids are just trying out skiing for the first time on the beginner hill.
Mt Hood Ski / Snowboard Lessons
If your kids have been wanting to learn how to ski, Ski Bowl on Mt Hood has an excellent program & great value for the price for their packages. We researched a number of ski resorts for lessons (as our girls received ski lessons from their grandparents for Christmas) & this was one of the best values we found for the amount of instruction & time on the slopes.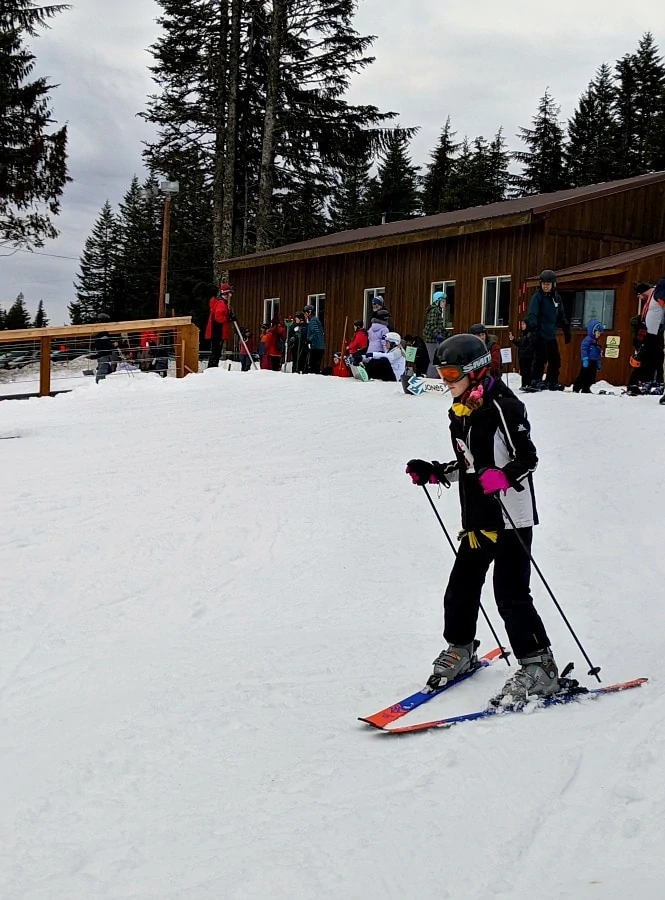 Olympic Ski School runs the ski lessons for kids (& adults) at Ski Bowl & they offer a variety of options for beginner & intermediate lessons. For new skiiers/snowboarders, we found the best value to be the Guaranteed Learn to Ski / Ride 1-2-3 lesson package to be the best value. For $165 (at time of posting in 2020), students will receive 3 visits which each consist of a 2 hour lesson, lift tickets for the day & full rentals (you will need to rent helmets separately for $10/day if you want helmets). You can do these all together in 3 days, which is what we did for a long weekend, or if you are local to Portland area, you can spread these out over the winter season.
In addition to the lessons, lift tickets & rentals, Olympic Ski School students will also qualify for 1/2 price lift tickets & rentals or passes for the remainder of the season.  Comparing all of the other resorts around the NW, this was a fantastic value. We wanted to take advantage of the 3 days of lessons so it wasn't just 1 day that is just a taste of skiing, but enough time that they would feel more comfortable on the skis. Every group will vary depending on how quickly students pick up the skills, but for my girls' group, they spent the first day on the small beginner slope with the conveyor lift & then went up to the big hill & chair lift by the 2nd day. One of our girls preferred more time on the smaller slope for the 3rd day, so they worked at each of their levels to give them confidence.
Mt Hood Cosmic Tubing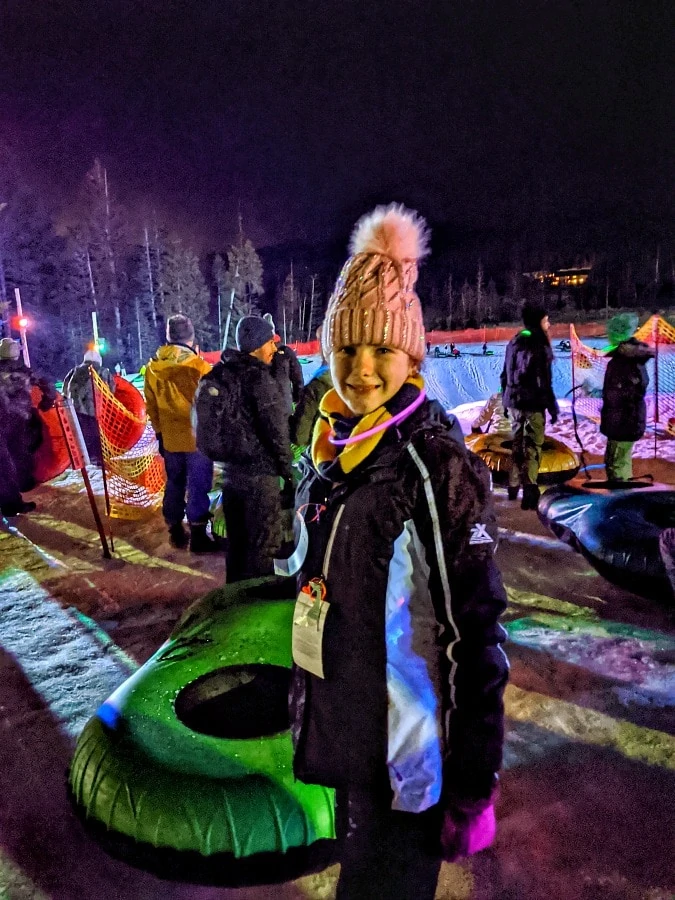 Mt Hood offers the most variety of tubing areas around the Northwest that we have found & the favorite for kids & adults alike is definitely the Cosmic Tubing at night at Ski Bowl (East location) in Government Camp.  Cosmic tubing is 2 hours of tubing at night, complete with over 600,000 LED lights, laser light shows, black lights, colored lights, fun, fast-paced music & more.
The whole family will have a blast, from little ones on up to adults and they have several different times you can visit, whether you want an earlier evening time for little ones or a late night session for teens & or an adults-only tubing time with friends.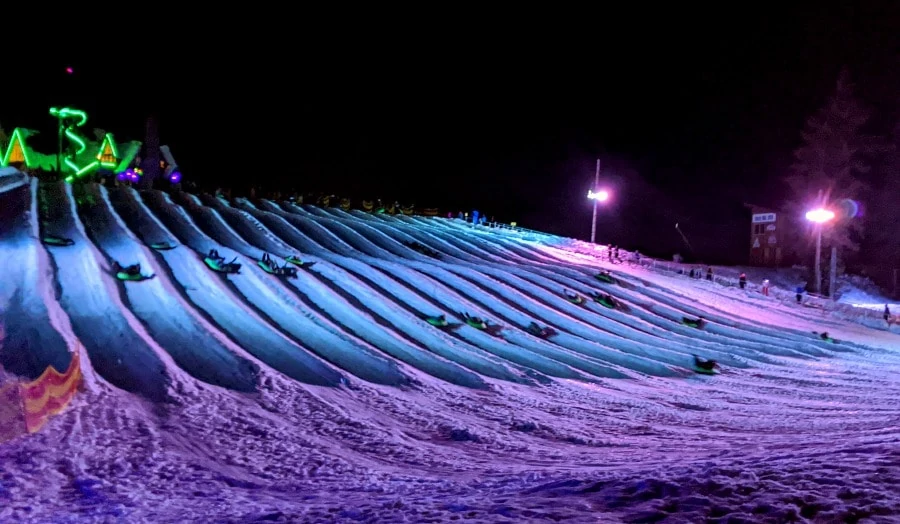 Mt Hood's cosmic tubing is popular, but even on a holiday weekend, the lines went very quickly so we had the opportunity for a lot of tubing runs. Plus, they have dual conveyor lifts so you can ride up the hill & catch your breath in between runs.  Our family loved the variety of tube options too – from single tubes, double tubes up to 4 person tubes, which we had a blast trying a few times as a family for laughs.
Make sure to go early or stay after your tubing session by warming up by the outdoor bonfires or inside the chalet with a cup of hot cocoa or some snacks. You'll find two restaurants, with quick service food downstairs & a bar & restaurant with wait staff upstairs (this is adults only after 9pm).
If you have little ones, your tubing ticket also includes Frosty's Playland, a heated, indoor area full of slides & obstacles just for kids 60″ & under for an opportunity to get warm & stay active while older siblings are tubing if they need a break.
Mt Hood Tubing 
Mt Hood offers several different areas for tubing fun, in addition to the Mt Hood Ski Bowl cosmic tubing at night. These are all only open on weekends & holidays. Here are 3 tubing areas at Mt Hood:
Ski Bowl Tubing Area – this is the same ski resort which provides cosmic tubing except this tubing is during the daytime. Not only do you have access to the main tubing hill with a number of runs, you can also use the Extreme Tube Hill behind the chalet and the kiddie tube hill. Make sure to pre-purchase your tickets online as it can get busy.
The Extreme Tube hill is open based on weather conditions, so make sure to call ahead or look online, but this hill offers a longer run with more speed if you are wanting more of a thrill (no conveyor belt, though, so be prepared to walk). And younger kids can try out the Kiddie Tube Hill for a more relaxed pace to see how they like tubing.
You will also have access to the Frosty's Playland and the Winter Adventure park area with heated, indoor play areas for little ones (you can pay separately for this, too, if they are too young for tubing), as well as a kiddie tube carousel ride.
Summit Ski Area – The Summit Ski area is also located right in the heart of Government Camp (easily walkable) and they have a tubing hill with about 5-6 runs. This is a smaller ski resort & there are no conveyor belts to bring you back to the top of the hill, so you'll be getting your exercise! :) But, they are very affordable with current 2020 prices at $27 for the entire day of tubing (including tube rentals).
Cooper Spur Ski Area – this is another smaller ski resort, but it is located on the north side of Mt Hood, so it's about 30 minutes away from Government Camp, closer to Mt Hood Meadows ski area. They offer a snow tubing hill available for those who are 42″ or taller. The price is definitely affordable at just $15 for a day of tubing, which includes snow tube rental. For younger kids, they do also offer a free snow carousel (merry go round in the snow on innertubes).
Mt Hood Sledding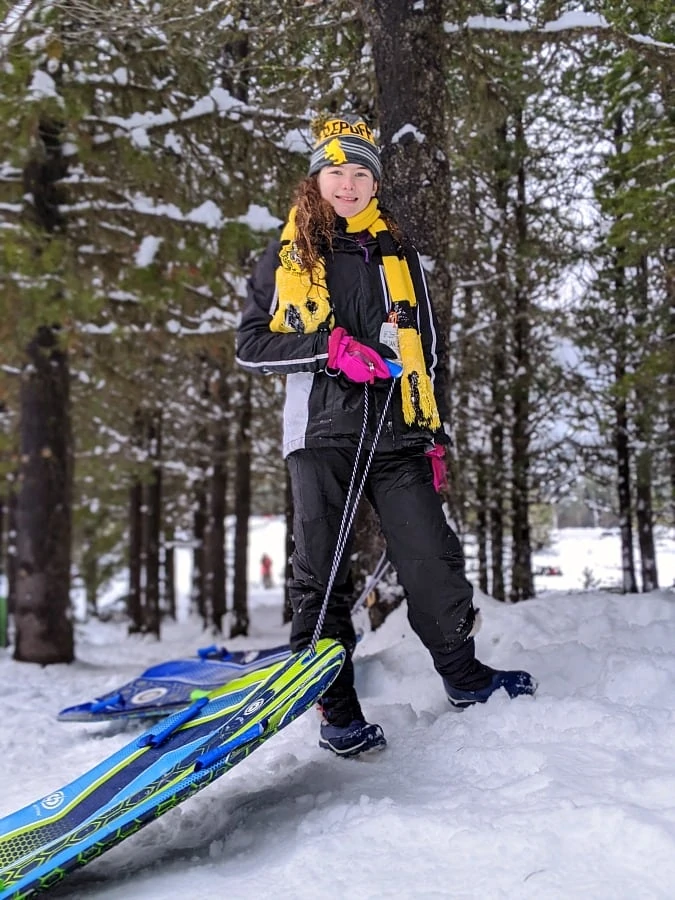 It can be quite challenging to find safe & available places for sledding fun for families around the Northwest, but Mt Hood has several locations which you can visit for affordable snow play opportunities. For each of these areas, you will need to bring your own sleds.  Here are a few public sledding areas: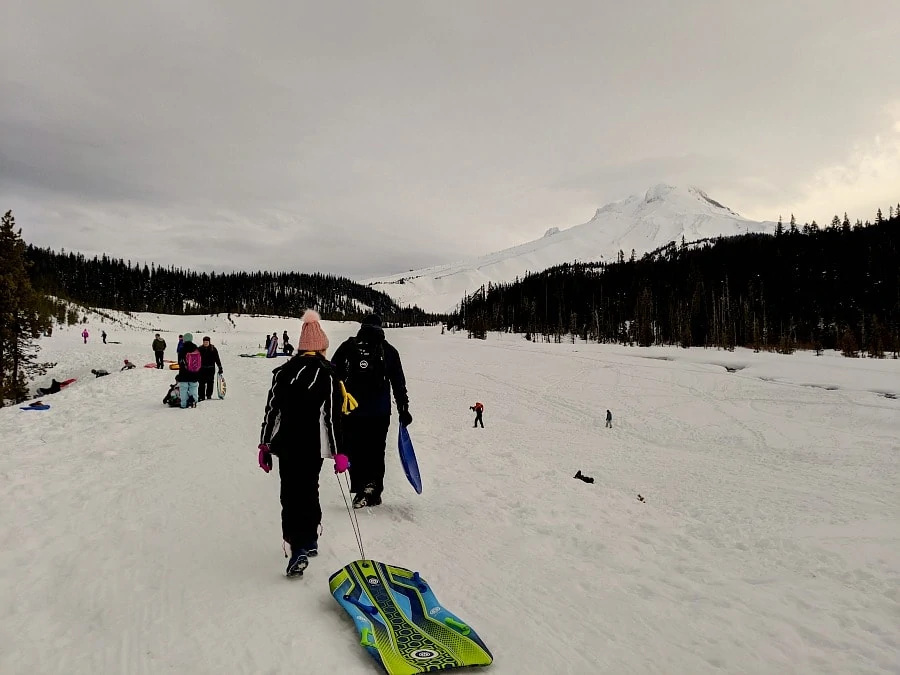 White River West Sno Park  – this is definitely the most beautiful of the locations we visited as it's right at the base of Mt Hood, with picture-perfect views of the mountain. This is a busy location – we visited on a holiday weekend & there were a lot of people; however, there are so many areas for snow play that you can just walk a bit & find plenty of areas for sledding & snow play.
To find the bigger hills, you'll want to walk a half mile or so up the trail, but along the way, there are a lot of small hills for sledding too. The only caution with this location is that this is next to the White River and we saw many people playing way out near the river. The river remains hidden by snow in some places, though, so I would not venture out too close to the river. There are plenty of snow play areas along the path & the other side of the path for fun.
Little John Sno Park  – this location is a bit further out (on the way to Mt Hood Meadows) about 20 minutes from Government Camp but it is so worth the drive out to this sno park as it is the perfect sledding location. There are 2 big sledding hills at this sno park and they are big – these are the places to go if you want thrills (teens & adults will love this!).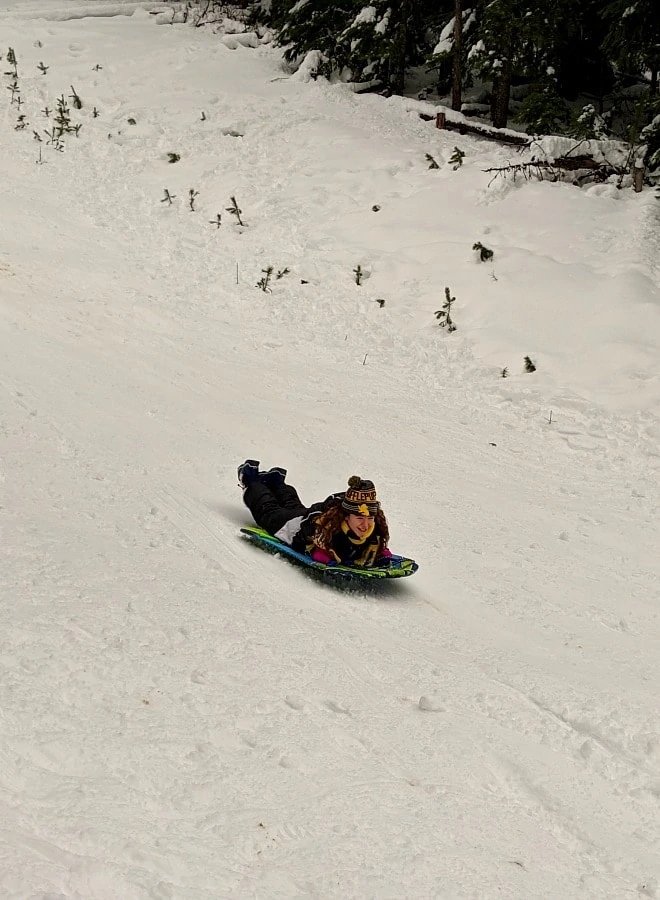 But what we loved is that you could go up any distance on the hill to make it fit your level of comfort & speed.  We went late in the day on a busy holiday weekend and it never felt too crowded. Plus, there's a warming hut stocked with wood if you need some breaks from sledding fun.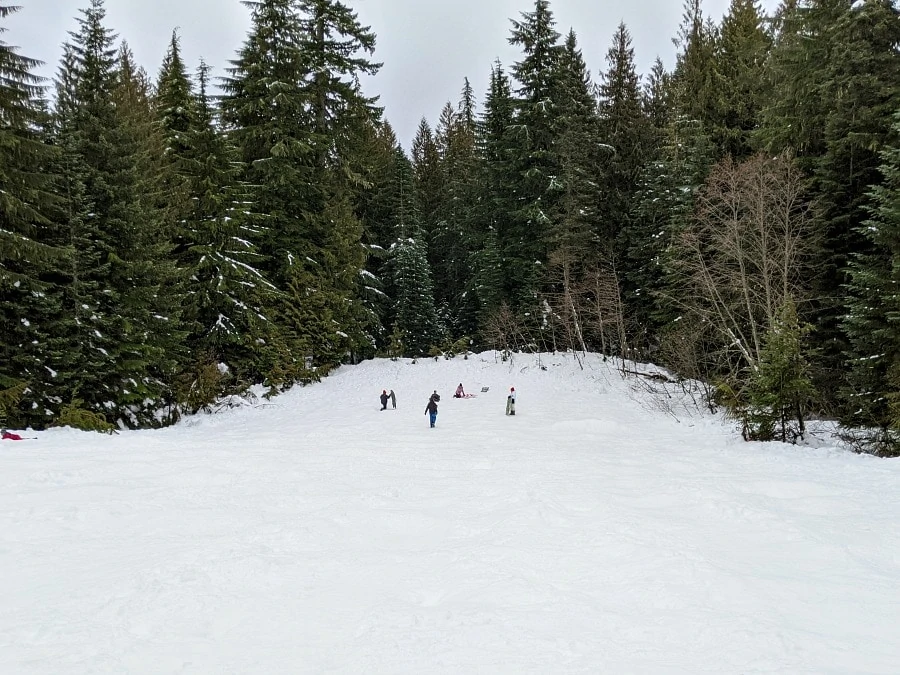 Snow Bunny Sno Park – This is the closest public sledding location to Government Camp (right across the street from the Trillium Lake parking lot) and it is owned by Summit Ski Area. We did not get a chance to go sledding here but checked it out as we were headed out of town. The website says that it is $15/day to go sledding here; however, when we were there on a weekday, there were no fees & we didn't see an area to pay fees.
Right at the parking lot is a main sledding area which was very popular, but our favorite runs were just a very short walk along the path at the back of the main sledding area,  where you will find several longer, steeper runs. These looked to be fast sledding runs for great thrills, so it's easy to see why this is such a popular location for sledding with families.
Mt Hood Snowshoeing or Cross-country Skiing
One of the best ways to enjoy the pristine beauty of Mt Hood in the winter is by cross country skiing or snowshoeing. There are many miles of trails within Mt Hood National Forest which you can enjoy views of Mt Hood as well as the gorgeous forest during winter. There are also some nordic center areas where you can find more opportunities for exploring. If you are staying in Government Camp, there are trails around the town, too, which all connect for more opportunities to explore. You can ask for trail maps at any of the outdoor gear & rental shops in town.  Here are our top areas for exploring Mt Hood on foot during winter:
Trillium Lake – this will definitely be one of the most popular routes for both snowshoers and cross country skiiers due to the stunning views of Mt Hood with the lake (so get there early or late in the day for less crowds on weekends). This beginner level trail is over 4.5 miles long with a 2 mile trek to the lake (the last 1/2 mile is uphill on the way back  (totally doable for snowshoers but beginner cross-country skiers may want to take off skis at this point).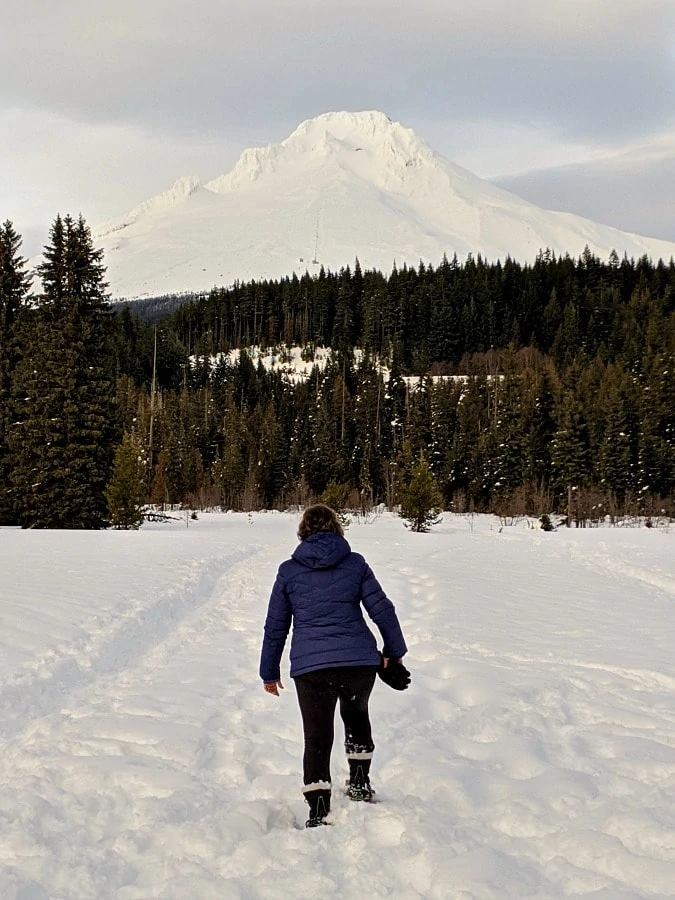 If you are wanting a shorter hike, at the half mile mark, there is a turn-off for the Summit Meadow trail. This is the trail that we took as we were limited on time & the reward was also beautiful Mt Hood mountain views. The bonus is that very few people took this trail so it was a quieter spot to enjoy those views, too. Dogs are allowed on this trail, too.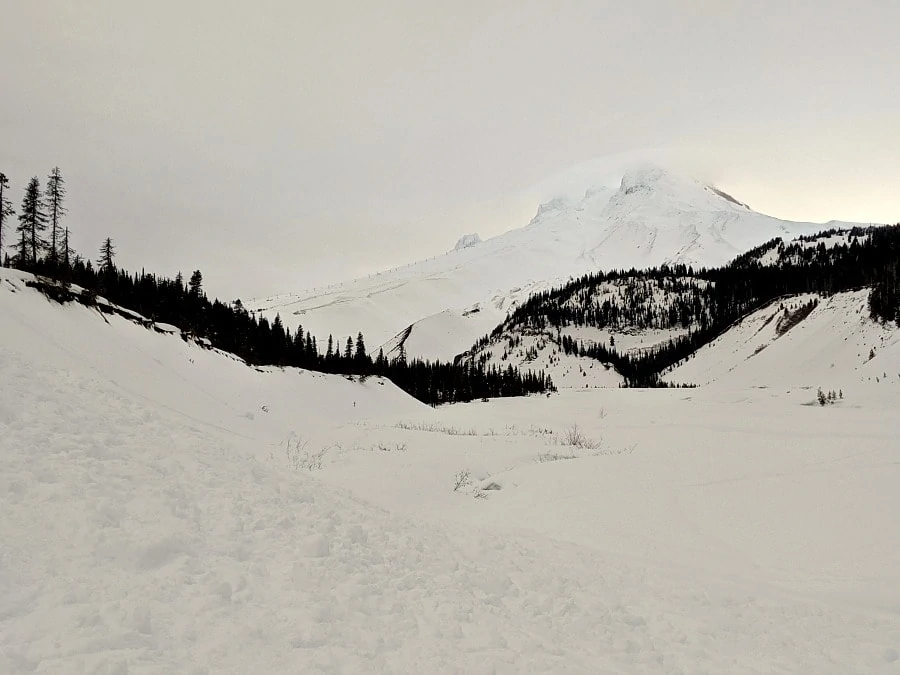 White River West Sno Park – Not only is this sno park perfect for snow play & sledding, but if you can push past the crowds for the first 1/4 mile or so, you'll be rewarded with those jaw-dropping views of Mt Hood & a nice, slow incline for cross-country skiing or snowshoeing at a beginner level as you work your way up alongside the river bed.
Mirror Lake – This popular trail is accessible from the end of the Ski Bowl West parking lot  and it's a good intermediate level trail if you're looking for a little more challenge. Due to some of the inclines on the way to the lake, this is a better snowshoe trail rather than XC trail.
Teacup Lake – This is a popular cross-country Nordic Center located near Mt Hood Meadows. There are 12 km of trails, with a variety of terrain & levels and it costs $10/person to use the trails (kids 17 & under are free). You can purchase your passes online beforehand or in person. Snowshoes & dogs are prohibited here.
Mt Hood Meadows – This is a great destination not only for skiing & snowboarding, but they also offer 3 trails for snowshoeing (as well as rentals available here) & snowshoe guided tours. There is over 15km of cross country ski trails as well. You will need a Nordic center pass to access these trails, so make sure to check out the prices starting at $10 for kids & $16 for adults, depending on time of day.
Cooper Spur Nordic Center – This nordic center is located near Mt Hood Meadows & they offer 6.5 km of cross country trails as well as separate snowshoe trails. You'll need to check in with the hotel & pay the fee for the Nordic trails (these are not listed on the website but said to be around $5-10). Dogs are not allowed.
Timberline Lodge – there is a short snowshoe trail up at Timberline Lodge, just 3/4 mile long & groomed daily. Since you're right on the mountain, I'd assume those views are fantastic on a clear day. They do offer snowshoe rentals there as well if you want to check it out.
Visiting Historic Timberline Lodge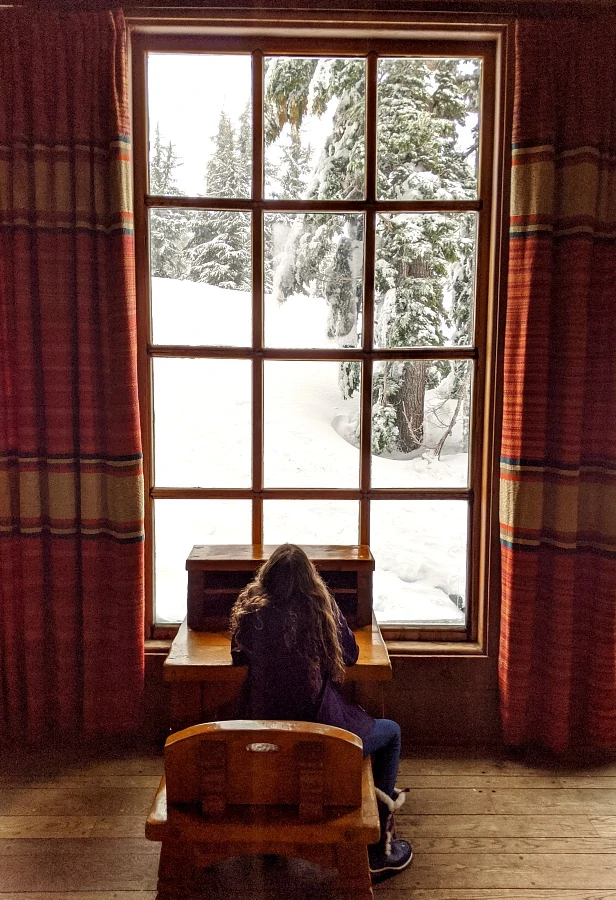 When you're visiting Mt Hood, you definitely need to make a visit to the historic Timberline Lodge with the family. On a beautiful day, the mountain will absolutely wow you as Timberline Lodge is right at the 6000′ level and Mt Hood is just stunning to see up close. On a snowy day, like when we went, it's still absolutely worth the visit to see this gorgeous, wood high alpine lodge. Built in 1937, it's a National Historic site & it is so cozy inside. In the middle of the lodge is a huge, two-story stone hearth with cozy chairs all around the fireplace on every side.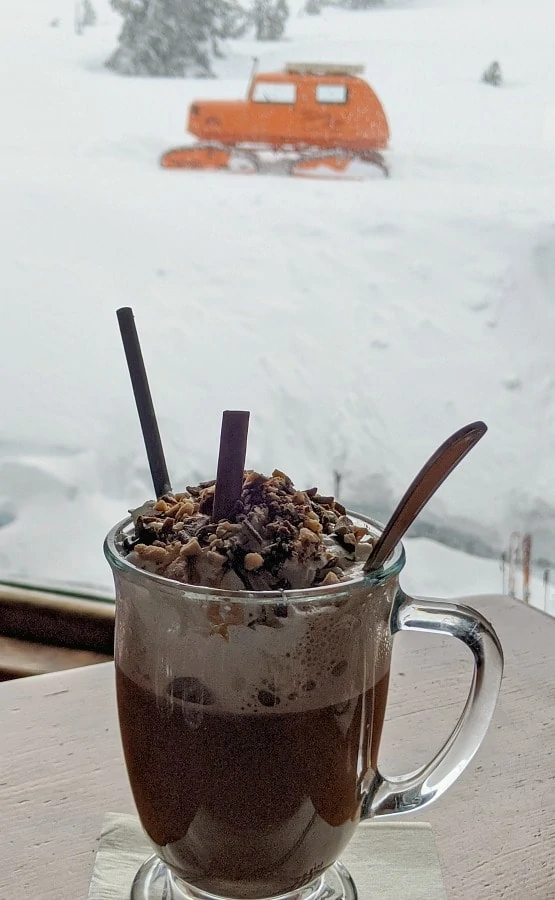 If you visit Timberline Lodge with your family, you must try the Snowcap Dream Hot Chocolate at the Ram's Head restaurant on the 2nd floor circular balcony, with beautiful views of Mt Hood out the large panoramic windows & views inside looking down at the cozy lodge & hearth. This was one of the highlights of our visit, for sure! The hot chocolate was amazing!
Mt Hood Snow Cat Tours
If you're not as much of a fan of the cold weather & winter sports, but still want a unique way to experience the beauty of the Mt Hood area during this season, Snow Cat tours are a great option for a fun family activity.  These vintage Snow Cats look so unique for a fun photo opp too.
At Skibowl East (where Cosmic Tubing is located), they offer a 15 minute ride through beautiful back country of the  ski resort on the vintage Tucker sno-cats. 5 people can fit in a Snow Cat at a time. These cost $25/person (4 yrs & older) & 3 & under are $5/ea.
Sleigh or Carriage Rides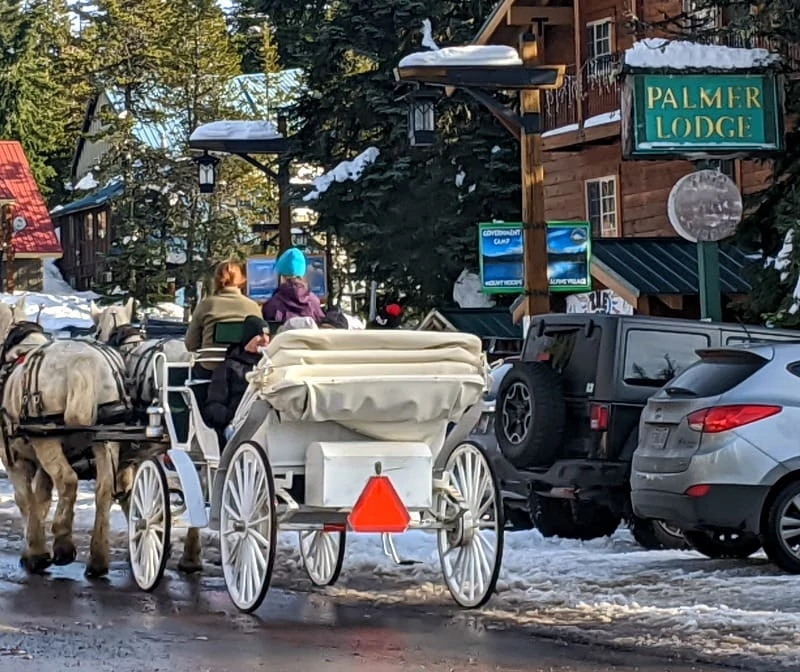 Another fun activity for the family to experience the beauty of Mt Hood during the winter is a sleigh or carriage ride through the village of Government Camp. They have large Belgian horses who pull the sleigh or carriage through the town. The best time to do this is during the Christmas season when you will get to see the holiday lights sparkling throughout the village & the village Christmas tree all lit up.
The weather will dictate whether this is a 7 seater sleigh ride or a covered carriage ride depending on how much snow is in the streets. When we were visiting in January, it was a carriage ride as the streets had been cleared of most of the snow. Cost is $30/person for 11 & older & $25 for ages 3-10 (under 3 are free) .
North American Bigfoot Center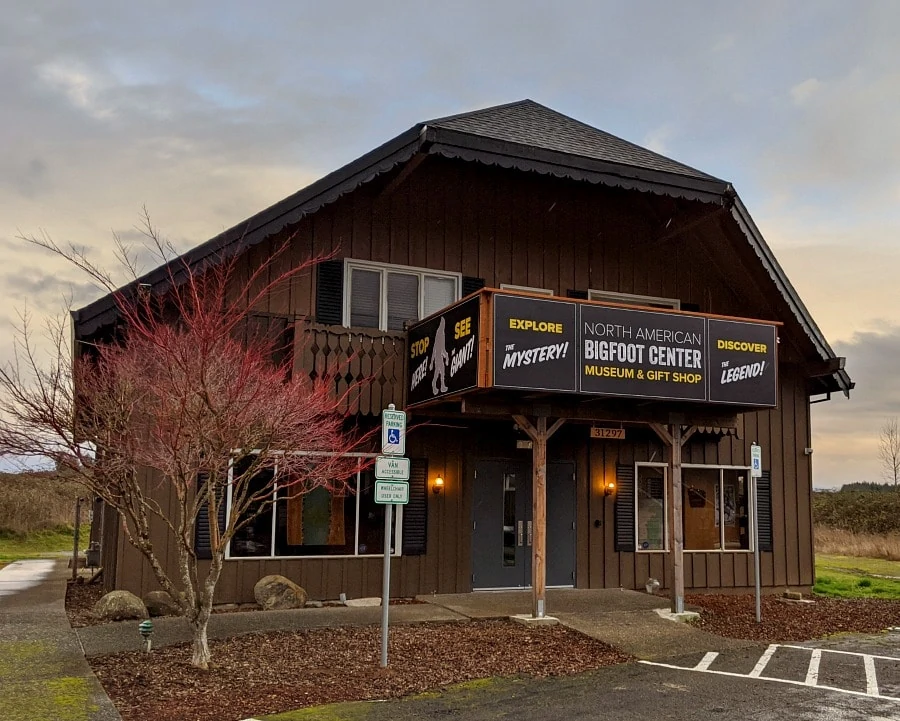 On your way to Mt Hood or on your way home, make a stop in Boring, OR at the North American Bigfoot Center for a unique and informative visit to learn more about the legend of Bigfoot in the Northwest. This museum is owned & curated by Animal Planet's popular tv show, Finding Bigfoot, head researcher Cliff Barackman & his wife Melissa.
There is a free information center and gift store, as well as a museum. The museum features exhibit halls and displays with a variety of bigfoot evidence and historical artifacts, as well as short documentaries & films with more information. Make sure to take a selfie with the life-size Bigfoot replica, too, for a quirky photo opp! (This is open every day of the week except Tues & Wed, which happened to be the day we tried to visit, so we'll have to come back to tell you more about it).
Snowmobiling

Snowmobiling is a fantastic way to explore the Mt Hood wilderness during winter if you have snowmobiles to bring with you or they have several places to rent in town. There are extensive groomed snowmobile trails at Frog Lake or Skyline Sno-parks, as well as a number of other sno parks & areas to the south of Mt Hood.
If you've never been, a splurge activity would be to go on a snowmobile tour as a family thru Mt Hood Outfitters (the only outfitter who can give tours in the Mt Hood Forest). It's pricey, but this is one of my most favorite activities I've ever done when I tried this about 5 years ago at Mt Hood & honestly I think it's an activity that everyone should try at least once if you like a thrill & seeing gorgeous scenery. The guide was fantastic at teaching us how to use the snowmobiles & taking us on safe trails for some gorgeous views. Our guide took us up to the Frog Lake sno park & Trillium Lake (not in the same area as snowshoers) as well as up to the Clear Lake Fire Lookout for impressive views of Mt Hood (this was 5 yrs ago, so the routes may definitely vary).
If you're looking for more ideas for visiting Mt Hood in the winter & need some more ideas for indoor fun, check out the Mt Hood Territory website for more ideas for kids. There are more options on your way to Mt Hood that could interest your family such as the End of the Oregon Trail Interpretive Center in Oregon City (I've heard this is really well done & always wanted to check it out), World of Speed Motorsports Museum & North Clackamas Aquatic Center.
More Information about Mt Hood: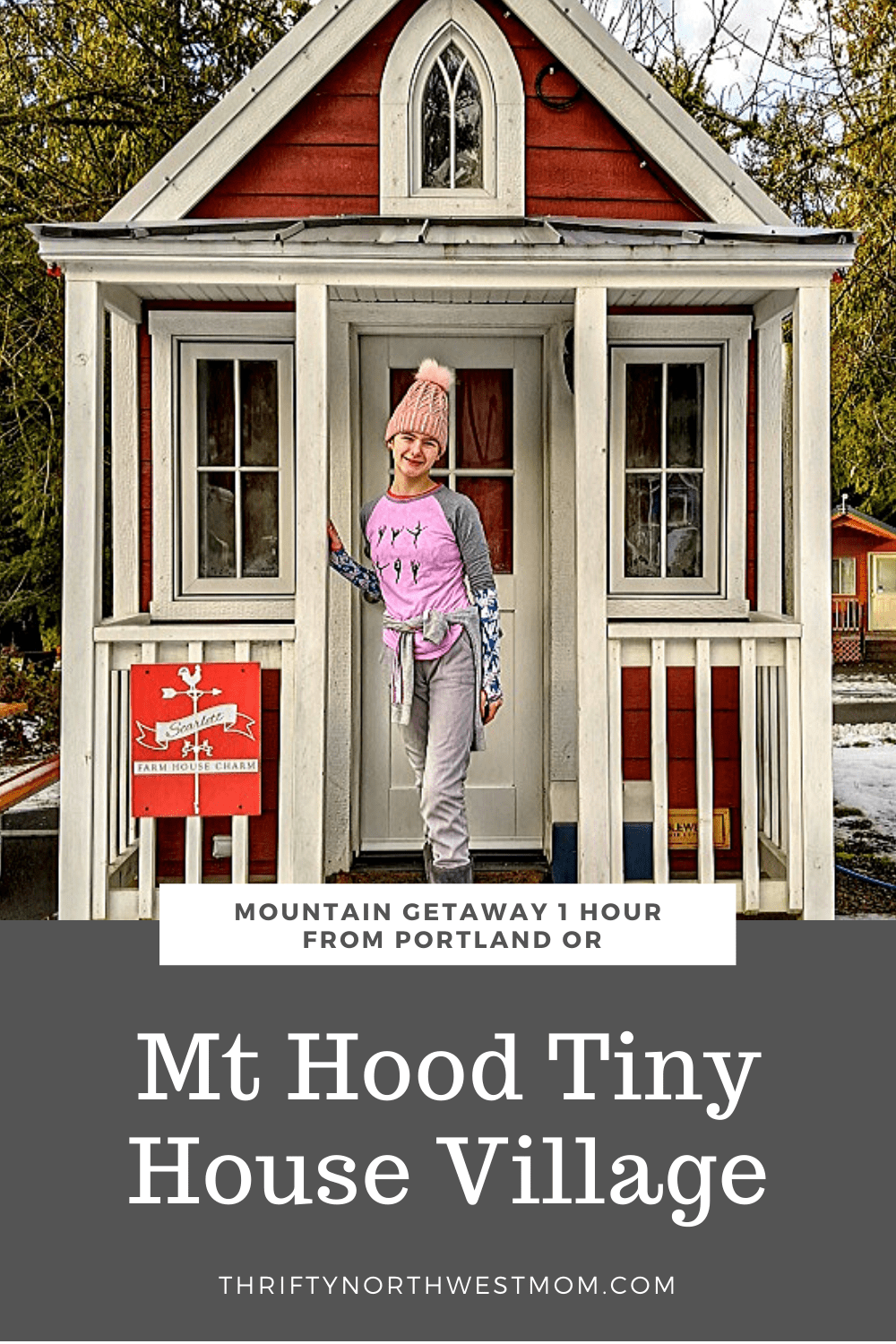 Mt Hood Tiny House Village – located just 20 minutes from Government Camp & ski resorts
Mt Hood Oregon Resort (formerly Resort at the Mountain)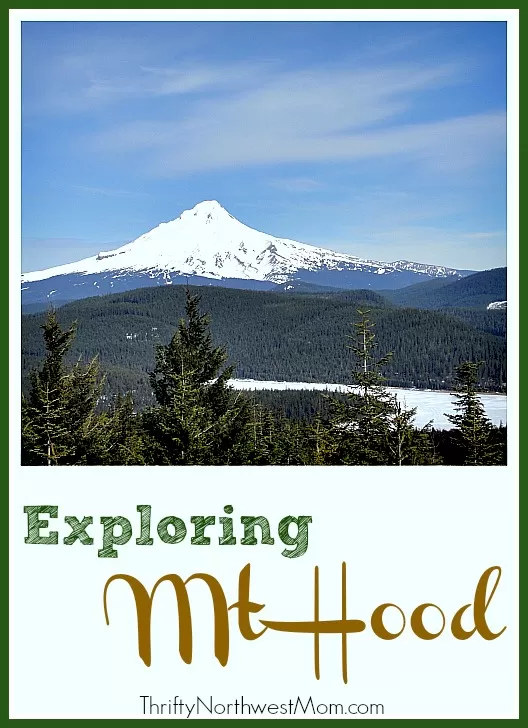 Family Friendly Activities at Mt Hood in any Season