Mt Hood Tiny House Village – So Much To Do In The Winter!
Disclosure: We were hosted by Petite Retreats to check out the Mt Hood Tiny House to share our opinions. All opinions are ours.
The Mt Hood Tiny House Village is located in Welches , Oregon, which is just 20 minutes west of Mt Hood & the wealth of activities up on the mountain – everything from a variety of ski resorts, snowshoe trails, & sno parks to hiking trails, fly fishing opportunities & more. 
Mt Hood Tiny House Village – Winter Review
We love the idea of camping where we can be out in nature & enjoy sitting around the campfires, eating s'mores & unwinding after a busy day outdoors. However, we are really starting to love the idea of glamping more & more because it's so much less work than tent camping & you can experience all of these same camping benefits during any season.
We have never visited a campground in the winter, but this January we had the opportunity to visit the Thousand Trails campground in Welches, Oregon and stay in a house in the Mt Hood Tiny House village.  The Tiny House Village is operated by Petite Retreats, a company that offers glamping style accommodations around the country.
Petite Retreats offers tiny house villages, yurts, cabins, tents & teepees as options for ways to experience the great outdoors while not sacrificing comfort & some of the important necessities during your stay. They offer locations all over the US – everything from riverfront views in Yosemite to colorful, charming cottages in Florida.
Check out our more reviews of Petite Retreat properties here:
The Mt Hood Tiny House village consists of 5 tiny houses within the Thousand Trails campground. This is the best of both worlds as you are in a unique lodging area within the tiny house village, but you have access to all the amenities of the Thousand Trails campground.
Plus, the big advantage to staying at the Mt Hood Tiny House village is that it is just a quick jaunt from Portland – less than an hour without traffic! If you're coming from the Seattle area, it's just 3 1/2 hours (or 3 hours from Tacoma). This is how long it can take me to get to various mountain spots within Washington, so I love that the Mt Hood area is so easily accessible. Once you're at the Tiny House Village, it's just 20 minutes to the town on Mt Hood, Government Camp. So, it's central location to all things outdoors is a huge positive to staying at the Mt Hood Tiny House Village.
Here are the 5 tiny houses in Mt Hood Tiny House Village:
Scarlett – Farmhouse Charm Theme; Sleeps 5; 233 sq ft; this is where we stayed & we'll share a complete review below
Atticus – Sleek, Rugged & Modern Theme; Sleeps 3, 178 sq ft
Lincoln – Rustic Modern Theme; Sleeps 5, 261 sq ft (one full size bed is on the bottom floor + more beds in loft), pet friendly
Zoe – Wild & Free Theme; Sleeps 3, 196 sq ft
Savannah – Southern Charm theme; Sleeps 3, 175 sq ft
Video Tour of the Tiny House:
Check out this video tour of the Mt Hood Tiny House, Scarlett, to get a better idea of what it looks like.
Features of the Scarlett Tiny House: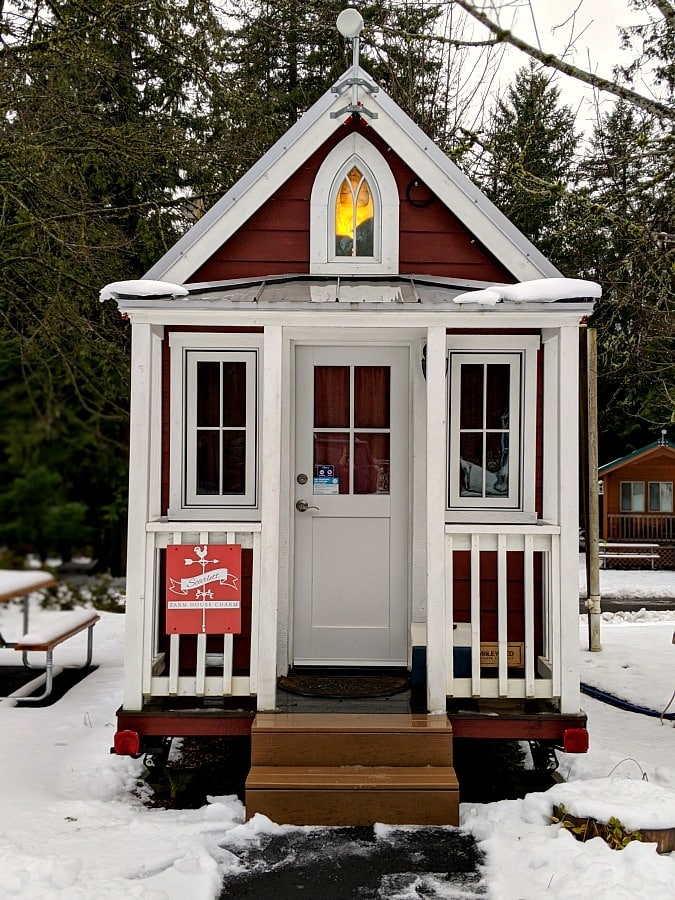 Scarlett, the darling red tiny house is decorated with the farmhouse theme & it is just darling. It is all the little, unique touches that really make these tiny houses stand out in my mind. They are so different from a typical hotel room or cabin because they focus on the special touches & unique decorating style for each tiny home.
Sleeps 5 – Scarlett is the 2nd largest tiny house at the Mt Hood Tiny House village and it sleeps 5. There is a full size bed in the upper loft as the main bed with steps that lead up to it and space around the bed & at the end of the bed  to store your bags. (Knowing the layout ahead of time by looking on the Petite Retreat website, my husband and I opted to bring our items in a duffel bag instead of suitcase so it would be easier to store up in the loft).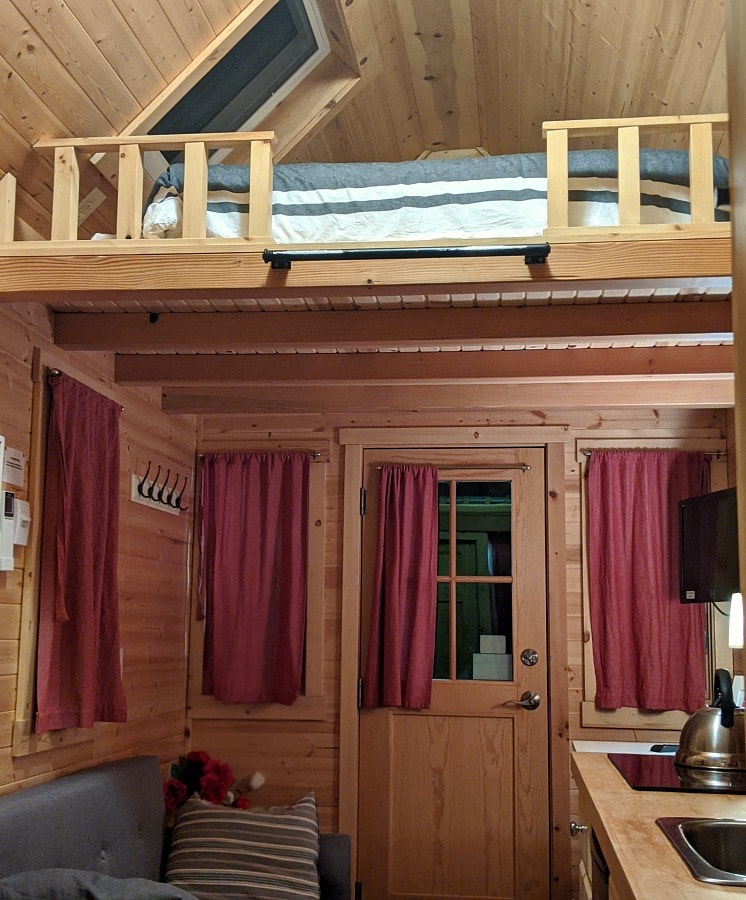 There is another full size bed in the 2nd loft, which has a movable ladder. So, we stored the ladder on the wall during the day & then kept it in place for the loft access at night.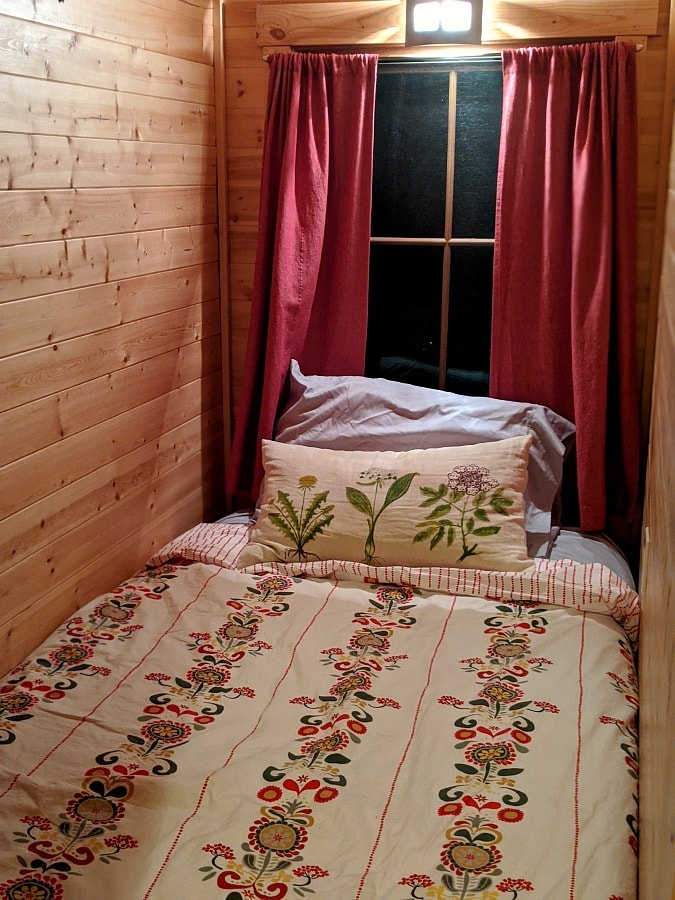 Lastly, there is also a single bed at the rear of the tiny house. This was such a cute little bed & perfect for kids, especially as it was right next to the bathroom for easy access.
Bathroom with a shower – Oh how thankful I was that the tiny houses have bathrooms! Not only a toilet but a shower & sink, too. This is my number one issue with camping – I do not enjoy those middle of the night treks to the bathroom when you are camping & so many cabins often don't have bathrooms. Because this is a tiny house, the bathroom is micro-sized, too, with a mini sink, toilet & shower, but totally functional & so nice to have access to a full bathroom when you stay there. They do have a mirrored cabinet where you can store your toiletries too. The only thing to know (& it might only be an issue during the winter as we didn't have this issue in the summer) is that the hot water is limited, so you'll need to space out your showers, as there was only enough hot water for 1 shower in the mornings & another at night.
Kitchen: 
It is so nice to have a kitchen inside the tiny house & they really did think of all the necessities with the kitchen setup. We always look for a small kitchen at places we stay as it's great way to save money & time. You may pay a little more than a hotel, but when you factor in how much you could save on meals, this often will still save you a significant amount of money.
In order to save money when we travel, we typically do breakfast at the hotel & we pack lunches & then we eat out for dinner (since we're usually out & about doing activities anyways). This is a way we are able to take more trips by being more frugal with our meals as eating out as a family of four (only 1 who is still using the kids' meal) can get quite pricey.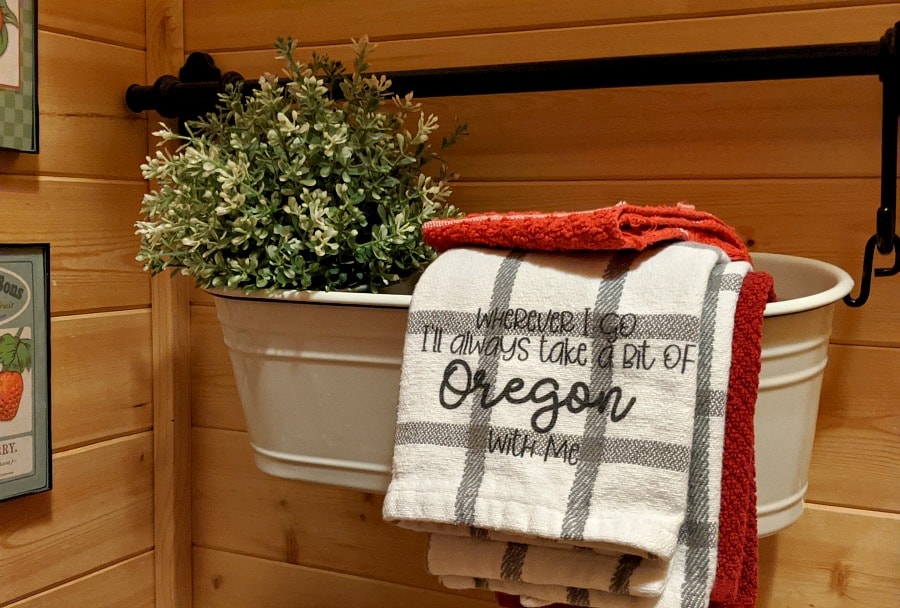 We were staying in Mt Hood to take advantage of the snow activities & for our girls to do beginner ski lessons they received for Christmas. So, we had to get up & moving early in the mornings & didn't often have time for breakfast at a restaurant, so it was  definitely a time-saver to have quick breakfasts in the tiny house so we didn't take away from the full day of activities (especially in the winter, when you are low on daylight hours, right?!)
You'll find everything from a mid-size refrigerator (bigger than hotel room fridges), coffee pot, toaster, 2 burner stove (to cook actual meals & not just microwaveable meals), kitchen tools, pots & pans, dishes, utensil & much more. All of your kitchen basics are covered within this small space , so you don't need to worry about bringing any of these items with you. We loved having the stove to heat up hot water for hot cocoa or make filling, frugal meals such as spaghetti. There's also a BBQ grill outside if you want to cook your meats on the grill & save the side dishes for the stove.
More Amenities of the Tiny Houses: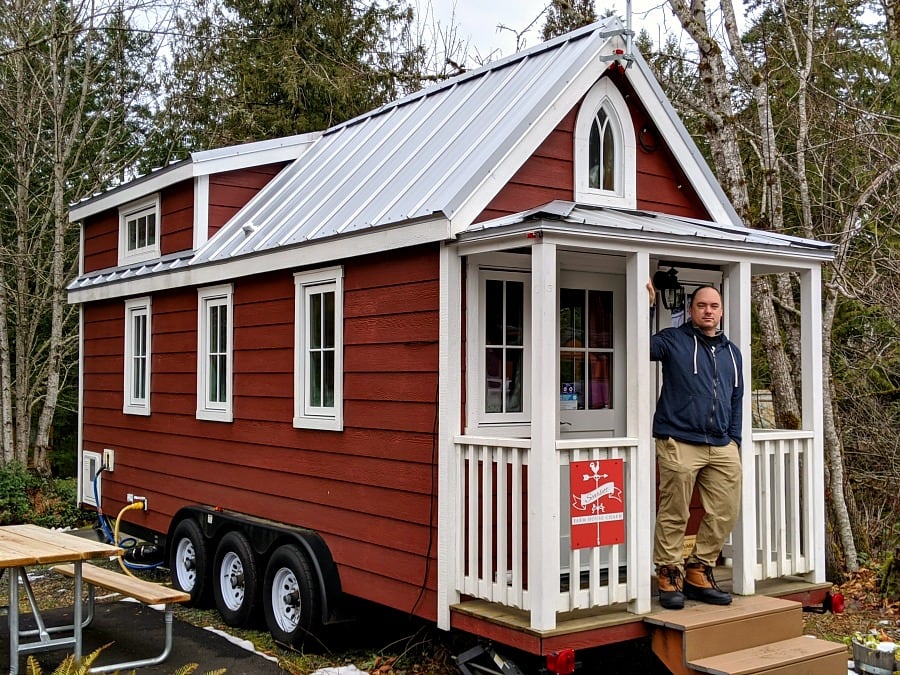 A/C & Heat – going in the middle of winter right after a snowstorm, I have to admit I was a little worried about how well the tiny house would stay warm. I knew it had heat, but I've stayed in other cabins & glamping options where the heat was definitely not enough to keep the entire place warm. But I definitely didn't need to worry with the tiny homes – we came home so cold each night after being in the snow all day long & it was so nice to crank up the heat & it stayed so toasty warm.
This was also very helpful as we had tons of wet & cold snow gear from all of our layers & playing in the snow, so we worried about how it would all dry without as much room & big hotel heaters. We just spread everything out very creatively, making use of all areas, loft rails, etc & we had no issues with items getting dry by hanging them around the house.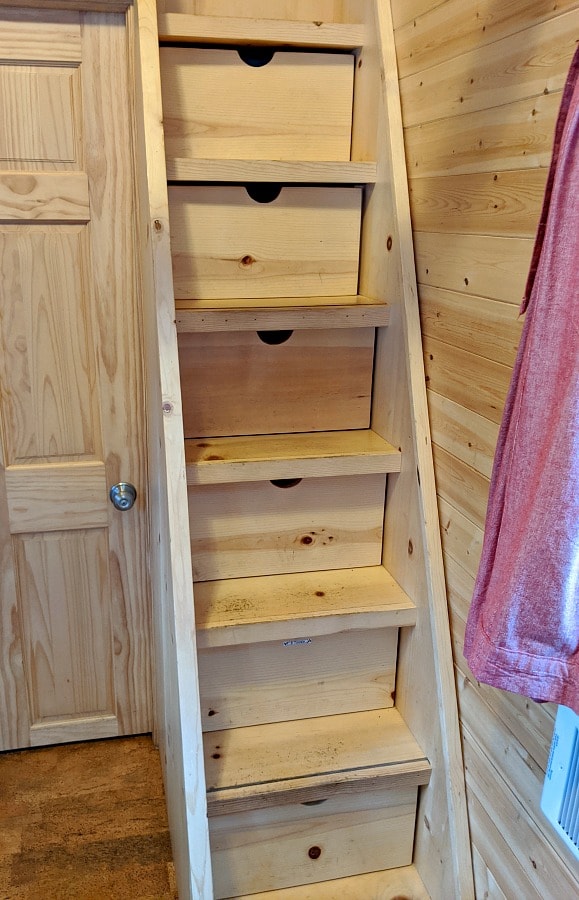 Creative Storage – The main issue that people will wonder about is if you'll have room for everything you bring with you. I was amazed by how creative they were with finding storage & providing areas to store your things in every little nook & cranny. For example, the stairs up to our loft each had a drawer for storage. You could store clothes, kids items, etc in these drawers.
There was a tall closet that both had areas for hanging items up if needed, cleaning supplies (broom/dust pan) & also shelves for bigger items you might need to store whether they were food items for the pantry or any gear you brought. Around each of the beds in the lofts, there was space for your luggage & any personal items you wanted to keep close by. We were also able to charge all of our electronics up by the bed in the loft thanks to outlets.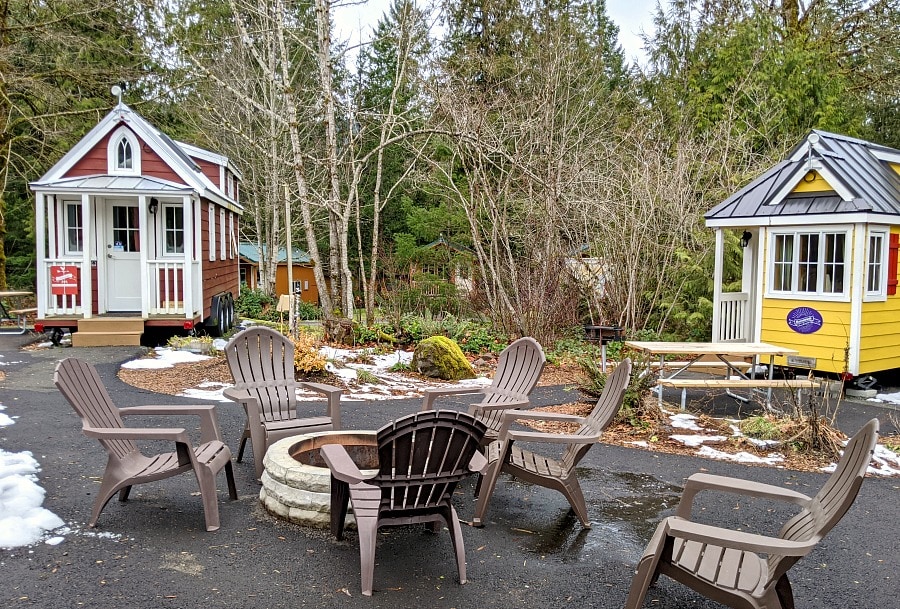 Outdoor Space – we did not use the outdoor space much since it was snowy & we were so busy with activities, but they had a picnic table & chairs, which we loved using to eat outside when we visited the tiny house in the summer a few years ago. The eating area was tiny inside (a table & 2 chairs), so in the warmer weather, this does provide more space for you to spread out.
We also loved that they have a fire pit with adirondack chairs. My favorite part of camping is sitting around the campfire relaxing at the end of the night (& s'mores of course) so you won't miss out on that aspect of camping at the Tiny House Village!
Tips for Visiting a Tiny House: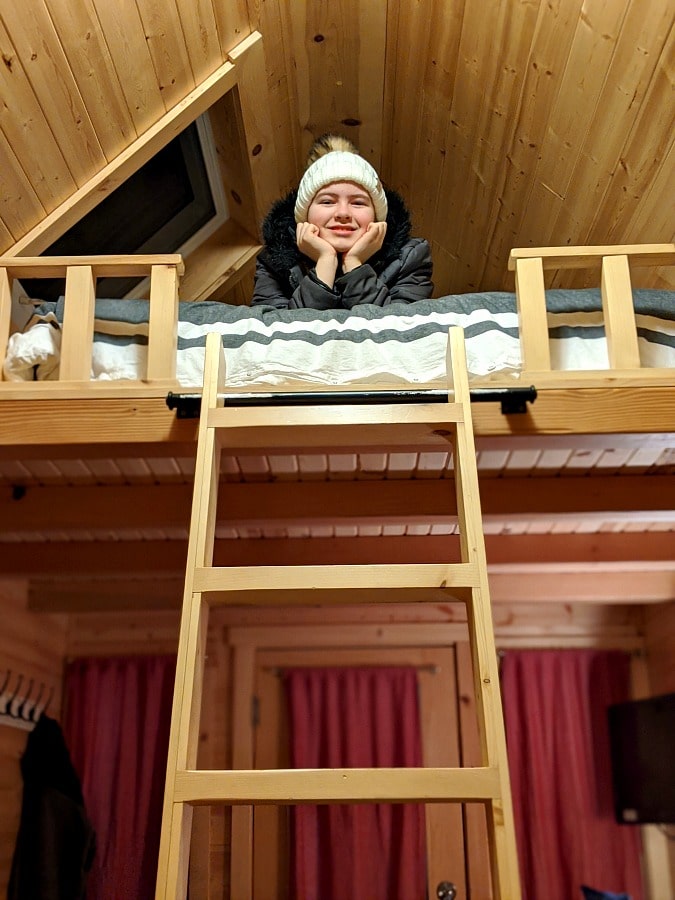 Check Floor Plan Before Your Stay – I love that the Petite Retreat website has the floor plan available online when you are choosing your tiny house, so you can see what the best fit is for your family. They have varying sizes, layouts & bed locations. For some, you may prefer to have your bed on the main level versus loft (or little ones on the main level & you in the loft, etc) , so you can see all of that when you book & choose the tiny home that fits you best.
Pack Lightly – If you have never stayed in a tiny house, you may not realize how quickly all of your items can quickly fill it up. We have never stayed in a camper or any tiny space like this before, so we definitely learned from our first experience in a tiny home in Leavenworth & were much more wise about packing for this tiny house stay at Mt Hood.  We brought bags to use upstairs in the lofts & utilized packing cubes to better manage all of our winter gear so it didn't take up as much space.
This is the whole point of tiny house living – to be able to live on less & minimize your life more, so it was a good lesson for us to realize we didn't need as many items on trips as we thought (as I can be an overpacker wanting to be prepared for anything).  We learned lessons in creative storage & how to maximize all of your available space.
Mt Hood Village RV Resort / Thousand Trails Campground:
What I love about staying at these tiny house villages is that you have your own little area just for the tiny houses all together, but then they are part of the larger Thousand Trails campgrounds with all of the amenities & activities they offer. The best part about this campground is the proximity to Mt Hood & the wealth of outdoor activities that are offered.
The RV Resort/ Campground is located just right off of Highway 26 and just a 20 minute drive to Government Camp, right on Mt Hood where you'll find all the ski resorts, sno parks, tubing hills, hiking trails & more. It's such a fast, easy way to get to Mt Hood, without staying in the middle of all of the people on the mountain. Instead, you'll be staying in the quiet town of Welches, where you can have a peaceful stay at the campground.
Amenities:
Indoor Heated Pool
Hot Tub
Sauna
Fitness Center
Playground
Horseshoe pits
Badminton
Volleyball
Game Room
Basketball
Bike Trails
Laundry facilities on site
Camp Store on site
Cafe on site
Since we visited in January during the snowy weather, our main focus was the indoor heated pool and hot tub. Oh, how good they felt after a day outside in the snowy, cold weather. They had a nice workout room, too, if you want to get in any extra workouts during your stay.
We did not have an opportunity to check out the cafe on site at the campground, but we heard a lot of great reviews about their breakfast. They bake fresh scones every morning & have hearty breakfast options for you to fill up on before you head out for a fun day of activity at Mt Hood.
The Surrounding Area: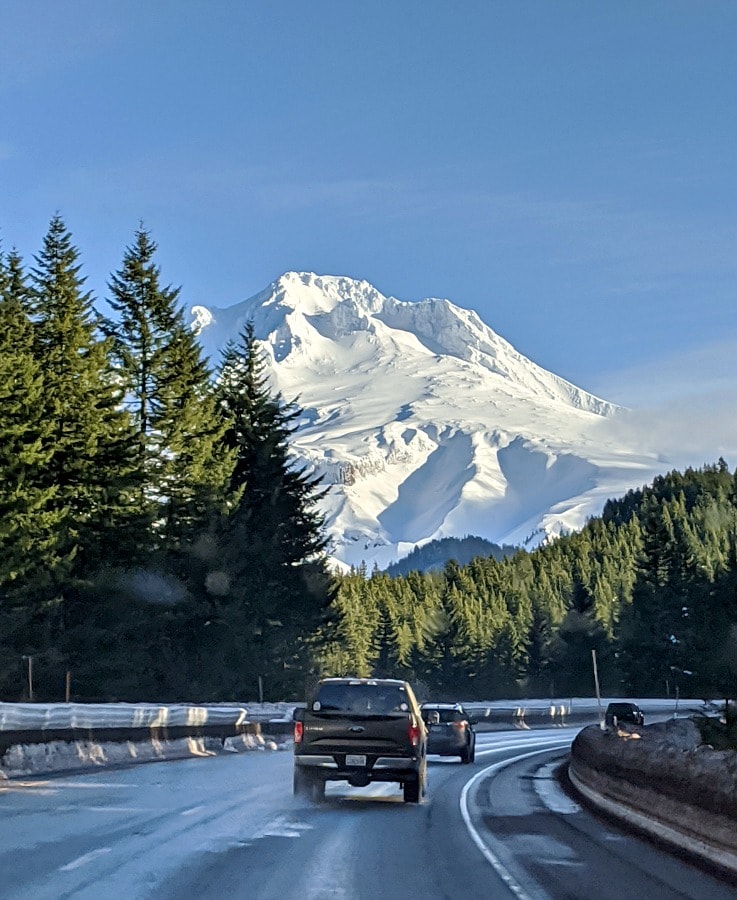 The Mt Hood area is really a mecca of outdoor activities during any season. A visit to this area at any time of year will provide plenty of fun outdoor time for the whole family! We love that there is so much to do all within 30-40 minutes max of each other, which is rare to find.  The Mt Hood Tiny House village is just 20 minutes away from Government Camp, located on Mt Hood, with so many family-friendly activities to keep everyone entertained.
Make sure to check out these posts with more information about what to do at Mt Hood: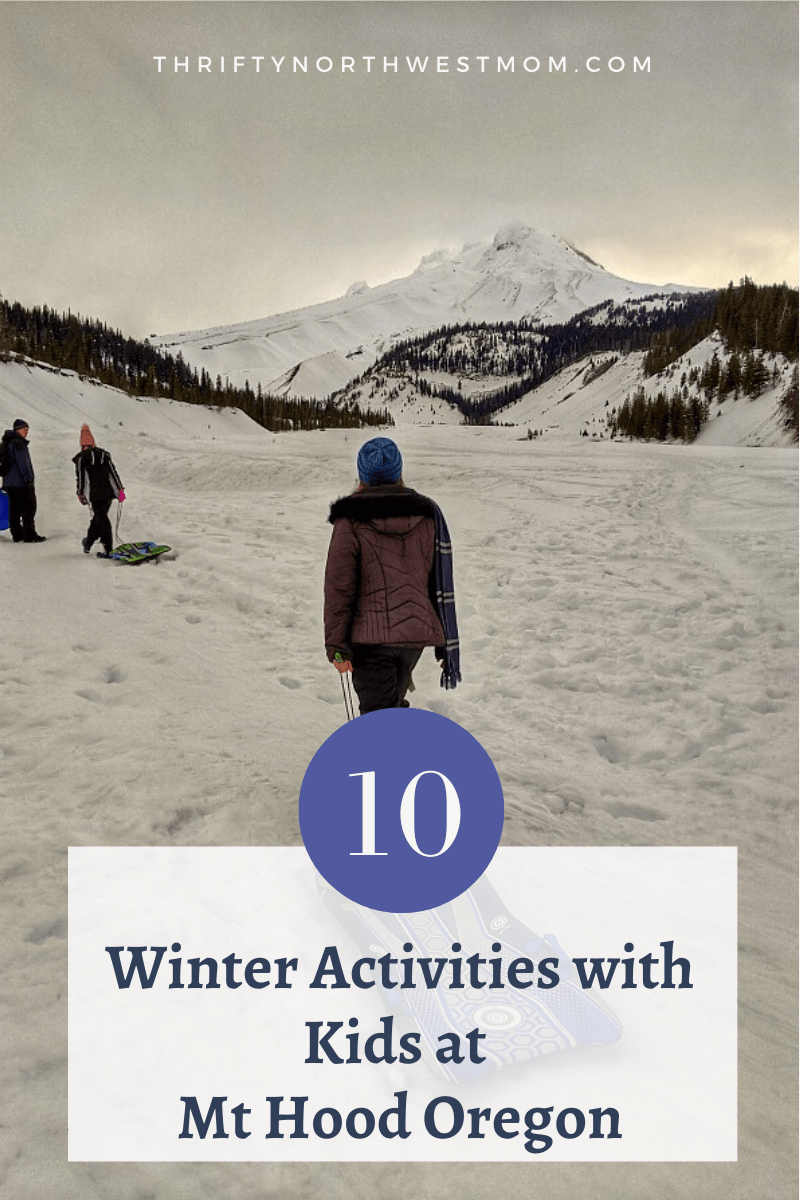 10 Winter Activities with Kids at Mt Hood 
Family Friendly Activities at Mt Hood during any Season
Here are just a few examples of activities around the area:
Winter: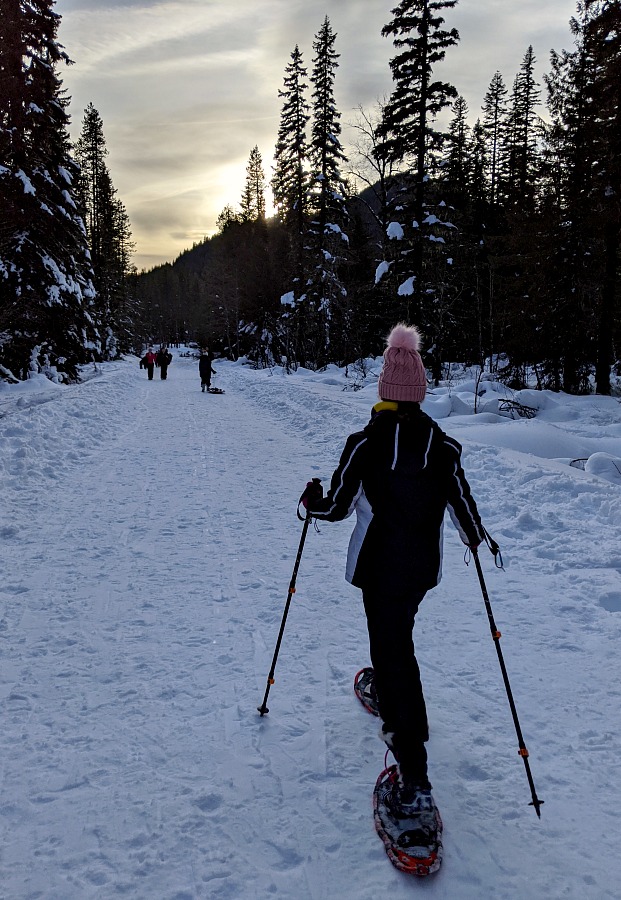 Skiing/Snowboarding – there are 3 large ski resorts (Timberline, Mt Hood Meadows & Ski Bowl) all at Mt Hood, as well as several smaller ski hills to give you quite the variety in skiing options. Mt Hood is one of the few places where you can ski/snowboard thru most of the summer, too, up at Timberline ski resort.
Tubing / Sledding – There are quite the variety of places to go tubing & sledding for families – everything from sno parks & sledding hills of all sizes to cosmic tubing with glow in the dark lights at night.
Snowshoeing / Cross Country Skiing – these are very popular sports around Mt Hood & there are a number of trails within the National Forest & around the Sno Parks to practice these skills & experience all of the beauty this winter wonderland has to offer with gorgeous views of Mt Hood at every turn
Summer:
Adventure Park – the Ski Bowl ski resort becomes a family adventure park during the summer with alpine slides, mountain bike trails, go karts, bungee jumping & more. Check out our review from a few years ago to show all the variety of activities
Whitewater Rafting – there are some popular spots for white water rafting on the Deschutes River on the eastern side of Mt Hood for those of you looking for some thrill
Fishing – fishing is a popular activity along the lakes & streams in the Mt Hood wilderness, as well as fly fishing along the Deschutes River. They've got a fishing store in town for more information on the best spots to visit & to stock up on gear
Kayaking/Canoeing – there are quite a few lakes around Mt Hood that are popular for exploring  & kayaking & canoeing are the best way to do it. There are rentals along some of the popular lakes or bring your own kayak with you.
One of the best activities to do at Mt Hood year-round is hiking – there are such a wealth of trails to hike – over 1,000 miles of trails to hike within the Mt Hood National Forest.
Why Stay in a Tiny House: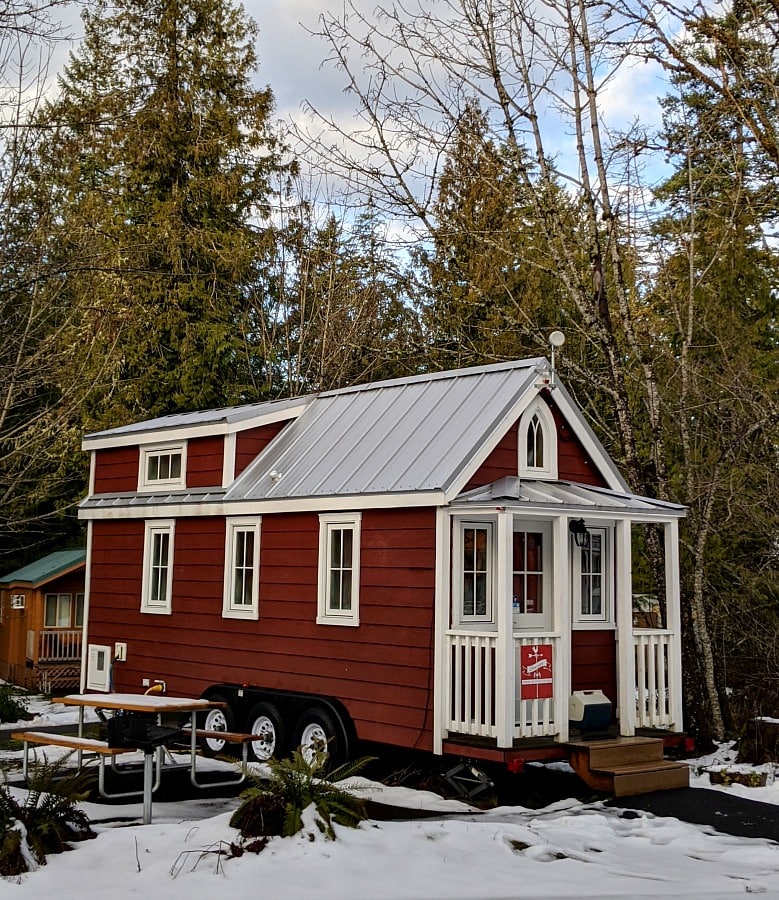 Tiny house stays may not be a good fit for everyone, but I do think it's such a good experience for anyone to try. Tiny house living & van life are all the rage right now and I think it's so good to experience what it is like and see if you can minimize your packing & travel lightly, so you can focus on making memories & relaxing in these adorable tiny homes.
When you stay at the Mt Hood Tiny House Village, you'll get the experience of staying in a nice, wooded campground, centrally located to Mt Hood and experience the best parts of camping, such as late night campfires, s'mores around the fire & dinners out on the grill.
But you don't have to sacrifice all of the comforts from home with a cozy place to sleep, no late night treks to the bathroom & having much less work involved as compared to camping. No big packing or unpacking sessions to make sure you don't forget any necessities for cooking or sleeping.  Glamping in a tiny house is so much nicer than roughing it in a tent (in my opinion) but giving us the opportunity to still be out in nature & have the experience of camping.
Check out more Petite Retreat lodgings in the Northwest: