5 Favorite Places to Stay – Bend & Sunriver Rentals & Hotels Great For Families!
This post may contain affiliate links and I may be compensated for this post. Please read our disclosure policy here.

5 Favorite Places to Stay – Bend & Sunriver Rentals & Hotels Great For Families!
(+ A Few Extras)
The Sunriver and Bend Oregon areas are one of my families favorite Northwest spots to vacation each summer. This vacation destination is perfect for families, couples, girls getaways and more. It really offers so many things to do for all ages, and accommodations for most budgets. You will find both rentals in Bend Oregon, as well as Sunriver rentals if you want a home to stay in (our favorite way to visit). Plus, there are a number of hotels in Bend Oregon to choose from, as well as the Sunriver Resort in that area – if you want the amenities a hotel offers. You will even find great camping and RV options in this area too. My family has been visiting for years now, and during all seasons, and have compiled a list of a few of our favorite Bend area and Sunriver rentals and hotels to help you make the best decision for your vacation.
There is year round fun here, but we love summer best with the warm dessert air, outdoor bike riding, river fun and so much more. If you love Winter activities, this place is wonderful then, with skiing nearby, tubing onsite and so much more to enjoy. The shoulder seasons (fall and spring) are great times to enjoy some great rates in this area too.
In order to the make the most for your family trip to the Sunriver and Bend area, you will want to pick the right spot for your family to stay. There are many options in the area for families to get away too, but here are a few of our favorite picks. We have tried to include some options for most budgets, so everyone can enjoy the beauty of this area.
Once you have decided on where to stay, be sure to check out Things to do Sunriver & the Bend area here too.
Is Bend & Sunriver Worth Visiting?
My family asbolutely thing that both Bend & Sunriver are worth visiting! Our preference personally is to stay in Sunriver and then use that as a basecamp to explore the entire area. I love to stay here because it is easy to get around most of the Sunriver Resort area via walking and biking paths. That means we can walk to restaurants as well as lots of other activities in the area, then do day trips out to explore more of the activities that the Bend area offers too. They have a Sunriver Village (restaurants, shops, activities and more), Sunriver Marina (rent a kayak and more), stables if you want to do horseback riding and lots more right in Sunriver.
There are quite a few great options in Bend too though, if you prefer to me closer to everything there. They offer options that will range from camping, and other affordable hotels, to luxury options.
Here are a few things to consider when deciding where to stay in the Sunriver and Bend areas for a family getaway:
If you want to park when you get here, and mainly walk or bike to your destinations after that, then Sunriver is ideal for that, with miles of biking and walking trails.
If you want more access to the city (like the Old Mill District in Bend on the river with shops and restaurants), Bend might be a better choice.
If you want to rent a vacation home, either area will work – but that is primarily what Sunriver is made up of, so you will have more options here.
If you want a high end resort, Sunriver has one beautiful option, but the Bend area will have more.
If staying on a tighter budget is a main factor, we love the Thousand Trails campground – set in between both of these areas, and with some of the more affordable costs in the area. The Loge and The Camp are a couple more great option for folks who are looking for the most budget friendly options in the area, and we share more about those below.
Our favorite picks for Rentals in Bend Oregon, and Sunriver Rentals + hotel and park options too::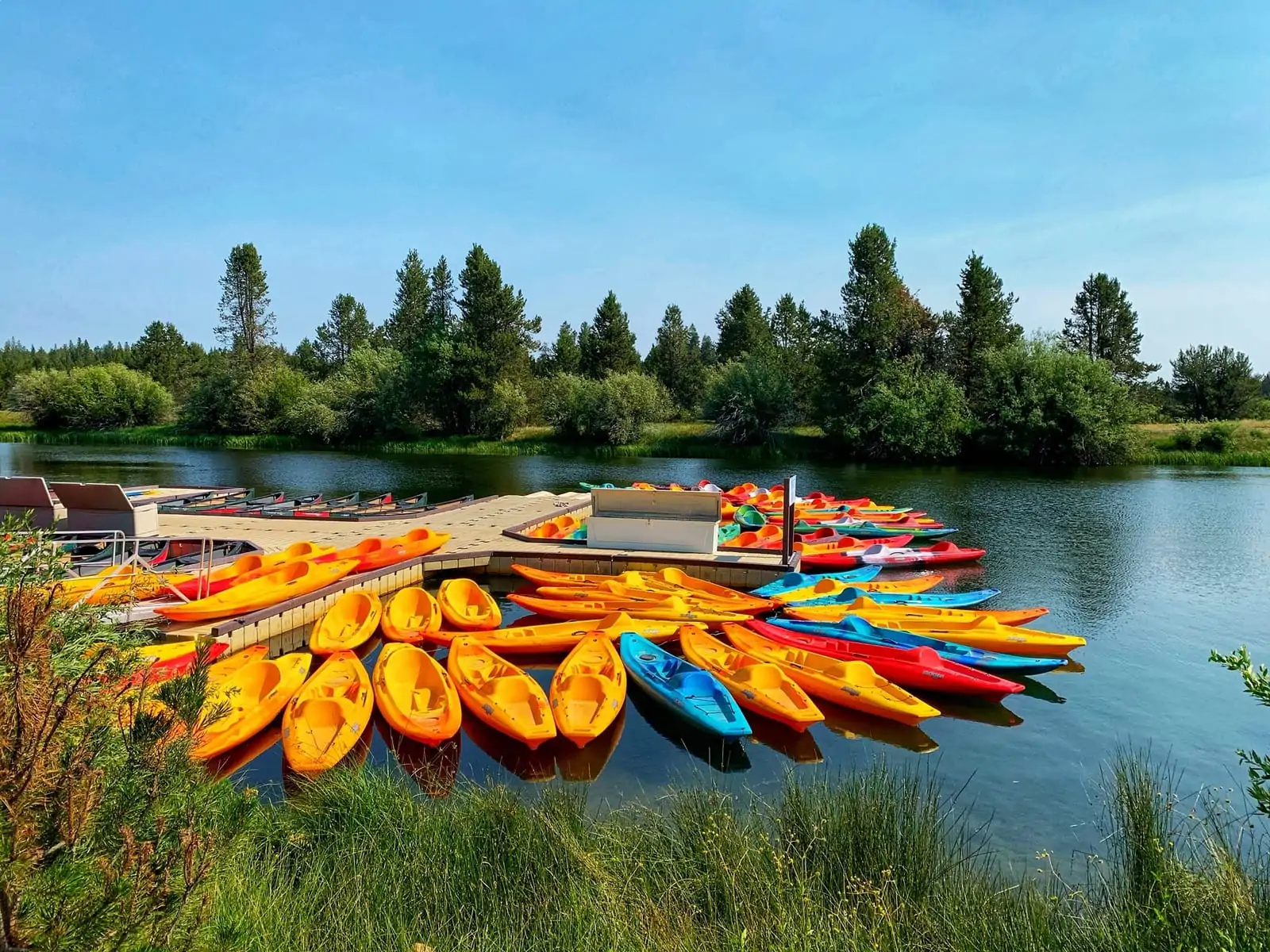 The Sunriver Marina at the Sunriver Resort – lots of access to water activities here.
The Sunriver Resort is one of the most well known spots in Sunriver, and for good reason. The resort is beautiful, and this year they added a new waterpark with slides on as well, and they have a lazy river – plus they have multiple swimming pools.
You can often find deals for the Sunriver Resort on Groupon here too!
Find current rates for the Sunriver Resort Oregon here.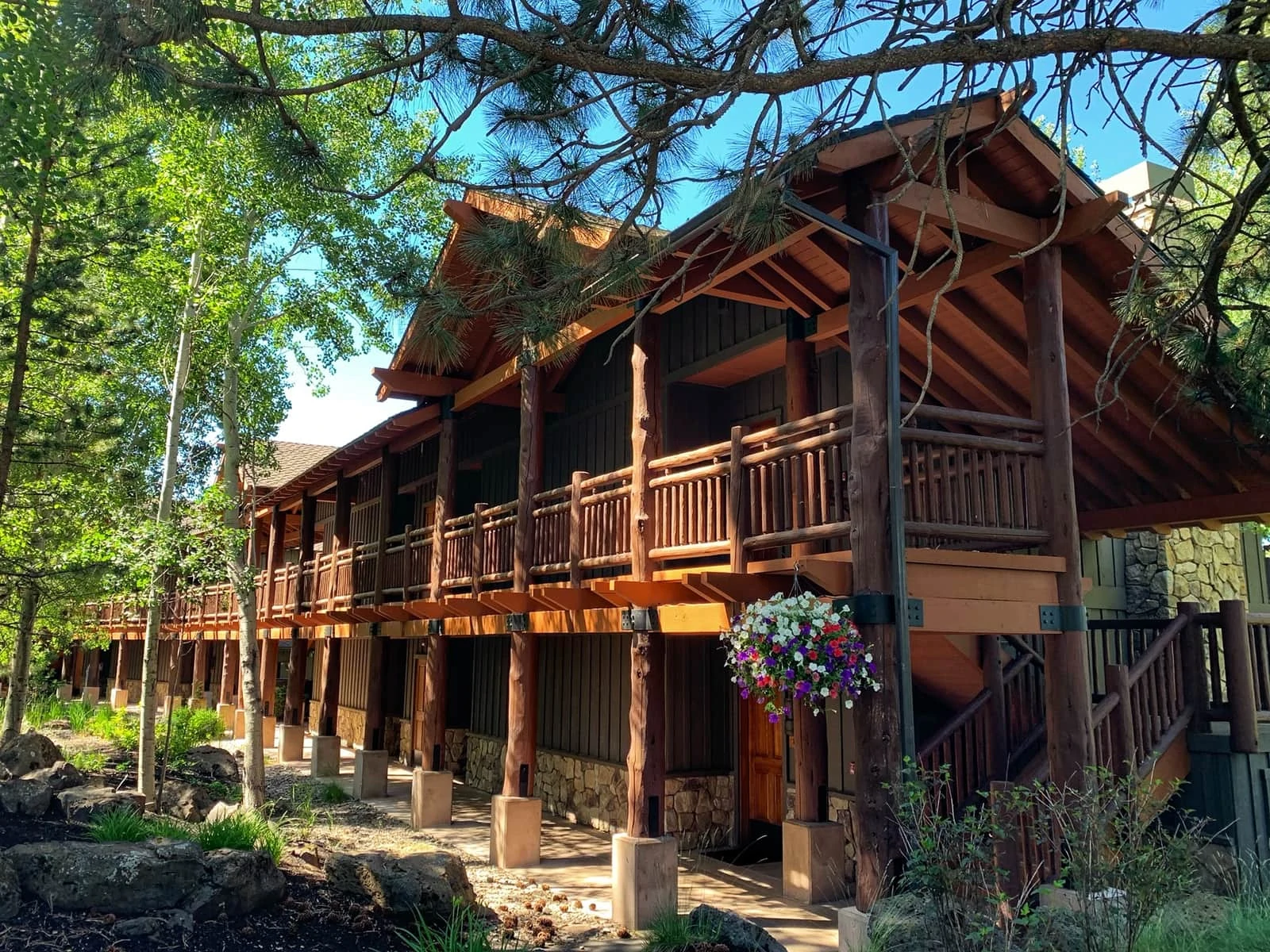 You will find various lodging arrangements, restaurants, family activities, pool and waterpark on site, and much more. In addition it is easy access to the Sunriver Village, golfing, horse back riding and the Sunriver Marina for water activities too.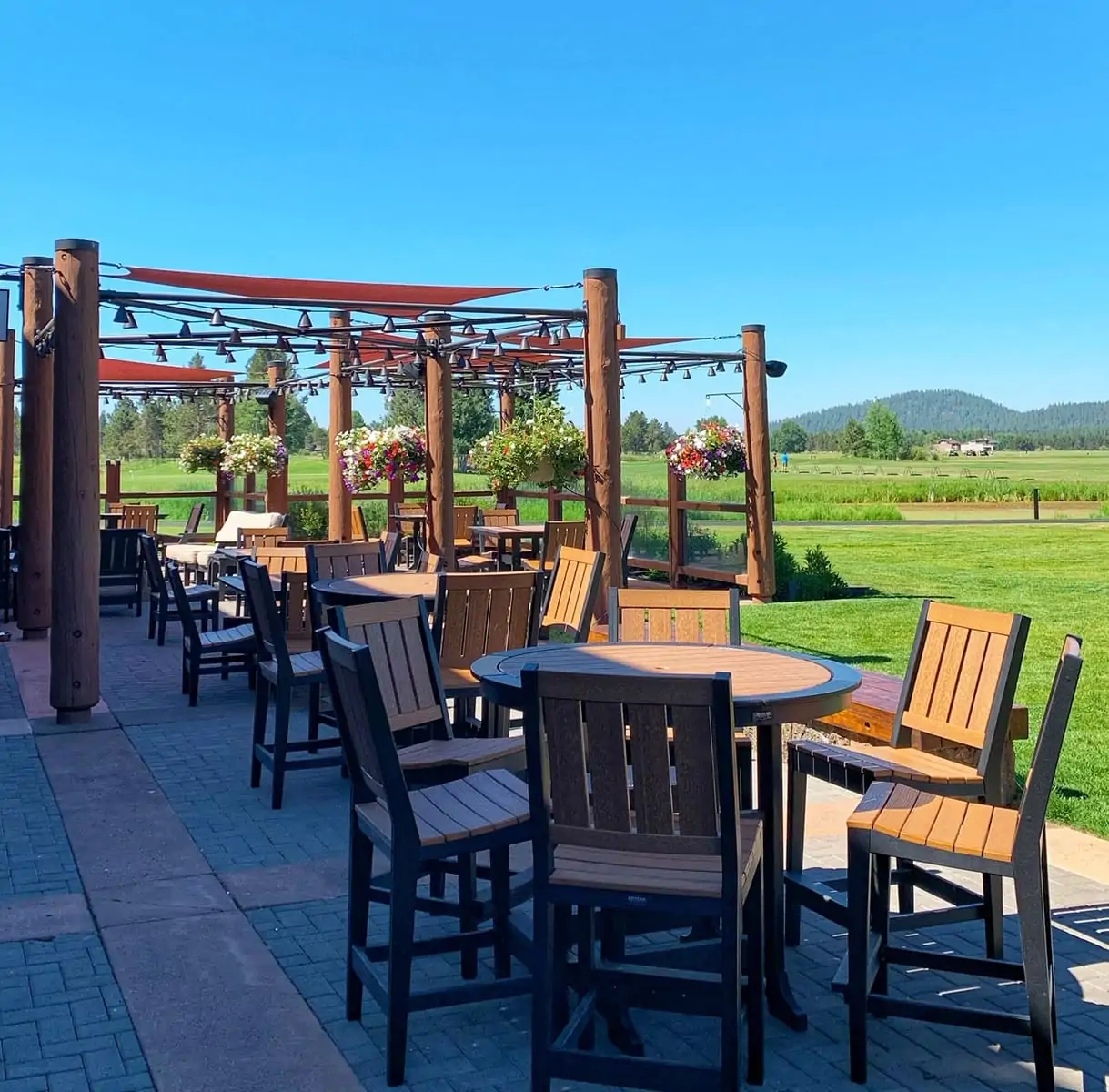 We love to enjoy a drink and meal out here overlooking the golf course at the Sunriver Resort, but they have a handful of restaurants right on site to choose from. If you are looking for a resort like experience in Sunriver, this is the spot for you.
There are so many different Sunriver rentals in this vacation destination, that will fit many different travel styles, family sizes and budgets. A few to consider include:
Jens family stayed in this large family home, with so many extras included here.
My families favorite spot to stay is at the StoneRidge Townhomes Community. We love it for so many reasons, but a few include –
It is right across the street from the Sunriver Village, so we have easy access to everything.
It has some great amenities on property, like a swimming pool and hot tub, complimentary bikes, and sometimes even passes to the Sharc Aquatics Center.
The homes have a nice open concept, and plenty of room for the family.
We love the outdoor space, and have had deer's come into our backyard area while visiting too.
In the past we have found the prices on Sunriver rentals in the community to run from anywhere around $100/nt to upwards of $500, so your options here will vary considerably.
Find current options for Sunriver Vacation Rentals here.
Somethings to look for when renting here include:
Does the rental come with complimentary bike usage (if you are not bringing your own, this will save you considerably.
Does the rental come with any complimentary SHARC passes. If you want to use the waterpark this will save you considerably.
How far is the rental from the main village (if you want walking or biking access to restaurants and shops).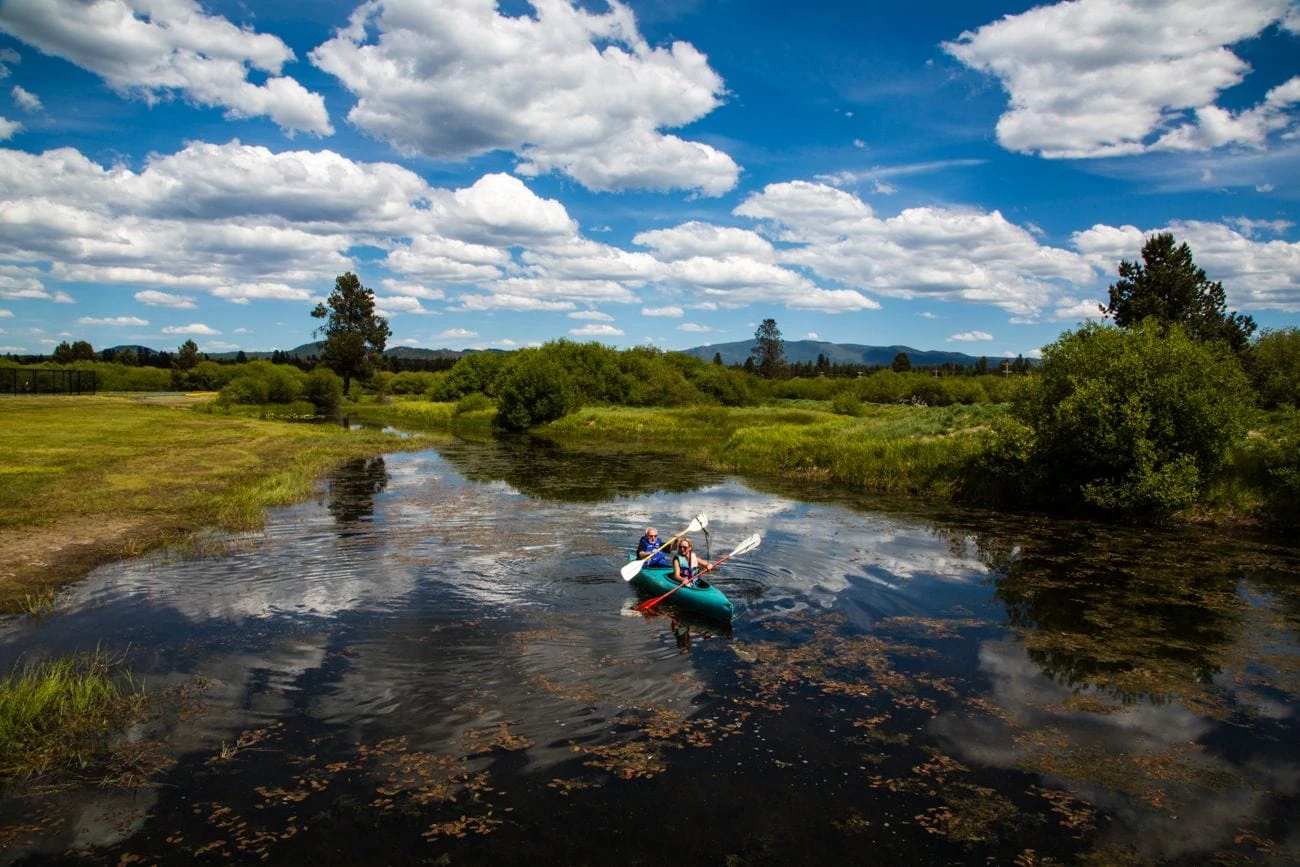 Thousand Trails Sunriver / Bend
Bend-Sunriver RV Campground, on the Little Deschutes River from Thousand Trails Sunriver
We have stayed with Thousand Trails resorts all over, and love them for their affordability and amenities available to families. Plus many of them have been going through various stages of remodel, and have new cabins or other places to stay other then just spots for RVs or Tents. The Thousand Trails Sunriver / Bend location is one of their great spots.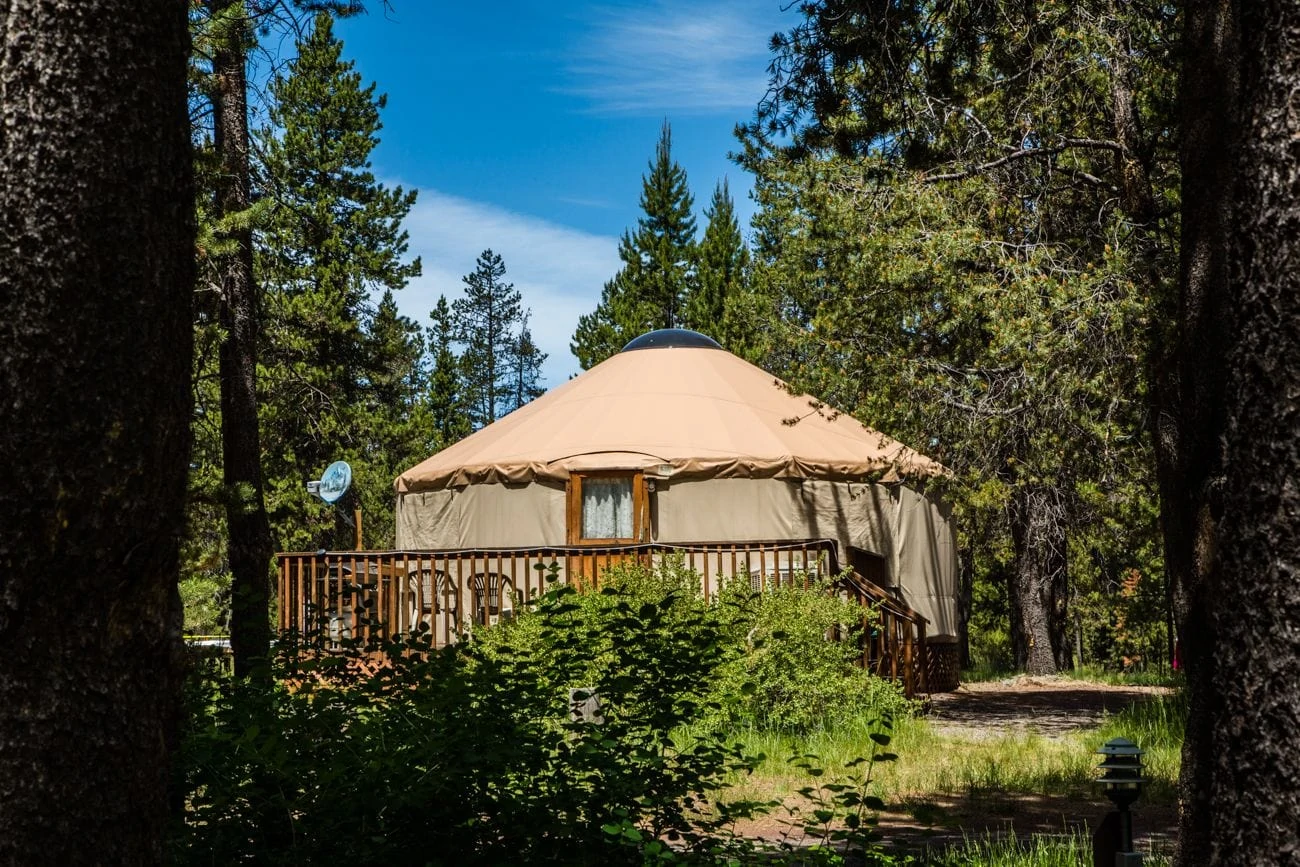 Tent sites here start at under $50/nt and cabins and yurts start at less then $140/nt (prices will vary depending on date of stay, and how many people).
This Thousand Trails Sunriver Bend resort offers both canoe and kayak rentals. Campsites, cabins, cottages, and yurts are available for families to rent, or RV and tent sites as well. This one makes our list, as there is something for a variety of budgets, making it accessible to so many, a ton of amenities, and it sits between Bend and Sunriver for maximum enjoyment of both areas.
It really does pack in a ton of amenities. Fishing is allowed at this Central Oregon RV campground, and rivers and lakes in the area offer salmon, whitefish, and rainbow trout. Other summer fun includes boating, swimming, hiking and horseback riding.
Hotels in Bend::
Here are some fun picks for Hotels in Bend if you are looking for those.
You can check current rates for more Hotels in Bend here too.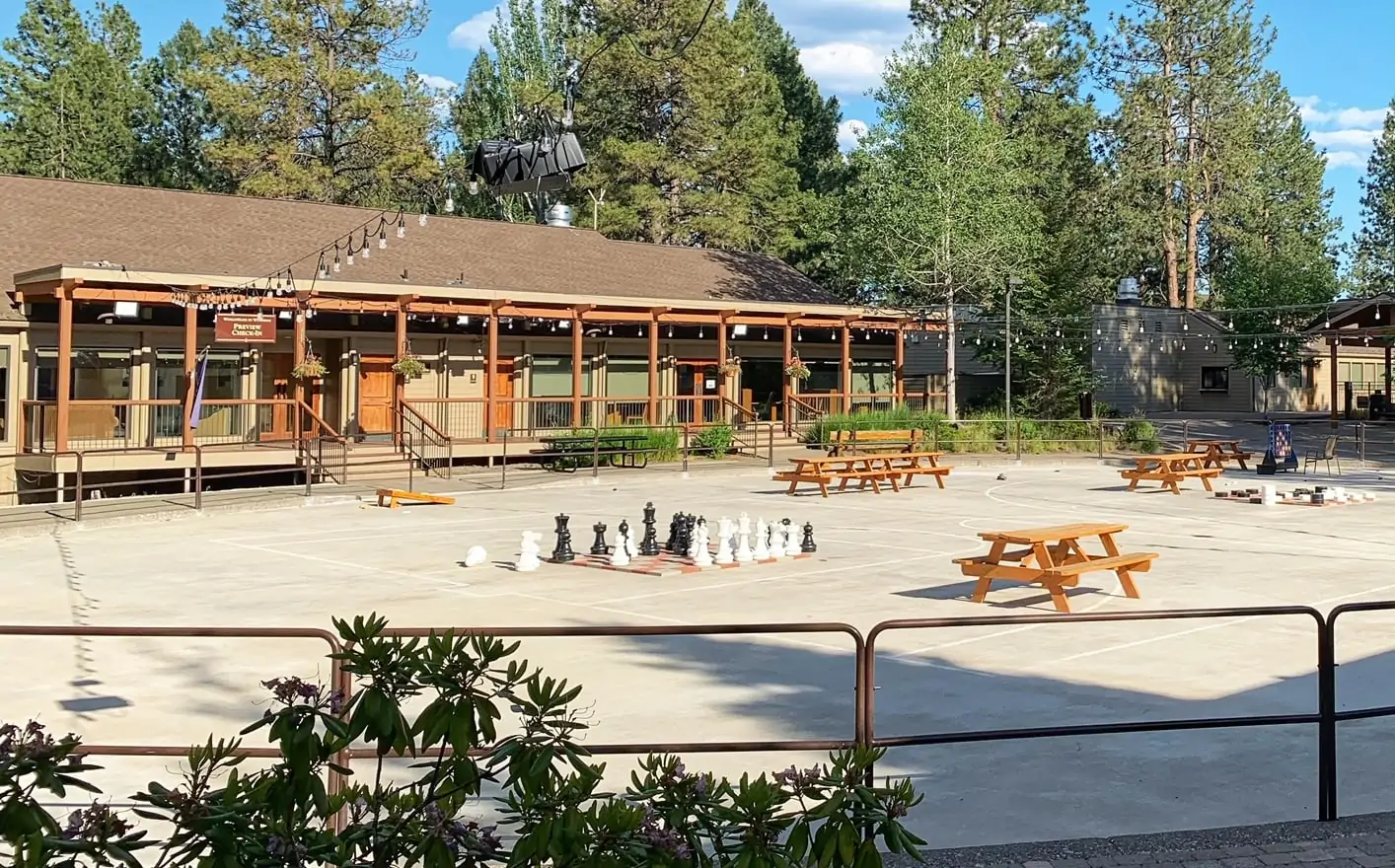 Seventh Mountain In Bend Oregon
We discovered the Seventh Mountain resort while we were doing some white water river rafting. They run the most affordable river rafting expeditions in the area that we could find, out of there. While we were there to head out for the river, we saw what looked like a super friendly family resort.
We saw families enjoying multiple pools areas here. There was also a big game area (which doubles as an ice rink in the winter), and it sits on the river. They offer a variety of different room accommodations, for families of different sizes.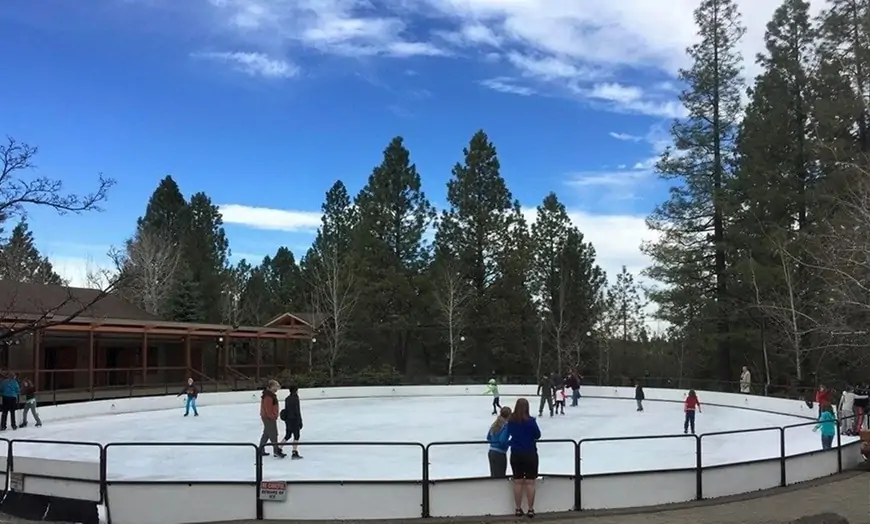 If you want to head over here in the Winter, this location is one of the closest to the Mt. Bachelor Resort for skiing and they have an onsite ice rink! Plus, it is just 10 minutes from downtown Bend, making river floating and more easily accessible.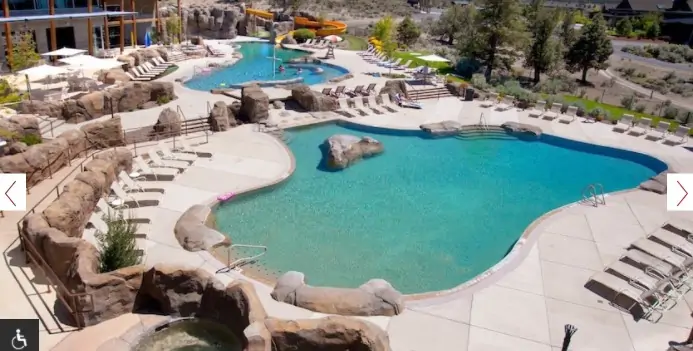 The Brasada Ranch is actually located in Powell Butte, about 35 miles outside of Bend, but it comes so highly recommended for families that we had to include it.
Thrifty NW Mom reader Liz stayed here with her family, and this is what she had to say about it:
"This place is incredible. Hot tub on our cabin deck, farm-to-table restaurant, kids club, bike and hiking trails, horseback riding…amazing. Just what this family needed."
Kids Activity Center: Special evening for 3 hrs (parents could go into town to dinner in Bend):  Cowboy Night: He led the show tonight at the activity center where they panned for gold, learned to lasso, and made s'mores just to name a few!
The kids area is incredible. I didn't take any of the work out room but they had a really big work out room. The locker rooms were so clean and so nice. Every kind of toiletry you could ever need for free. They also offered yoga classes and spin classes. I didn't get a chance to go to the spa but heard it's amazing. The kids Cow kid night was a blast for our kiddos gave us 3 hours to ourselves—-we've never had that before on a vacation So we drove into Bend for dinner.
Kids area had tons of toys and books for all ages and coloring and painting. Video game as well as pin ball machines. There was indoor basket ball games. And they had outdoor basket ball games and a beach volleyball area too.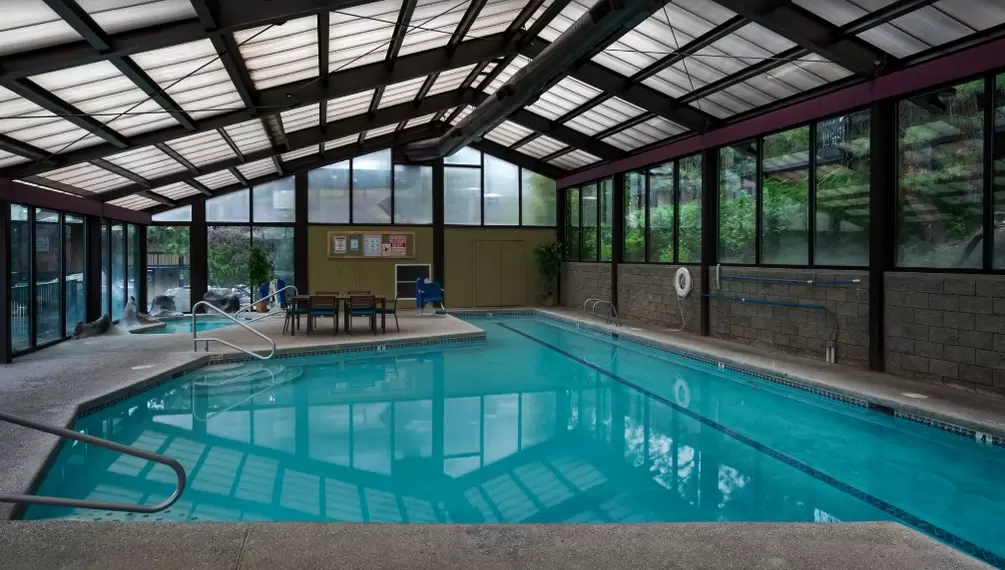 Honorable Mentions for Hotels in Bend & Nearby –
This spot has a funky mix of a laid back camping vibe, but you can also rent some really cool restored vintage trailers (or bring your own RV), if you are looking for an RV park in Bend.
This is another more affordable option in the area, and offers multiple lodging options for different budgets.
The Campfire Hotel Bend Oregon
This boutique hotel has been renovated, and is located in the heart of Bend. It has a rustic camp feel, and they offer King rooms with bunk beds that could work great for families. If you are a frequent traveler, something very unique about this hotel is that they offer a "season pass" for stays. You pay a set price for unlimited stays in the timeframe you purchased it for (2 night maximum stay per visit). You will find some pretty affordable rates in the shoulder seasons.
Image courtesy of Black Butte Ranch
Black Butte
Ranch
,
Sisters Oregon
This one is not actually in Bend, it is in nearby Sisters, but the resort is beautiful luxury resort, if you are looking for something more on the high end.
This spot sits right on the river, and is recently remodeled and updated. It also offers plenty of activities, right on site, that families will enjoy.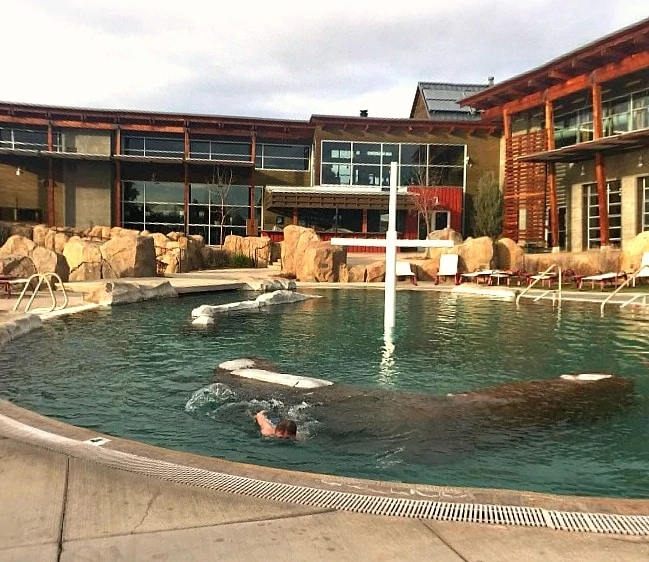 This is what Thrifty NW Mom reader Kathy had to say about this resort:
Eagle Crest has lots to do like such as out door and indoor pools, playgrounds, indoor tennis courts, miles of bike trails ( you can rent bikes or bring your own), 18 hole golf course. Horseback riding. Restaurants and cafes. They have condos and hotel rooms. Probably even more things!
Horseback Riding: The stables at Eagle Crest resort. The trails over looked the sisters mountains and Mt Hood.
Now that you have decided on where you want to stay in the Sunriver / Bend area, be sure to check out these articles for lots of ideas on what to do, and where to eat in the area too!