Glamping in the San Juan Islands at Lakedale Resort
This post may contain affiliate links and I may be compensated for this post. Please read our disclosure policy here.
Glamping in the San Juans at Lakedale Resort is an experience that everyone in the family will love, from staying in a glamping cottage to enjoying all the kid friendly activities around the resort!

Glamping in the San Juans at Lakedale Resort
In the past few years, I've started hearing more and more about these glamping locations around the US & even some here in the Northwest. The whole concept was something that was very interesting to me, though, as I am not someone who grew up camping. My husband on the other hand grew up in a family that camped all the time.  So, we've been trying to take our kids camping a lot more in the past two years.
The slower pace of camping and getting disconnected is something we all love now. However, there are aspects of camping I'm not a fan of as much these days: all the prep work & the mess when you come home, sleeping on the lumpy, uncomfortable air mattresses & the long treks alone to the bathroom in the middle of the night. So, the idea of glamping was definitely very enticing to me as it's a way to still be outside in nature and experience all the aspects we love about camping without all the work and with a little more comfort.
My family had the opportunity in early May to head to one of the most popular glamping resorts in the Northwest – Lakedale Resort on San Juan Island. I have been hearing about this resort for years as it's been a top-rated family friendly resort and just in the past few years, they have added the glamping aspect to their resort, taking it up a big notch in coolness factor. They have several different options for glamping, too, depending on what you are looking for – their Canvas Cottages or Canvas Cabins.   In 2018 (after we visited), they added seven luxury yurts to their resort as well.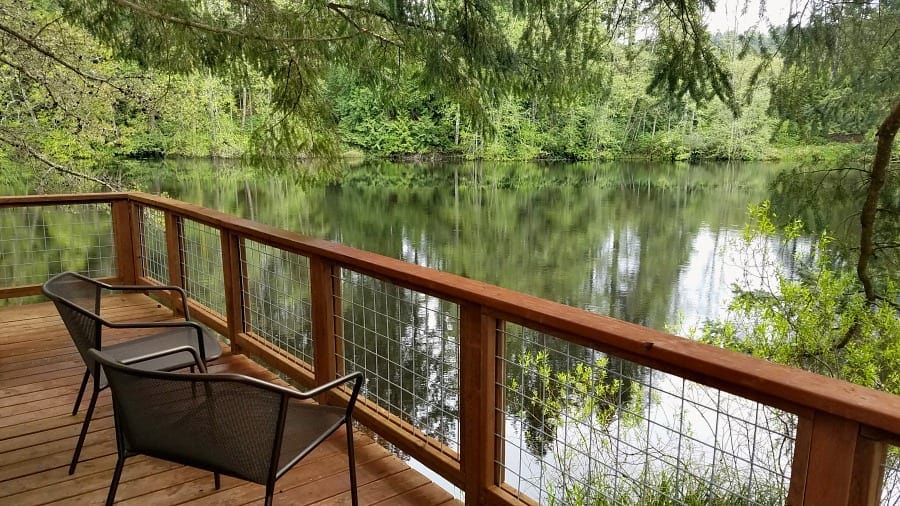 View from the deck of our Neva Canvas Cottages – what an amazing view to wake up to!
Let me tell you, this resort is unbelievable. Lakedale is located on the gorgeous San Juan island just about 10-15  minutes away from both Friday Harbor and Roche Harbor. Even though it's close to sightseeing favorites around San Juan Island, once you drive down the path to the resort, you really feel like you have gotten away from all the pressures of life & it feels like you're up in the mountains surrounded by 3 beautiful lakes and the forest. You really could drive up here & stay for days & not feel the need to leave because there is really so much to see & do on their 82 acre property. Plus, you get to enjoy the beautiful Washington State ferry on your way there & back, so that just adds to the fun of a trip to the San Juans (float planes also travel to the San Juans if you prefer a faster way to get there).
We were only there 2 nights, so we felt like we just barely touched the surface of all there is to do around Lakedale Resort. It is a gorgeous spot to head to any time of year as it's such a serene setting, but the summertime is when you'll really be able to take full advantage of all that Lakedale has to offer for families. Spring into early fall (April – September 30th, weather dependent) is also when you can experience "glamping" in Lakedale Resort's canvas cottages & cabins.
Not only is Lakedale Resort amazing for families to visit, but the entire San Juan Island really has so much for families to see & do. We will be sharing a San Juan Guide for Families this summer, so make sure to check back for all of our tips on where to eat & what to do on the island and around Friday Harbor.
Video Preview of the Canvas Cottage Glamping at Lakedale Resort:
Check out this brief glimpse of what the Canvas Cottages look like at Lakedale Resort  to see what glamping is like on San Juan Island with this short video review.
Luxury Camping at Lakedale Resort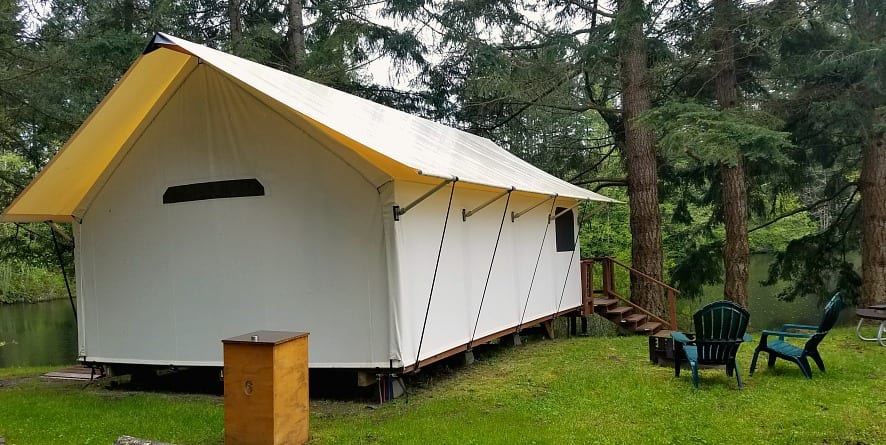 Lakedale Resort offers 23 glamping sites and there are two different kinds of glamping options, depending on what type of comfort & amenities you are interested in. We stayed in the Neva Canvas Cottages and they also offer Canvas Cabins as well.  These are only 6 of the Neva Canvas Cottages and they are all situated right on the lake, so you'll want to book early if you want to try out one of these cool cottages as they are so popular.  These 350 square foot Neva Canvas Cottages are the ultimate glamping experience as it truly feels like a boutique hotel suite when you step inside this beautiful cottage yet it's all housed right inside a canvas tent. For those of you who have always wanted the experience of camping while not giving up any of your cozy comforts, this is the place for you!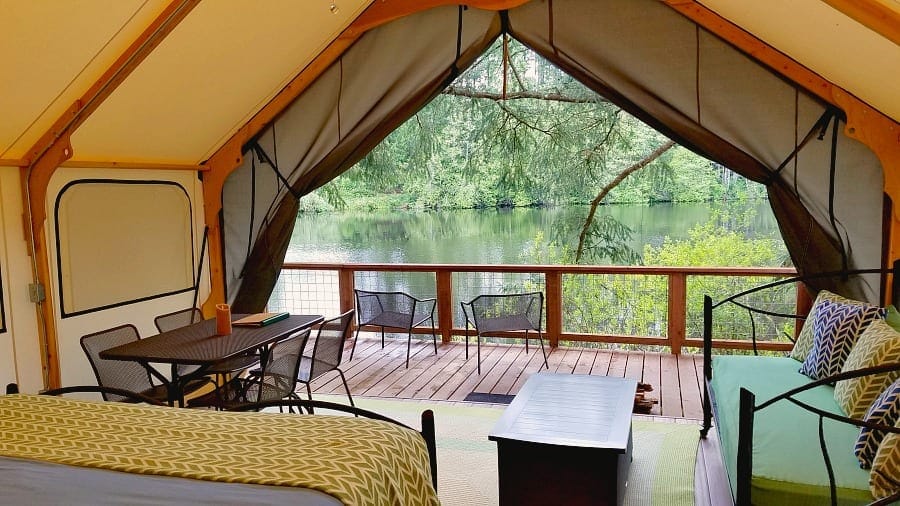 The setting is gorgeous with the quiet lake & forest surrounding you and the way the cottage is set up is to maximize your view of that picture-perfect lake.  You are still out in the woods and right up next to the lake and you can wake up hearing all the sounds of the forest and lake, which is one of my favorite parts of camping, but while still sleeping in comfort.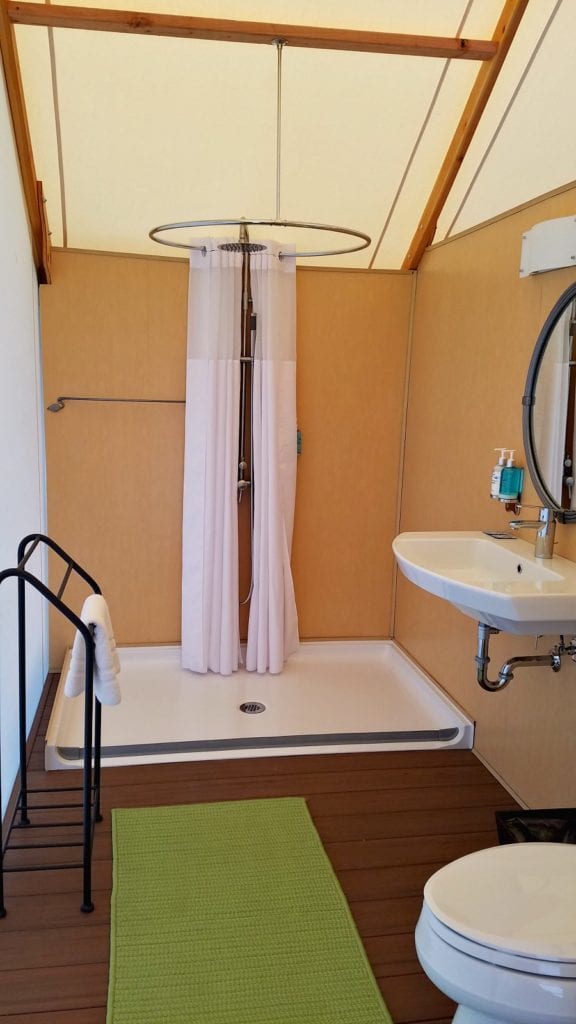 These cottages all have electric fireplaces with a remote – so you can turn it on from bed if you get chilly, bathrooms with a toilet, sink & shower (and hot water!), and electricity. So, you'll still be able to charge your phones or devices for taking photos, dry your hair with the hair dryer and turn lights on & off, which is nice to not have to rely on lanterns.
Here is a closer look into what our Canvas Cottage looked like when you enter – as you can see, it has all the important amenities you would need so you won't be "roughing" it too much. The king size bed is a pillow top mattress with a flannel duvet cover, so you stay nice & cozy warm. There is also a trundle bed for a couch during the day & queen size bed at night, which was perfect for our two girls. Plus, a table with four chairs. In the back you will see 2 swinging doors. That is where the bathroom is, behind that wall.  The electric fireplace is right behind the trundle bed.
The coolest part of this bright & cheery Canvas Cottage definitely was the chandelier! All of us girls loved that little bit of glitz in the middle of the woods.  I loved the colors they decorated the cottage – it is so summery & cheerful for summer days at the lake.
A really cool feature that they offer for their glamping cottages, too, is the Toasty Toes service at night. Each evening they will drop off an insulated bag filled with hot water bottles in fleece covers. These are to put inside your bed at your feet to keep you nice & warm all night long.  When you're done in the morning, you just put them back in the bag & put them on your deck & they will pick them up.  Between the cozy, flannel duvet cover and these hot water bottles, it definitely kept us nice & warm in our beds for those chilly nights.
Canvas Cabins –
The Canvas Cabins are the first glamping options that were offered at Lakedale Resort & they are a great way to experience all of the aspects of camping, while still sleeping in a cozy bed with wood floors. These do not have bathrooms (no running water), electricity or heat, so you will have to make treks to the bathroom which is nearby with toilets & showers. But there are a number of cottages and several different options to choose from with these cozy canvas cabins. They even have a Bunkhouse which can sleep up to 6, as well as Duplex cabins with 2 cabins side by side, if you are "glamping" with another family & want to be close.
Things to Know::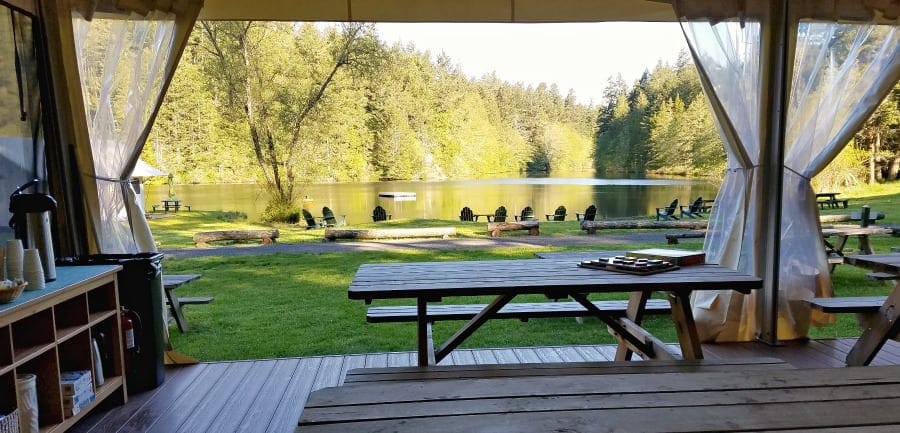 Breakfast is included for each night of your stay in the Glamping locations – the Canvas Cottages or Canvas Cabins – If you are glamping, you won't have to worry about preparing breakfast as they offer breakfast every morning from 8 – 10 am. And check out this amazing view  you'll have as you sit inside or outside the "mess tent". What a gorgeous spot to eat breakfast – just like camping when you can eat your meal in the beautiful outdoors, but you don't have to worry about a thing as everything is all ready to go.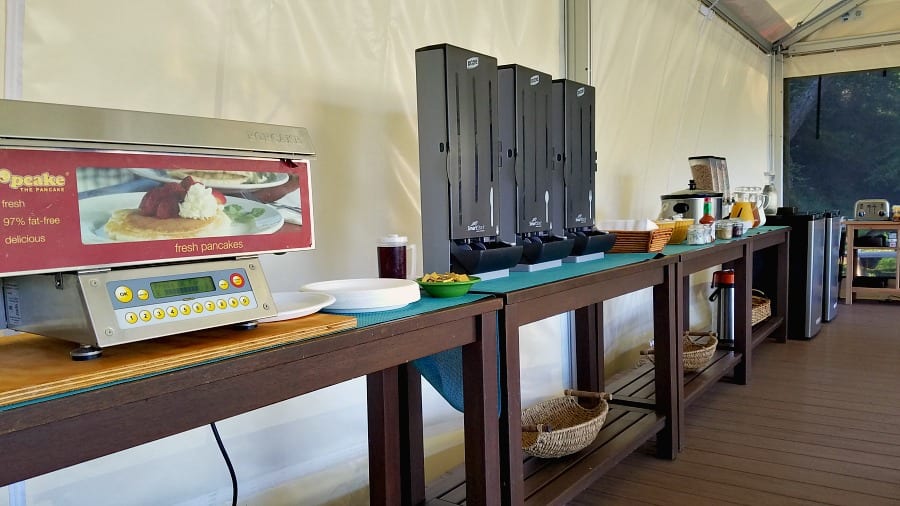 Breakfast consisted of fresh fruit, oatmeal, cereal, breads & muffins, fresh juice and coffee and my girls' favorite part – the pancake machine. Check out that cool pancake machine that will pop out their pancakes on this little conveyor belt.  It is a mix of convenience, comfort & enjoying the beautiful outdoors. They had a helpful & sweet employee there the entire time, too, to assist you if you needed anything.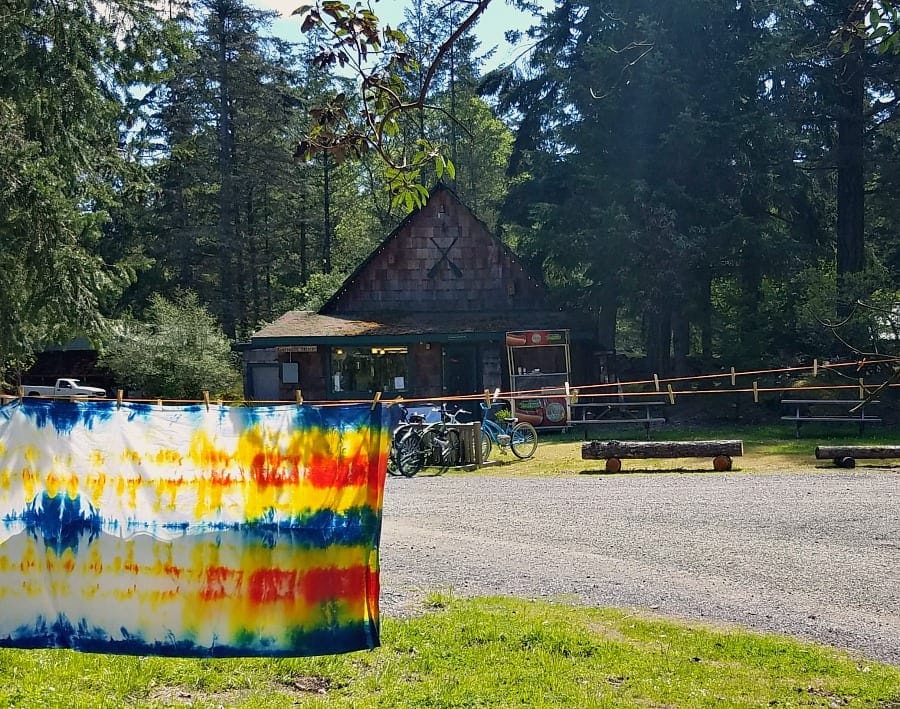 General Store with everything you need right at the resort – During the summer months (typically May – October), they open the General Store, which has everything you might need, so you don't have to leave to go get items in town. They offer everything from firewood & campfire necessities, fishing items, food & drinks (including some pre-made sandwiches & other lunch items), summer fun crafts & activities as well as souvenirs.
Bring items to roast over the fire – Each Canvas cottage has it's own fire pit so you can still experience the best part of camping (in my opinion) – roasting s'mores over the fire! No camping (or glamping) trip is complete without s'mores around the campfire. We also love to roast hot dogs on sticks over the fire, too. If you do forget to bring supplies, don't worry as the General store will have s'mores supplies or you can even purchase ready-made S'mores kits for $10, too.  You can also purchase firewood at the General Store or pick it up in town on your way in.
Be prepared for cooler nights – even though these are like beautiful hotel suites inside, it is still a canvas tent so the air can still get chilly, depending on how warm it is over the summer. We visited in early May and with it being such a cold spring, the air was pretty cold late at night & in the early mornings. They do have an electric fireplace and their awesome toasty toes service so we stayed nice & warm in our beds. When it's still cold at night, though, it's good to bring multiple layers so you're prepared, just as I do when we go camping in the summer. With the warmer weather during the summertime, though, you will be glad for the coolness and the shade to keep it from getting too hot as tents can get pretty toasty when the weather really warms up.
Cooler will be provided – If you'd like to save some money and bring your own food or just love The canvas cottages do have a table & 4 chairs inside, as well as chairs outside and the fire ring. So, you can bring some food items if you'd like to have snacks or pack picnic lunches for your days. It's also a great way to bring some items to roast over the fire, too.
More Resort Options at Lakedale Resort:
What I loved about Lakedale Resort is that they really offer a place to stay for anyone and a variety of budgets- whether you are wanting to hike in to camp down right next to the lake for a more frugal option to glamping cabins as well as regular cabins and even the fancier lodge rooms for adults to have a little retreat to get away from it all. Lakedale Resort does not offer a ton of rooms or lodging options, as they want to keep it small & more intimate, so it never feels too crowded even in the middle of the summer, and so that all the guests can enjoy all that Lakedale Resort offers for family activities.
Yurts – 
As of summer 2018, Lakedale Resort also offers 7 luxury yurts in a private forest surrounded by Fish Hook Lake. These yurts are 425 sq ft & accommodate 4 guests.  They are made of Douglas fir, canvas & insulation material. There are 4 large windows & French doors as well, for beautiful views of the serene setting. There is a pillow-top king bed, queen size sleeper sofa, wet bar & refrigerator, large flat panel tv & 180 sq ft private deck with hot tub, BBQ, dining table & chairs & adirondack chairs.
Campground –
These$50/night for 1 tent & up to 4 people. There are 40+ campsites available on the property and these range from classic campsites to family (or double) family campsites if you want to have a whole group of you together  & some beautiful lakeside campsites as well. There are over 82 acres to explore at Lakedale & many of these acres are back in the camping areas. We drove through the camping areas & found some great campsites to choose from. Plus, it is a more frugal option if you are really wanting to visit Lakedale Resort & take advantage of the plethora of fun, family summer activities all around Lakedale Resort & the 3 lakes. They get repeat campers year after year who just love this family resort. These campsites start at $50/night for 1 tent & up to 4 people and are available from May 1 – September 30th.
If you do not have any camping gear, if you're flying in from out of town or just don't have the time or energy to deal with setup & take down of all the camping equipment, Lakedale has a unique offer for you – Camping E-Z.  For an extra $45, you can book the campsite of your choosing and Lakedale will set up a 2 person REI tent with a rain fly & canopy, plus 2 cots inside for sleeping and 2 camp chairs for lounging. You'll just need to bring sleeping bags & any other equipment & supplies you need. It's a great introduction to camping if you've never been and are wondering how you'll like it, too.
I love that they offer this option to save you money (if you don't have any equipment & don't want to go buy a tent & more) or time if you want to just head out without having to pack the car full of camping gear. Some times you just want to be able to leave from work & just go off on your adventure without having to go to all the work & stress of packing for a big camping trip.
Cabins / Lake House –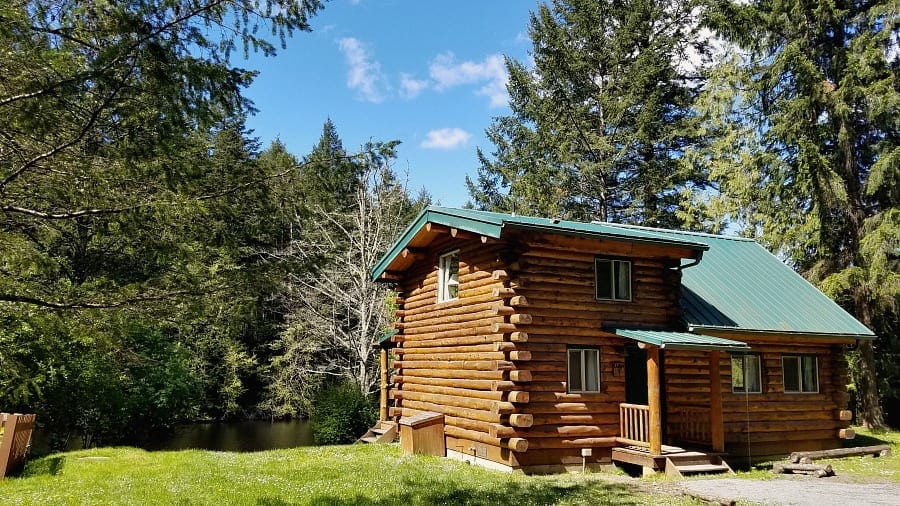 There are 6 log cabins as well as a larger lake house, which are all right on the lake that you can rent any time of year for a cozy place to stay with your family (up to 6 people can stay in the cabins & up to 10 in the lake house).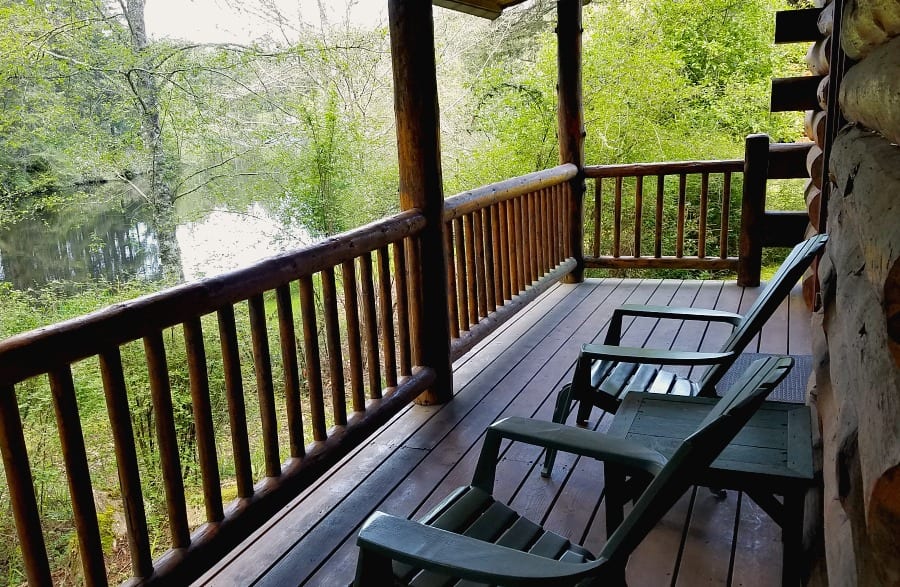 I love that they are true log cabins, inside & out, that just make you want to curl up with a good book out on the large deck as you gaze over the peaceful water. These cabins have a gas fireplace & a full kitchen, so you can bring your own food to cook in the cabin to save on some meals. The cabins are also pet-friendly if you want to bring your pooch with you to the lake.
Airstream –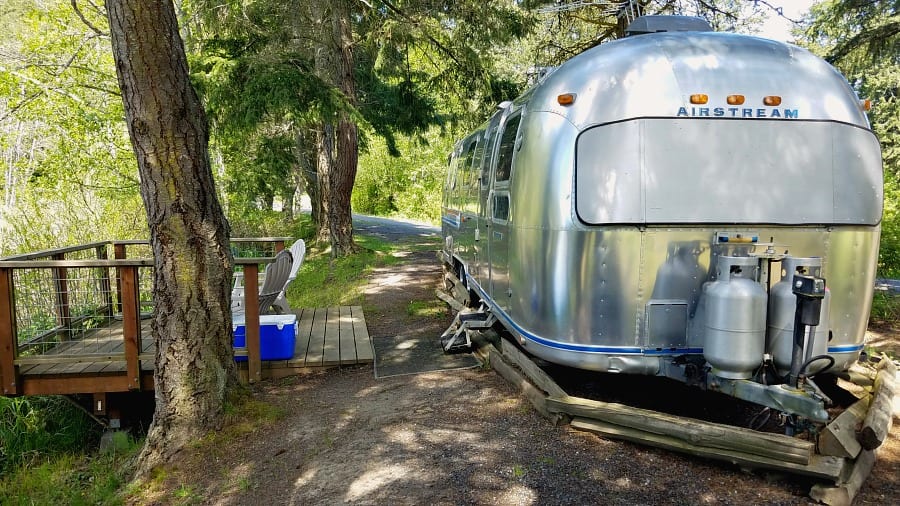 The Airstream is located right next to Neva Lake and just down from the Lodge and would be the perfect place to stay if you love the retro feel and if you're wanting to experience what life would be like with a camper/trailer. We have never stayed in a camper before, so I thought this would be the perfect way to see what the experience was like (without the stress of having to learn the setup, etc), and the Airstream is definitely the coolest camping trailer around. This is located near the lodge, as well as the dock with some of the boats and the General Store, so you'll be centrally located for all the fun activities that happen at the resort.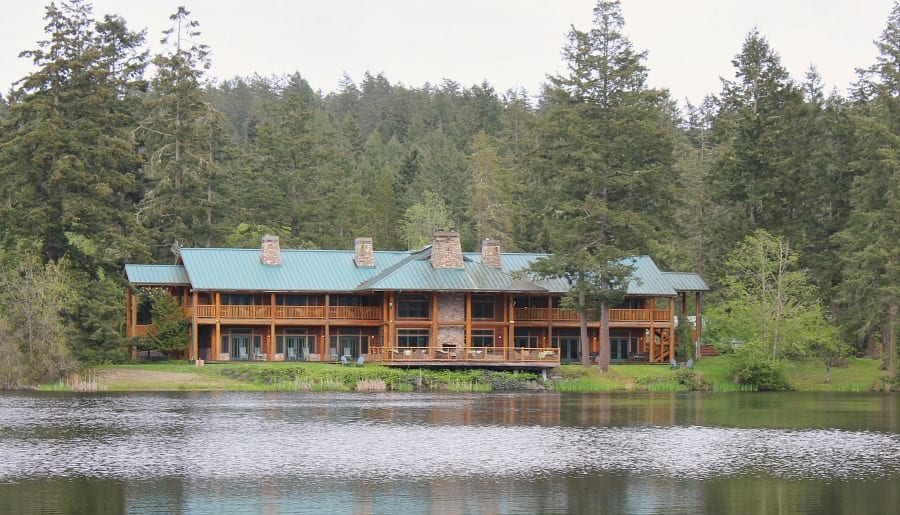 Lodge –
The lodge at Lakedale Resort is not only stunning with the large stone fireplace, exposed wood beams & massive windows showcasing the gorgeous lake, but it is so peaceful & serene inside. It is adults-only, so it makes for a quiet getaway for couples or a cozy retreat for a girlfriend's getaway. You can relax & unwind on the expansive deck overlooking the beautiful Neva lake or cozy up by the fire in the big great room with a good book. There are only 10 guest rooms in the lodge and that gives it a very intimate feel with almost every room having beautiful views of the lake & forest and gas fireplaces. This is the perfect place to stay if you want to experience all fun & activities that Lakedale Resort has to offer year-round, but then have a chance to unwind & relax in this cozy lodge.
Lakedale resort is also expanding and starting in Winter 2018, they will be offering Yurts, which will be a step between the Glamping canvas cottages and the Cabins, while also offering more technology options for folks who are looking for more options.
Lakedale Resort is the perfect place to host an event, like a wedding, conference or summer reunion, too, thanks to their beautiful lodge and the plethora of activities & options for guests. There are some gorgeous spots all around the resort to hold an outdoor ceremony, too.
Family Fun Activities at Lakedale Resort:
Although I absolutely loved the glamping cottages & Lakedale is a must-visit to check those out, the reason my whole family loved Lakedale Resort so much was the sheer variety of family fun activities all around the resort. Honestly, you really could stay here for days & not even feel the need to leave the resort because they offer so much to see & do around the resort. We just loved how you could find a private place on the lake to fish (my husband snuck out really early morning a few times to get some quiet fishing times in) or head down to the General Store & chat with the guests
Fishing – You can rent a fishing pole with bait & a license for just $15 a day or bring your own gear & pay just $5 for a fishing license to use at the resort. This was definitely my husband's favorite aspect of Lakedale – with those 3 beautiful lakes, it's a fisherman's dream to fish along the shores. My husband got up early one morning to go fish right next to our canvas cottage and enjoy the peacefulness & stillness of the early morning by the lake. They stock the lakes with wide-mouth bass & trout in the springtime.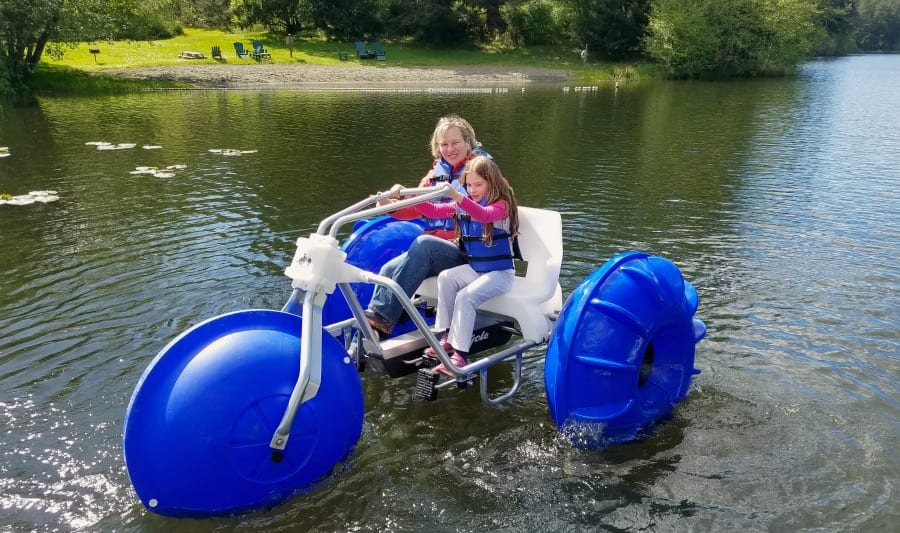 Boating -With these 3 beautiful lakes that surround the resort, Lakedale offers a variety of different ways to explore the lakes. They offer boat rentals of all kinds from canoes, kayaks, paddle boats, row boats and Aqua Cycles (these look like huge bikes that you ride out onto the water). The boat rentals are $10/hr (and Aqua Cycle is $20/hr). You can rent a boat anytime of year. They also offer stand-up paddle boards, too.
My girls were bummed we didn't have more time to explore the lakes on these boats since it's such a peaceful way to explore and check out different areas around the resort from the lake. The Aqua Cycle was a good workout for the legs, too, bicycling around on this gigantic bike out on the water.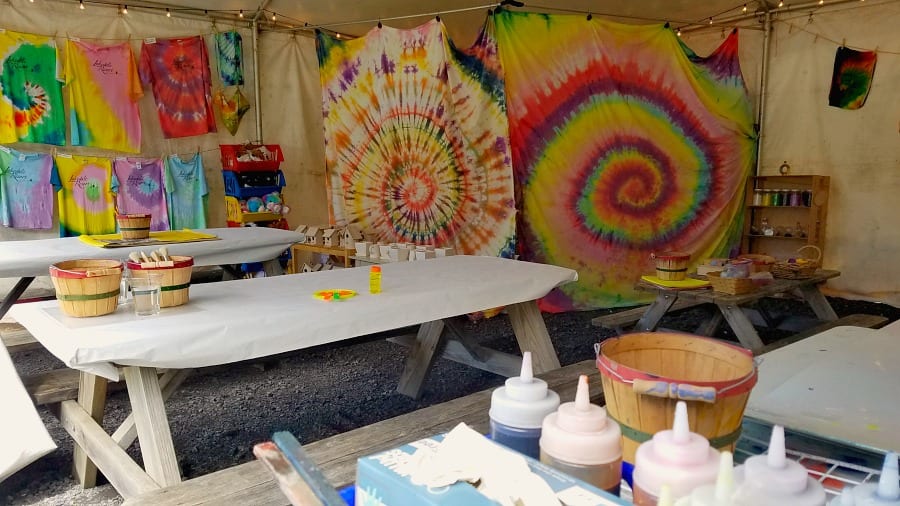 Activity Tent – This is a place that kids will automatically gravitate to as soon as you get there. The activity tent is right near the General Store in the center of the resort and it is FILLED with tons of fun kids crafts and activities. They have a number of free activities such as puzzles, painting, coloring, playdough and much more. There are also crafts that kids can make & take home which do have a fee. Paint a cute ceramic pot for just $5, tie dye a shirt for $12 and you can stuff a stuffed animal for $20 (just like Build a Bear, but better, because kids got to do this themselves).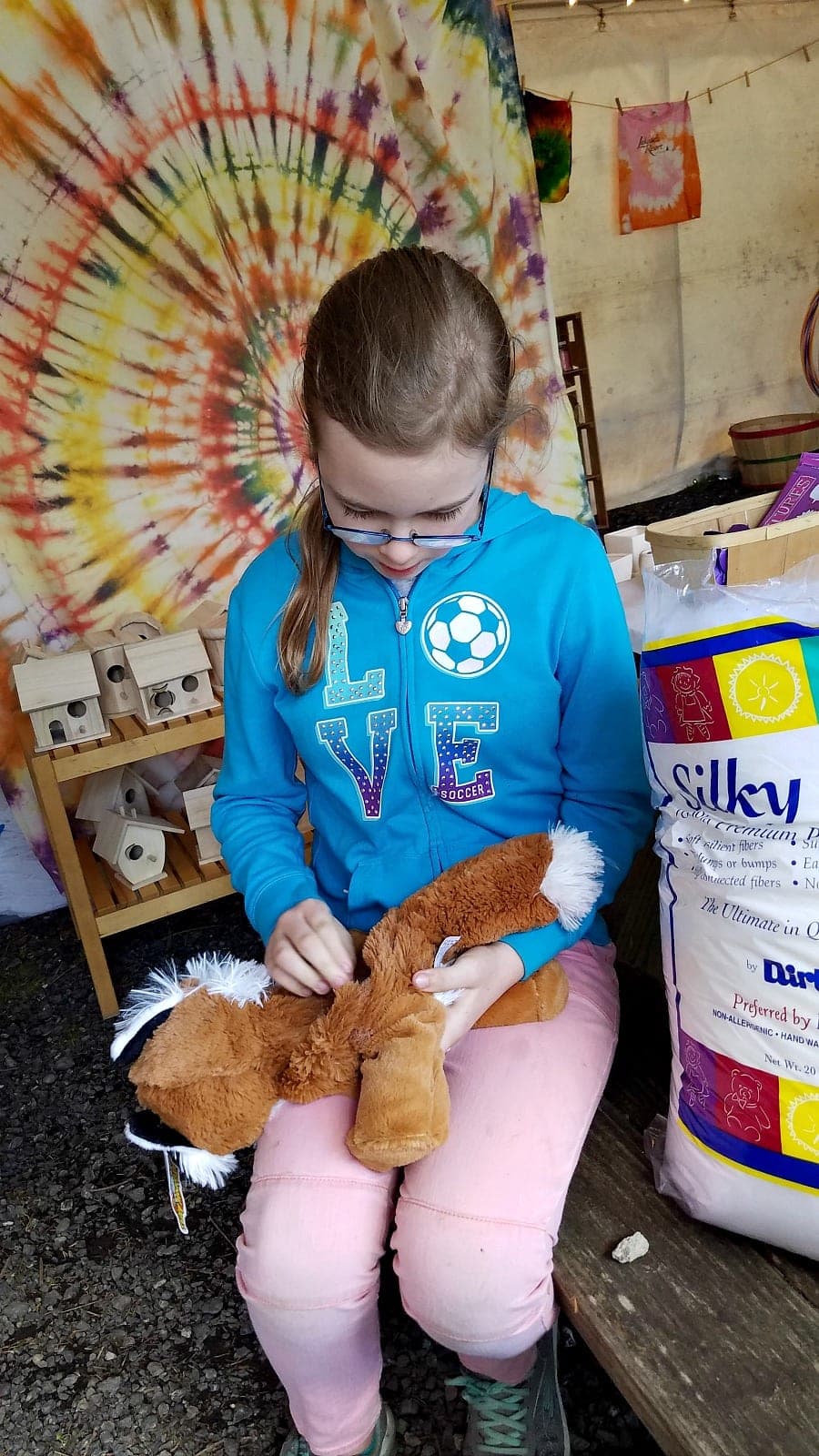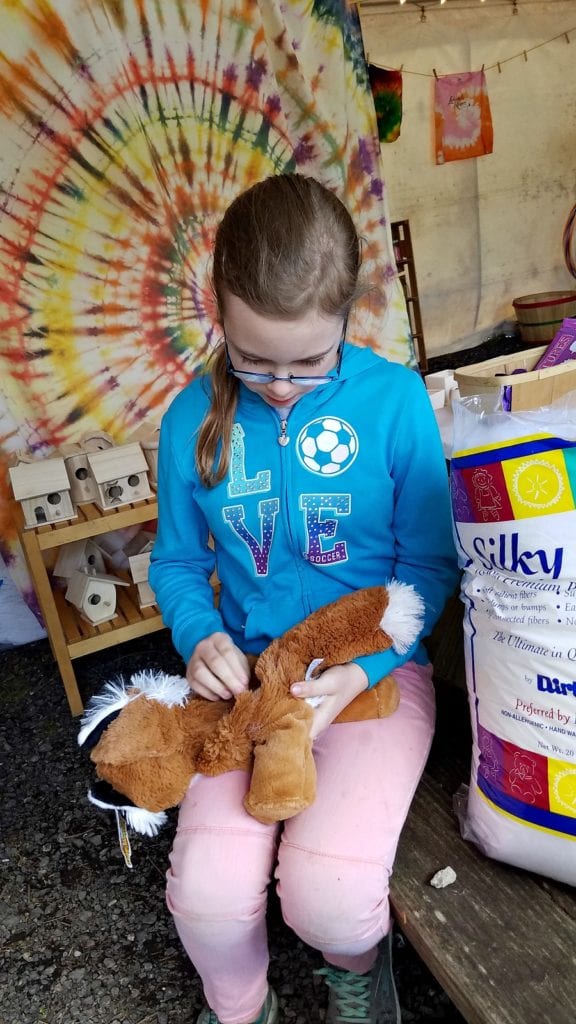 What I liked about the Activity Tent is that instead of resorts where they have scheduled kid activities, this tent is always open during the day (starting in May – end of September) and kids can come & go and do the activities as it fits your schedule. We have had a hard time fitting in the scheduled kids activities at other resorts, so we liked this option of popping in when we had a free minute between activities or sightseeing.
More Free Activities Kids Will Love: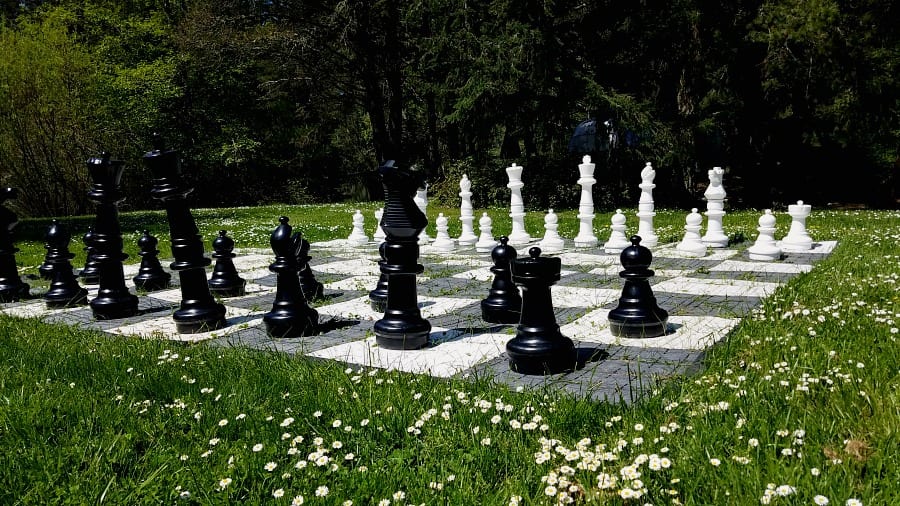 Life-Size Chess or Checkers Set
Bike Riding – they offer several different sizes of bicycles for kids to ride (& bike helmets), a perfect way to explore the resort.
Life Size Jenga
Bocce Ball
Ping Pong
Horseshoes
Exploring – This is a given with kids – my girls had so much fun just exploring all around the resort, as we'd take walks to check out different areas & find new gems to explore the wildlife & nature all around
Ways to Save::
As I've shared, there are a variety of options of where you can stay at Lakedale, so the prices vary depending on what accommodations you're interested in and when you're visiting. Use the reservation tool to see the prices for the dates that you're looking at.
Stay in Off-Season – 20% off your stay with stays between May 1 – June 15, 2017. Check their website to find more packages and special offers.
Email Newsletter – Special deals, promos and information on special events happening at Lakedale Resort are sent out via their email newsletter, so make sure to sign up to receive this. This email is not sent out very often, but can be a great way to plan ahead for your visit.
Follow on Facebook and Twitter – I love to follow favorite destinations on social media as they may announce special rates or promos, as well as giveaways for free night stays. You can also stay up-to-date with the most accurate info on events, weather, etc. at Lakedale Resort by following them on social media.
Lakedale Resort offers a variety of lodging options, but I loved is the fact that they are committed to keeping it a smaller, more intimate resort with the number of glamping cottages, cabins, campsites & more that they offer. It is a vibrant, fun community in the summertime with kids playing & families enjoying all of the activities around the resort, but you don't have to worry about it feeling too crowded as there is 82 acres of forest & the 3 lakes.  But this means that you will want to plan ahead, especially for the glamping options, since this is such a coveted spot for families – once you visit, you will want to come back year after year.  Lakedale Resort is a resort you'll want to visit any time of year – visiting in the off-season to experience that quiet & peacefulness of being surrounded by those 3 gorgeous lakes or visit during the summer season to take advantage of the many water and kid activities that will keep kids of all ages engaged & enjoying nature the whole visit.
Find more of our Northwest Travel reviews on our Travel page!
Disclosure: Lakedale Resort hosted my family at the resort so we could share with you about our experience "glamping" . All opinions and pictures are 100% my own. See our disclosure policy for more details.
Save
Save
Save
Save
Save
Save
Save
Save
Save
Save
Save
Save
Save
Save
Save
Save