10 Things To Do In Winthrop Washington for Families!
This post may contain affiliate links and I may be compensated for this post. Please read our disclosure policy here.
10 Things To Do In Winthrop Washington for Families!
Family Guide To Visiting Winthrop Washington – What To Do & Where To Stay
Winthrop Wa. is located in the Methow Valley area of Washington State, as is really an all seasons destination area. There are so many thing to do in Winthrop Washington all year long, even though it is a small town. We love it here! One of my favorite times to visit Winthrop Wa. is during the late Spring season or early summer time – but it can really be fun all year. It makes for a wonderful family weekend getaway, and we had an amazing weekend. It offers the perfect mix of fun and relaxation, and this part of the country is packed full of natural beauty. Here are 10 ideas of things to do Winthrop Wa. for families!
One thing I love about Winthrop is the towns Western theming. If you are looking for other themed small towns in Washingto that you can do a weekend or day trip to, check out our list of 9 Charming Themed Small towns here.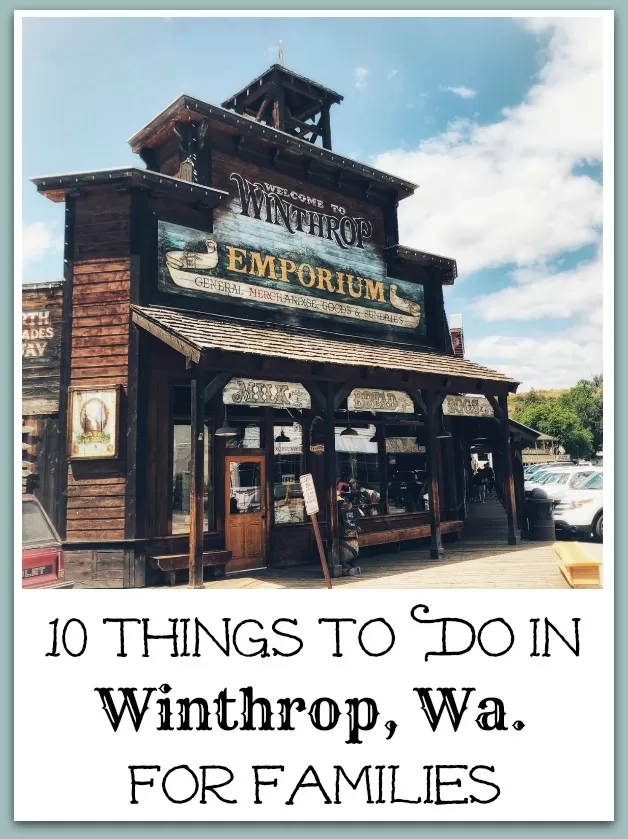 How to Get To Winthrop –
Winthrop Wa. is a small western themed town in the Methow Valley. It is about a 3.5 to 4.5 hour drive from Seattle area (depending on traffic when you go, and how much time you spend stopping and enjoying the drive and which route you take). My favorite way to get there is over via the North Cascade Highway. The drive itself is beautiful if you take the Cascade Loop. The scenic Cascade Loop will take you through some of the most beautiful areas in Washington on one side, and popular destination towns on the other. One route will lead you through mountain ranges with  the turquoise blue-green waters of Diablo lake and others, snow capped rocky mountain tops, and a number of water falls.  The other direction will drive near places that make great side trips, like Leavenworth and Chelan, if you want to stop for a meal or some exploring in those areas (or you can do the loop the other way around). We took our time on this road trip, and enjoyed so much of the scenery along the way, and it made the drive feel like part of our getaway and not just a chore we needed to do to get some place. You can request a free travel guide here, if you really want to make the most out of your drive.
If you are traveling over in the winter season, the North Cascade Highway can close, so you may want to take either the I-90/Snoqualmie Pass or US Highway 2/Stevens Pass and then head north to Winthrop from there.
When to Visit Winthrop Wa –
Winthrop is an all season area, with something to do each season of the year. The season where you might find the best deals, and smallest crowds is probably spring. I love spring here though, with the wild flowers starting to pop up and more moderate weather, so it is a great option in my option. Here are some things that are popular in Winthrop for each season:
Summer in Winthrop is warm, with beautiful sunshine and access to lakes and rivers. Floating the river on tubes is a fun activity this time of the year, as well as cowboy dinners cooked over camp stoves.
Winter in Winthrop brings snow and all of the outdoor activities that come along with that, like skiing, snow shoeing and more. If you like winter activities, this is a fun time to visit.
Fall in Winthrop offers beautiful views of fall leaves and moderate temperatures. The drive over is beautiful this time of the year too.
Spring in Winthrop often brings smaller crowds, more moderate temperatures and better prices.
Year round you will find hiking options, restaurants to enjoy, shops to explore and the beauty of the Methow Valley.
Where to Stay in Winthrop Wa. – Hotels & Camping –
There are a handful of Winthrop Wa Hotel options (and camping options), so really something for all budgets. Here are a couple of our favorites
We stayed at the Sun Mountain Lodge (which was beautiful). There are a handful of lodging options in the area, ranging from camping on the river, cabins, motels on the river, as well as the amenities packed Sun Mountain Lodge. This makes it a perfect getaway for all kinds of travel budgets. The weather was beautiful, warm with winds that did not let you get too hot, and evenings that cooled down but not too much. The landscape is gorgeous with mountain backdrops, rivers, lakes, trees, wild flowers and wild life. There are a number of outdoor activities to enjoy in the area, as well as the fun western themed town to spend time in. You can often find a deal on rooms at Sun Mountain Lodge on Groupon here, or check out the review of our stay here, to learn more about the resort.
The River Run Inn, offers more moderately priced accommodations for families. It sits on the river with an indoor pool, and is in walking distance to downtown Winthrop.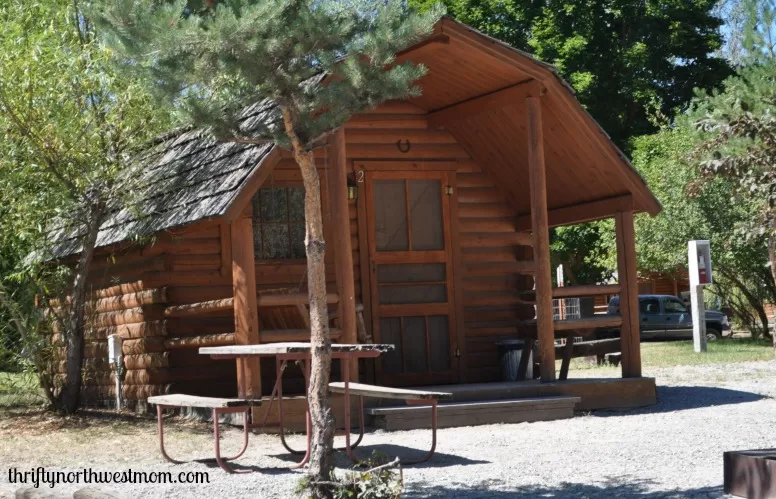 The Winthrop KOA is a great option for camping (or renting a cabin) for a more rustic stay experience.
Things to Do In Winthrop – 10 family activities we enjoyed!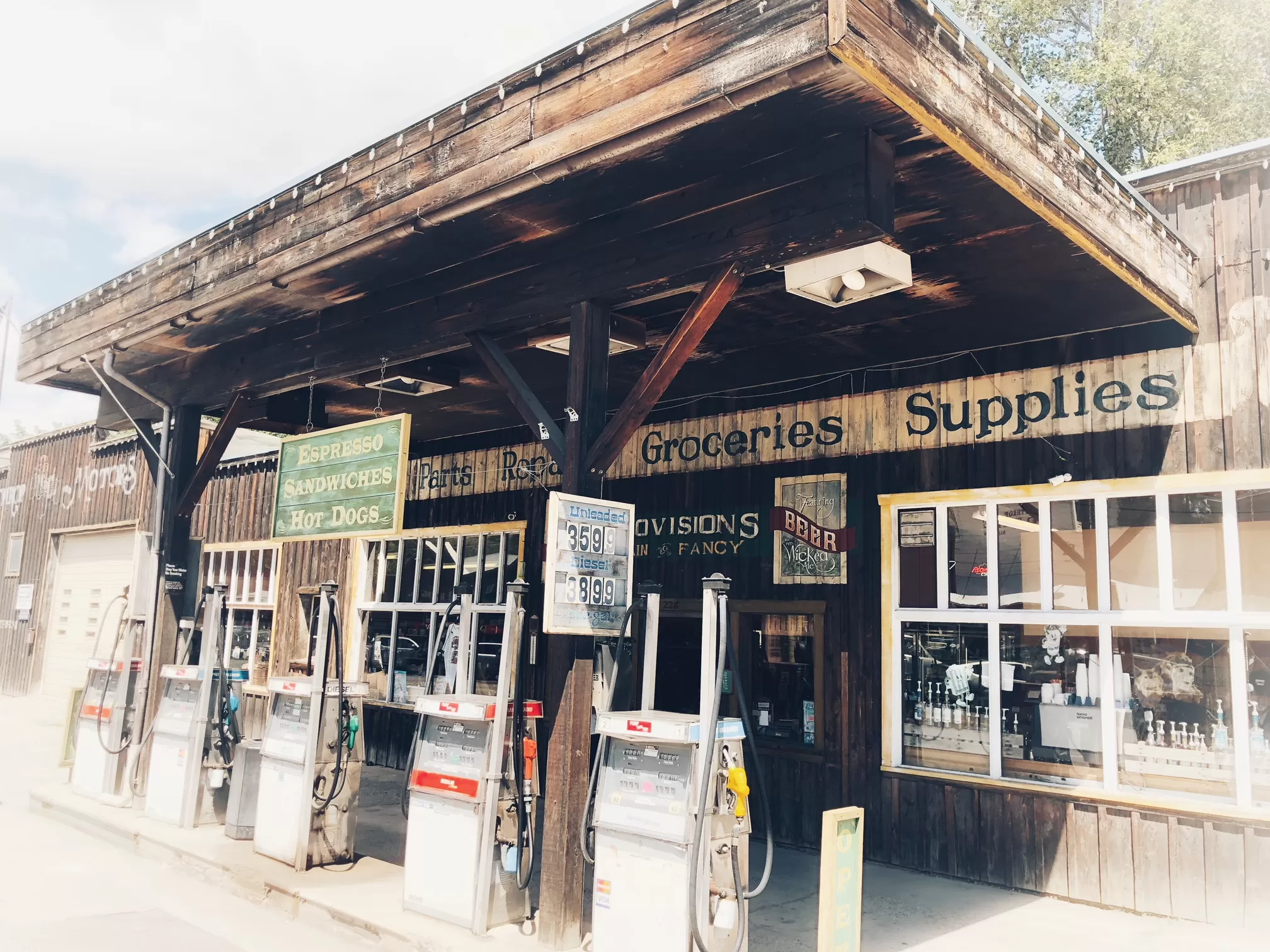 Explore the Old West!
The western theme of this town is amazing. Even the gas station is cool in Winthrop (and full of fun items to check out inside). The entire town is themed liked the old west, so you can walk down the board walk, and feel like you have been transported back in time. The river flows behind it, and there is a cable bridge you can walk across at the beginning of town for great views of the river, and a suspension bridge that leads to a park on the other side of town. We found a few trails that went down to the river as well.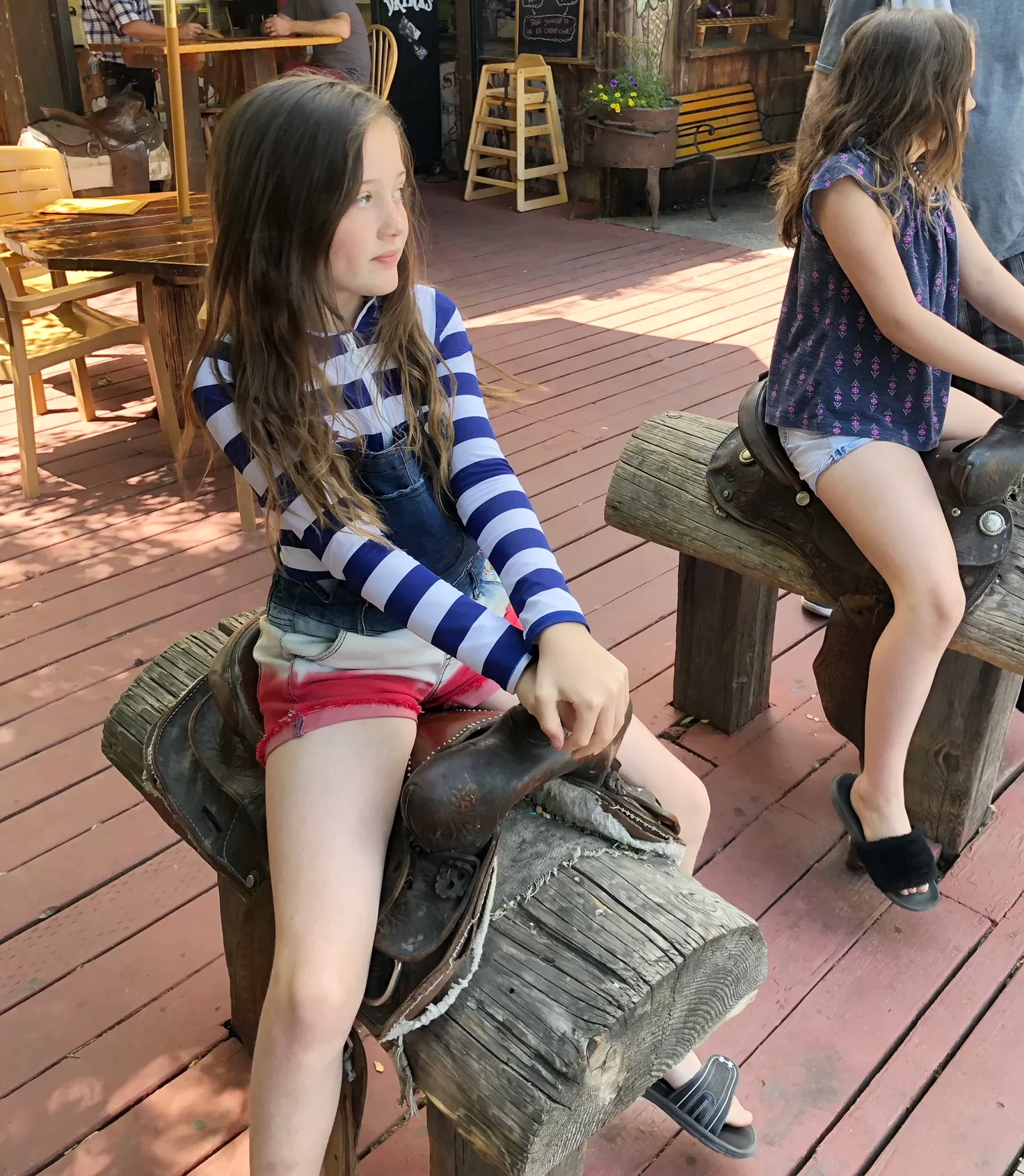 Be sure to visit Sheri's Sweet Shoppe for Treats while you are in town!
Sheri's Sweet Shoppe is a real treat to experience (pun intended). There is a candy store, an ice cream counter, homemade cinnamon rolls and more. You can even find horse saddles doing double duty as seats, to relax and enjoy your ice cream in. This area can get crowded on the weekends, but it is definitely worth stopping at for a sweet treat to remember.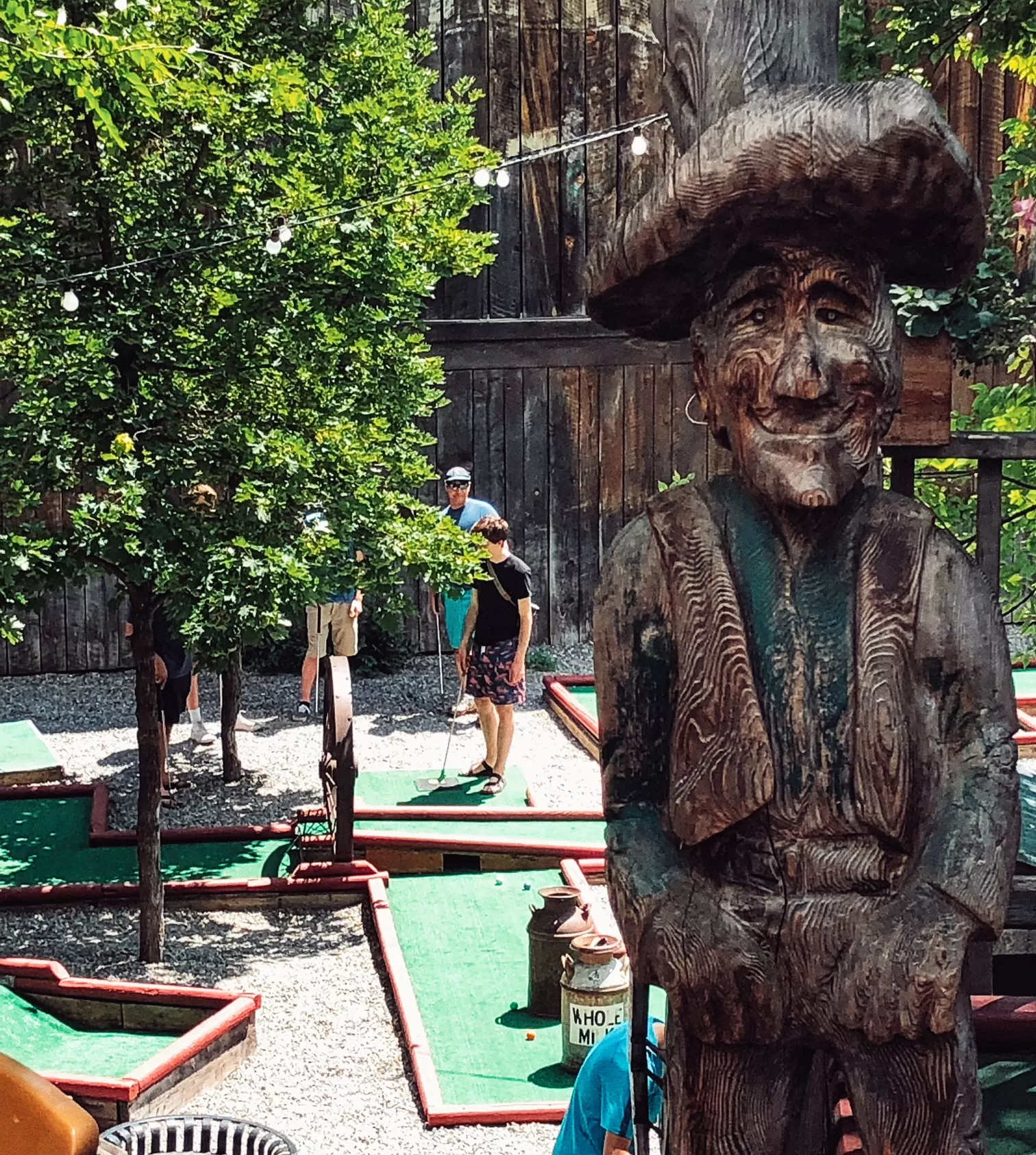 Play Putt Putt Golf
In the same area as Sheri's Sweet Shoppe is this old fashioned putt putt golf course. You can enjoy a fun game of putt putt and then head up for ice cream after. It was tucked down in the middle of town, and the rates affordable when we visited.
Float the River
You can spend an afternoon relaxing on the Methow River, either with your own tubes, or float through a company providing tours. Check out our full review of here for going through a local company.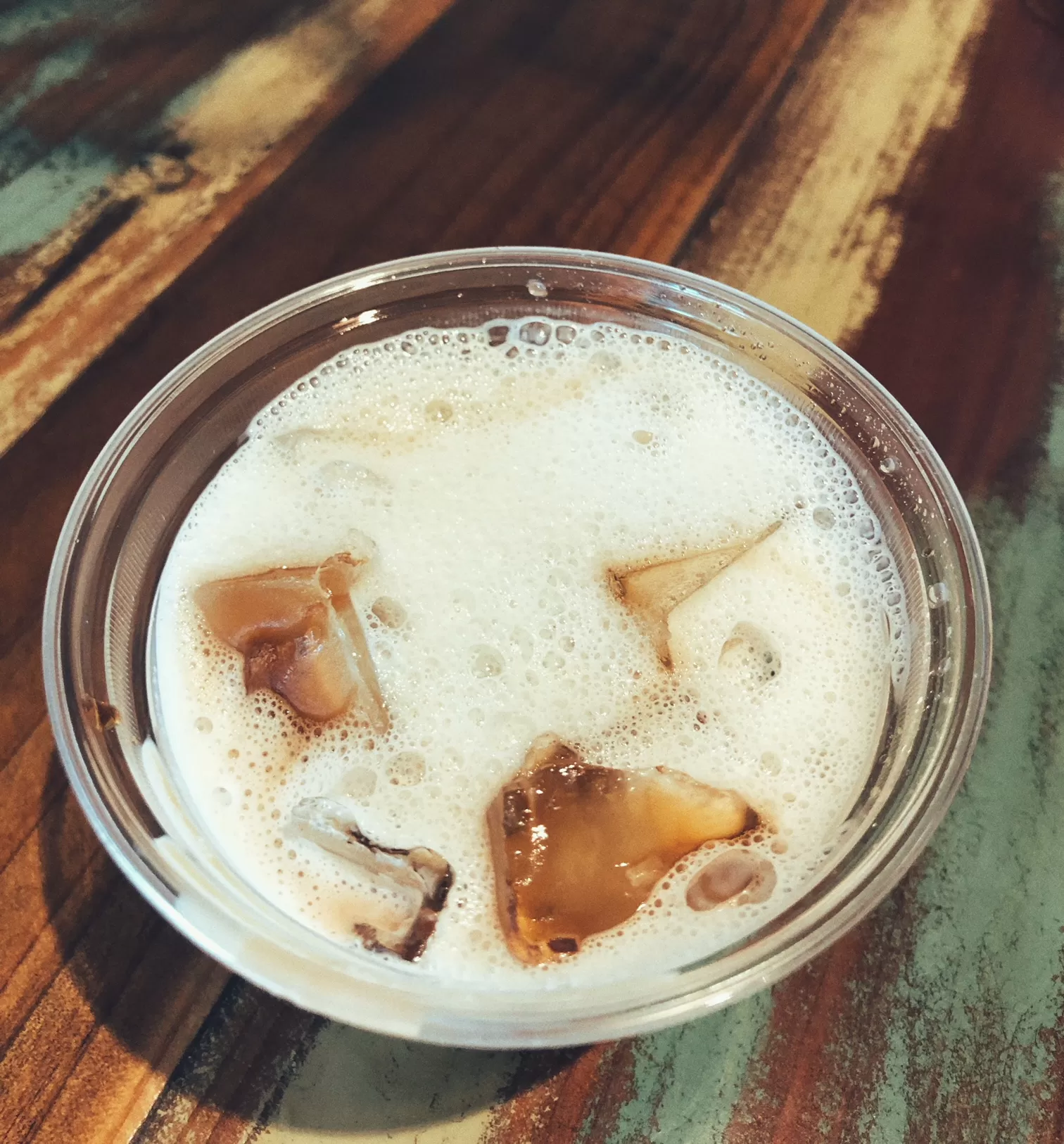 Black and White Cold Brew from Kind Grinds – Delicious!
Eat & Drink Your Way Through Town
There are a handful of eateries, saloons, and coffee shops. There are two roasters in the area, so getting a good cup of java is not hard. We stopped in at the Kind Grinds, and I had the best Black and White Cold Brew with Sweet Cream. It was so refreshing. We went back for another on our way out of town on Sunday, but they were closed, so be sure to check their hours before stopping in. Find a list of spots to dine here.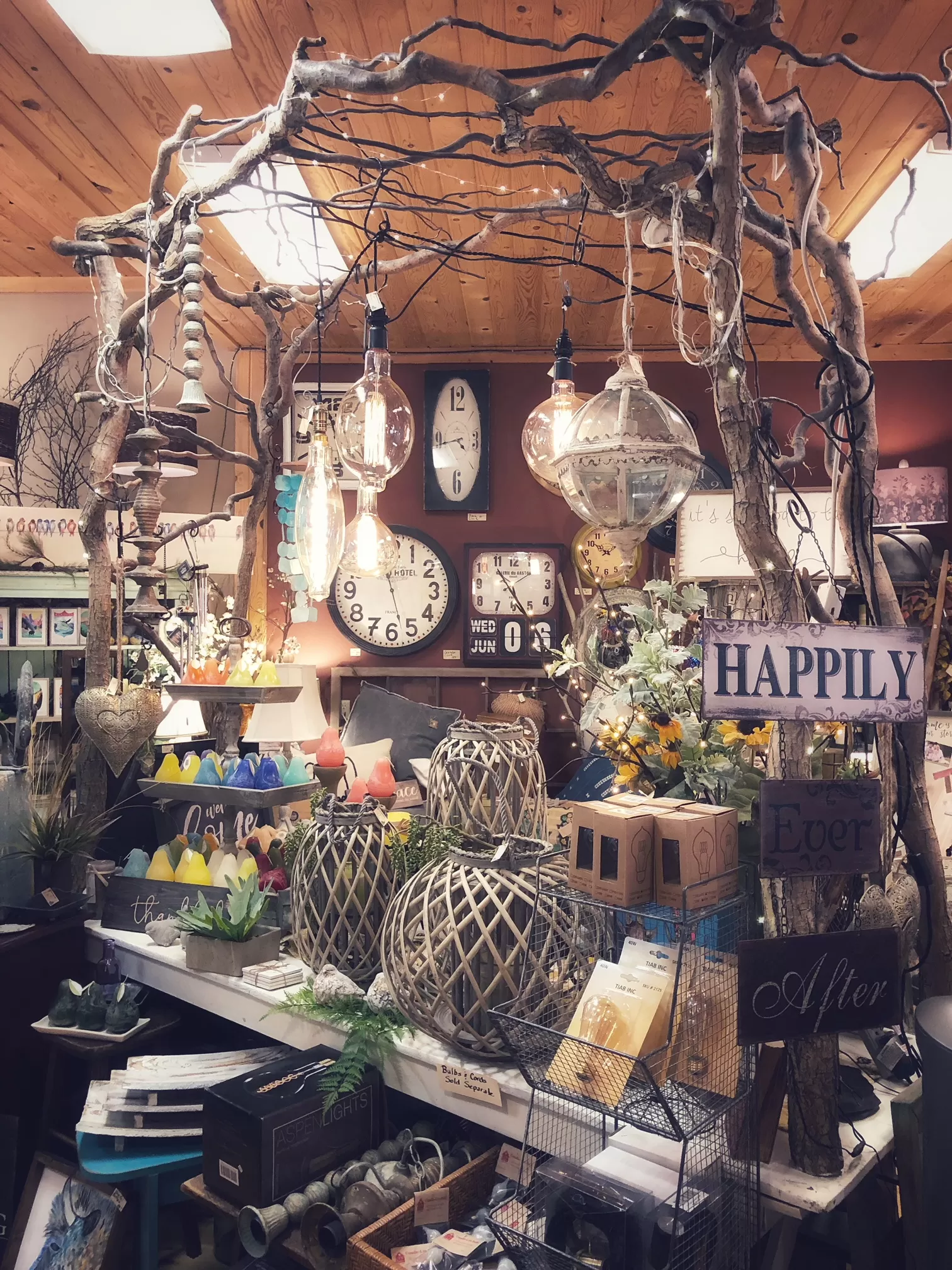 Shop!
There were so many fun shops to meander through during our visit. We ended up buying a handful of things, and that was not on my original agenda. I just could not resist. There were so many cute items we found, and they made for great memories too. My favorite was a coffee mug for my husband that said "Sawdust is a Mans Glitter". What could be a more perfect souvenir from a Western town for a man who is in construction.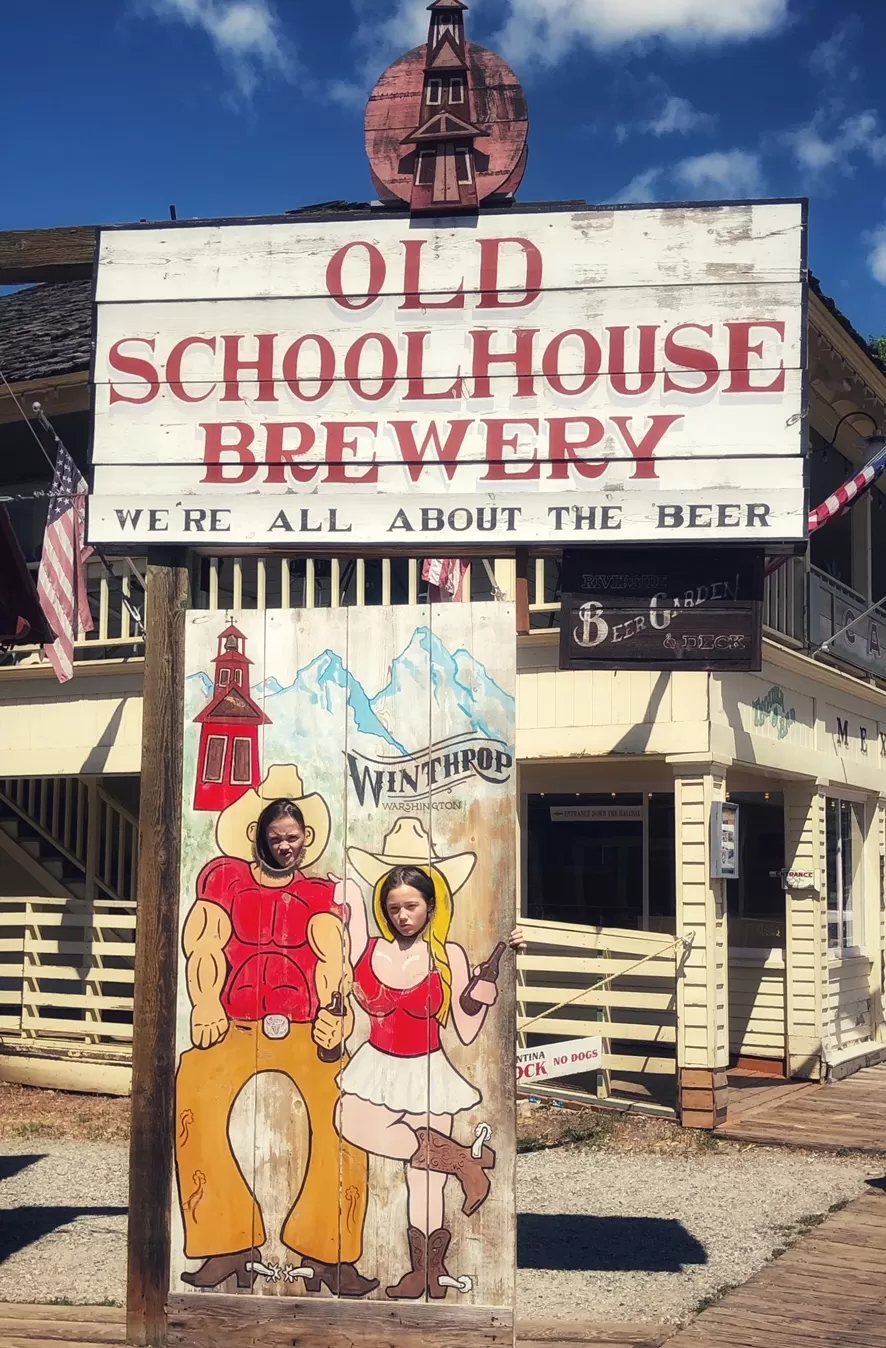 Stop for a Picture!
The entire town is one great big backdrop for wonderful pictures. We snapped a few treasures that will go on our wall at home once I get them printed out. There is also this cut out that is fun to get a photo in to remember your trip.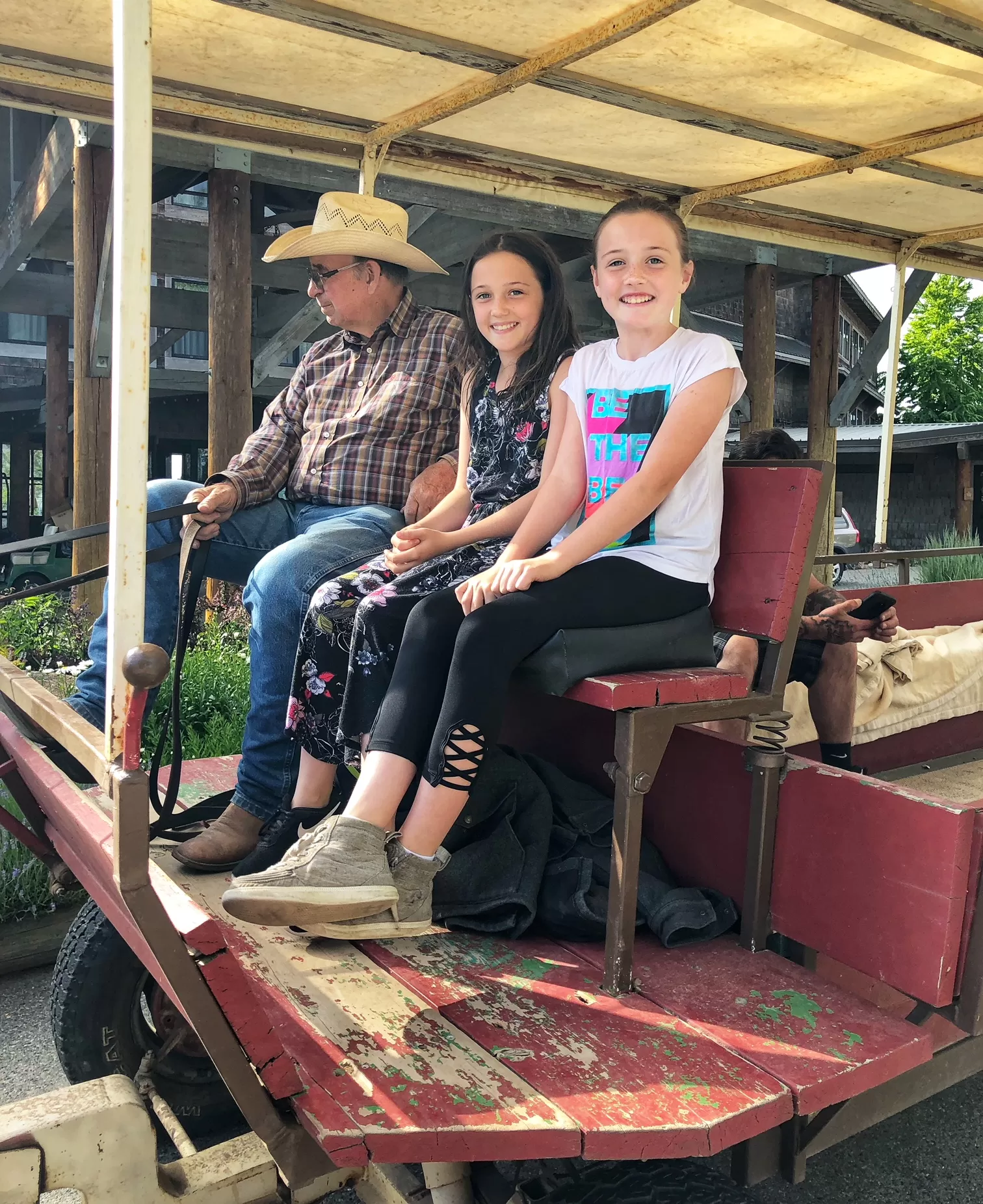 Getting ready to head out to our cowboy dinner. The girls got to drive the horse drawn carriage for our crew!
Enjoy a Cowboy Dinner or Horse Back Ride
This was one of our trip highlights. You can read more about this in our review here, or about our stay at Sun Mountain Lodge here, but it is a horse ride to an old homestead, where you eat a cowboy meal and listen to the guitar being played around the campfire and more. It will be one of our families favorite memories for some time!
If you do not want to do the dinner part, you can book just a horse back ride excursion through the same stables that provide the Cowboy Dinner experience. It is located up at the Sun Mountain Lodge, and takes you on some beautiful trials.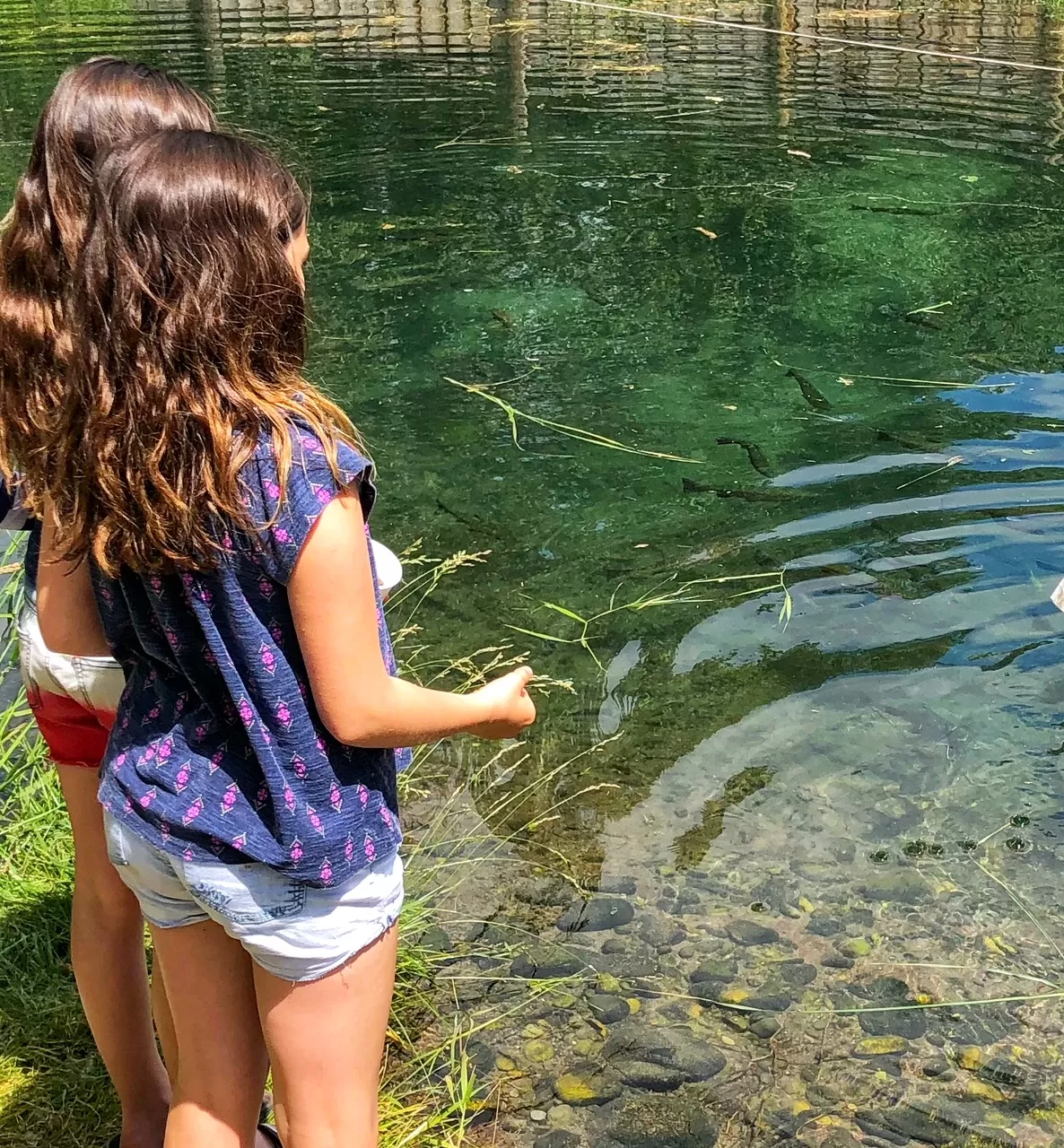 My girls feeding the fish at the National Fish Hatchery in Winthrop.
Visit the Fish Hatchery (Free)
Right outside of the downtown area, on Twin Lakes road, is a Fish Hatchery. It is free to visit, and there are parks volunteers who will provide you a personal guided tour through the hatchery. You will be able to see the fish from the time they are eggs, through their life cycle, until they are released full grown and back into the creeks. The tour ends with everyone being able to feed the trout in the lake on property. It was a nice afternoon where we learned something, saw beautiful fish, and got to feed them too!
This museum is free, but they do request a $3 donation pp. It is set up as a small pioneer style village, that you can explore. They have a mining display, school house and more. They are open daily 10-5 Memorial Day through Labor Day.
Tons of Hikes and Mountain Bike Trails
There are a number of hiking and biking trails in the area. You could spend days exploring. You will find some resources on where to explore in the area here.
If your looking for more things to do, consider staying at the Sun Mountain Lodge, where we also enjoyed lake activities, swimming, a game room and more!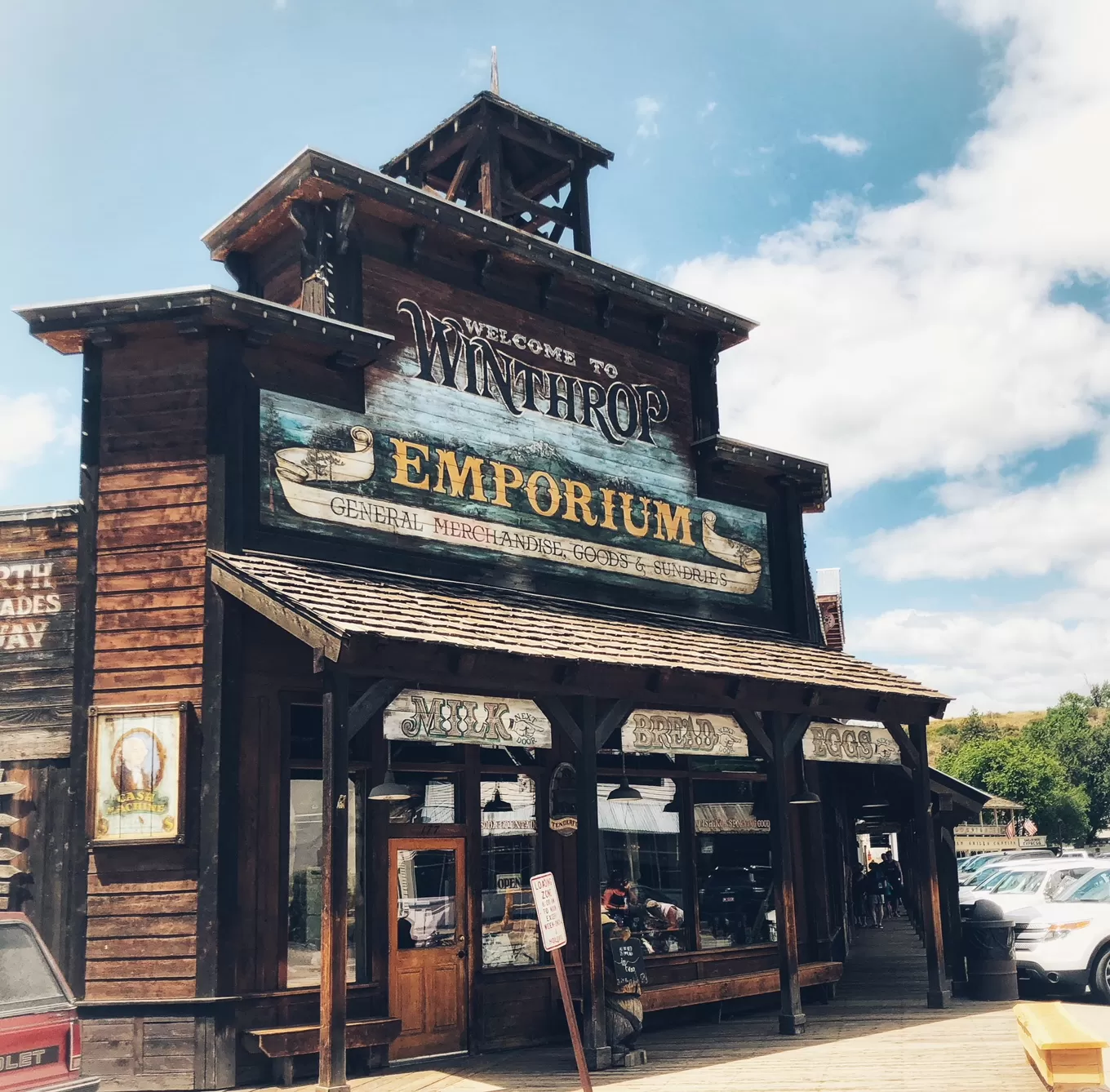 Winthrop is one of my favorite small towns in Washington to explore. Let us know if we missed any of your favorite things to do in Winthrop Wa.?