Cowboy Dinner at Sun Mountain Lodge – Fun For the Entire Family!
This post may contain affiliate links and I may be compensated for this post. Please read our disclosure policy here.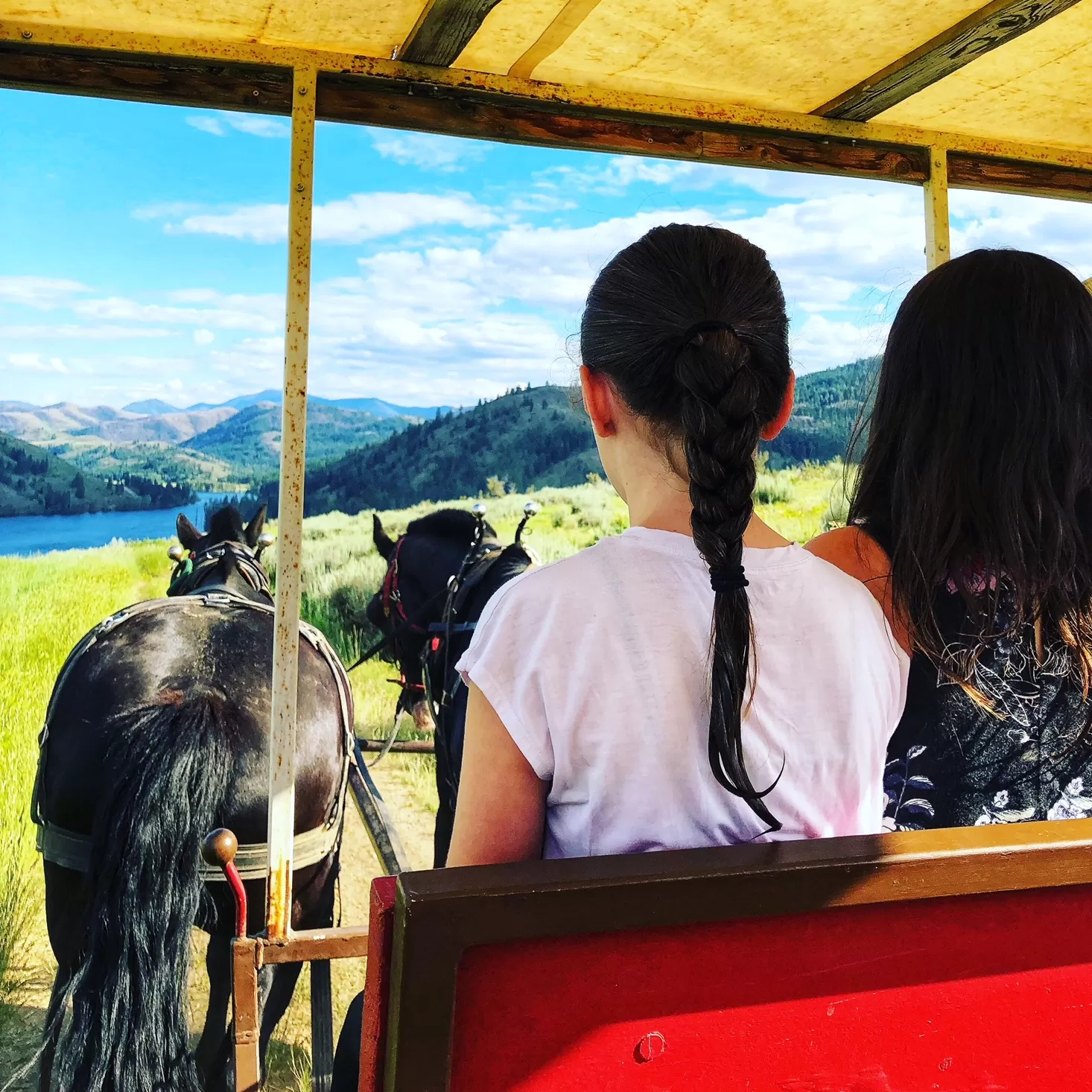 Cowboy Dinner at Sun Mountain Lodge – Fun For the Entire Family!
We recently took a weekend trip to Winthrop, in the Methow Valley, and stayed at the Sun Mountain Lodge. It did not disappoint. It was beautiful there, and the perfect mix of fun and relaxation. One of the highlights of the trip for my family was the Cowboy Dinner excursion we participated in, that left right from the Sun Mountain Lodge. My kids said it was a highlight for them, and my husband and I loved making special memories like this with our kids, and wanted to share our experience in case it was a good fit for other families as well.
That is my girls in the picture above, driving the horse drawn carriage that took us to the dinner. When you sign up you can choose to go on horseback, or in the horse drawn carriage. Tickets do cost a bit more for the horse back riding option, but this is a splurge event, so if you are able to I recommend booking the horse back ride. The wagon trip is fun too, and a great option if you have younger kids (you need to be 10 and older to ride the horse alone, and one of my girls is 9). The way we looked at it, is we got an excursion as well as dinner one night, and if you plan on doing something like a horse back riding trip, this is a good way to incorporate feeding the crew into that too.
Initially my girls where really wanting to ride the horses, but once they found out they were able to drive the carriage (and then ride horses when we got there) they were excited about that. The driver of the wagon let all the kids that were on our trip have a turn driving the wagon up front with him.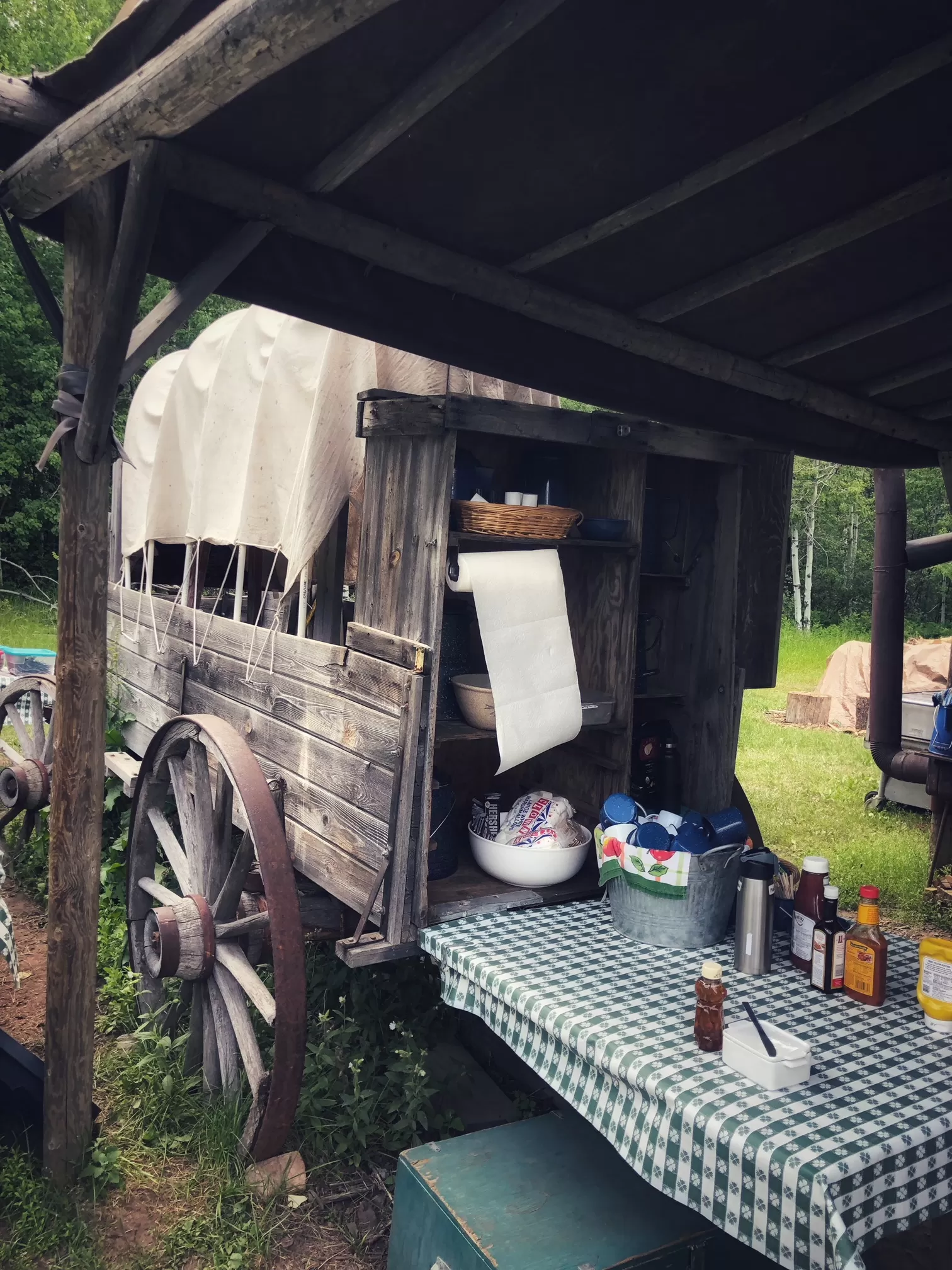 The full Cowboy Dinner experience is approximately a 3 hour experience. You take about 35 to 45 minutes each way, and then the dinner and some entertainment while you are out at the old homestead. Our driver was full of information on the history of the area, the plant life, wildlife and more. Once you arrive there is an area set up where they have a BBQ with the meat options (BBQ Chicken, Steak and Hot Dogs for our trip), and a table with sides (salad, beans, watermelon and cornbread). The condiments and drinks were set up in an old wooden wagon and everyone is very friendly.
This was my plate. The steak was great, and they had a green apple dressing option for the salad which I also loved. There were a number of beverage options (Cowboy coffee – which was actually from a local roaster and was delicious, water and lemonade. They also had hot chocolate if you prefer). Dessert followed.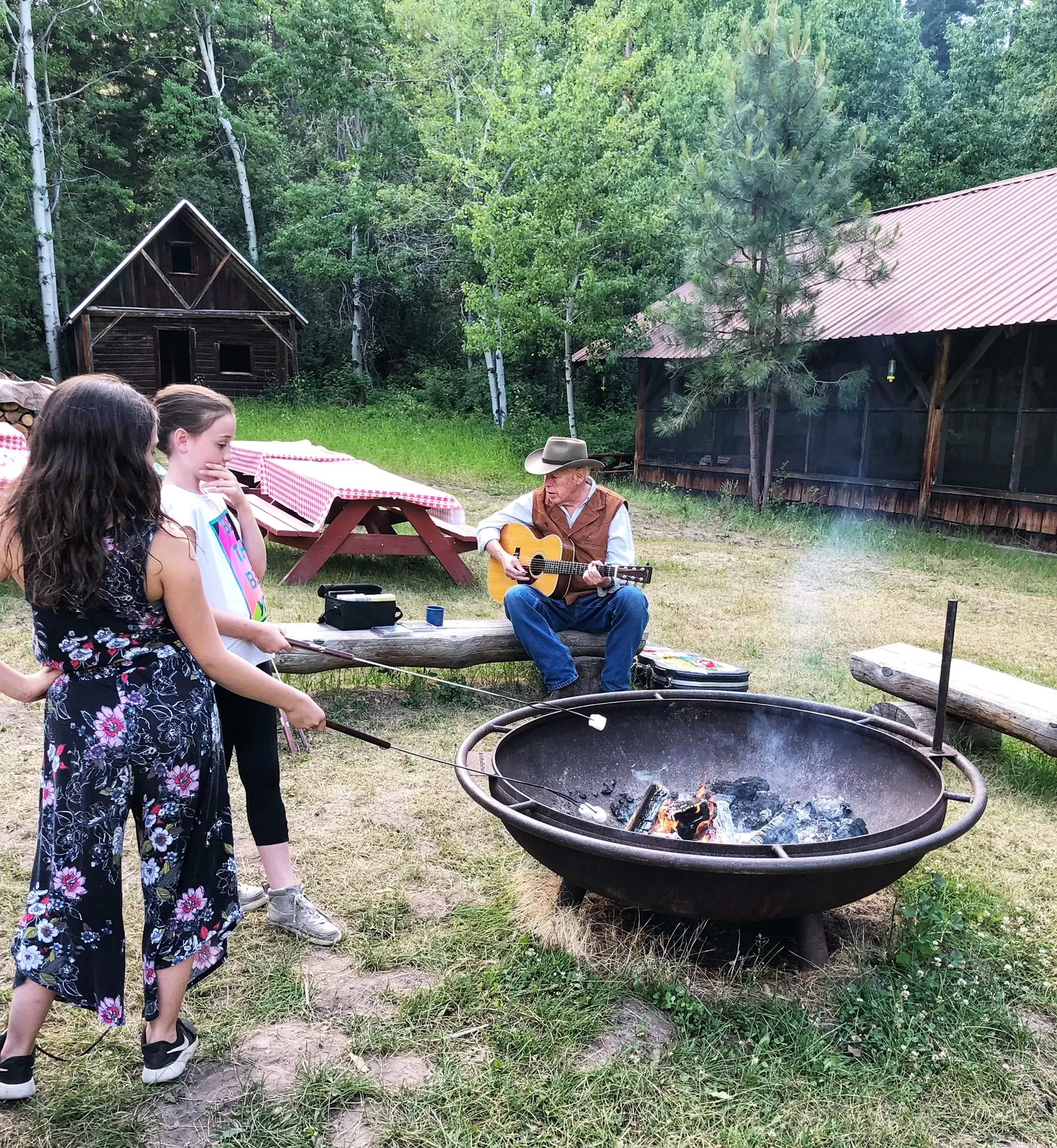 My girls roasted marshmallows for smores and ate the apple crisp and whip cream. I tried to avoid the desserts but ended up cleaning up their leftovers. It was delicious. As dinner was winding down one of the cowboys took out his guitar and started playing some music around the fire. It was a nice touch to creating a down home feel for the evening.
After dinner, another one of the cowboys taught the kids how to toss a lasso to try to rope the fake bulls on the logs. My girls loved this, and only stopped when it was time to share a turn with another kiddo who wanted a try. By the end of the night, you even saw some of the adults trying to ring the fake bull!
There were two horses available for the kids who did not get to ride in on horseback to ride around on after dinner too. They helped us get our girls on the horse, and we led them around until we got tired, and my kids loved that.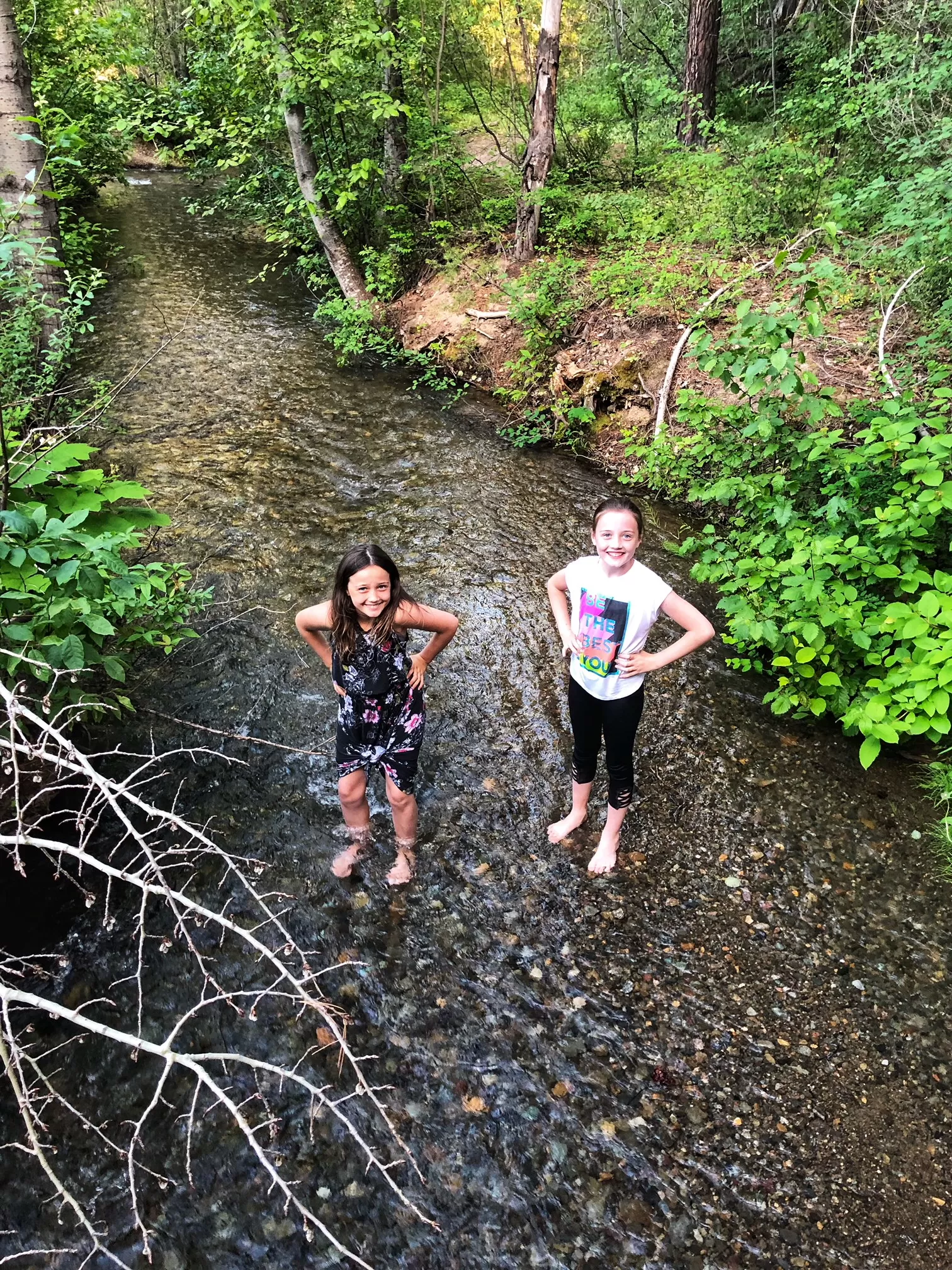 There was also a creek there, under a nice bridge. I let my kids take off their shoes and play for awhile after all the other fun, while we watched comfortably on the bridge.
The evening ended with the horse drawn carriage ride back to the Sun Mountain Lodge, while the sun was setting. All in all, it really was a pretty perfect evening. We topped it off with an evening swim at the lodge, and everyone slept great that night.
The Cowboy Dinners are run seasonally (and they add a Cowboy breakfast during part of the summer too). You can find current rates and times available here.
You can read our full review of our stay at Sun Mountain Lodge here too, if your looking for a wonderful getaway in the Methow Valley!
Disclosure: Sun Mountain Lodge hosted our stay, so we could share with Thrifty Northwest Mom readers. All opions are 100% my own. See our disclosure policy for more details.