Sun Mountain Lodge, Winthrop, Wa – Family Fun Getaway!
This post may contain affiliate links and I may be compensated for this post. Please read our disclosure policy here.
Sun Mountain Lodge, Winthrop, Wa – Family Fun Getaway!
If you are looking for a resort style getaway in Washington, with tons of natural beauty, and some good old down home fun for your family, Sun Mountain Lodge in Winthrop Wa. is the spot.
(Note that this review was done prior to Covid, so you will want to check their activities page here to see what current restrictions exist).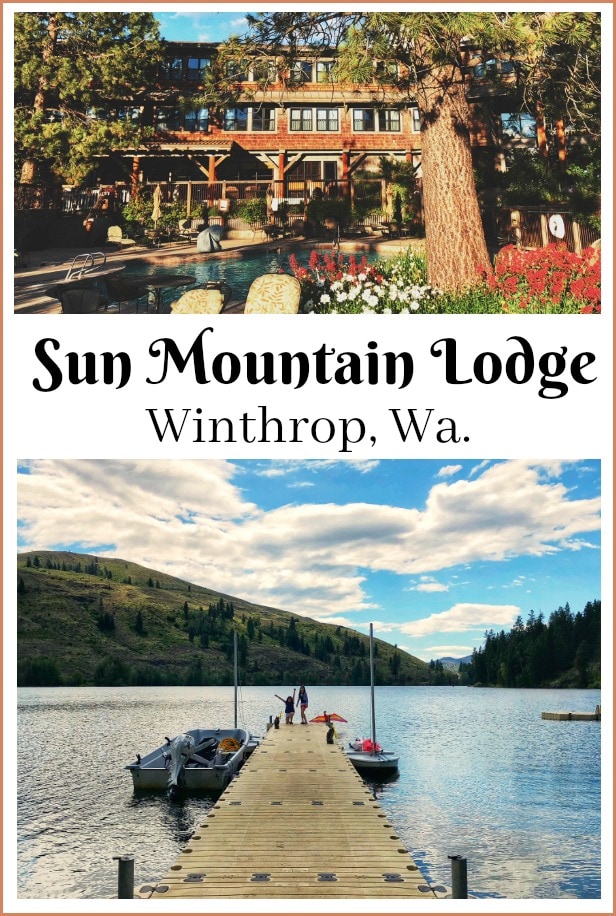 Current Deal Offer:
Sun Mountain Lodge currently has discount room rates on Groupon here, so check to see if one is available.
Review of the Sun Mountain Lodge Resort:
I have been wanting to visit the old west style town of Winthrop, in the Methow Valley, for some time now. We finally got a chance to get out there for a beautiful weekend this June, and my family loved this trip. It is a great option for those with kids of all ages, or just as a couples getaway, and we thought some of you might want to check it out too. We took our two elementary age daughters and they loved it. It was one of my favorite weekend getaways in quite awhile. We packed a lot into one weekend, yet I still felt relaxed from it all. I think that was because so much of the fun is in the outdoors, and in such a serene setting, its hard not to let it unwind you.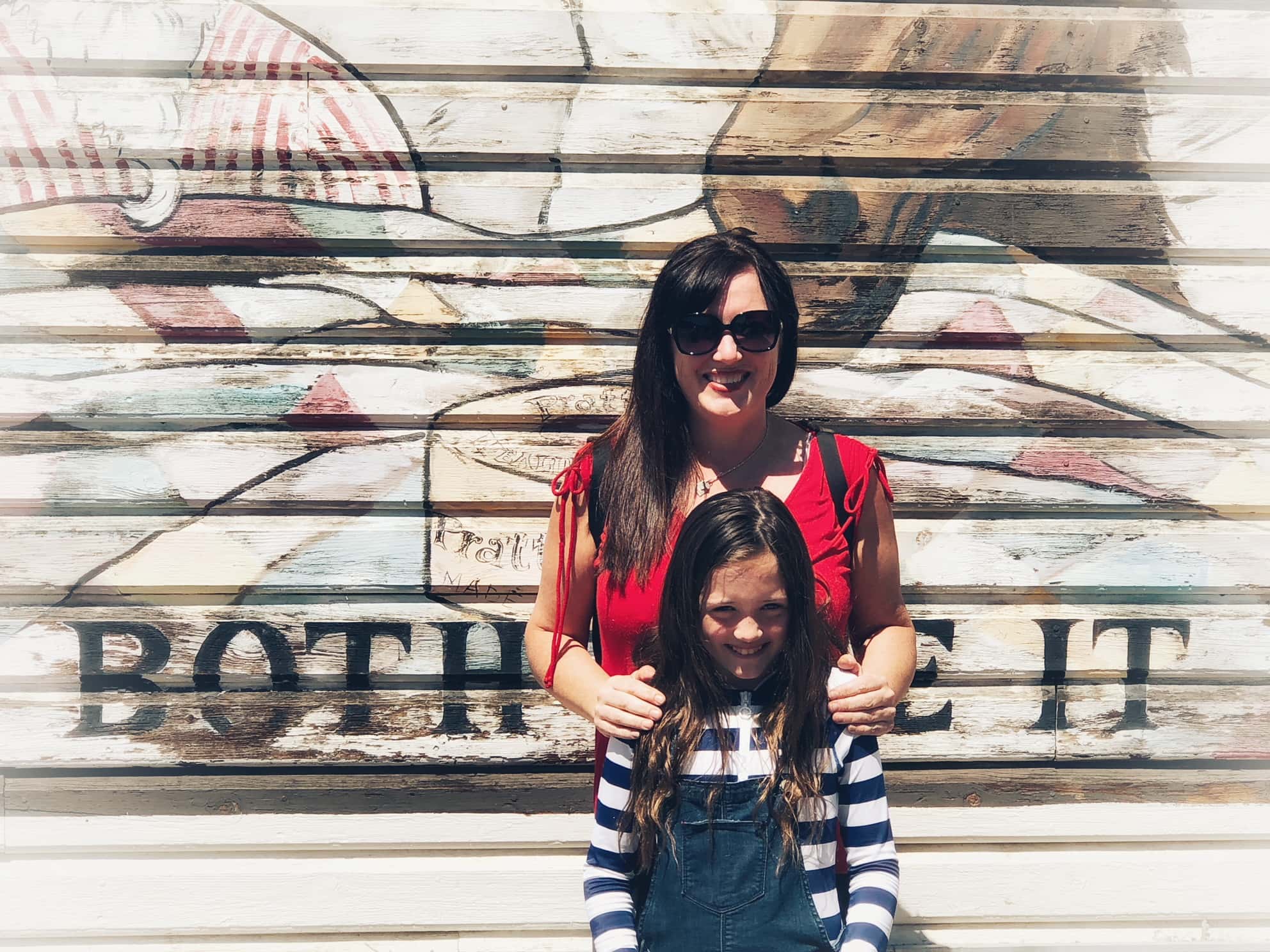 Once I decided we wanted to visit Winthrop, I started looking into options on where to stay. It did not take long to decide that Sun Mountain Lodge was the spot we wanted to spend our time in Winthrop at. With Winthrop being over a 4 hour drive away, I wanted a spot that we would have plenty to do while relaxing at the lodge, in addition to all the things we wanted to explore in the Methow Valley. Sun Mountain Lodge did not disappoint, we loved our stay there, and there were so many activities for the entire family to enjoy. We met many other families there during our stay, as well as couples who were on romantic getaways, and a large group celebrating a wedding. There was something for everyone.
Be sure to check out 10 Things to do on a Family Getaway in Winthrop, for more trip planning ideas.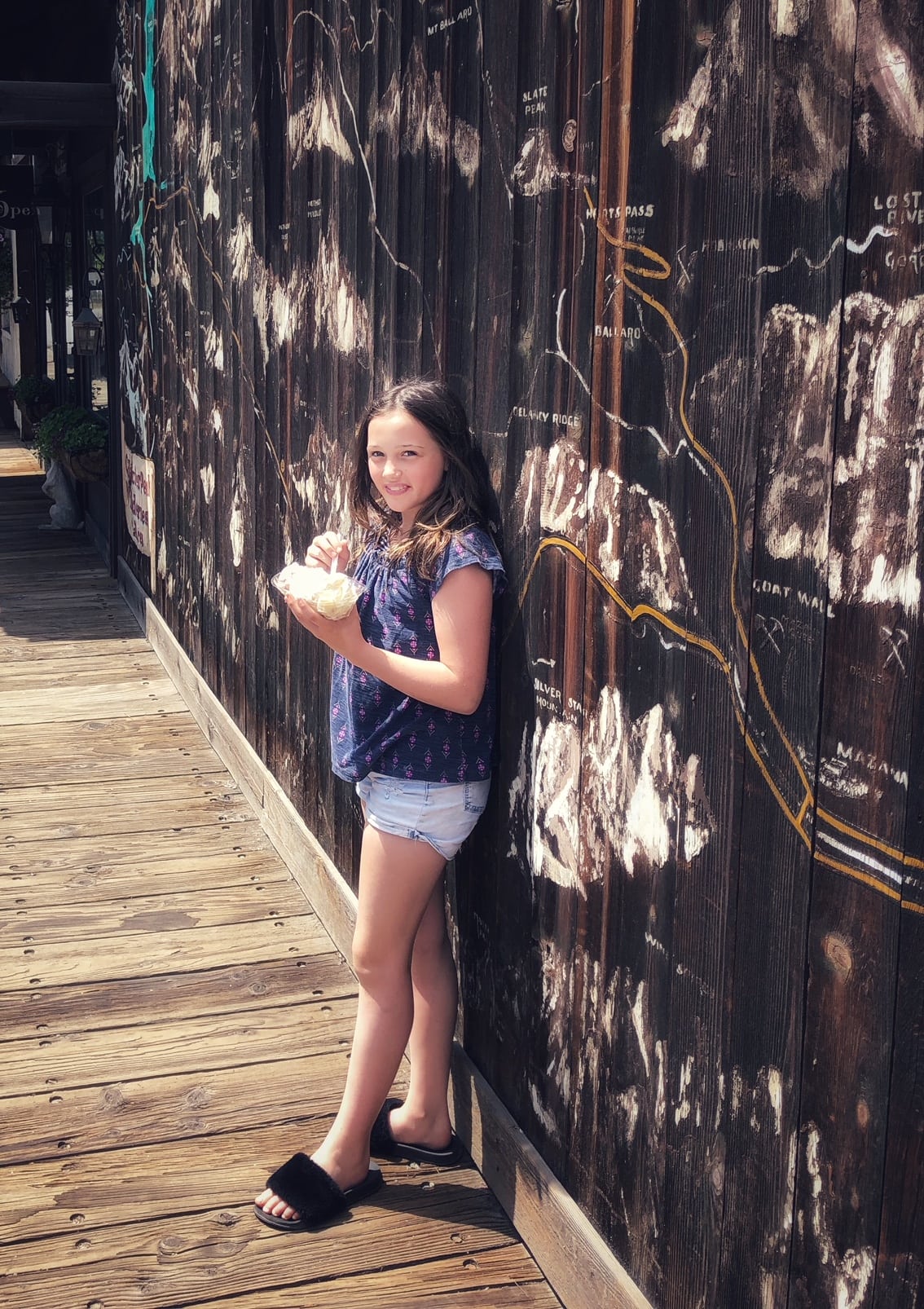 Winthrop is about a 3.5 to 4.5 hour trip from the Seattle area. There are a few different routes you can take, and both of them offer plenty of great stops to make the trip fun on the way or way back (its a beautiful drive). We will share details on that below, but want to start by sharing about where we stayed, as that really made our trip special.
If you're looking for Winthrop Wa hotels, there are a number of options in the area ranging from cabins to motels. They all have something great to offer, but the nicest hotel in the area is the Sun Mountain Lodge, and it is full of things for families to do. The Sun Mountain Lodge was the perfect mix of relaxation, yet supplying plenty of activities for families to do. After adventuring away from the resort during the day, it was so nice to come back and relax, surrounded by so much beauty. We saw wildlife, wildflowers, met new friends and just took life at a more relaxed pace than usual for the weekend. I loved it all.
Family Fun Things to Do at the Sun Mountain Lodge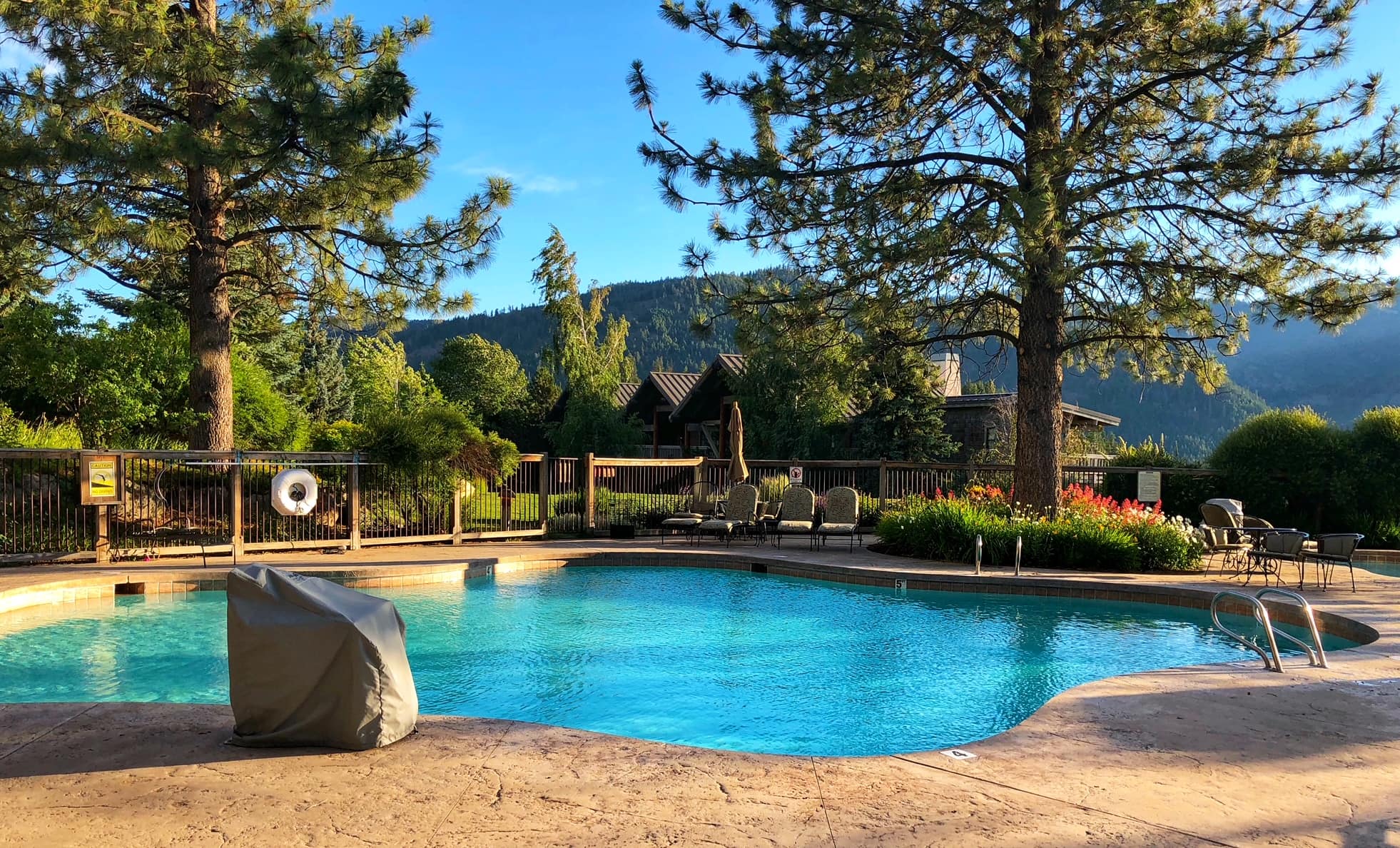 The immediate highlight was the outdoor pool and spa, overlooking the breathtaking views of the Methow Valley. We were able to sit in the spa and watch the sunset behind the mountains one evening, and that was amazing. There are two pools, and two spas, and so we never ran into an issue of them being too crowded.
They also offered many outdoor activities. You could play tennis on the courts, volleyball or even borrow games to play in one of the handful of common areas or back in your room.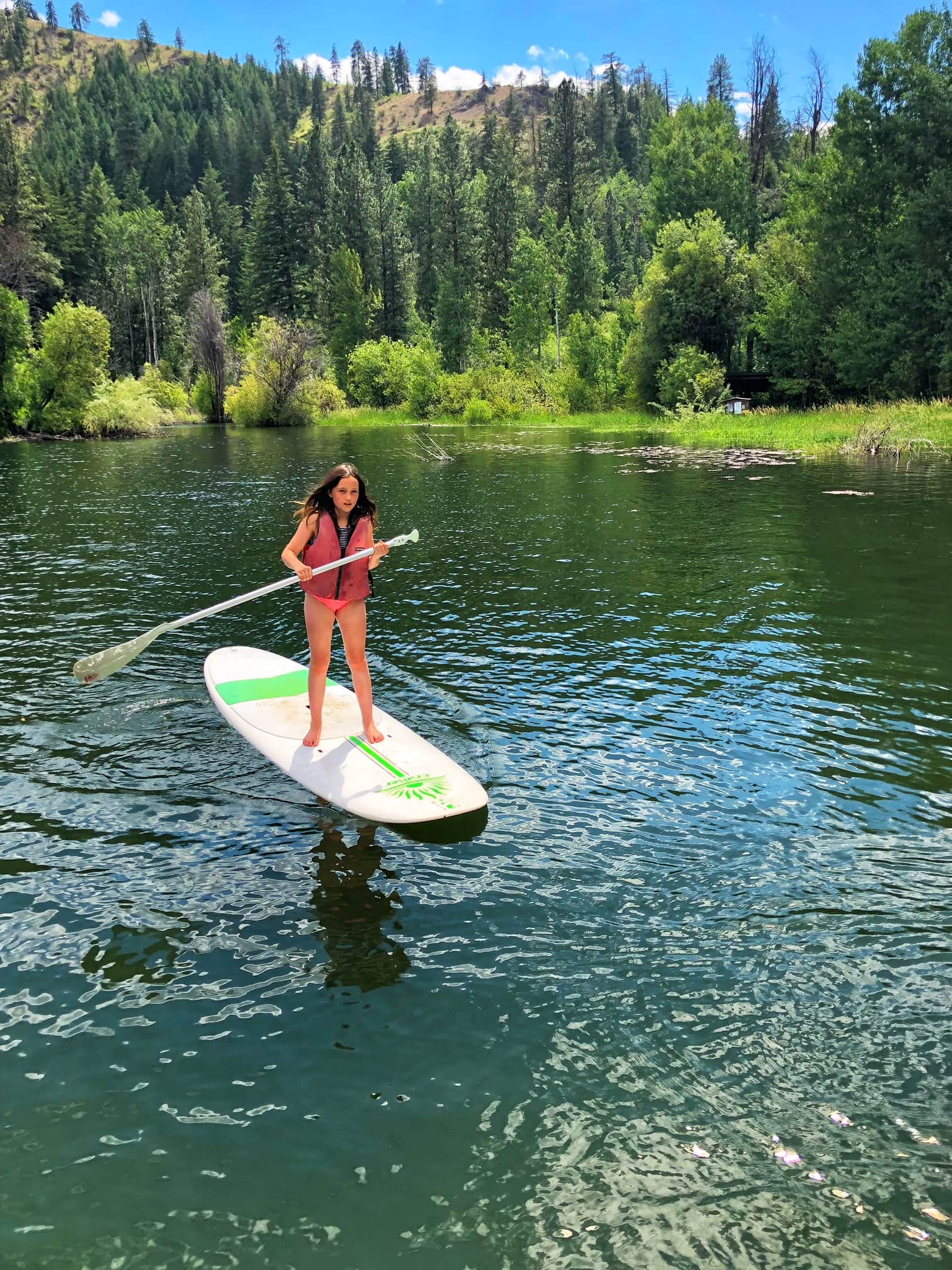 Enjoy The Lake
One of our very favorite spots, was the lake that is part of the resort. About a mile down from the lodge, are the Patterson Lake Cabins. If you are a resort guest you have full access to the lake to enjoy as well, along with all of the activities down there. My girls have always wanted to try paddle boarding, and this was the perfect place to do it. The lake manager was so helpful, getting them set up and figuring out how to use them. They both said the time at the lake was one of the highlights of the trip for them. You can rent paddle boards, kayaks, paddle boats, sail boats and more. There is a swimming area, with two docks, and you can fish the lake as well.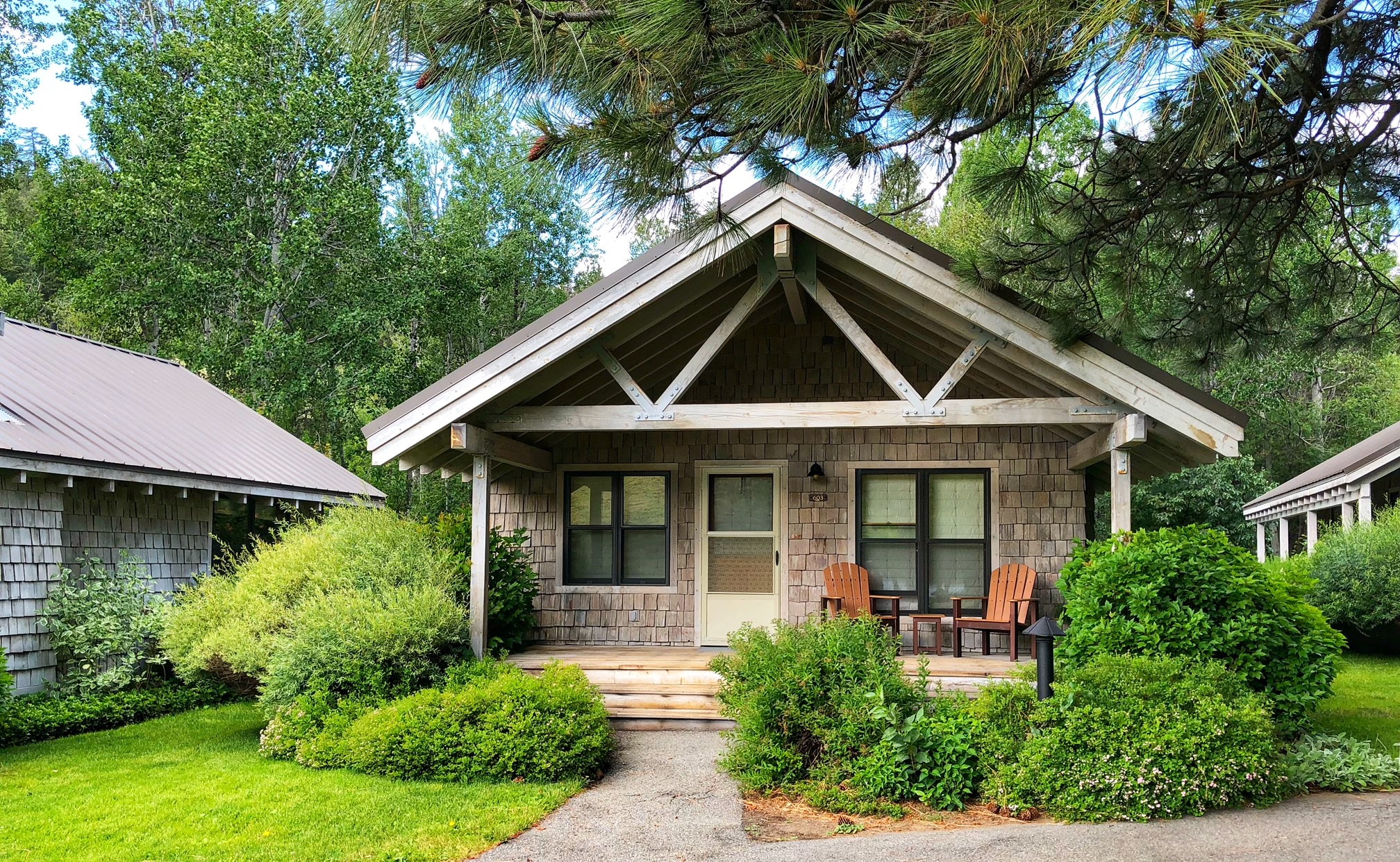 Sun Mountain Lodge Cabins
You could opt to stay in one of the cabins, instead of up at the lodge, and I do not think you would be disappointed. We spent an afternoon down here, and it was beautiful. The cabins appeared to be rented out by many families, and there is plenty right there for kids to enjoy. It seemed like some folks where sharing the cost with a couple of families, and we met a couple of multi-generational families vacationing together (grandparents, mom, dad and grandkids). It was a very family friendly area of the resort, yet still peaceful as well.
Spot some Wildlife
The Methow Valley is home to one of the largest populations of Mule Deer, and we saw many of them on our weekend getaway. We also saw Eagles, and a number of other types of birds. Many of the deer we spotted just on our drive from the lodge into town. They were not hard to find, and did not spook away easily either.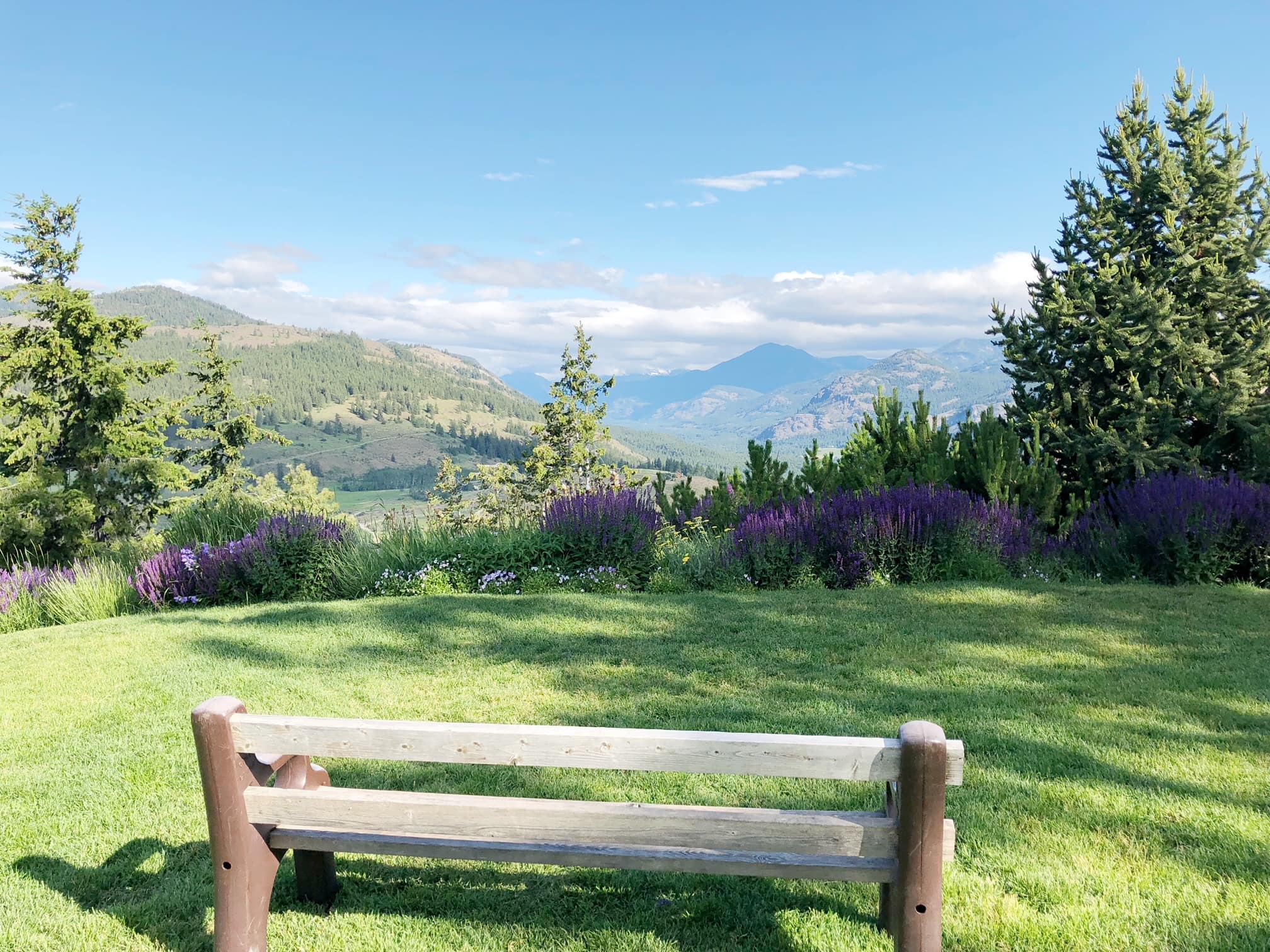 There were also a number of beautiful spots where you could sit and enjoy the vista views, or bird watch from throughout the property.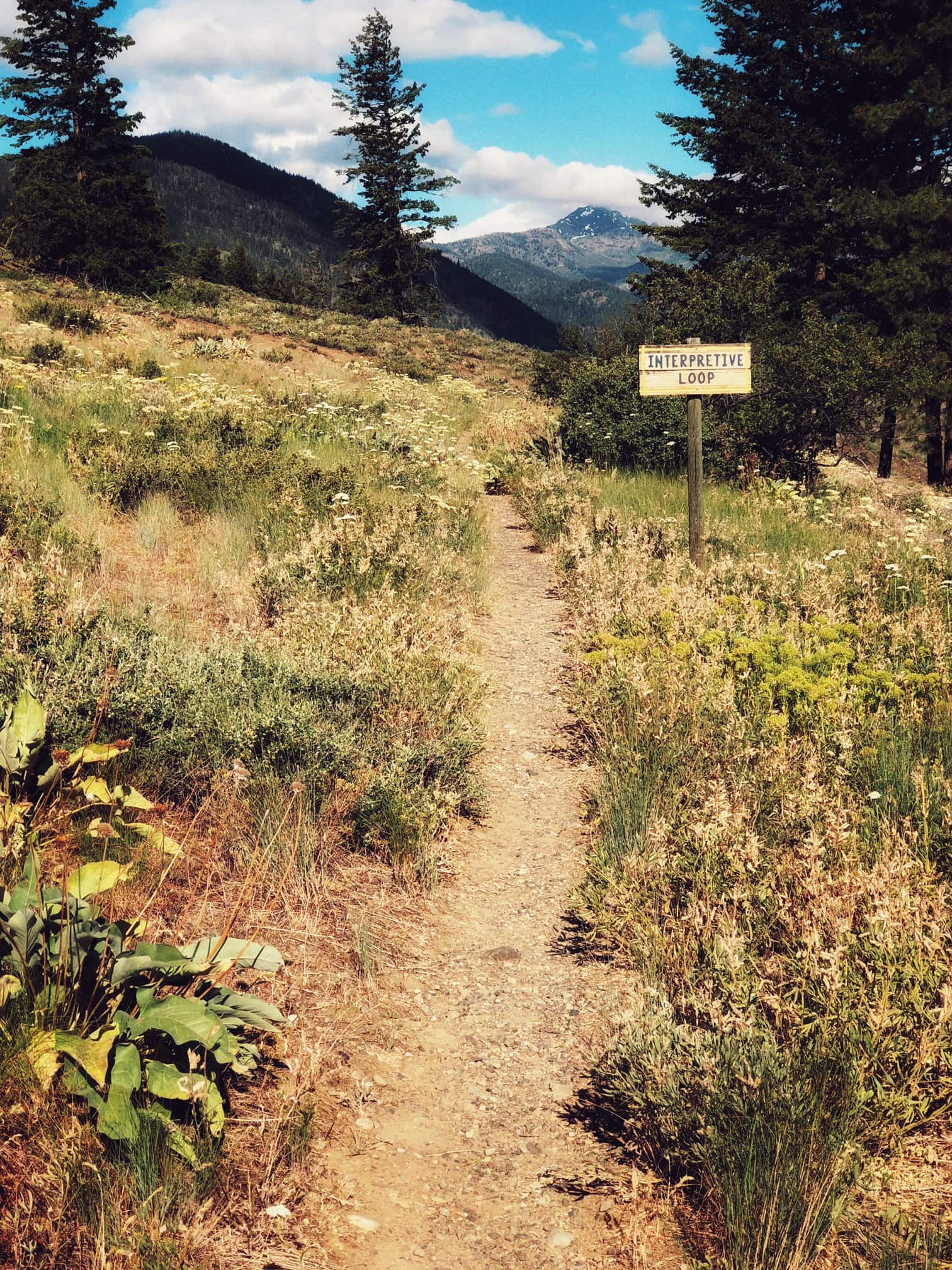 Hiking
Hiking and biking trails started right from the resort grounds, so you did not even have to drive to get in some beautiful scenery on a hike. They have a sign with a map of a number of trails you can take during the summer, or you can download one here to keep on you.  They have trails for different abilities, so something for everyone. We saw lots of people with their mountain bikes all around the area too. If you do not have a mountain bike and want to do a ride, you can rent them at the lodge. I  loved the Interpretive Loop trail with the kids, to look for different wild flowers and plant life.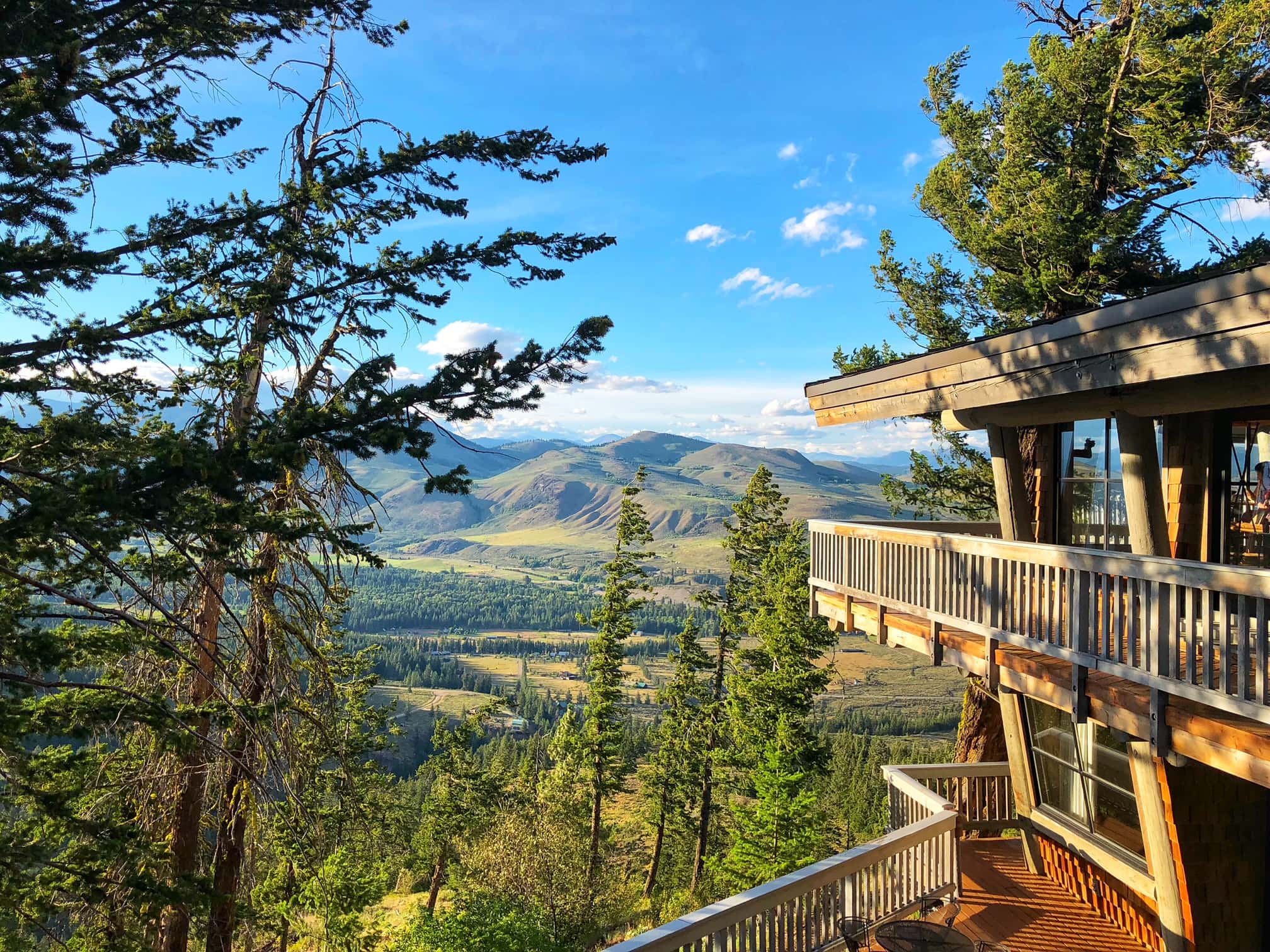 This is the view of the outside of the Wolf Creek Bar and Grill. We sat at a table in that corner area you see peaking out, and this was our view during dinner!
Dining
Sun Mountain Lodge has a few dining options right inside the lodge. You can choose from the more casual Wolf Creek Bar and Grill, or make reservations for the Dining Room. They also have a store where you can purchase lattes or cold drinks and snacks too.
The Wolf Creek Bar and Grill
We had dinner at the Wolf Creek Bar and Grill and the views are stunning in that restaurant. There are also a number of other family friendly restaurants within a 5 to 10 minute drive from the lodge, so plenty of options for families.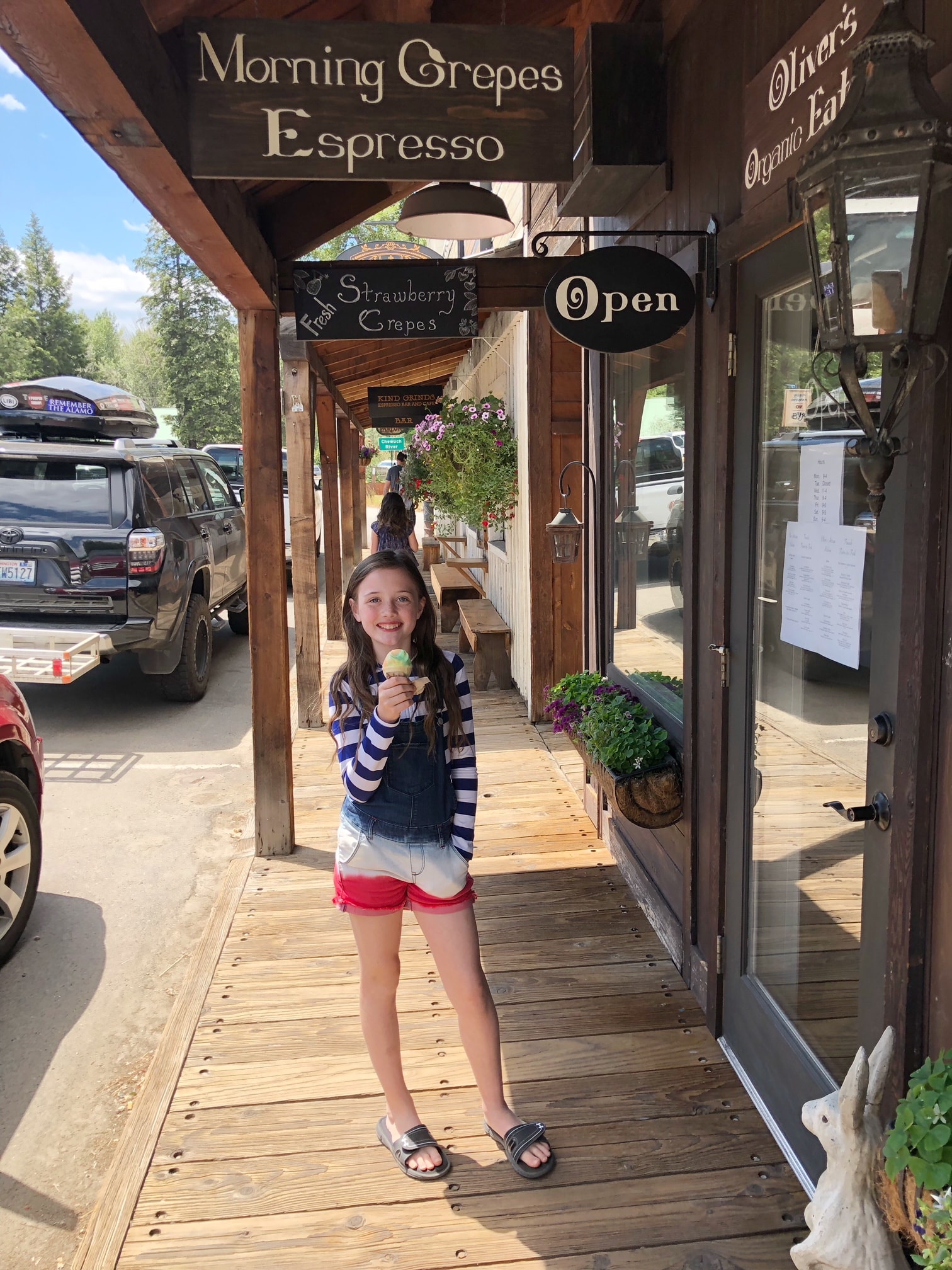 The downtown area of Winthrop is a short drive away from the Sun Mountain Lodge, and is a Western themed town with lots to explore. We share 10 things to do with your family in Winthrop here for more details on what to see and explore in town. We spent an afternoon having a great time in Winthrop, and then topped it off with a stop at Patterson Lake for a quick afternoon swim before heading back up to the lodge.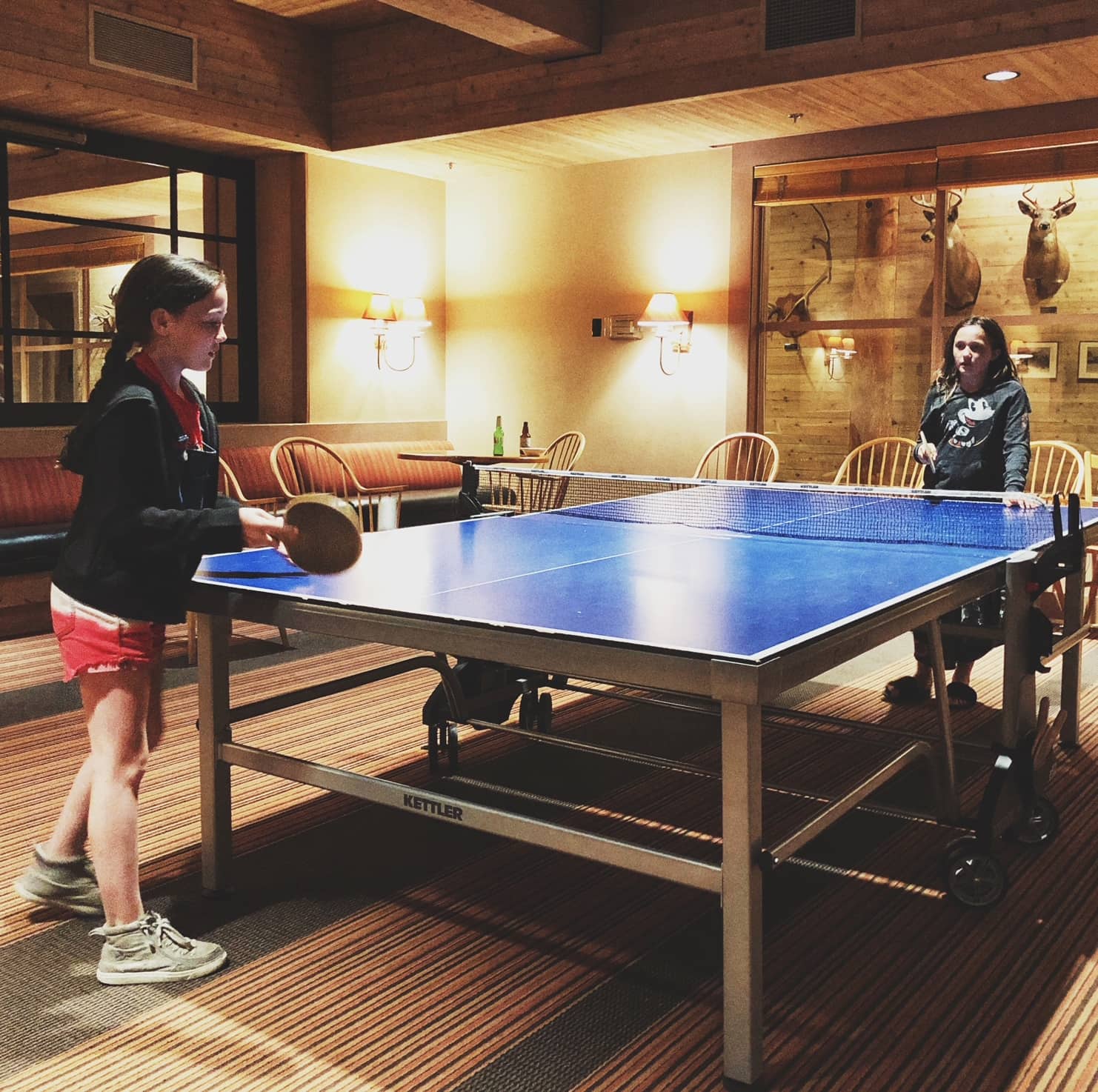 Game Room – Lots of Fun for the Kids!
There was a game room my girls loved. It had two pool tables, table soccer and ping pong. We played them all, and on multiple days. The kids were always asking to go to the game room! It was clean and maintained really well. There was the equipment needed for all of the games, and all of it was in working order. My husband and I challenged the girls to a game of pool one night, and that was more fun than I expected it to be. Playing games with your kids is a great way to stay connected, and this game room offered lots of opportunity for that.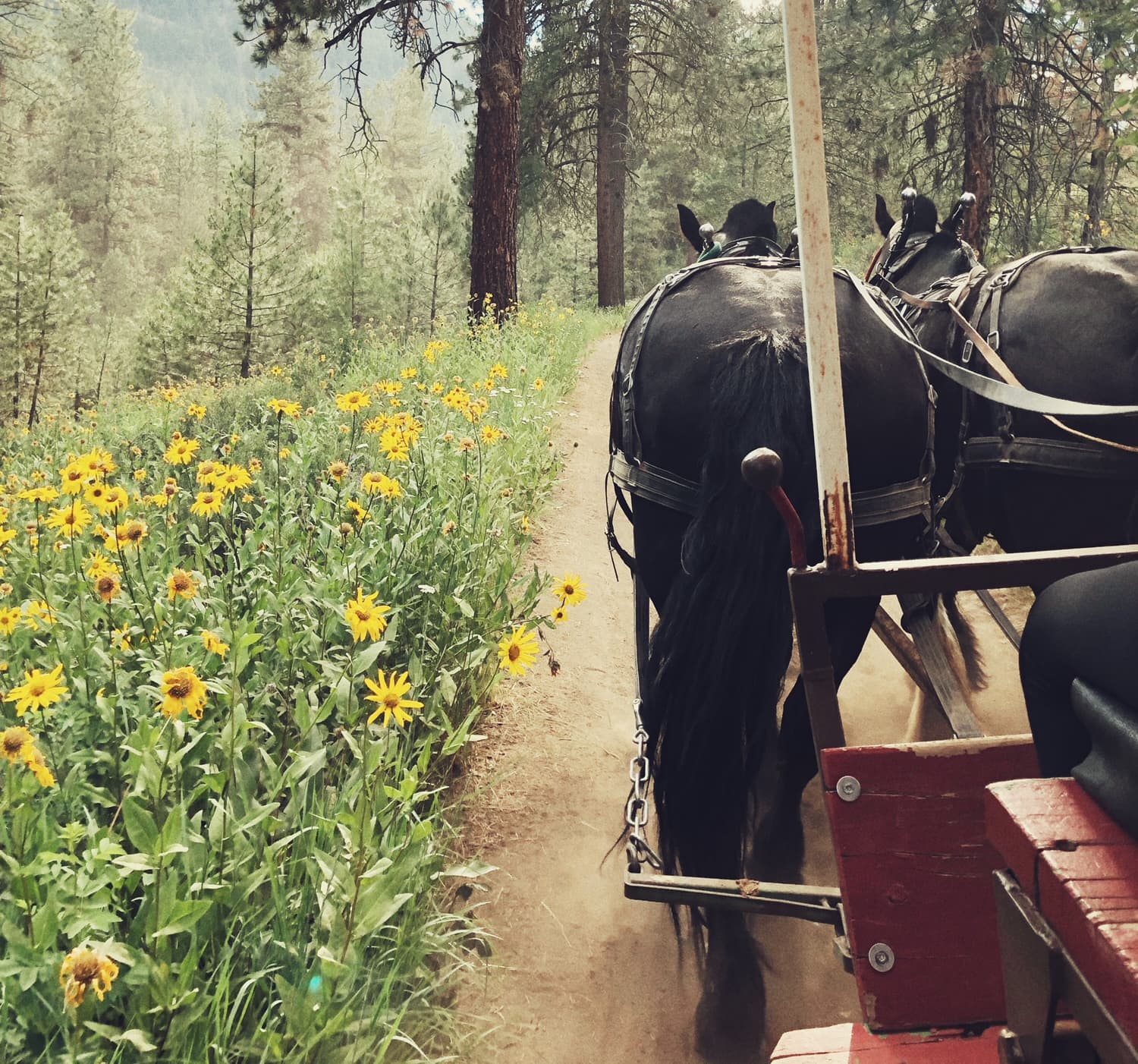 Cowboy Dinner & Horseback Riding Excursions
Sun Mountain Lodge offers a Cowboy Dinner excursion, that is a great time for the entire family. You can read a full review of our Cowboy Dinner experience here (we loved it). If your looking for a splurge event, this is one to consider!
They also offer horseback riding excursions. The trails are beautiful and its a great way to get the kids out into nature.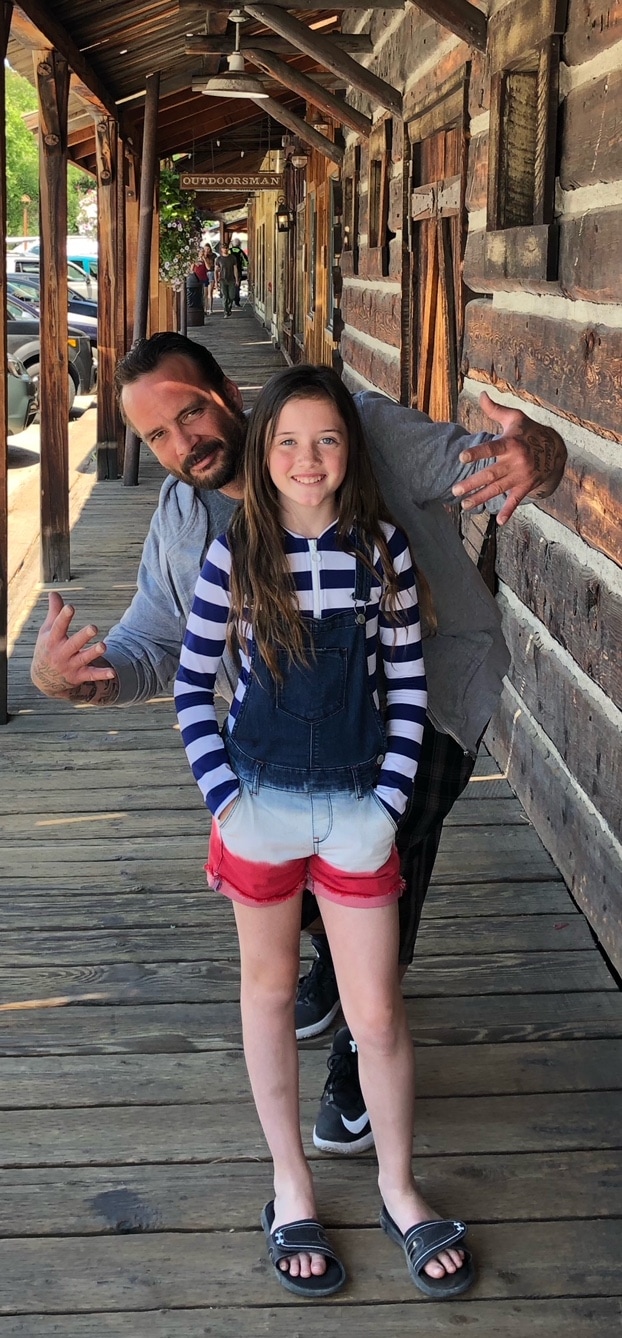 The best part was family time.  This was a getaway where we had lots of time to spend together doing family orientated activities, and I loved that.  So many of the activities where ones that worked well across different age groups, like the game room, and the beauty of the area makes you want to take your time doing things together.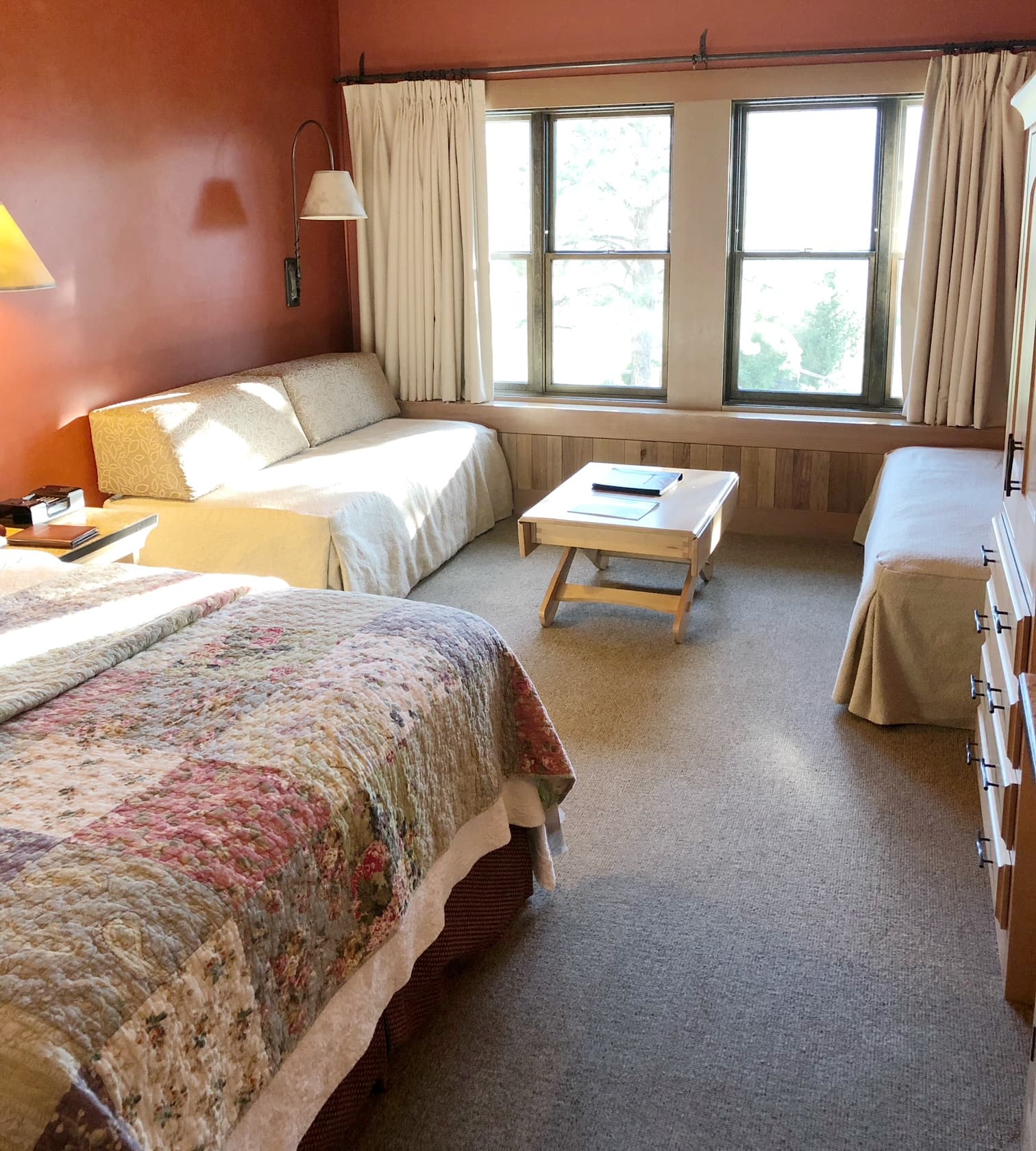 This was our room in the lodge. The kids loved that they each had their own single size bed to sleep on, and they operated as a couch during the day. It was a great set up for families.
There was no TV in our room, and I may have "forgotten" to mention this to my husband and kids. I loved that though, as we spent more time interacting verses being distracted by a show at the end of the night. There are a couple of units that do have TVs in them, if hat is important to you. I came back from this getaway feeling rested, not worn out, and cannot wait for another opportunity to get back one day soon.
All in all, we just loved our stay here. I cannot wait for another opportunity to go back and relax at this beautiful spot!
Disclosure: Sun Mountain Lodge hosted our stay, so we could share with Thrifty Northwest Mom readers. All opions are 100% my own. See our disclosure policy for more details.