9 Charming Themed Small Towns in Washington To Explore
This post may contain affiliate links and I may be compensated for this post. Please read our disclosure policy here.

9 Charming Themed Small Towns in Washington To Explore for Families
There are a number of charming small towns in Washington, with some kind of theming, you can visit as either overnight getaways, or day trips, depending on where you live. What I love about these themed small towns, is that they will transport you to another time or place, without ever leaving the state. So, if you are looking to try to escape someplace else for just a short while, check these ideas out.
These charming towns, all with a unique theme, will really make you feel like you traveled someplace special. Many of these you can do as a day trip from the Seattle area, but if you can we recommend at least spending a night to get the full experience of each spot. They are perfect for family travel, couples getaways, girls weekends or just because. Here are five of our favorite spots to feel like you have really traveled someplace in Washington.
Here are 7 Themed Small Towns In Washington (+ 2 Honorable Mentions) You Will Want To Plan A Visit To::
Leavenworth – Bavarian Themed Town
Leavenworth is probably the best known town in the NW to explore, that will give you the feel of being in Europe. It is a Bavarian themed village, with alpine style buildings, nestled between a gorgeous mountain backdrop and the river. Find festivals, great food and drink, wine tastings, shops and more to enjoy during your visit.
When To Visit –
Leavenworth is an all seasons town. Spring would be there low season if you are looking for the best deals on a stay there. There are festivals throughout the year, so check their events schedule. If you want to avoid crowds, you will want to avoid festival weekends. Alternatively, if you want to visit when there is lots going on, you will want to attend an events weekend.
Fall offers the Oktoberfest, Winter has many Christmas festivities, summer offers beautiful weather, river activities and festivals and more. Spring is a great time to visit with fewer crowds and better prices!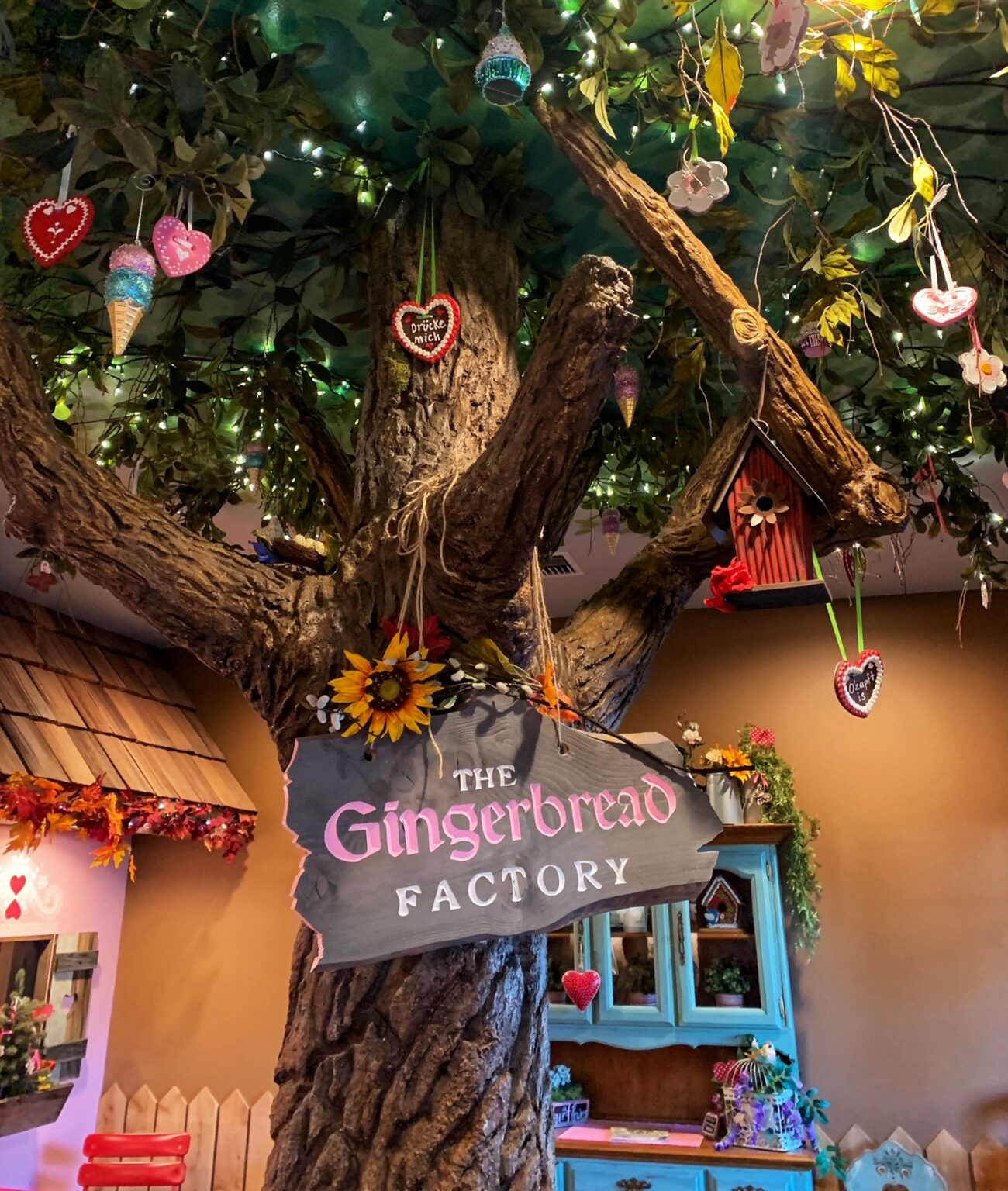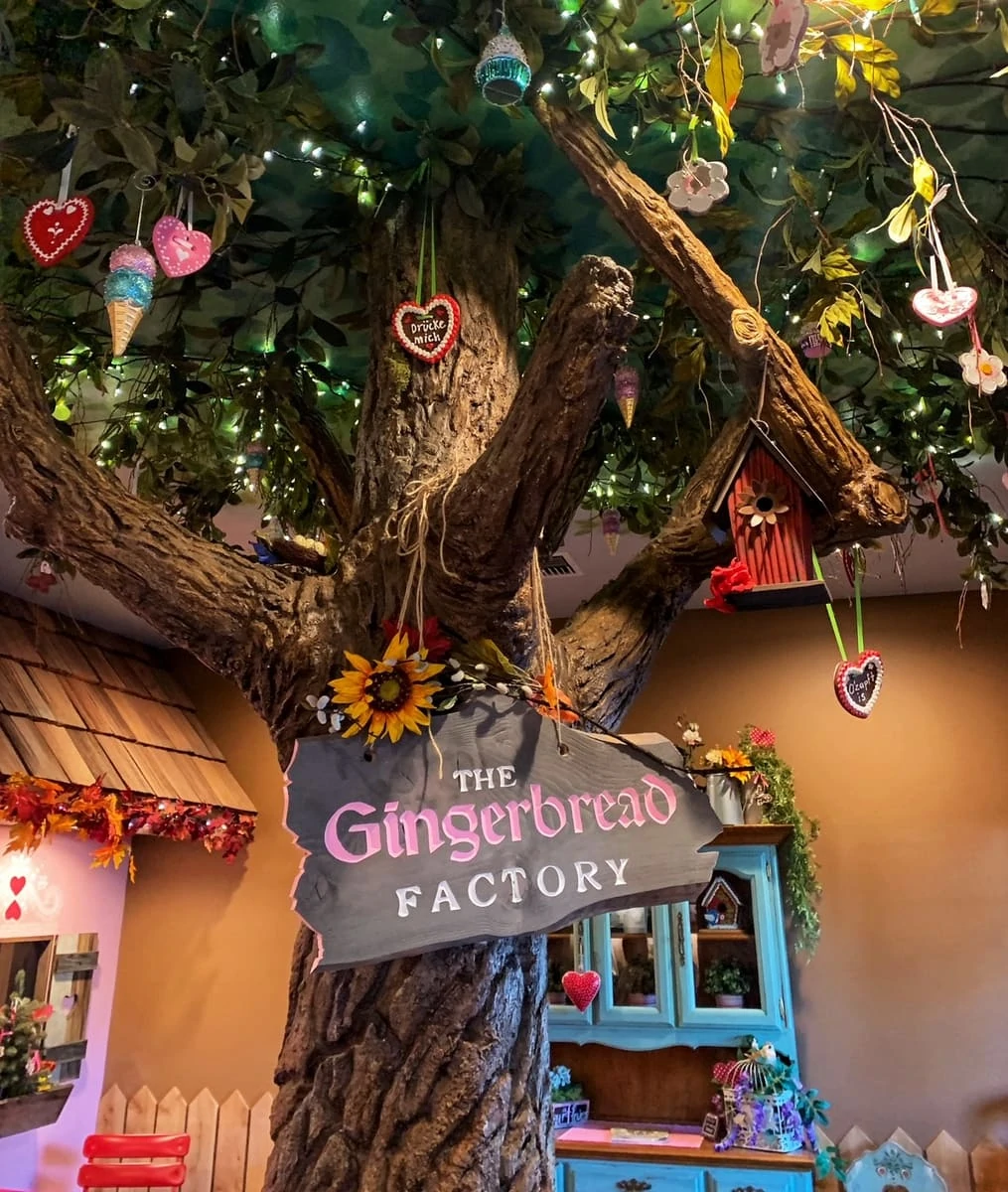 What We Love About This Town – 
Besides all the theming, great restaurants and shops and so much more – here are a few more things I love about this town:
You can do it as a day trip over overnight (if you want to stay overnight there are so many great options from budget friendly to splurge spots).
There is something for everyone. It makes a great couples trip, or girls weekend with all of the wine tasting, and brewery options, as well as so many things kids love like candy stores and gingerbread factories. There really is something for everyone in this small town!
It is truly a 4 seasons spot. My favorite time of the year to visit is fall and especially during their Oktoberfest (I love all the beautiful fall colors and trees). Many people love Christmas and the famous Christmas lighting ceremony in the Winter. Visit in the summer and find outdoor activities like river tubing and putt putt golf. Or check out Spring for some of their best rates available and better access to shops and restaurants without the larger crowds some of the other seasons bring.
It sits above the river, and a short drive from Wenatchee. That means you can enjoy lots of outdoor activities, etc, along with the fun offerings in town.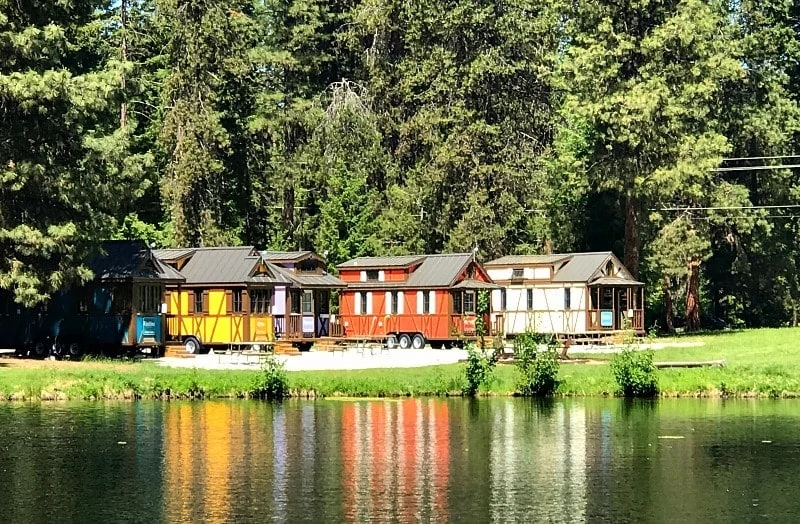 Where to Stay – 
Leavenworth is full of lots of wonderful places to stay, for all kinds of budgets. We have highlighted a couple of our favorites in each price range to give you an idea of places to start looking.
Budget : KOA or HOJO (Hampton Inn)
Moderate: Leavenworth Tiny House Village or Icicle Village for families
Splurge: Post Hotel or Sleeping Lady Mountain Resort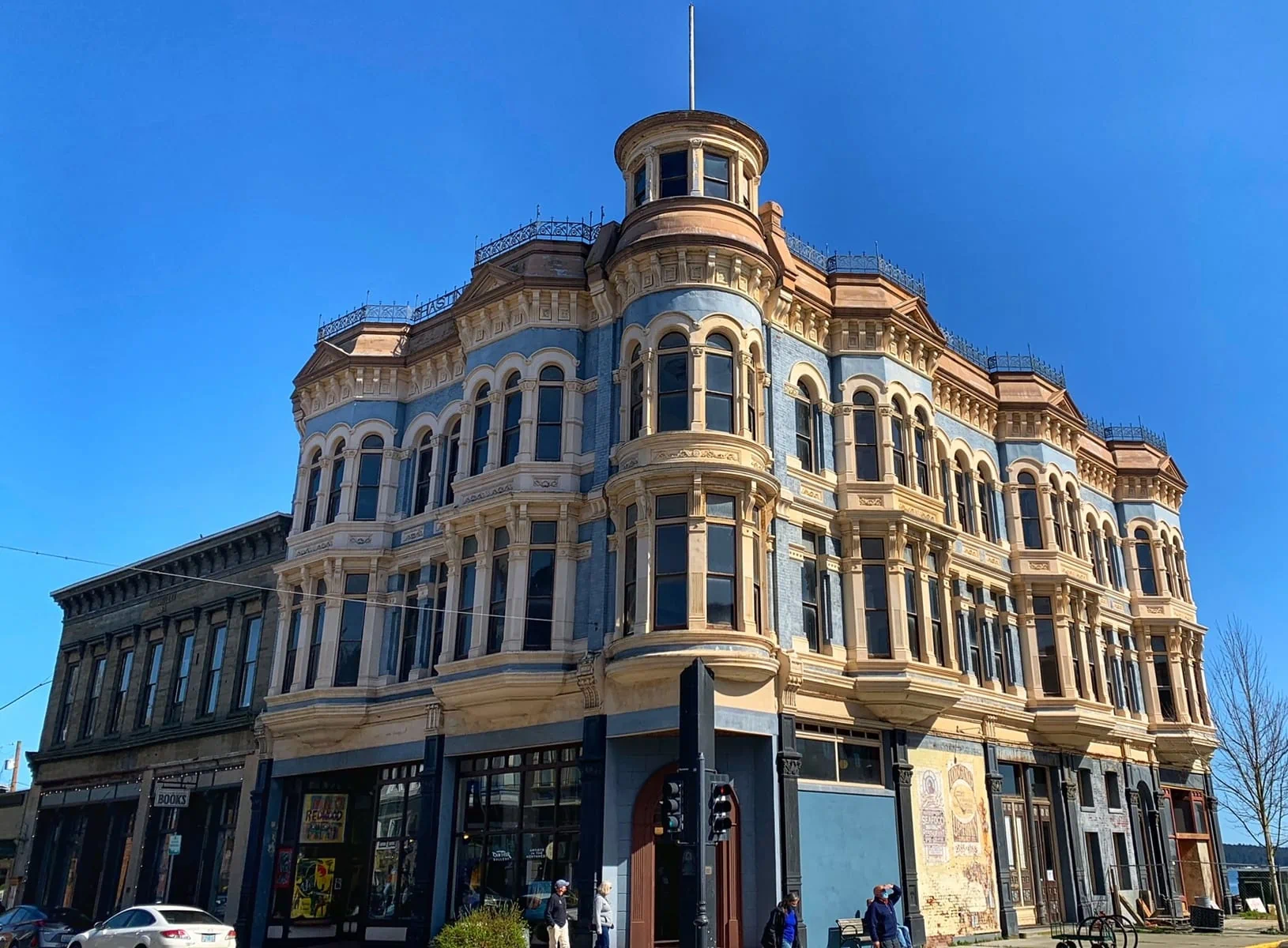 Port Townsend – Victorian Themed Town
The town of Port Townsends main street is lined with Victorian-era buildings, and you immediately feel like you have jumped back in time. It is just a 2 hour trip from the Seattle area that can include ferries (or not), and so makes a fun day trip or overnight excursion.
While the town itself it not huge, there are a number of restaurant and shops to peruse during your visit, as well as a waterfront area to relax at. Just a short drive up the street is the Fort Worden, where kids can explore creepy old military buildings, and play on the beach.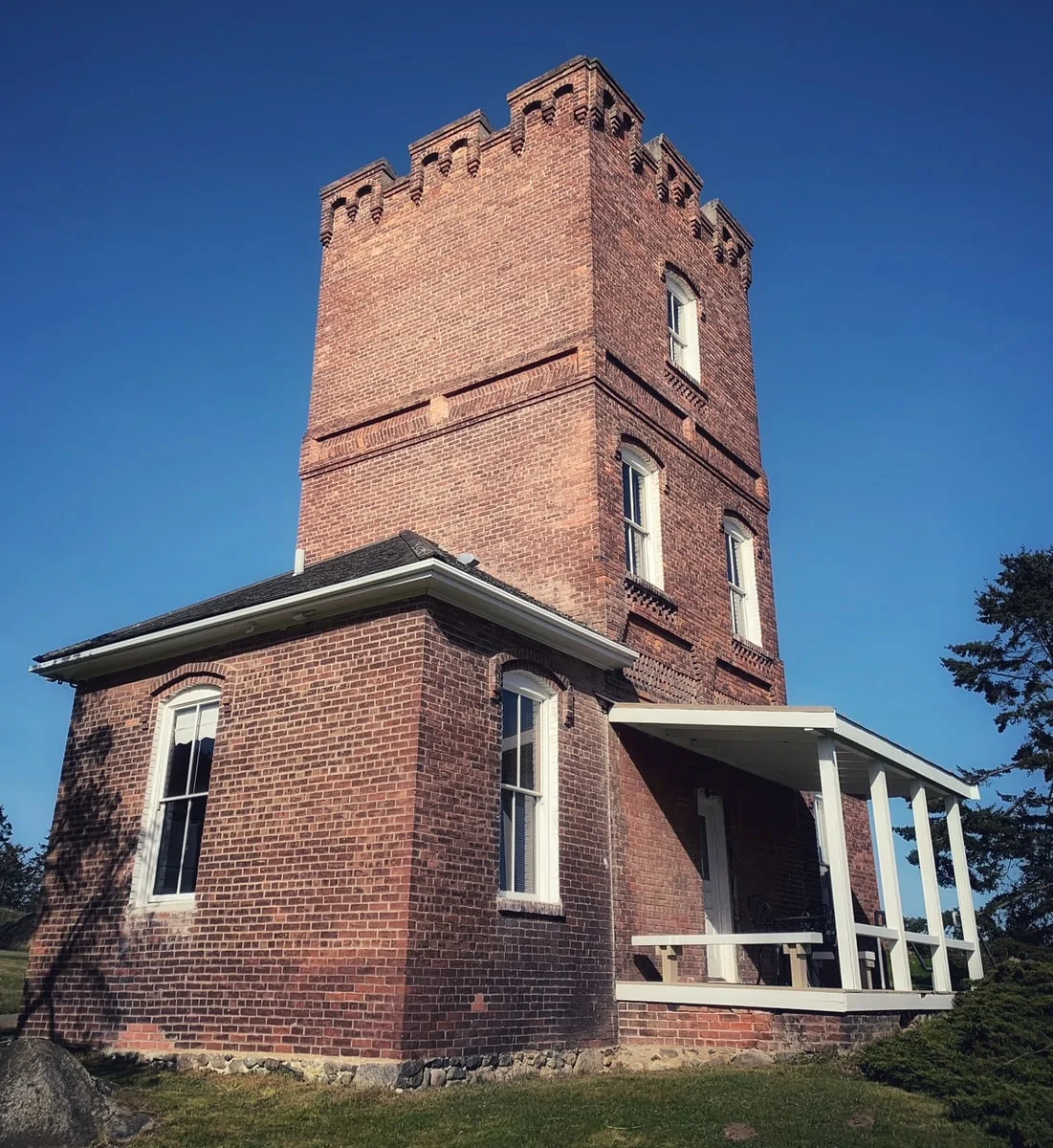 When To Visit – 
You can enjoy Port Townsend year round. Summer is one of my favorite times to visit Port Townsend. Good weather makes exploring the fort, walking the beach and enjoying the town more enjoyable for me. Fall is also a great option as they have their wooden boat festival in September.
What We Love About This Town – 
Make sure to visit Fort Worden to let the kids get out and run, and explore!
Consider visiting on a Saturday to enjoy their outdoor Farmers Market (happens 9 months out of the year!).
It sits on the tip of the Olympic Peninsula, so it is a great spot to continue on and explore the rest of the Olympic Peninsula from (consider planning stops in Port Hadlock and Sequim on your way).
Alternatively you can head the other direction and explore the Kitsap Peninsula (check out our Road Trip Itinerary for the Kitsap Peninsula here for lots of ideas on what to do there.)
Where to Stay –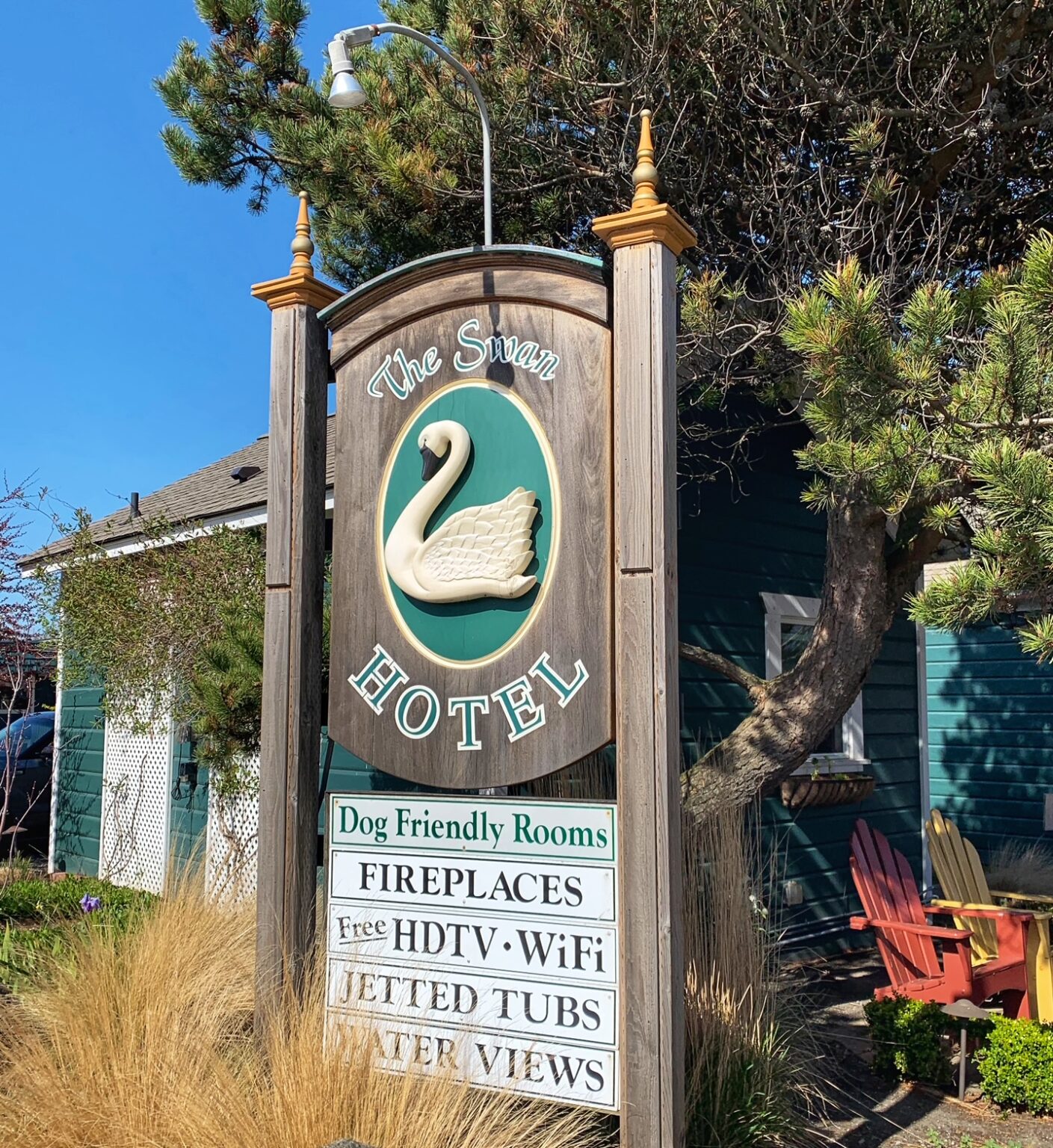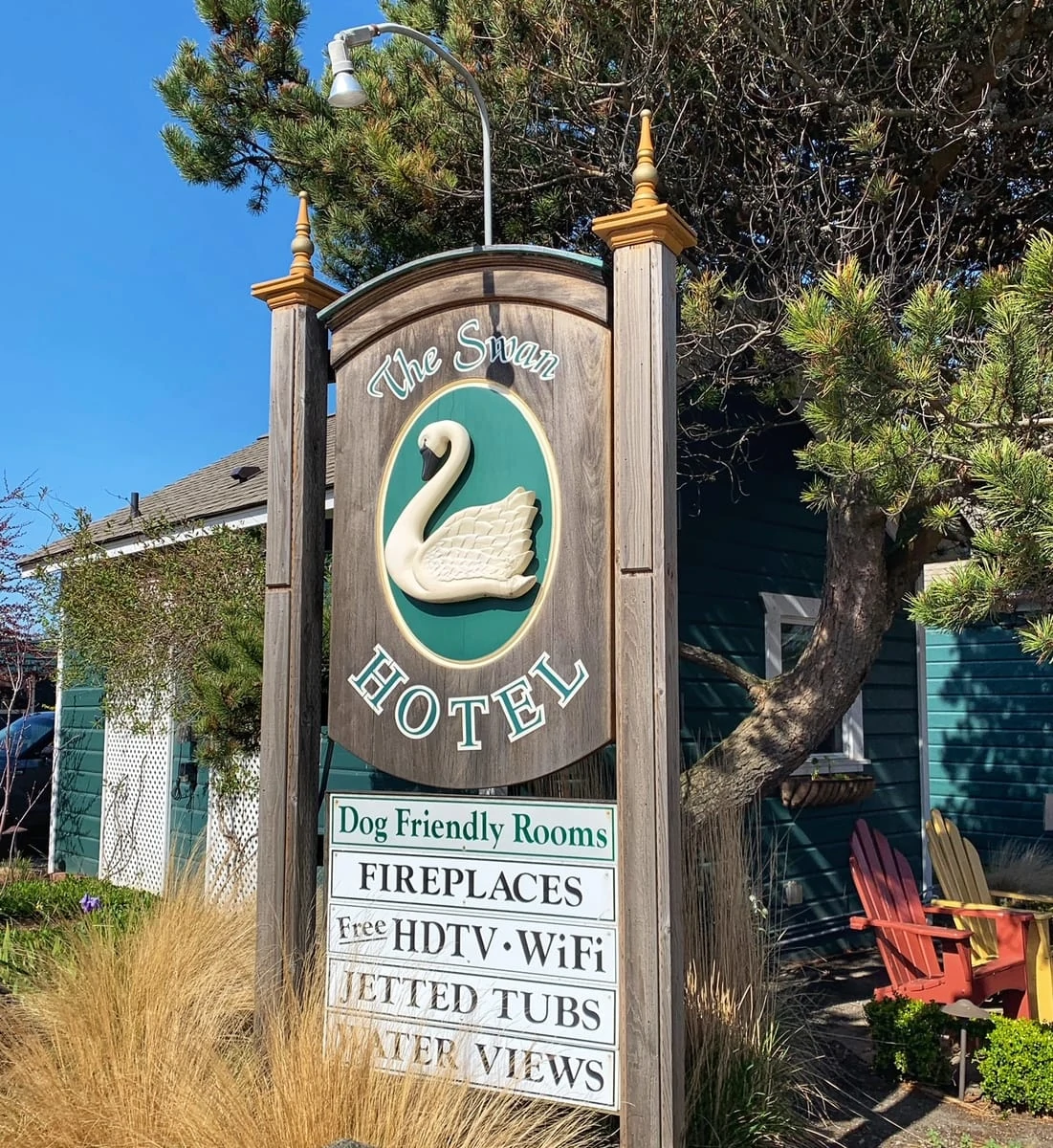 Budget : Rent rustic houses at Fort Worden, or camp near the beach!
Moderate: The Swan Cottages
Splurge: The Palace hotel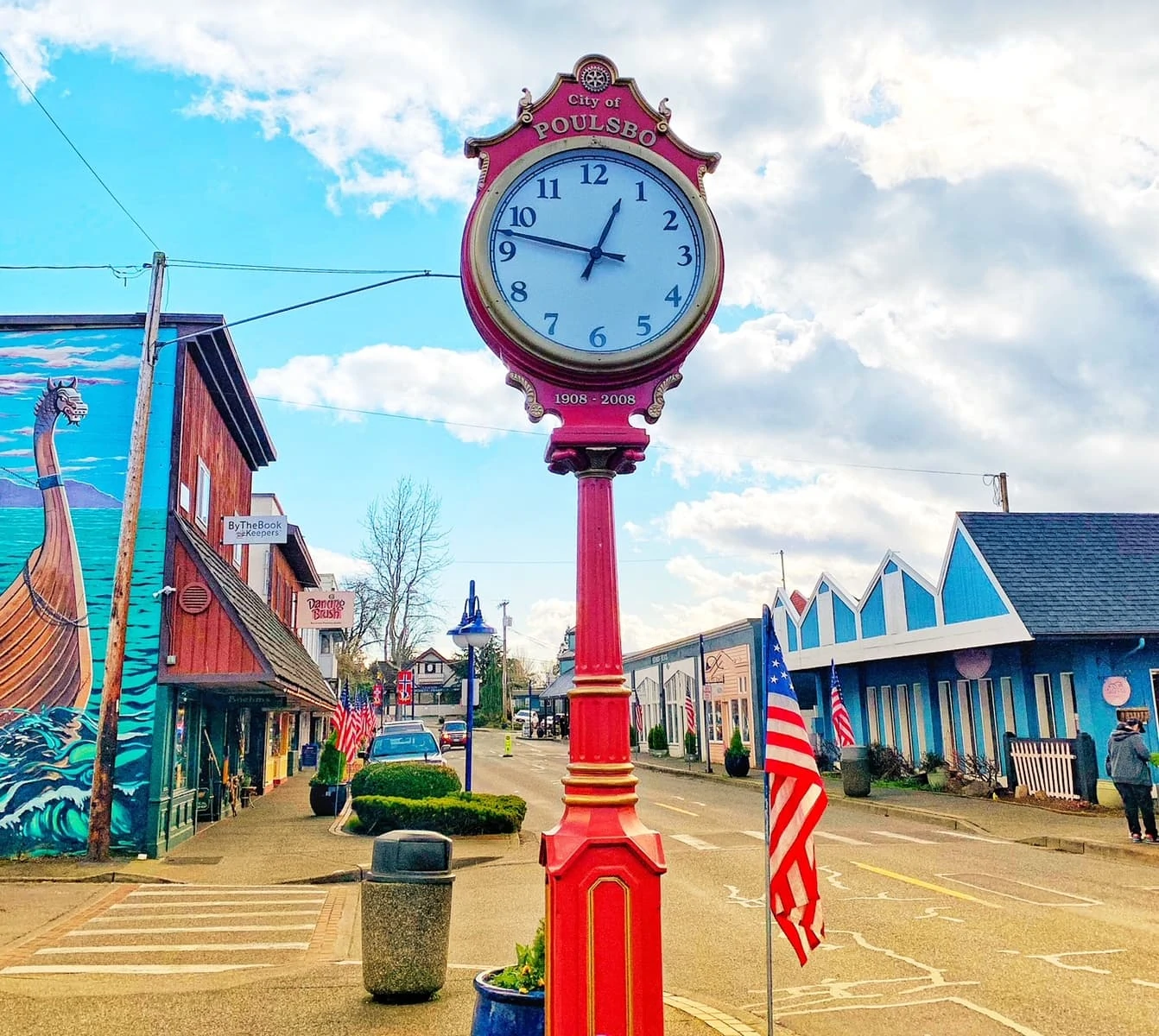 Poulsbo – Viking Themed Town
Poulsbo is a Viking themed town over on the Kitsap Peninsula, that is packed full of great places to eat, as well as shops to browse. It makes both a wonderful day trip, as well as a fun weekend getaway.
We have a full review of visiting Poulsbo here (what to do, where to eat and more). We also share our favorite Kitsap Peninsula Road Trip Itinerary here, if you want more ideas on how to turn this visit into a full blown vacation!
It sits above a Marina, so you will have beautiful water views here as well, or can access it via boat or car, as well as enjoy the boardwalk to take nice strolls along the water.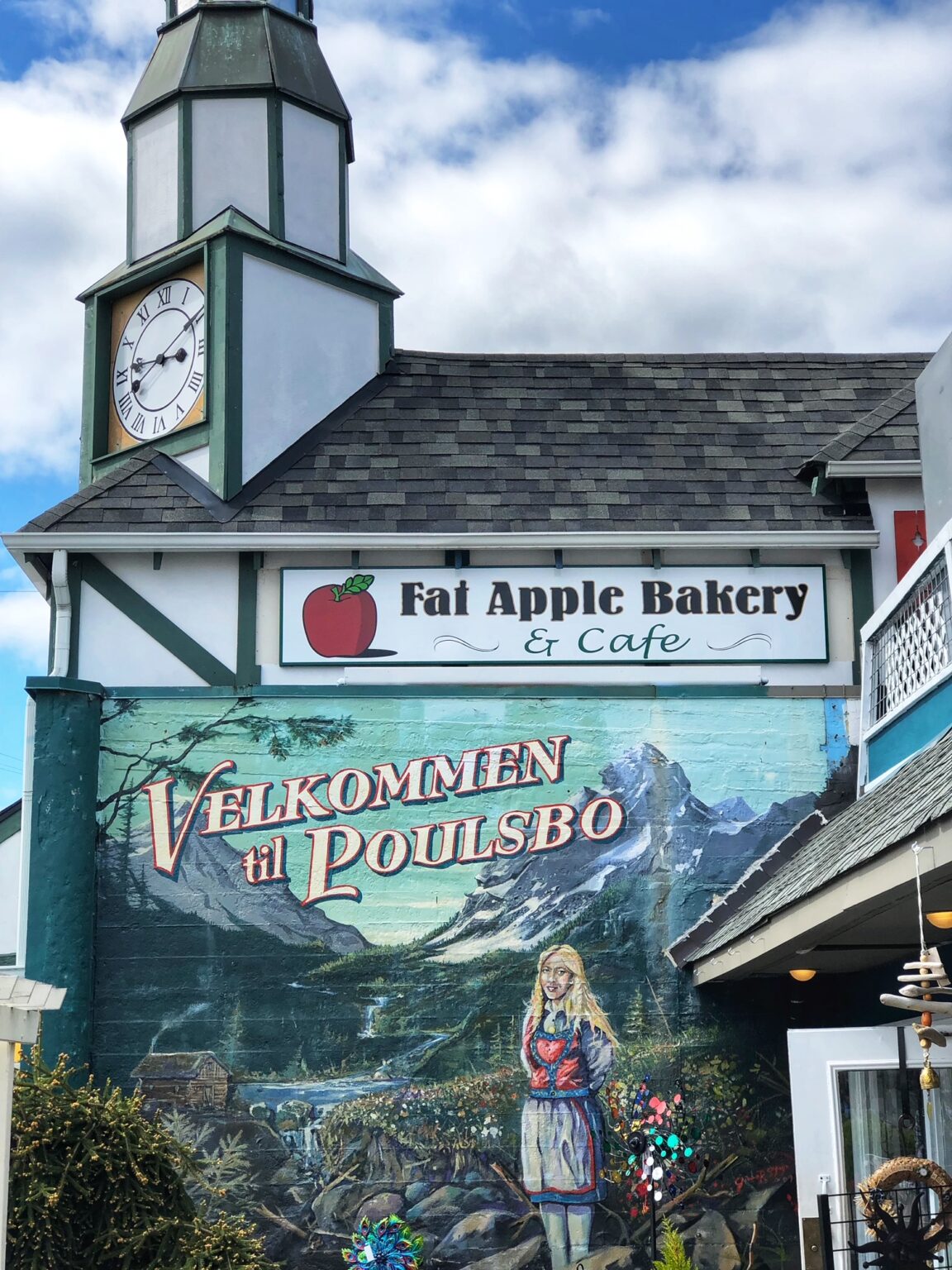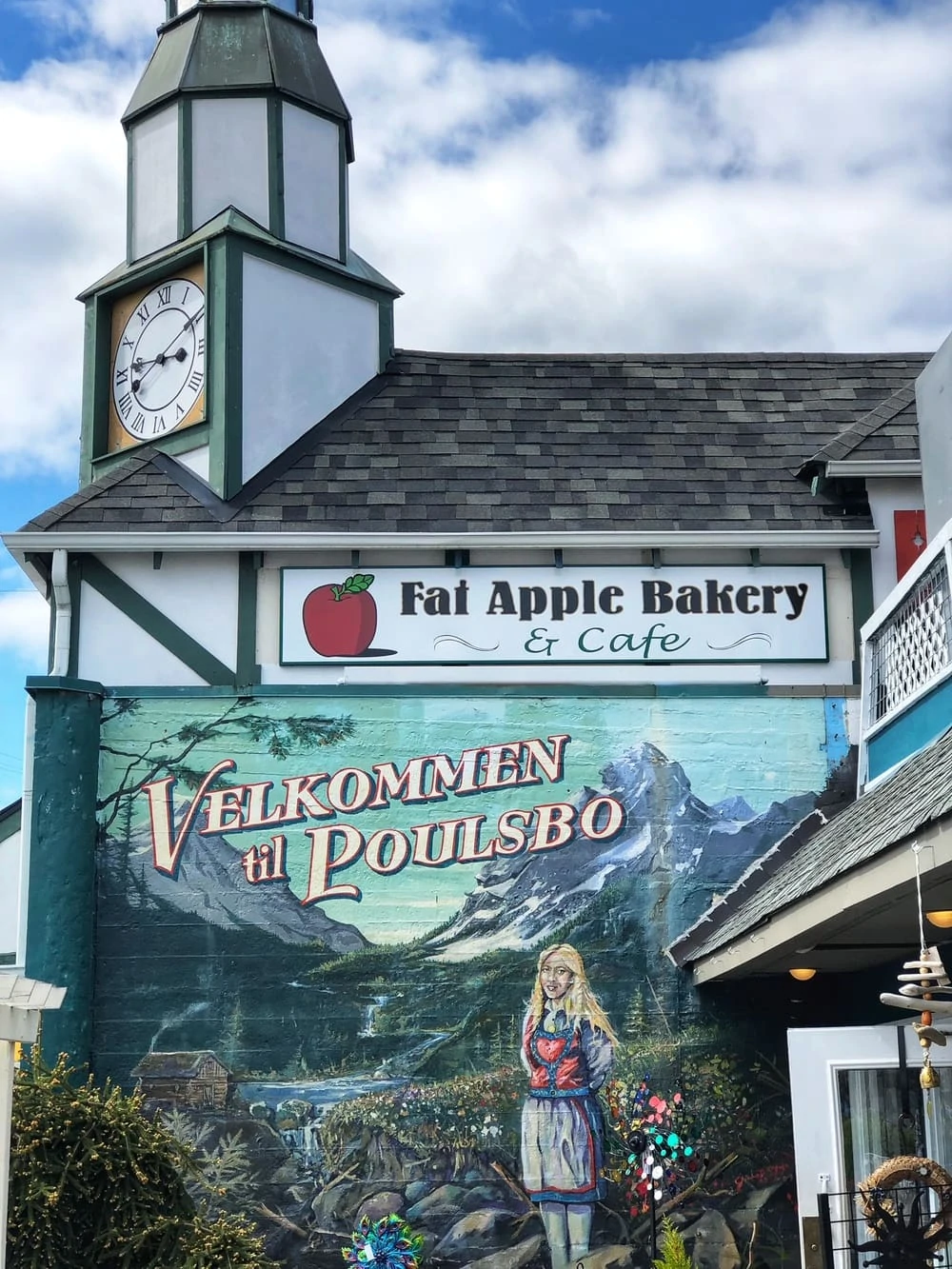 When To Visit – 
Poulsbo can get busy on the weekends, particularly in the summer. That means you can avoid crowds by visiting on the week days, but it also might mean some of the shops are closed and restaurants may be running on limited hours. My favorite time here are summer weekends, even if they are a bit busier – as I know everything will be open. Make reservations ahead of time if you are concerned about getting into your favorite restaurant spot.
What We Love About This Town – 
Getting there is half the fun. You can take a Ferry, or drive around and cross the Tacoma Narrows Bridge (both fun scenery).
One of the things I love most about a Poulsbo day trip, is that you can also combine it with other charming towns nearby (like Port Gamble and Hansville), to really get the most out of your visit.
Again, (check out our Road Trip Itinerary for the Kitsap Peninsula here for lots of ideas on what to do there.)
Where to Stay – 
Budget : Best Western Silverdale or Oxford Suites
Moderate: The Inn at Pleasant Beach
Splurge: Clearwater Casino Resort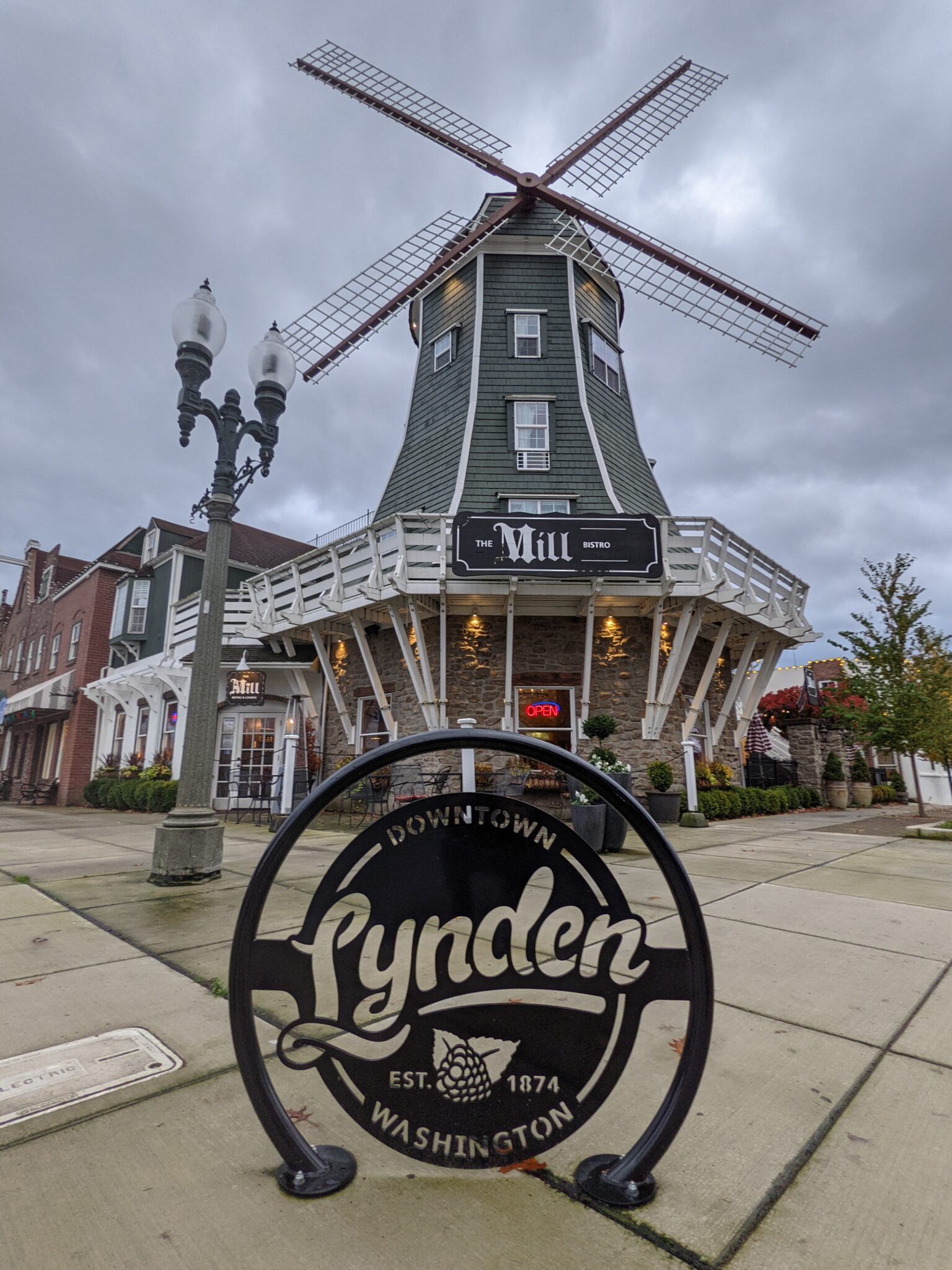 Lynden – Dutch Themed Town
My best friend was born and raised in Lynden, so it has always had a special place in my heart. Her family was Dutch, and she always shared about the sense of community it this small town, up near Bellingham.
When To Visit –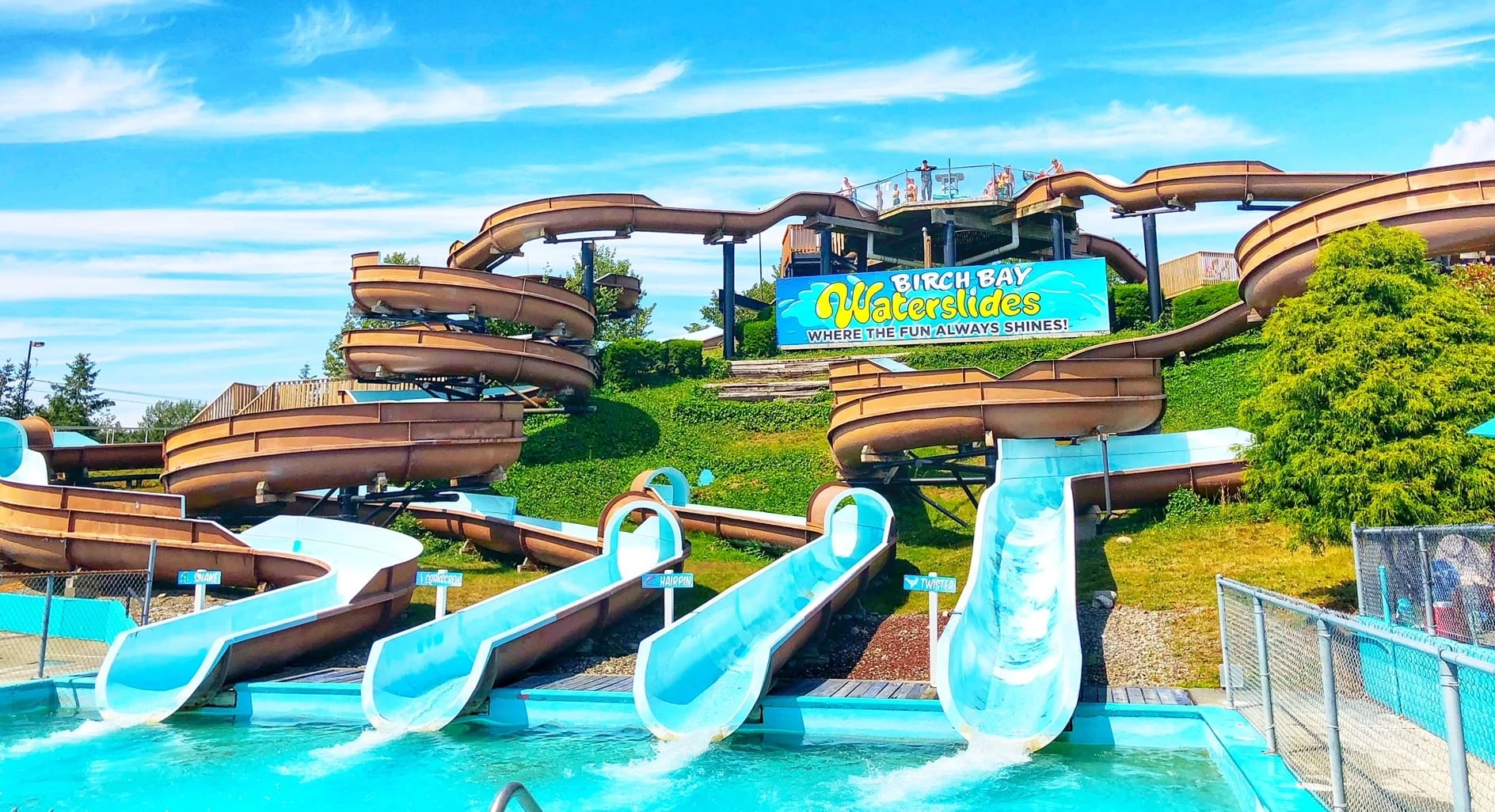 What We Love About This Town – 
It is close enough to Bellingham, that you can couple it with a visit up to this general area.
It sits near the Canadian border, so you could build it in as a stop on a road trip up to Canada.
Semiahmoo is a fun resort to stay at up in this area, and use as a base camp. We have more info on that area here if you are interested in a stay here.
If your kids love waterslides, you can check out the Birch Bay waterpark if you are up in this area.
If you are coming from the Seattle area, consider taking Chuckanut Drive to make it part of the getaway!
Where to Stay – 
Budget : Sumas Mountain Lodge
Moderate: The Inn at Lynden
Splurge: Semiahmoo Resort in nearby Blaine!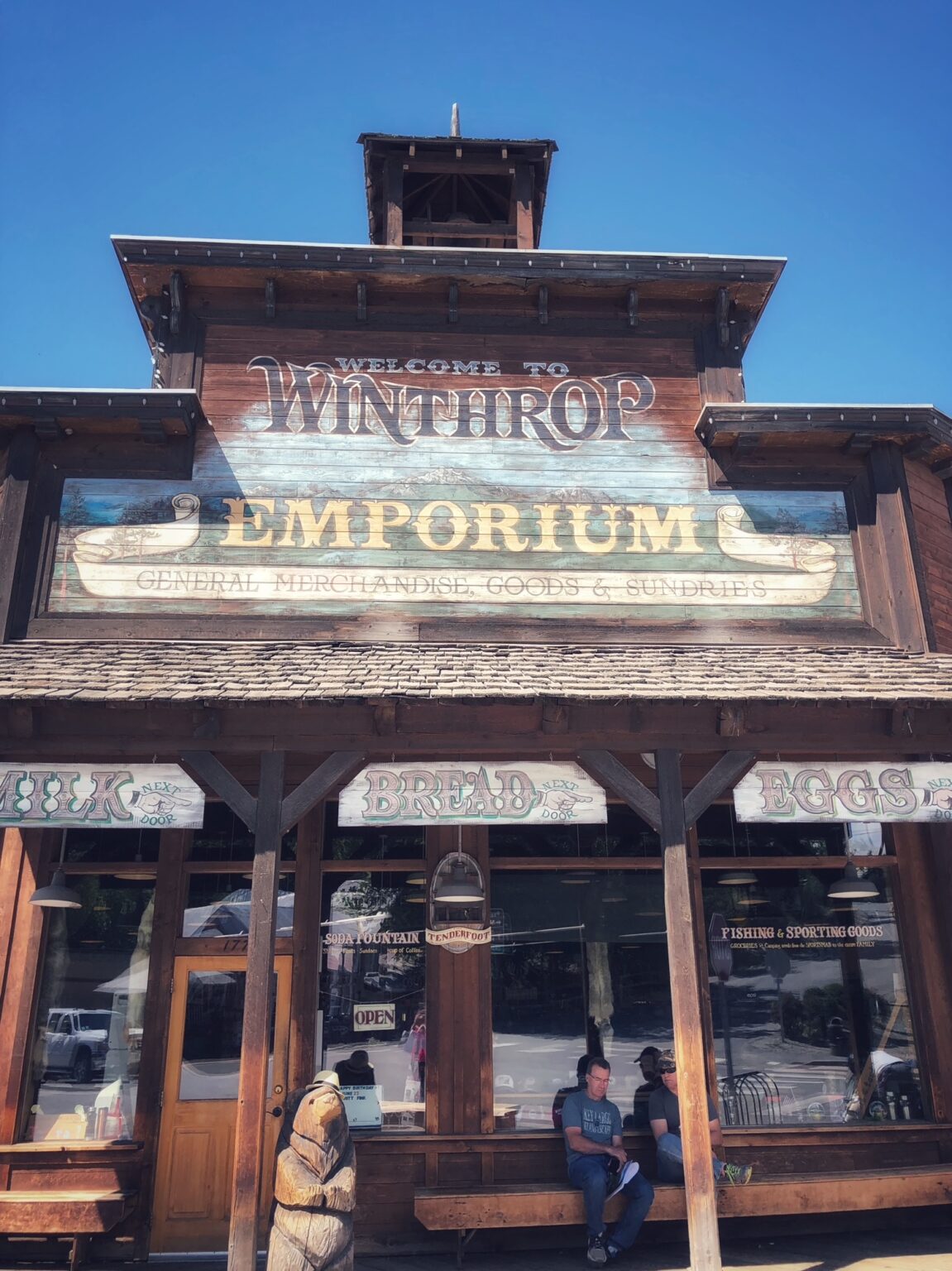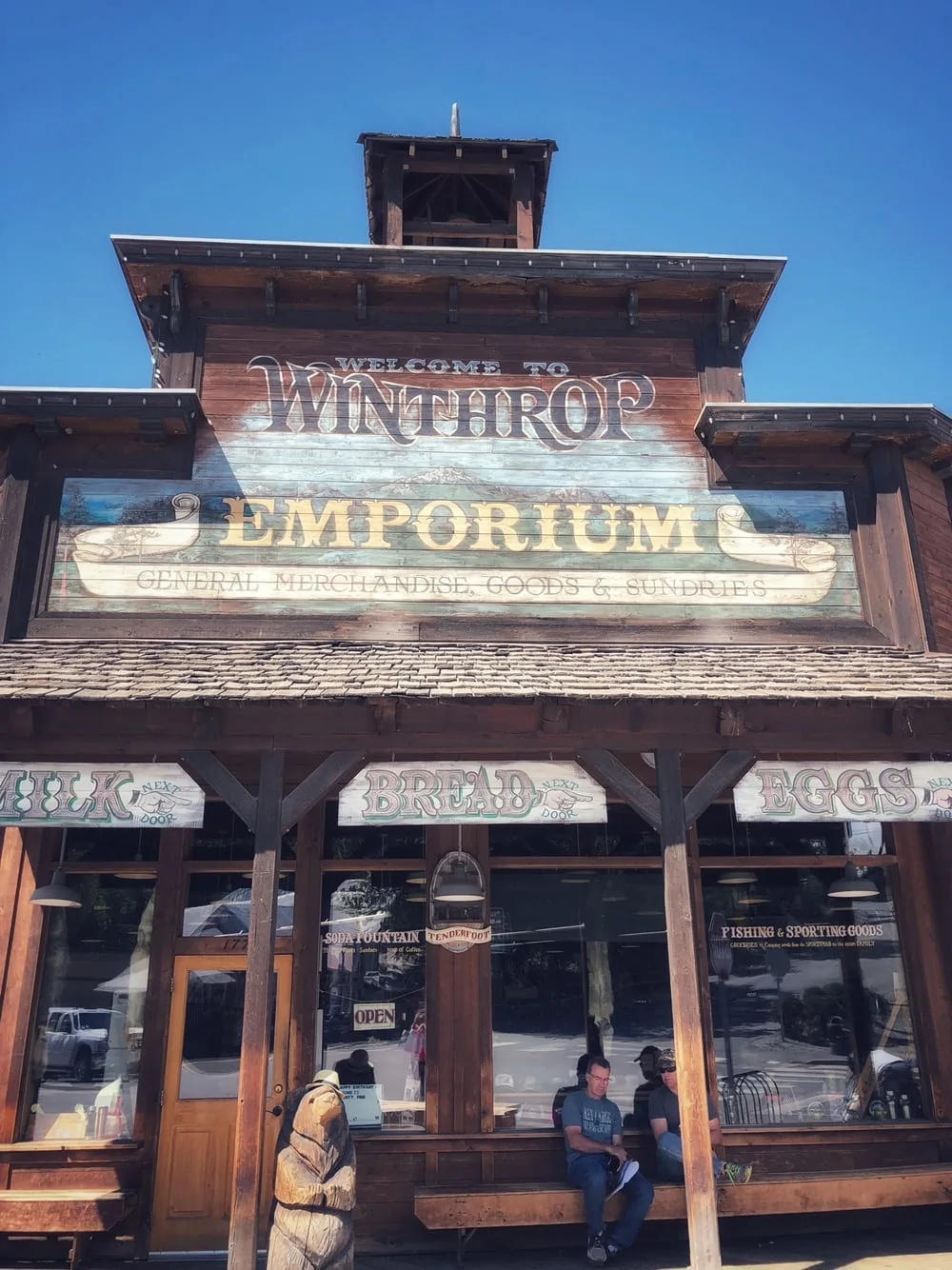 Winthrop – Western Themed Town
Winthrop is a Western Themed town, just past Twisp. It has two big seasons – Winter and Summer. The shoulder seasons of Fall and Spring are also both beautiful in this area, and you may be able to find some better rates on stays in the area.
We have a full guide with lots of ideas on What To Do In Winthrop For Families here.
When To Visit – 
We love summer in Winthrop with all of the fun warm weather activities like floating the river on tubes, horseback riding, paddle boarding and more. Winter brings activities like snow tubing, ice skating, winter festivals and more. Fall is gorgeous time of the year here, with the leaves all turning beautiful fall shades, and Spring brings wild flowers and offers great weather for hikes.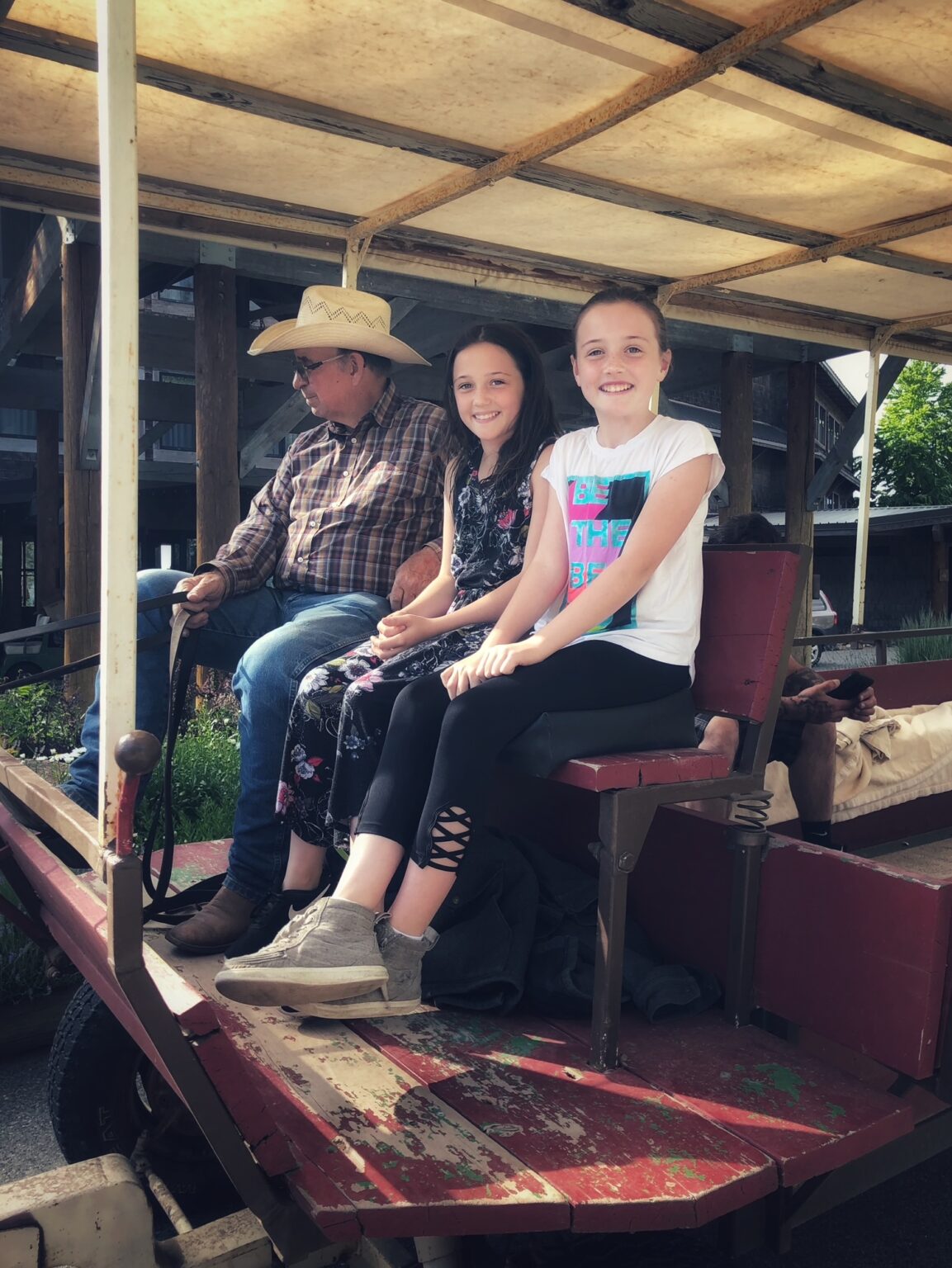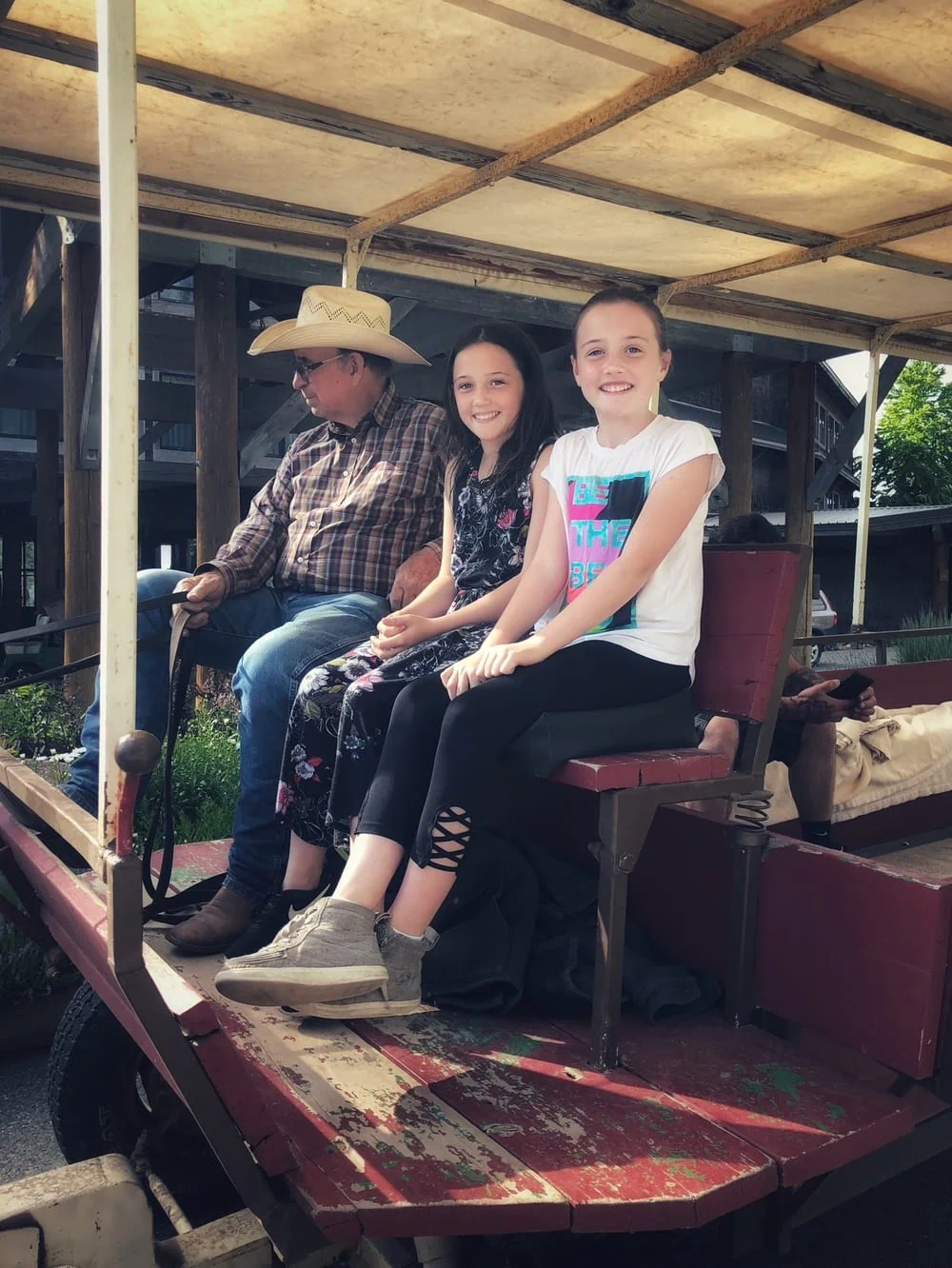 What We Love About This Town – 
If horse back riding, or horse drawn carriage rides to a cowboy dinner cooked over a fire sound amazing to you, this is your spot!
Take the scenic Cascade Loop, and your drive becomes part of your vacation!
There are accommodation options for all budgets here. Find everything from canvas tents already set up, to rolling huts and higher end resorts, so all budgets can enjoy this spot.
Our favorite spot to stay in this area is the Sun Mountain Resort (they have lodge rooms as well as cabins on a lake).
Where to Stay – 
Budget : KOA Cabins, or Glamping or Rolling Huts
Moderate: Methow River Lodge & Cabins or Rivers Edge Resort
Splurge: Sun Mountain Lodge or Cabins on the Lake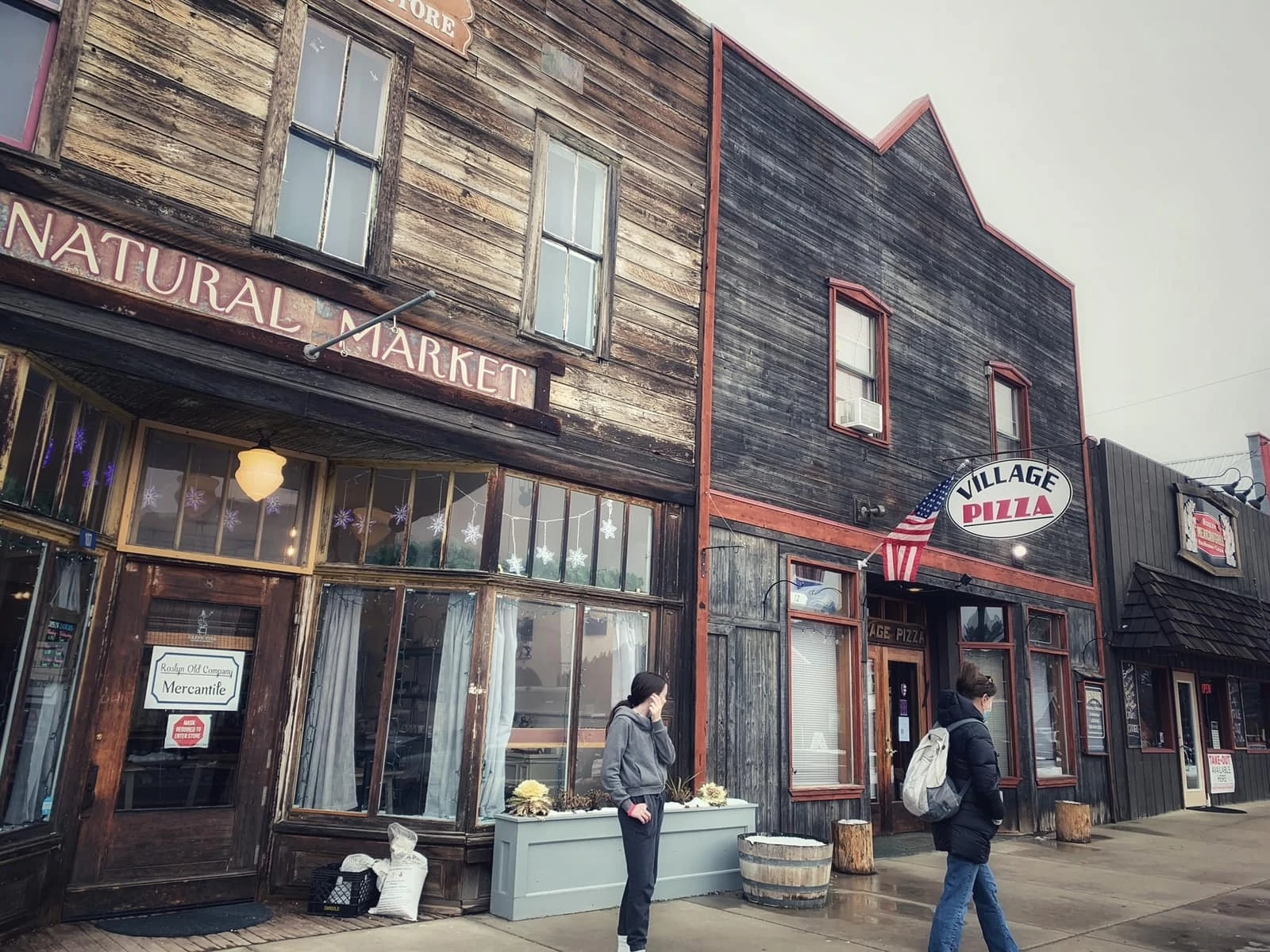 Roslyn – Coal Mining Town (also famous for being where Northern Exposure was filmed)
Roslyn is a tiny town that used to be a coal mining town – founded back in the 1800's. It really rose to fame when they filmed the TV show Northern Exposure there. It sits next to Cle Elum, so even though this town is very small, there is lots to do in the area. Between enjoying the many outdoor activities, resorts in the area, and both towns – this one is definitely worth a visit.
If you plan a day here, be sure to enjoy one of the dining options right in Roslyn. You will not be disappointed, and they have something for most budgets. Village pizza is a popular and affordable spot, The Roslyn Cafe famous, and my favorite is the Roslyn Mexican Grill and its pre-Hispanic Mexican cuisine.
When To Visit –
This is again another four seasons area, with the two biggest being Winter and Summer, but really all seasons are a good option here. You can expect to find snow in the winter, and quite a few winter activities (from snow tubing, to snowmobiling, ice skating and more). In the summer you will find lots of sunshine, swimming, hiking, biking and more.
What We Love About This Town – 
It is near Cle Elum, so you can enjoy all that that area has to offer too – which is 4 season of fun for families!
Lots of great restaurants in this area to choose from.
It is generally an easy trip from the Puget Sound area (assuming you are not traveling in the winter and have any issues with the pass).
Stay at the Suncadia Resort nearby as a base camp, and enjoy tons of amenities like multiple pools, waterslides, and seasonal activities.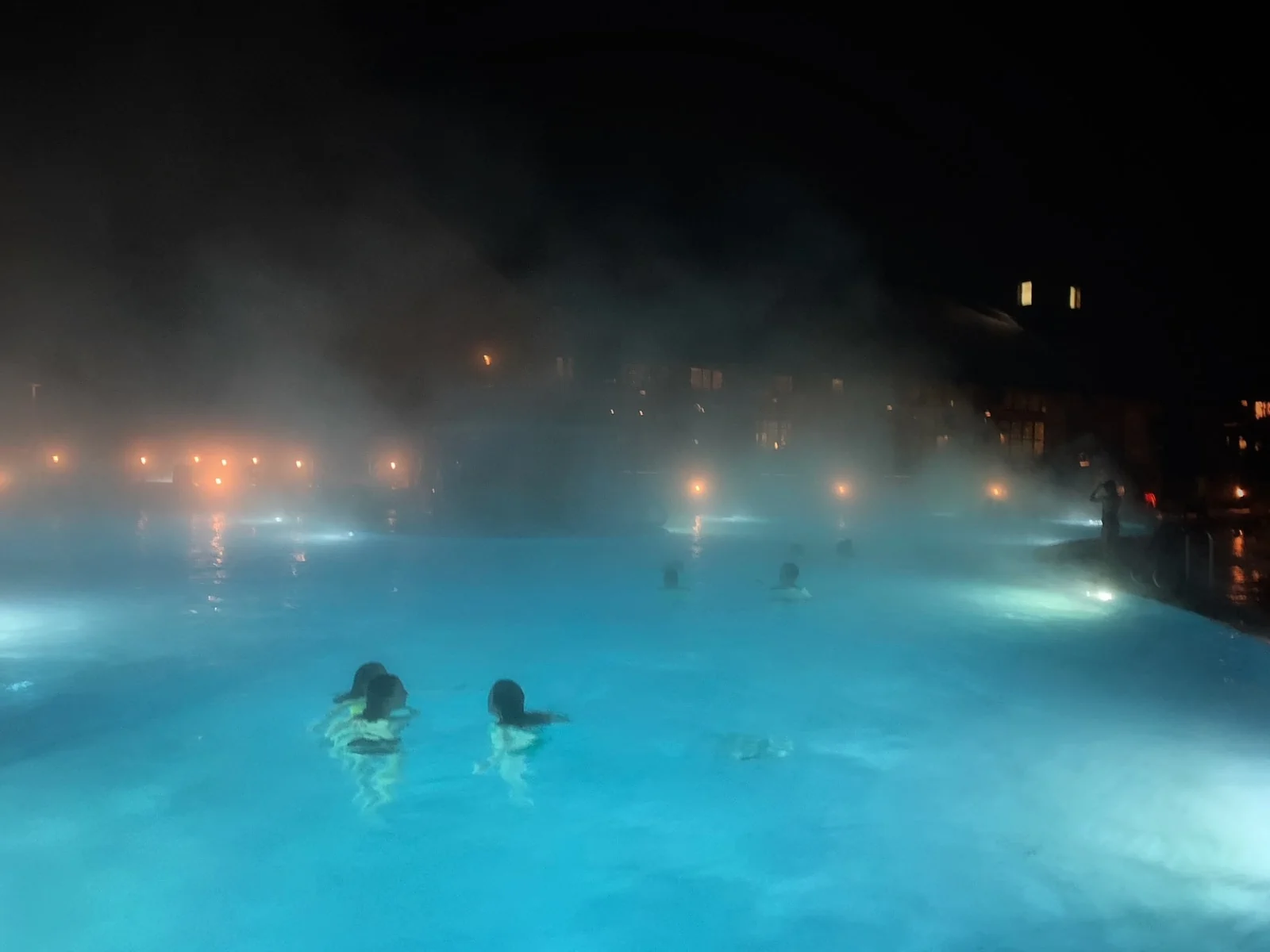 Where to Stay – 
Budget : Best Western Snowcap Lodge in Cle Elum (we discuss our stay here at the bottom of this article)
Moderate: Hotel Roslyn
Splurge: Suncadia Resort (check out Suncadia in the Winter here, and Staying at Suncadia in the Summer here).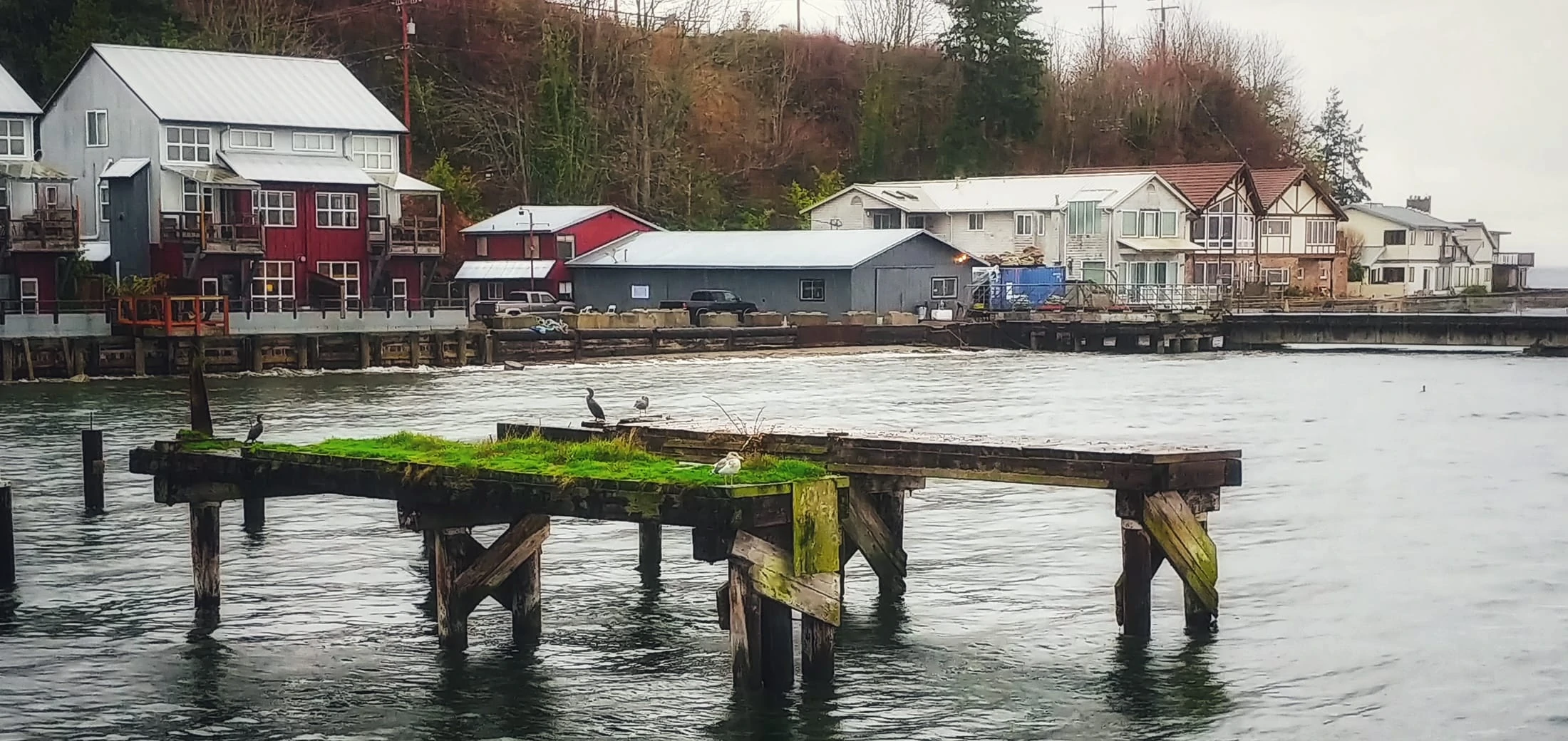 Langley, Whidbey Island – Island Town / Logging Town
If you are looking for an Island visit, the town of Langley Wa sits on South Whidbey Island and is an old logging town, that has the feel of a fishing town. It is a waterfront town, overlooking the Saratoga Passage, with a quaint main street area full of shops to explore and restaurants to eat at. We visited during their Christmas festival a couple of years back, and share more about the town in detail here.
You can get to Langley by ferry (out of Mulkilteo) or drive across. If you are driving around you will cross Deception pass, which is a gorgeous area. You will then be on North Whidbey and need to drive the span of the island to South Whidbey, so it gives you a flavor for the entire island. Both routes (ferry or driving) make the trip part of the fun.

When To Visit – 
Summer is the high season in Langley. Since it is a beach town, it is nice to enjoy the area when the weather is best. Winter can get you some great rates though, and sometimes the drizzly and foggy weather can add to the ambiance of the fishing town feel, if you don't mind the weather.
What We Love About This Town – 
You can access it by driving over the Deception Pass Bridge, and across from North Whidbey to South Whidbey, or by taking a ferry. Both options are beautiful, and will make your trip part of the fun!
This is a true island spot, if you are looking for the quintessential NW Island getaway
I spent some of my younger years living on South Whidbey Island, and although there have been many changes over the years it still retains that older Seattle island vibe I remember from a kid (when everyone was known as an islander or main lander over there!).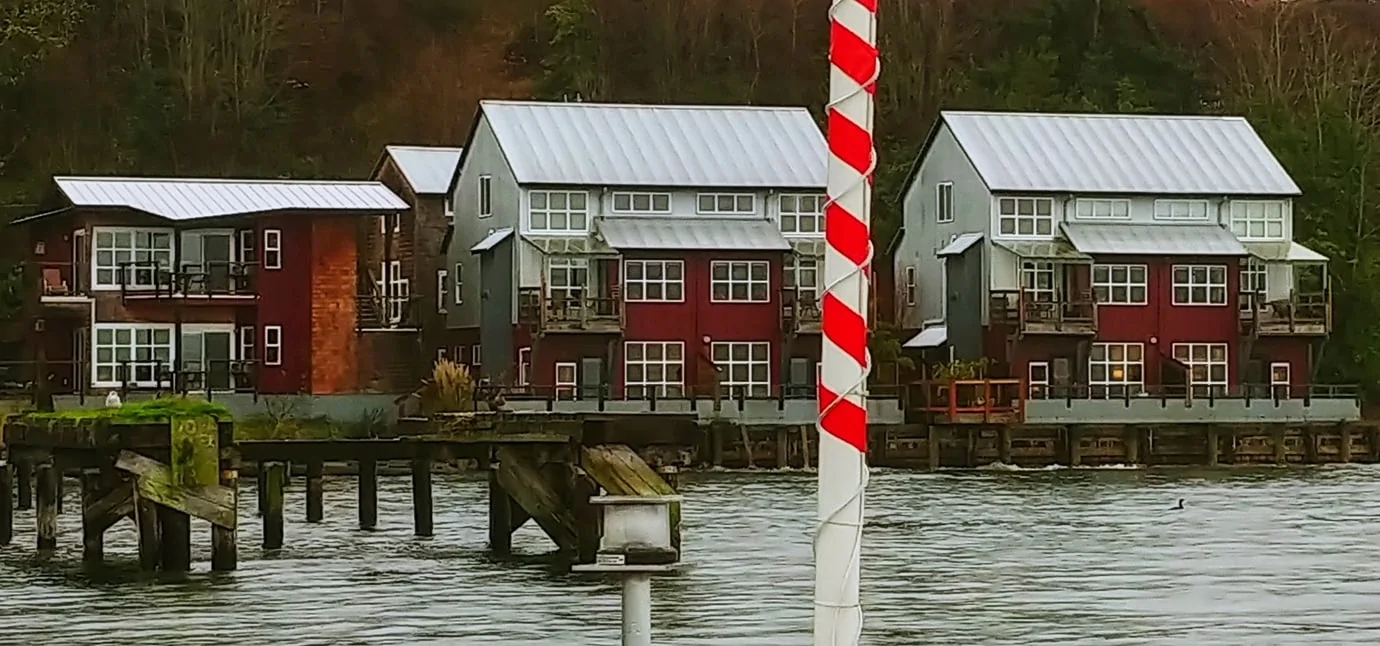 (Boatyard in on the water)
Where to Stay – 
This area is full of lots of rental options, like tree houses, beach front cottages, log houses and more. If you have been wanting to try an rental style stay, this is a great place to look into that. In addition there are some hotels, motels and camping options to consider as well.
Budget : Camp at the local Fair Grounds, walking distance to Langley or Camp at Fort Casey
Moderate: Eagles Nest Inn
Splurge: Boatyard Inn or Inn at Langley or Captain Whidbey Island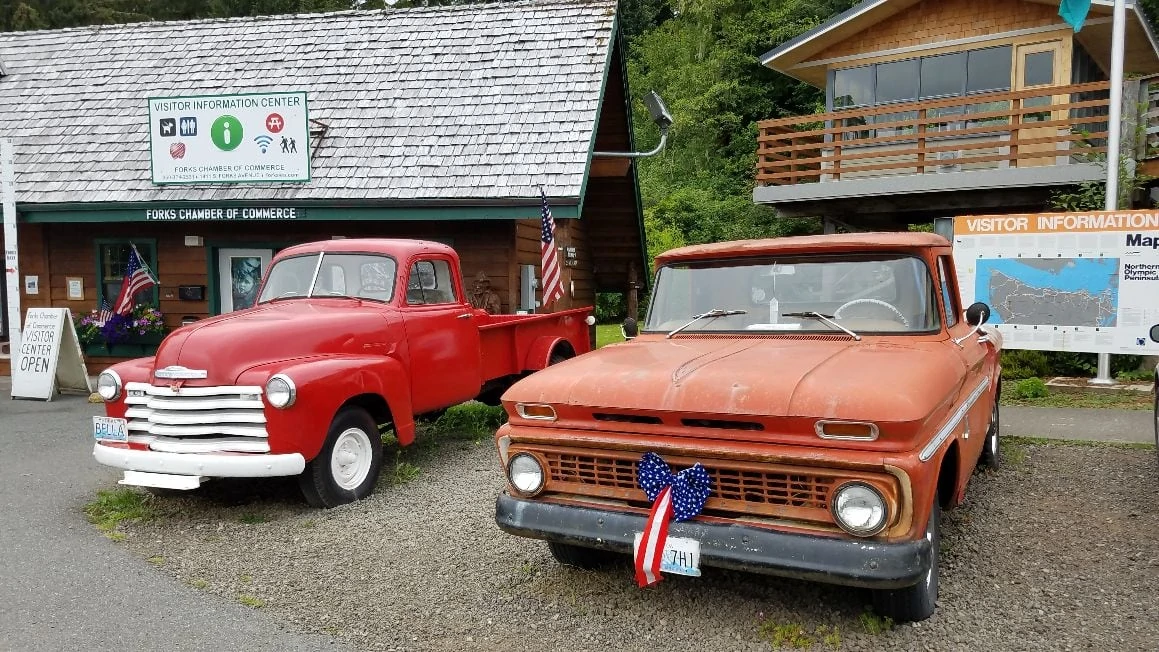 Small Towns in Washington – Honorable Mentions
These last two towns are not as obviously themed as the ones listed above, but definitely have a bit of a themed feel to them, so we wanted to add to our list for those of you looking for as many options as possible.
Forks Wa. – Vampire Town
While Forks Wa. is not really a vampire town, it is famous as the filming location of the Twilight movies, and so we thought some of you might want to add this one to your visit list. It is also located on the Olympic Peninsula, and so is a great spot to add to a trip exploring some of those areas, like the Olympic National Forrest. If you plan to combine a visit with the National Park, we share about free park days here as well as how to get free passes if you have a 4th grader here.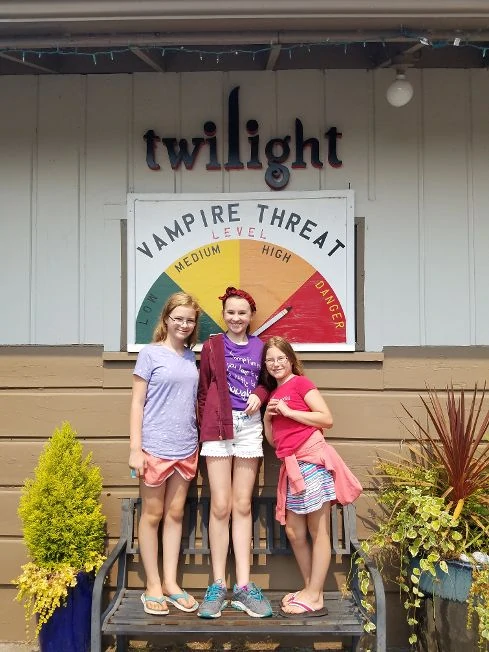 Besides enjoying a little vampire fun in Forks, you might want to check out The 4 Best Beaches for Families in Olympic National Park to add to your itinerary and The Spruce Railroad Trail Hike if you want to do some hiking.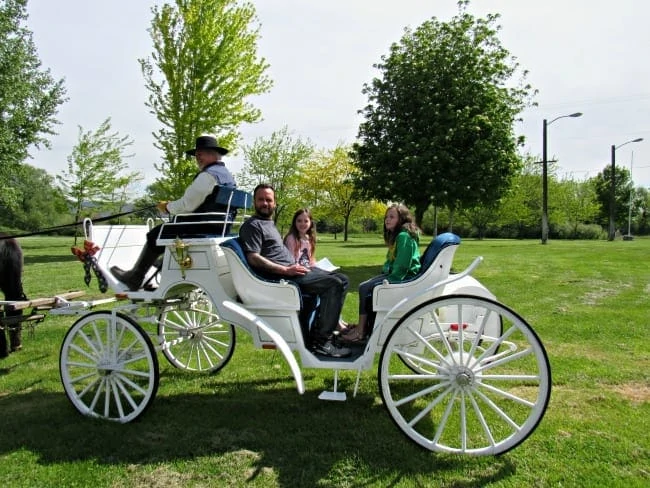 Union Gap Wa. – Civil War Theming
Union Gap sits just outside of Yakima, and while the entire town does not offer a Civil War theme to it, they do have a very interesting Agriculture Museum in town, and they host some very well attended Civil War re-enactments, and Old Town Days that make the area feel like you are in a different Era.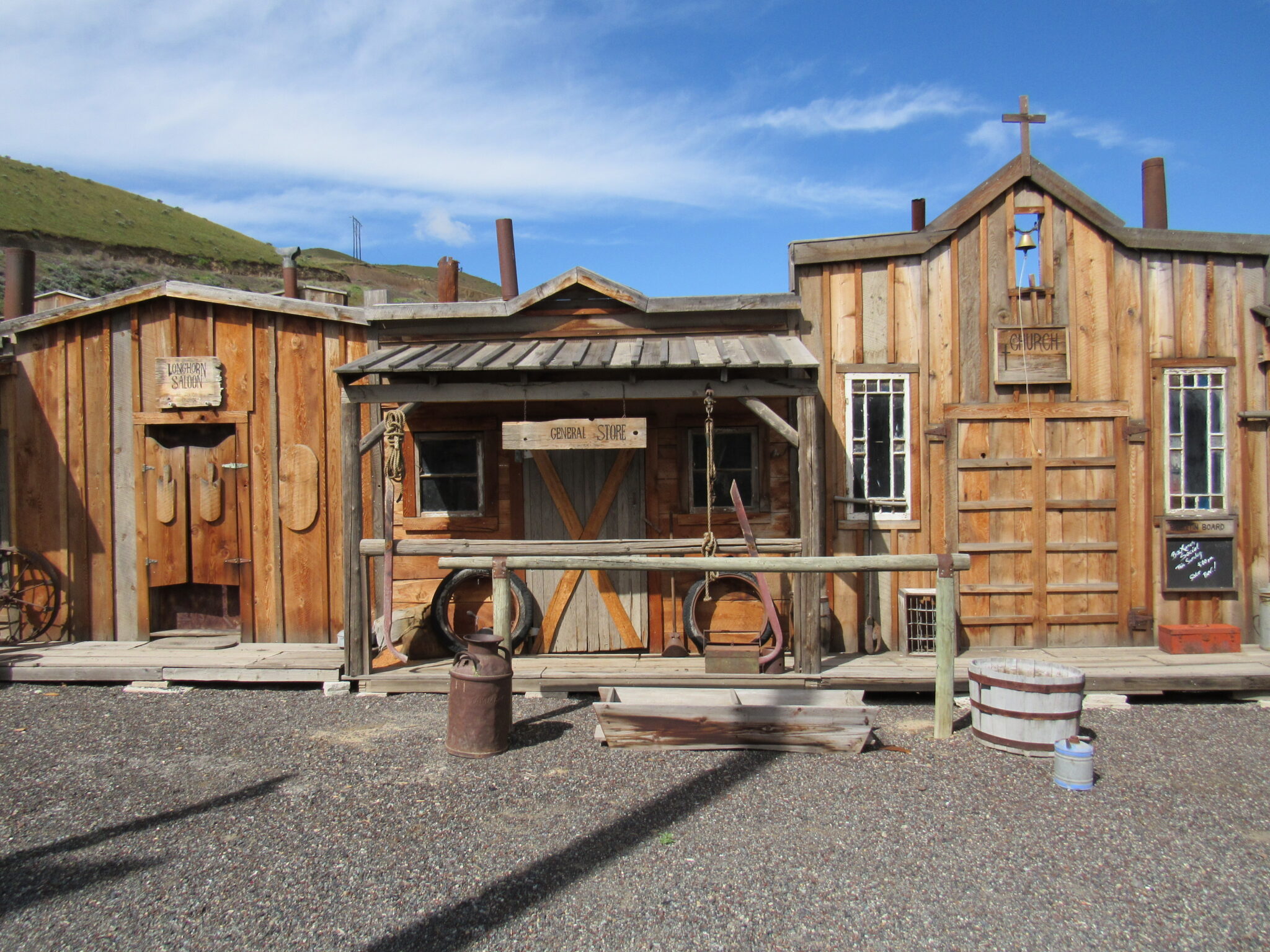 You can read our full review of our visit to Union Gap here, for a better idea of what you will find in this area.
Do you have any favorite small towns in Washington that you would recommend for a visit?
Now that you have a list of towns to visit with your family in Washington, you can grab our FREE Bucket List Printable to track which ones you want to visit, and what activities you want to do while you are there!