Semiahmoo Resort – Beach Getaway Close to Canadian Border!
This post may contain affiliate links and I may be compensated for this post. Please read our disclosure policy here.
Semiahmoo Resort
Semiahmoo Resort, in Blaine, WA, the last town in Washington before Canadian border. Many people have driven through Blaine as it's the main border crossing into Canada for the West Coast; however, you may not have taken the opportunity to stop in Blaine, a little, seaside town right on the waters of Semiahmoo Bay & Drayton Harbor. The Semiahmoo Resort is just around Semiahmoo Bay, directly across from Blaine on the long Semiahmoo spit. The resort's breathtaking location has views of White Rock, BC, a quaint, seaside town, just across the harbor and Vancouver Island, BC in the distance.  The sunsets are spectacular, with red, orange & yellow streaks over the water and islands in the distance.
Beach sunset from Semiahmoo
The Semiahmoo Resort is ideally located, just an hour and a half north of Seattle and 45 minutes south of Vancouver. Mt Baker is about an hour and a half away, but would make for a fun day trip.  Or the best way to experience Semiahmoo is to just relax and enjoy all that the resort has to offer with an indoor/outdoor pool, hot tub, lawn games, paved bike & walking trails along the Semiahmoo Spit, flying kites and the beach where you can spend hours exploring the beach during low tide or sitting by the bonfire & watching the sunset in the evenings.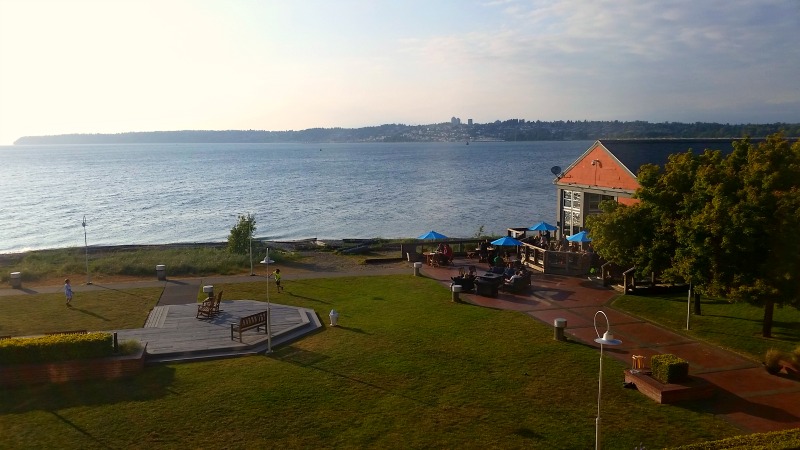 View from our room looking out to White Rock, BC in the distance
The resort itself is on the end of the Spit, which formerly held a large Salmon Cannery but is now a laid-back, casual spot to walk or bike around with the family. You'll also find kayak and bike rentals on weekends. The resort itself is very airy, laid-back & casual, with large rooms filled with cozy sofas & fireplaces to keep you warm in the winter. Our room faced the ocean, which I'd definitely recommend as that view is something special to wake up to!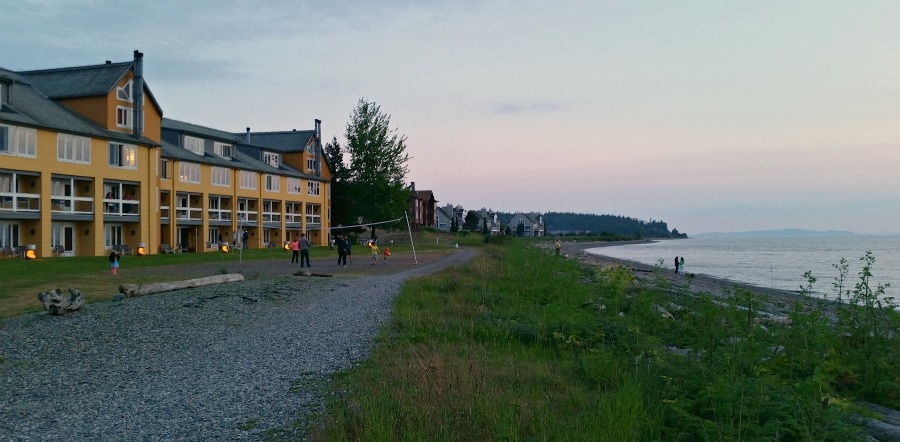 I'm fairly familiar with Whatcom County having lived in Bellingham for a few years, but I never had a lot of opportunity to explore northern Whatcom County, so we were excited to head up to Blaine for a few days & check out Semiahmoo. We arrived in the evening hours, perfect timing to have some dinner at the Great Heron Grill at the Semiahmoo Golf Course and then we headed back to the resort & the beach for the amazing sunset. As we arrived at the resort, a wedding was in progress out on the back lawn at sunset – what an amazing backdrop with a gorgeous sunset & the picturesque views of the water & islands in the distance.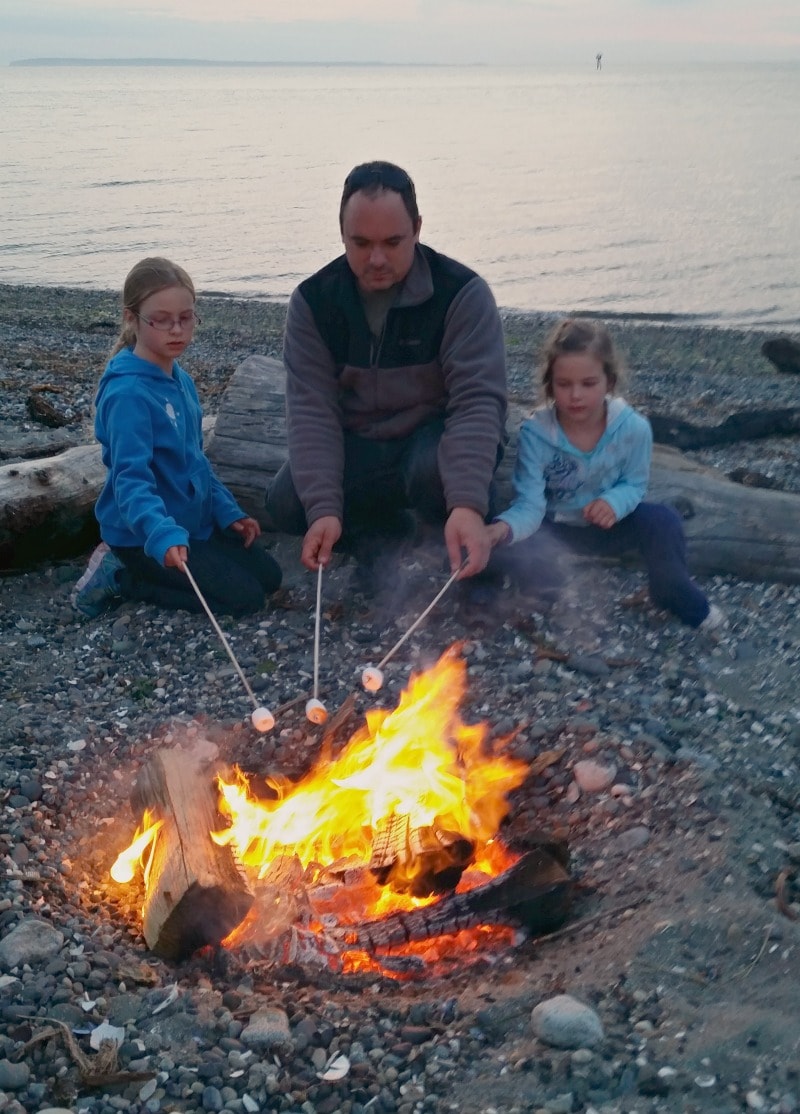 As the sun was setting, the resort had several bonfires set up with s'mores fixins'  for everyone to roast marshmallows. This was one of the highlights of our trip, as it was a fun way to connect with other guests staying at the resort by chatting around the campfire, while the kids explored the beach in the dusk and then later brought out the flashlight app for some after-hours exploring. Nothing beats gathering around a bonfire on a beach on a beautiful evening!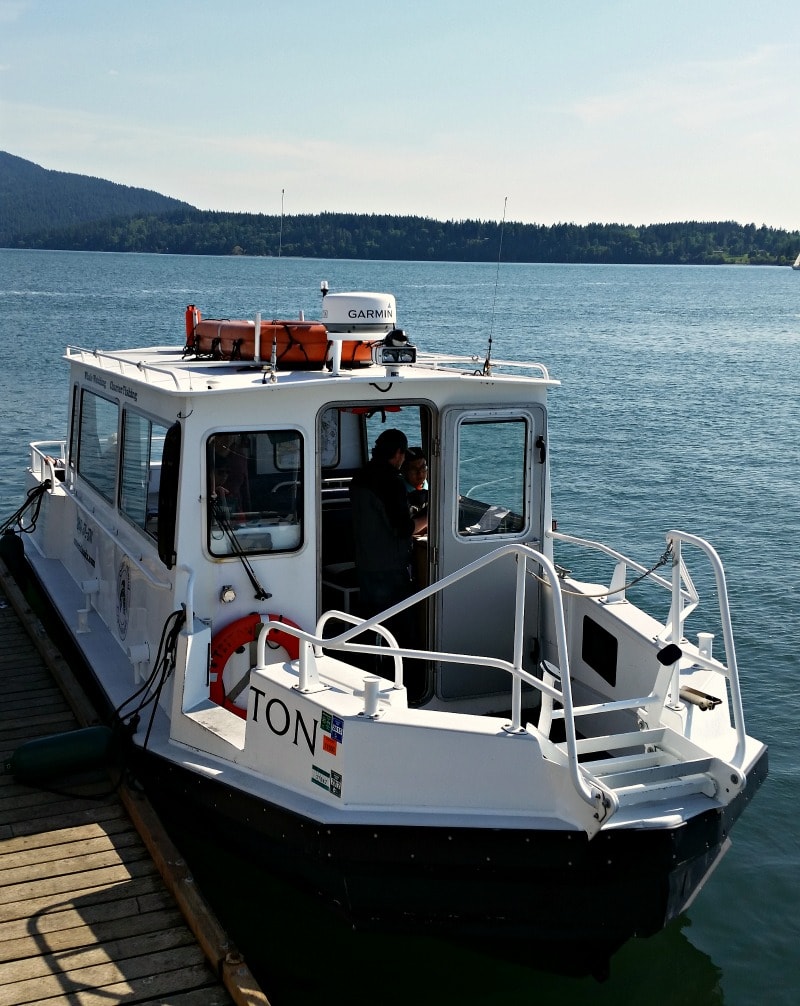 We could have stayed at the resort the whole time, relaxing & enjoying beach time, but we decided to be adventurous & try out an activity that's been on our bucket list. Plus it was just a short drive away. Whale Watching! Most whale-watching excursions leave from Anacortes or the San Juan Islands, but we found there were a few options from Bellingham; in our case, from the Lummi Island Ferry dock, about 30 minutes away. This is also true for Charter Fishing – there are options from Bellingham for those who love to fish out in the San Juan islands.
We headed to the pier to meet up with Paul from Outer Island Excursions who led our 4 hour whale watching adventure. And what an adventure it was! As you can see, the boat is quite small (they have different boat sizes depending on where you leave from & what company you choose) and I was a little nervous about the boat size at first, but it was the perfect size as we felt we were right up close to everything & only had 13 people on board, which kept it small so you could get better views. On our trip, several humpback whales had been spotted up in the San Juans, so we headed that direction & were rewarded with finding the pair in about 30-40 minutes.
We spent the duration of our adventure slowly trailing these magnificent creatures,  sometimes closer than we'd expect as they'd surprise us & come closer.  We also saw seals, sea lions, otters and eagles on our trip. Our guide was fantastic & very knowledgeable about the area & did his best to make it a very fun adventure for all of us onboard.  This is definitely a splurge activity (although there are frequently deals you can find on whale watching) but it is something I think is an unforgettable experience to try & we thought it was an easy drive to from the Semiahmoo Resort as a fun day trip.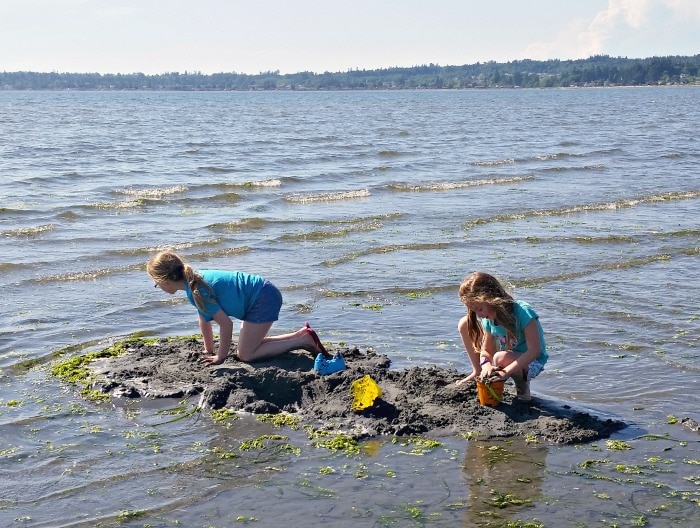 After a busy day whale watching, we wanted a low-key day for our final day. We had hoped to visit White Rock, BC to stroll along their oceanfront promenade, but it was a national holiday for Canada & the border crossings were very busy, so we decided the day was better spent on the beach. And what a great decision that was as it was a very low tide day which meant the tide was out for most of the day. We headed to Birch Bay & enjoyed this seaside town with lunch at the quaint  C Shop cafe & then exploration along the beach, sand-castle building & kite flying. A perfect way to end the weekend at the beach!
Dining:
At Semiahmoo Resort:
Pierside Kitchen  –  This was my favorite restaurant at Semiahmoo as the views were amazing, the decor & feel of the restaurant very bright, airy & comfortable, and the food was delicious & very fresh & flavorful. They are only open for breakfast & dinner, but the highlight is definitely their Farm to Fork American Breakfast Buffet, served on weekend mornings, with fresh, local ingredients such as breakfast pizzettas, Alaska smoked or poached salmon, fresh berries, homemade granola, eggs, & more.
Packers Oyster Bar – Packers is right next to Pierside with the same gorgeous views. Packers looks like a fun place to eat as it always seems to have a great vibe & a lot of energy as a popular spot for guests & locals. The patio area with the big comfy chairs & fire pit were very inviting & a gathering place for guests.
Patio dining at Great Blue Heron Grill
Great Blue Heron Grill – This restaurant is on the grounds of the Semiahmoo golf course, just 10 minutes away. We headed there on Saturday night for a Pasta Night, where you could "build" your own pasta dish. They had 2 chefs with several options for pastas, sauces & meats & veggies to mix in & they would cook it all up for you, which turned out so unique and so good!  It looks like they may frequently switch up the specials they offer on the weekends.
Around the Area:
Both Blaine and Birch Bay are just short 15 minute drives from Semiahmoo and there are some good options of restaurants to choose from in both cities. Just make sure that you check out their schedules ahead of time if going during the off-season as we did find several closed restaurants. I'd also recommend heading to Fairhaven in Bellingham as there are many excellent restaurants in this area.
Here are a few of the restaurants that we checked out or heard good recommendations from guests about them:
Edaleen Dairy Store & Restaurant – A number of people recommended this to us as a must-visit in Blaine, a local dairy since 1975, famous for their delicious ice cream. Unfortunately they are closed on Sundays when we were there in town, but we're definitely going to check it out when we're up in Blaine again. It's right in the middle of town, a nice spot to head in the summer if you take the Plover ferry over from Semiahmoo.
The C Shop Cafe &  Candy Shop – This cute little cafe & candy shop is located in Birch Bay as you drive into town. This place had a lot of character and delicious food – sandwiches, pizza, massive, homemade cinnamon rolls, and more. The candy shop is fun to check out all the creations they make, everything from a chocolate high heel shoe to a Model T car.  However, you will want to make sure you check their website or Facebook page as they are open daily in the summer from June 19th – Labor Day, but at other times, they are only open weekends or special days
The Railway Cafe – This is a quaint little cafe with limited seating indoors in Blaine, but a picturesque spot for outdoor dining. They offer soups & sandwiches if you're looking for a little lunch spot by the bay.
Chada Thai – One of the best dining views in Blaine (in addition to the Semiahmoo restaurants) looks to be from the Chada Thai restaurant. We heard several guests talk about how much they enjoyed this restaurant & it gets great reviews on TripAdvisor.
Pizza Factory – If you're in the mood for pizza, Pizza Factory is right in the heart of downtown Blaine. The added appeal of this restaurant is that it has an attached game/party room with air hockey, arcade style games & more,  as a place to let the kids (& kids at heart) have some fun.
Things to Do around the Resort: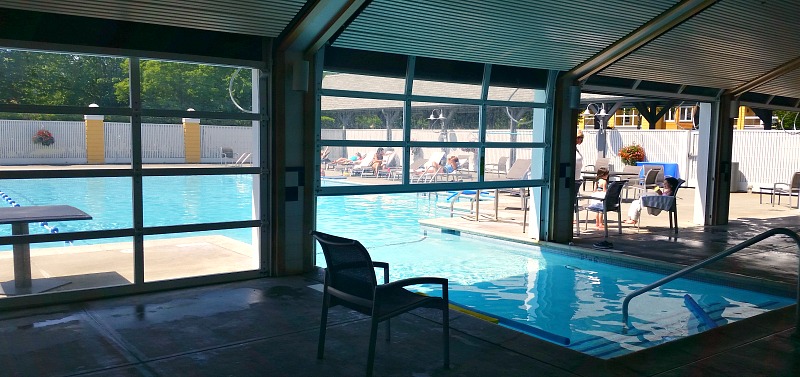 Swimming Pool – They have an indoor/outdoor swimming pool (mainly outdoors but it's heated to 80 degrees year-round) + indoor hot tub
Full -Service Fitness Center
Spa – services from massage to skin care treatments & more
Golf – there are 2 award-winning golf courses just 10 minutes away – the Semiahmoo Golf & Country Club & Loomis Trail Golf Club
Foot Golf – make sure to ask about Foot Golf for the summer season at the Golf Course
Indoor Raquetball Court, Outdoor Tennis Court & outdoor Volleyball Court (in the back by the beach)
Lawn Games such as horseshoes, croquet & more and for the rainy days – board games to play indoors
Watch Movies in Semiahmoo's "theater" style room – I did not see this but found out later that they offer this
Paved bike trails that go along the Semiahmoo Spit for walking, bicycling, rollerblading & more.
Beach to explore for hours, whether it be low-tide looking for clams & crabs or high tide, building driftwood forts
Rent kayaks, paddle boards or bikes from rental locations on the Semiahmoo Spit (this is only available on weekends during off-season but you can head to Birch Bay during the week during  the off-season for these rentals).
Things to Do Beyond the Resort:
Peace Arch Park – If you've never been to the Peace Arch Park, it's definitely a must-see while you're up in Blaine. The Peace Arch stands on the international boundary between the US & Canada. They have beautiful gardens & a sculpture exhibition, plus there will be free summer concerts on Sunday afternoons in August.  A State Parks Discover pass is necessary for parking.
Plover Ferry – A unique way to head to Blaine for a bite to eat is to take the historic Plover ferry, a foot ferry traveling between the Semiahmoo Spit & the Blaine Harbor Marina. It's the oldest foot ferry in the state, built in 1944 to carry cannery workers across the channel from Blaine to the former salmon cannery on the Semiahmoo spit. The ferry only runs from Memorial Day to Labor Day on Fridays, Saturdays and Sundays and some other holidays. You can walk thru Marine Park on your way into town in Blaine or try to glimpse the seals from the pier where they like to hang out.
Birch Bay WaterSlides – Beat the heat in the summer at the Waterslide Park with 9 water slides, a pool, hot tub, kiddie pool area and volleyball & basketball courts.  Make sure to check out their promotions page or Facebook page  for specials or discounts.  You can bring outside food & drink in to the park to save on food, but no coolers;  you could always keep the cooler in your car.
Miniature World Family Fun Center – Located in Birch Bay, another option for family fun at Miniature World with Go-Karts, Miniature Golf, and a Miniature Train ride.
Birch Bay State Park – This state park is at the south end of Birch Bay & is a popular spot for clamming, crabbing, oyster harvesting & more. You will need a State Parks Discover pass if you head there.
Point Whitehorn Marine Reserve – We've heard this is  a great place to visit at low tide with anemones, crustaceans, and sea grasses, but it's a bit of a trek to get down to the beach from the parking lot. It's about 20 minutes away from Semiahmoo, just past the south end of Birch Bay.
Larrabee State Park & the Fairhaven area in Bellingham look like great spots, too, where you can find some interesting sea life.
Day Trip Ideas around Semiahmoo:
Mt Baker – This would be a longer trip, an hour and a half to two hours to get up to the Mt Baker Ski Area & lodges, but the beauty of Mt Baker during any season makes it very worth the trip! Whether you are going to ski in the winter time or head out for an alpine hike to see the wildflowers in the summer, you won't be disappointed.
Lynden, WA – Lynden is a cute, little Dutch town to visit about a half hour away from Semiahmoo. It's a popular place to walk around & shop, plus they offer a lot of family events in the summer including the Northwest Raspberry Festival and Northwest Washington Fair in August.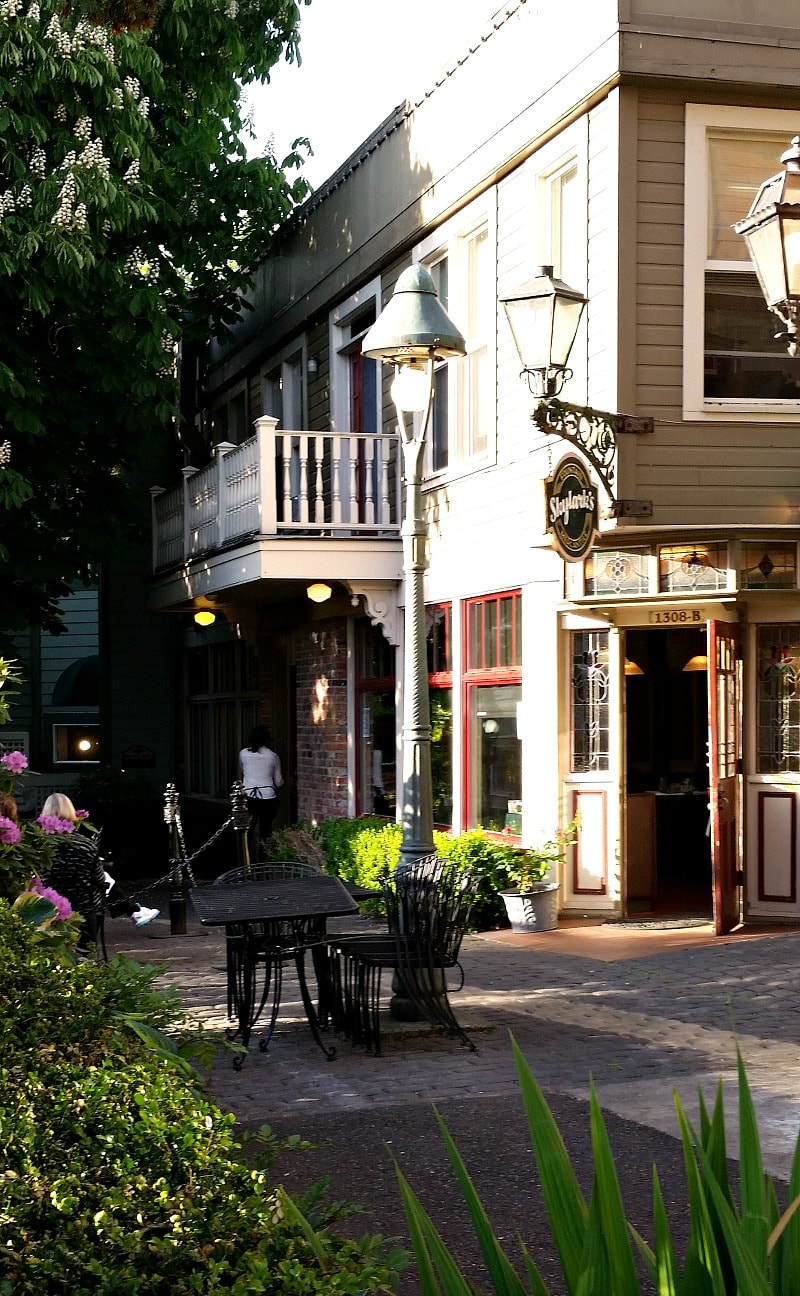 Bellingham, WA – Bellingham is about 30 minutes to the south of Semiahmoo & this is a good sized city with a variety of things to do, whether you want to explore Lake Whatcom or Lake Padden or head to the quaint & eclectic neighborhood of Fairhaven. Fairhaven is one of my favorite places to go as they have excellent dining (we loved the Skylark Cafe we ate at on our drive home) and shops galore, especially local favorites such as Village Books.
White Rock, BC – This town is just across the border when you enter the Canada & is just across the harbor. It's a charming, seaside city filled with shops, excellent restaurants & a long oceanfront promenade which is fun to stroll & people watch on a beautiful day.
Vancouver, BC – Vancouver is just 45 minutes to the north & this is a city filled with activities for kids – everything from visiting Granville Island & riding the Aquabus to heading to Stanley Park for Vancouver Aquarium, the train ride, and the gorgeous views all around the park
*Remember that if you are wanting to take a day trip to Canada, don't forget to bring your passports or Enhanced Driver's Licenses, plus birth certificates for your kids! And I'd recommend checking the border crossing traffic online before you head out.
*Stay during weekdays – you will find much lower rates if you book on a weekday
*Stay during the Off-Season – summer is the high season & when rates will be highest, so you'll find some great rates if you go during another time of year & there is so much to do to keep you busy any time of year. Just keep in mind that some restaurants & shops may only be open seasonally in this community
*Pack snacks & breakfast items to keep in the small fridge in your room – since there are only 2 restaurants on site, I'd recommend keeping snacks & even some breakfast items for your kids in the small fridge which will help with costs plus you don't have to leave the resort as often once you arrive
*Lots of Free Fun at the resort – there are so many things to do at the resort & around the area with the awesome beaches, bike rides, kite flying & more that you really don't have to spend much money on activities while you're there
We'd love to hear your favorite tips for visiting Semiahmoo & Blaine/Birch Bay area! Do you have any favorite activities or places to go that we've missed? 
Make sure to check out our review of another popular resort – Suncadia Resort in Cle Elum, WA, if you're looking to travel to a resort in the mountains.