Chuckanut Drive Day Trip: Where To Eat, What To See & More!
This post may contain affiliate links and I may be compensated for this post. Please read our disclosure policy here.

Chuckanut Drive Day Trip: Where To Eat, What To See & More!
Are you looking for a beautiful day trip idea in the western Washington area? If so, Chuckanut drive does not disappoint! This gorgeous drive is a great option if you are heading to Vancouver or Bellingham areas (take a detour and turn the trip into a scenic road trip), or as a day trip just for something fun to do. This is the only spot where the Cascades actually touch the sea, making is extra special in Washington!
It can get crowded in the Spring, when the tulips are in bloom in this part of the state. Summer is also one of the most popular times to visit, with the beautiful weather making it the perfect time to get out of the car and enjoy some of the viewpoints. I have also heard that fall is magnificent along this drive too, so it could be a great option if you are looking for a drive to enjoy the changing colors of the seasons.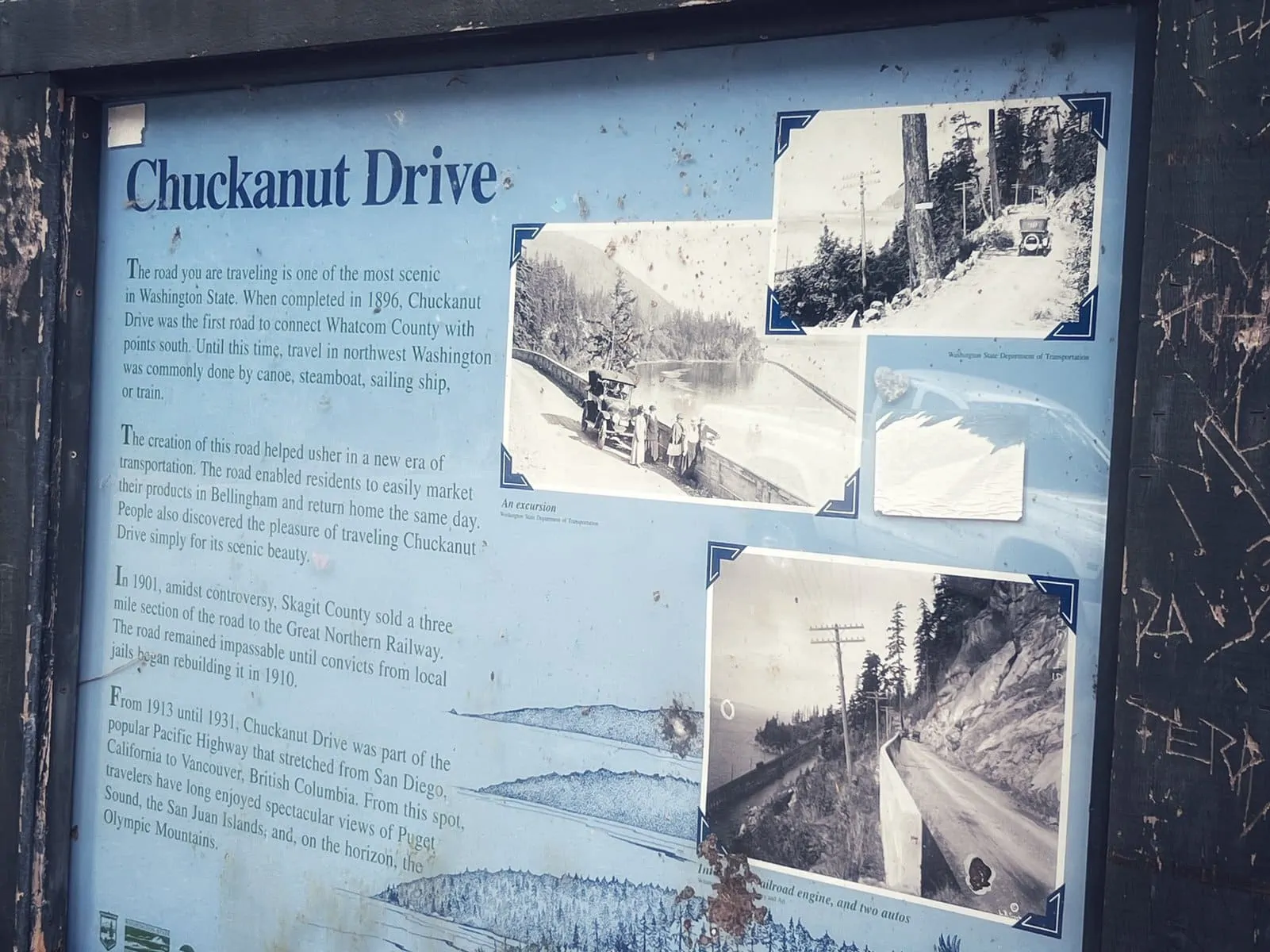 If you have never heard of it, Chuckanut Drive is a windy road that twists along the northern coast of Washington State, that is a 22 mile stretch along State Route 11, from Burlington to Bellingham. It is around an hour and 45 minute trip from the Seattle area, so makes a perfect day trip option, or weekend trip. If you want to turn it into an overnight or weekend getaway, consider staying at the Semiahoo Resort as a great destination option, or in the historic town of Fairhaven, which is where the trip ends.
One of our favorite parts of the Chuckanut Drive is that it offers views of the San Juan Islands, the Chuckanut Mountains, Samish Bays, Olympic Mountain Range and Lummi Island. Combine that with the fact that there are some great spots to stop and get some delicious food or drink along the way, and it really is a fun little getaway. There are so many other things to do in this area of the country too, if you wanted to plan a full weekend getaway (we share more ideas at the bottom), but if you are just looking for some inspiration for a day trip (where to drive and what to do), this is a great option especially for that.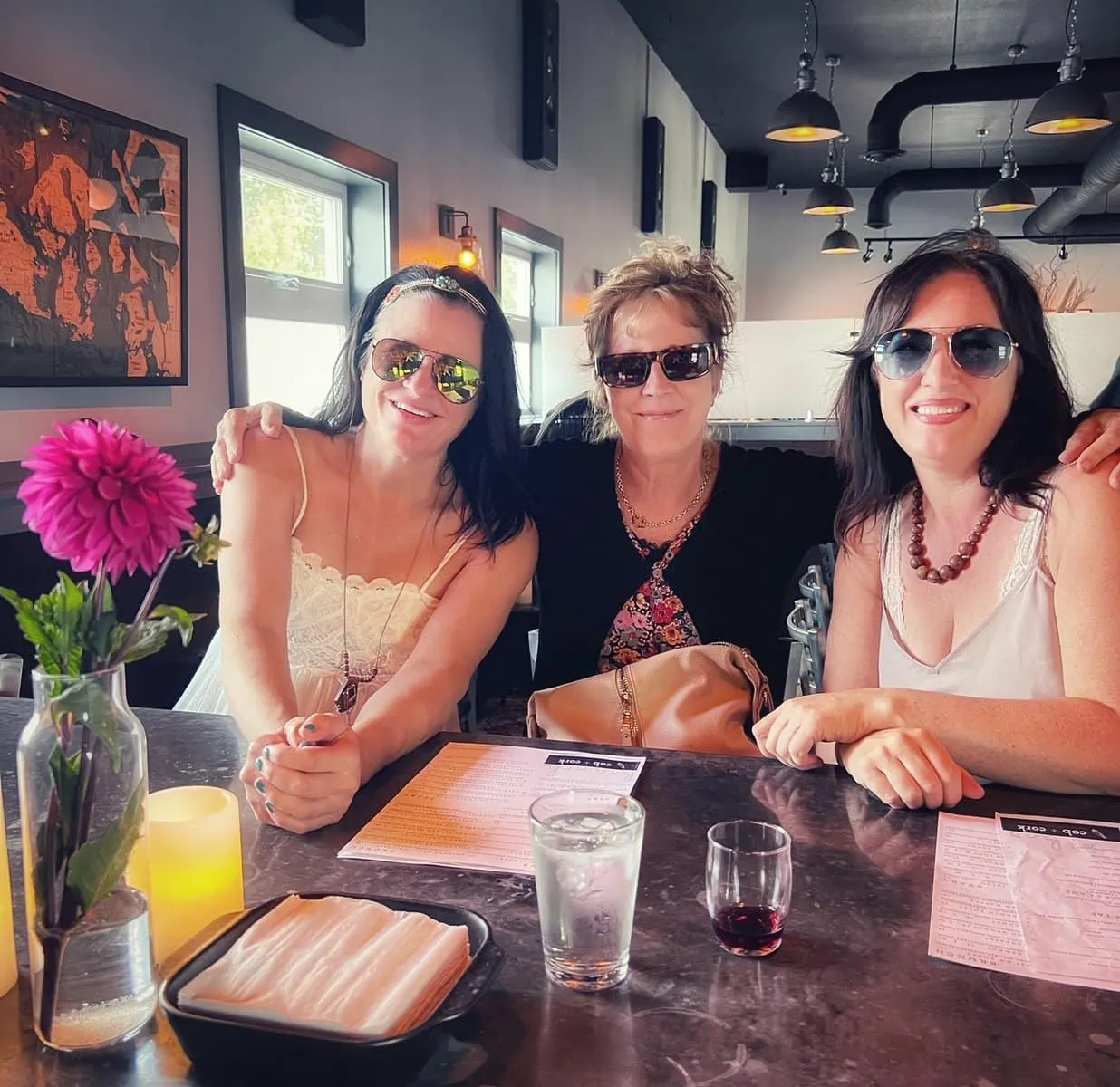 We recently did a girls day trip up here at the end of the summer (my mom, sister and I spent the day exploring), but I hear that fall is an ideal time to plan a trip on Chuckanut Drive, as you will see beautiful fall foliage along the way. We also have lots of other ideas of fun things to do in Whatcom County during the fall season here, if you are planning a trip then. While we did it as a girls day out, we met a few couples along the way, who were just spending the day out together – and if you want to travel with a family (kids in tow), there is beach access and some fun spots for them as well.
We traveled it both ways this day, to give you an idea of what to expect, regardless of how you choose to travel it. You could take it just one way though, and then hit I-5 for a quicker return trip. We did find that if your primary interest are the scenic spots, it is easiest to access those when traveling from Bellingham to Burlington (only because it is an easy right hand turn when you are heading south on the drive, vs crossing traffic), but we did not find traffic bad at all when we visited over a holiday weekend – so you should be able to easily access everything regardless of which direction you are traveling.
From the south (heading north) you can access the start of this drive on route 11, via exit 231 off of I-5 (follow signs to state route 11 from there). If you are coming from the north, and plan to head south, access it from Fairhaven (again follow signs to state route 11).
For our trip we spent the day enjoying small bites and drinks at multiple spots on the way up, spent some time in Fairhaven, and then hit many of the scenic spots on the way back. It made for a full day for us. If you want to fit in more actual hikes, or time on the beach etc, then you will want to plan your visit to accommodate those activities instead or in addition to all the stops. It is a nice drive though, even if you just decide to take it as a more scenic route from point a to point b.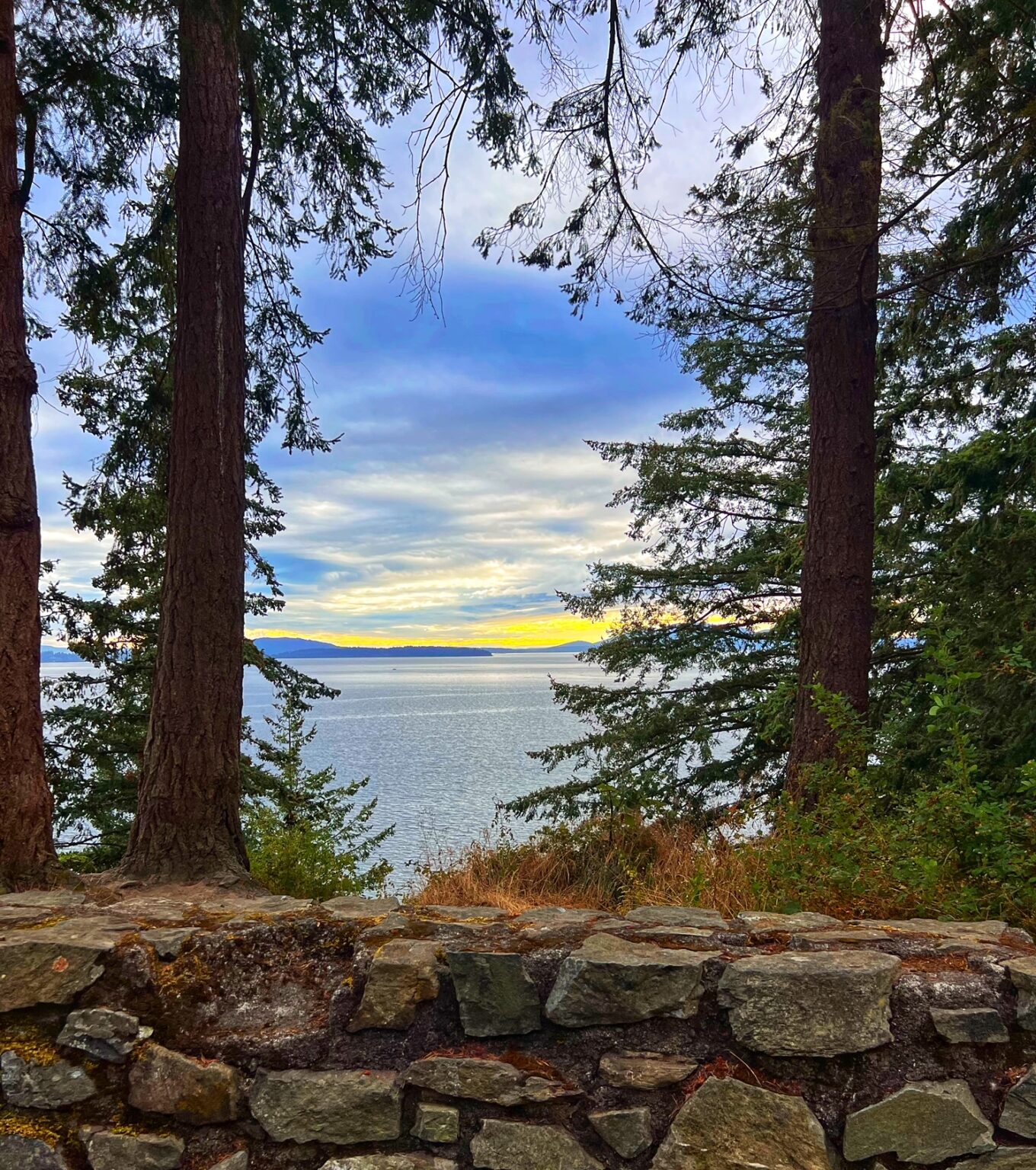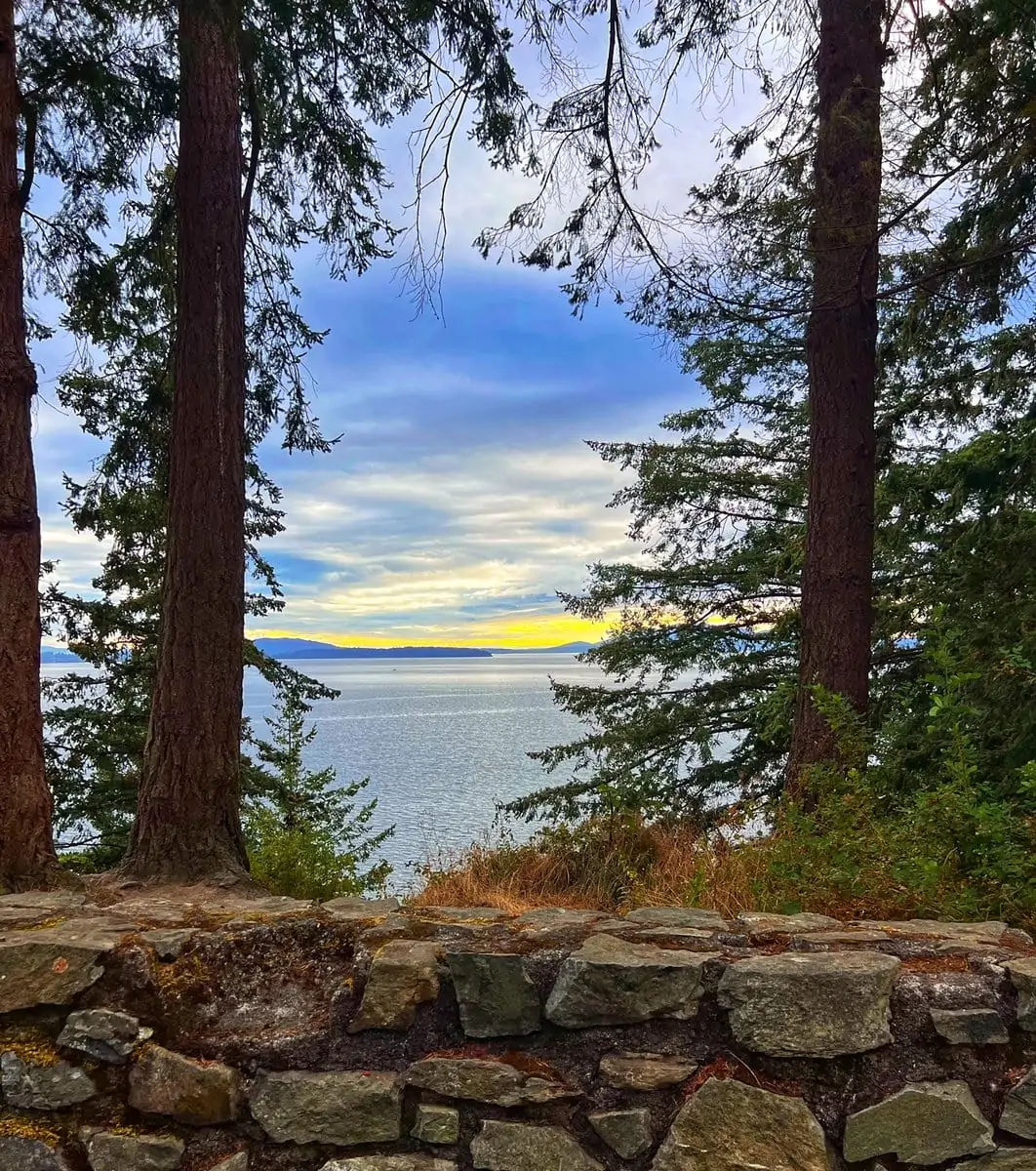 Some of our Favorite Stops along Chuckanut Drive include:
Chuckanut Drive Viewpoints ::
Chuckanut drive has a number of scenic turnouts, as well as various spots to stop and spend a little time. You can enjoy the drive and pick just a few stops along the way, or plan to hit them all and spend a full day out here. It is all up to you on how you want to do this drive, but we have provided some details on many of the options along the way, so you can decide which ones work best for you.
If you are driving from south to north (Burlington to Bellingham), the drive starts with some views of farmlands. From there the incline will increase a bit, roads narrow and begin to twist more, and you will see more of the sea views.
There are plenty of pull out viewpoints along the way. Dogfish Point View is a popular one, but you will find many pull outs and picture opportunities along this drive as well.
Here are some more fun stops (these are in no particular order, just a list of additional spots we enjoyed stopping at).
Hikes and Trails in the Area ::
If you want to get out of the car and explore more of this area on foot, there are plenty of opportunities to do that. We enjoyed the Interurban Trail, but you will find plenty of hiking options in the area, many family friendly too.
Oyster Dome Trail Hike is a popular hike in the area. Plus, find more option here as well, including some waterfall hikes.
Larabee State Park – Located at milepost 14
This is Washington's first State Park, and a wonderful option to visit (especially for families). You will find parks and beach access, with views of Samish Bay and the San Juan Islands. You will also find hiking options here. Plan your visit right and you can enjoy exploring tidepools too, as well as other outdoor activities often found on Washington beaches. Plus, they offer camping spots, if you are looking for a lower cost way to turn this day trip into a weekend trip.
Taylor Shellfish Farm
You will find Taylor Shellfish Farms tucked down a short windy road off of the drive (look for the signs on the coast side of the road by some small blue buildings). It is a hard right, if you are traveling from north to south….and might be a bit easier to while heading north).
This offers a market to purchase various seafood items and more, as well as dining option (we discuss that below). The other cool thing is that it is in a beautiful waterfront area so you can see the oyster beds out in the water, and do some exploring in this area as well as shopping or eating.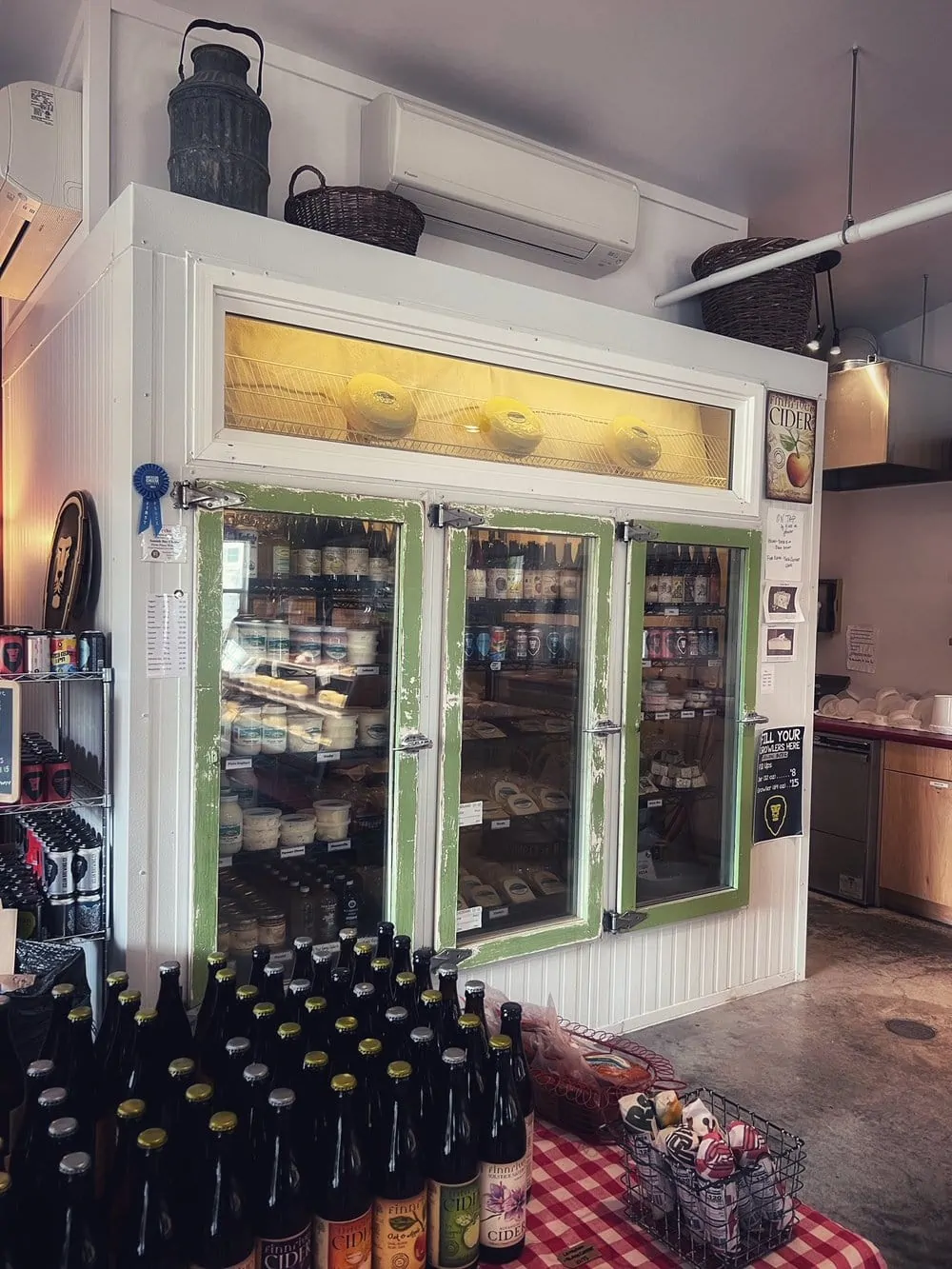 Samish Bay Cheese
This spot is a cute little specialty shop, where cheeses are the main point. They provide free samples too! The Jalapeno Cheese was my favorite, so yummy. Definitely worth a brief stop, just to get a cheese sample!
Chuckanut Bay Gallery and Sculpture Garden
They call this a "destination shopping experience", as you can stop and shop, but you will also find a sculpture garden and gallery onsite to explore. The gardens were my favorite. It is the perfect stop as you transition from the drive, moving into Fairhaven too.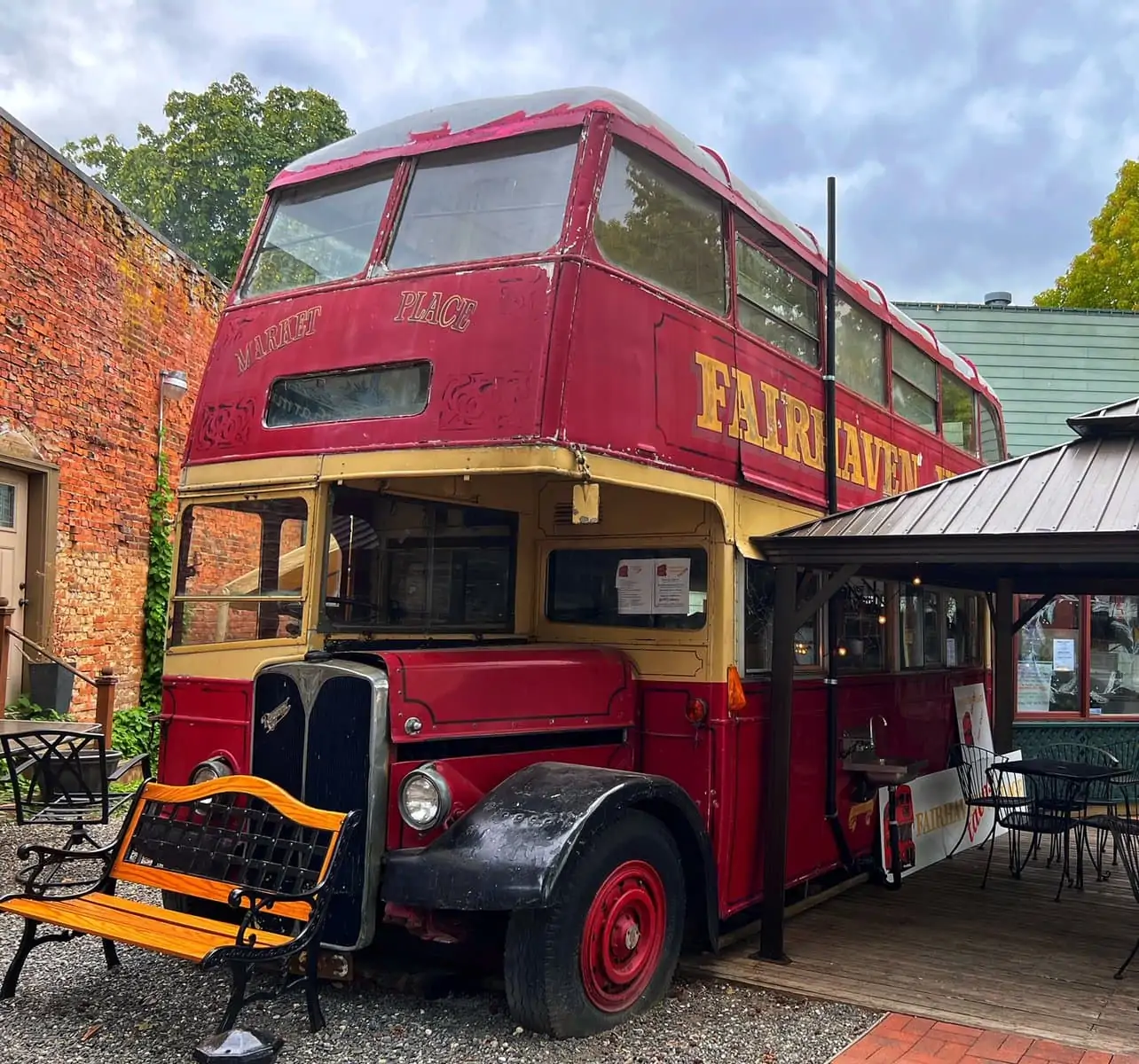 Explore the Historic Fairhaven District in Bellingham
End your trip in Fairhaven and enjoy restaurants, shops, book store a waterfront, quaint brick buildings and more! Fairhaven provides access to Bellingham's Historic Fairhaven Village, Bellingham Cruise Terminal and Fairhaven Station, the entrance to Fairhaven Park at Padden Creek, and the Interurban Trailhead to highlight a few reasons why this is a great final stop on your trip. Plan to spend a little bit of time here to explore.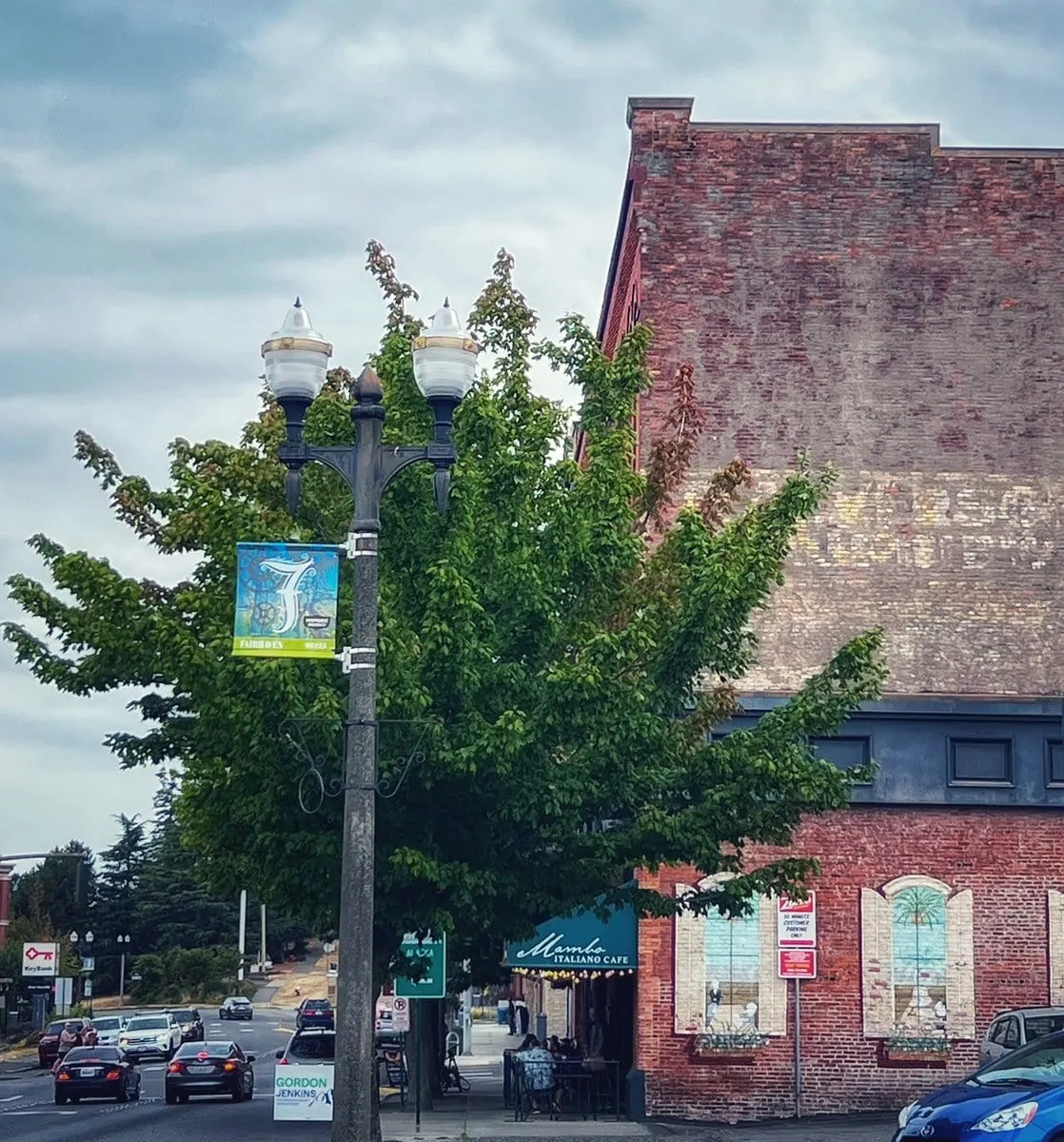 While in this area, plan to spend some time walking the Bellingham Boardwalk, and there are plenty of restaurants to choose from too, so it is a great dining option. Speaking of dining…
Chuckanut Drive Restaurants To Visit ::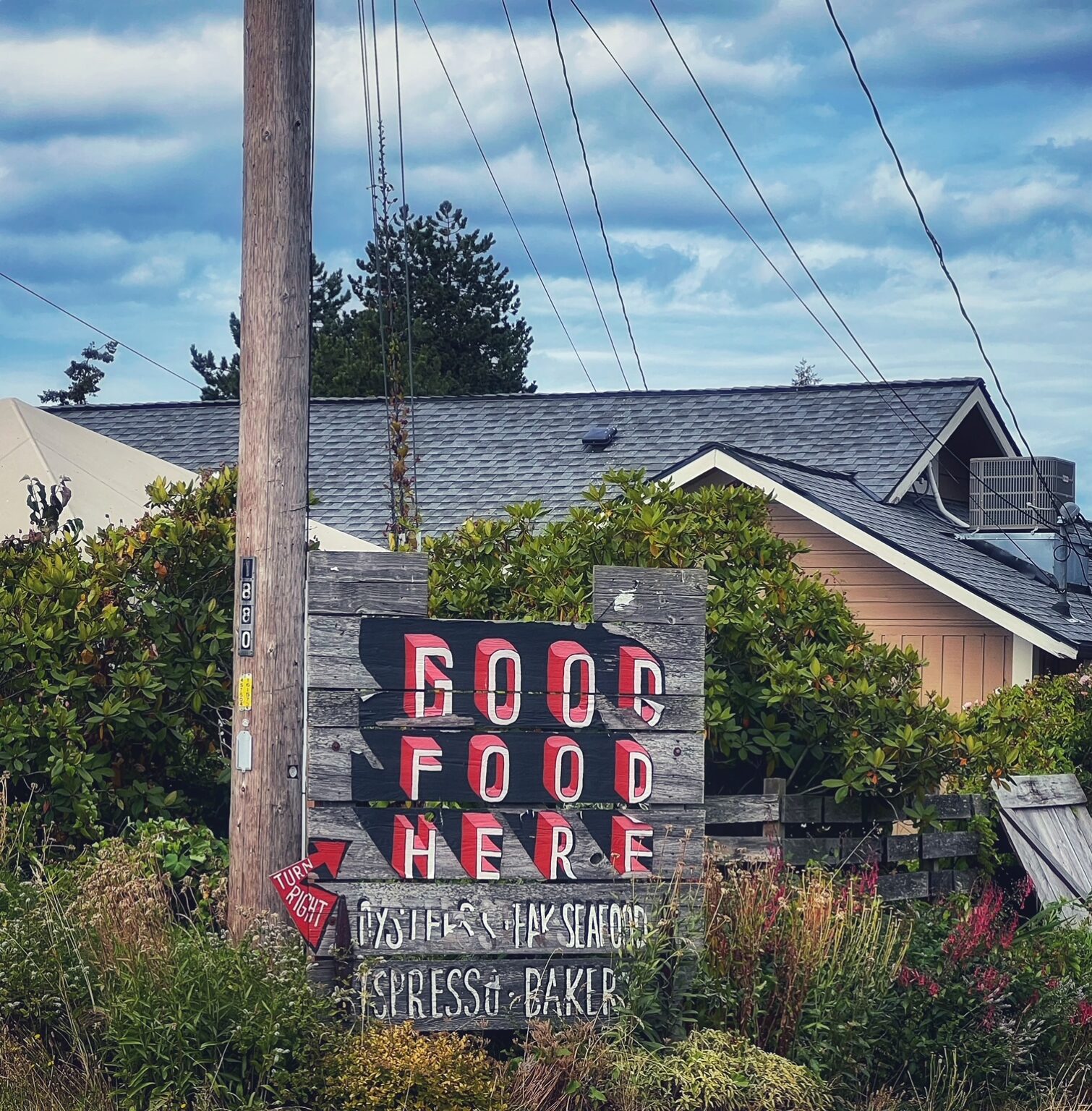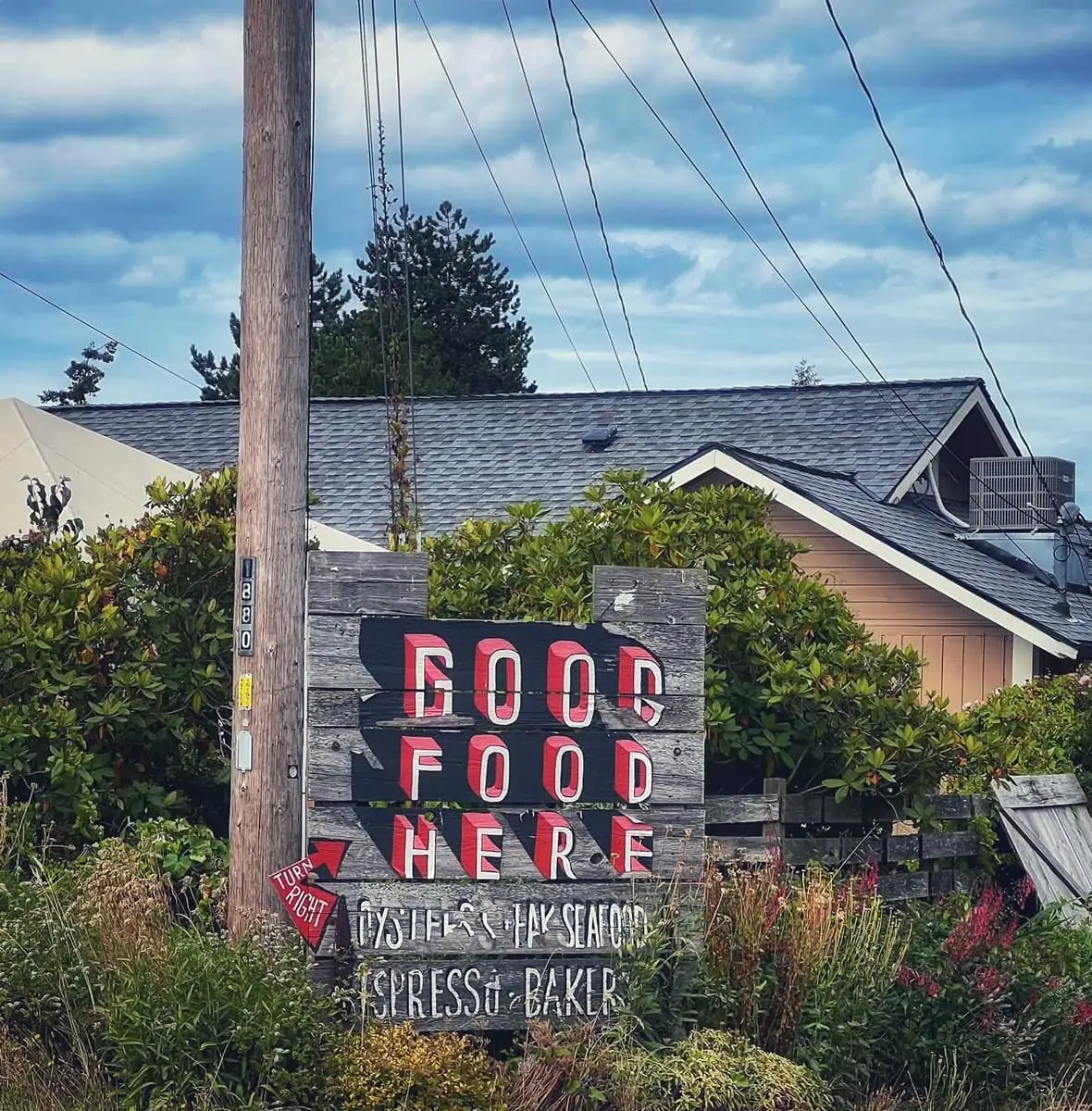 Are you looking for recommendations for some of the best Chuckanut Drive restaurants? Here are some we really enjoyed, and I have listed them in order of when you will come across them if you are driving from South to North, or Burlington to Bellingham (so it will be in the opposite order if you are driving from Bellingham to Burlington).
I will mention ahead of time, that if you want to stop at only one spot along the way, the Oyster Bar is the most popular option among many travelers. We found lots we loved long the way though, and here are some of our faves.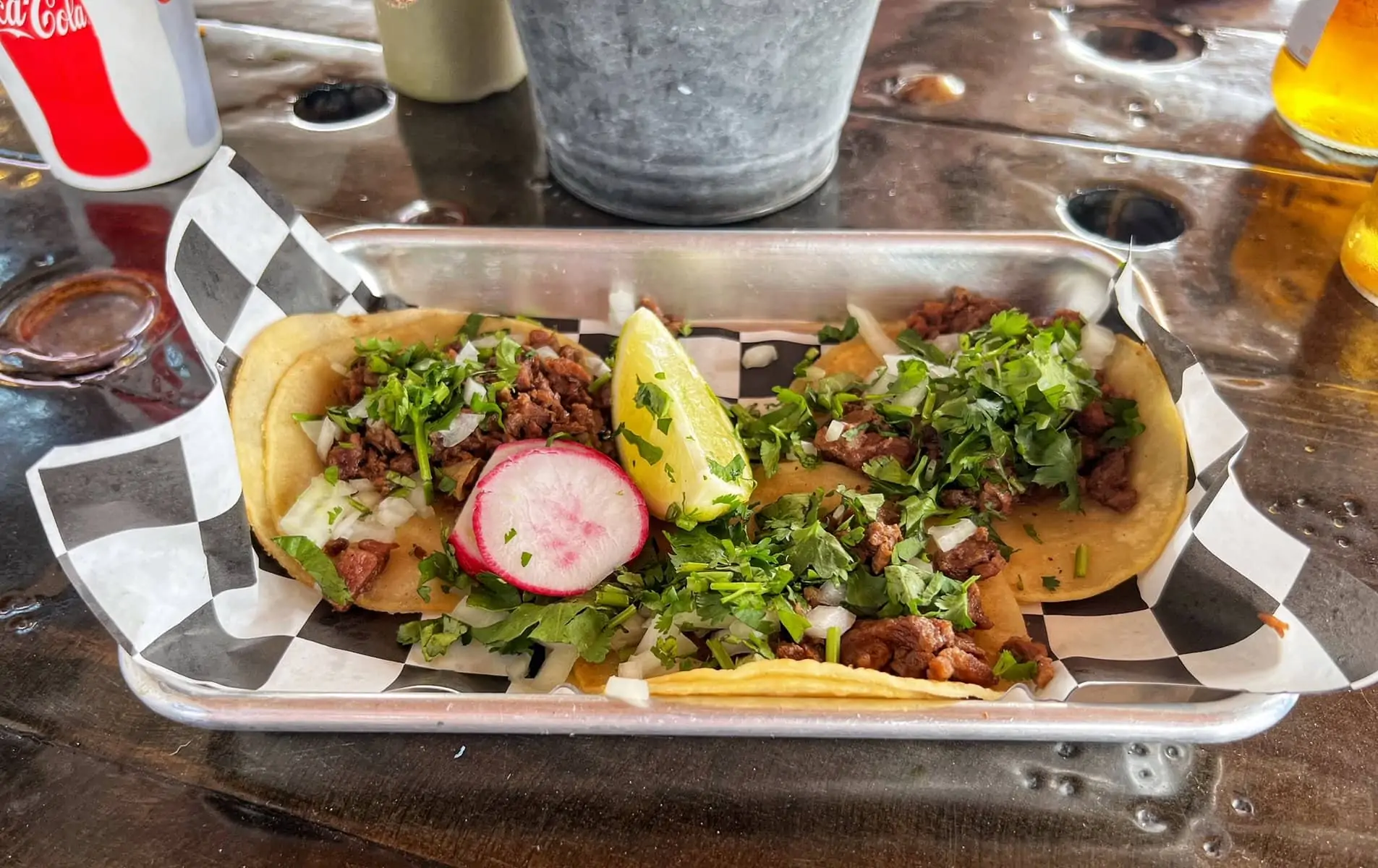 Tacos Tecalitlan
Right as you get off the freeway at exit 231 in Burlington, if you head towards the park and ride (to the right if you are heading north on I-5 when you exit), there is a popular taco spot that does not disappoint. You can get full plates of food, or try these tacos for just $1.99 each. We loved this spot, and will definitely be back if we are in this area again – it was so worth a stop.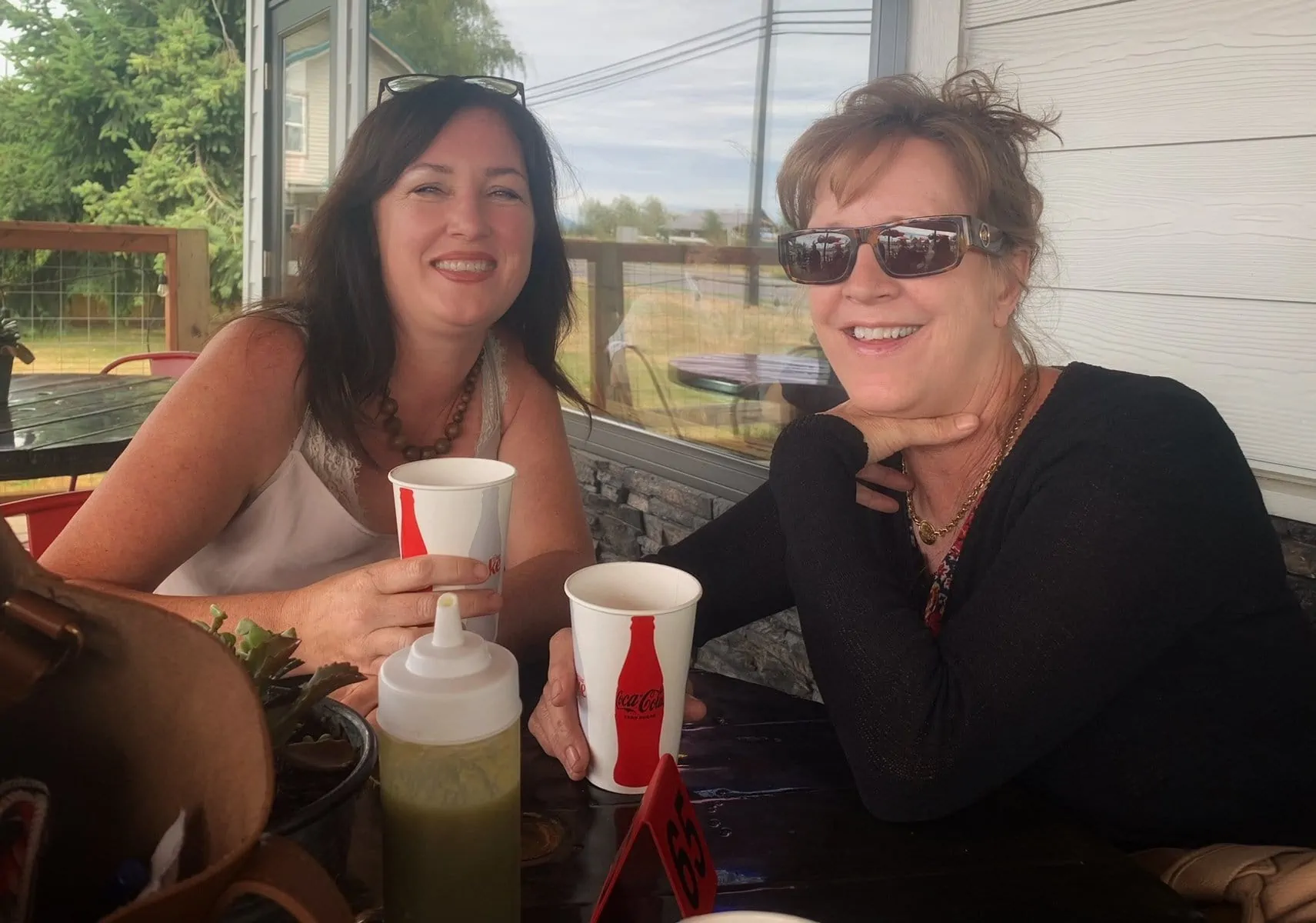 It does get busy (you can tell it is very popular in this area), but they offer indoor dining, patio dining (where we sat) and a walk up window – so really something for everyone. Although I am not sure this is technically Chuckanut drive (it is just before you start on route 11), it was the perfect spot for us to start our venture after a long drive out here.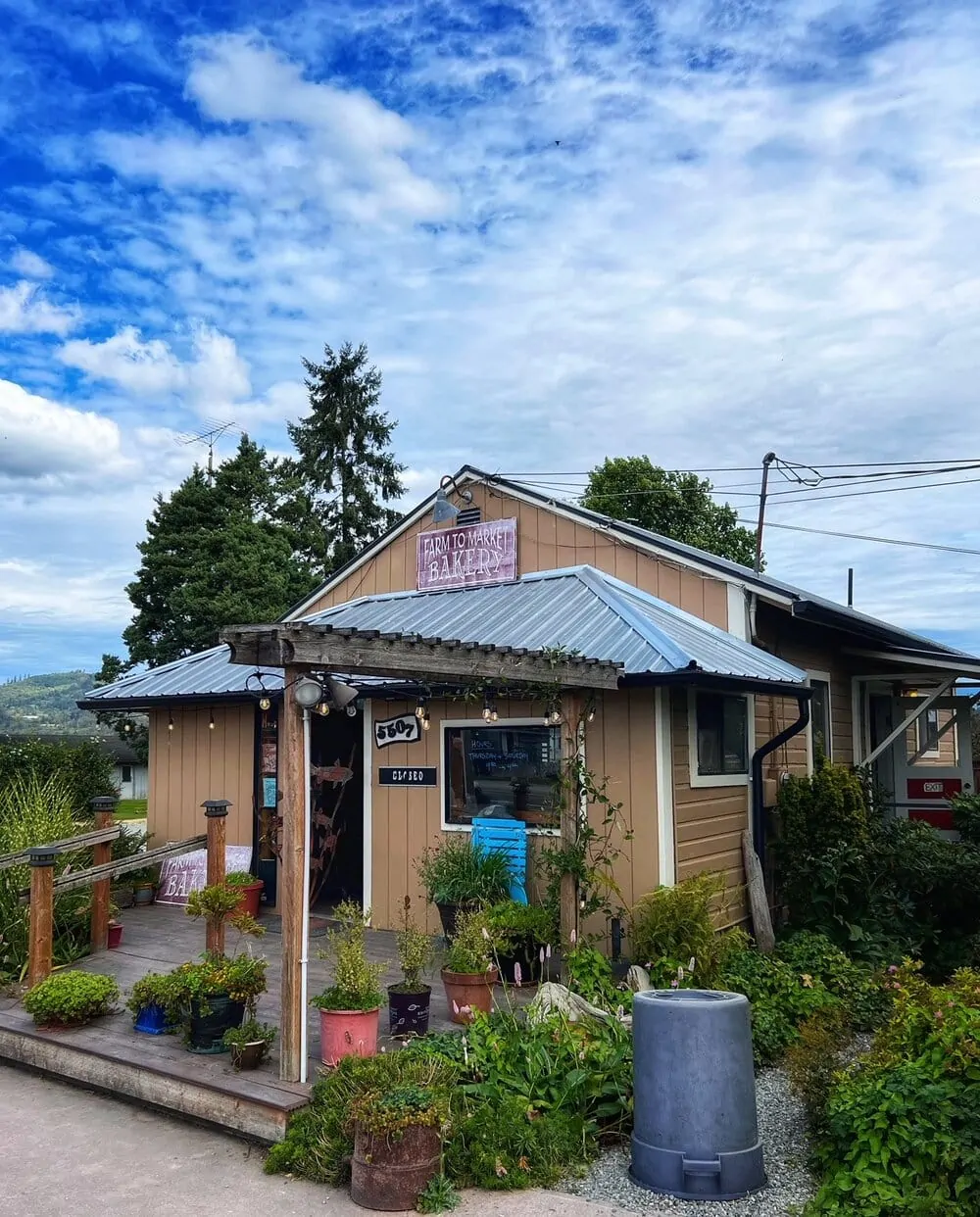 Rhododendron Café & Farm to Market Bakery Next Door (closed Sunday & Mondays)
This cafe and farm to market bakery right next door to each other, came highly recommended. We had this on our list (was particularly looking forward to the bakery), but they were sadly closed during our visit. It is one to add to your list though, if you plan to be there on a day they are open.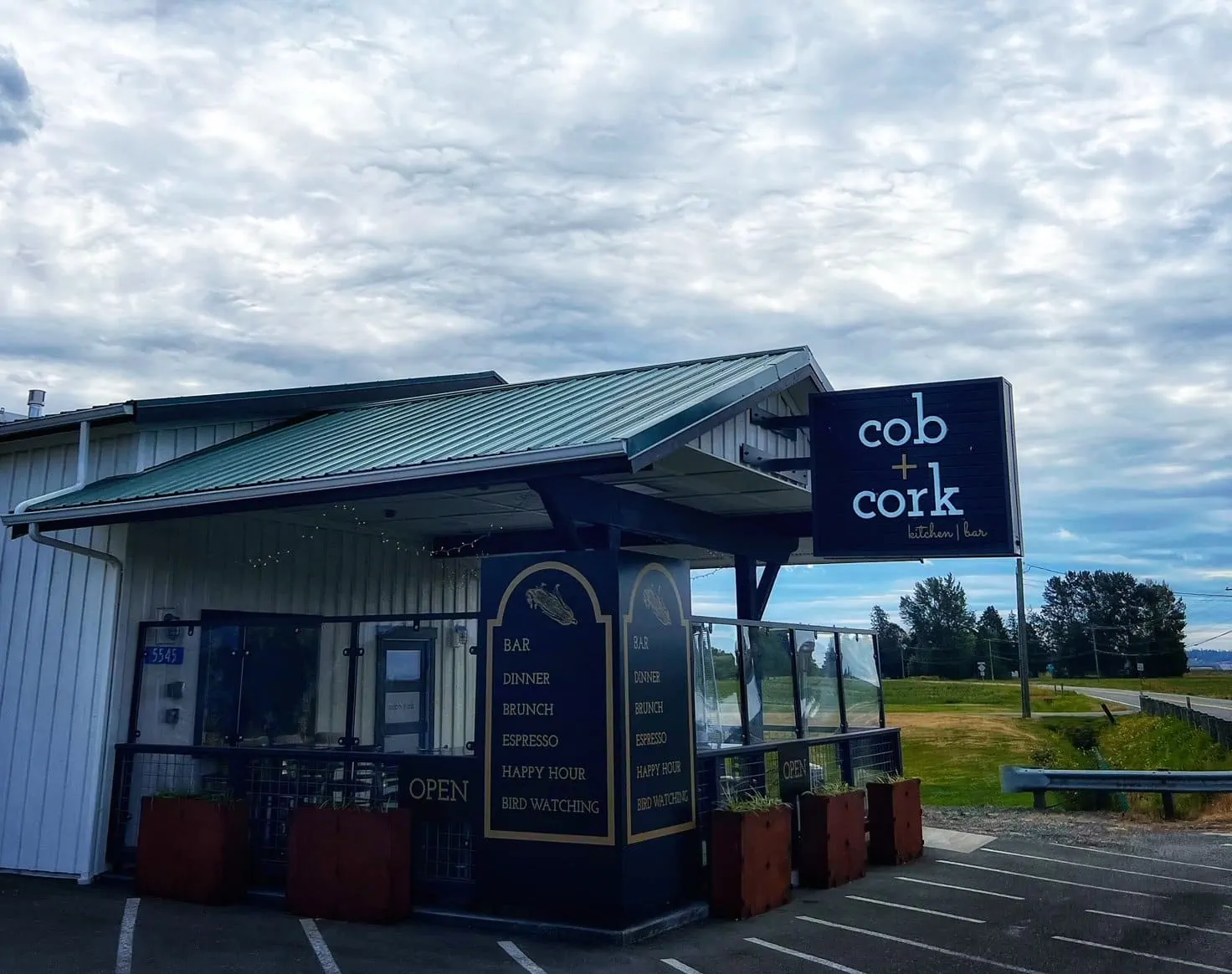 Cobb & Cork – 
We took our trip on a Sunday, and as mentioned above the Rhododendron cafe and next door bakery are closed on Sundays. We initially did not know this, and had planned a stop there. Fortunately for us, the Cobb & Cork restaurant right next door was open so we headed over there for a drink and some appetizers. I loved the food here, and the service was wonderful during our visit too. We were happy to have "stumbled on this place" and can't wait to stop back in on future trips.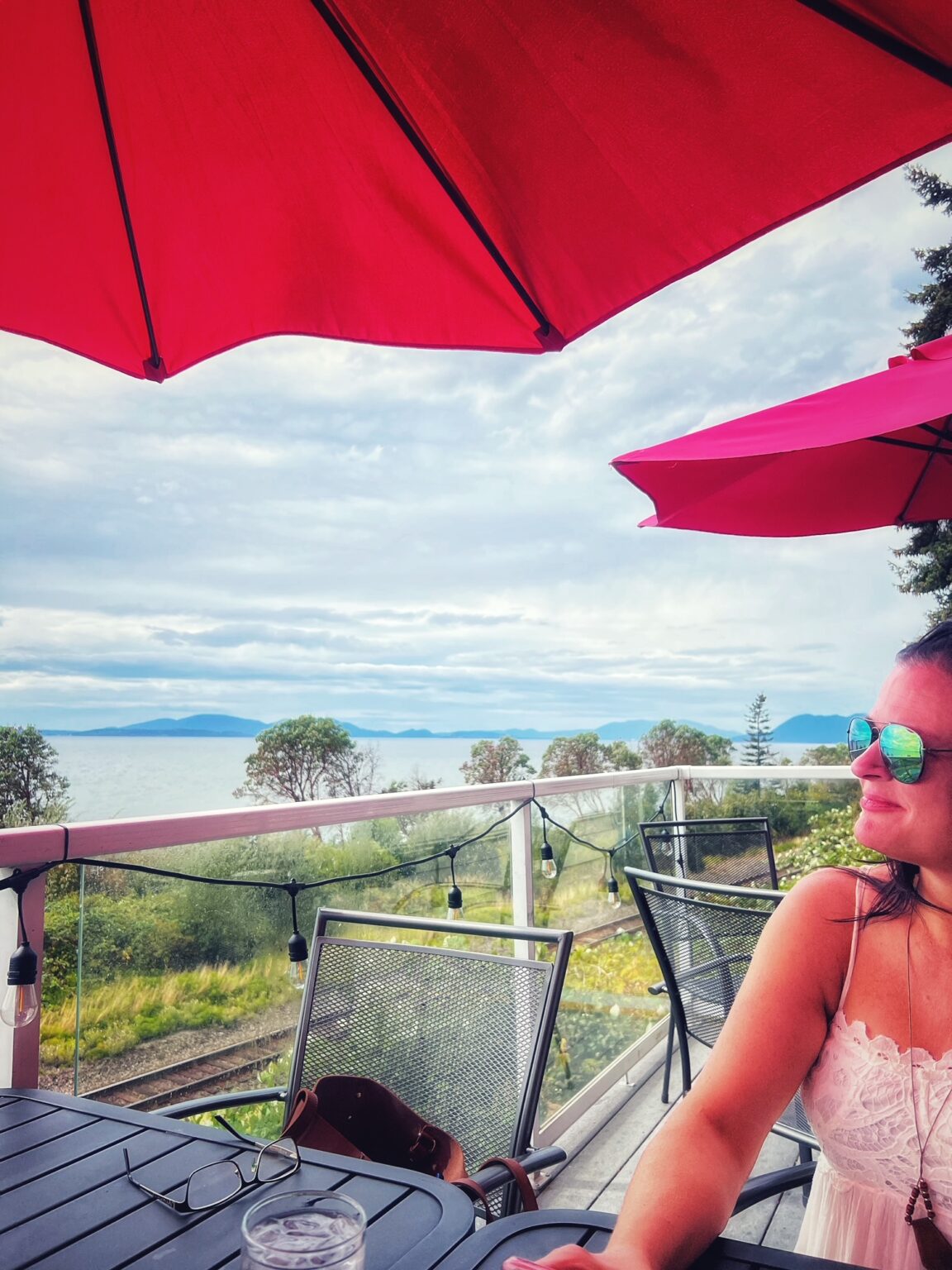 Chuckanut Manor – 
Chuckanut Manor is another spot that came highly recommended to us. It is a popular restaurant on this drive. They offer indoor dining, patio seating, and picnic tables out front. This also makes a great ice cream stop if you are traveling with kids, as they offer ice cream out of an outdoor kiosk that you can enjoy at the picnic tables.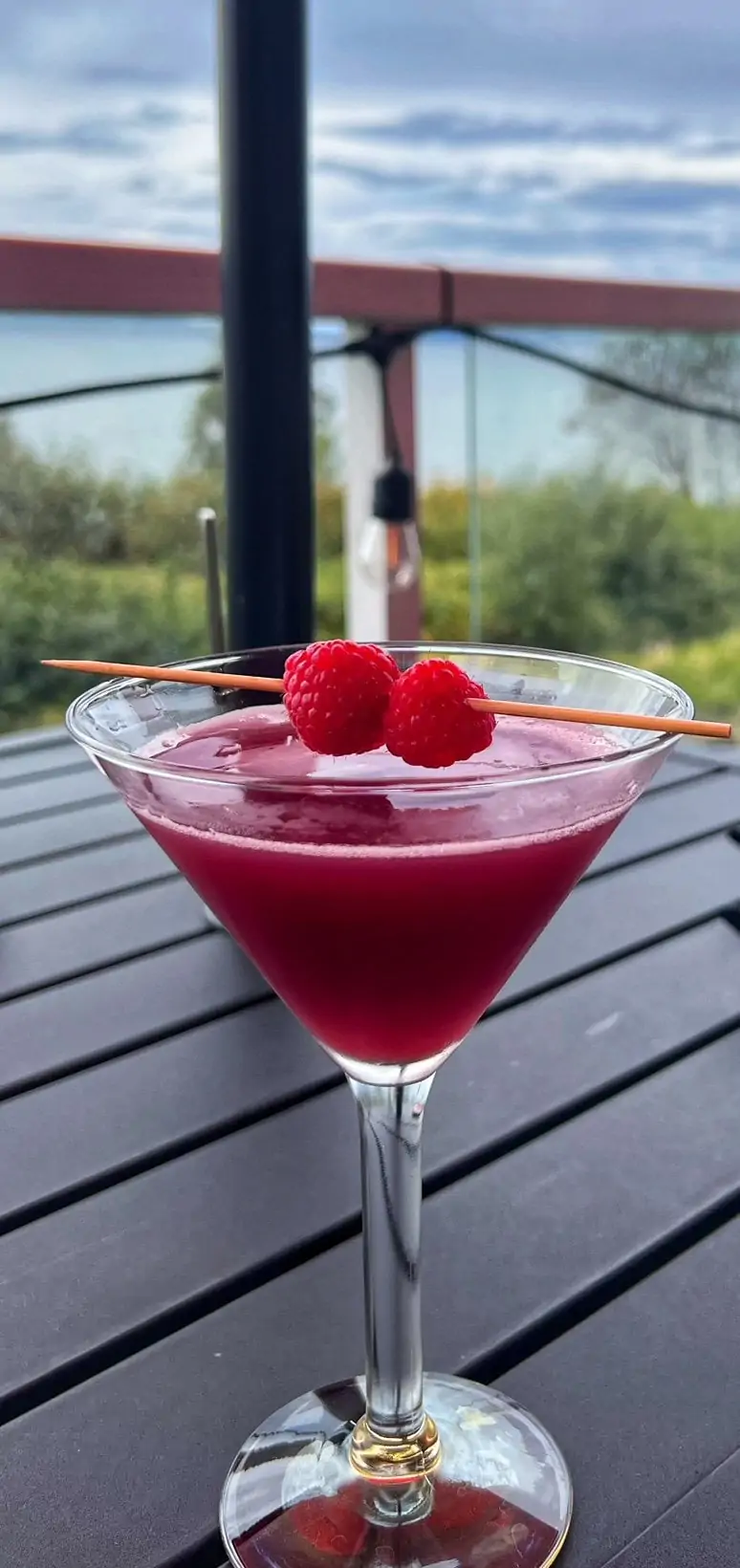 They also offer a great happy hour option, and if you are planning your visit – getting a patio table at around sunset would be amazing I imagine (we were too early for that, but still enjoyed the views while we dined on apps and drinks).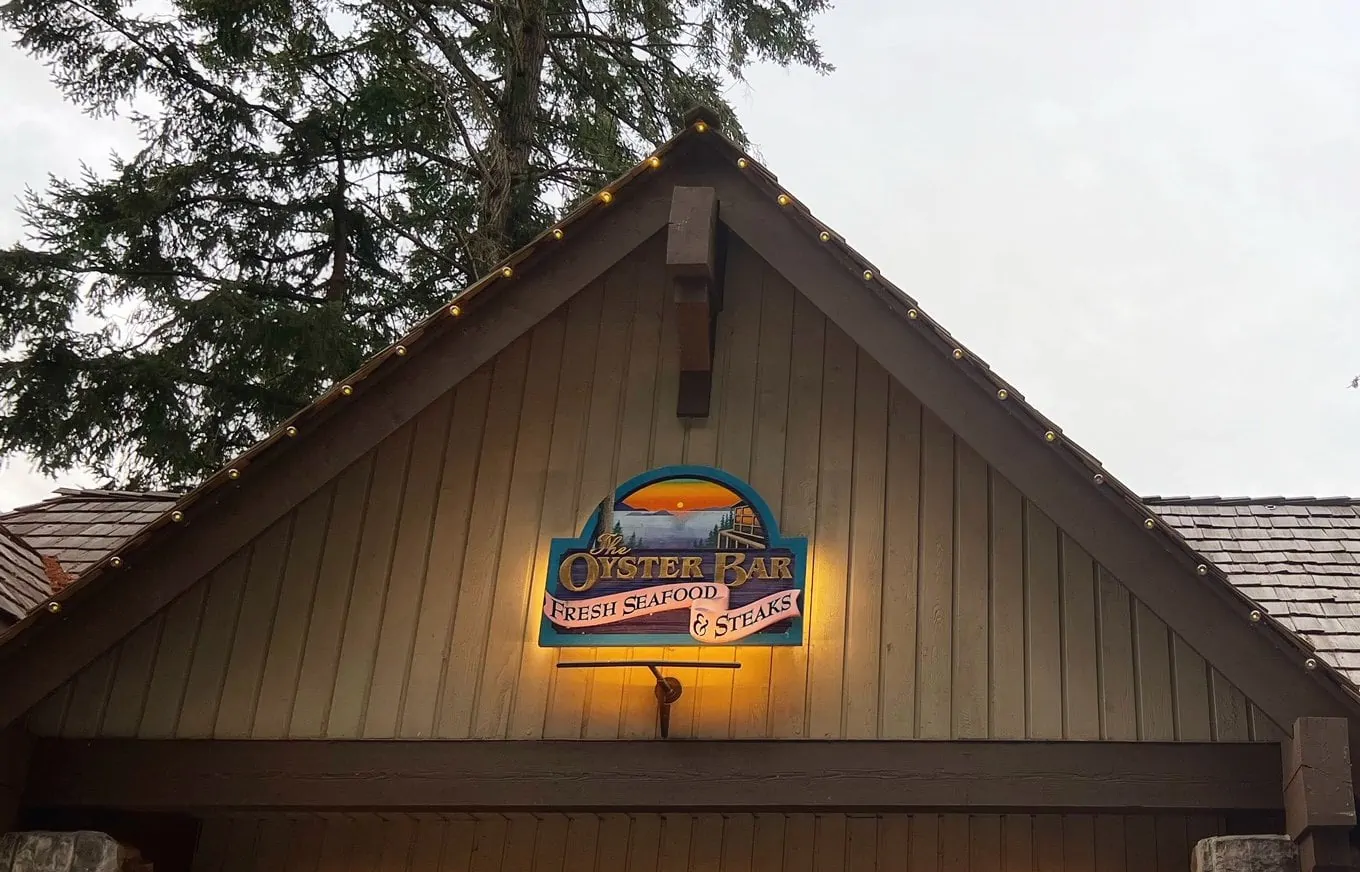 Oyster Bar Chuckanut Drive – This is probably one of the most popular stops on this scenic drive. It is because of the Oyster Bar, that my sister wanted to do a day trip to Chuckanut drive so badly. Unfortunately for us, they were booked when we stopped in, so I highly recommend not repeating our mistake – and call ahead for reservations.
You will know when you are getting close, as you will see lines of cars parked along the side of the road.
Samish Oyster Bar & Shellfish Market – 
This spot is part of the Taylor Shellfish Market that we mention above in the recommended spots. Although it is mainly a market, they do also offer a seasonal menu where you can order things like a tray of oysters and other seafood options, to enjoy at a picnic table outdoors (paired with local wines and beers if you want too). There is limited seating and parking here, and it is available on a first come first serve basis – but is a wonderful option if you are looking for something casual outdoors, but also delicious. Plus, you can do some shopping in the market to take home with you, and enjoy a nice walk along the beach or train tracks afterwards too.
Fairhaven –
Fairhaven is full of restaurant options.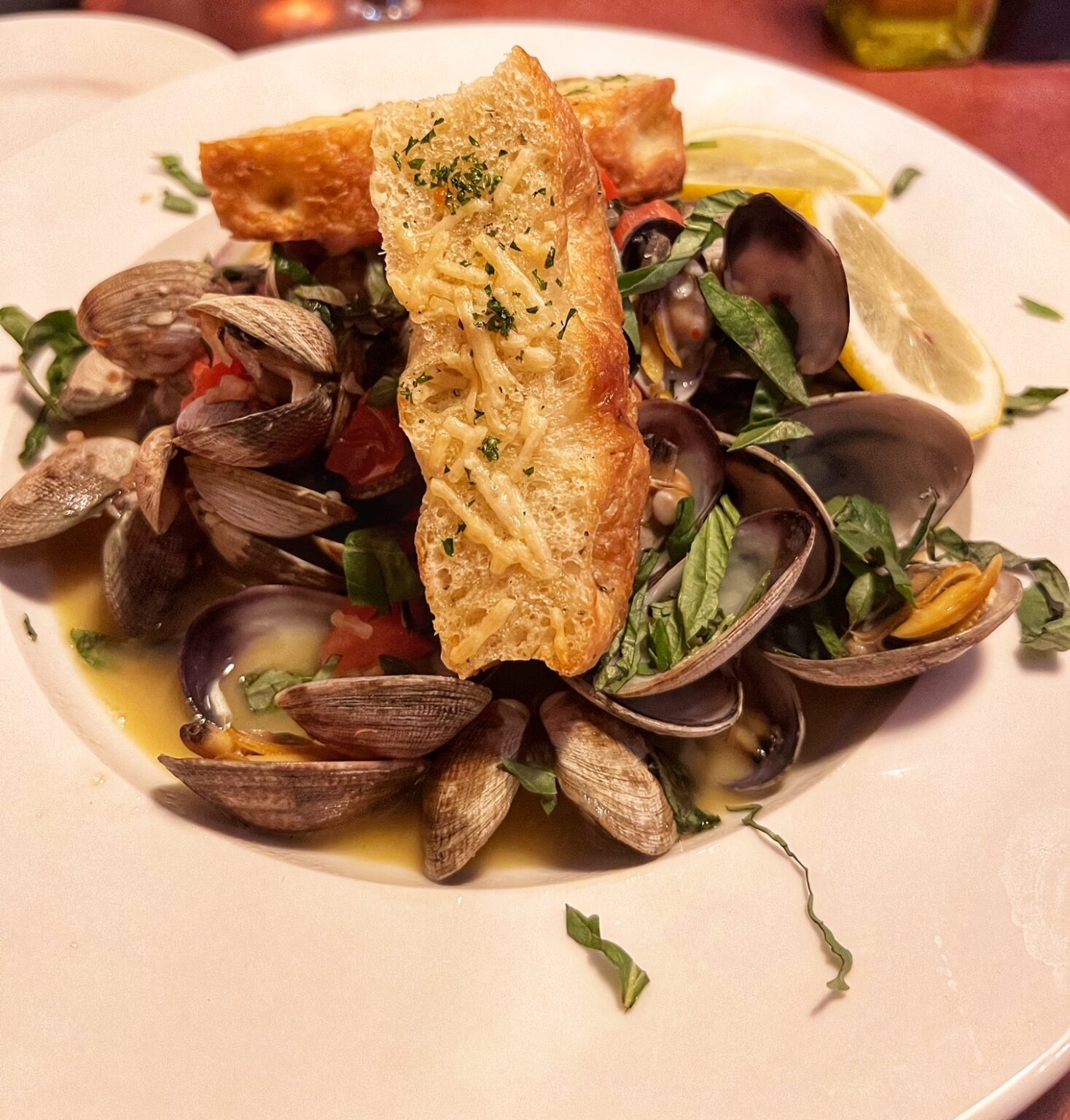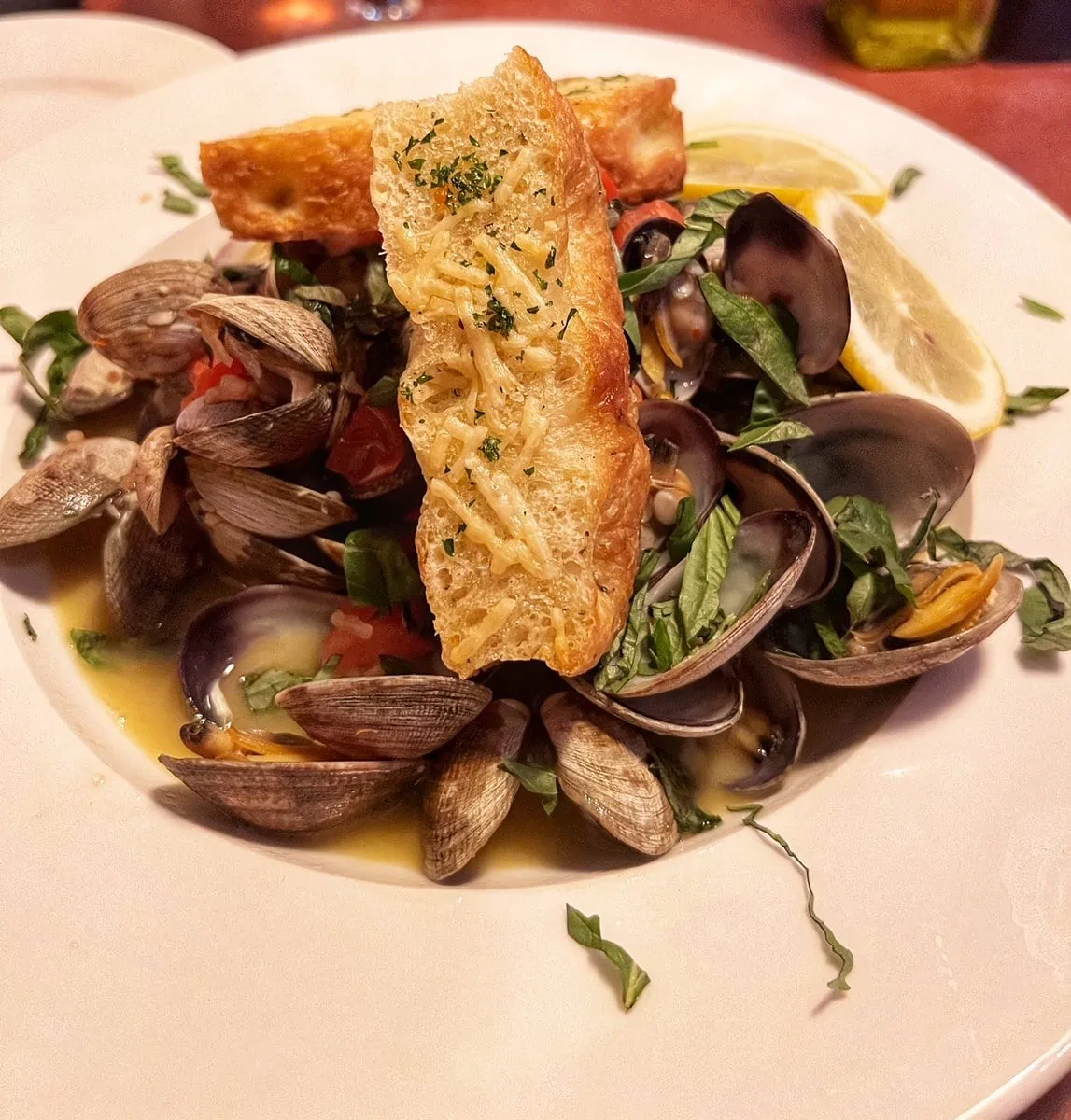 You will also find plenty of sit down options, with all kinds of food choices. We enjoyed Italian during our stop, but it was hard to pick just one place to eat here. If you are looking for burgers and drinks, I have heard the Filling Station is good too.
More Things To Do In The Area Just Beyond Chuckanut Drive ::
Visit Lynden Washington
Lynden made our list of 9 Charming Towns To Explore in Washington, and it is only around 20 miles from Fairhaven, if you want to keep exploring. This town is unique in that it is Washington largest Dutch settlement, and full of history and Dutch influences.
Stroll through La Conner 
La Conner is a waterfront town, also full of shops restaurants and waterfront walkways to explore. It is around 10 miles from Burlington if you are looking for another town to explore on the south side of the drive.
You can also check out this Family Friendly La Conner Area Campground if you want to turn your trip into a weekend getaway, and stay in this area as base camp.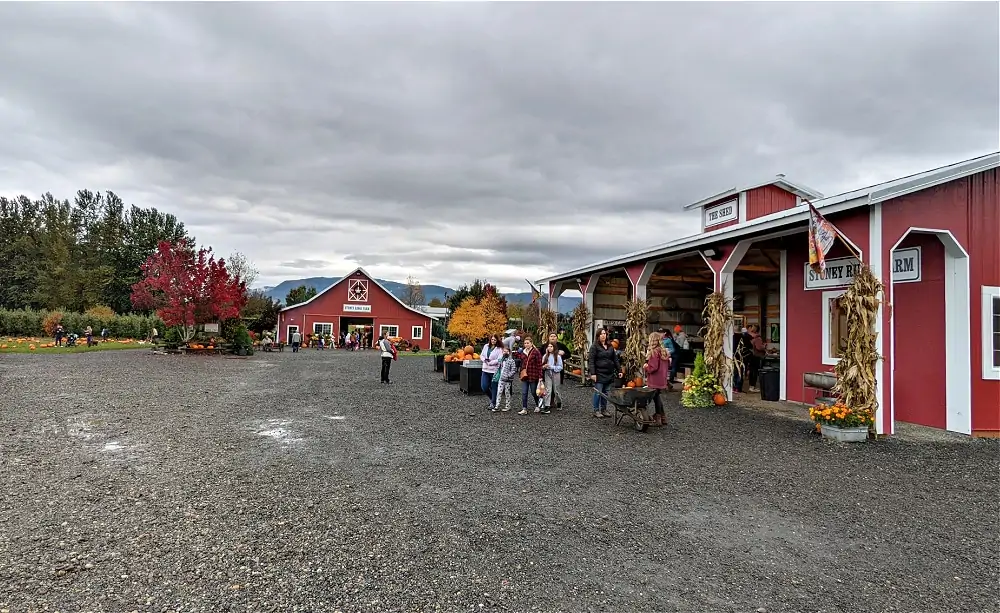 Plus, find more to do in these articles here as well.