Skagit Valley Tulip Festival Mt Vernon WA Tips & Places to Visit!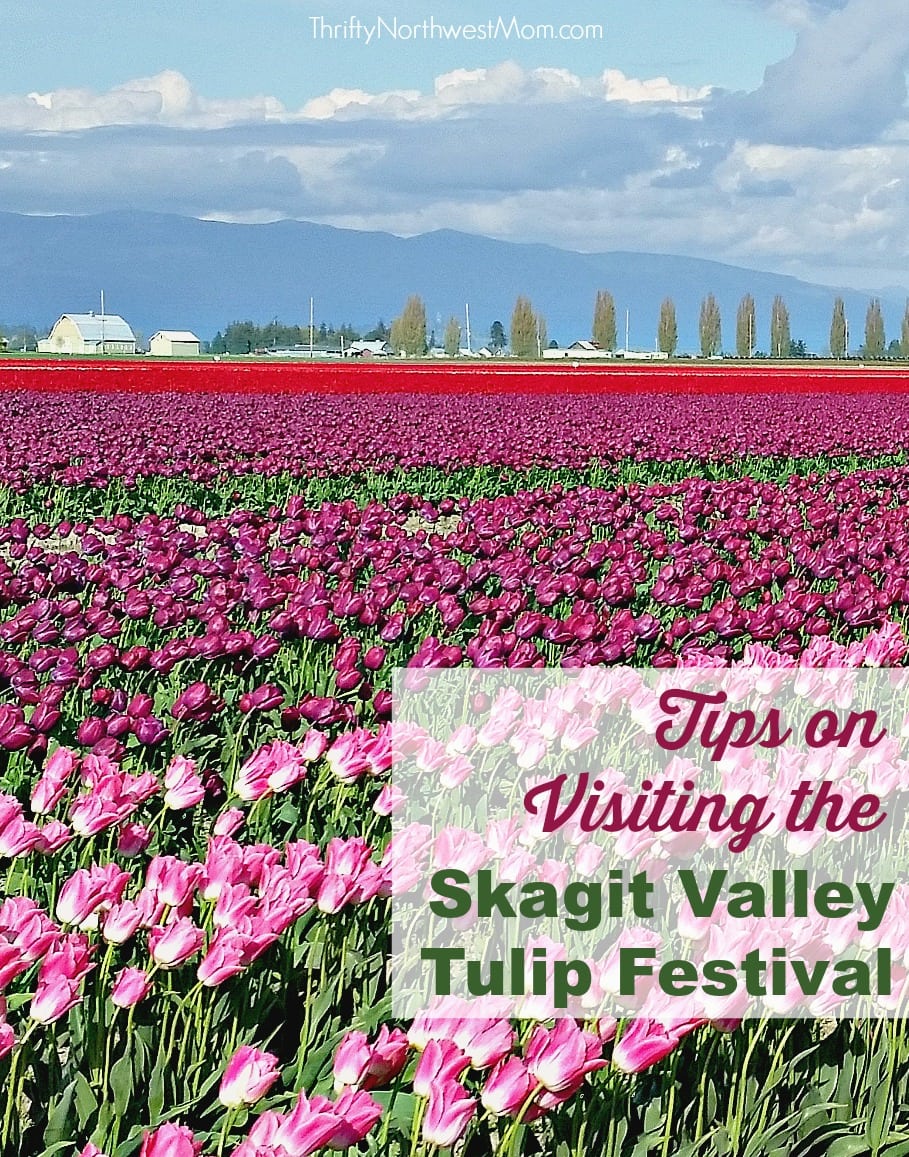 Skagit Valley Tulip Festival Mt Vernon WA Tips & Places to Visit!
It is almost that time of the year to enjoy the Tulip Festival! If you are planning to attend this year, we have the full scoop on how it will work this year for 2021 with all of changes. Since they were closed last year & due to state regulations on numbers of people visiting, they had to make changes to how it works to accommodate the most numbers of people but in time slots, so there aren't large crowds.  So, the key is buying your tickets ahead of time to visit the Tulip fields, as tickets will be required this year for all visits to the farms.
There are 2 different tulip farms & they are both offering different options, so we have listed the different options below so you can decide which one is the best fit for your family (or if you want to try out both).
They will be opening on April 1, 2021. They have 5 acres of tulip fields with plenty of photo opportunities. There are indoor & outdoor tulip gardens, displays & a windmill. They will also have trolley rides (included in your ticket price, weather dependent), as well as shops like a retail boutique, local goods, flower stand, nursery, pottery & more.
You can also get food, treats, ice cream & coffee at their new cafe, The landing at Tulip Town. There will be a beer & wine garden as well.
Admission Costs –
General Admission Tickets are $10 for age 12+ ; $5 for ages 6 – 11 & 5 & under are free
Your ticket will include:
Parking
Entry
Trolley Ride
2021 bloom field
Tulip gardens
Indoor tulip display
Barn experience
Experience Tickets: 
These tickets cost $45/person. You will get everything included in the General Admission. Plus, a Mini workshop and escorted access directly into the field where you will be taught how to pick your own bouquet.You will go home with not only the experience of a lifetime, but your prized bouquet and first hand knowledge from our tulip experts.
Photography Tickets:
$100 for a daily pass. Get exclusive access to the tulip field and gardens during the golden hours: 6-8am and through sunset, as well as during normal business hours. There are day & Season Passes available. Make sure to read all the guidelines for photographers. (You may bring up to 5 participants for an additional fee)
Fine Print:
You will have a 2 hour time slot to visit
Use cloth face coverings when visiting.
Practice proper social distancing.
They will be open 8am – 7pm daily. Bloom dates are flexible depending on the weather/bloom time, but typically they have found that April 7th – 25th is the prime time to see the most blooms.
Admission Costs – $15/person (includes taxes/fees). Children 2 & under are free
Your ticket will include:
Roozengarde's 5 Acre Garden
25 Acre Tulip Field
20 Acrew daffodil field
Gift Shop
Fresh Cut Tulip Market
Fine Print:
Cloth face coverings are required for individuals ages 5 and above during your visit.
Visitors are expected to practice physical distancing.
Please wait in your car until reserved entry time.
We ask that everyone limit visit times to 2 hours if possible, so that all visitors may enjoy an equal experience.
Gift shop hours during the Festival are 9am – 7pm.
RoozenGaarde closes 10 minutes after sunset.
Review of the Skagit Valley Tulip Festival & Tips for Visiting!
(This review is from several years ago, it is not current for 2021 changes)
Each year the Tulip Festival occurs during the month of April. In previous years, organizer anticipate full blooms during the mid month in April (and this is the timeframe for most years), so if you're wanting to see the most color, you might want to plan a visit around that timeframe. I know the tulips in my yard are popping early this year, so keep an eye on their website for updates on this years bloom schedule! We have resources that you can check out below to determine what is in bloom (when you check out their websites they often give current updates on the status of the blooms) to help you plan the best time for your visit.
April is the month for the big Tulip Festivals around the Northwest – the biggest festival is up in Mt Vernon, WA – the Skagit Valley Tulip Festival,  although there is also a popular Wooden Shoe Tulip Festival in Woodburn, Oregon that we used to go when we lived in western Oregon – it's also beautiful, just on a smaller scale to the Skagit Valley Tulip Festival.  We also recently learned of another smaller Tulip Festival in Woodland, WA (southwest Washington).
I spent several years living right in the heart of the tulips in Mt Vernon – it's actually where my husband and I got married (18 years ago!) & I worked just 5 minutes away from the Tulip Fields during our time there. So I always get sentimental when the Tulip Festival time comes around as I miss those days of living so close & heading out to the fields for pictures and watching the sun go down on the tulip fields after work.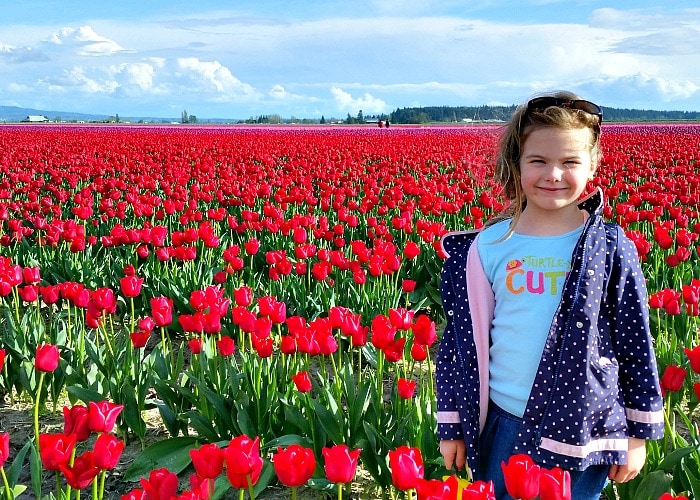 The obligatory picture of your cute kiddo in the tulips! 
We frequently head up to the Tulip Fields during the festival timeframe, either when we're passing through headed up north or we make a specific trip to go there. So I thought I'd share a few tips with you about visiting the Skagit Valley Tulip Festival.
Resources for you to Use:
Map of the Skagit Valley & Tulip Festival Events
Most Current Information about the Tulip Festival on the Facebook Page
Visiting Skagit Valley on a Budget
Angel of the Winds Casino Hotel Review
My personal favorite of the tulips – love all the varieties you can find!
Roozengarde:
Check out this Bloom Map which is updated regularly to show you where the fields are located & which flowers & varieties are blooming.  We visited a Roozengarde field on our visit off McLean Road near LaConner-Whitney Road. You can pay per car to park at the field (Or it's free if you have a ticket from Roozengarde Display gardens). When we went a few years ago, you could use that same ticket when you park & visit other fields as well for the same price, but I can't confirm if they are still offering that ticket deal.
Roozengarde also has an amazing 3 1/2 acre display garden at their main location off Beaver Marsh road, as well as more tulip fields.  I definitely recommend this beautiful display garden – it's gorgeous and filled with 1/4 million bulbs! Wow!  Plus they have a gift shop where you can find fun flower items and all things tulips!
Tulip Town: 
Tulip Town is the other popular destination to visit when you visit the Tulip Festival. We went to visit Tulip Town years ago and there is so much more to do here now. They  have a trolley/wagon ride that you can ride for a fee. There is an indoor plant & garden show, which is nice for those rainy days when you don't want to spend the whole day outside to see all the beautiful flowers. They also have professional kite fliers each weekend, as well as local artists on hand as well.
What I love about Tulip Town is there are so many great photo opp locations.
5 Tips for Visiting the Tulip Fields::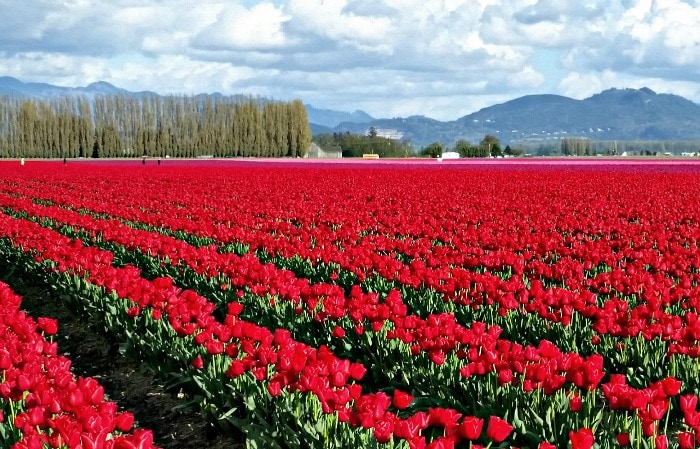 1) Make sure to get a map either before your visit or in town before you hit the fields
You definitely want to have a printed map to take with you so you know exactly where to see all the best fields. You can download this printable map of the Skagit Valley Tulip Festival. Or you can pick up a map with a brochure at any of these Tulip Festival official locations.
2) Visit early in the day or late in the afternoon
On the weekends, especially, the Tulip Festival can be very popular and that means crowded & slow driving thru the fields. If you can, it's best to try to hit the Festival ideally earlier in the day or if that doesn't work, then head there later in the afternoon. Just make sure you've checked on the times the fields are open as many of them do close at 5pm (although if you follow them on Facebook -Roozengarde or Tulip Town) they may extend hours during certain times.
3) Make it a Day Adventure as there is so much to see & do in Skagit Valley
There really is a lot to see and do up in the Skagit Valley, so if you're coming from a distance, I'd recommend you plan for a day of excursions. Check out our post with all the budget-friendly options of what to see & do in the Skagit Valley.  Once you've visited the fields & gardens which could take a few hours, then you can head to downtown Mt Vernon to check out their shops and restaurants or the quaint town of La Conner nearby in the valley, filled with antique shops, specialty shops, restaurants & pretty views along the water.
Another idea that friends of mine recently tried was to head first to the Tulip Fields, lunch in Mt Vernon and then they headed out to Whidbey Island and Deception Pass State Park, which has gorgeous views & some pretty hikes and a beach to play at. You can check out the park on the Fidalgo Island side and the Whidbey Island side. You can then continue down the length of Whidbey Island to catch the ferry at the southern end to bring you back to the Everett area.
4) Take the scenic route through the valley at least one direction on your way to/from the tulip fields
Get off at the Conway exit (Exit 221) if you're coming from the Seattle area. If you're coming from up north of the Skagit Valley festival, I still think it's  worth it if you have the time to either drive down & start from the Conway exit or end up there on your way back to I-5. This will give you the full effect of the beautiful Skagit Valley as you drive along this road and you'll also pass the always popular Snow Goose Produce Market (great place to stop for ice cream cones!).
5) Bring boots for the whole family

Most likely, the fields will be VERY muddy as it is springtime in the Northwest, which typically means a fair amount of rain. Even if it hasn't rained for a day or two, all that dirt out there will still hold the rain (which makes for some fun, squishy ground to walk on if there's water underneath – almost like a trampoline we all decided) –but you will get dirty/muddy. But what kids don't love to tromp around in fields? Great fun for the kids! You might want to think about a change of clothes for the younger kiddos, too!
A reader also mentioned bringing plastic bags for the kids boots to go in after they are done wearing them. What a great idea! Plus, baby wipes to clean them up from any muddy falls.
Restaurants to Try:
Calico Cupboard Cafe & Bakery – One of my favorite restaurants in the Skagit Valley, as it's been a family favorite for years growing up,  is the Calico Cupboard and the great news is that there are 3 different locations. It is found in downtown Mt Vernon, La Conner, and Anacortes. This is a great place to stop for a baked goodie or for lunch.
Skagit River Brewing Co – This is always a favorite of those who visit Mt Vernon. My friends recently went to this restaurant for lunch on their visit up to the Tulip Festival & they loved it & said the food was delicious!
Skagit Valley Co-Op – This is actually a grocery store Co-Op but it also has a fantastic little deli/cafe, where you can get sandwiches, soups, salads, with organic & locally sourced ingredients. They also offer a number of vegan, gluten-free & more options. I used to go here for lunch when I worked near downtown & it was a favorite. You can either eat in the cafe or bring your sandwiches with you to go to eat on your tour of the fields.
Pacioni's – If you're looking for great pizza or Italian food, Pacioni's in downtown Mt Vernon is the place to go! My husband loved the calzones from Pacioni's and the pizzas are delicious (voted best pizza in the Skagit Valley).
Mexico Cafe – If you're looking for great Mexican food, plus a location right in the heart of tulip country, Mexico Cafe is your place to go! This is another one of our favorite restaurants in Mt Vernon that we regularly visited.
Snow Goose Produce Market – This is not a restaurant but a fabulous place to stop & get ice cream cones right in the heart of the valley on the way to LaConner (outside of Conway) – their ice cream cones are huge! They also have a nice produce market to check out with a wide variety of options. You will need cash for the ice cream cones, though!
Big Scoop Sundae Palace – this is an old fashioned ice cream parlor with great ice cream & sundaes plus it's a restaurant too. This place has been around since I was a kid and it's just a fun, happy place to visit.
More Places to Check Out:
Mt Vernon Street Fair – Typically the 3rd weekend of April (check on times each year),  Mt Vernon  puts on a Street Fair & I think this is a good one to check out as they have a wide variety of arts & crafts as well as entertainment, yummy food & more.
Christianson's Nursery – This is a high quality nursery in the Skagit Valley and it's a must-visit if you love plants & gardening. We used to love to go walk around this nursery & check out all the different varieties of flowers & plants they had.
Where are your favorite places to go when you visit the Tulip Festival? We'd love to hear any tips you have on visiting?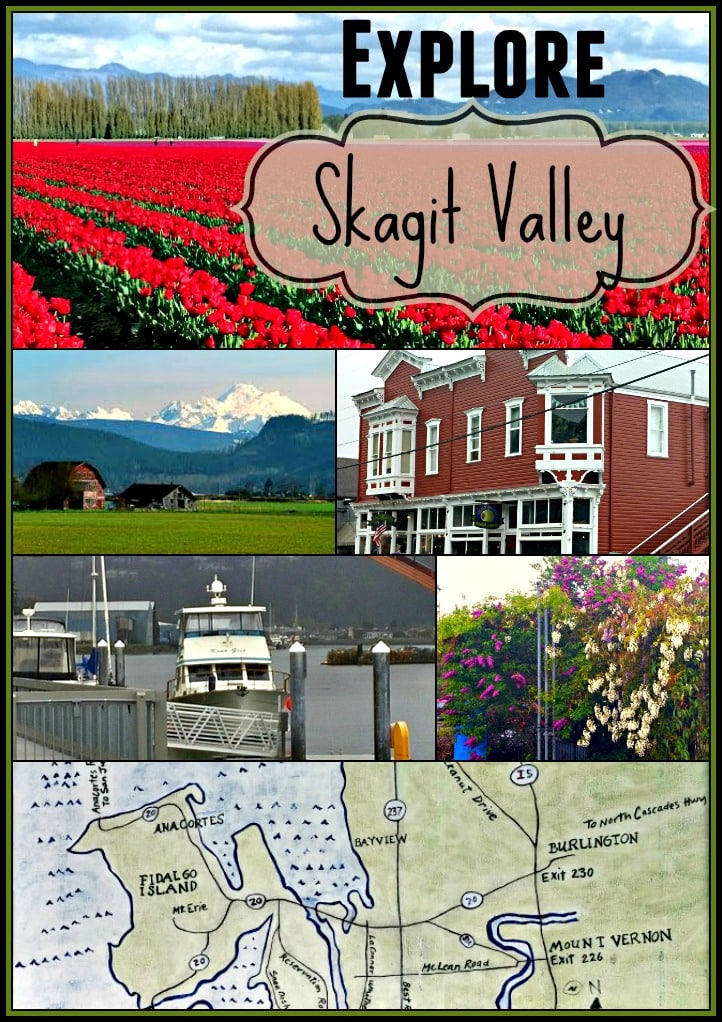 Check out our post about visiting Skagit Valley on a Budget too!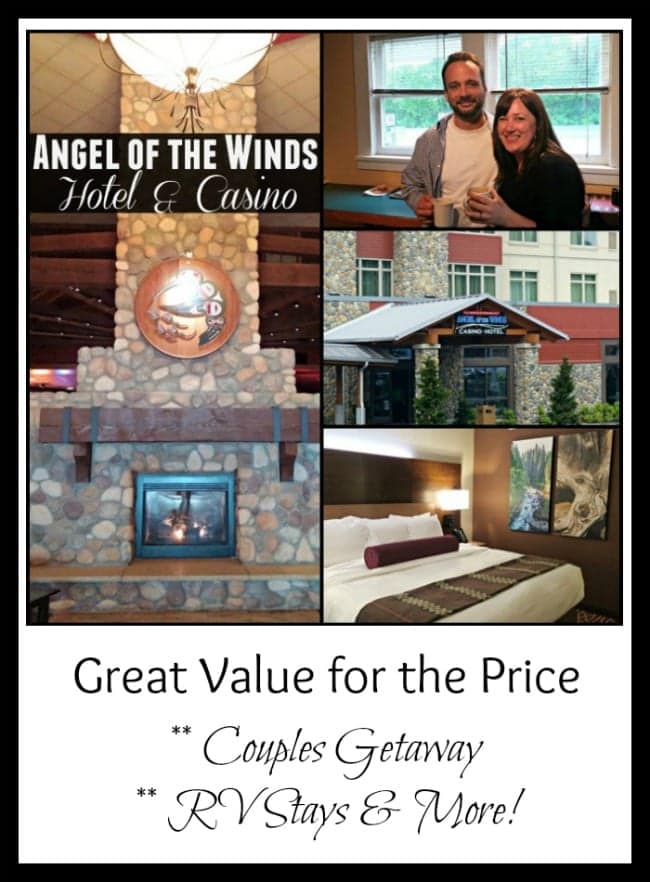 And a review of an affordable hotel in the Skagit Valley area – Angel of the Winds Hotel
Save