Cherry Blossom Viewing at the University of Washington – Tips on Visiting!
This post may contain affiliate links and I may be compensated for this post. Please read our disclosure policy here.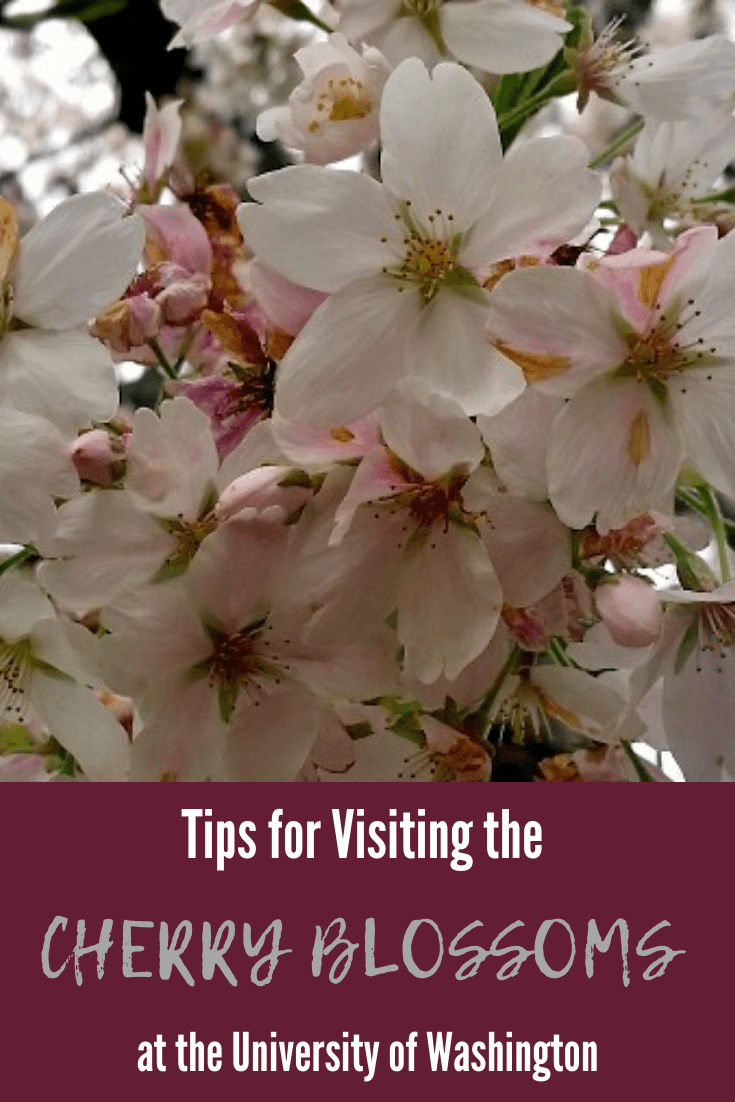 Cherry Blossom Viewing at the University of Washington
If you've never headed to the University of Washington campus to see the Cherry blossoms in bloom on the gorgeous, old cherry trees, it is an amazing sight to see in the springtime. The University of Washington campus has a special area on the campus called the Quad, which is a big grassy area right in the heart of the campus.
Just to give you a little history about these trees, they are Yoshino cherry trees, which originated from Japan & these particular cherry trees were once part of the Washington Park Arboretum across the lake, planted in 1939. However, they were in the section of the Arboretum which was in the path of the 520 bridge, so they transplanted them to the UW campus & all of the trees survived amazingly & are obviously thriving. They are now at least 80 years old, so these trees are very sturdy & large.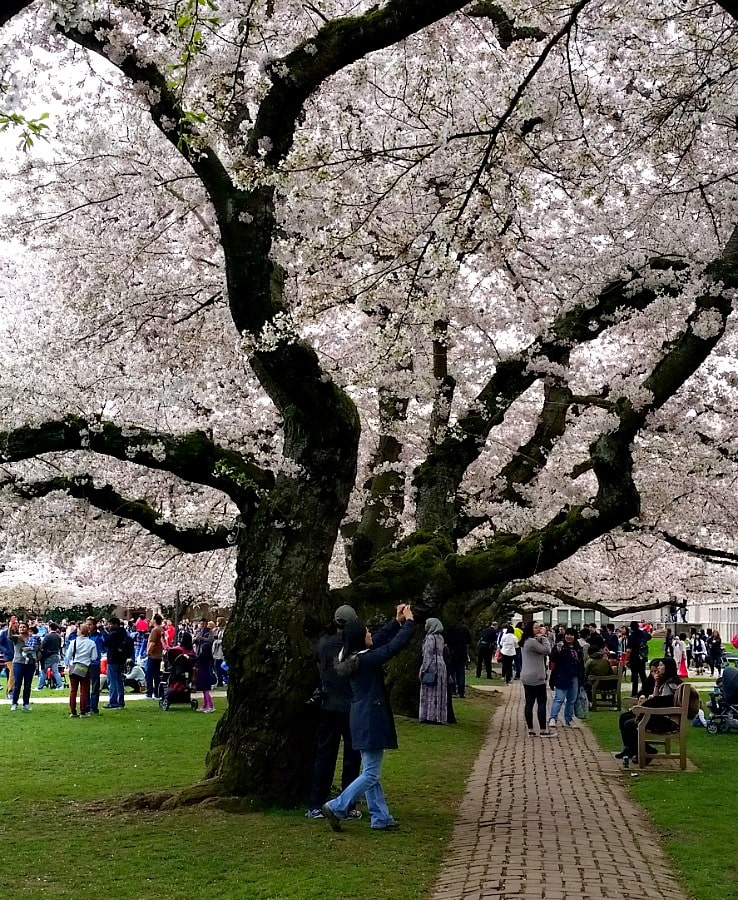 We headed there a few years ago to celebrate my mom's birthday for the day, as she graduated from the University of Washington years ago, so we thought  it would be fun for her to head there for a beautiful spring day & reminiscence about her years there. Little did we know that this would also turn out to be the prime time for the Cherry Blossoms to be in bloom and it was over the campus' Spring Break. We had planned to head first to the Arboretum to see the flowers & trees in bloom, but it was so crowded on that beautiful spring afternoon that we were unable to find any parking in the lots or close by, so we decided to head to the UW campus.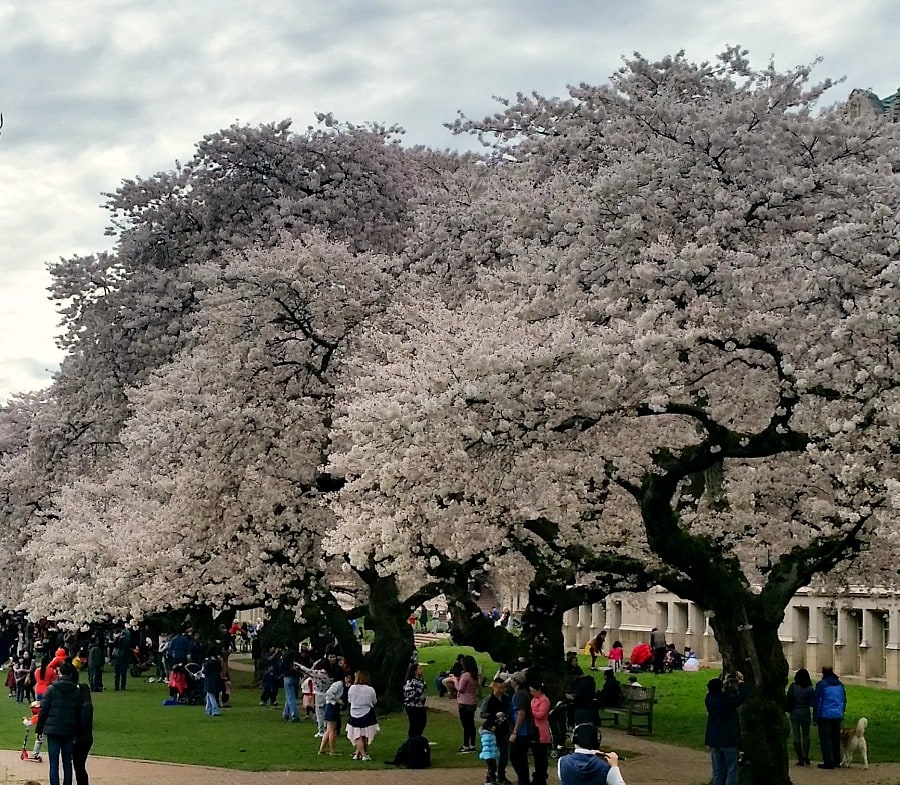 I'm going to warn you that if you head there on a beautiful spring weekend day during prime bloom time, you will probably see crowds like we did (as seen in my pictures). So, if you're not into crowds or want to get pictures without all the people, you'll need to head there either early in the morning or later in the evening or on a weekday. We kept thinking there must be a special event on campus as there were so many people, but no, everyone was really there to see the cherry blossoms!
What to See on your Visit:
Visiting the Cherry Blossoms can be a fun family activity or maybe you might prefer a stroll for an early evening date or even daytime date. We had the whole family, though, and our girls had fun walking around the campus and of course my mom loved going down memory lane & sharing her memories with us.  The whole quad area is beautiful to walk around & get different pictures from the different angles & buildings.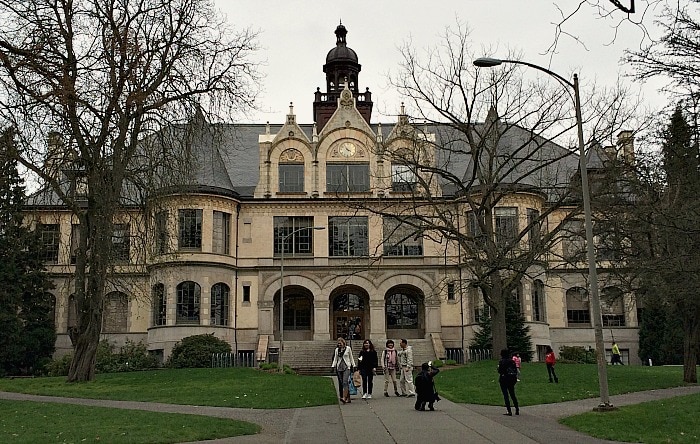 Not only is the Quad beautiful, though, but it's worth a tour to walk around the campus and view all the historic buildings. This is one of my favorite buildings to view, Denny Hall & it's right on the other side of the Quad. The Suzzallo Library is also impressive to check out as well and it is also very close to the Quad on the other side of it.
You can check out a map of the UW to see all the building locations.
When to Visit: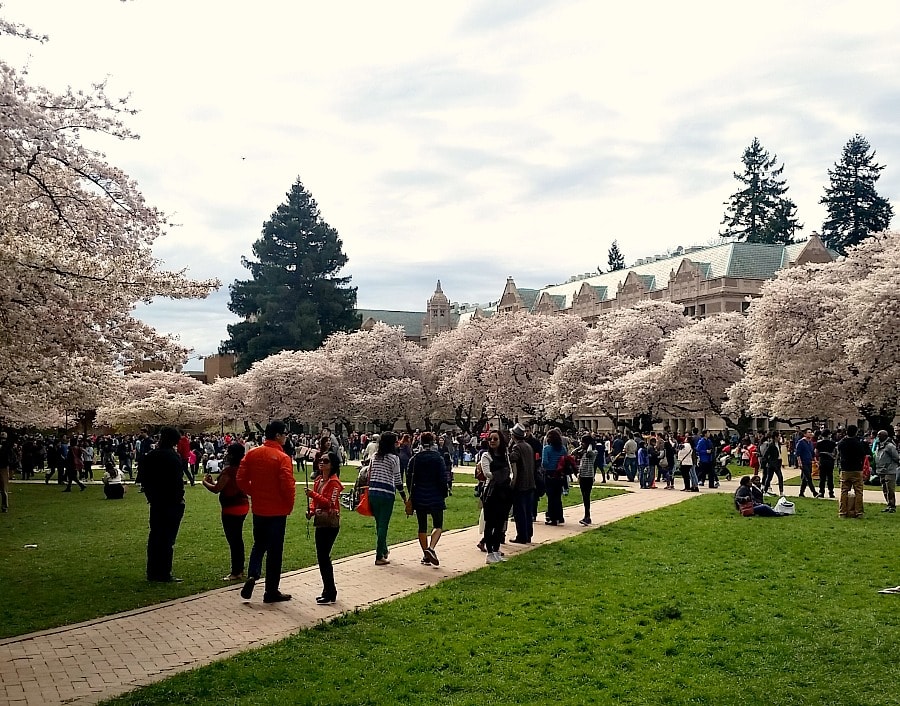 It will vary every year, but typically they say the 2nd or 3rd week of March are when the cherry blossoms are in peak bloom.  If you want to find out the latest on when the trees are in bloom, check these resources:
Keep checking those resources to find out when it will be in full bloom, although I'm sure it will be beautiful any time.
Parking at UW::
If you head to UW to see the Cherry Blossoms on the weekend, you can park for free on Saturdays after 12pm & all day Sunday. You will need to pay to park around campus at the other times, so make sure to check out information about the parking rates and the best places to park around campus. We parked near the Burke Museum on campus & then walked to the Quad from there.
More Places to Visit::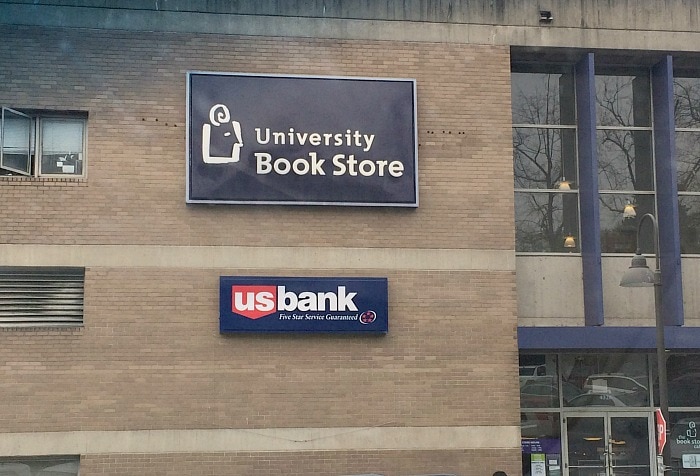 University Book Store – The University Book Store is a large bookstore that we always enjoy checking out, especially if you want to get any Husky gear. When we were there last year in March, we did find the best price we'd seen on Husky jersey's – as low as $25 after sales. So, you never know what you'll find.
Rent a Canoe or Rowboat to check out Lake Union from the University Recreational Sport Program. It's $9 – $11/hr to rent if you're not a student or alumni. We did this a few years ago for Father's Day & had a blast! Make sure to check out Sounds Fun Mom's review of their canoe trip around the Arboretum & Lake Union.
Arboretum for more Cherry Blossom Viewing – If you make a day trip of this, then most definitely head to the Arboretum across the bridge just 5-10 minutes away to take in all the beautiful cherry blossom trees & other blooming trees in the Washington Park Arboretum for sure! It was gorgeous there, too!
More Posts you might Like: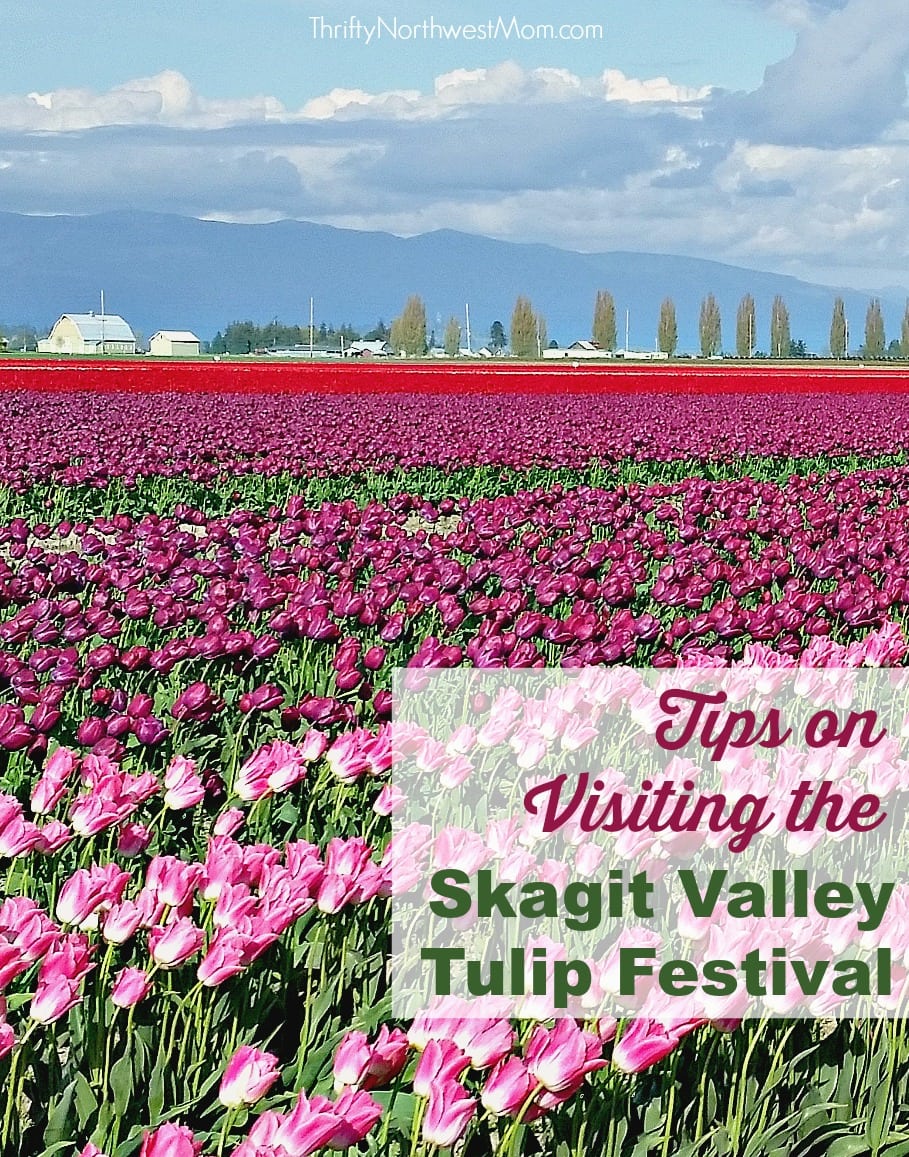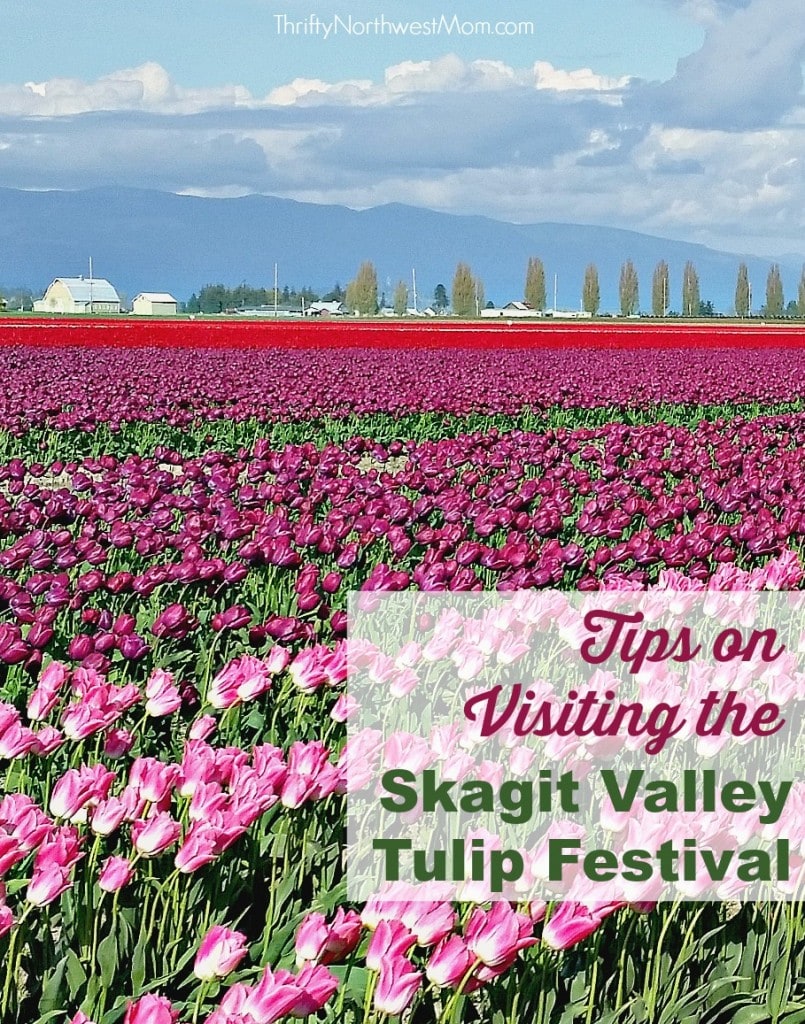 Skagit Valley Tulip Festival  – Tips & Places to Visit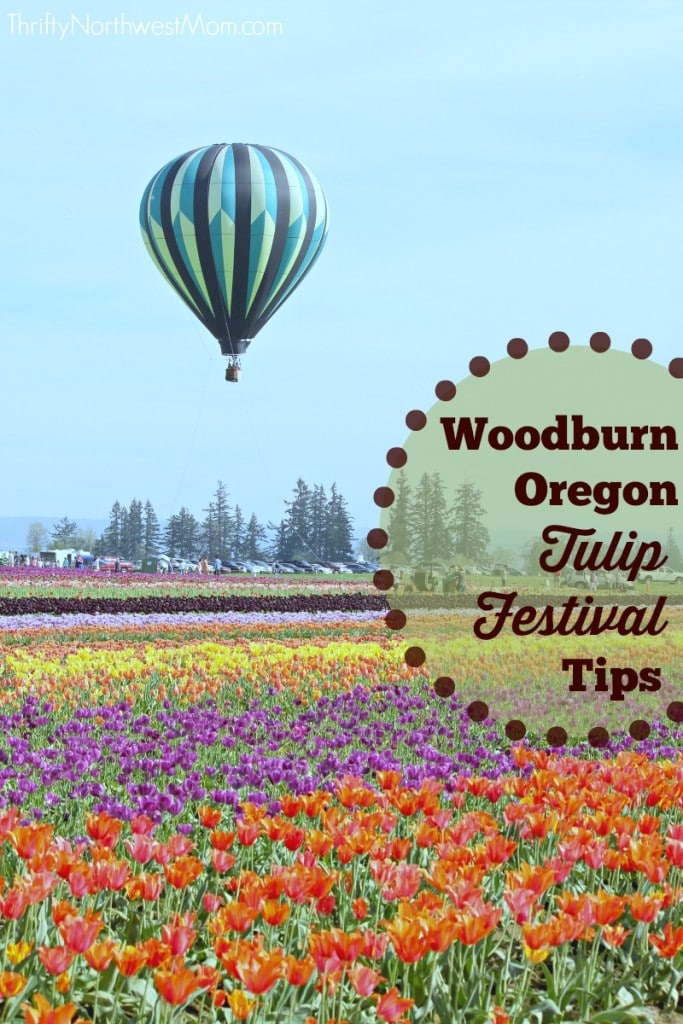 Woodburn Oregon Tulip Festival – Tips for Visiting the Wooden Shoe Festival