Woodburn Oregon Tulip Festival – Tips for Visiting the Wooden Shoe Tulip Festival
This post may contain affiliate links and I may be compensated for this post. Please read our disclosure policy here.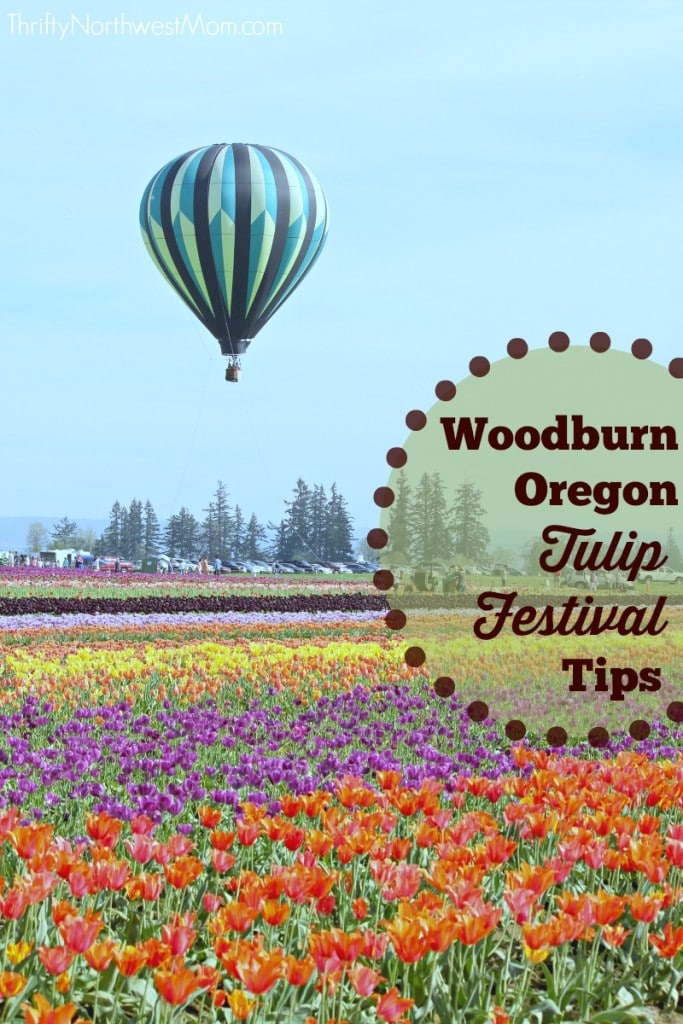 Woodburn Oregon Tulip Festival – Tips for Visiting with Kids
Spring is my favorite season and tulips are my favorite spring flower so I love a chance to go see beautiful fields full of tulips! We typically try to visit the Skagit Valley Tulip Fields every few years during the Tulip Festival (check out our Tips on Visiting the Skagit Valley Tulip Festival).
However, a few years ago, we took a road trip down through Oregon for spring break, and happened to be passing through Woodburn, Oregon on I-5, so we knew we had to make a stop as it was right in the middle of tulip season. And tulips are my favorite flower! Well, tulips and hydrangeas – those are my two favorites!  It's been years since I've been to this tulip farm, back when we lived in Albany, OR about 11-12 years ago, so it was fun to check it out again & I thought I'd share some tips on visiting this farm for those of you who want to visit the tulips!
It is definitely a must-stop if you live in Western Oregon or southern WA or if you are ever driving down I-5 past this area or headed to Portland for the weekend (less than an hour from Portland) as the tulip fields are so gorgeous and you can really make a fun day adventure of heading to the tulip fields for some family fun & amazing photo ops.
Make sure to check out their Facebook page to keep up to date on their dates they will be open & when the tulip bloom is expected. They have tentative dates until May 1st or around that time, typically, but it always depends on how long the tulips last!
Updates for 2022 Season:
The big change this season is that they will not be selling tickets at the gate – you will need to purchase your tickets ahead of time online. Tickets are available now online for all dates  -they are open from March 18 – May 1st, 2022.
All passes are sold by the day & hour – you must visit during that hour that you choose. But once you arrive at your ticketed time, you may then stay until 6pm on weekdays & 7pm on weekends.
Options for tickets include individual weekday & weekend passes, senior weekday pass & weekday & weekend family car passes.
Children 12 & under are free & do not need a pass. All tickets include a small online ticketing fee as well.
Individual Weekday Pass – $15
Individual Senior Pass – $10 (weekdays) , $15 (weekends)
Individual Weekend Pass – $20
Weekday Family Car Pass – $40 (limit of 8 adults per vehicle)
Weekend Family Car Pass – $55 (limit of 8 adults per vehicle)
Wooden Shoe Tulip Festival:
As I mentioned, it's been over 10 years since I last visited the Wooden Shoe Tulip Farm in Woodburn, OR and wow, has it changed! There are the same gorgeous tulip fields, but there is so much more to see and do there, that you could really make this a half day adventure – add in some shopping at the Woodburn Premium Outlet shops (my favorite place to shop at the outlets) or lunch or dinner and you've got a full day adventure.
What you need to know about visiting the Tulip Festival in Woodburn, though, is that while there are many fields & several farms that host the Skagit Valley Tulip Festival – the tulip festival in Woodburn is hosted by one single farm, but they do have 40 acres of beauty to enjoy and admire, plus all the activities we will share below. This means that you only have to drive to one spot and then can enjoy all the beauty just right there!
Where You Can Find It::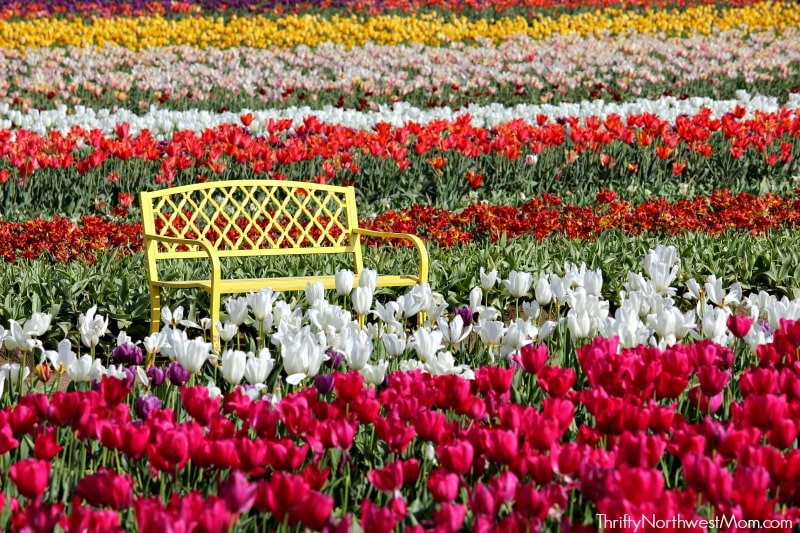 Address:
Wooden Shoe Tulip Farm
33814 S. Meridian Rd
Woodburn, OR 97071
Depending on where you are in Portland, it takes about 45 minutes – 1 hour south to get to the Wooden Shoe Tulip Farm in Woodburn. The farm is on the opposite side of the freeway from the Outlets & it takes about 10-15 minutes to get out to the farm. If you find there is a lot of traffic on the main road to get out there, try looking at your GPS on your phone & there are other ways to get there, too. Somehow we got a little off-track & ended up in the downtown of Woodburn (I forgot to put the actual fields in the GPS, just Woodburn) but then the GPS took us a gorgeous route thru the farms without any traffic at all. So there are definitely ways around the traffic if you're good with a map.
If you're coming from the Seattle area, it's about 3 1/2 hours to Woodburn, so about 2 1/2 hours from Tacoma. It's only an hour and a half to 2 hours for me to get up to the Skagit Valley from the Puyallup area;  however, as we've mentioned in our Skagit Valley Tulip Festival tips – if you're headed to see the tulips, weekends do get crowded with the numbers of people who visit on the weekend & traffic up in the Skagit Valley. So, if you do live further south in the Puget Sound area, you might want to consider heading south to Woodburn if you don't want to deal with the traffic as much. There will still be crowds
Admission::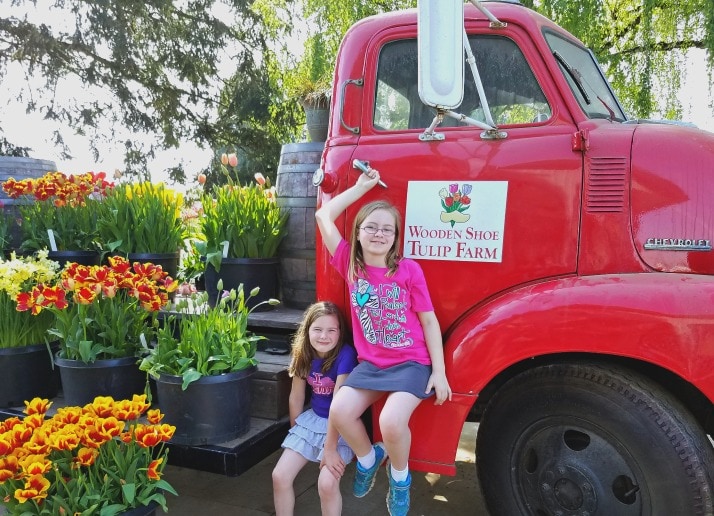 Activities to Do At the Tulip Festival:
The Tulip Festival has changed so much from when I last went 10+ years ago – it's now full of fun things to do while you're there – it's definitely more like a festival atmosphere. As I mentioned earlier, this is different from the Skagit County Tulip Festival since this is just the one farm (versus numerous fields and several farms with display gardens in Skagit). However, they now have plenty to do to keep your family entertained while you're visiting the tulip fields.
Not only can you enjoy the tulip fields & display gardens, but they have a wide assortment of activities for kids, almost like a mini carnival with bouncy houses, mobile ziplines & more. Plus, there are extra activities that adults will enjoy as well such as booths set up featuring arts/crafts, baked goods & more. There is also a Wine Tasting tent out in the middle of the fields if you'd like to enjoy trying different varieties of wine in the midst of the tulips. You can also find a tent where you can purchase tulip bulbs out in the fields as well.
Activities included with Admission: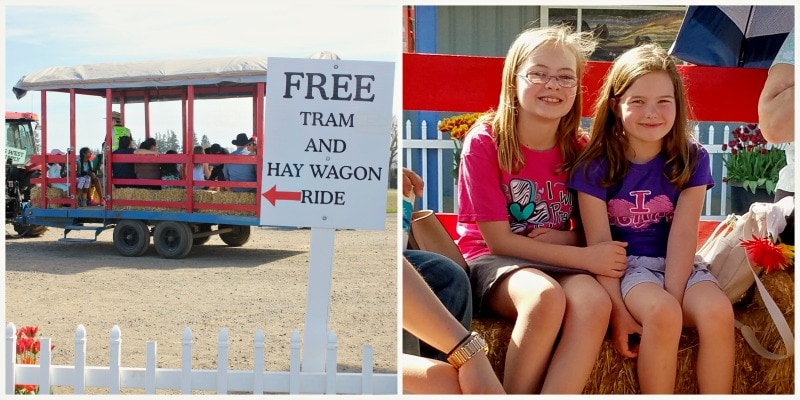 Tulip Fields & Tulip & Daffodil Display Beds
Parking
4 acre flower gardens
Tram or Hay Wagon Ride to get out to the fields from the main buildings – you can either walk or take the tram or hay wagon. If you need to be closer for accessibility, they do allow parking out closer to the fields, too
Children's Play Area – duck water races, tire swings & farm made slides
Wooden Shoe Making Demonstrations (this is on weekends only)
Activities with an additional cost (many of these are fee based, so be sure to check on the current rates for each one):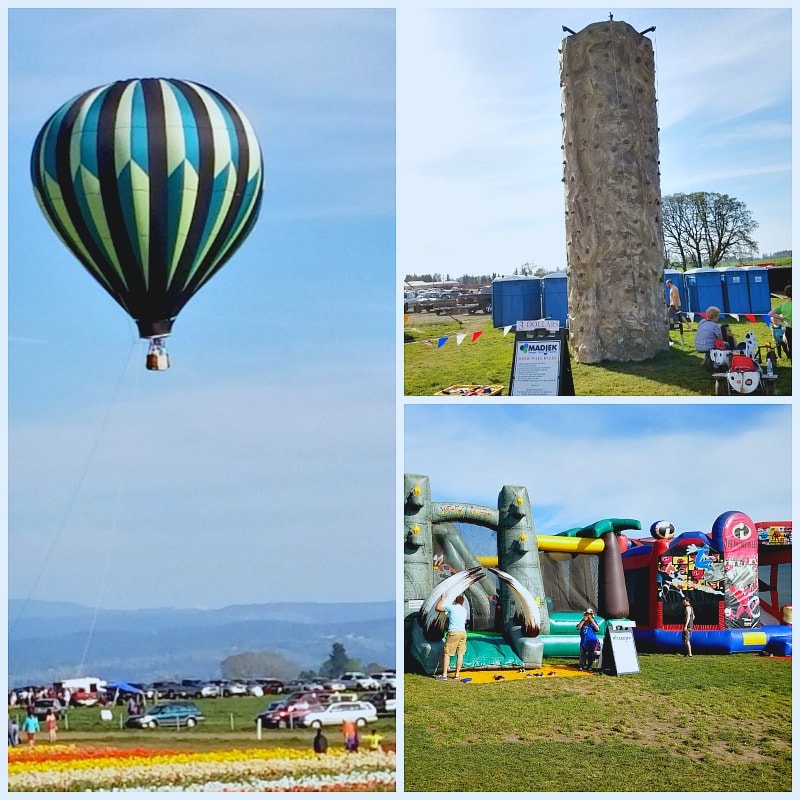 Hot Air Balloon Rides (offered occasionally) –  you can fulfill a dream of going up in a hot air balloon. It doesn't go far – it is tied to a rope in the field but it's still pretty cool and a great photo op if this is something you've always wanted to do but can't afford the cost to go on a full ride. This is run separately from the tulip farm and they do not always know when they will be there until a day or so before, so you will want to keep an eye on their Special Events page or Facebook Page to find out when they might be coming.
Cow Train for Kids – 6 minute ride thru the tulips
Tour Train – 15 minute ride thru the tulips
Climbing Wall –  (I'm not sure how long you can climb)
Mobile Zipline
Trampoline Jumpers
Bouncy Houses –
Wine Tasting Tent – this is out in the tulip fields as well as in the main building from Wooden Shoe Vineyards.
Zombie Truck Paintball
*Some of these activities may just be available Fri- Sun. Check out this page of activities to see which ones are during the week or weekend.
Tips::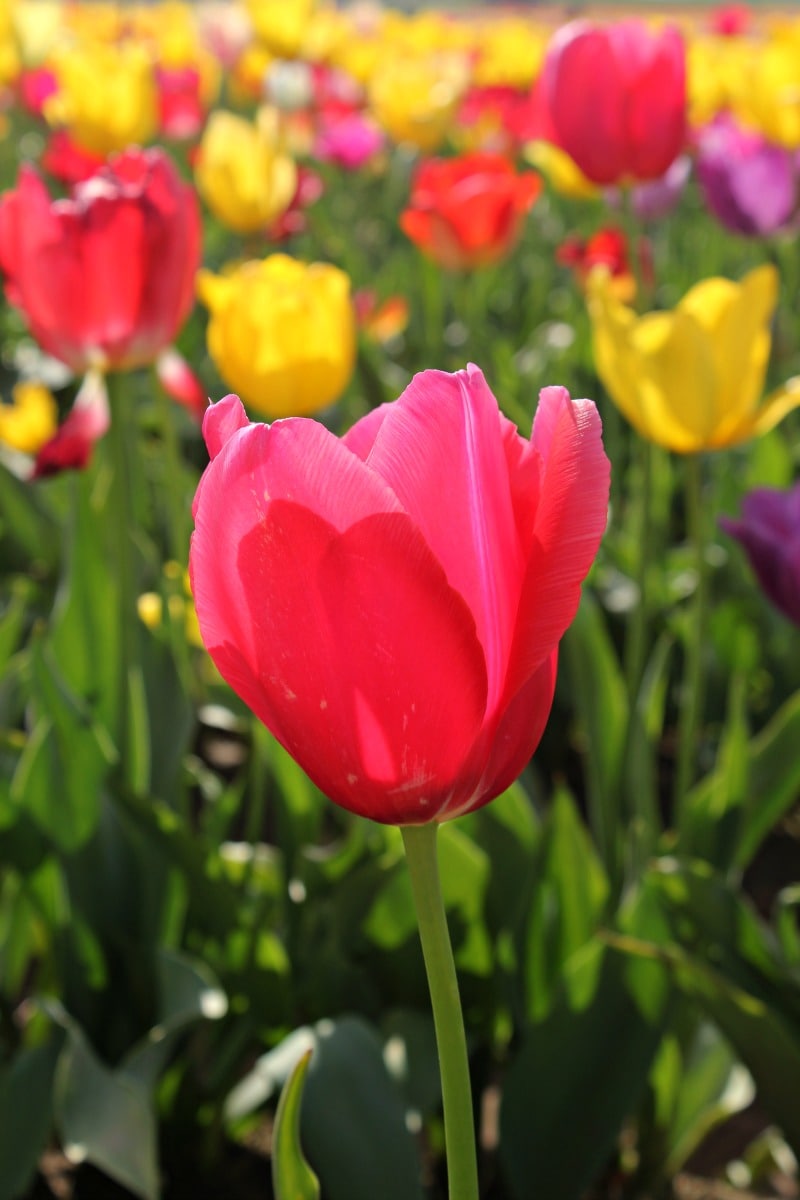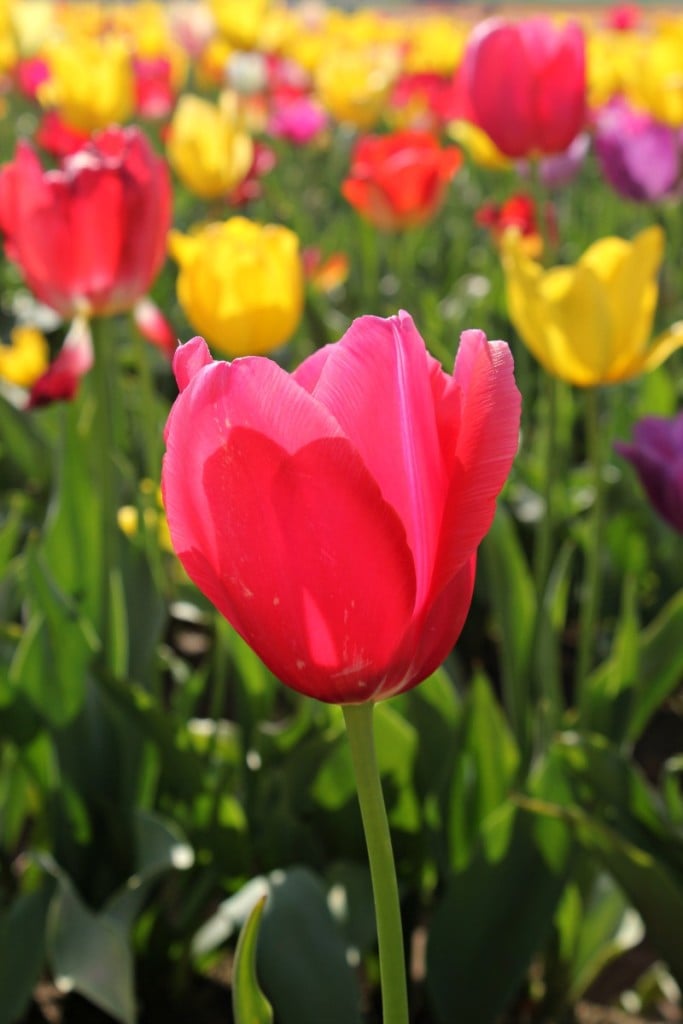 Visit early in the day or late in the afternoon if you're headed there on the weekend. Weekdays are best for the least number of crowds. –  We were there on a gorgeous Friday afternoon, though and even though there were quite a few people in the field, we didn't have to wait for a hay ride or wait in long lines for food. So, I think the crowds are still much lower than Skagit County. (however, I have not been there on the weekend to know for sure)
Budget before you go – There are a number of activities that do cost extra, so make sure you factor that into your budget before you go to decide what you want to do.
Bring your own food or drinks to save money – food & drink prices are higher (similar to carnival/fair prices)  so think about bringing your own. Especially water – I got really thirsty being out in the fields on a warm day, but they are not able to offer cups of water (farm rules, they said). So it was $2-3 for a bottle of water. I just went to our car & got a water from our cooler (as we keep it stocked on road trips). Ice cream started at $4 for soft serve & $6 for single scoops in a waffle cone. They also offered elephant ears, hot dogs & more. It sounds like there are more options on the weekends, too.
Bring your pooch – we did see folks with their dogs in the fields which made for great photo ops in front of the tulips! They do say that dogs are allowed as long as they're on leashes (and I'd make sure they are well-behaved and not tramping over the tulips). But we thought it was a great place for pet lovers to get some cute photo ops
Bring boots for the whole family – if it's been raining recently, make sure to bring along those boots for the whole family. Tulip fields can typically hold the moisture for awhile, so it can be extra muddy. It had been sunny for several days when we were there, so there was no mud at all. But, I'd always be prepared! A reader also suggested plastic bags to put those muddy boots in on the way home too! And wet wipes to clean up little kiddos who get dirty/muddy.
Bathrooms – If you do visit the Tulip Farm, just be aware that they do have port-a-potties to use instead of regular bathrooms. I am not a fan at all of these, but I have to admit that they did seem more clean than normal & they had hand-washing stations right next to them. But, if you don't like to use these, find a bathroom before you go.
Things to Do Around the Area::
Woodburn Premium Shopping Outlets  – there are 110 shops at the outlet stores. Shops including the Disney Store, Build a Bear outlet, Coach, Nike, North Face & more. Best of all, Oregon is tax -free shopping – so if you're from out of state, this is a great time to shop when you can save more by not paying tax! We always save our big shopping for OR for the tax free shopping. (And make sure to check their website before you go for money-saving printable coupons)
Historic Silverton – Not far from Woodburn & the tulip farm is the quaint, picturesque town of Silverton, OR. There are beautiful Victorian buildings & homes, fun shops & galleries, restaurants & more in this small town.
Oregon Garden – Silverton is also the home of the beautiful Oregon Gardens. We went here several times when we lived in OR & they are just beautiful in the spring time so this would be another great place to visit if you can't get enough of the flowers. The Frank Lloyd Wright Gordon House is also located in Silverton – it is the only Wright designed house open to the public in the Northwest. Oregon's oldest covered bridge, the Gallon House bridge is also located in Silverton.
Mt Angel Abbey – If you love beautiful architecture, I've heard from friends that Mt Angel Abbey is a beautiful monastery & beautiful grounds & gardens as well. They are open for visits if you would like to explore the Abbey & the grounds.  This is on the way from Woodburn to Silverton.
Silver Falls State Park – This popular state park outside of Silverton is about 40 minutes away from the tulip fields and it's the largest state park in Oregon. It has 10 waterfalls, including one waterfall you can walk behind. This is an awesome park to visit, so I highly encourage a visit here if you are coming to the area for the weekend.
Portland – Since the Tulip Farm is only about 45 minutes away from Portland, it would make a great weekend trip to head to Portland and stay in the city & then drive down to see the tulips for a few hours while still having plenty of time to explore Portland.
Here are some helpful posts if you're visiting the Portland area::
Have you been to the Woodburn Tulip Festival? What are your tips or suggestions of where to go around the area?