Pottery Barn Easter Baskets On Sale – So Many Cute Options!
This post may contain affiliate links and I may be compensated for this post. Please read our disclosure policy here.

Pottery Barn Easter Baskets On Sale – So Many Cute Options!
If you are asking when do Pottery Barn Easter Baskets go on sale, well that time is now! Currently you can save up to 40%, and there are some really cute options. They are offering FREE Shipping on many of these items too, and you can choose to personalize your basket for an extra $15 as well.
We love Pottery Barn Easter Baskets, as they hold up well over time. So they are a nice investment, as you can save them and use them year over year. Another really nice feature is that you can personalize the Pottery Barn Easter Basket liner too, to give your baskets that extra special touch.
Another thing I love, is that you can order the Easter basket one year, and if you want to update it for following years, just order new Pottery Barn Easter Basket Liners! That way you have a fresh Easter Basket at a much lower cost over the years too.
A fun (and practical) idea I have seen some use, is to fill backpacks instead of baskets for Easter. That way you can reuse the backpack year round, but still add all the goodies you want to. If this idea is of interest to you, we share Pottery Barn Backpacks on sale here too.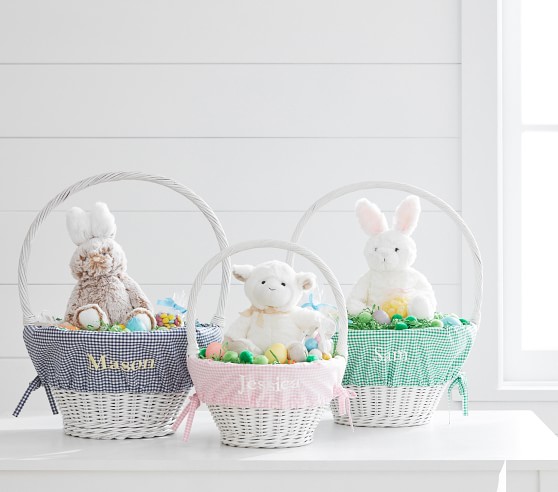 Here are Pottery Barn Kids Easter Baskets on sale currently:
You can check out all of the Pottery Barn kids Easter Baskets on sale here too.
Find these white woven Easter Baskets on sale for $24 here. What is great about this style is that you select which liners you like to go with your basket.
These woven style treat buckets (with no liners) are also on sale for $23 and can be personalized too.
These felt bunny baby bags are not on sale yet, but are a best seller (and selling for $29 and free shipping) if you are interested. Since you do not need seperate liners for these ones, they are a cute alternative.
Pottery Barn Easter Basket Liner Options:
As mentioned above, one of the great things about the Pottery Barn Easter Basket Liners, is that you can personalize them! To get personalized liners in time for Easter this year (2023), you will need to place your order by 6pm (PT) on 4/3, so keep that date in mind. Personalization costs and extra $15.
Find the Gingham Bunny Face Easter Basket Liners here starting at $11.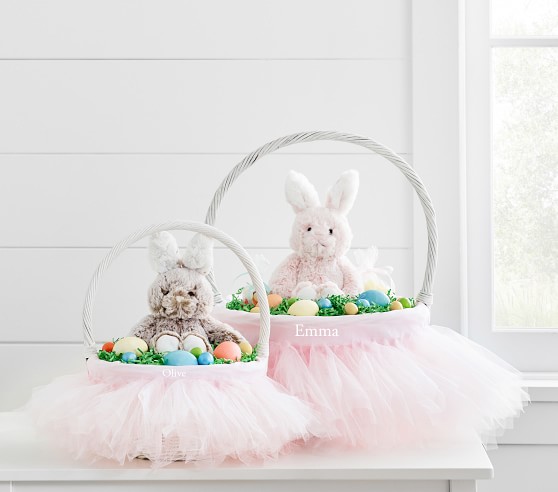 Find lots more Pottery Barn Easter Basket Liner options on sale here too!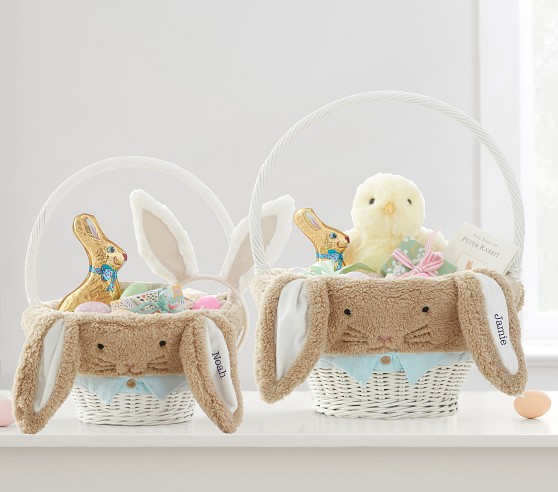 I love these long eared floppy styles on sale here as well.
How to Make a Really Cute Filled Pottery Barn Kids Easter Baskets:
I mentioned earlier that I love the Pottery Barn Easter Basket because they are great quality baskets. Here are some ideas you can use to make the cutest Easter baskets that you can use over and over each year. So grab the baskets while they are on sale now, and then save by reusing them in each year to come! Here are my favorite tips to do that:
1- Buy Your Pottern Barn Easter Basket on Sale here!
Easter Baskets from the Pottery Barn are of a great quality and they will hold up over time. Chances are you will only have to buy it once, and can reuse it year over year if you take care of it and store it well. The best possible deal in my opinion is to grab these quality baskets when they go on sale. That way you are saving on the price, and also buying something that will last over the years.
2 – Choose your Pottery Barn Easter Basket Liner. 
The big question here is whether or not you want to invest in personalization. It will be a larger up front exxpense, but personally I love this option for the long term. It makes it easy to remember which basket belongs to which kiddo over the years, plus it makes the baskets more memorable for your kids too!
3- Fill your Baskets! 
Lastly, you will want to fill your baskets with all the goodies kids love. We do share some non-candy Easter Basket ideas here.
Or find plushies you can add to your baskets for just $3.50 here, or Easter Squishmallow ideas here too!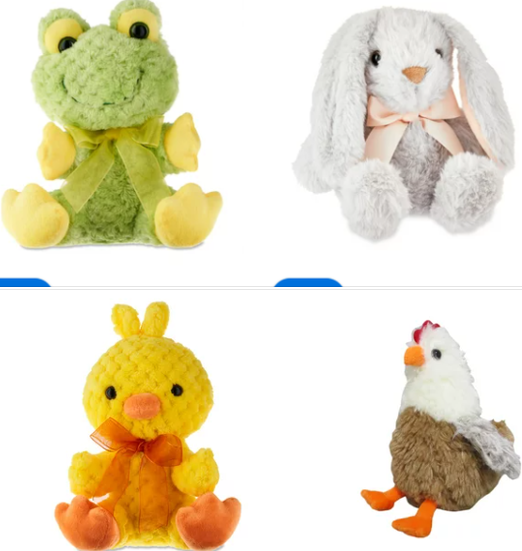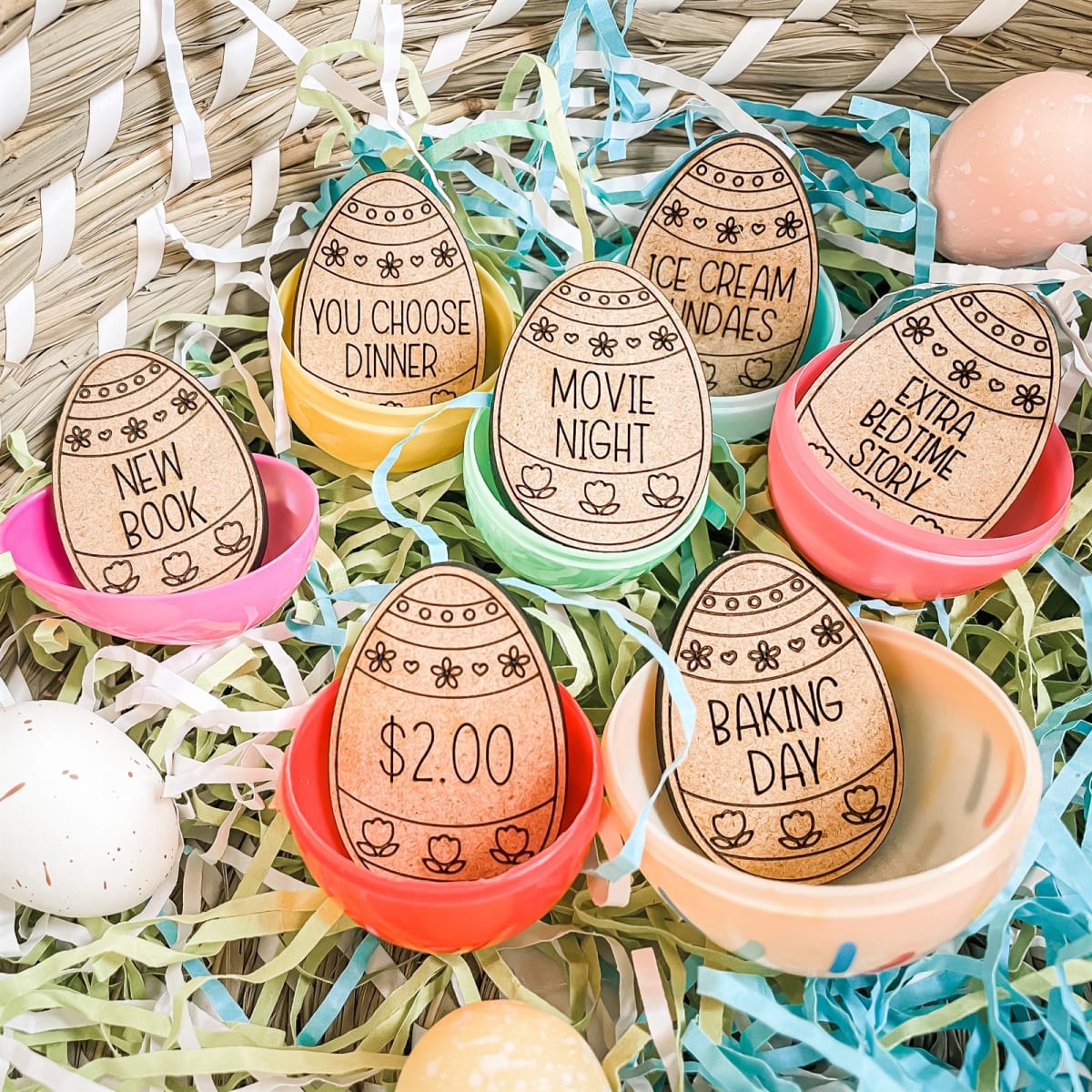 Another idea I love, is to fill your kiddos Easter Basket with experience ideas. Give the gift of experiences in their Easter basket rather than stuff by grabbing these 22 tokens to use – including a few blank customizable ones!