Thrift Store Shopping: Tips & Tricks to Finding Treasure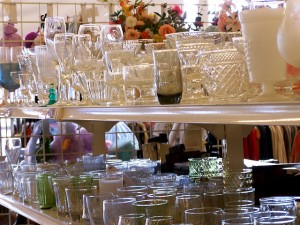 Guest Post by Reader Stacey:
Reader Stacey is an avid thrift store shopper & she has volunteered to share her best tips for shopping the thrift stores. She also shares some pictures of her recent fun finds from her local thrift stores.  We also had a great discussion about thrift store shopping on the Thrifty NW Mom Facebook Fan page – you  can check it out HERE.
If you want to find some amazing stuff for very little money, and your willing to put some effort into it, thrift store shopping is for you.  Here are some tips and tricks to make your thrifting fun and successful!
1)      Look at it as a treasure hunt. Make a list of items you are looking for and what you are willing to pay for it before you go.  Always keep an eye open for that unexpected find as well.  It can be an adventure.
2)      Scan your local newspapers for thrift store coupons. I have even found coupons on the back of grocery story receipts.  Many of the shops also have daily deals; so keep up on your favorite stores.
3)      "Mom and Pop"- smaller thrift shops, and charity shops are the best. They have lower prices and often have the most unique and high quality finds.  You must be diligent about going each week to find what you're looking for.  I've come out empty handed for weeks and then, boom!  Suddenly have 10 items in one trip.  Don't give up. Midweek is often the best time to visit.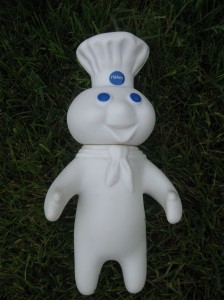 1979 Pillsbury Dough Boy – $1 (selling online for $20-28)
4)      Leave no area unturned.  I used to go only to my favorite section – clothes.  But after looking around in other areas, I realized what I was missing.  For example, when my daughter was little she loved stickers.  We were heading on a vacation, and I wanted to get her a bunch for the trip, but found them pricey for the amount I wanted. (We're talking multiple pages of art created daily with hundreds of stickers).  I wondered through the bric-a-brac section, and there was an enormous bag of over 5,000 stickers.  It looked like someone emptied their 20-year collection, and the price?  $2.00.  Now, I check EVERYTHING.
5)     If you really want an item, don't wait. I've learned from experience that if you want it bad, someone else does too.  However, if it's something your willing to wait on, or aren't willing to pay the asking price for, check back the next week.  Chances are if it's still there, the price will be lower.
6)      In the area of clothing, (my passion is fashion in thrift stores), keep on the look out for high-end classics, and trendy items in good condition. A quality item is made to last and will stand the test of time, so find classics. Meanwhile a trendy item is also a wise thrift purchase, as it will go quickly out of style.  Purchasing a trendy thrift store find is a great way to try something new without wasting a lot of money.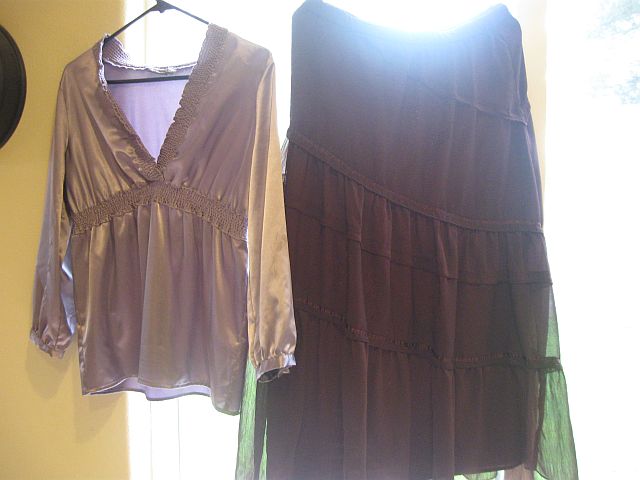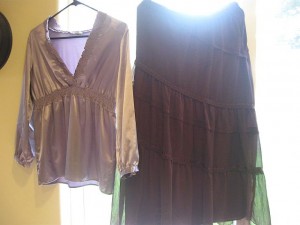 Apt Nine top and skirt from the 99 cent clearance rack.  The top still had tags but had a smudge on the sleeve…it came out!
7)      Don't skip the clearance rack. Some of my favorites (as pictured) came from that rack for almost nothing!
8)      Think gifts. Sometimes you'll come across a brand new item still in the box or with the tags.  If it's something someone would like, who's going to know if came from a thrift store?  My favorite Ann Taylor black cardigan sweater was $14 at a thrift shop.  The tag listing its original price as $69.00 was still attached.  I waited until Super Saturday and purchased it for $7.  Thifting is also one of my favorite ways to get "little kid" stocking stuffers and Easter basket gifts.  They don't care that the Barbie isn't in the box!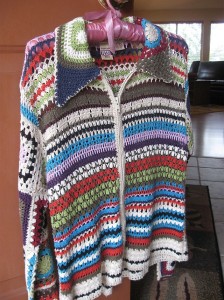 I saw this Fossil "Vintage" brand sweater in Macy's last year for $175.00.  I got it at a thrift shop this summer for $8.00
9)     Speaking of kids, I know that it's nice to have time to browse without them, but do bring them once in awhile. It will help them grow up to be "thrift wise" instead of "label snobs".  My middle-school-aged daughter and I have shopped thrift stores since she was little.  Now, she loves it as much as I do.  She gets so excited when she finds something, (especially a fashion find), that she can incorporate into her own style.  She is also responsible for find my prize Pillsbury Doughboy for just $1.00!
10)  Finally, if you love it, but it's got a stain, decide if the price is worth the risk of trying to get it out. 95% of the time I've gotten stains out of items when I thought I could get them out.
O.K.!  You have the tools and the motivation…now go shop!
Cooking Light Recipe Collection Cookbook – $2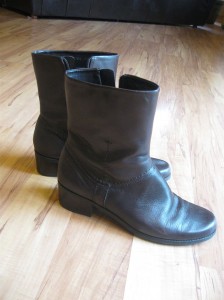 Bandalino, Itallian leather ankle boots.  Classic and quality.  $5
Stacey is a freelance writer and mother of two. She enjoys yoga, power walks, hiking, and of course….bargain hunting.  She has written a cookbook, "It's All Good without Gluten", which will be out sometime this year, and she's currently finishing up her first novel.  Make sure to check out Stacey's blog – The Gluten Free Pastor's Wife.
Photo Credit (top picture)