Port Gamble Wa – a historic town that sits on the Kitsap Peninsula, and makes a wonderful day trip or getaway. Find our favorite things to see and do here!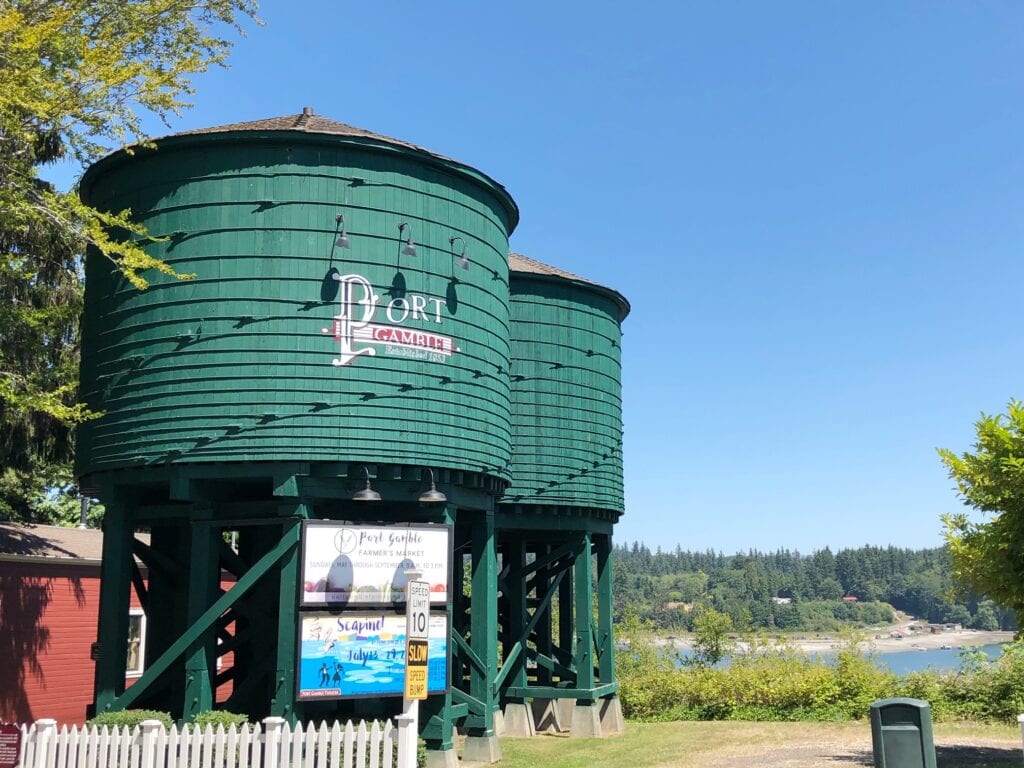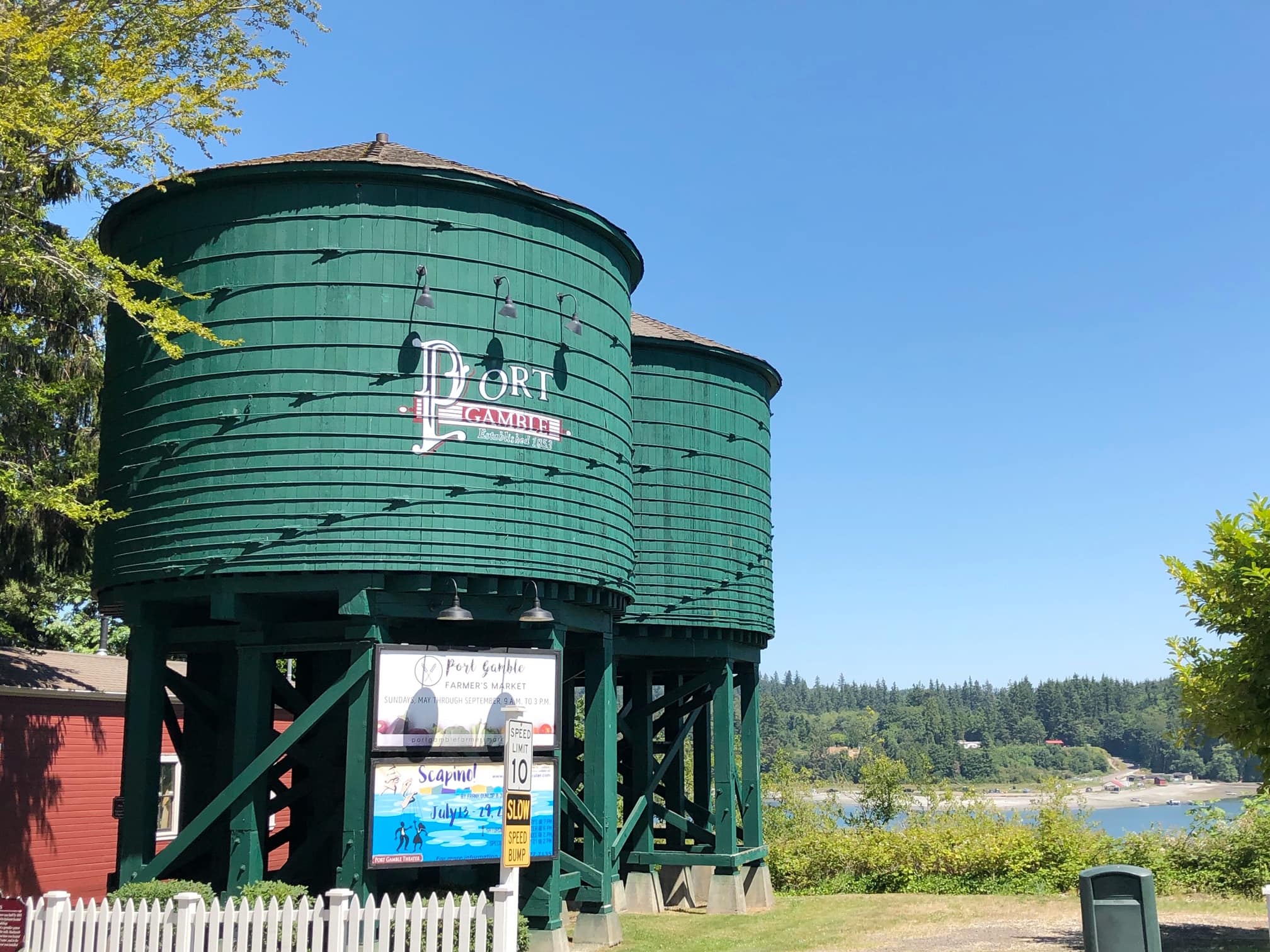 Port Gamble Wa. – Historic Town on the Kitsap Peninsula
We spend alot of time over on the Kitsap Peninsula, and it is packed with beauty as well as the history of this area too. One of the places you will see beautiful reminders of this history is Port Gamble Wa. Port Gamble is a National Historic Site, and located on the Kitsap Peninsula, at the start of Hoods Canal. It is easy to get to from the Edmonds/Kingston Ferry if you are coming from the Puget Sound area. It is an old mill town, which has been restored and is picturesque now. I have family with homes in Kingston and Hoods Canal, so we have visited this spot many times on our trips over to see them. It is one of those towns that we always bring guests too, if they are making a trip over to this area of Washington.
It is a tiny town, and you can go just for an ice cream stop, or lunch, or spend much longer here catching a theater show and exploring the museum. It is a popular destination for events like weddings too, but there is lots to do for just a quick day trip too. Here are some of the things we love to do in Port Gamble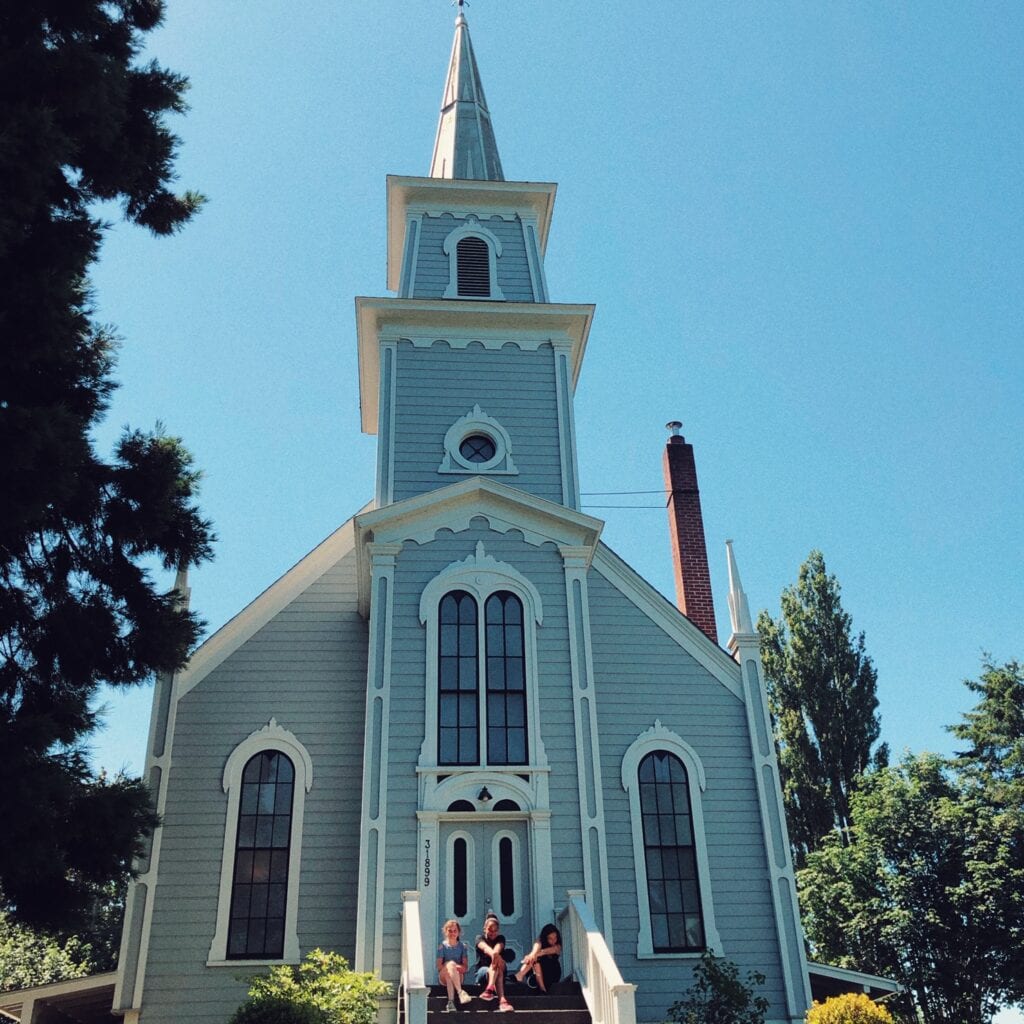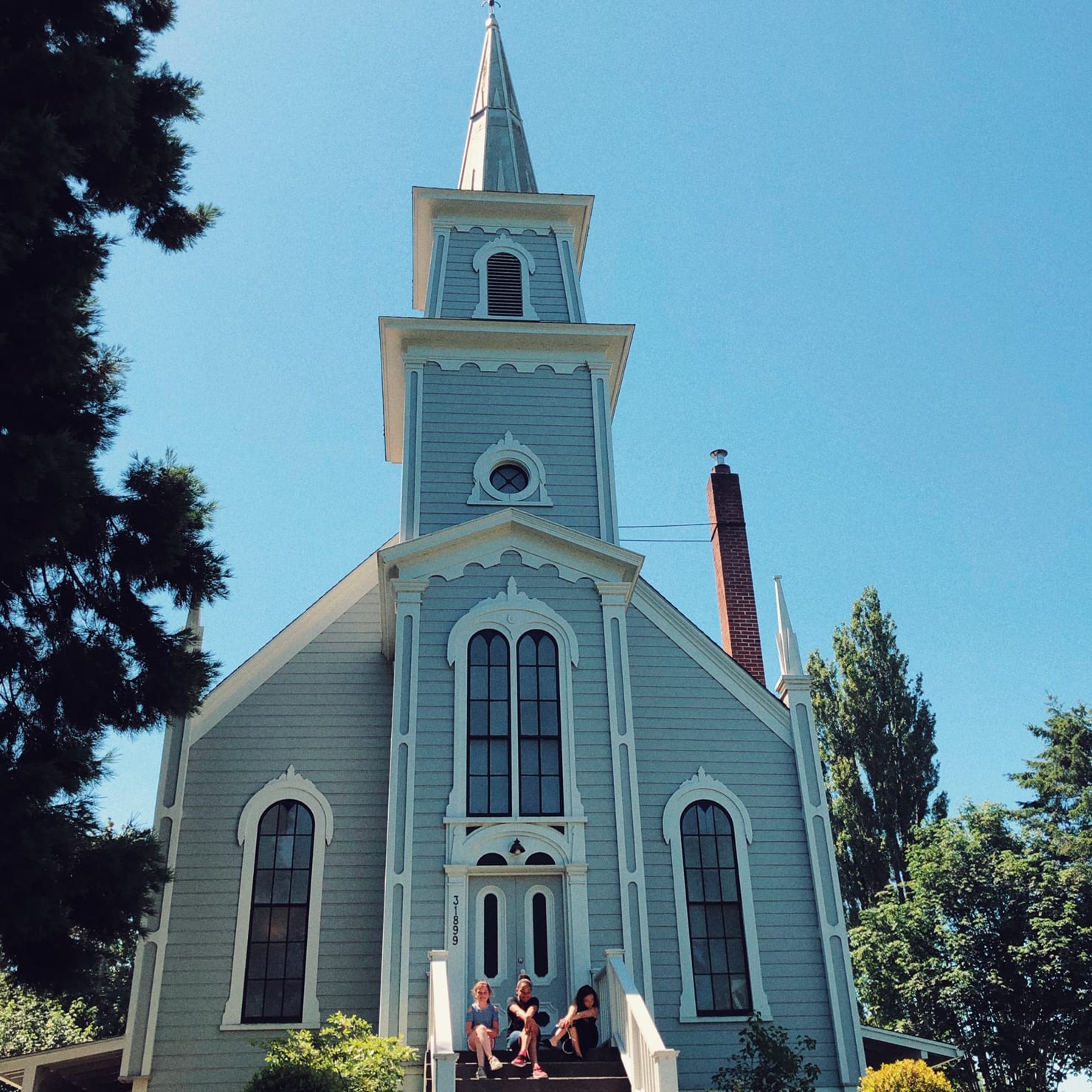 The historic church, St. Pauls is a beautiful. It is an operating church and open to the public (you can find their schedule here). 
A Few Highlights to Explore in Port Gamble Include: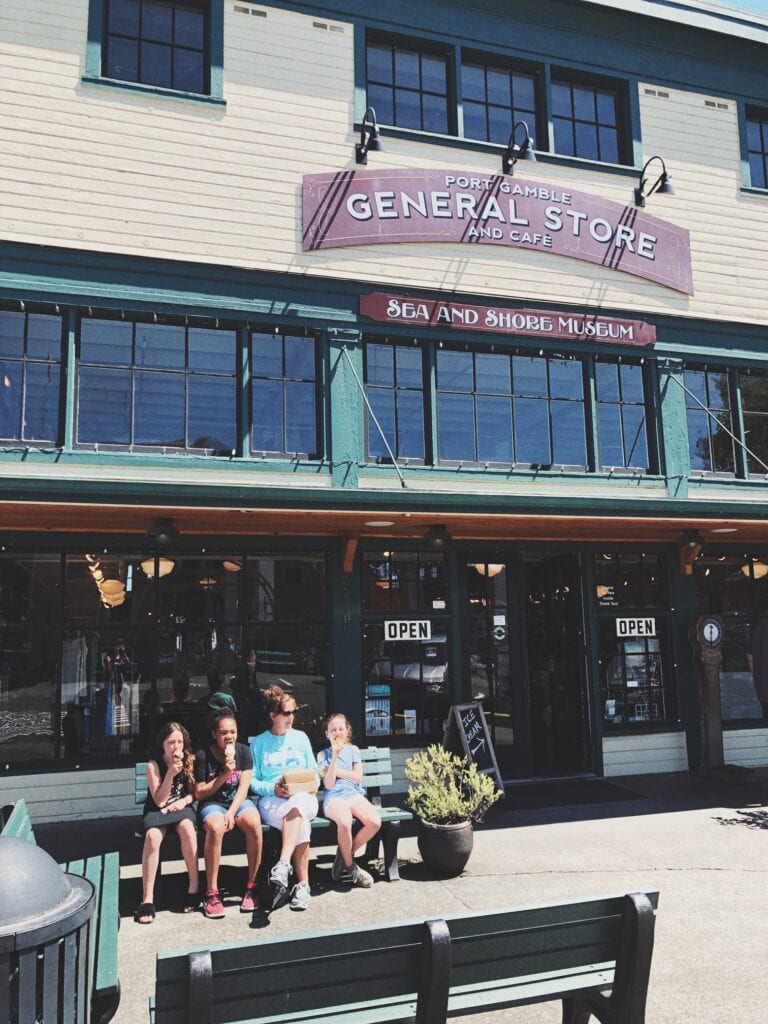 The Port Gamble General Store is the heart of the town in my opinion. We always make a stop here when we are visiting the area. There is a fun little store inside with ice cream, candy, home decor, souvenirs and more. The other thing we love about the General Store is the second story is full of different sea shells and skeletons of sea creatures. It is free to go up there, and walk around end explore it all! My kids head up every trip we make into town.
In addition to the sea shells and creature skeletons you can see on the second story of the general store, there is also a history museum down below. It does require a small fee to get in there, but if you love history it is a good one. Find details on that here.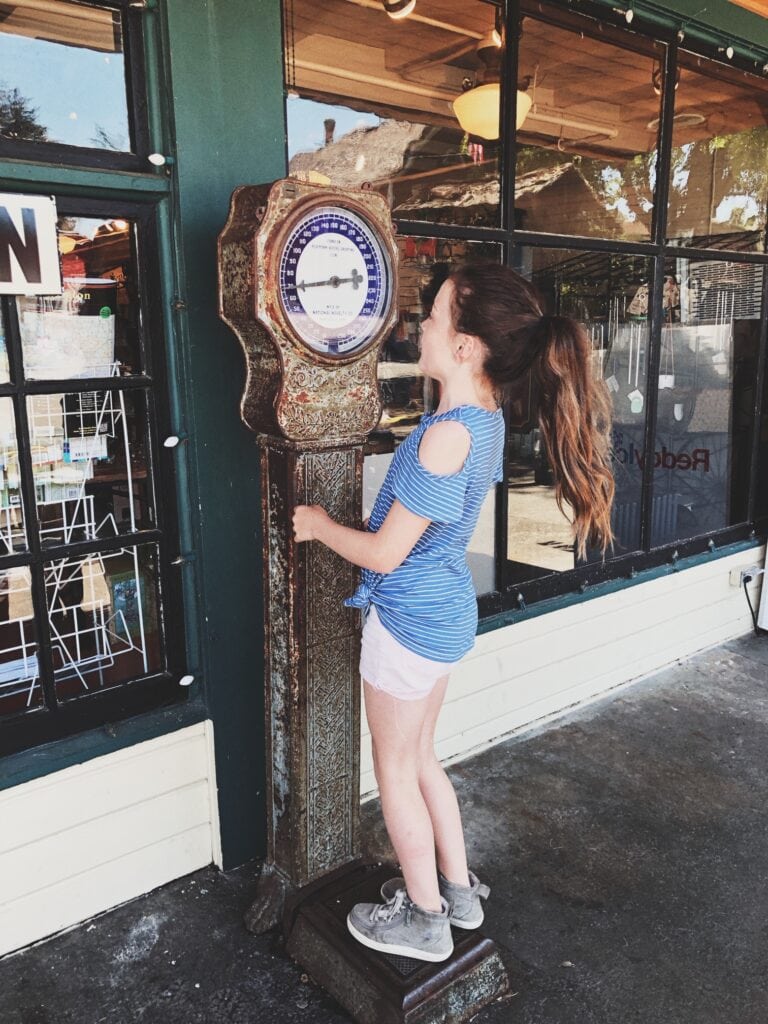 For some reason, my kids love this old scale out front of the General Store too. I avoid it, but they jump on it and giggle and have lots of fun. It makes for great pictures too,
Port Gamble Restaurants
Restaurants can change in this area, but here are currently a few we like (and a couple of these have been around for quite a while).
Port Gamble Cafe – is located inside the General Store and is open for breakfast and lunch, and you can enjoy views of the sound while grabbing a casual meal.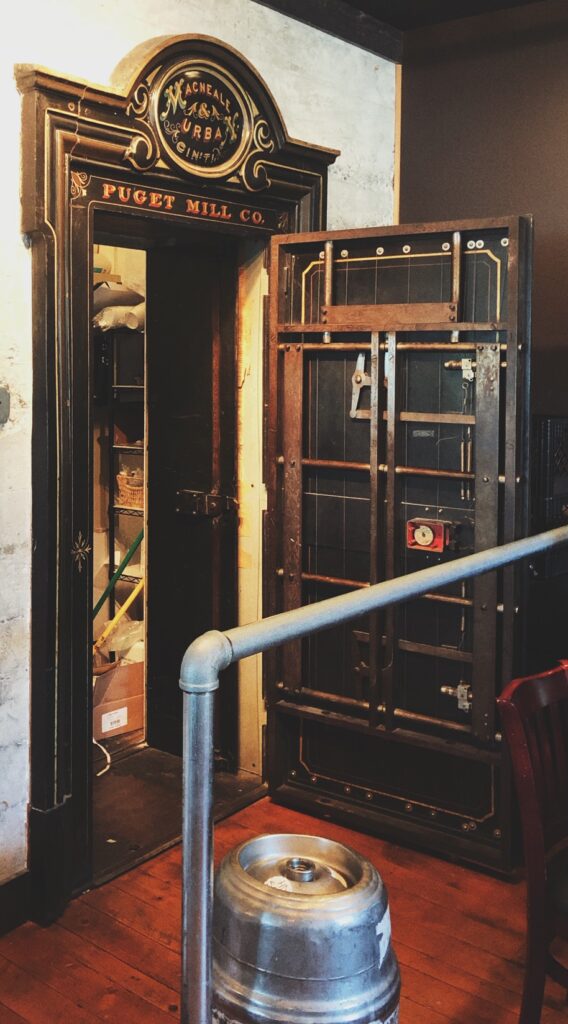 (this fun old mill door is part of the Scratch Kitchen, setting a fun rustic ambiance here)
Scratch Kitchen – if you are looking for some fish and chips, or burger and sandwich type meals, this is a good option. They have lots of brew options on tap as well, and you can get seated at spots with waterviews too.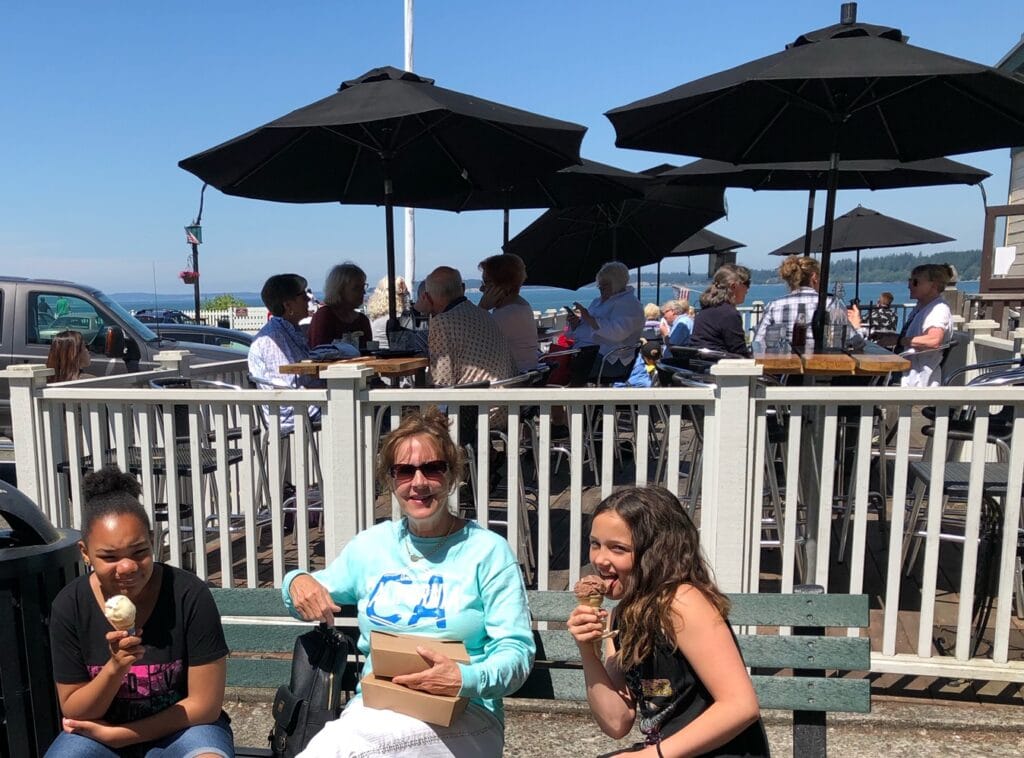 They have indoor and outdoor dinner options available (weather permitting).
Butcher & Baker Deli / Cafe – this spot is full of delicious looking soup, sandwich and other deli type items. I love to grab some specialty cheese and sliced meat, and a great bread for a picnic on the beach some days.
**Update – it sounds like Mrs. Muirs is now closed. We will hope another tea house opens up soon!
Mrs. Muirs House – Tea Room & Treasures – I love doing tea with my girls and grandma (three generations!) in Port Gamble. There used to be a different tea house that we would stop in for a girls day out. I have not tried Mrs. Muirs just yet, but they do get good reviews and we always thought this was such a fun spot to have tea that we wanted to make sure folks realized there was still a spot to do that.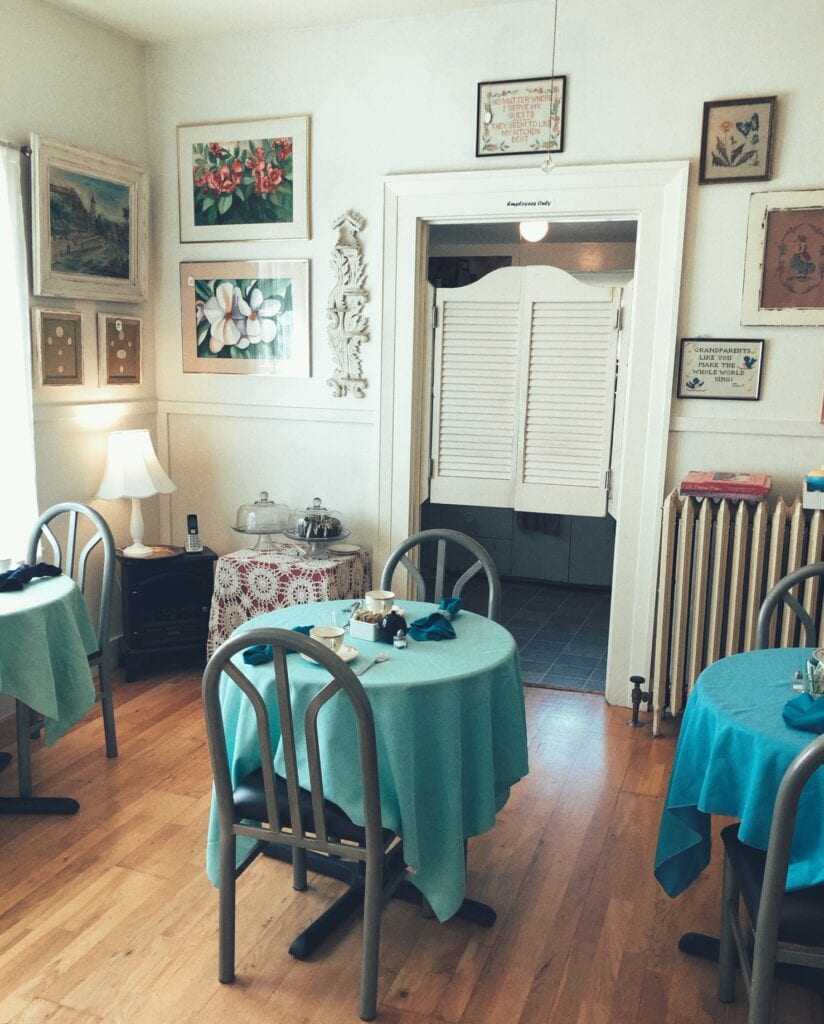 We did peak inside, and it smelled wonderful. Here is the room they have set up for tea time. You can check out their menu here.
The Port Gamble Theater
The Port Gamble Theater, is a quaint historic theater that provides some great family friendly theater options, that will not break the bank. They also offer dinner shows, if your looking for something a little more special. Find their current schedule of events here, if you want to add a theater experience to your visit.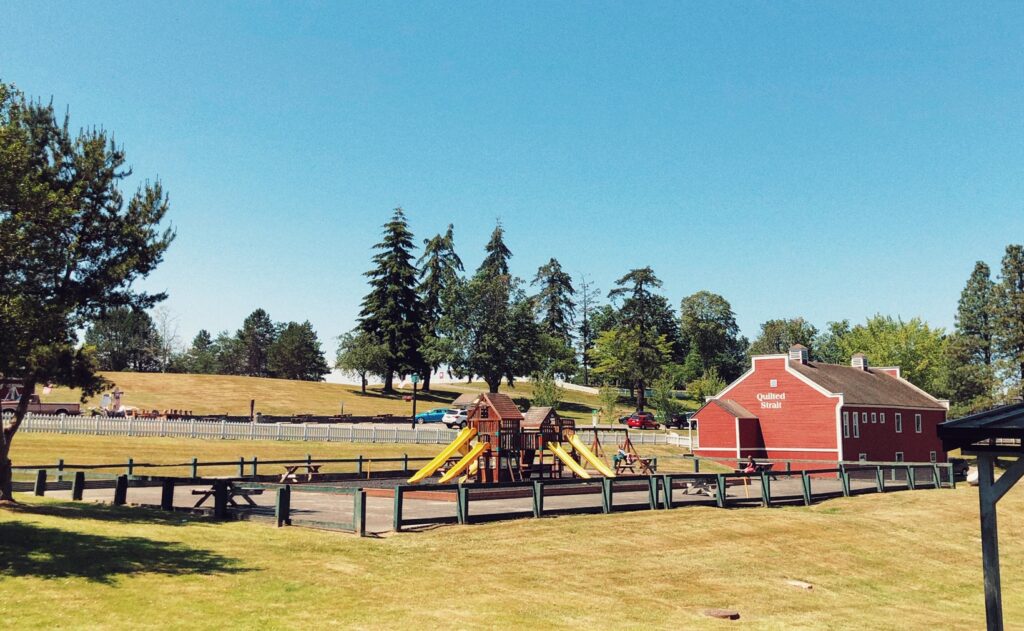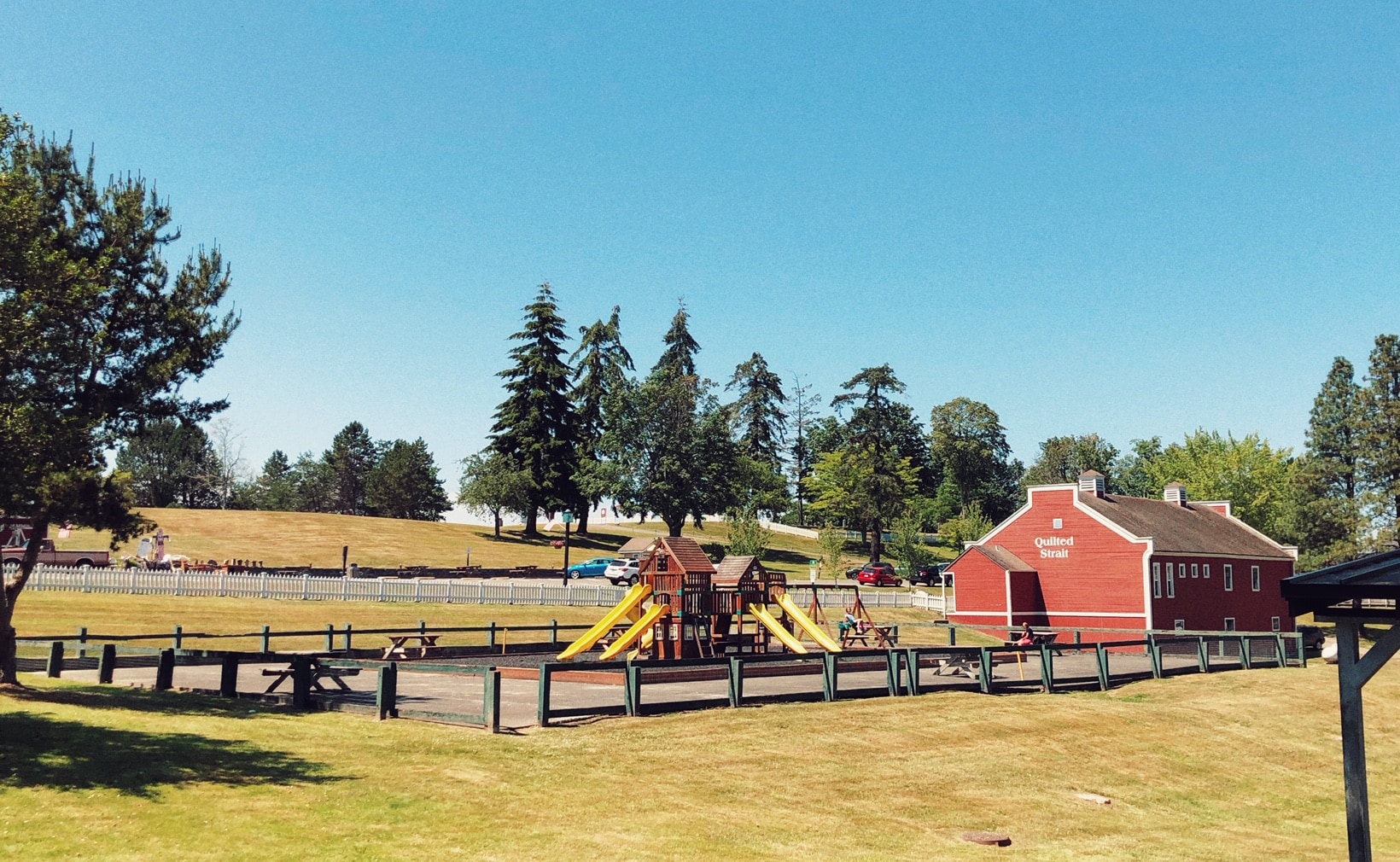 On the other side of all the shops is this nice green space, that includes a playground for kids to enjoy. There is bench seating, and a wonderful sandwich shop across the street (coffee too) if you want to enjoy  a meal picnic style while the kids play.
Shopping in Port Gamble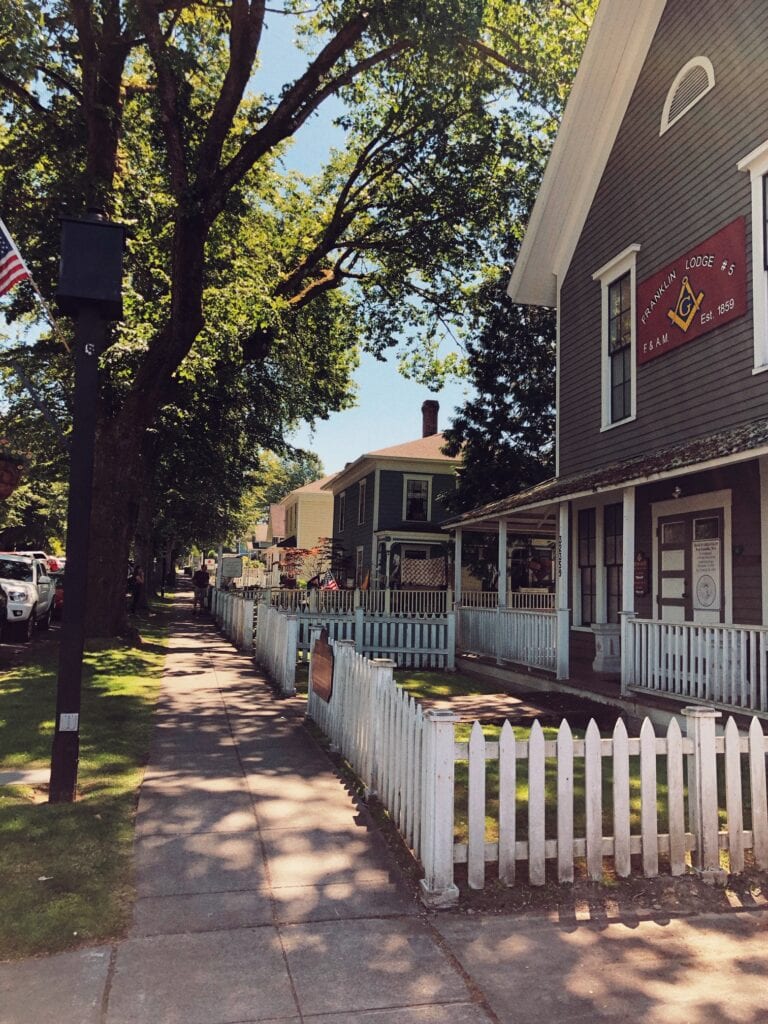 There are some fun shops to explore while you are in town. The street is lined with some fun stores and eateries. Find everything here from Imports, to home decor, specialty food and wines, vintage and a large yarn shop. There is a store filled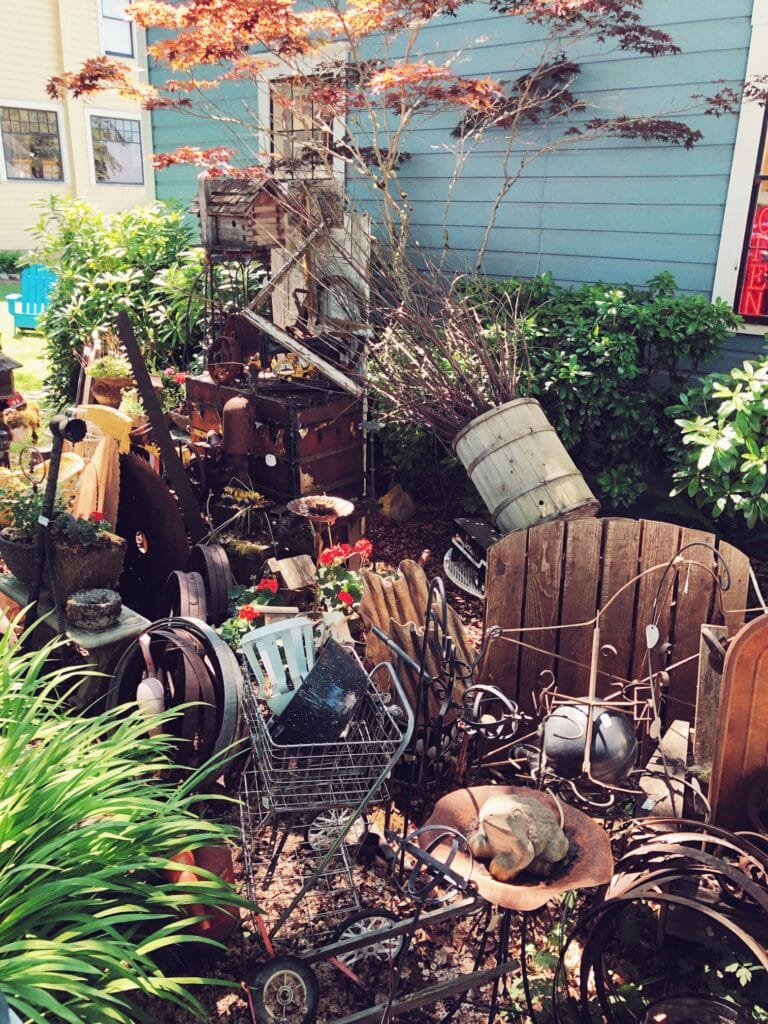 I have found some fun items to add to my own house in some of these shops!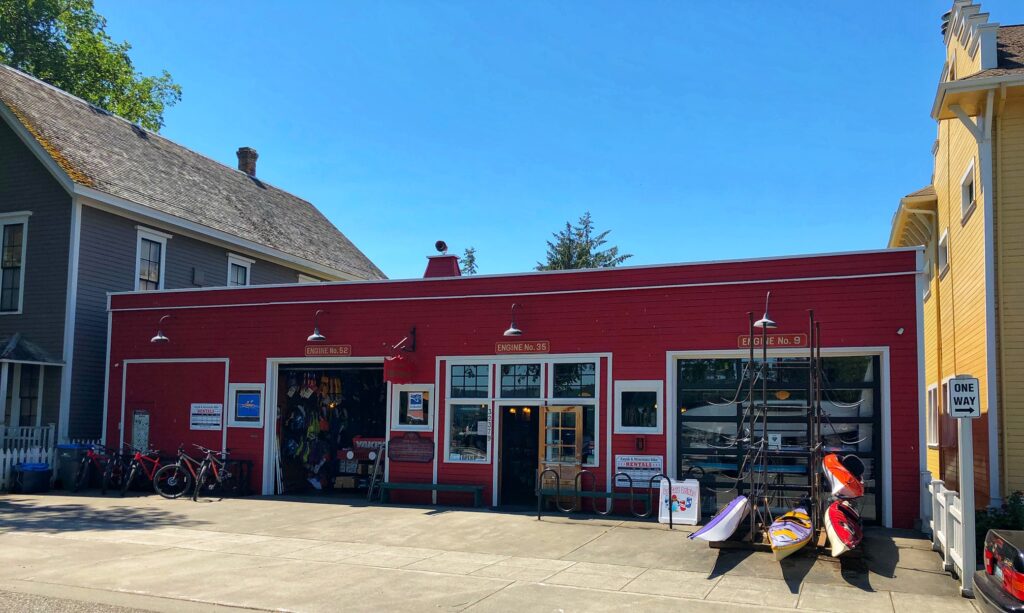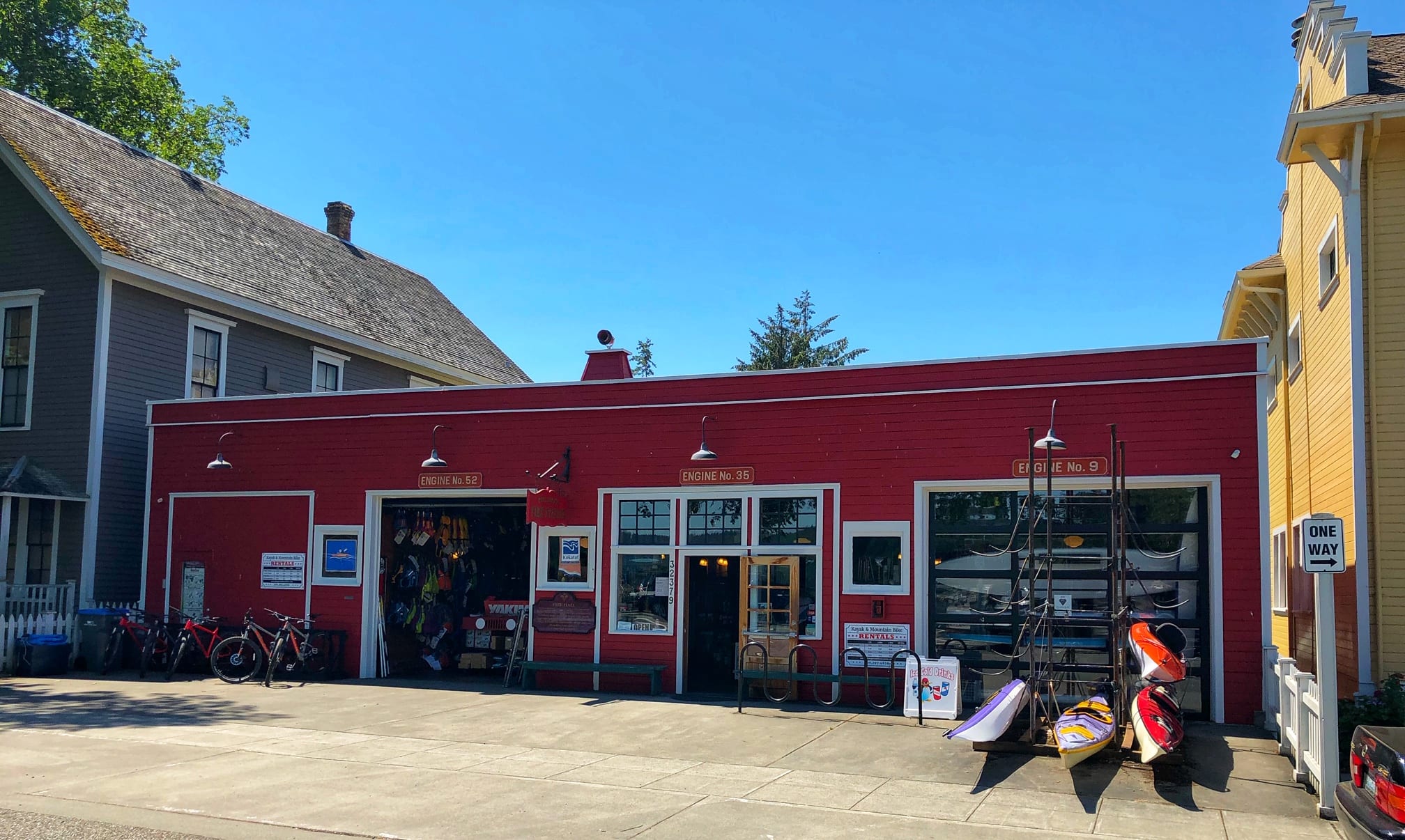 You can even book kayak or bike tours, or other outdoor adventures, right in town at the Olympic Outdoor Center (in the old firehouse I believe).
If you like to be outdoors more, there is also a tree farm owned by Port Gamble that has trails available to explore. You can find a map of what is currently open here.
Have you been to Port Gamble Wa. before. What is your favorite thing to do in the area?
For more ideas on places to visit on the Kitsap Peninsula check out our travel page here!
A couple of other favorite spots in the area include: