Hansville Wa – Lighthouse, Beach, Trails, Horse Drawn Carriages & More!
Hansville is another tiny town on the Kitsap Peninsula, which offers lots to do for the size of the town. My parents went to a very small church in this town for years, so we have spent many weekend days enjoying the beaches, the lighthouse, walking trails and more. It is one that I would definitely recommend adding to your itinerary if you will be exploring the Kitsap Peninsula.
Here are some of the things that are great to explore and experience on a stop in Hansville, wa.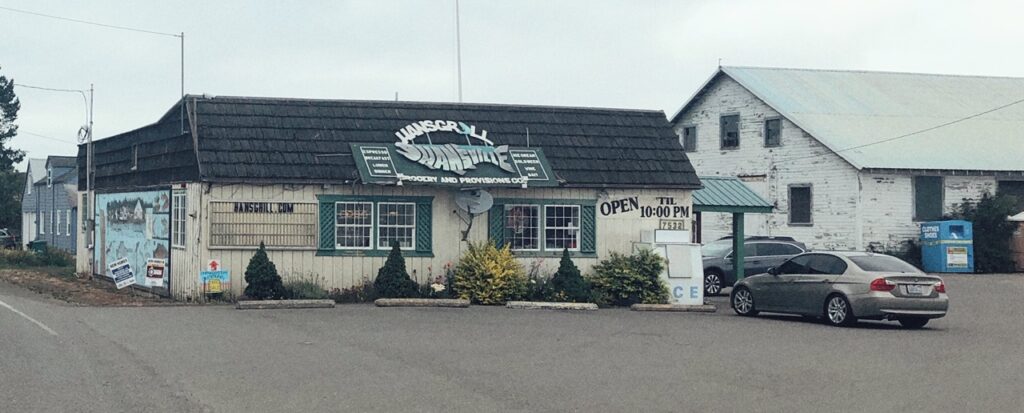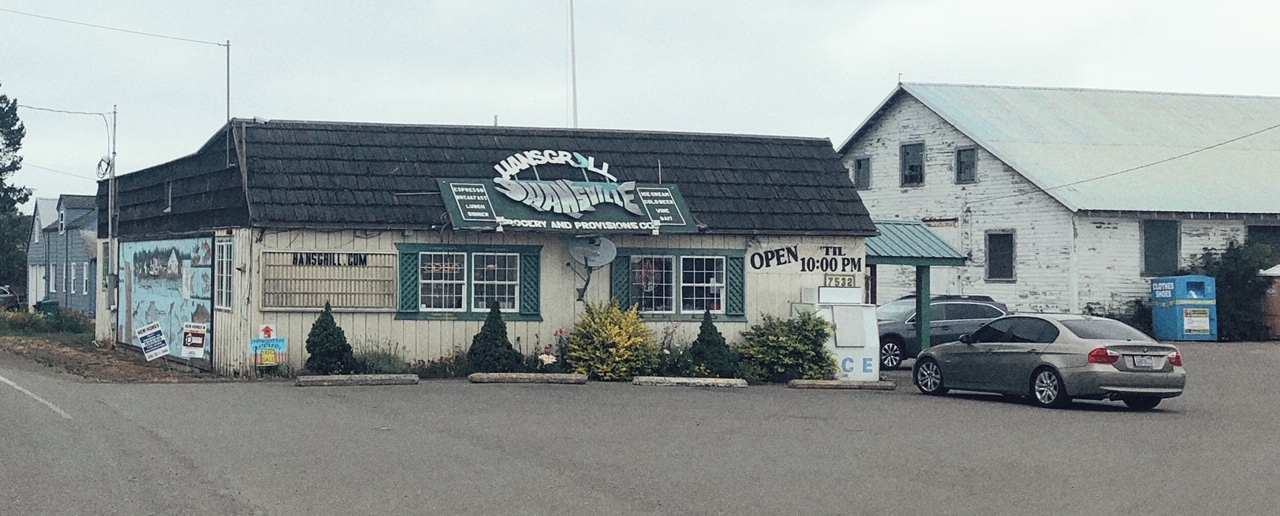 This town is very small, and there is only one store/restaurant. We often go for ice cream with the kids (we buy ice cream in just about every town on the Kitsap Peninsula – it is perfect for a beach vacation)! This spot is called HansGrill. in Hansville – ha! They are so great, that when we were staying down the street one time, and stopped by to see if they had any egg noodles in the store (for a pot of chicken noodle soup we were making), they offered to go see if their restaurant had any extras they could spare for us, since they did not sell it by the package)! It is also a fun spot to stop in for a cup of soup and eat looking out the windows at the Puget Sound.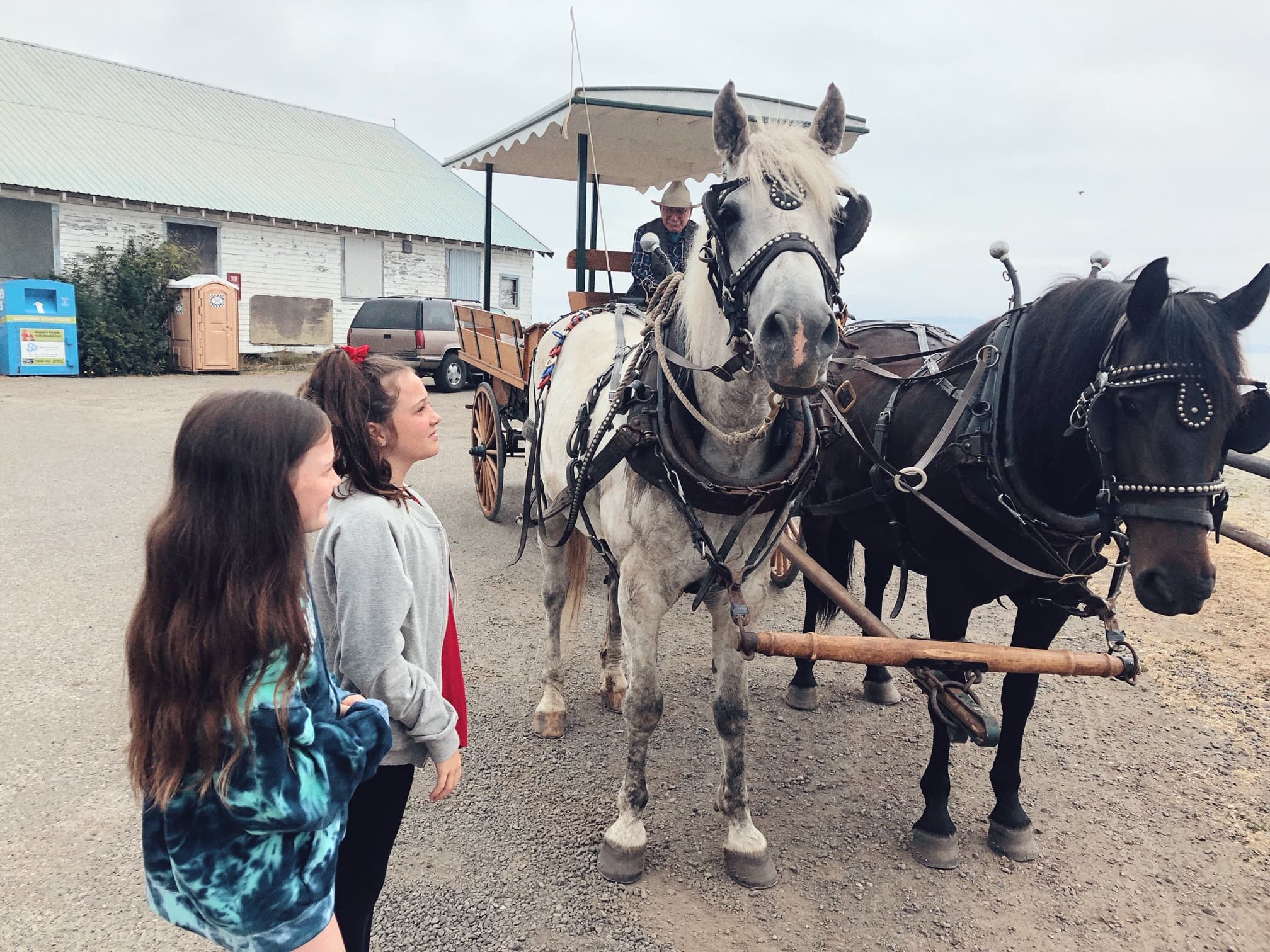 When we were there recently on a holiday weekend, they had these horse drawn carriages available for a ride. It cost us $15 for all of us (4) and it was a pretty long ride, so well worth that price.
Mostly though, when we head to Hansville, we are heading to the Point No Point Lighthouse and beach area.
If you are making the short drive from the main road in Hansville over to the lighthouse, you will pass this home that is made out of the top of a tug, used in World War II (folks often think it is an old ferry, but you can stop and read the sign posted out at the front of the home describing its history. I love this unique home, and always stop for pictures and to read the sign if I have someone with me who has never been to the area.
You can drive in directly to the beach, and park right next to the Point No Point Lighthouse. Or you can walk in and out from the Point No Point trail (which is my favorite way to do it).4
If you want to do it this way, you will take a very short drive up to the Point No Point Trail. They actually have a couple of greenway trails, that are very well maintained (they have been when we visited). You can find a map of those here.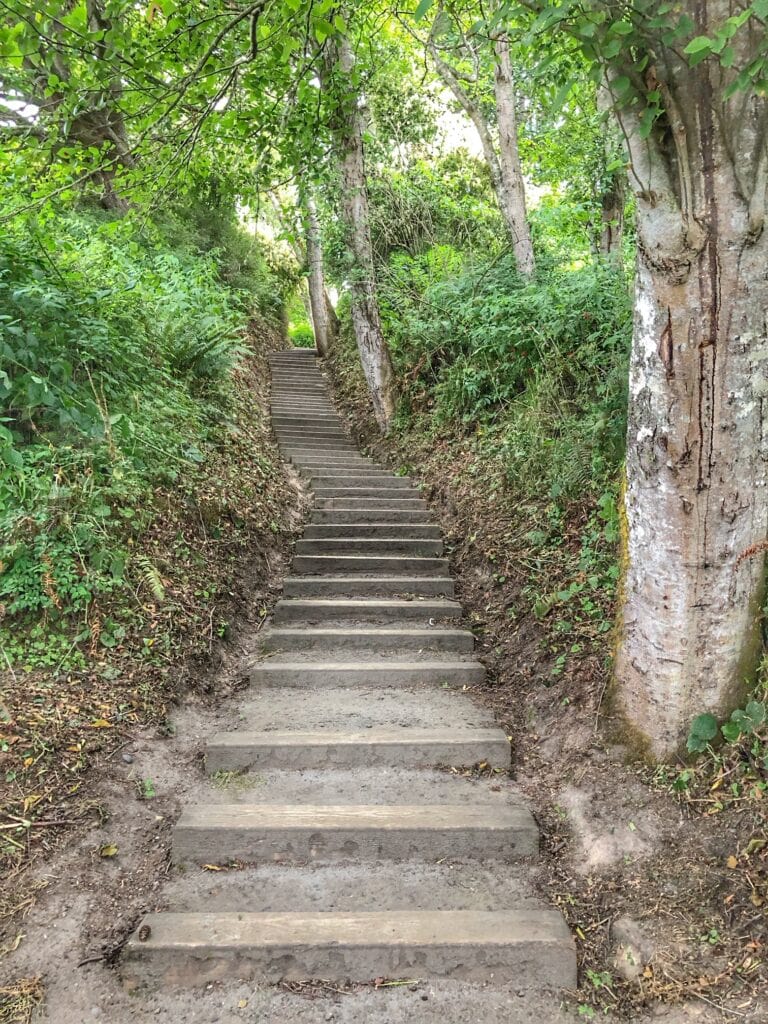 It is a very easy hike (and fairly short) to the beach from the Point No Point park access area. There is this steep set of stairs (also well maintained, but if stairs are an issue you will want to drive down to the lighthouse area).
Find more suggested hikes in this area here too, to explore even more. It is a popular spot for bird watchers too.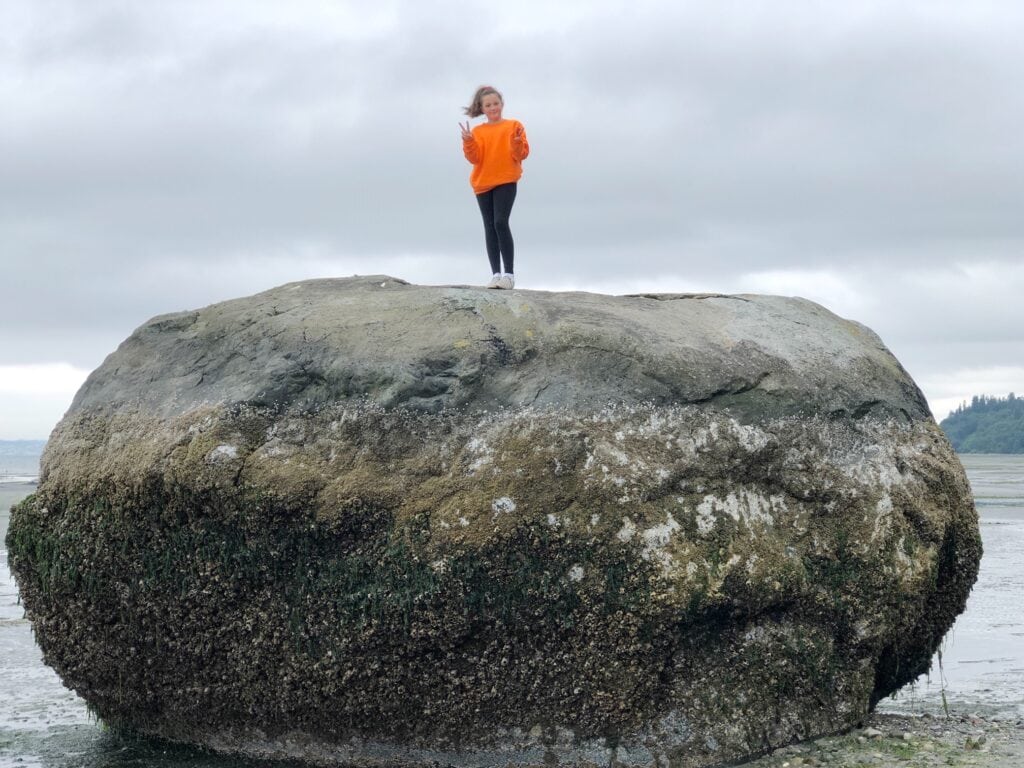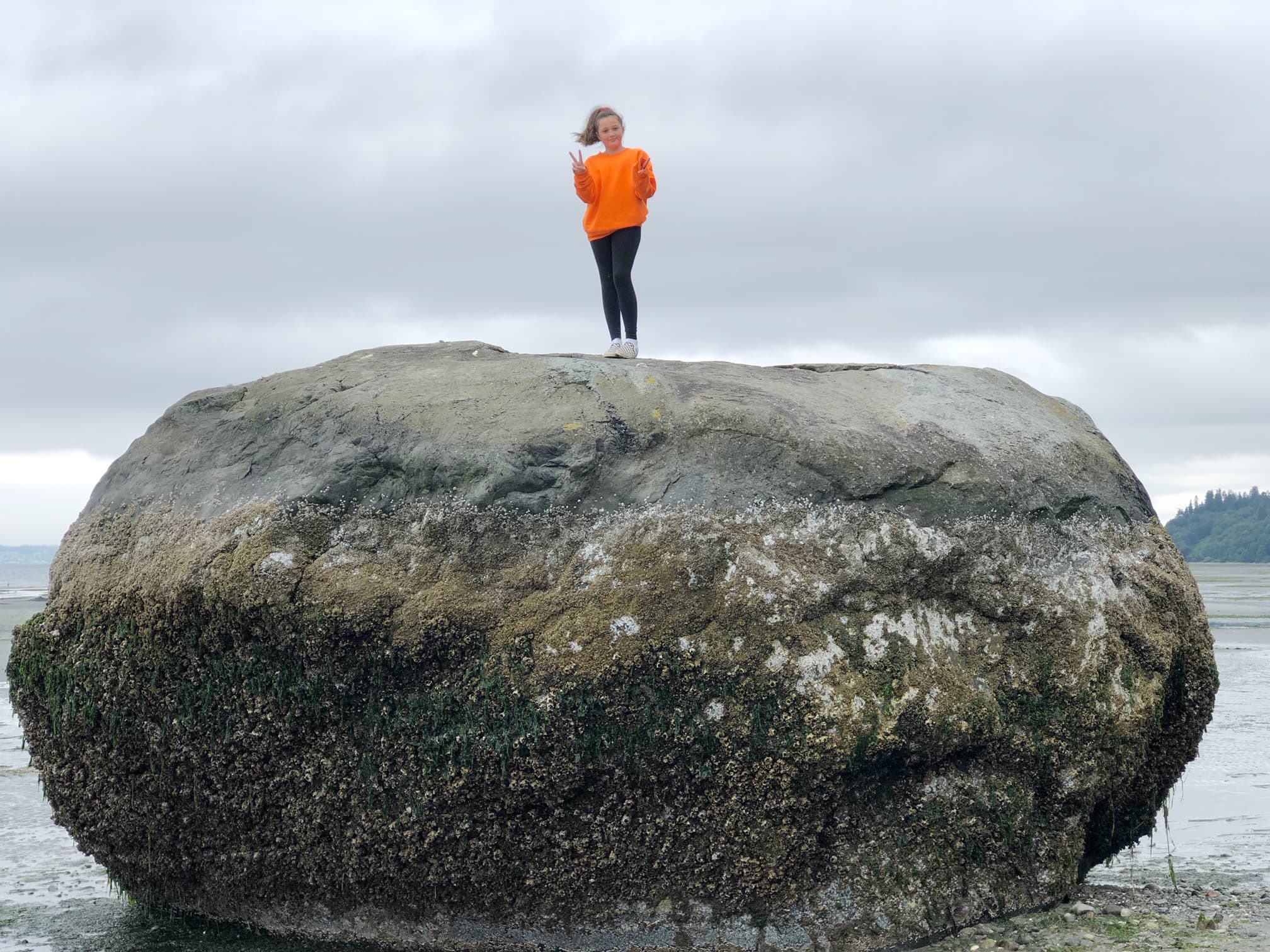 You will come down right onto the beach, and then it is a short walk on the beach over to the lighthouse area.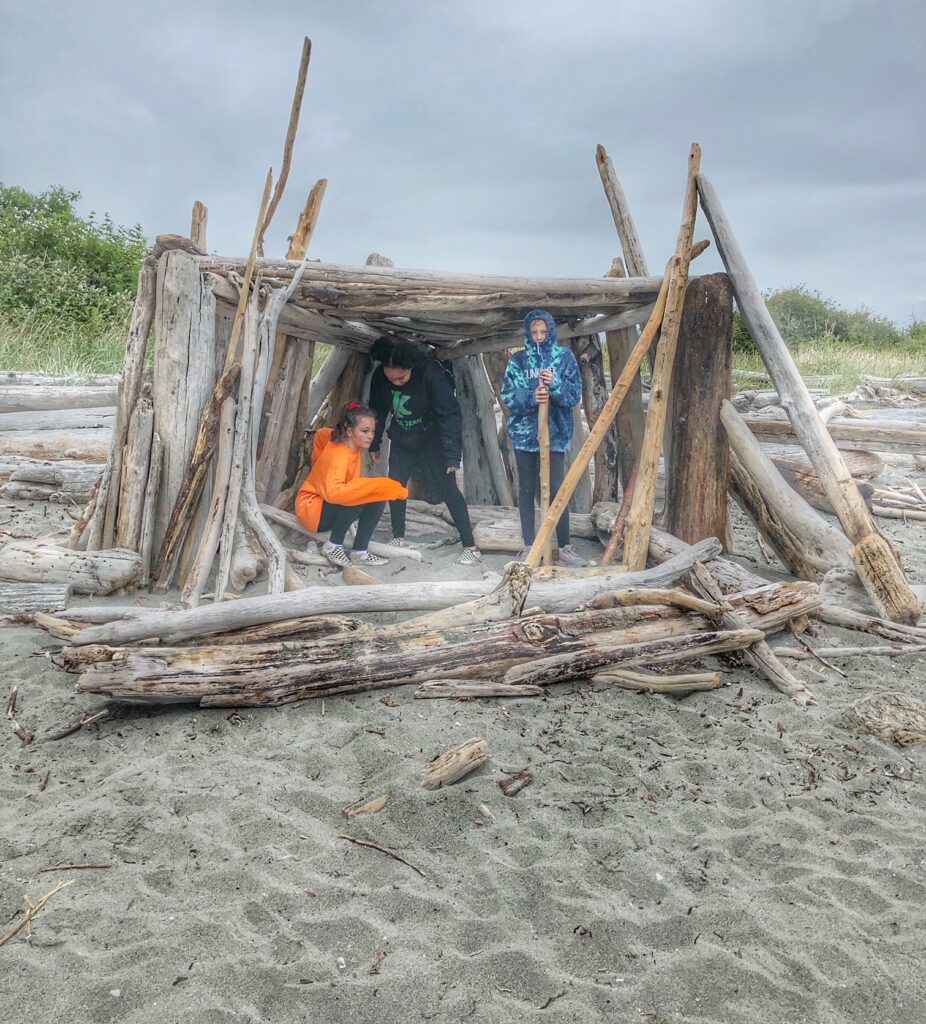 Before you make it over to the lighthouse though, there are usually lots of beach forts the kids will want some time to play in. Go when the tide is out, and there is plenty for the kids to explore on the beach.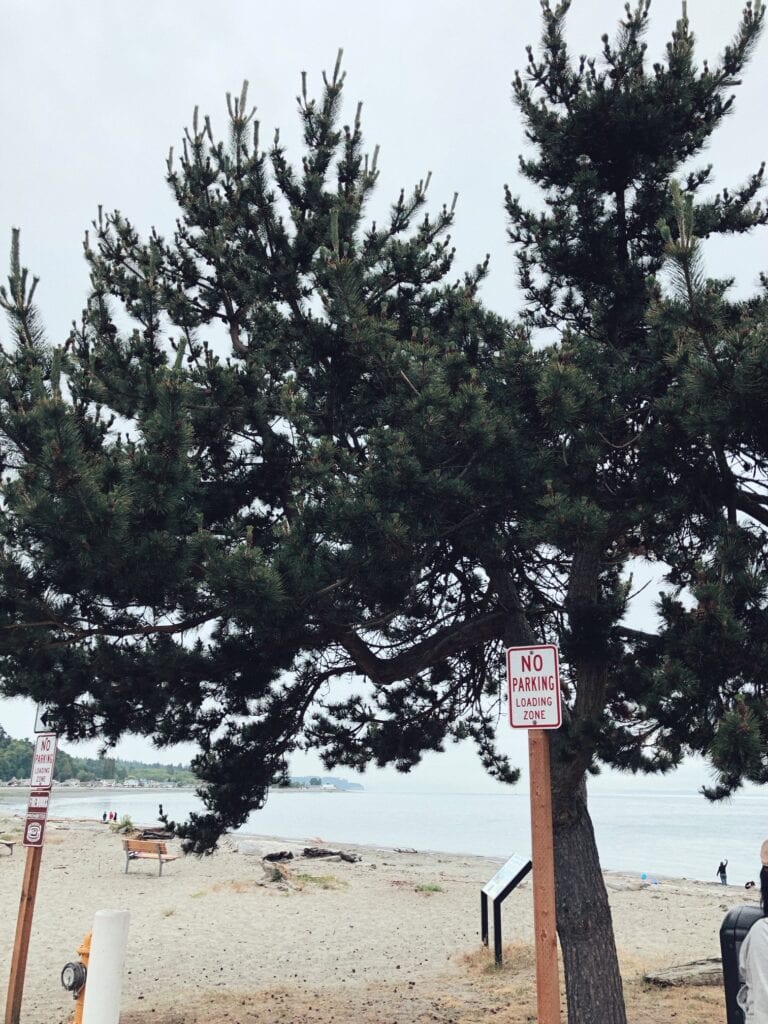 This is the beach front area right in front of the Point No Point light house. There are picnic tables and benches to use in this area.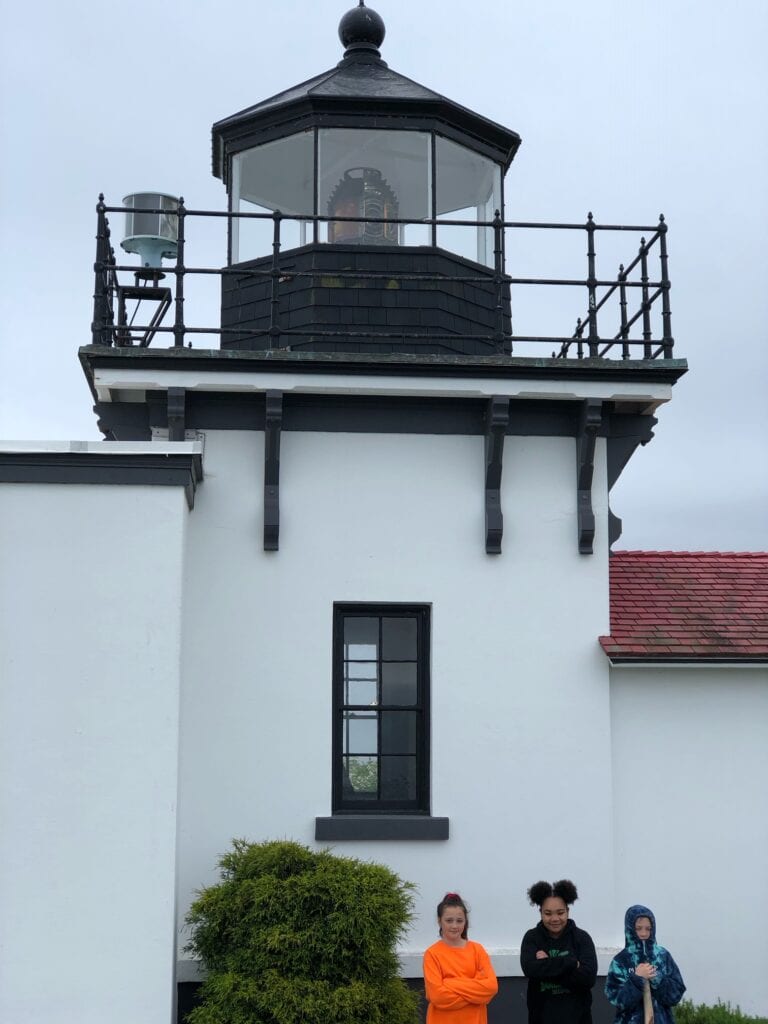 The Point No Point Lighthouse is not only a great picture taking spot, they do offer lighthouse tours between 12:00 pm to 4:00 pm on weekends, April through September. This is the oldest lighthouse on Puget Sound, so another great spot to explore if you enjoy history.
  I love these driftwood sculptures on the lighthouse property. They even rent out the duplex for stays (used to be the keepers quarters) if you wanted to stay in this sleepy little town!