10 Summer Activities that are Family & Budget Friendly in Northwest Montana
Of course visiting Glacier National Park is at the top of the list, there is so much to do for families in Northwest Montana during the summer season, and we highlight 10 of our favorite!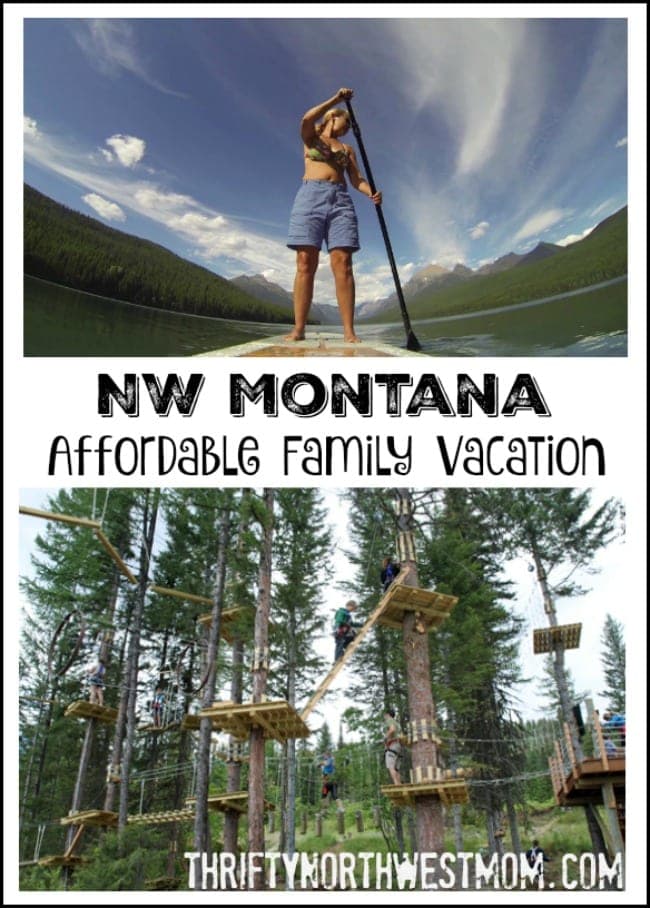 We recently visited Northwest Montana for a Winter getaway, and at that time learned that there were so many family friendly activities in the summer, that are perfect for a budget friendly vacation. We had so much fun, but it is also a super summer destination for families, especially if you love the outdoors. There is Glacier National Park, which is stunning, and so much more. Another thing we love about Montana, is that it is a really affordable family vacation. You can really do it on most travel budgets, and have plenty to do. Here are 10 wonderful summer activities that will be fun for families, and won't break the bank!
If you decide to head over to Northwest Montana, we loved Kalispell as a home base. Lodging and restaurants in this area are priced well, and the food and coffee where delicious. Plus, be sure to check out our favorite spots for food and coffee in the area too! We also have some tips on the best ways to get to Northwest Montana (Fly, Train or Drive) here.
Check out our travel page here for more ideas on traveling to Northwest Montana.
10 Great Summer activities in Northwest Montana
A summer vacation in Northwest Montana, whether for a long weekend or week long stay, will make the family fall in love with the outdoors again and again. Basing yourself in the Northwest Montana hub of Kalispell, here are some activity suggestions to add to your Montana bucket list. Some are free, some are nominally priced and some may be a splurge, but all will get you outside under the big Montana sky.
Photo credit: Lori Warden
Hiking Glacier National Park (low-cost)
A summer trip to Northwest Montana must include a visit to Glacier National Park — one of the most beautiful national parks with its towering snow-capped peaks, lush alpine valleys, abundant wildlife and more than 700 miles of hiking trails that get you deep into the Montana wilderness. While there is plenty of ambitious hiking in the park, there are lots of options for family-friendly hikes the entire family can enjoy on both the west and east side of the park. A must while in the park is also driving on or taking a tour bus on the Going-to-the-Sun Road for one of the most spectacular scenic drives in the world. Once you reach Logan Pass, get out of the vehicle and hike to Hidden Lake or take the more strenuous Highline Trail.
To avoid searching for a parking spot, we recommend taking Eagle Transit from Kalispell to Apgar Village near the west entrance of the park (operating July 1 through Labor Day weekend). Park shuttles and Red Bus Tours from several locations within the park offer daily service to Logan Pass as well.
https://www.nps.gov/glac/index.htm
Park entrance fees:
$30 per vehicle for seven-day pass
Check out the 2018 summertime park free days here, or, families with fourth graders get into the park for free with the National Park Service's Every Kid in a Park program!
Photo credit: Damon Ristau
Paddleboarding on Lake McDonald (low-cost)
Off the trail in Glacier National Park, there is plenty of fun to be had as well. At Apgar Village on the west end of Lake McDonald, rent a paddleboard for a relaxing paddle on the stunning mountain lake. Kayaks, canoes, rowboats and 10 hp motorboats are also available to rent. Hourly rentals start at $10.
https://glacierparkboats.com/glacier-park-boat-rentals/apgar-rentals/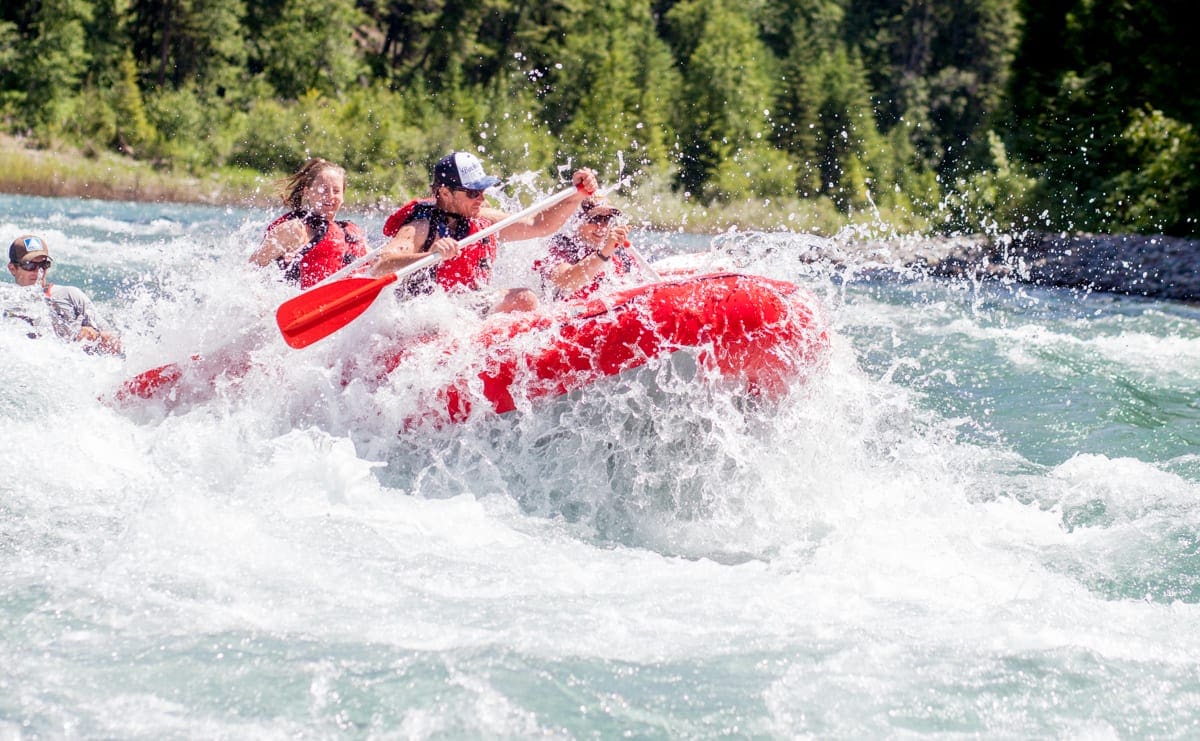 Photo credit: Mark Cluney, Great Northern Resort
Rafting the Middle Fork (splurge)
The Middle Fork of the Flathead River creates the southern boundary of Glacier National Park. Its Class II – III rapids and breathtaking views add both thrill and awe to the Glacier National Park experience.
A half day on the whitewater will run you about $55 per adult and $45 for each child under 12 with rafting companies, such as Great Northern Raft and Resort.
https://greatnorthernresort.com/rafting/
Photo credit: Whitefish Mountain Resort
​Catching air at Whitefish Mountain Resort (low-cost to splurge)
Just north of Kalispell you can't miss the carved runs of Whitefish Mountain Resort. In the summer the world-renowned ski area remains open for warmer weather adventures. Hop on the zip line, Alpine Slide or Aerial Adventure Park for lots of on-mountain fun. Or for a more relaxed experience, ride the scenic lift to the summit of Big Mountain for extraordinary views of the Flathead Valley and Glacier National Park. Ride down or hike down picking huckleberries on the way.
Scenic lift tickets (both ways) are $15 for adults, $10 for children ages 7 – 12, and free for children 6 and under. One-way tickets are $8 for children above age 7 and adults. Check out the resort's packages for cost-saving deals for the other activities: https://skiwhitefish.com/summer-tickets-passes/#/.
https://skiwhitefish.com/summer/
Biking Rails to Trails (free if you have bikes along)
Rails to Trails of Northwest Montana has paved more than 10 miles of the Great Northern Rail Trail around Kalispell — from the town of Somers on the north shore of Flathead Lake west to Kila bordering the Smith Lake Waterfowl Production Area — much of which is built on former Great Northern Railroad beds. The trails are perfect for a leisurely family ride. If you don't have your bikes along, bike rentals are available in downtown Kalispell at Wheaton's Cycle. https://www.wheatonscycle.com/
https://www.railstotrailsofnwmt.com/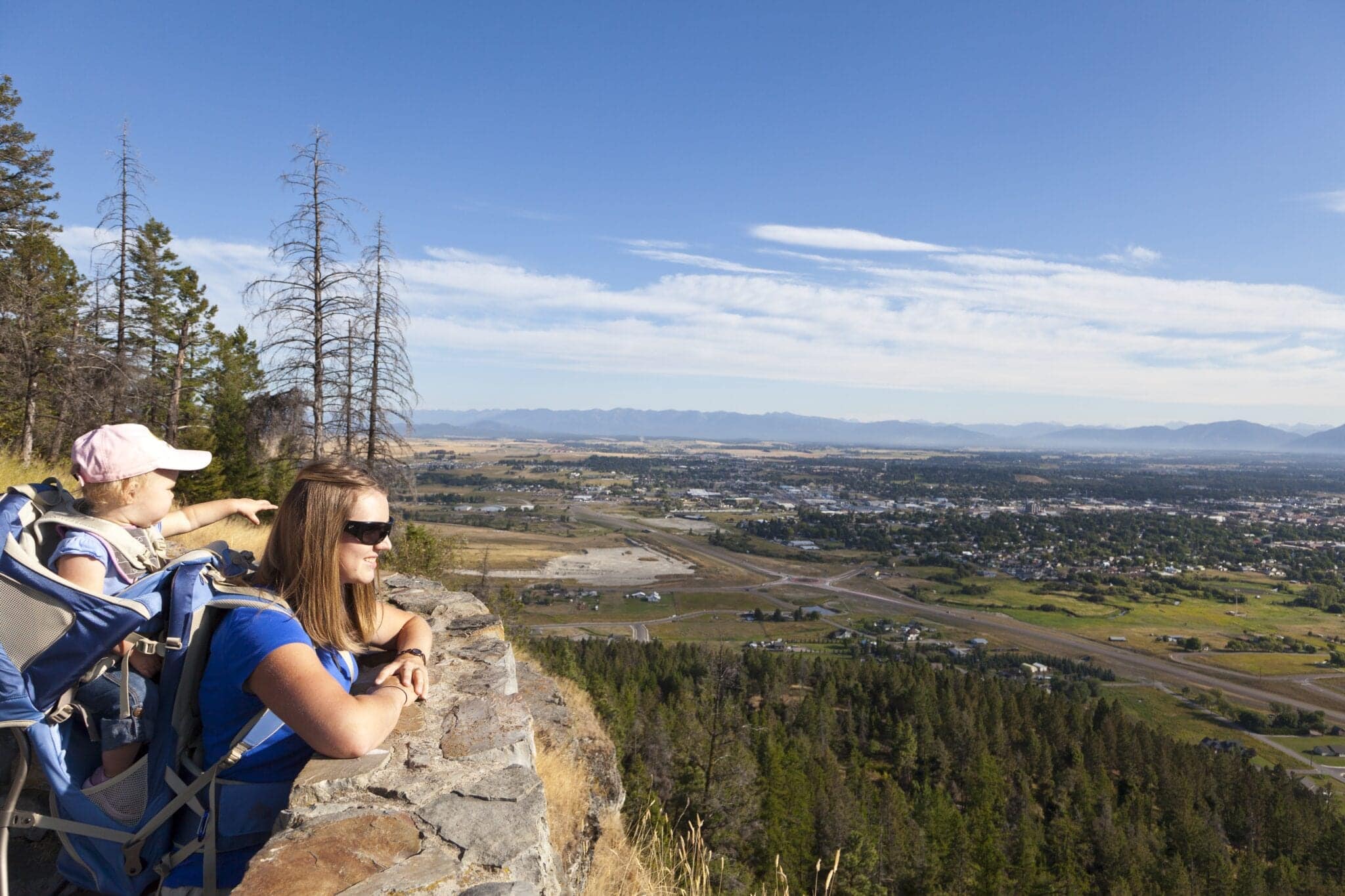 Photo credit: Chuck Haney
Recreating at Lone Pine State Park (low-cost)
Just a short drive from downtown Kalispell, Lone Pine State Park offers seven miles of hiking trails, picnic areas with horseshoe pits, and scenic vistas over the Flathead Valley from Glacier National Park to the north to Flathead Lake to the south. Acquaint yourself with the flora and fauna of the region at the interactive visitor center (open Tuesday – Sunday in the summer). Dogs are welcome on leashes. 
$6 non-resident daily entrance fee / per vehicle
https://stateparks.mt.gov/lone-pine/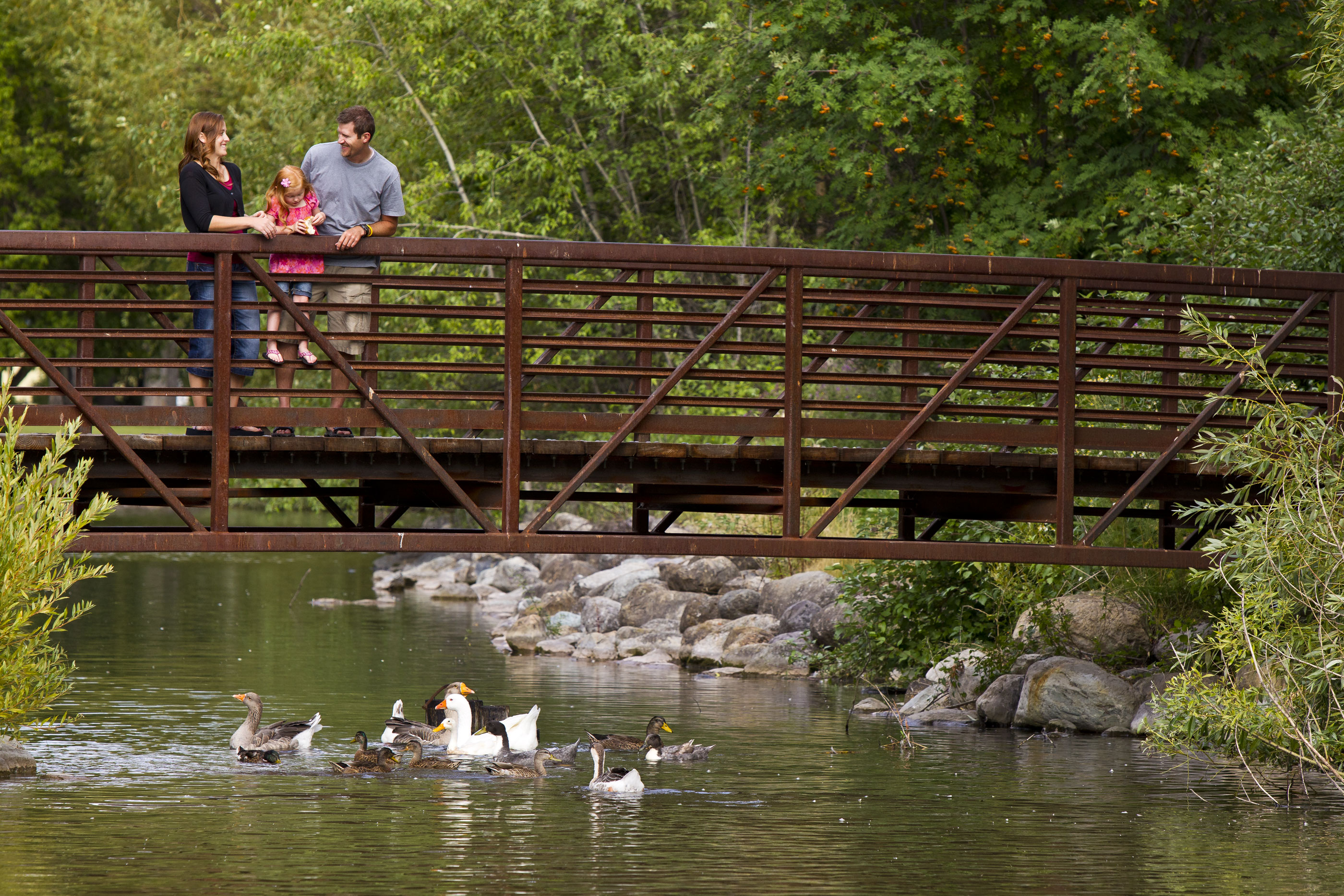 Photo credit: Chuck Haney
Relaxing in Kalispell's Woodland Park (free to low-cost)
In walking distance to downtown Kalispell, Woodland Park offers peaceful paths lined with flowers, a duck pond, playground and water park. The water park's nominal entrance fee makes it an affordable afternoon or evening activity enjoying the lazy river, waterslides and pool.
Woodland Water Park entry fees are free for infants under 1, $4 for 1 – 5 year olds, $5 for 6 – 15 year olds, and $6 for everyone above 16.
https://www.kalispell.com/parks_and_recreation/WoodlandWaterPark.php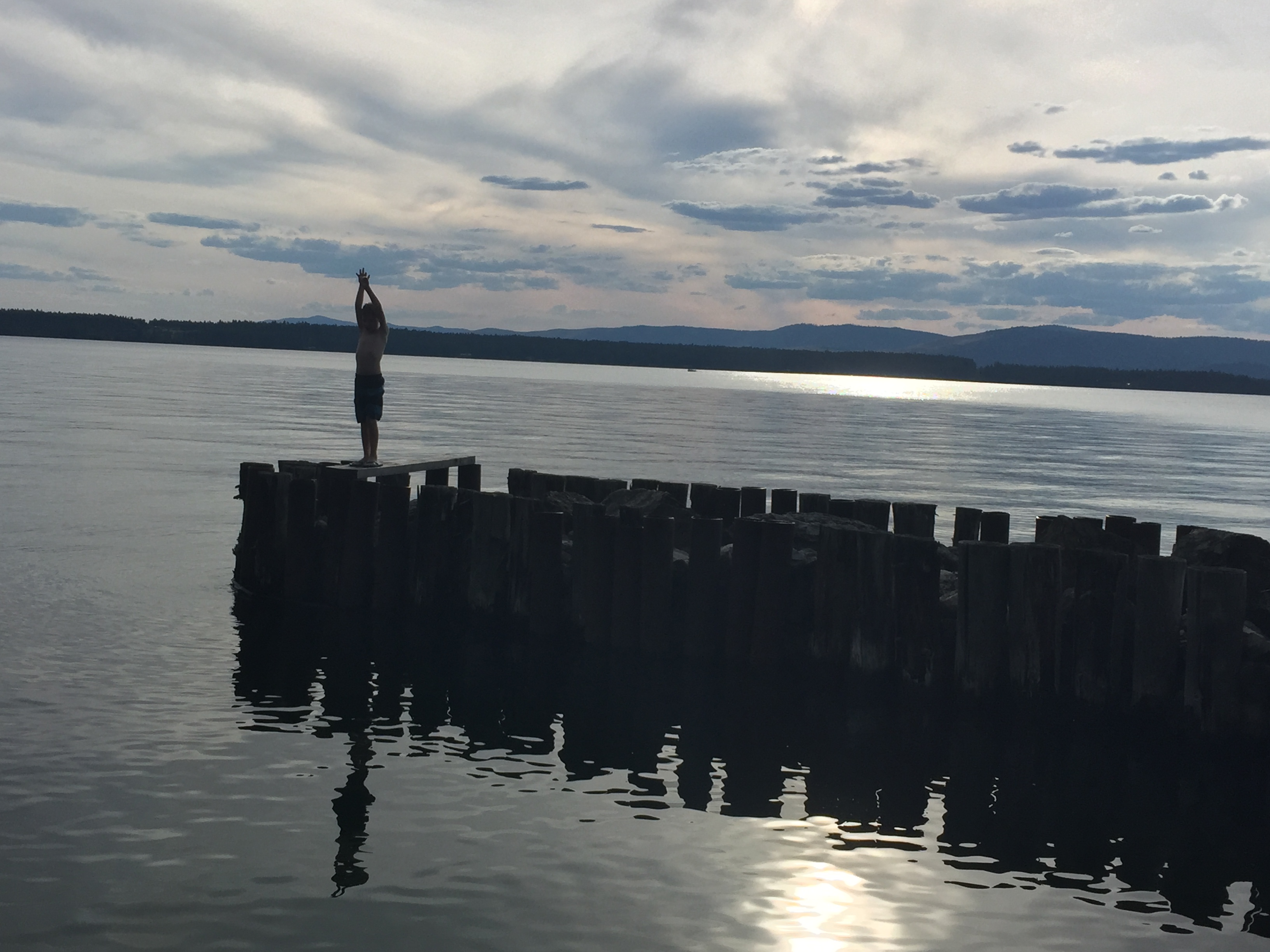 Photo credit: Lori Warden
Swimming on Flathead Lake (free)
Just south of Kalispell lies the majestic crystal clear waters of Flathead Lake. The largest freshwater lake west of the Mississippi is a water recreation paradise. Take a plunge from the docks at Volunteer Park in the village of Lakeside or from any of the state parks dotting the shore.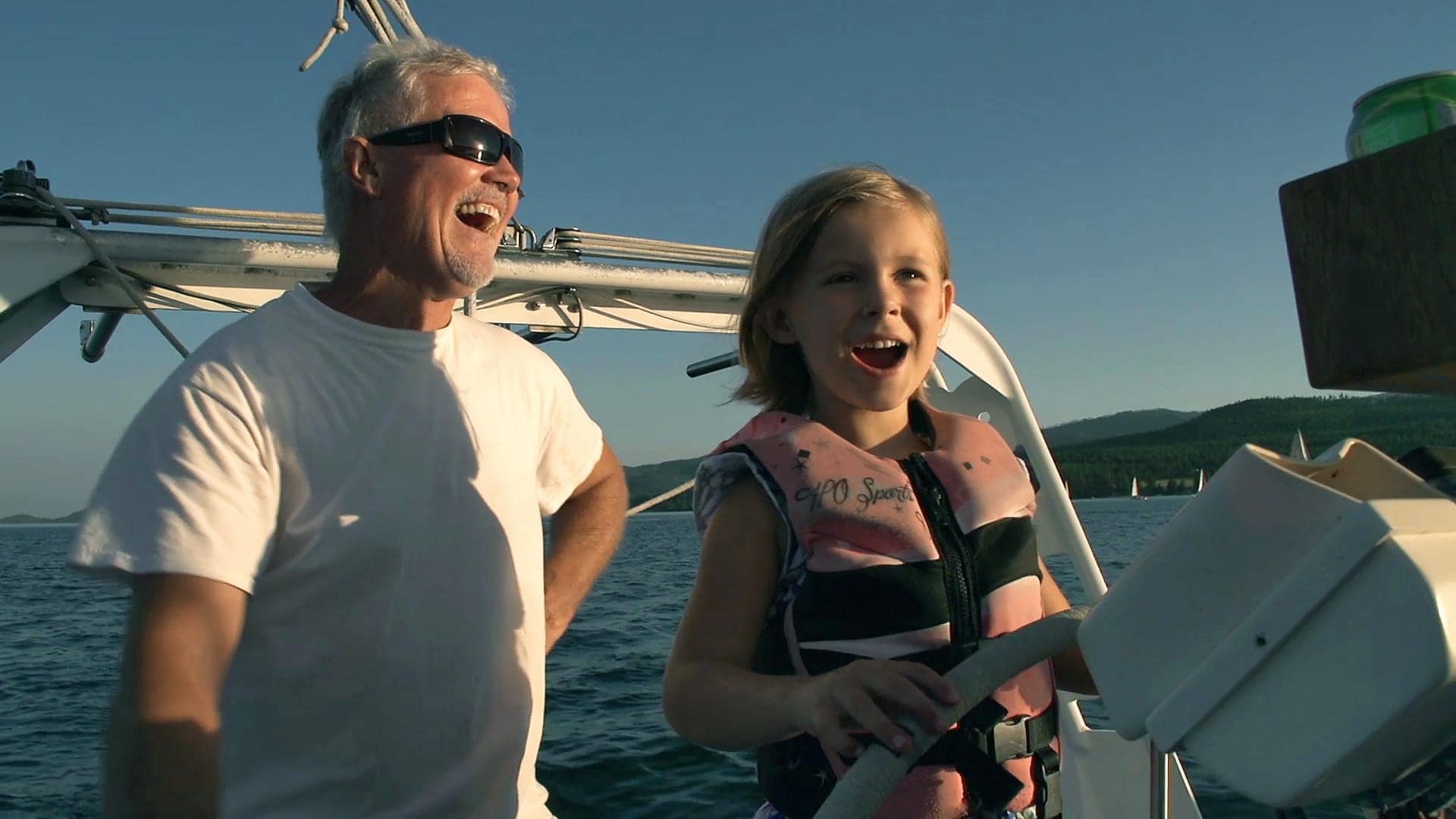 Photo credit: Damon Ristau
Boating on Flathead Lake (splurge)
If you'd like to move a little faster on water, several boat and skidoo rental options are available from marinas around the lake. Wild Wave rents watercrafts from its location in Bigfork, Lakeside and Wood's Bay.
https://www.wildwaverentals.com/index.htm
Photo credit: Damon Ristau
Driving and cherry picking around Flathead Lake (low-cost)
Sometimes just a leisurely drive exploring a new region is what the day has in store. We recommend making it a day simply taking in the beauty and charm that surrounds Flathead Lake. Stop in and stroll the quaint villages of Bigfork, Polson, Lakeside or Somers filled with galleries, shops, breweries, cafes and ice cream parlors. Pull over at the cherry stands selling fresh Flathead cherries along the east shore or pick your own cherries from the lakeside orchards. And admire the breathtaking lake views in the shadow of the Mission and Swan mountains.
For more information about exploring Kalispell and Northwest Montana in summer, visit https://www.discoverkalispell.com/.