6 Family Friendly Restaurants You Have to Try in Kalispell / Whitefish Montana
This post may contain affiliate links and I may be compensated for this post. Please read our disclosure policy here.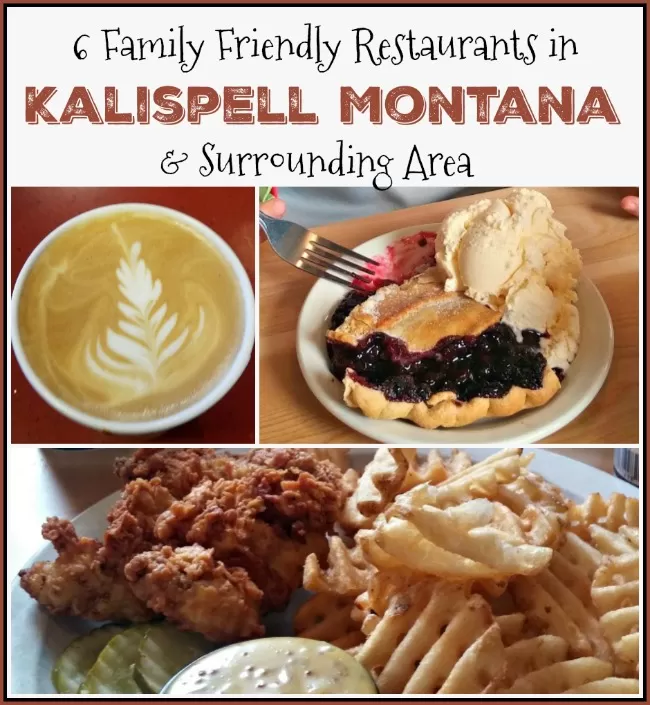 Best Restaurants for Families in Kalispell, Montana
When I am traveling, I love good recommendations on where to eat. We are not generally in an area long enough to figure it out for ourselves, and eating out is one of the things I love about being away from home.
We recently spent some time in Kalispell, Montana, and let me tell you – I was pleasantly surprised by how many good restaurants we ate at for the size of the city. Both the food and coffee came as a pleasant surprise to my family. We enjoyed some fantastic food. And the coffee – I am still craving their locally roasted coffee. It was so good!
If you are from the Seattle area, then you will find that restaurants are a bit different in Montana. Kids are allowed in bars until later hours. Some spots that I might not have thought were family friendly (because they had something like Saloon in the name), were in fact, family friendly. We found eating out to be so much more laid back, due to smaller crowds and wait times, and we really enjoyed the food and drink in Kalispell and Whitefish.
Loulas in Whitefish is just about a 15 to 20 minute drive from Kalispell, and is a local favorite spot. If you're heading up to Whitefish /mountain Resort on Big Mountain for a day of skiing, this is a great spot to check out on your way up. It can get crowded, so just to be safe you might want to make reservations. They have some great down home cooking, and their portion sizes where very generous. If you want to save money and get a great meal, stop in here and share a plate. The photo above is of the Chinese Chicken Salad I ordered. It easily fed two (especially if you plan to indulge in one of the pies. They are known for dessert!).
Their menu offers an assortment of breakfast and lunch type meals 7 days a week, and then they do also serve dinner Thursday through Sunday.
This is the kids meal at Loula's. If your kids eat like mine, one meal is plenty to share between two kids too.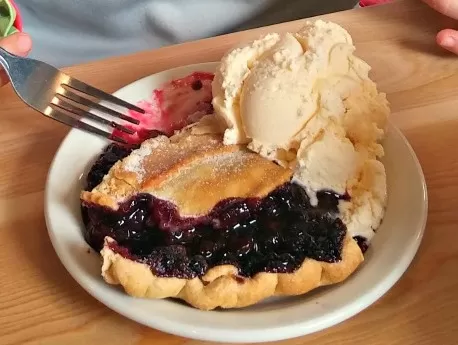 We had the local Huckleberry (and other berries) pie. It was so good. Again, it can easily be shared as well!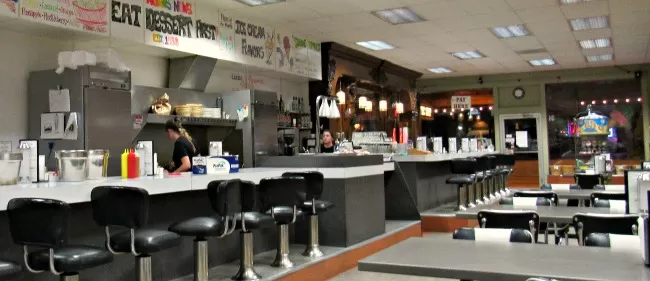 Norm's News Soda Shop and Candy Store was my kids favorite meal while we were in Kalispell. No surprises there. It's your standard old-fashioned soda shop with burgers (including a Bison burger), hot dogs, sodas and ice cream kind of menu. They even have a pork chop burger on their menu. The baskets of fries will serve 3 to 4 too, so you only need one or two (depending on how much your family eats). It's very laid back in it's atmosphere, and my kids thought it was a blast to eat here. The food was not bad either, for a burger joint. If you have kids that like treats, you will want to be sure to add this spot to your 'must see list' for your visit, even if you just head in for dessert.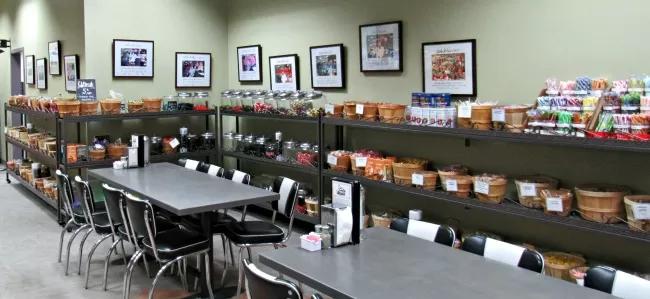 This is one view of the candy shop at Norm's. The candy options really run the entire parameter of the store, and my kids went crazy in here. There is also a wall of magazines you can look through while waiting for your food. Sit at the counter, or at a table, and relax while your kids stay occupied looking at all the candy.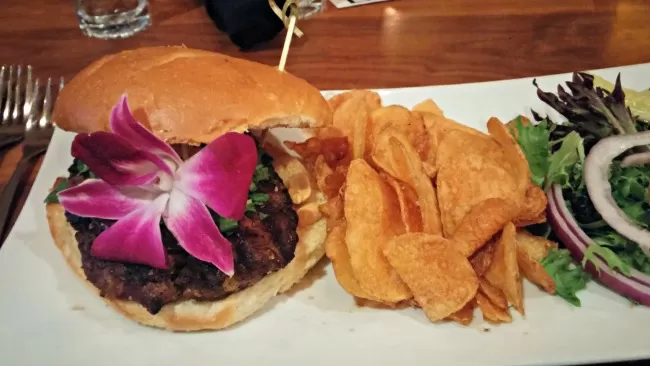 Hop's Downtown Grill
Hop's was one of mine and my husband's favorite meals while visiting Kalispell. He had a Yak burger (locally sourced meat) and he said it was one of the best burgers he had ever had. I had the Thai Chili burger (shown above) and I am still craving one while I sit here and write about it. In addition to some of the best burgers we have enjoyed, they offer homemade potato chips and a great menu of their own brews too! There was also a kids menu with standard picks like burgers and grilled cheese. My kid's usually prefer fries over chips, but they loved these homemade chips.
If I had to pick just one restaurant to go back to from our recent visit, this would be the one that got my vote!
Find their menu here.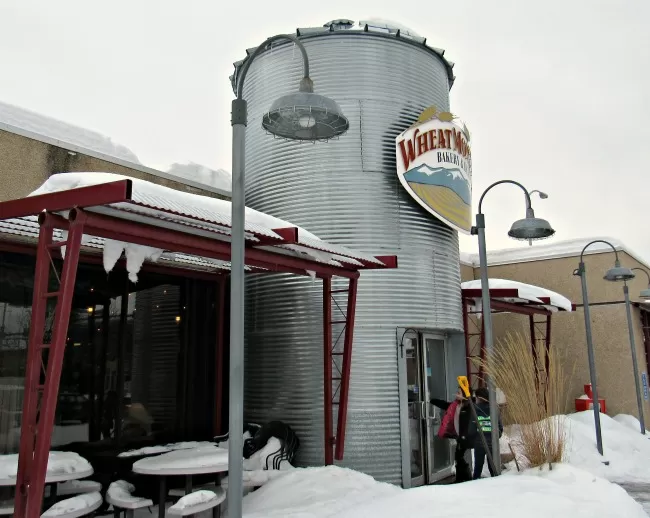 Wheat Montana Deli & Bakery
If you like places like Panera, you will likely love Wheat Montana. This is a chain throughout Montana, and seating and ambiance are limited, but the food was good. They offer an assortment of home cooked pastries, sandwiches, soup and salads. They have a small cafe style area to eat, or you can go through the drive through to take your order to go. We stopped in a couple of times while we were in Kalispell and did not find anything we did not like. It's a great breakfast spot too if you like coffee and pastries. They have monster size freshly baked cinnamon rolls (with caramel on top or frosting) that were so delicious.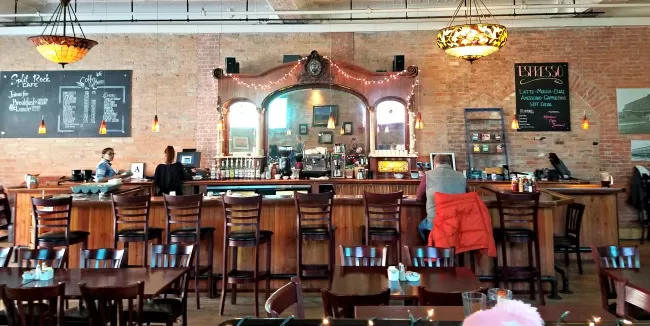 We stopped in at Split Rock for both breakfast and lunch. Their menu is your basic American food selection, but it was delicious. My kids loved their waffle fries (they are Cajun but they were not too spicy for even our pickiest eater). Their soups and sandwiches were great. My husband had Cajun Biscuits and Gravy, and he enjoyed the spicy twist on one of his favorite breakfast meals.
They converted this old bar into a coffee bar at Split Rock, and it was beautiful to look at. We never had a wait time, although the restaurant usually had quite a few folks eating when we visited.
Split Rock Cafe is only open for Breakfast, Lunch or Brunch until 2:30 daily.
If you are looking for pizza, Mooses Saloon is a local favorite from what we heard. It's a dark, saloon style restaurant, but they offer personal sized pizzas to order for around $5.00, so it's a great spot to come and let everyone order what they want without breaking the bank. We headed in here on Superbowl Sunday, and they had lots of TV's to watch the game on. This is an affordable pizza spot to fill the family up if your looking for something along those lines. This spot is an authentic feeling Montana Saloon, and you can even carve your name in the wood, and find saw dust all over the floor. The pizza was great too.
You are also able to get complimentary bowls of peanuts from the bar area and throw your shells on the ground roadhouse style. The ordering process was a bit confusing for us, but when we got it down, it was simple. When we visited you seat yourself, and then order the pizza from the small pizza window behind the bar, and your beverages (including soda) from the bar area. There is also a drive through if you prefer.
Note – if anyone in your party has a peanut allergy you will want to avoid this spot.
Check out their menu here.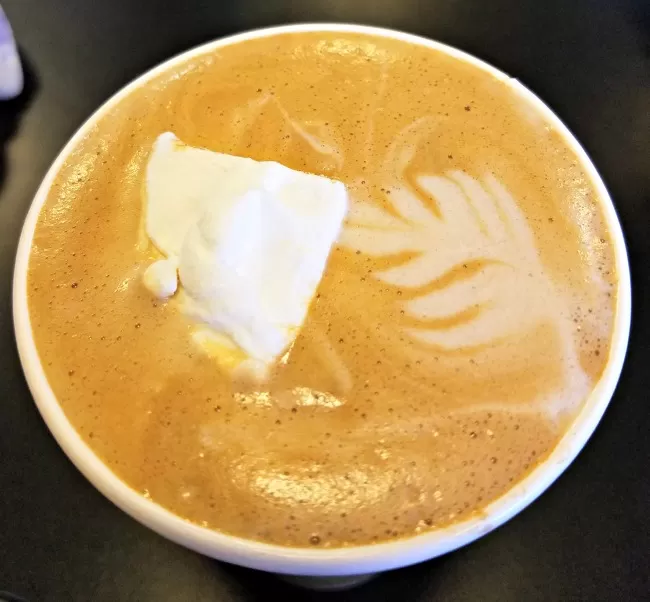 Honorable Mentions – Where to Get Great Coffee
I have to tell you that we were pleasantly surprised at the quality of coffee in Kalispell! We had so many wonderful cups of coffee, it was one of the things that I hated to leave. We did grab bags of the Montana Trading Company Coffee to bring back with us – it was that good. Being from Seattle, it was surprising to me that we enjoyed the coffee in Northwest Montana so much more. There are a couple of local coffee roasting companies, so most places used that wonderful locally roasted coffee. Here are a couple of places we got great coffee. One thing I especially loved about the coffee in Montana is that I never got a cup that was too sweet. As a result I got brave in ordering flavored lattes I generally would not (because I would be concerned the sweetness would overpower the coffee). I have cited a few examples below of great lattes we got, that may sound really sweet, but were made to perfection in my opinion.
This is the big local coffee roasters in the area, and they had great coffee. Many of the local shops, hotels and restaurants use their coffee as well. Because of this, it seemed that every single cup of coffee we had while staying in Kalispell was good! You can find their coffee served all over town, plus they have their own shops too. We had a really good Coconut Brulee coffee at Wheat Montana (made from Montana Coffee Traders coffee).
This spot is down in Historic Kalispell and right across from Wheat Montana. They were one of the few spots we found open on a Sunday, and they did not disappoint. I had a Huckleberry White Chocolate Mocha, and LOVED it. This is something I would almost never order in Seattle, as most spots would make it way to sweet for my taste. But it was delicious. The coffee was smooth and there was just enough of the flavors to sweeten my coffee but not overpower it. These guys also offer homemade marshmallows on the top of all their drinks!
Disclosure – Discover Kalispell sponsored this post. All thoughts, opinions and content are 100% my own. 
Save