10 Best Winter Activities For Your Family In Northwest Montana – Great Family Vacation!
This post may contain affiliate links and I may be compensated for this post. Please read our disclosure policy here.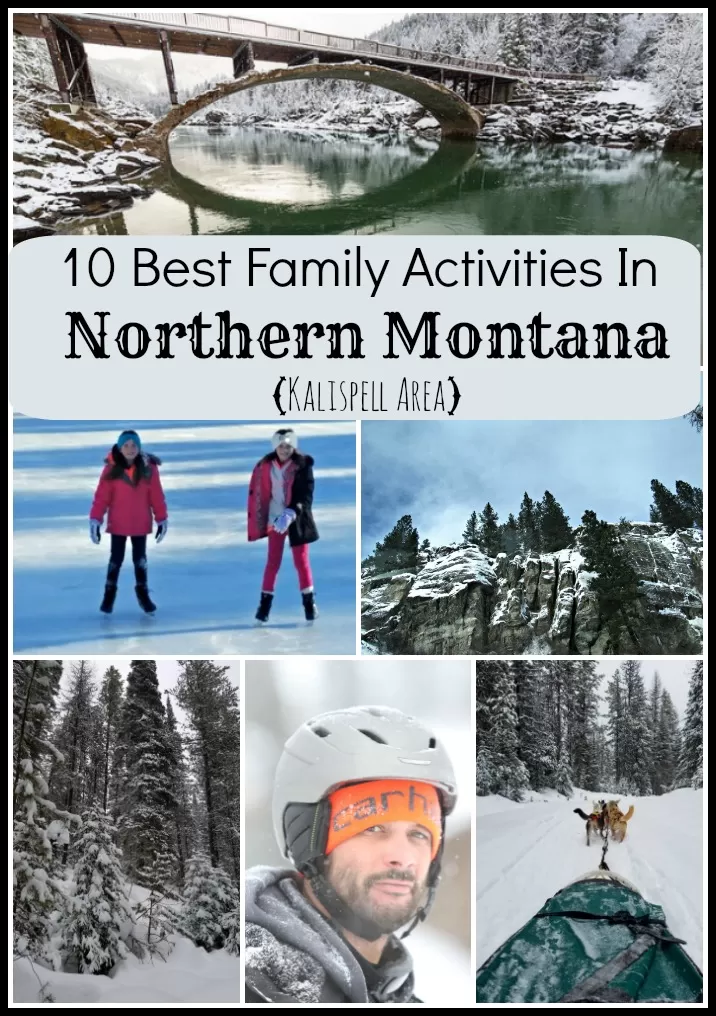 10 Best Winter Activities for Families In Northwest Montana (Kalispell Area)!
If you are looking for a fun and affordable winter vacation for your family, you might want to consider Northwest Montana. Specifically, Kalispell Montana. We recommend Kalispell because it is so close to many of the best Winter activities in the area, but it is also a very affordable place to stay when visiting the area. It is also a much easier trip from the Northwest then you might expect. More then half of the things we did while in Kalispell were $5 or less per person! We have compiled a list of some of our favorite activities from our recent family vacation there.
There are so many things to do in this area during the winter, and it's just beautiful. The food and coffee were great, people friendly, and there was little to no traffic (great way to relax coming from the Seattle area).  It is also fairly easy to get to this part of Montana from the Puget Sound. We have more details on getting there in our Visiting Northwest Montana – Train, Fly or Drive? article.
You will want to start your planning process by visiting the DiscoverKalispell.com website as well. They have a number of tips, and ideas that will be useful when planning a visit to Northwest Montana.
Here were 10 activities you won't want to miss during your visit to Kalispell, Montana:
Activities that are Free or Under $5 (#1 to #6)!
One of the things we loved about the Kalispell area was that there were so many free or affordable family activities. We were there for 4 days, and spent much of that time doing things that were $5 or less per person. That allows for more budget to go to a splurge activity or two, without the entire trip costing too much.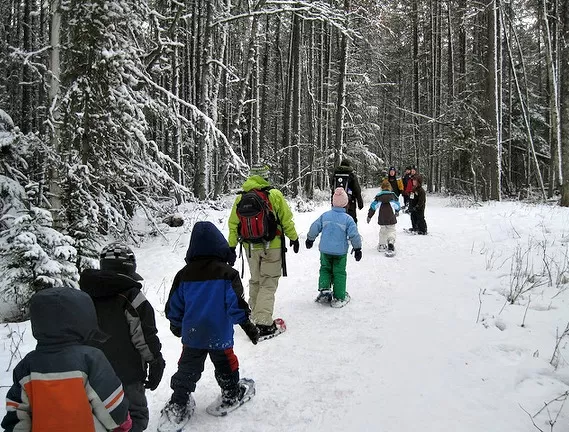 Photo Credit: Glacier National Park
1 – Snow Shoeing at Glacier National Park or Lone Pine State Park
Snow shoeing is a must do if you love the outdoors, and the snow. It's a great way to get out as a family and be active, and take the time to explore the surrounding beauty that Northwest Montana offers. There are two great spots to experience snow shoeing at very little cost to you.
Glacier National Park – you can sign up for free ranger led snow shoe walks on the weekends. Be sure to check their site for times, and any possible road closures or weather updates. These walks are recommended for kids 6 and older. It only costs $2 per snow shoe rental at Glacier National Park per person! It's a fantastic deal. You will have to pay an entrance fee to get into Glacier National Park, but there are ways to get in for free as well.
Another option is to head to Lone Pine State Park and they actually have snowshoe rentals available from their visitor center as well. Kids and adult sizes are available for $5 each. Visiting this park will cost between $4 and $6 for non residents (free for residents, in case you are visiting someone in the area)!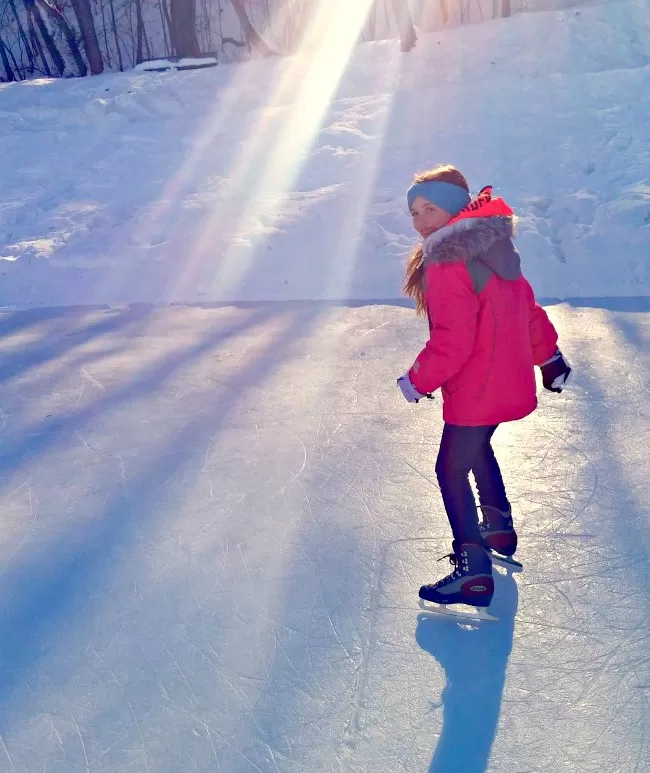 2 – Ice Skating On the Pond / Playing Hockey
Ice skating on the pond at Woodland Park was one of my kids very favorite activities. They loved it, and spent hours out there ice skating, until their feet could not take it any more. If you have your own ice skates, this activity will be completely free. The pond at Woodland Park opens up for free skating once the pond is frozen enough to be safe.
If you do not have your own skates, you can rent them from Wheaton's (right up the street in Historic Downtown Kalispell) for $5 per person.  This is where we got our skate rentals, and they give you 24 hours to use them at that rental rate!
They even had practice ice hockey nets set up in case you have any hockey fans traveling with you.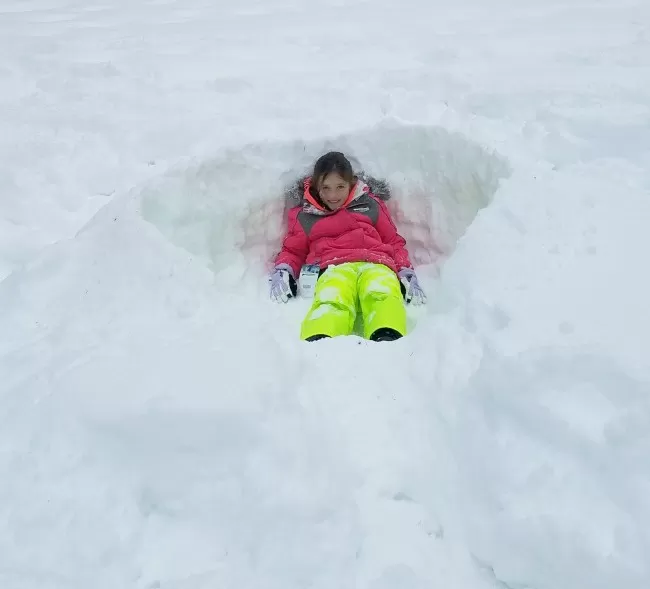 3 – Playing in the Snow
If you're from the Puget Sound, or other areas where there is not a ton of snow fall every year, chances are your kids will be begging you for a chance to just to play in the snow. That is what our kids did. We shuttled them around from activity to activity for the first few days, and they kept asking for time to just play in the snow and be kids. So after a fresh snow fall, we took them back to Woodland Park to spend time playing freely. They loved it! They built snow forts, and had snow ball fights, and stomped through thigh high snow in some places, forging trails.
Best part is that this afternoon was completely free!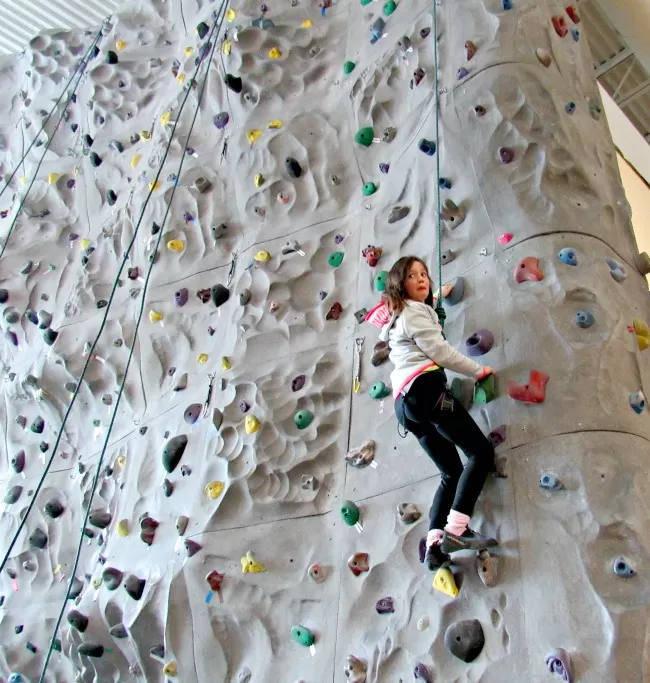 4- Rock Climbing
After a morning of playing in the snow, we decided to head indoors for some rock climbing fun. The Summit was recommended to us, and it did not disappoint. They have a huge rock climbing wall, that offers many different challenge levels. My girls made it to the top of the first two (after a handful of attempts) and they were so excited. This was another one that they cited as a favorite on the vacation.
The Summit is a medical facility recreational spot, and offers more then just the rock climbing wall. There is a swimming pool, sports games, workout facility, kids programs and more. My favorite part was that the kids can climb the rock climbing wall for just $5 each (including equipment – compare that to the $15 for 15 minutes at Seattle's REI wall!!).  You will want to make sure that you go during "hang time", which was Sundays from 12-3pm when we were there (check the current schedule here).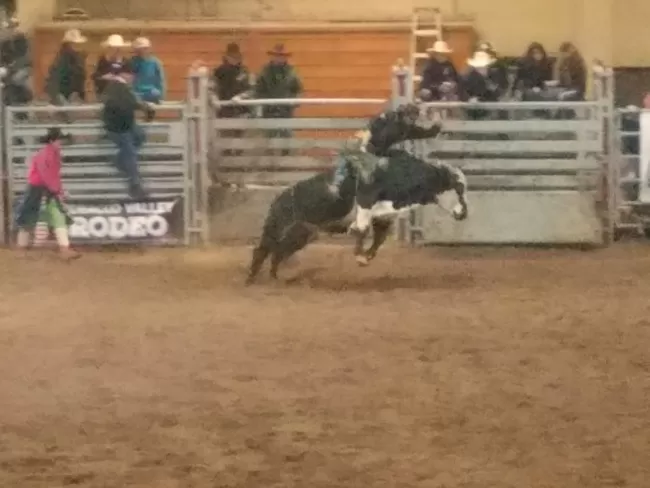 5 – Check out a Rodeo
We attended our first rodeo ever, on our recent trip to Kalispell. These events will range from free to around $12 per person (some of the really big events are more), depending on which one you attend. If you are looking for a free rodeo, the high school ones generally don't charge an entry fee.
The paid events generally take place over the weekend, and it's in a covered arena so is a great option for evening entertainment in the cold weather. They do sell things like hot dogs and drinks inside if you want to make it an evening of a casual dinner and fun. There were all sorts of events going on, and my kids enjoyed the barrel racing for the younger kids the best. It was amazing to watch these little kids out there, to see who could get their horses around the barrels and over the finish line the fastest.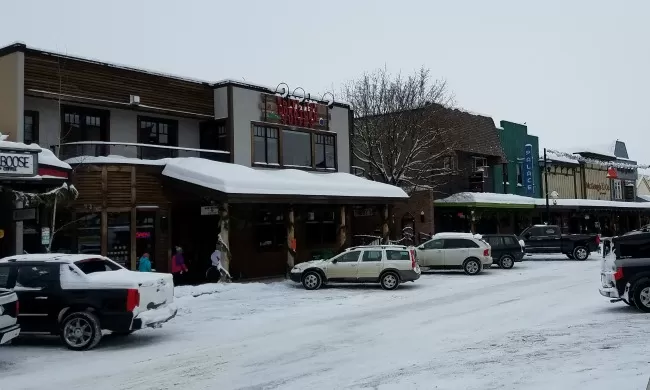 6 – Exploring the Towns of Kalispell and Whitefish
We set aside some time just to explore the towns of Kalispell and Whitefish. It was completely free, minus a treat or two we purchased along the way (see some of our favorite coffee recommendations here).
In addition to checking out the stores or doing some window shopping, there are also a couple of museums located right in Kalispell that can be fun for the whole family. The Museum at Central School is right at the end of downtown, and it's only $5 per adult, and completely free for kids! It's only open Monday through Friday, so you will want to plan your visit around those hours, but there are hands on activities to keep the kids busy exploring.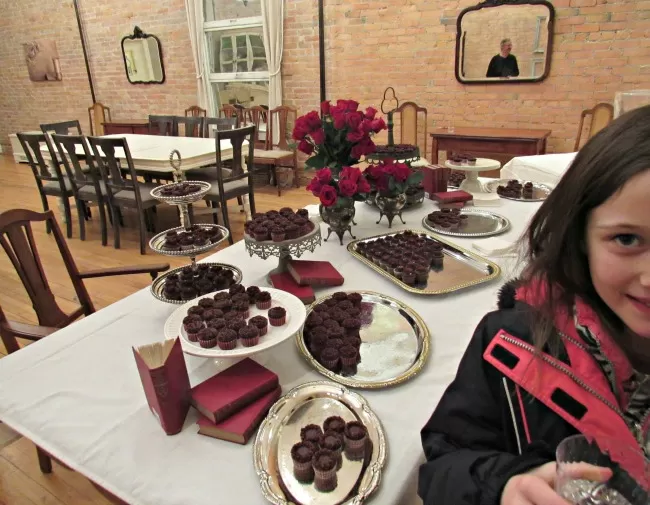 While you are exploring the town, be sure to pay attention to any events or festivals going on. You might be pleasantly surprised at how much fun these are. They held both a Winter Carnival parade, and a Chocolate Affair while we were in town, and both seemed to be a pretty big deal. We ended up trying out the Chocolate Affair just for something to do one night, and it was a blast. You walk from store to participating store in historic downtown Kalispell, and each store hands out a free chocolate treat (anything from actual chocolate candy, to chocolate brownies, chocolate wine and much more). By the time you have hit up around 12 stores, you have had a pretty decadent dessert night all for free. It was also a great way to check out the stores in town. My kids said it felt like a scavenger hunt, as you have each store mark themselves off on the card, then you vote and hand it in to be entered into a drawing for a prize at the end of the night. We all loved it!
You can learn more about the downtown events going on during your visit here.
Splurge Activities for Your Trip (#7 to #10)
The cost of these activities can depend on whether or not you already have any equipment to do them. Even though these are the higher priced activities, there are some great deals you can find if you want to make the splurge (like the ski school at Whitefish Mountain Resort)!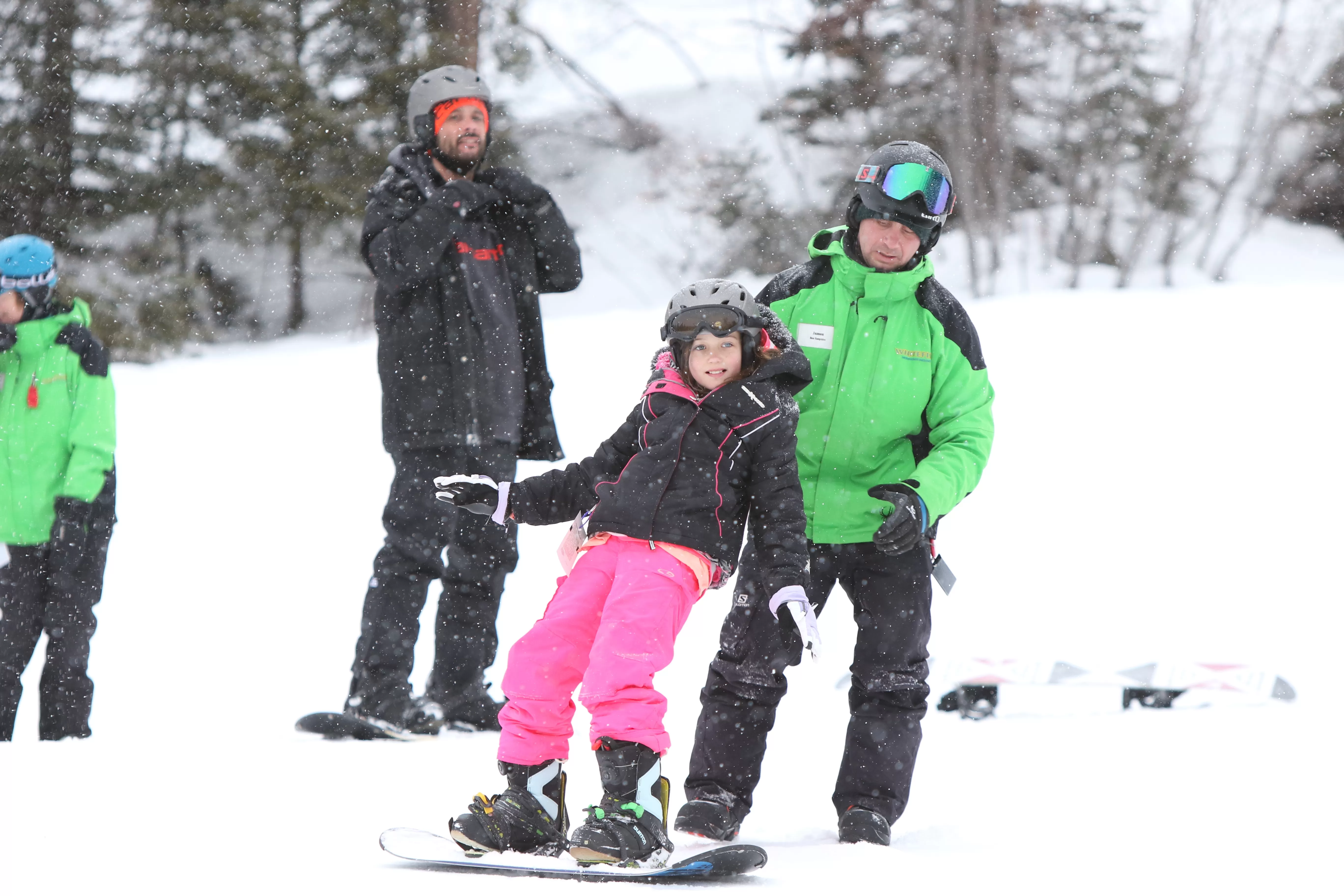 7 – Skiing / Snowboarding
This was the highlight of our trip! We had never skied before, and so started our day attending the ski school at Whitefish Mountain Resort. It was more affordable then I thought it would be, so this could be a fun activity for both families who already ski, and those who have never skied before (like my family). My kids are still talking about how fun it was! We share more detail on the Whitefish Mountain Resort Skiing experience here as well.
There are two areas in close proximity to Kalispell that you can spend the day skiing or snowboarding at. They are Whitefish Mountain Resort and Blacktail Mountain Ski Area. We spent the day at Whitefish, and had a fantastic time.
If you are already a family that ski's then I think you will find that Whitefish Resort a great option, in that is a very nice resort and mountain, with many lifts, and offers a great bang for your buck! If you have never skied, but are interested in learning, the ski school is a great value!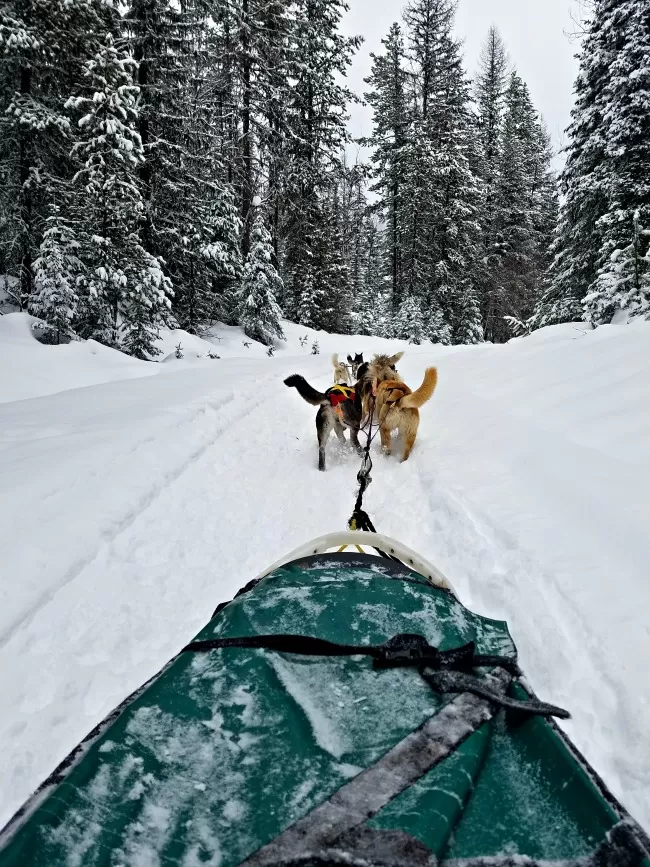 8 – Dog Sled /Sleigh Rides
There are a few spots that offer Dog Sledding or Sleigh Rides in the area, if you want to experience a splurge activity! We visited Dog Sled Adventures, about 20 miles outside of Whitefish (you can arrange free rides there from the Whitefish Mountain Resort too). These guys have been in business for a very long time, and provide you a ton of information if you ask for it too. Everyone was very friendly on our visit, and they run it out of a warm cozy cabin that you can hang out in both before and after your trek.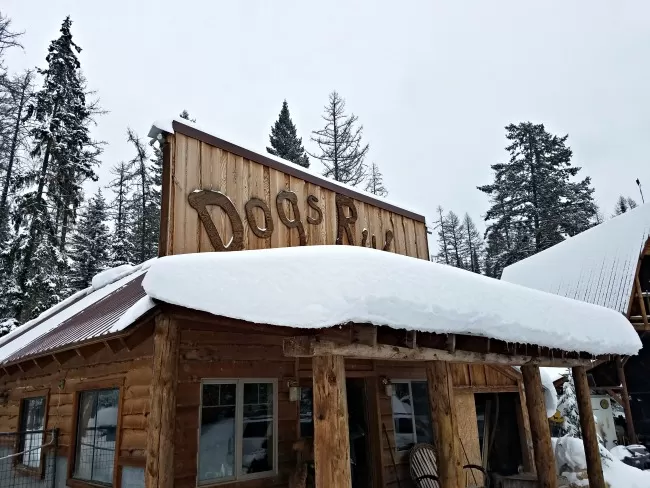 This was about a two hour adventure, including time for hot chocolate and cookies in the cabin after your ride. Two people can ride per sleigh, and you are able to ride through the beautiful back-country of Northwest Montana. The speed of the ride will depend on the snow conditions. The area had just had fresh snowfall while we were there, so our sled ride was leisurely and peaceful. If you want a faster ride, you will want to visit when it has not snowed for a bit, and the trails are icier.
Sleigh rides are another option in the area.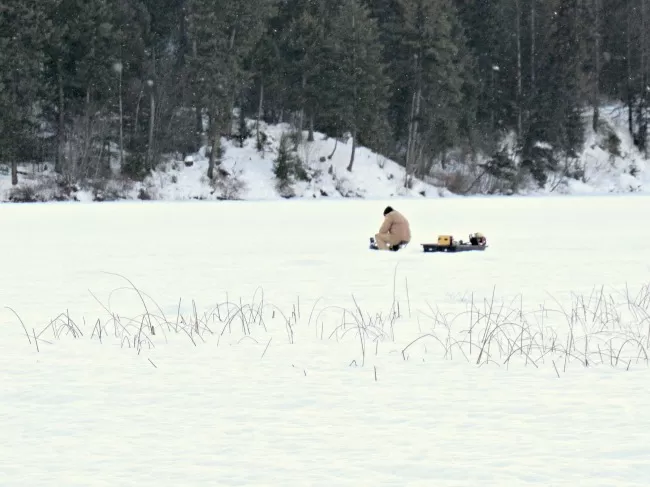 9 – Ice Fishing
This area of Montana has over 500 lakes, and makes it an ideal spot to try your hand at Ice Fishing, if this is something that interests you. While we did not have a chance to ice fish while we were there, this is something my husband was very interested in so we did find some other folks ice fishing and blazed a trail out on the lake to check out how things were going for them! If you have all the ice fishing equipment then this would not be expensive for you, but if you are not an ice fisherman and would like to try it, you can find more information on how to get outfitted for it here.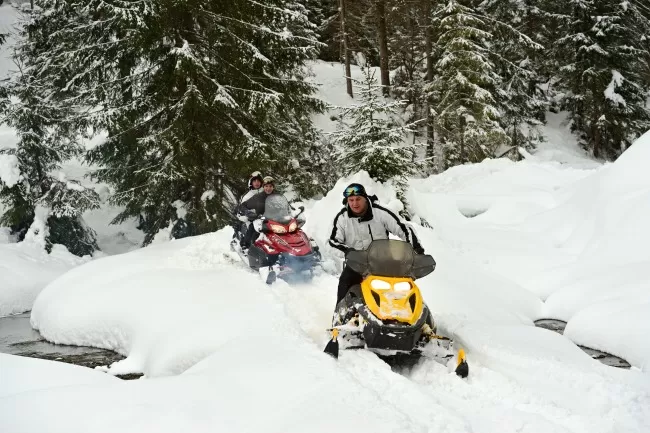 10 – Snowmobiling
If you are looking for an activity that involves more speed, but still exposes you to the same beauty of being outdoors in the Northwest Montana back-country, consider renting snow-mobiles. Northwest Montana has over 200 miles of groomed snowmobile trails, plus another 2,000 miles of Forest Service roads that lead to spectacular ridgetop views. Find more info with the Flathead Snowmobile Association. You can get rentals and good tips on local trails at Winter Wonderland Sports  and Swan Mountain Snowmobiling.
If you are interested in planning a family vacation in Northwest Montana, you can request a free visitors guide here!
These were our top 10 picks of great things to do on a Family Winter Vacation in Northwest Montana. Did we miss anything you love to do there?
You might also be interested in:
Save