Ski School or Snow Board School in Northwest Montana – Great Deal!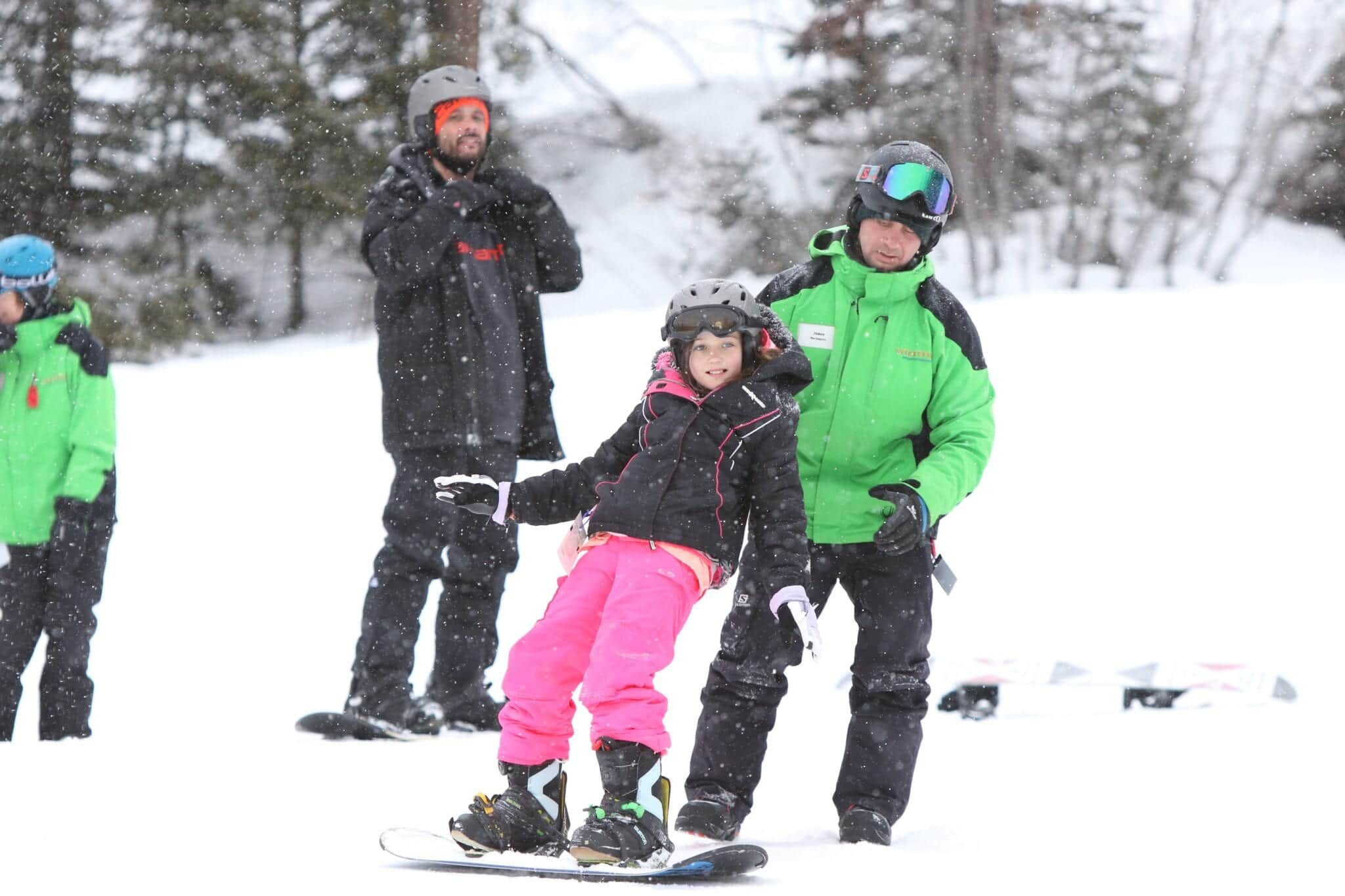 My family enjoyed a Winter getaway in Northwest Montana last month, and the highlight of our trip was a day of skiing and snowboarding up at the Whitefish Mountain Resort. We are not skiers, so we had not really considered a ski vacation before, as I thought the costs would be too high. While it is true that skiing is not a cheap sport, we did find what we thought was a great value at the Whitefish Resort Ski School, and now that we have tried it out I can tell you from personal experience it was amazing!
Are you interested in learning to ski or snowboard? Whitefish Mountain Resort has a super deal on a Ski School package!
The ski school is a two day program, and it is just $79 per person, and I honestly thought it was a fantastic deal for all you get with it. It includes two days of equipment rentals, two days of beginner-area lift tickets, and two half-day lessons. It's such a great way to learn without breaking the bank. When we were up there, we did a morning session, so we went to ski school for the first half a day, and then we had the second half of the day to enjoy the slopes (beginner slopes) or the bunny hills (with the magic carpet to get you to the top).  I always thought the equipment rentals alone would make it too much, so I thought that this school was a super deal in that the rentals where included. That is a total of $316 for a family of two adults and two kids for 2 full days of outdoor fun!
This program is available to first time visitors only, but if you want to learn how to ski or snow board I highly recommend it. Once you complete the ski school, you can benefit from their graduate program savings. Currently that means you can get $48 lift tickets for the remainder of the season, as well as 50% off rentals, and more.
My family was split down the middle in terms of what each of us wanted to do. My middle child is full of adventure, and wanted to snow board. So did my husband. My youngest was scared to learn at first, so her and I stuck with skiing. That top picture is of my middle child, husband and their instructor learning to snow board. They both had it down in one half day lesson – well enough to enjoy the beginner slopes for the second half of the day.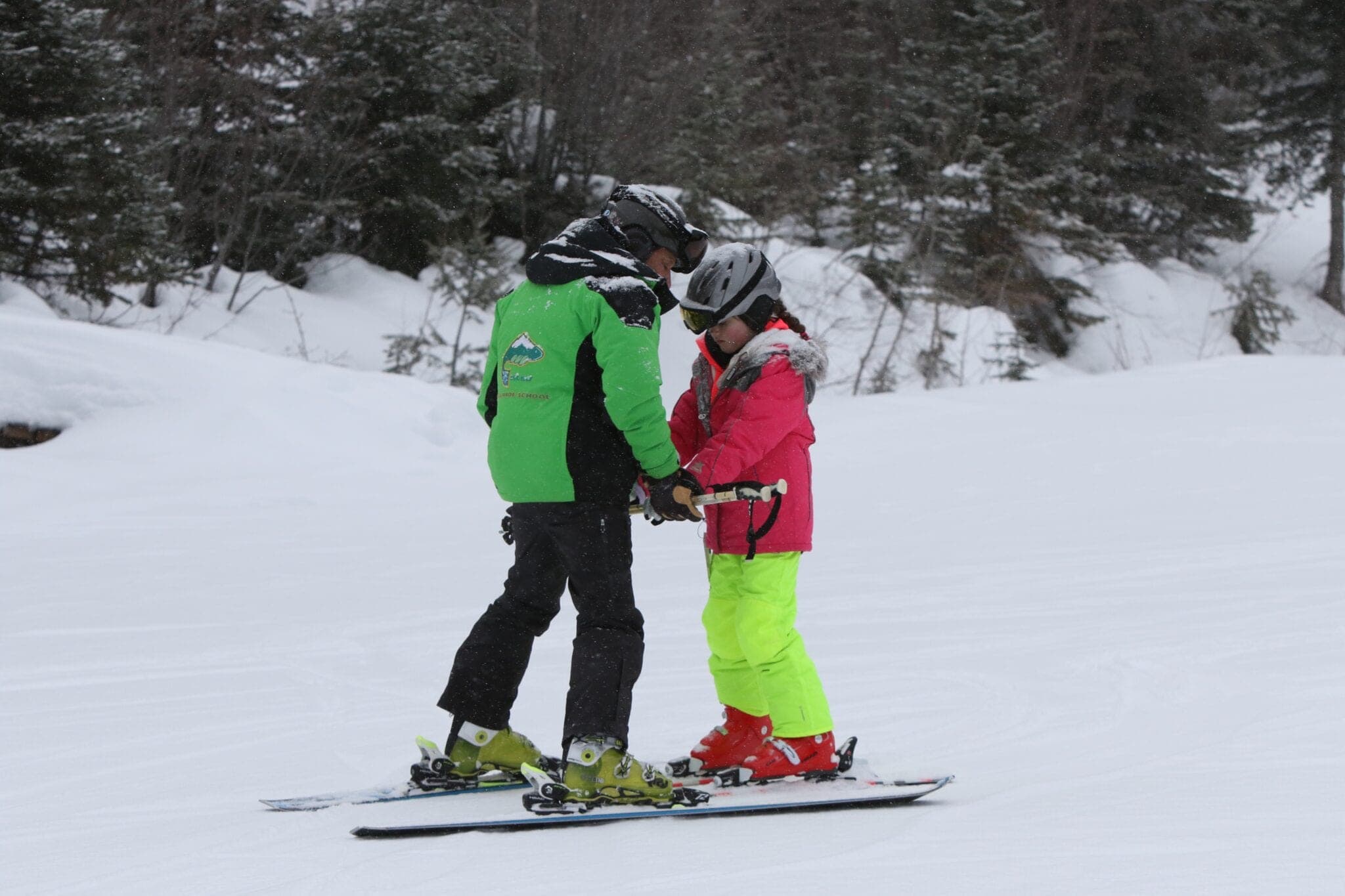 The instructors were fantastic in my opinion. This is my youngest above and she would not go down the smallest hill by herself at first. We have had a tough year with the loss of my son, her brother, last fall – and she just was not herself. She hit the top of that very small learning hill, and shut down. She actually shed some tears, and rather then get impatient our instructor took his time with her and he skied backwards while she held a pole for the first half of the day. I was thankful to have such skilled, and kind instructors. He pushed just enough, and then helped her when she would get stuck, even if it was in her head mostly. By the end of the day she was skiing on her own, and she felt so great that she had overcome her fears and accomplished that.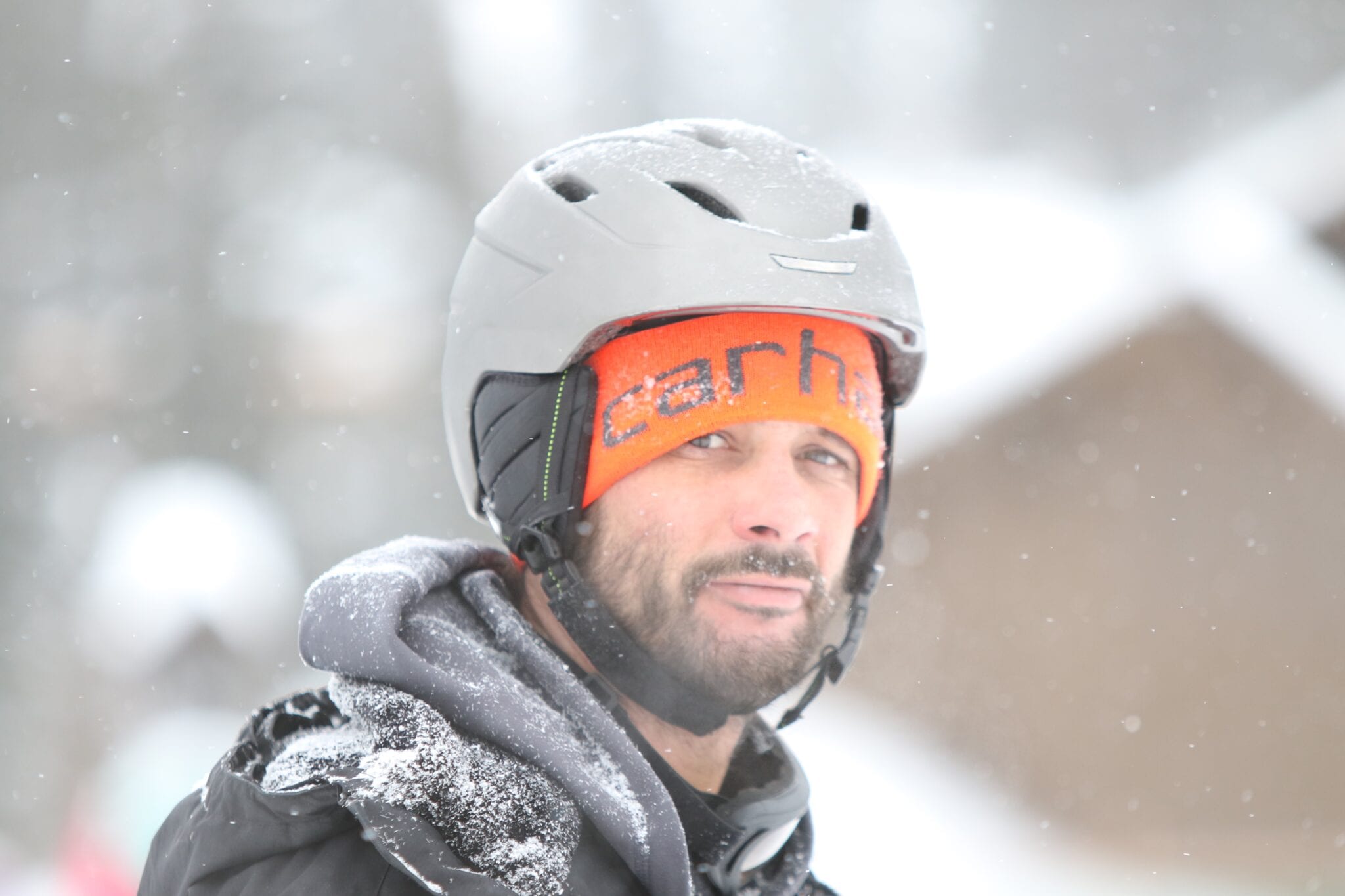 This is my husband in the middle of his snow board instructions. He was a natural! He picked it up much quicker then anticipated, and having a very skilled instructor certainly helped. He left the mountain feeling like he had made a new friend, not just learned a new skill.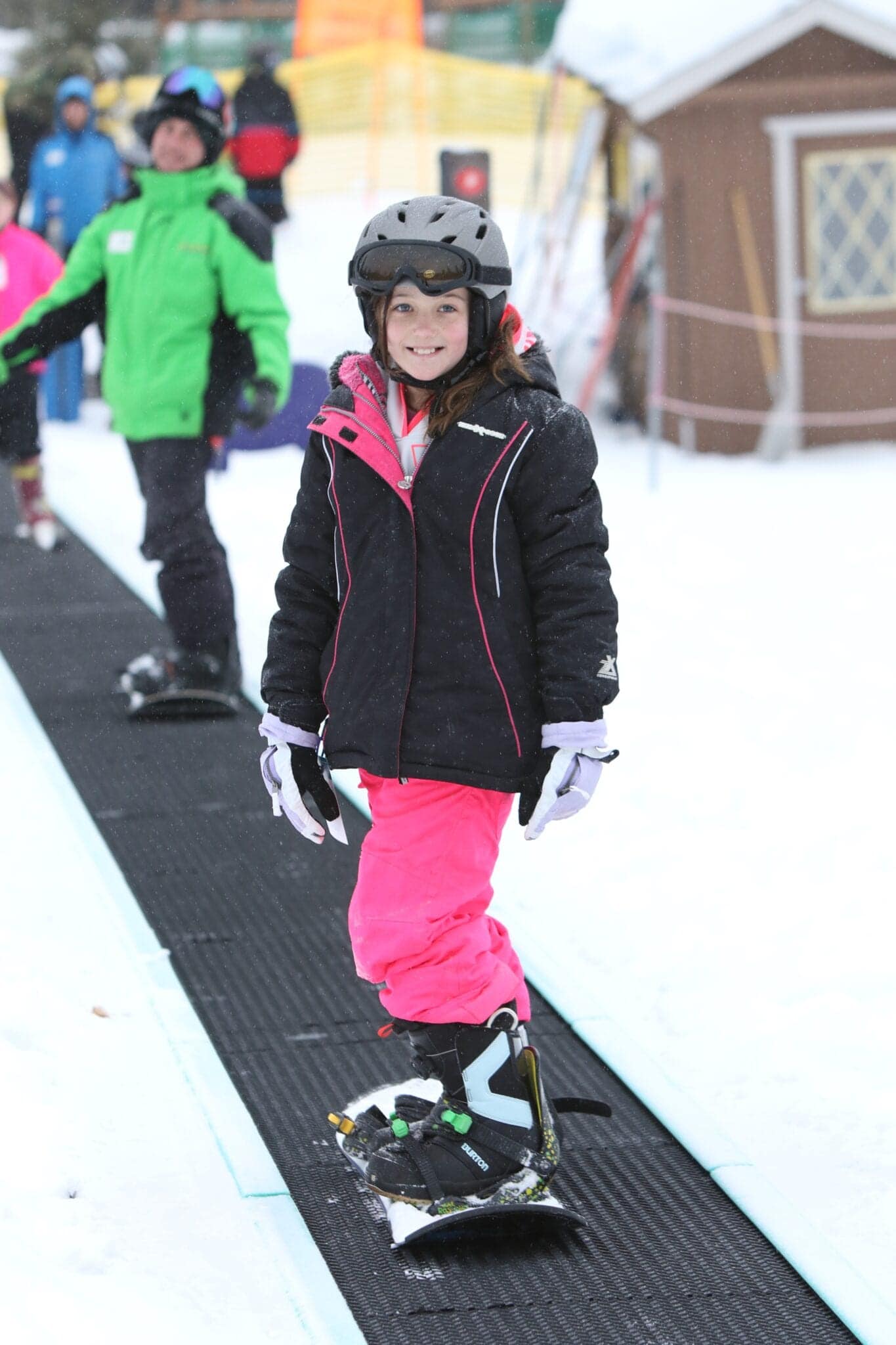 This is a picture of my daughter on the "magic carpet".  The magic carpet is kind of like one of those walking passenger conveyors you find in some airports these days. You stand on it, and it moves you to the top of the learning hill.
We all agreed, our day of skiing and snow boarding at Whitefish Mountain resort was a highlight for us, and not one we will soon forget. We are hooked. We plan to do more skiing and snowboarding in the future for sure!
In addition to the fun we had skiing, we found the lodge to be really comfortable, and the eating options good (coffee was great too). I do recommend visiting on a weekday if possible, to avoid the much heavier weekend crowds.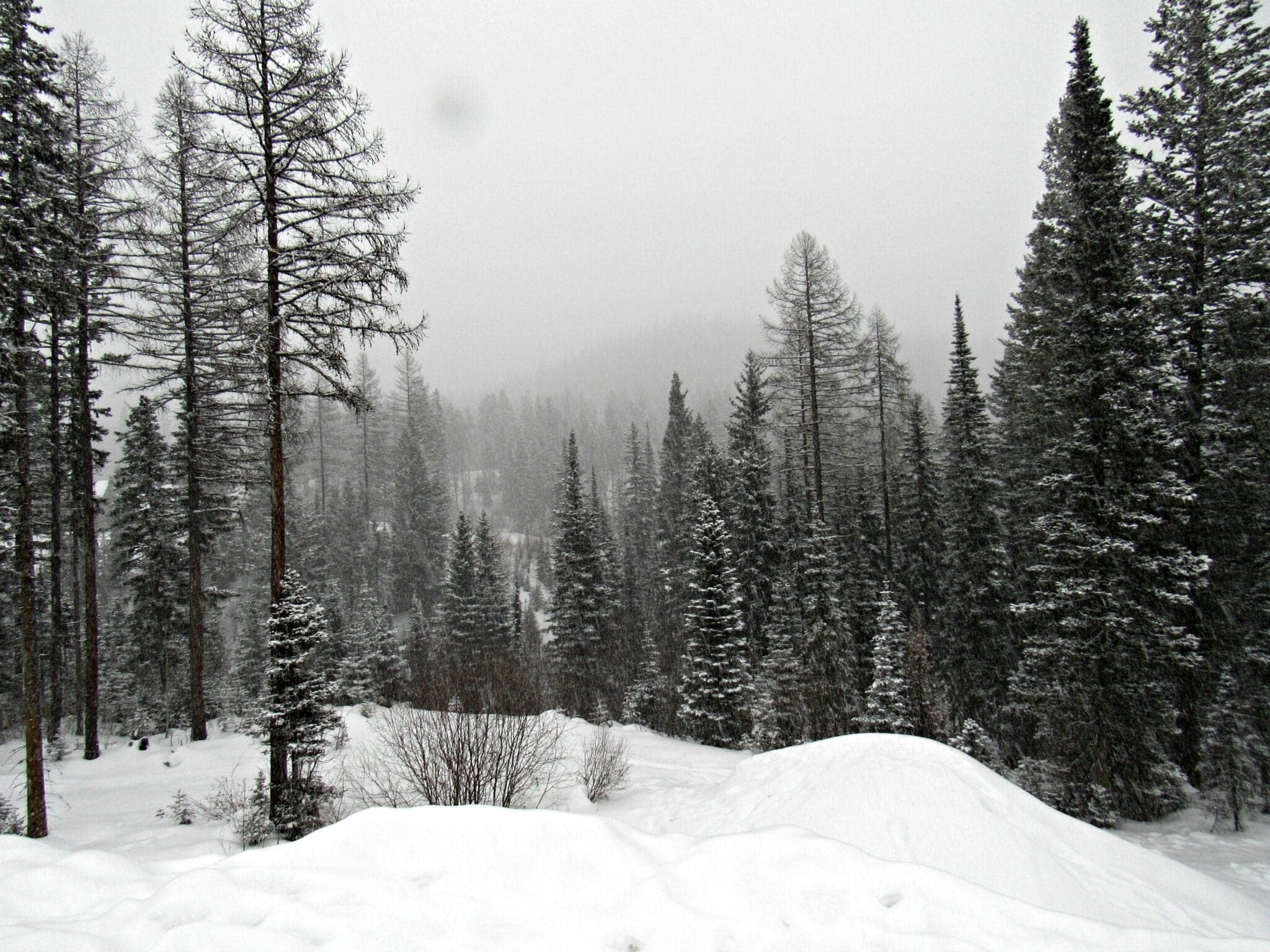 More ways to save on skiing at Whitefish Mountain Resort:
Seniors 70+ and kids 6 and under ski for FREE!
If you are a beginner, and do not plan to ski the bigger hills yet, you can get a lift ticket for the lower hills and the magic carpet for just $22. These are the ones we skied while we were there, and it would be a few more visits at least before we would be ready to move beyond those.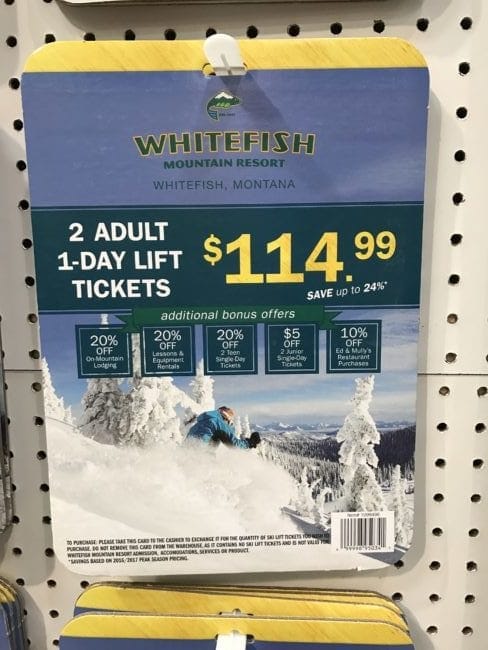 The Costco in Kalispell and Missoula carry discount lift tickets for both Whitefish Mountain Resort and Blacktail.
Consider Night Skiing. Those lift tickets are only $22 too! When we were up there. we saw folks coming in for night skiing, and it looked fun.
There is another Ski Area called Blacktail Mountain, and we heard it was affordable. We did not visit there, so I cannot speak from personal experience, but we did look up their ski school rates and they were $70 for adults, $60 for teens, $50 for kids, and $40 for 7 and under, so depending on the ages in your group that is an alternative you can consider as well. Their daily lift tickets are also very affordable ($17 for kids, kids 7 and under free, and $40 for adults).
A couple more notes about Blacktail Mountain:

You can ski free on your birthday (need proof)
All fifth graders get a FREE Blacktail Mountain day ticket when they show proof of grade (report card, note from teacher, student ID card). For a $10 office fee they will process a season pass.
Kids 7 and under Ski free
Other things to enjoy at Whitefish Mountain Resort:
Take advantage of their free ambassador tours daily (you will need a lift ticket, and be able to ski in the blue areas).
Visit the Nature Center up on the summit! Children ages 7-12 are invited to become Junior Forest Rangers – it's free, it's fun and includes an official badge and certificate. Families are encouraged to borrow an Outdoor Adventure Pack from the Nature Center and explore the outdoors. The pack contains field guides and materials to help families learn together in a fun and informal setting.
You might also be interested in: