Clearwater Resort Review – Fun Basecamp for Kitsap Peninsula Trip!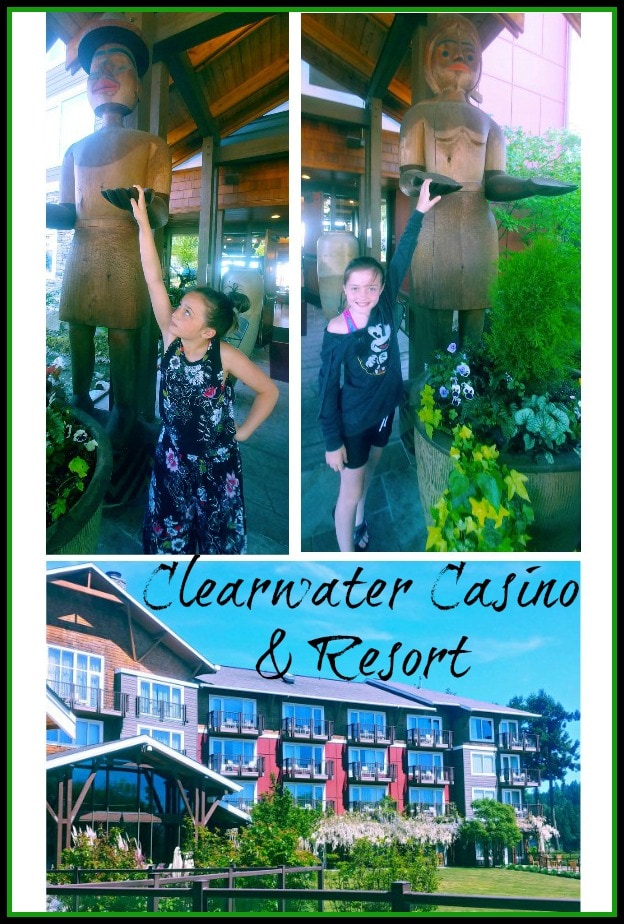 Have you heard of the Clearwater Resort over on the Kitsap Peninsula? It is a spot where you can get a little more for your dollar  if you book when they have a deal going on. It sits right on the water, within minutes of some fun towns worth exploring, and offers some nice amenities right on property.
We recently spent Mothers Day over on the Kitsap Pennisula, and chose the Clearwater Resort for our stay. It was such a beautiful resort, and has great proximity to many of the fun towns on the Kitsap Peninsula you might want to explore, so we thought it was a fun destination idea to share with you all.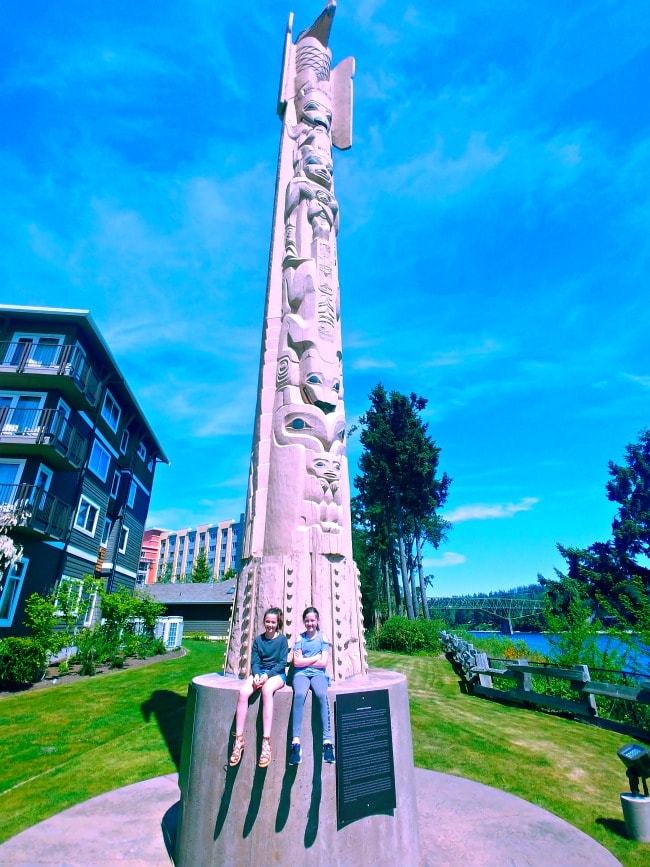 It is technically the Clearwater Casino and Resort. I have been a fan of staying at some of the casino resorts in the past, because I have found you can get a great bang for your buck. Rooms are often updated regularly, there are multiple restaurants on site, and room rates are often lower then other hotels. This is one of my favorites though, because there are two resort areas, and one of them is a completely separate area from the building that the casino is in. So, we really felt like we were staying in a waterfront resort versus a casino hotel.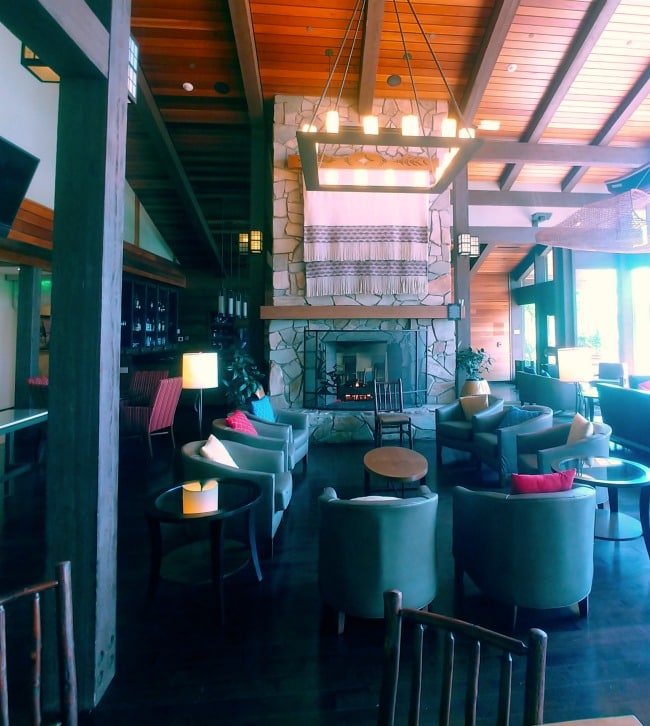 I loved the NW lodge theming of the hotel. It is built and run by the Suquamish tribe, and you can explore a museum for more history on the Suquamish, right on property.
I recently downloaded their mobile app, and they pushed out a $79/nt hotel rate promotion to me for joining. Their promotions and offers will vary, but this is just an example of the great rate we found recently.
If you are wanting to explore the Kitsap Peninsula (towns like Poulsbo, Port Gamble, Bainbridge Island and more) these are all within an easy drive to the resort. We headed into Poulsbo one day, and that took us about 10 minutes. We headed over to Bainbridge and Kingston on other days, and they were both about 15 minute drives.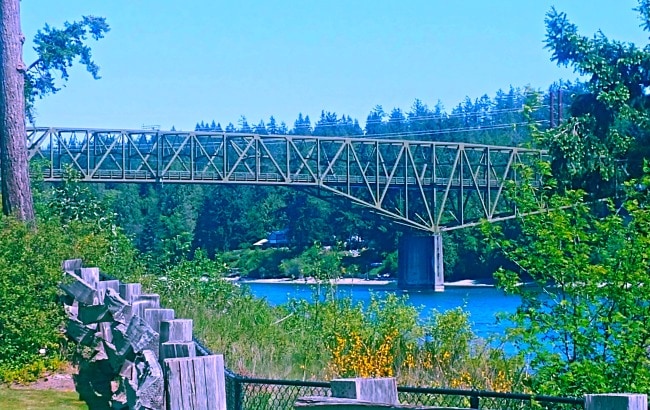 The way the Clearwater Casino and Resort is set up, is that there are two buildings that sit on the Agate Passage (so you have beautiful water views). One of the buildings is called the Towers (it is the new building), and it has the casino, the restaurants and events center, as well as what they call the Tower Rooms. The second building is more of a traditional lodge style, and it is the older building (but is currently being remodeled) and is my favorite building to stay in. It has the pool and hot tub, and our room was remodeled, and beautiful.
If you stay in this building with your family, you could enjoy your stay without the kids ever seeing the casino. The casino is on the fourth floor of the new building, so the only reason you might go up there with a family is if you wanted to eat in their nicer restaurant (like the Clearwater – and it is still outside of the actual casino). There is another restaurant, the Beach Cafe, and a coffee shop located on the first floor, so you could spend your entire stay there without ever going to the 4th floor with your kids.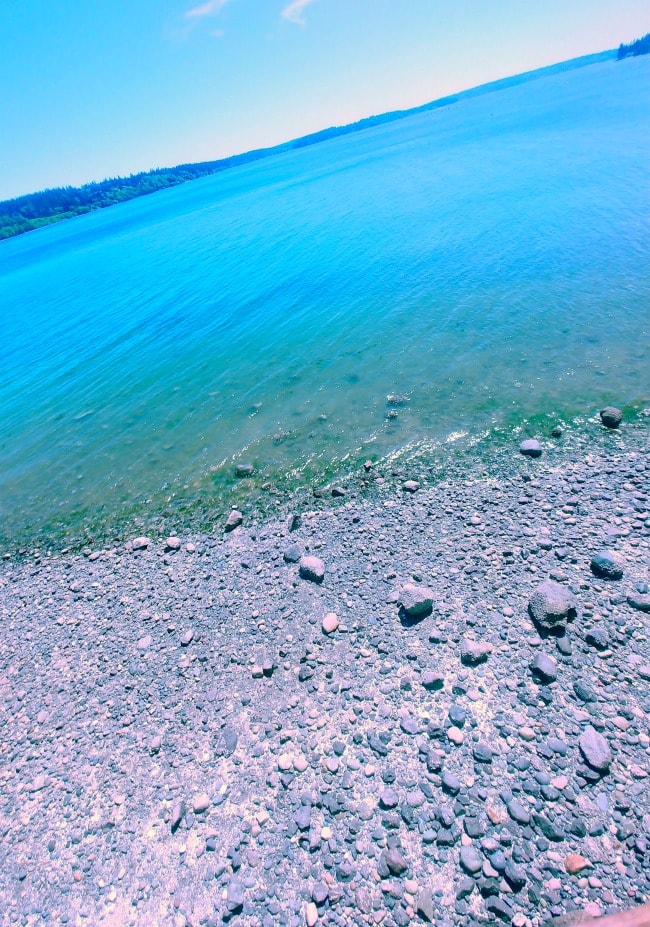 There are a couple of stairways down to the beach area. It was closed the first day as the tide was in, but the kids were able to play on the beach the second two days. Us adults sat up in the beautiful seating areas sipping coffee, and could watch the kids playing on the beach.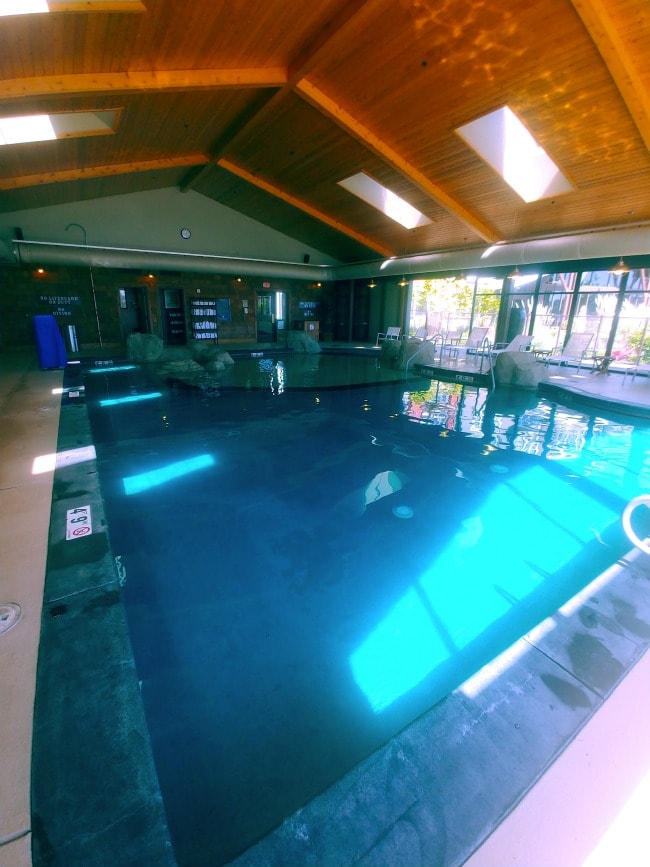 The pool was a highlight for us. We had included it in our Best Indoor Pools in Washington article here, based on recommendations from others. This was the first time we had experienced it personally, and my kids rated it right up there with one of their top favorite hotel pools.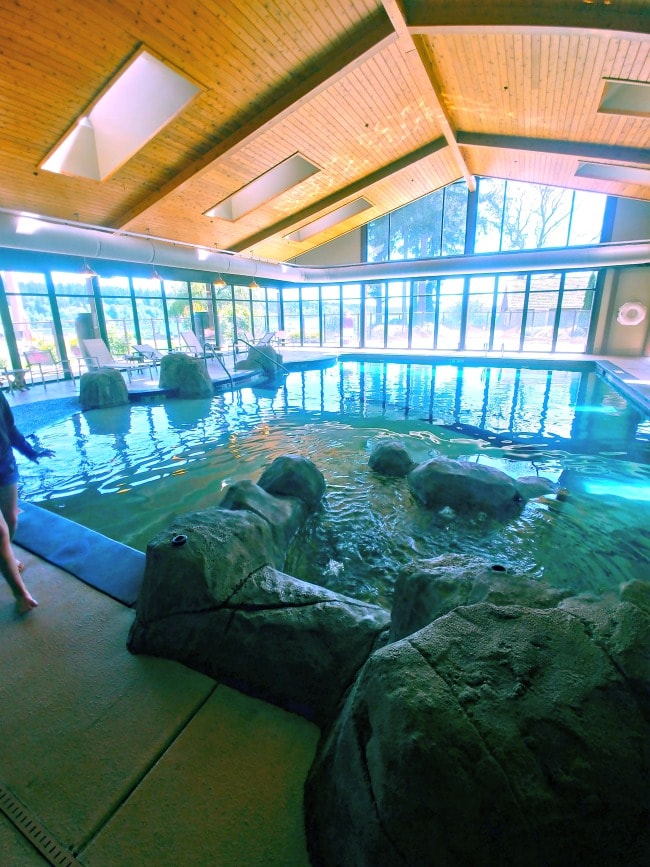 Pros of the pool –
It has a zero entry area, and the platform extends out, so younger kids have room to play.
The rock structure is a fun area for kids to play in. My girls called it the mermaid pool, and loved it.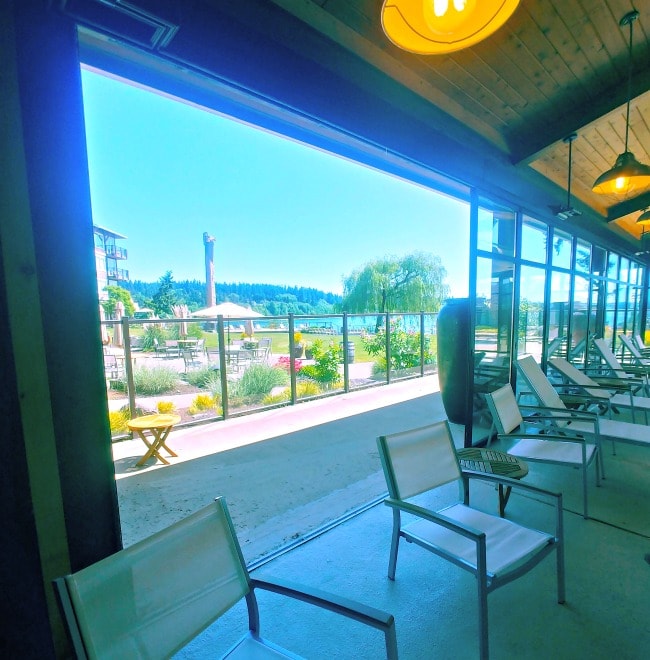 The pool is indoors, but there are glass doors they can open up when it is warm out, so it gets great air circulation (so you do not have that stuffy indoor pool feel while in there). That made it a really nice area for us adults to relax in, while the kids where swimming.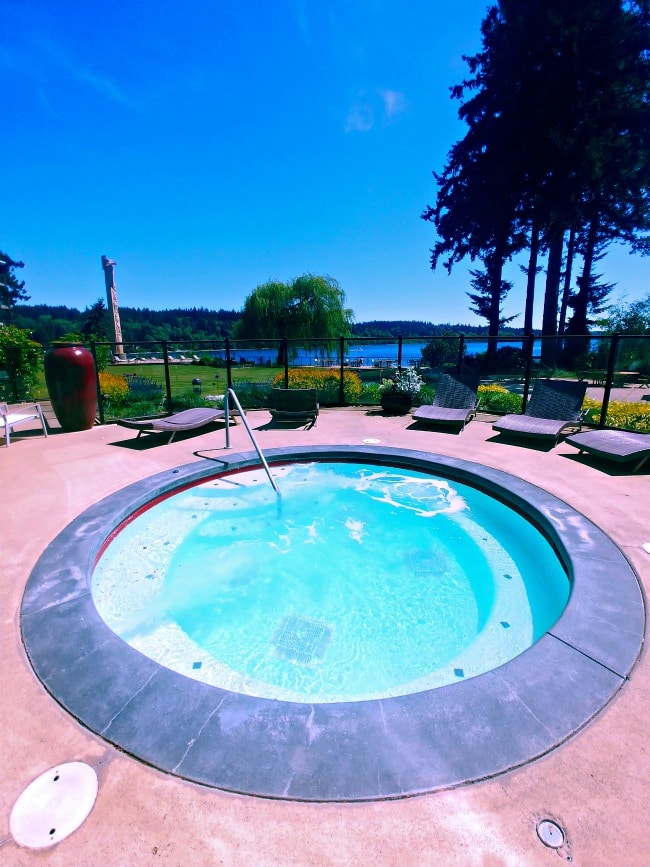 The hot tub is right outside, and has beautiful views. It was a nice relaxing spot, and I could easily see my kids if they were in the pool (my kids are old enough for me to watch from a distance like this), so it was a win win for us.
Cons of the pool –
The deeper swimming area is smaller (since the pool has lots of other things in it), so could possibly get crowded. We did run into a few times that there were lots of kids in the pool, but my kids never had trouble swimming.
It did get a bit crowded with lots of screaming kids the evenings when we were there. I am not sure if there was an echo to the room, or it was just a louder crowd then usual, but it did get a bit loud during the busy times of the night
The pool is slightly colder then I like it, so I did not swim much in it. The kids did not complain, they found it very comfortable, and I had the hot tub outside I could relax in.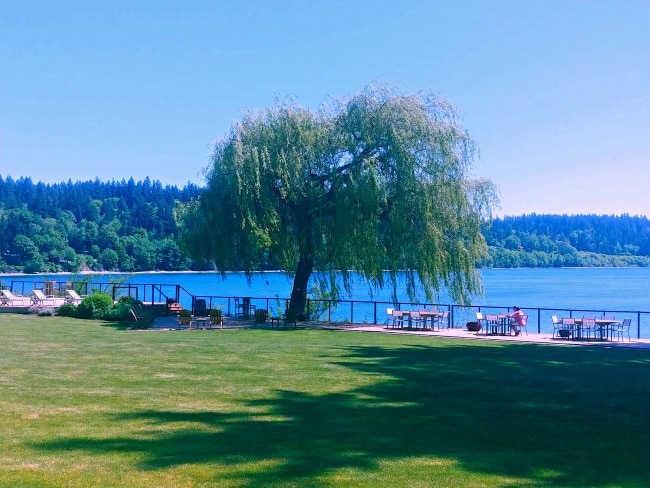 There is this large grass area that faces out over the water, and there is seating throughout the area. There is also a fire pit out in this back grounds area, that they light in the evenings and you can enjoy. In the summer, on specific days, they host outdoor movie nights on the lawn here as well. Those looked like a lot of fun for families, and you can find the schedule of those movie nights here.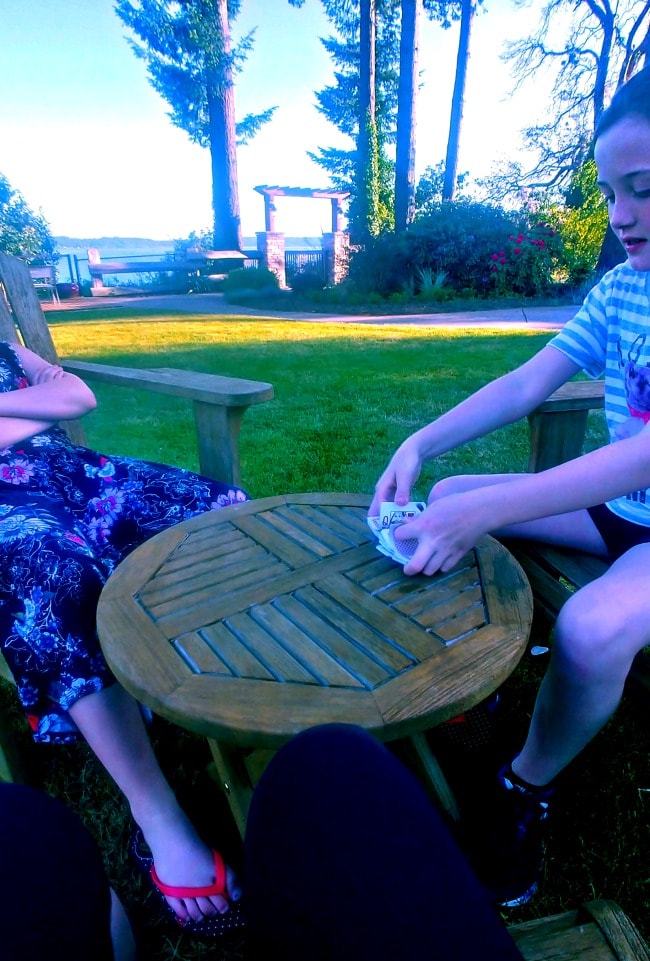 We relaxed one evening on the lawn, with the water view, by playing some games together. It was so relaxing.
There are a number of day trips you can take from this resort to explore local towns, that are lots of fun, and very close by. Here are a few of our favorites:
Poulsbo – about a 10 minute drive to the Historic Downtown Poulsbo area, where you will find plenty of shops and restaurants to eat at. There is also a movie theater up in the main part of town if you wanted to do a movie out.
Bainbridge Island – is right across the bridge, so a 5 minute drive. However, the ferry terminal and town, etc are more like a 15 minute drive. Again, it is an easy drive!
Port Gamble – about 20 minutes, but an easy 20 minute drive. This historic town is small, but full of tons of charm and worth a visit.
More Articles You Might Like:
Weekly List of Frugal Getaways in the Norhtwest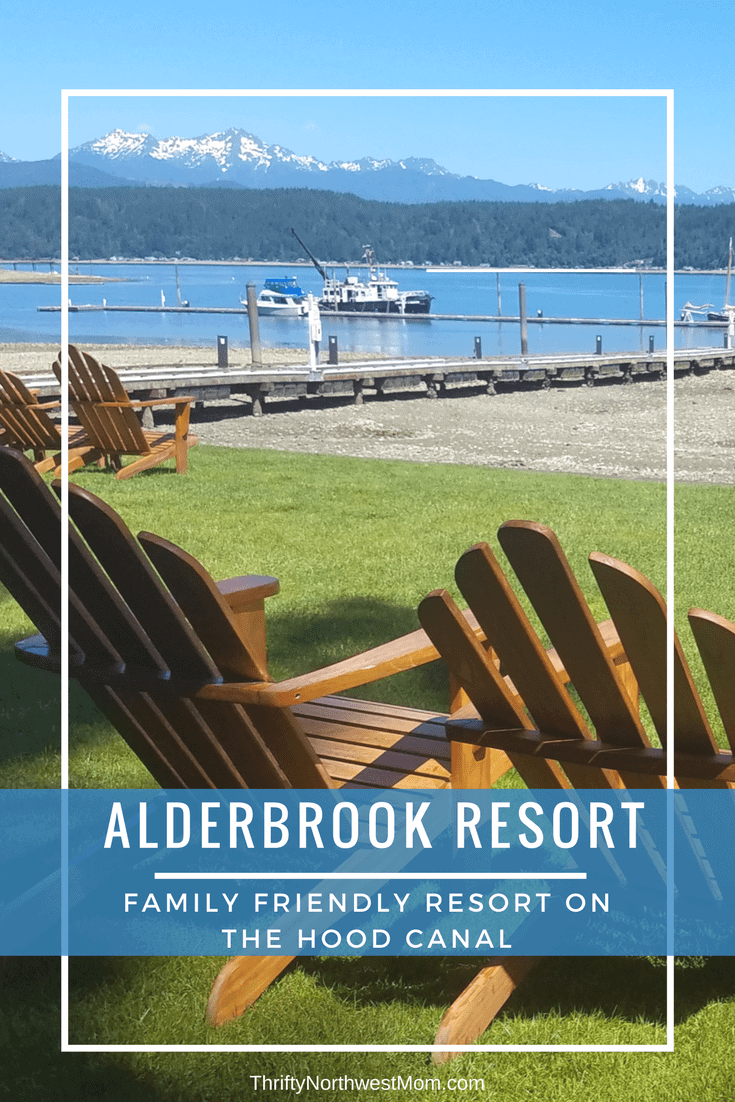 Alderbrook Resort – Family Friendly Destination on the Hood Canal in the Northwest
Glamping in the San Juan Islands at Lakedale Resort
The 4 Best Beaches for Families in Olympic National Park and Where to Stay