Explore Union Gap / Visit Yakima Valley – Civil War Re-enactment, Treasure Hunts, Berry Picking & More!
This post may contain affiliate links and I may be compensated for this post. Please read our disclosure policy here.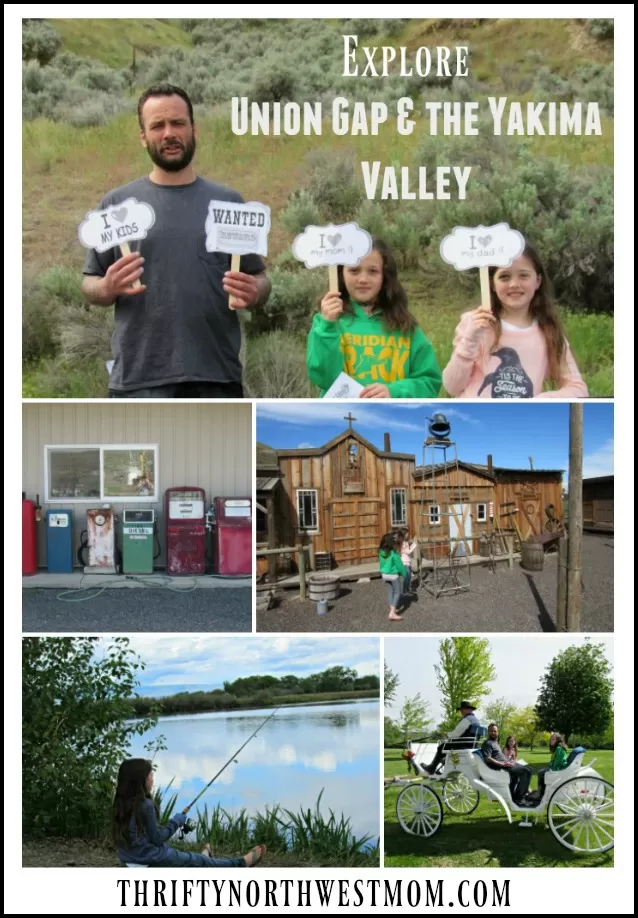 Family Friendly + Budget Friendly Destination: Visit Yakima Valley & Union Gap Wa.
We recently spent a weekend in Union Gap Washington. If you are planning to visit Yakima Valley, consider making this your base camp. It is a very easy trip from the Seattle area (under 3 hours), and an affordable option if you're looking for a budget friendly getaway. Many of the things we did were free, or low cost. I found it to be a great balance of low key and relaxing, yet plenty of things to do when you are looking to get out.
If you are interested in history, this town is a great spot to visit. They offer many events year long (and most of them are free), that will drench you in history. One example is the popular Civil War re-enactment coming up Fathers Day weekend.
It's a very family friendly area to visit. Union Gap sits next to Yakima (was the original Yakima city until it was renamed in 1917), and is a convenient base camp to explore many things the Yakima Valley has to offer. We have many suggestions of frugal things to do with your family when you visit. Be sure to check out VisitUnionGap.com here for more ideas too.
If your thinking of heading to Union Gap for a Fall Visit, to enjoy the corn mazes and haunted houses this time of the year, we have updated the end of this article with all of that information, so be sure to check that out!
Here are a number of ideas of things you can do and explore in the Yakima Valley. Union Gap is a great base camp for all of these activities:
We fished over Mothers Day, and my girls caught 7 trout in just a couple of hours!
Fishing – free if you have a fishing license and equipment
(Note – free fishing weekend is coming up the first weekend of June, if you do not have a fishing license and want to enjoy some fishing!)
My family loves to fish. If that is something you like to do then the Yakima Valley is a great spot to visit. One of the things that can be tough when we visit new locations, is finding out where some of the local fishing spots are located. That is not a problem in the Yakima Valley. They have what many refer to as the I-82 ponds. These are 7 fishing ponds that stretch from Union Gap to Zillah, and are easily spotted from the highway.  The ponds are stocked starting in March. There are a number of fish in the ponds, but most folks we talked to were catching trout or bass.
If you are coming from the Seattle area, you will start to see various fishing spots once you hit Ellensburg. There are many options for those wanting to catch a few fish on your getaway. We spent Sunday fishing on our weekend, and the kids brought us home 7 trout!
You will need a Discover Pass or Fishing Hanger and a Fishing license of course. We did find one pond up at the Dinosaur Park in Granger that does not require the Discover pass, but you will still need a fishing license.
Carriage ride we took during our visit to the Central Washington AG Museum – it may be the only free carriage ride I have ever had!
Central Washington Agricultural Museum – Free
The Central Washington Agricultural Museum is the largest agricultural museum on the West Coast, and is free! It's run by volunteers (and boy do they have some top notch volunteers), which allows them to provide free admission.
They host many top  notch events here as well, and most are free too. Coming up Father's Day weekend is the very popular Civil War Re-enactment. There were 4000 visitors last year, so you will want to be sure to plan ahead if you are going to visit during that time. It sounded like a great event, and there are lots of special activities for the whole family.
My family loved this museum. It's a real jewel they have over there, and makes for a great visit for both adults and kids.
Some highlights from our visit include: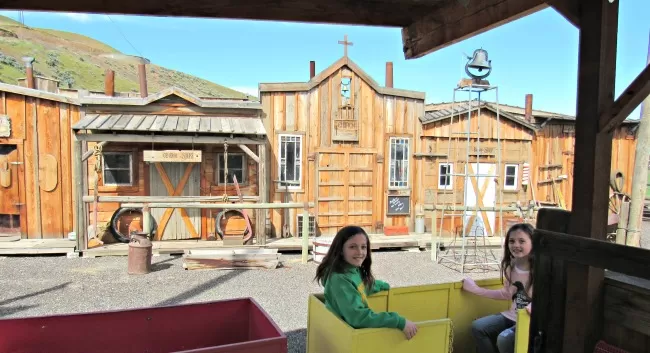 This old west town they constructed around a train that was restored by volunteers! They open it for the events, and I rode around town with my kids in the train. I could not resist. It was just too cute.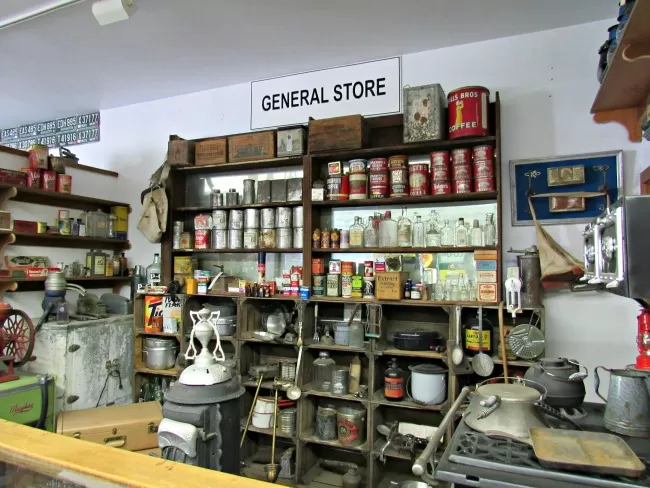 The Agriculture Museum is made up of different sections that you can browse through at your own pace, by following comfortable walking trails. Here is one of the General Stores that was on display. They also had trapper cabins, old gas stations, milk houses and so much more.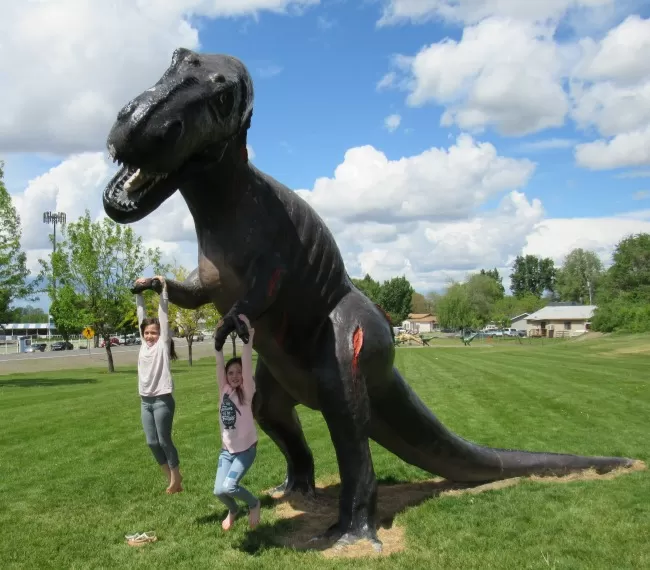 Dinosaur Park in Granger – Free
Explore the Dinosaur Park in Granger, Wa (about a 20 minute drive from Union Gap, if you are staying there as your home base). We took the long way doing some exploring in Zillah (stop and see the old tea cup gas station) on your way too.
We have a full review of the dinosaur park here, and the dinosaurs you will find in the town of Granger. There is also a fishing pond there. It makes for a fun afternoon stop.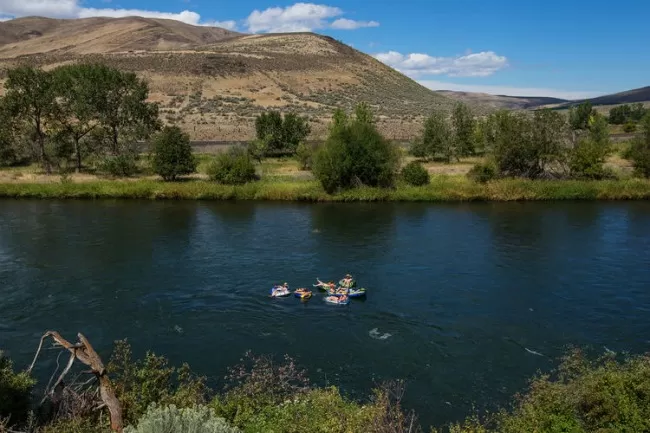 Photo Credit: Yakima Herald
Floating the Yakima River – Free if you have your own inner tubes
Floating the river is always a memorable experience for the whole family. If you have your own tubes, then this could be free, but even if you do not there are plenty of spots in town to get them without spending a fortune. We walked over and checked out Dick's Sporting Goods at the mall in Union Gap, and found them there for around $10 to $15 per tube.
You can also find this article in the Yakima Herald that provides lots of great information on how to best float the Yakima River with your family.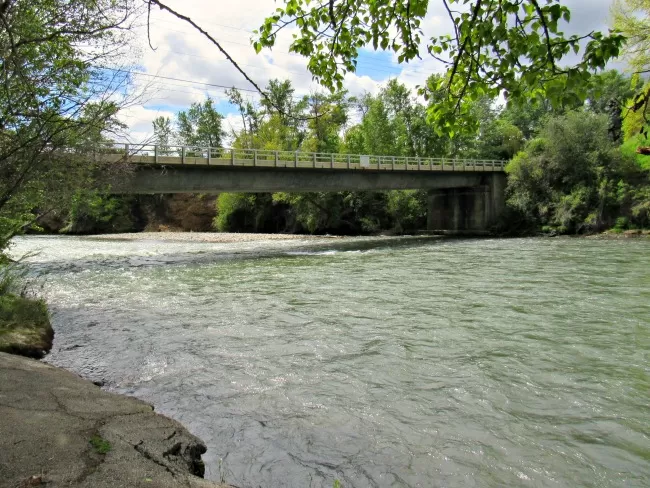 Explore the Outdoors, Yakima River Greenway / Botanical Garden & More – Free
In addition to floating the Yakima River, you can walk many trails along it too, as well as enjoy some parks.  There are some great river front pathways near where we stayed in Union Gap. You can also find paths all over to plan your exploration here.
If you have little ones with you, there is a castle themed park on the Riverfront Greenway walk. Kids are bound to have fun here.
The Yakima Arboretum can also be fun to explore. It's free as well, but donations are welcome.
There are many trail options nearby. One popular one is the Cowiche Canyon Trail.
A few ways to enjoy it include:
Take the Scenic Drive entrance, you get a great view of the canyon
You can also enter at the canyon floor from either side, and then it is flat
You will find great photo opps, and there are 7 bridges going over the creek along the way.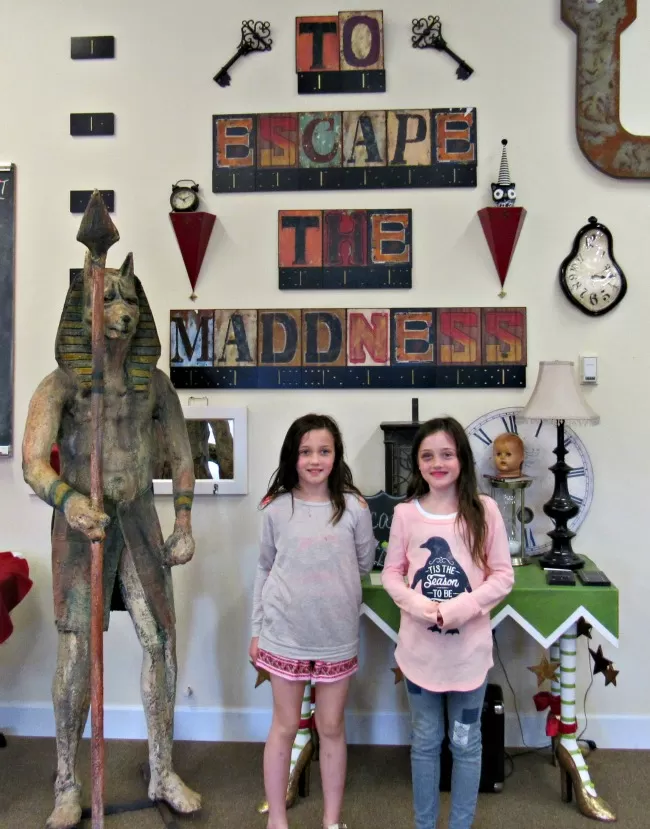 Escape Rooms / Treasure Hunt – $15 pp
We spent an evening at Escape the Maddness in Union Gap. It was so much fun! It was a highlight of the trip for my family. The cost is $15 per person. That is not much more then you would pay per person to go to the movies. It was a splurge event for us, but well worth the splurge in my opinion.
They have a couple of different themed rooms. We were in the pirate room, and our challenge was to start unlocking clues that unlocked more clues, until we finally unlocked the treasure. We had one hour to do it in, and there is an assistant in there who can give you three clues throughout the process if you get stuck. Everything you need to know is in the room with you.
You need a group of 4+. We did it with our two kids (8 and 10) and although they may have been a bit on the young side for it (suggested age is 14 and up) they had a blast (my kids love solving mysteries or clues though). We enjoyed the Escape Room and then headed over for dinner at Sea Galley (remember "we have crab legs") and it made for a perfect Saturday evening after a day of exploring for us.
Photo Credit: Eric Patrick 
Wine Tasting & Vineyards
The Yakima Valley is well know for it's Wine Tasting opportunities. There are many vineyards to explore. We had our kiddos with us, and so we did not explore any of these, but if it's something you are interested in opportunities abound in this area. You can find some trip ideas and list of local stops here.
Yakima Farmers Market – Free
The Yakima Farmers Market is free to browse, but be prepared, there will be plenty of tempting smells and sights that will be calling out to your pocket book. We got the kids a hot dog from a vendor for $1, and some street corn on the cob for $3 (a family favorite).  The Farmers Markets are open on Sundays, into October. You will find it located on South 3rd Street in front of the Historical Capitol Theatre starting in Yakima Ave.
The do host special events throughout the season, so be sure to check those out if you want to plan a visit around one of them. It's also a great launching pad if you wanted to explore some of downtown Yakima too.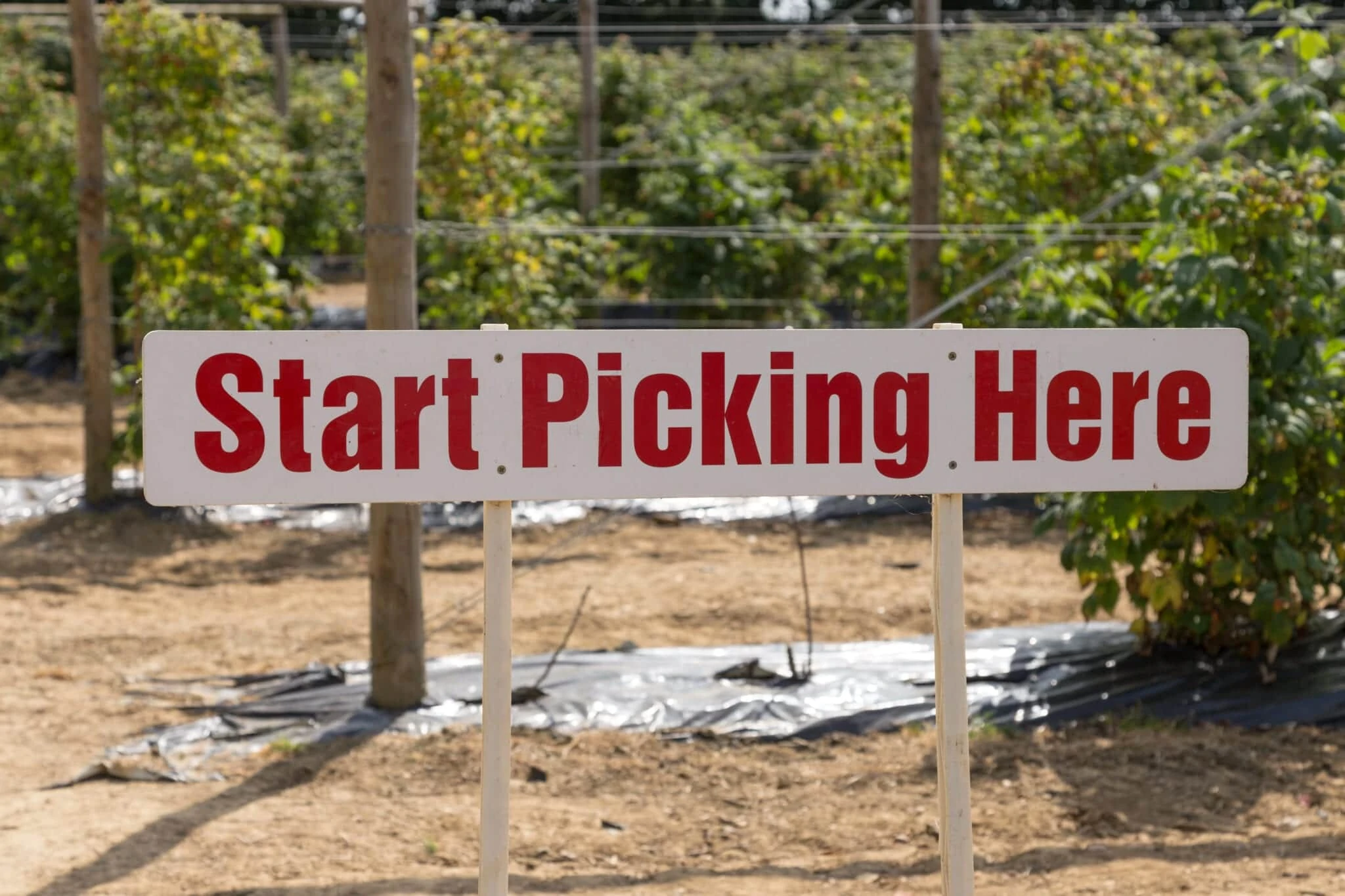 Berry Picking in the Summer
We were there a bit early for berry picking, but we heard lots about it during our visit. One spot that was recommended was Bills Berry Farm, and it looks like it not only has berries, but also festivals with family fun.
You can find a large list of U-pick farms in the Yakima Valley here as well, if you want to plan for your trip.
What to eat in Union Gap? Here are some suggestions of great eateries!
Los Hernandez Tamales has a loyal following locally and regionally, people stop from the 'west side' and will bring home several dozen frozen ones, or fresh ones for that evening. Try an Asparagus Pepperjack Cheese tamale – or maybe a half dozen! They only serve tamales here.
Nino's Mexican Grill, another super popular Mexican restaurant. You could easily share one of their burritos. It is a popular and authentic place local spot.
Pepp'rmint Stick Drive Inn, a local burger joint, decades old, and also has a loyal following. They serve up delicious burgers and shakes.
If you are asparagus fans be sure to stop and try some fried asparagus at Major's in town, another popular local spot!
Sea Galley (from the 'we've got Crab Legs' fame is still in business in Union Gap, next to the Best Western Plus, if you are looking for an easy spot to stop for dinner. It can be on the pricey side, but they have a great all you can eat salad bar if you are looking to get some veggies in the kids. We were celebrating Mothers Day weekend on our visit, so we had dinner here Saturday night, and they did have a great specials menu, and a kids menu too.
Fruit City is also in town, and is a great fruit stand if you want to stop for a healthy snack.
We stayed at the Best Western Plus Ahtanum Inn in Yakima Valley, and it was a very family friendly location. Staff was friendly, there is a grass courtyard and outdoor pool, and it's next door to the Valley Mall (which my kids loved – we would walk there for ice cream in the evenings).
What are your favorite things to do when you visit Yakima Valley. Did you have any "must see's" that we missed?
FALL Festivities in Union Gap:
Fall is another fun time to visit Union Gap. Here are some highlights for October fun going on this year! Be sure to check with the folks at VisitUnionGap.com when your planning your trip. They offer discounts to the corn maze and the haunted house when you stay at a Union Gap hotel, or eat at one of the participating restaurants as well! 

(Photo Credit: Visit Union Gap)
I would recommend planning your getaway around the Plowing Bee event happening October 13-14. Several horse drawn plow teams will demonstrate their power on both days. In addition, there will be tractor games and horse drawn Carriage Rides. It is free to get in, and enjoy the festivities, but donations are appreciated. We loved the Agricultural Museum, it was a highlight of our visit for sure. There are so many caring volunteers involved with running things here, and they are a wealth of information.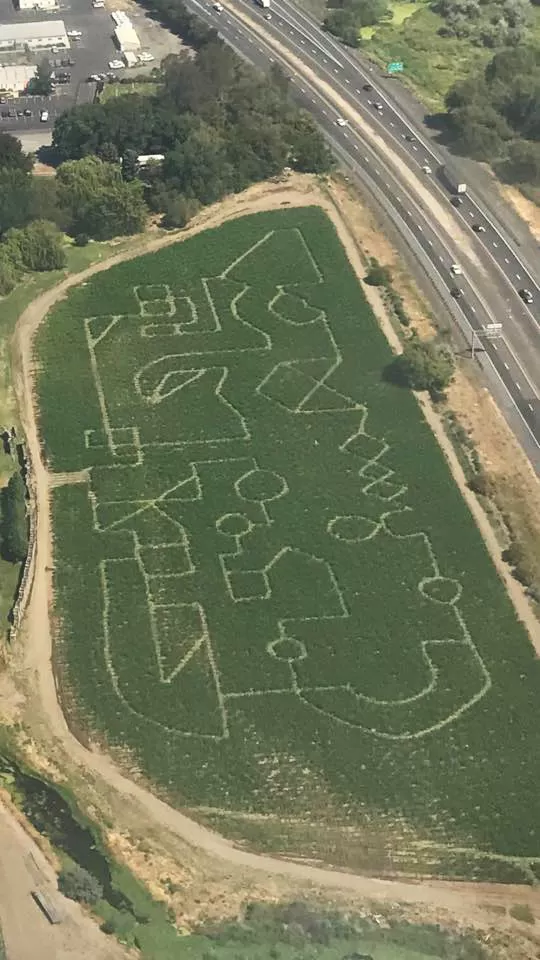 The Union Gap Corn Maze and Pumpkin Farm is the most popular in the Central Washington area. This is an aerial view of the corn maze – its a big one! It opens this weekend, and is also packed with fun activities for the entire family.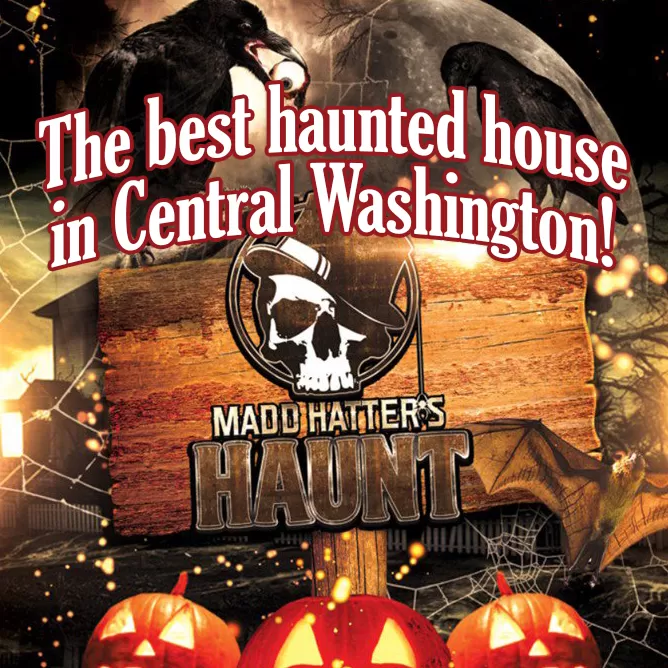 The Mad Hatters Haunt opens Oct. 12th, and it is the areas most popular haunted house. This place looks to be a little too much for me, but if you love haunted houses it may be right up your alley.
This is the same company that owns the Escape Rooms we mention above, and they have a couple of escape rooms set up that could be fun for Halloween time too, like Pharoahs Tomb and the Pirates Cove. We had a great afternoon in the Escape room, it was tons of fun!

If your kids love to skate, they will be having a Mascerade Ball at Skateland on October 26th.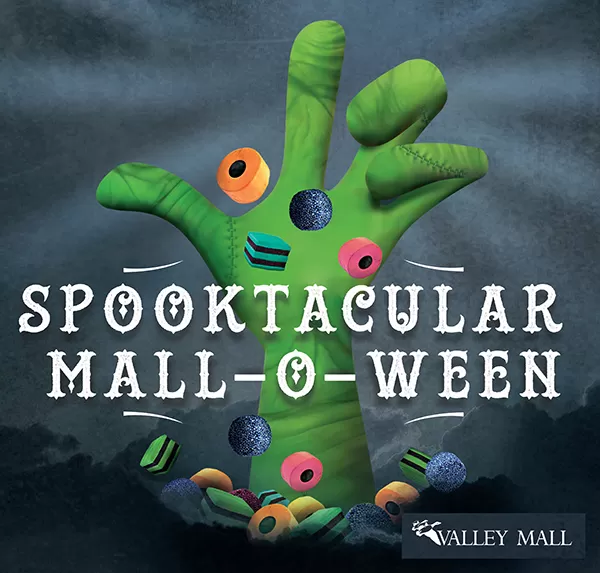 The local Valley Mall is hosting a fun event on October 20th for kids. There will be crafts and activity stations and more. Kids can wear their costumes and come have lots of fun for free! If you stay at the Best Western Plus in Union Gap you are in walking distance to the mall. My kids had me walking over there for Ice Cream and more during our visit. There is also trick or treating in the mall starting at 5pm on the 31st.
Be sure to check out the Union Gap Events Page here too. It will have other events you can enjoy, and most are free to very affordable for families!
Other articles you might be interested in:
Disclosure: Visit Union Gap hosted our stay. All opinions are 100% my own. See our disclosure policy for more details.