Free & Low Cost Fall Activities for Families!
This post may contain affiliate links and I may be compensated for this post. Please read our disclosure policy here.

15 Free & Low Cost Fall Activities for Families!
(Note – we have updated this post for 2021, and tried to note where things will look differently this year – but be sure to call ahead and confirm that locations are open, when planning a visit).
The fall season is one of the most enjoyable times to spend with your family. The air is crisp with a light winter nip and families are constantly looking for fun things to do. The good news is that Fall often offers lots of things to do for free, to help you save yet still enjoy family time.  If you are willing to be a bit creative and step outside the box, you can certainly find plenty to do without spending a ton of cash. We have a round up of some of our families free & low cost fall activities for families that we hope you will enjoy too.
In the Pacific Northwest, we are blessed with so many really great things to do for free, and Fall is a particularly great season to get out of the house and take advantage of these things. Here are some of our favorites!
Here are some awesome family activities that cost little to nothing at all: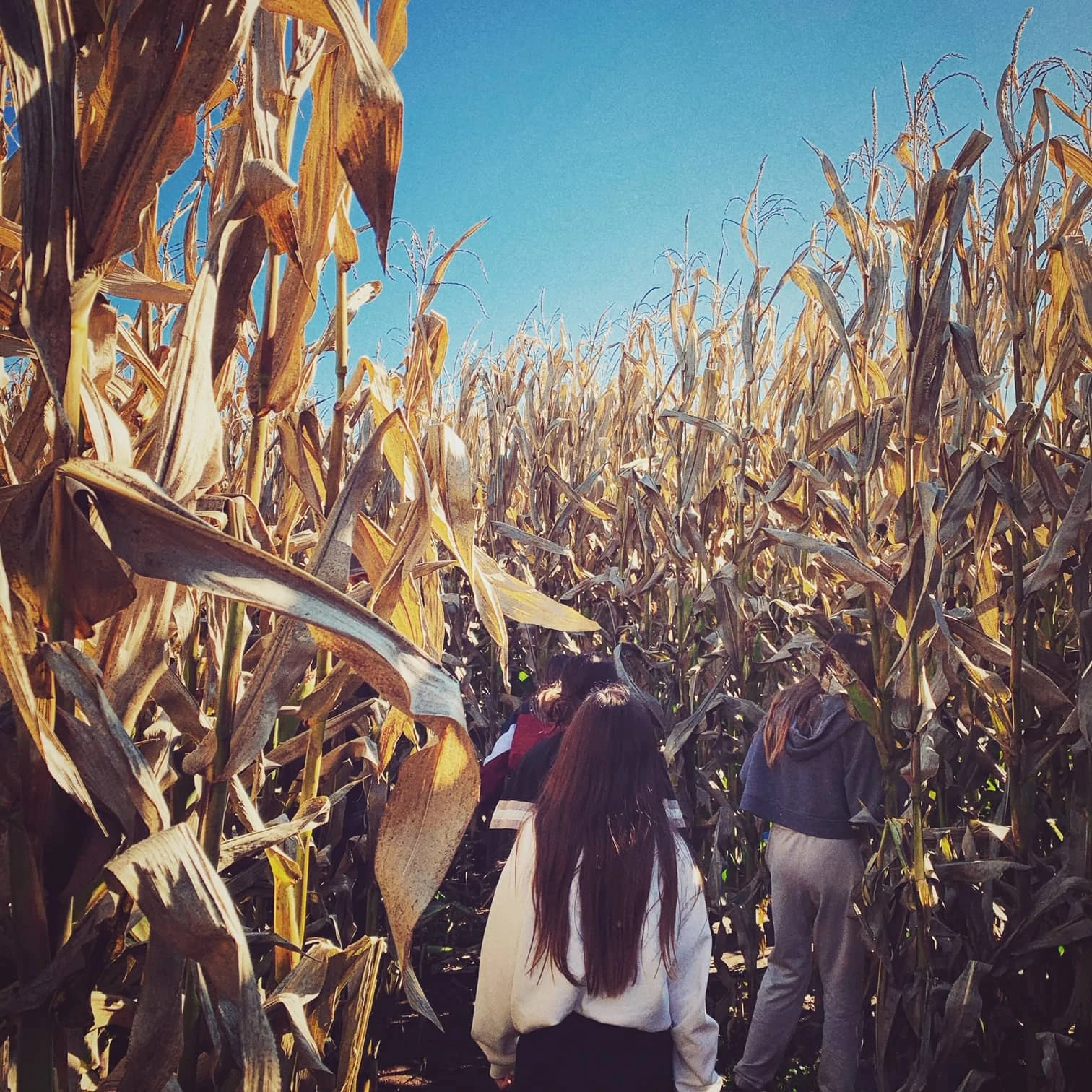 1. Join in a Hayride or Get Lost In a Corn Maze!
Kids and adults alike all love to go on a hayride. If you get to know your local farmers, finding a free hayride is super easy to do and tons of autumn fun. We do have a master list of fall festivals and pumpkin patches here in the Northwest, so you can call around to find out which ones might be offering free hay rides this year (be sure to call ahead this year, to confirm if they will be taking place as a result of Covid).
My kids have loved the corn mazes as they have gotten older (they really enjoyed this at just about any age). Some locations will have two sets of corn mazes, one for older kids and one for younger kids. I have found that if I let the kids do the corn maze at some pumpkin patch locations, it saves me – as then I am paying for one activity vs more than one, and these take the longest to do – so more time for the kids to have fun.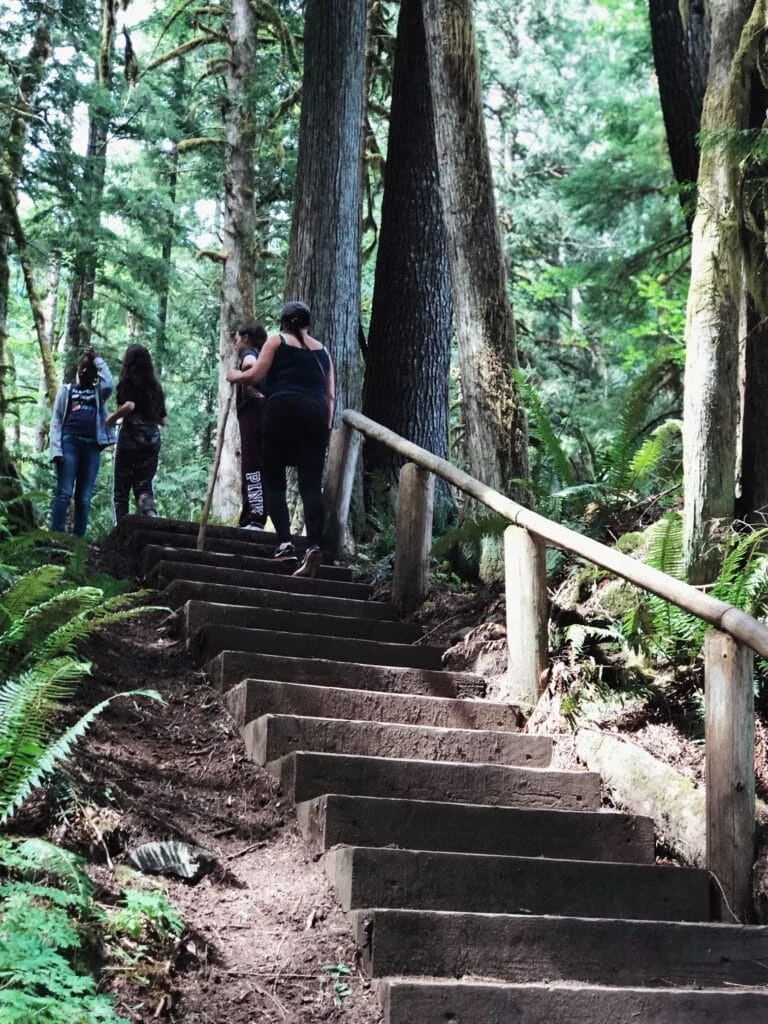 2. Go for a Hike 
If you want to have some fun that brings you close to nature and teaches at the same time, spend some time on a hiking trail. Few things will nourish your soul better than the forest.
If you are in the King County area, they offer a service called Trailhead Direct, that will provide low cost transportation to many of the great local hiking areas, through the Fall (note this season is suspended, but it is a great option to bookmark for next season).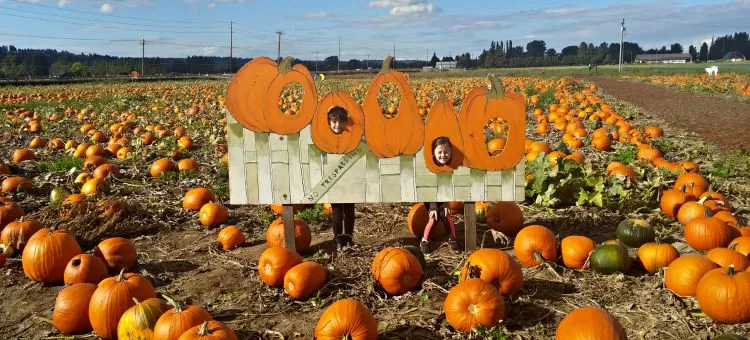 3. Visit a Pumpkin Patch
Walking around a pumpkin patch brings you right into the season. Some of the pumpkin patches will offer free admission (but you will have to pay for things to do there, like corn mazes etc). The trick here is to set expectations with your kids before you go (are you just going to enjoy the atmosphere, or do you have a budget to spend on certain activities or foods, etc). Pumpkin patches will look different this year, but many are still opening up and available for the public to enjoy.
Be sure to grab a pumpkin, and make your own pumpkin puree. Your pumpkin desserts will taste better than ever, if you use homemade pumpkin puree, and it is so easy!
Make sure to check out our big list of Pacific Northwest Pumpkin Patch reviews here for some ideas of what spots might be a good fit for your family (call to confirm if they are happening).
4. Find a FREE Oktoberfest to enjoy!
If you look in our Fall Festival list we share above, there are some days and times that you can get into different Oktoberfest celebrations for free. Leavenworth is another area where their festival is free, but you will pay gas to get there and food to eat (note all Leavenworth festivals have been cancelled throughout the remainder of the year, however we have found that you will often find festival like activities going on hear all season – like listening to music on the main stage, etc).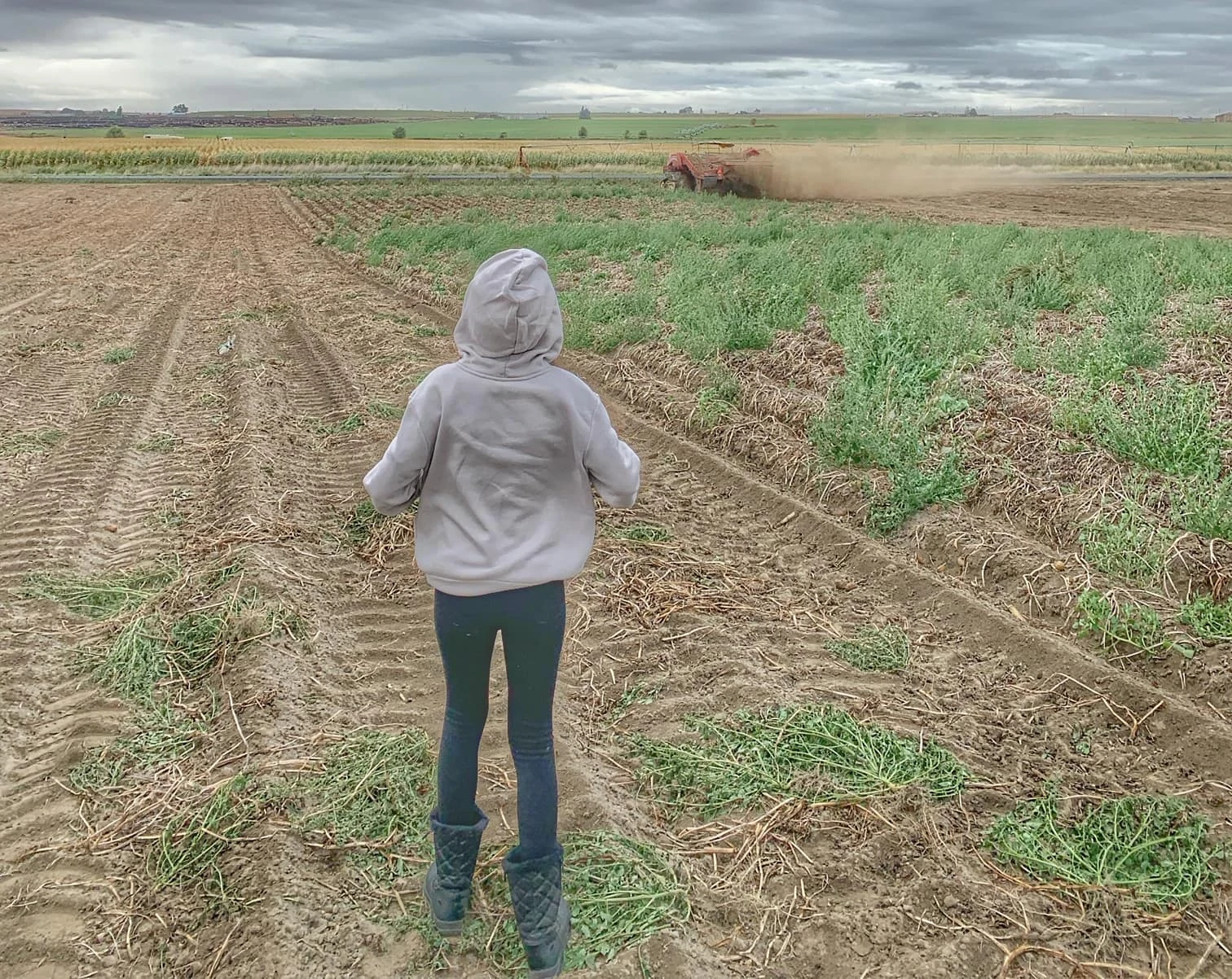 5. Tours – Take a Farm Tour / Explore Glass Pumpkins / History Tours & More
Whether it is a local farm or history tour, taking everyone around and viewing the important places of your community or your past is a ton of fun.
You could even do a family history tour, by taking the kids to visit your old homes, or their old homes, schools and heritage – and telling stories along the way. Seattle also offers a number of free (pay what you feel) tours as well. You can find a list of those here – currently suspended for 2020). Another fun one this time of the year is the A fun one this time of the year, is to explore the Glass Pumpkin Patches, put on by the Tacoma Glass Blowing Company. Find more info on that here.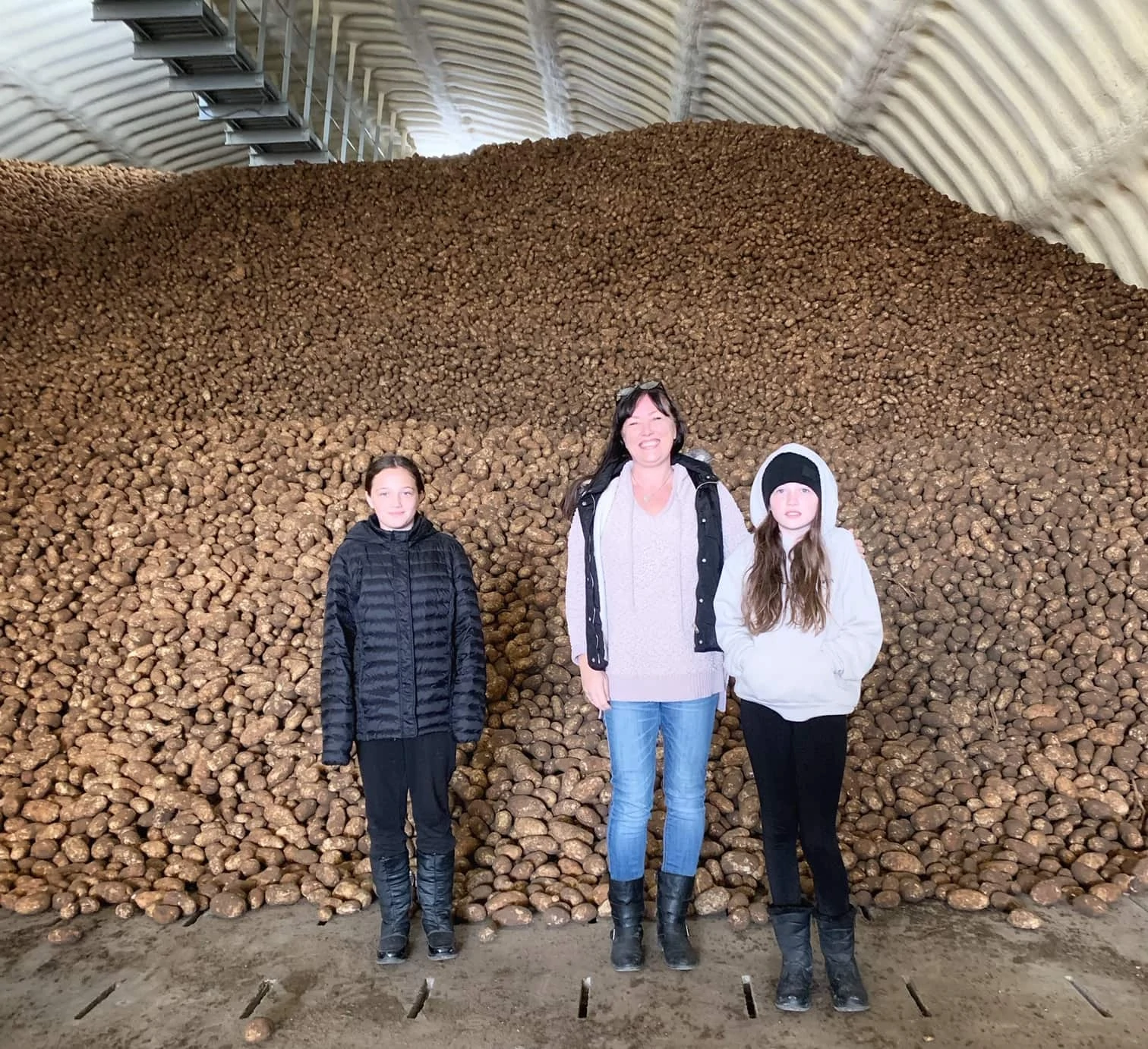 We enjoyed a farm tour of a potato farm in Central Washington last fall, and it was a highlight of the season for me. The kids and I learned so many interesting things about potatoes that I did not know. We brought some home with us and made this delicious Potato Corn Chowders afterwards too!
Just search farm tours near me, to get an idea of what options are available in your area.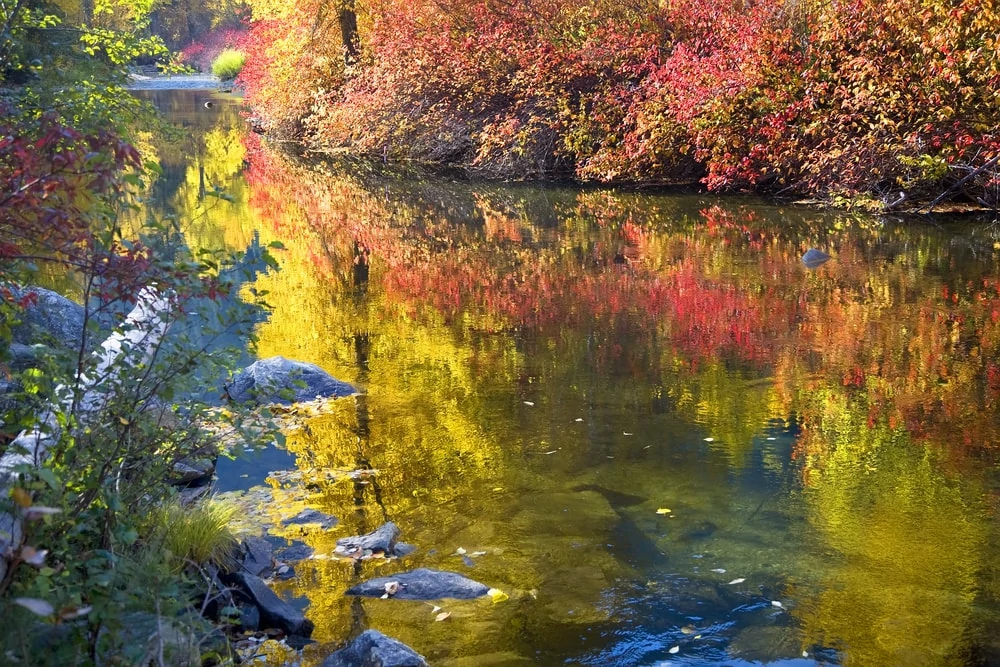 6. Make a day trip to view Fall Foliage 
We have a list of spots that you can view beautiful Fall leaves in the Northwest here. Another idea is to head to the mountains, and enjoy the beautiful drive there.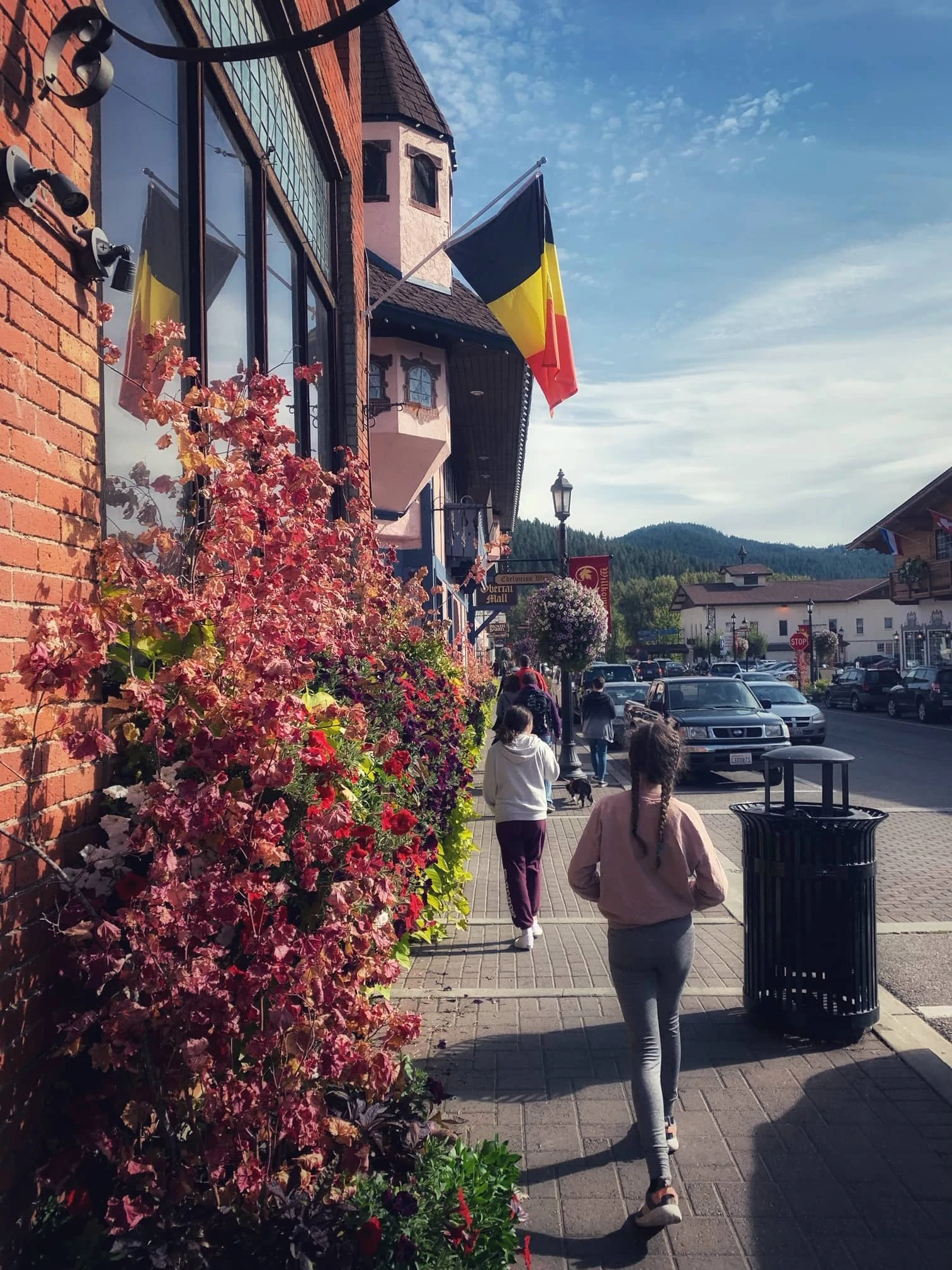 The Leavenworth & Wenatchee areas are beautiful place to see the changing leaves in Washington for example (and we share more about visiting this area in the fall here too). But find a town that you can drive to in a day, that you can view beautiful fall leaves either as you drive or when you arrive. Some of my most memorable fall days are doing this! Other fun day trip ideas might be:
Walla Walla Vineyards
Methow Valley and the Cascade Loop
Victoria BCs Bushart Gardens (borders are closed for leisure travel right now)
Silver Falls State Park in Oregon
Snohomish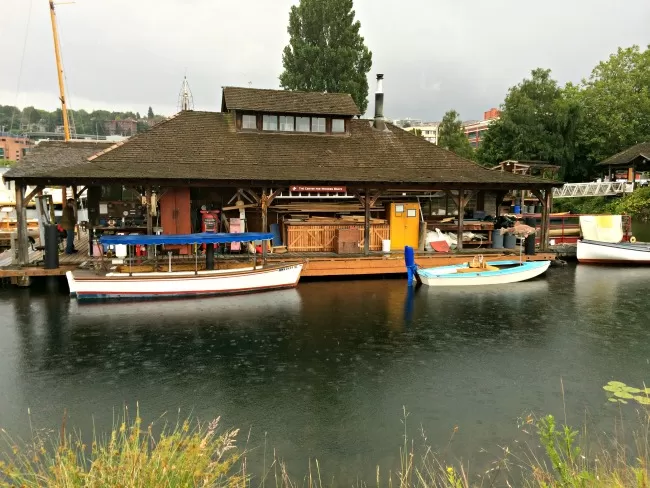 7. Go Sailing on a Wooden Boat on Lake Washington
** Update – you can currently reserve free one hour boat rentals, but the Sunday sales are suspended right now until further notice***
This spot offers free sailings on Sundays, throughout the year. Sprit boats, steamboats, electric boats, schooners, ketches, yawls, and yachts: come every Sunday to sail them all, year-round, rain or shine for free.
8. Take in a FREE or low cost event!
There are a number of spots that you can find free Fall events, or attractions (or low cost ones), to enjoy with your family. They include:
The Washington State Fair grounds are currently offering drive in dining options for weekends this fall. It is free to get in, but food will cost.
Check out the Drive In Movie options – some of those are just a few dollars per car load, and we list NW permanent locations in this article here.
Public library free passes – check with your local library to find out what kinds of free event tickets you can get with your library card. Many offer free museum tickets and more!
Comp Train Ticket deals – these tickets are free, but you will need to pay service charges so there will be a small fee.
Look for Fall Drive In movies.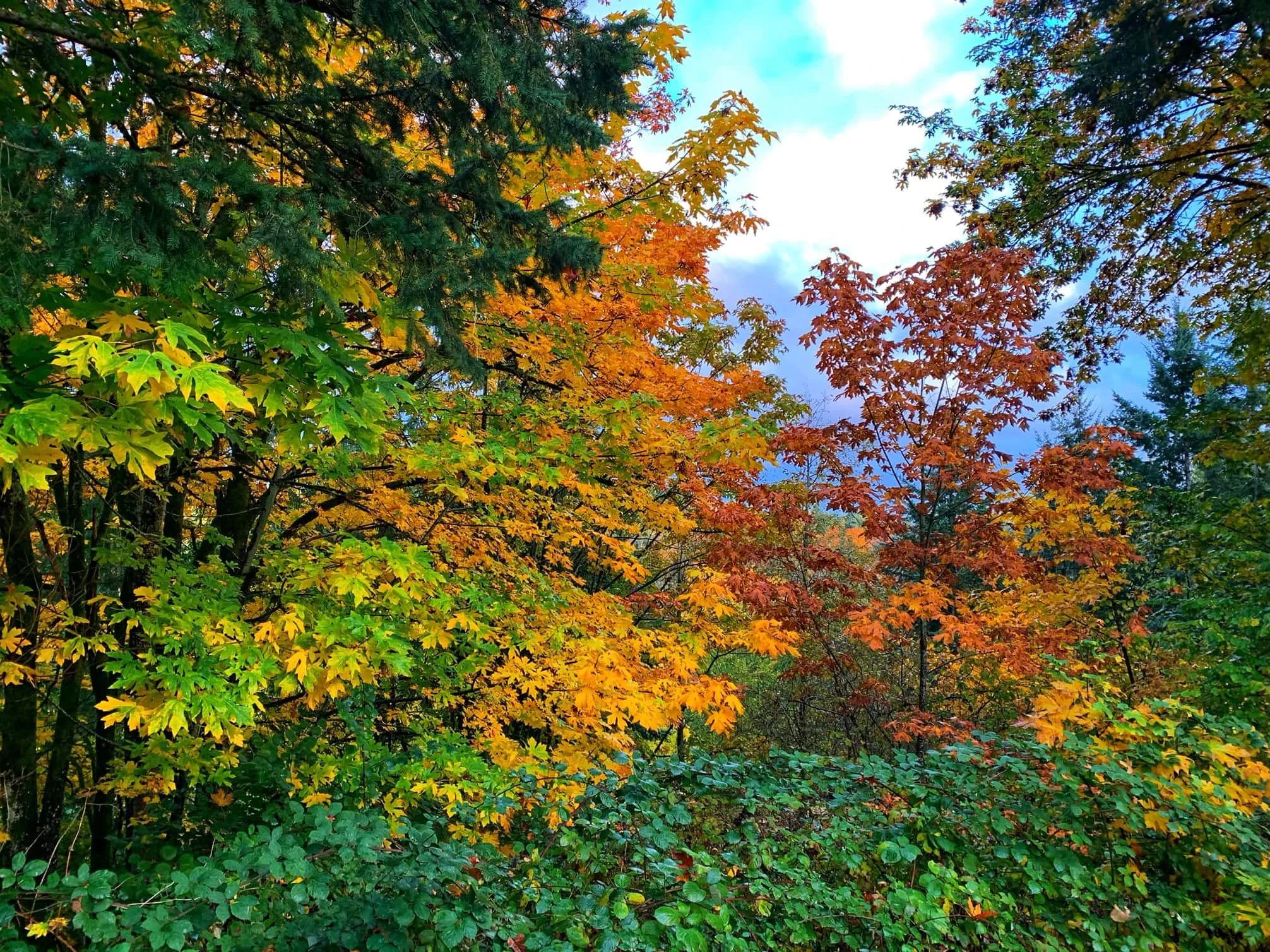 9. Watch the fish spawn
Fall is the time when you can find many amazing spots to watch fish spawn. I have taken my kids to various local hatcheries, the Wenatchee river, and other locations for this amazing event. Just google fish hatcheries, or places to watch fish spawn near me, to find a location that will work for you. Pack a picnic and make an afternoon of it.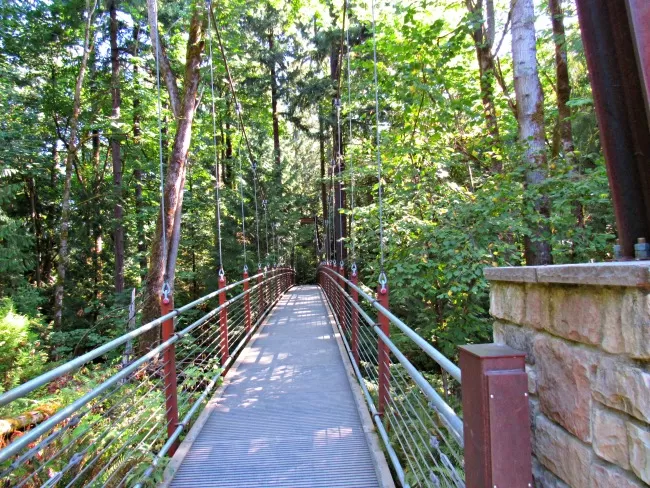 10.Explore a free garden! A few of our favorites include:
I love the Bellevue Botanical Gardens, for one. It is free, and will have lots of great Fall colors this time of the year (and a great suspension bridge). More ideas include the Kobota Gardens in Seattle,
The Washington Arboretum Botanical Gardens is a great one to see Fall colors, and they offer free loaner back packs for the kids, to help them really have fun exploring (they include things like scavenger hunts, magnifying glasses, and other things they need to explore)!
Point Defiance is a good stop in the Tacoma area, as they offer much to explore, and lots of walking trails.
Let us know your favorite free garden to explore this time of the year!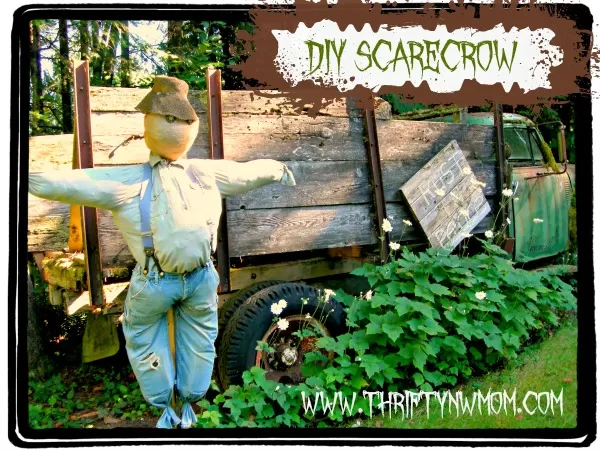 11.Make a Scarecrow  or Have a Fall Crafting Day with the Kids
This is a fun and frugal way to make the yard festive, and you can get the kids involved in decorating. If you do not have all the supplies at home already, hit up your local thrift store to get what you need for a bargain.
We also have many more Fall Craft ideas here, including lots that can be made from Dollar Store items to keep your cost down.
12. Go through winter clothes for charity & Enjoy Fall Consignment Sales
With the cold weather coming, families will be in need. This is an excellent way to get your kids involved and learning about charitable living. Go through the old and get rid of what you don't need. Same goes with your pantry – go thru your pantry & give your extra to local food banks (here's a list of Northwest Food banks) You can also find a list of the Fall consignment sales here, if you want to get involved in selling at one of these, or buying!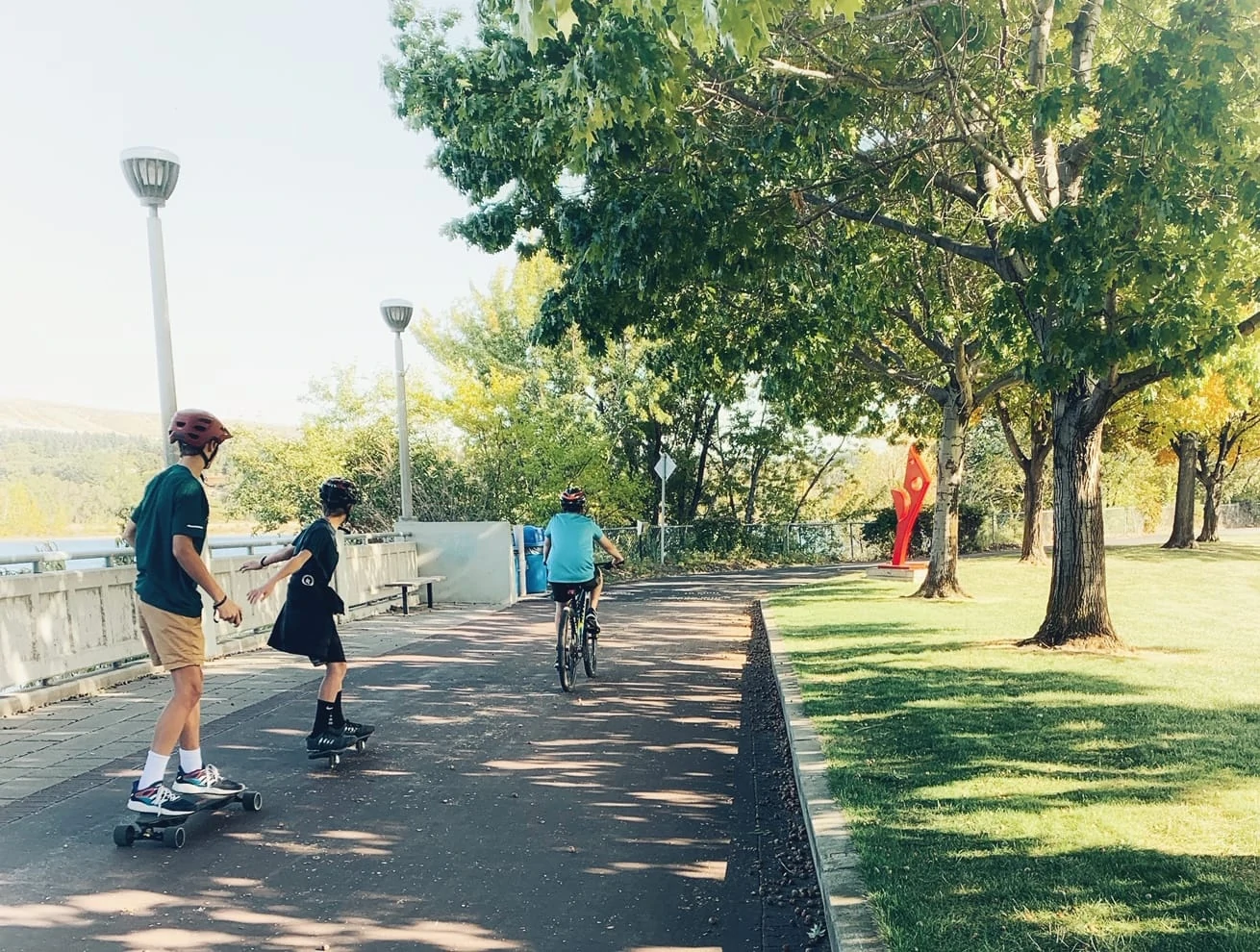 13. Skateboard or Bike Ride along local City Waterfront Areas, or Trails
I love to continue to get the kids outdoors whenever the weather permits on fall days. Taking them to skateboard or bike ride someplace, always makes for a great day. Pack a picnic, and then stop for hot chocolate or cider afterwards.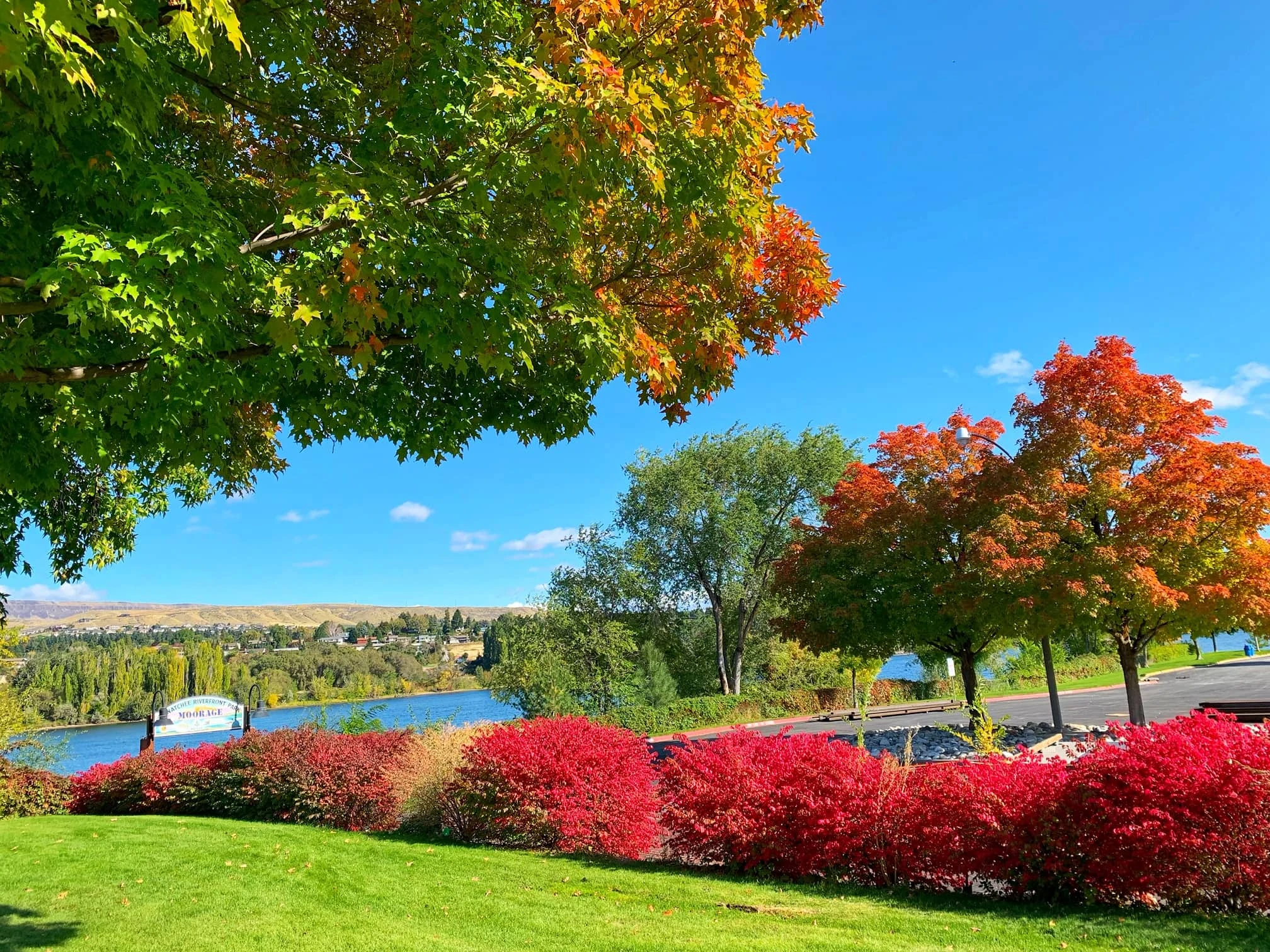 In the Northwest we have so many beautiful waterfront, mountain and other trail areas where you can get some exercise or take a leisurely stroll, all way taking in the beauty of fall. The waterfront area above is the Wenatchee riverfront, but some other local ideas include:
Ruston Way Waterfront in Tacoma (you can rent multi-person bikes here or bring your own skateboards).
Greenlake
Alki
Snohomish County Centennial Trail
The Mount Vernon Trail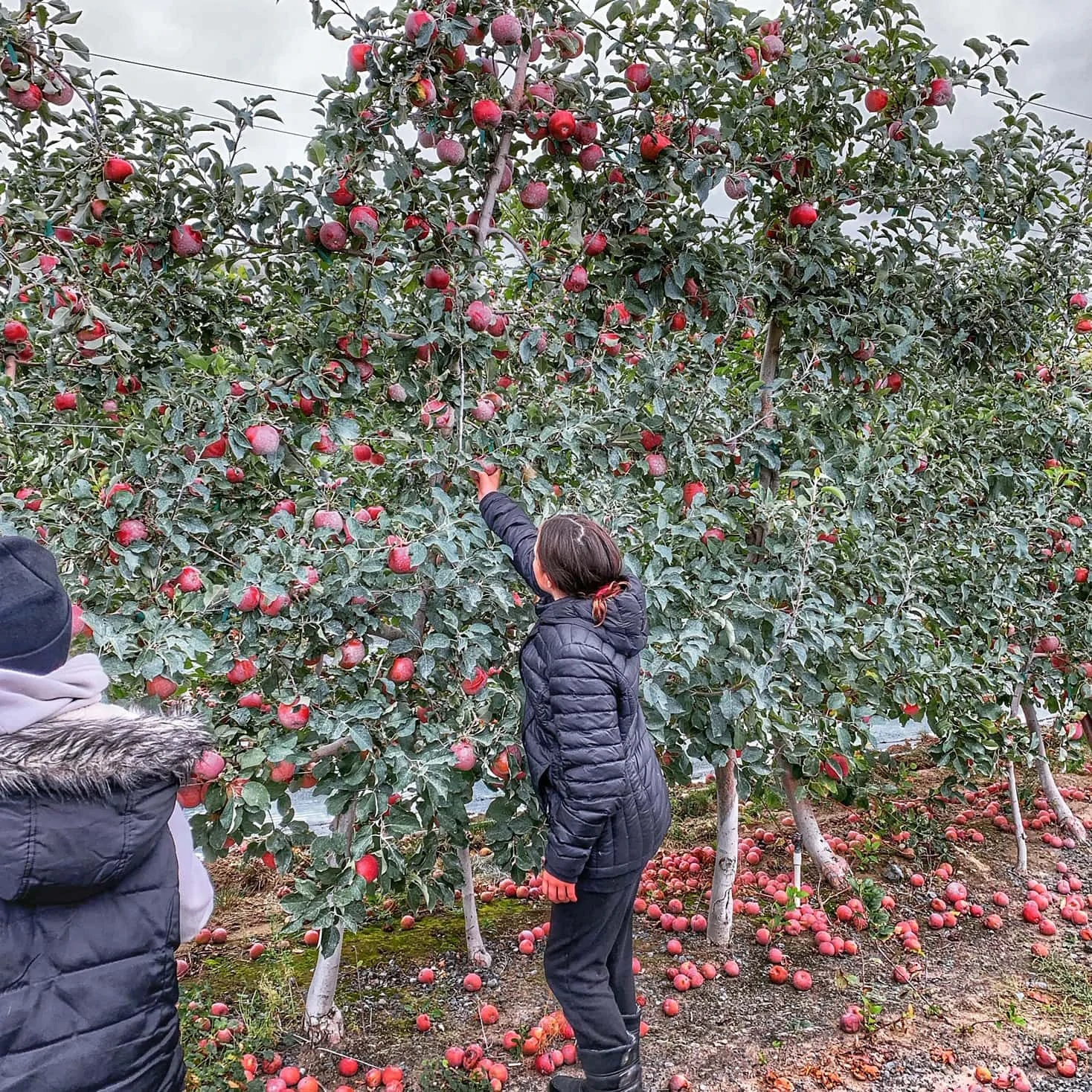 14. Go Apple Picking
There are plenty of areas around where you can go apple picking. You will have to pay for the apples, but if you consider that part of your weekly grocery bill, the event itself is free. You can find a list of places to enjoy this in the NW here.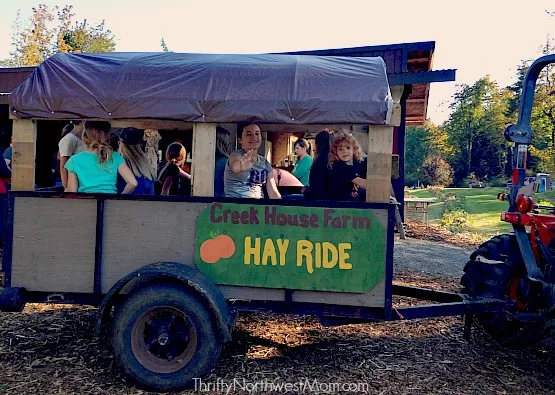 15. Go to a fall festival 
Festivals certainly include plenty of temptations, but a family that wants to simply walk around and see the sights can go for free. Many fall festivals have petting zoos and various other attractions that cost nothing. Go have some fun just enjoying the ambiance.
Check out our list of Pacific Northwest Fall Festivals going on this autumn season (note that many festivals are not happening this year, due to Covid).
Fall fun does not have to be expensive. Go out and get busy with the family and feel good about it!
And be sure to have a hearty pot of soup in the crockpot for when you get home, to finish your day off with lots of fall comfort.
Some of our favorites include:  hot potato soup on a chilly day is tough to beat. Gather everyone around the table and enjoy a classic for next to nothing. Here are a few of our favorite hearty soups: Slow Cooker Sausage & Pumpkin Chili, Taco Bean Soup,  Slow Cooker Chicken Tortilla Soup, Zuppa Toscana Soup, and Chicken Corn Chowder to name a few.  You can find all of our homemade soup recipes here too.
What are your favorite free & low cost fall activities for families?