9 Waterfall Hikes in Seattle & Tacoma Areas for Families
This post may contain affiliate links and I may be compensated for this post. Please read our disclosure policy here.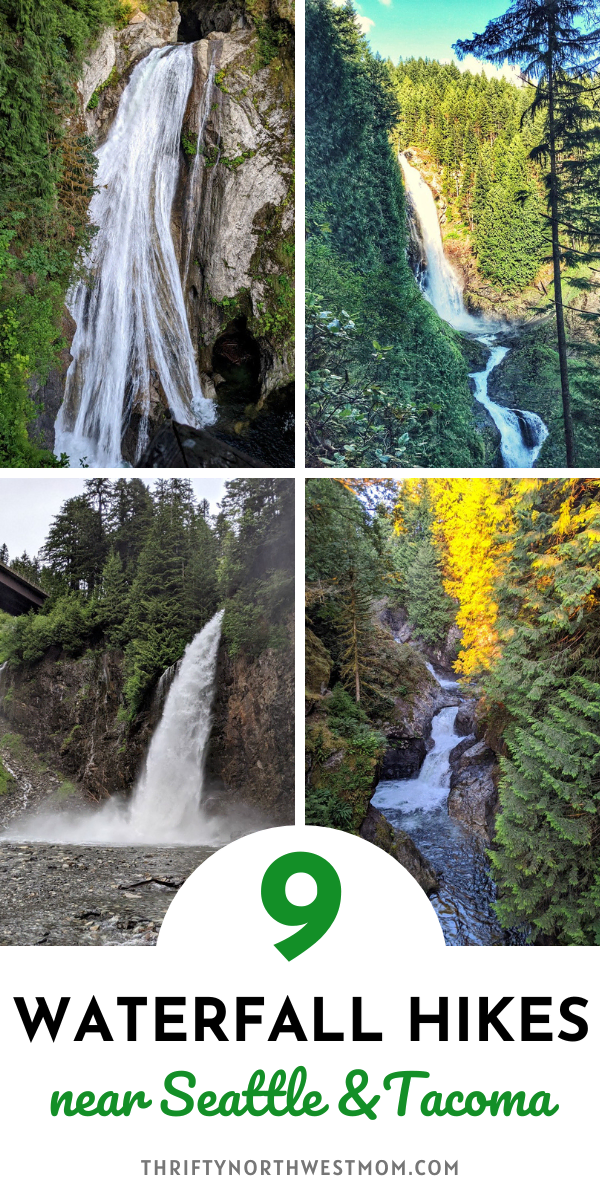 9 Waterfall Hikes in Seattle & Tacoma for Families
With this summer focused on slowing down & staying more local, it has been the perfect opportunity for us to explore many of the awesome trails that are around the Northwest. We had a goal to work on getting healthier & spending more time outdoors together, so we did 2 months of walking 30 miles in 30 days – basically just a goal to hit 30 miles by the end of the month. For the summer months, we have focused on finding new-to-us trails to explore & hitting up many of the trails that have been on our local bucket list.
There are such a wide variety of trails all around the Northwest, but we wanted to share our favorite waterfall hikes that we felt would be popular with almost any age. We have tween & teen girls and so it can be more challenging to keep them interested & engaged on hikes, so waterfall hikes are always popular for any age & especially with older kids! We will share ideas of more favorite local hikes tomorrow, too.
My absolute favorite resource for finding good hikes is the Washington Trails Association website or app (WTA). I have this app on my phone & you can search for hikes by location closest to you, difficulty level, kid-friendly, dog-friendly, etc. It makes it so nice to see a variety of trails. They also will give you very specific directions (that are better than Google maps in several occasions) & detailed instructions for the hike & where to go.
All Trails website & app is another great resource (especially in other locations like Oregon, which does not have a website like the WTA). I have both apps on my phone so I can check them both out.
I will say that many of these are popular hikes especially during the summer season & weekends, but this is a list that you can use year-round (unless I mention issues in the winter). So, I'd encourage you to pin this list or bookmark it, so you can come back to it throughout the year. We did the majority of these hikes on weekday evenings to have fewer crowds.
A few tips before you head out for your first hike:
Always pack the 10 essentials – even if you are just going out for a short hike, it's important to always have the necessities in a backpack or fanny pack in case you need it for an emergency
Check out our list of 5 important hiking items for kids
Always, always bring plenty of water (or a water filtration device to filter extra water if needed). If bringing your pup, bring water for your pup & a bowl (we like these collapsible bowls as they easily fold up for your backpack)
Make sure to download the trail information to your phone (so you don't need wifi) from WTA or AllTrails or take screenshots of the trail details so you can reference it if you need directions on the trail
Always take a photo of the map at the trailhead (if there is one) – they are typically the best maps & if you have trouble finding the route or location, you can easily reference this
Location: near Yelm
Miles: 1.3 miles
Elevation Gain: 223 ft
Pass Needed: None
Parking: There is a nice sized parking lot for Deschutes Falls
Restrooms: Port-a-Potties in parking lots
Pet Friendly: Yes
Deschutes Falls are a 27 foot waterfall of the Deshchutes River,  located just about 10-15 minutes outside of Yelm, WA. They are at the end of Bald Hills road and this is a very short little walk to the falls. It is very doable for any age because the entire hike is just a mile. You'll walk down a slight incline & at the bottom of the hill, you'll reach the first viewpoint. The viewpoint above the falls is well fenced, so it's safe for little ones. There is another viewpoint that is fenced as well. The trail continues for a short little bit along the river & then it ends & you travel back to your car. A nice, short hike with pretty waterfalls to enjoy, so it's a great first step on hiking to waterfalls.
When you drive thru Yelm on your way to the waterfalls, make sure to stop in at the Shiplap Shop, it's a darling shop with farmhouse decor & more, as well a coffeeshop with specialty treats. It's just such a cozy spot to hang out and enjoy all the cute decor. It's one of my favorite places!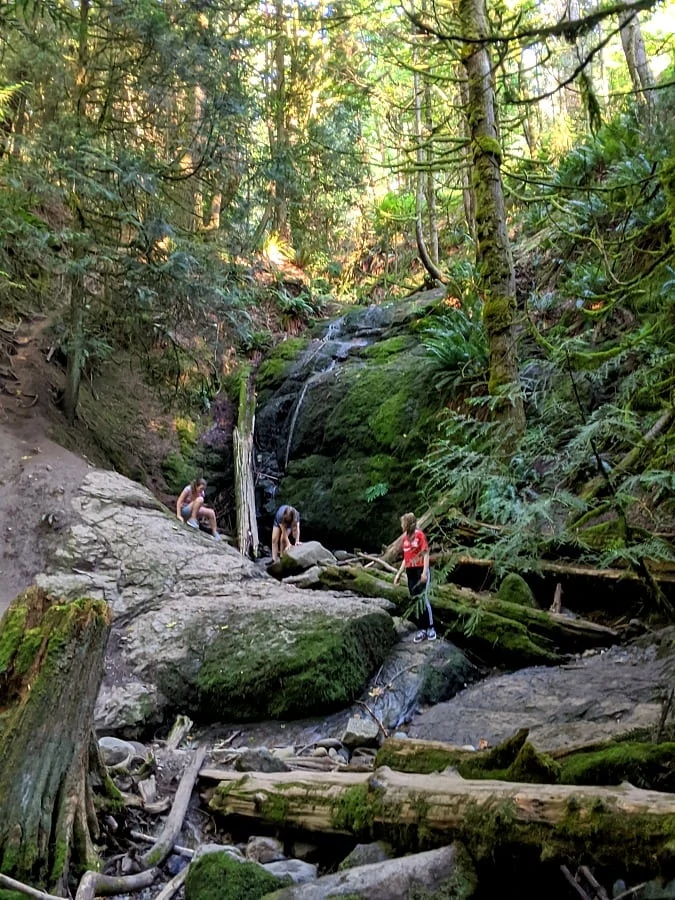 Location: Cougar Mountain / Newcastle (near Factoria/Bellevue area)
Miles: 2.5 miles RT (out & back)
Elevation Gain: 416 ft
Pass Needed: None
Parking: There is a large parking lot for Coal Creek Falls (or you can park at the main Cougar Mtn Regional Park parking lot & take the trail down to the falls, which has a much bigger parking area)
Restrooms: Port-a-Potties in parking lots
Pet Friendly: Yes
The Coal Creek Falls trail would be a great trail to visit in the winter or spring, as this is a smaller, 28 foot waterfall, but it is significantly fuller during the rainier season. During the summer, though, the waterfall does practically dry up (there was just a little trickle when we visited it this week). But, this made it more little kid-friendly as the creek was easy to walk around in & get up close to the waterfall.
This trail is so convenient as it was just a few minutes off of I-405 near the Factoria Mall & Newcastle exits. The trail is located in the Cougar Mountain regional park, which has 38 miles of hiking trails & is over 3000 acres big. So, this is a great place to head where you can extend your hike if you'd like to add more distance and all of the trails in that area appeared very family-friendly. Not only is it quick to access from the freeway, but there are several options for accessing this waterfalls too.
If you want to follow the WTA trail directions, I suggest you don't put the location in your Google Maps, but follow the exact directions on the WTA site for directions. Our Google maps took us to the main Cougar Mountain parking lot for the park which was at the top of the mountain & the trailhead parking was down at the bottom of the mountain.  But we looked at the maps & figured out we could get to the Coal Creek Falls with about the same distance & elevation gain, just going from the opposite direction, so that's what we did.
The initial trails are all fairly wide & very kid-friendly and then the trail down to the falls, a little turn-off one of the main trails,  was a bit more narrow, but still a great type of trail for any age kids. We visited this on a weekday evening, but compared to all the other trails we have been visiting this summer on this list, this was definitely one of the quietest trails, so it's a great place to visit with kids & get some peace & solitude in the forest, especially if you are wanting a hike with easy access from the city.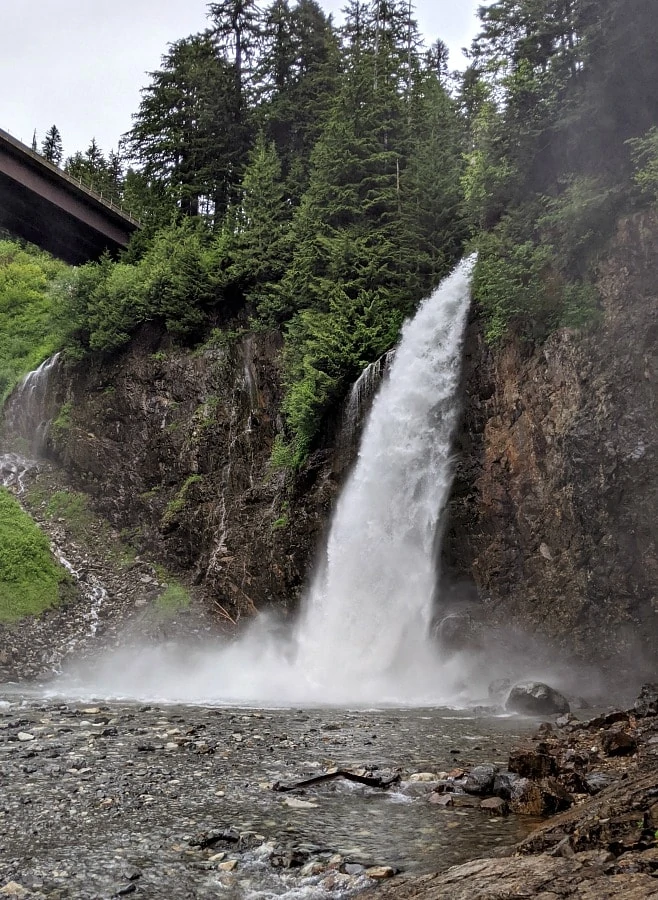 Location: Snoqualmie Pass, WA
Miles: 2 miles RT (out & back)
Elevation Gain: 400 ft
Pass Needed: Northwest Forest Pass (you can pay for a day pass while you are there too)
Parking: There is a Parking Lot (but it is a busy hike so it can get full & then you would need to park along side the road) & there is an ADA parking lot available closer
Restrooms: Yes (this may or may not be open though – when we were there it was not open)
Pet Friendly: Yes
Important: I'd recommend visiting this hike only when there is no snow (due to the avalanche danger at the very end of the hike on the other side of the falls).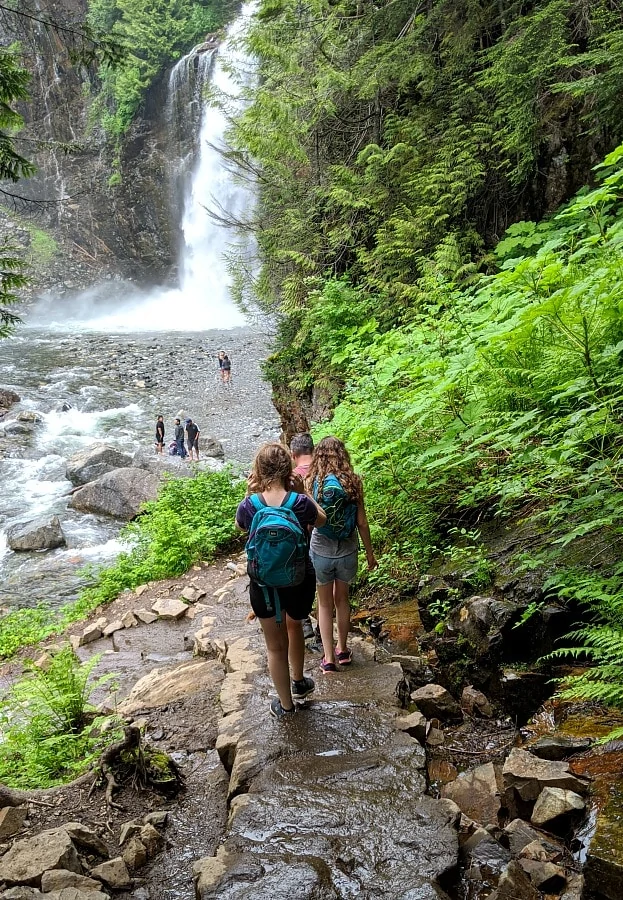 The Franklin Falls hike definitely has the "Wow" factor as the destination is a gorgeous waterfall up in the mountains. This waterfall actually is located in between I 90 where it splits right before Snoqualmie Pass. So, you can hear the highway noise a bit, but the rushing creek all along the trail can drown out most of it. The waterfall is amazing and so beautiful to look at, but I really enjoyed the entire hike as it runs above the creek/river the whole way & it just puts you at peace to listen to the river & see it as you walk along the trail. There are some darling cabins along the river which makes for great photo opps, too.  This was definitely one of my favorite hikes!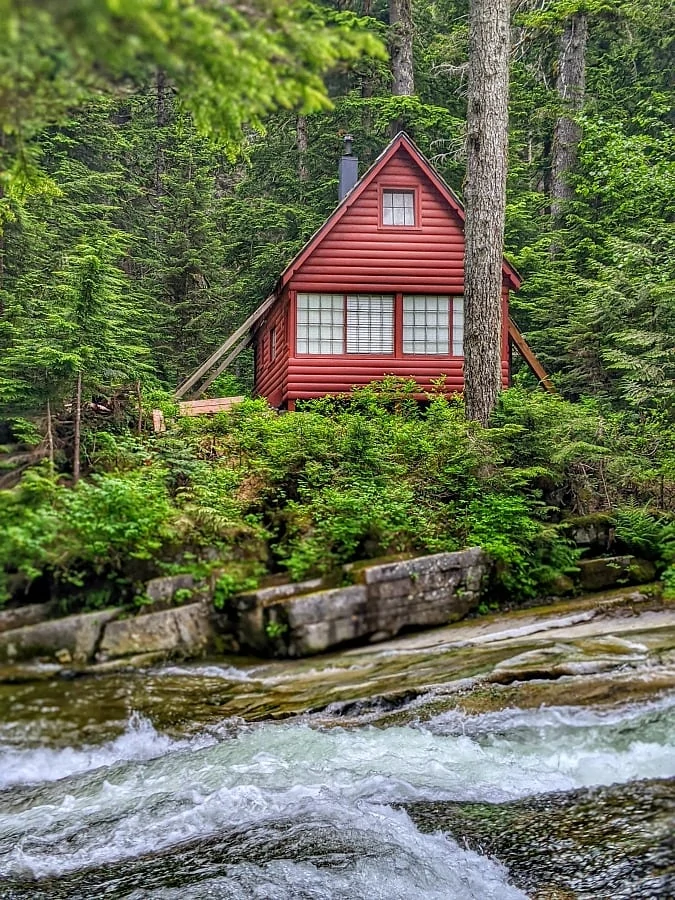 There are some things to keep in mind with the trail to Franklin Falls, though. It is only a 2 mile hike when there is no snow – in the winter, the road closes so it adds distance & is more of an 8 mile hike (I also recently learned that the very end of the trail, on the other side of the falls, is an avalanche chute, so be sure you are aware/trained in avalanche dangers & what to look for, looking at the NWAC avalanche forecast, etc if attempting this hike in the snow). It is also a very popular hike, especially this summer, so it's key to try to go during a less busy time. The best time is weekdays, but even then is busy, so early morning or in the evening (we went about 5:30) is best for  less crowds. (And make sure to follow WTA's directions to this hike & not Google Maps as they will take you the wrong way).
This trail is not as wide as the others I have mentioned earlier, so you will definitely want to bring a face covering for passing hikers as it's difficult in some areas to keep distance from people.  This is also a hike that I would be aware of with little ones that it does have some drop-offs beyond the trail down to the river (it's not right next to it, but if you have a little one that doesn't stay with you, there would be some areas to hold hands). It is also a bit slippery & narrow on the rocks to get down to the river level so would definitely want to be careful here but it is very doable, just need to hold little ones' hands (you can still get some awesome views from just above this area,  too, if you prefer to not walk down there). And if you prefer not walking along the river, there is another trail called the Wagon Road Trail, which will also lead you to & from Franklin Falls, but instead of being next to the river, the path is thru the woods so it is a safer version for little ones.  You can also take the Wagon Road trail back to make it a loop trail instead of an out & back trail along the same path if you want some variety.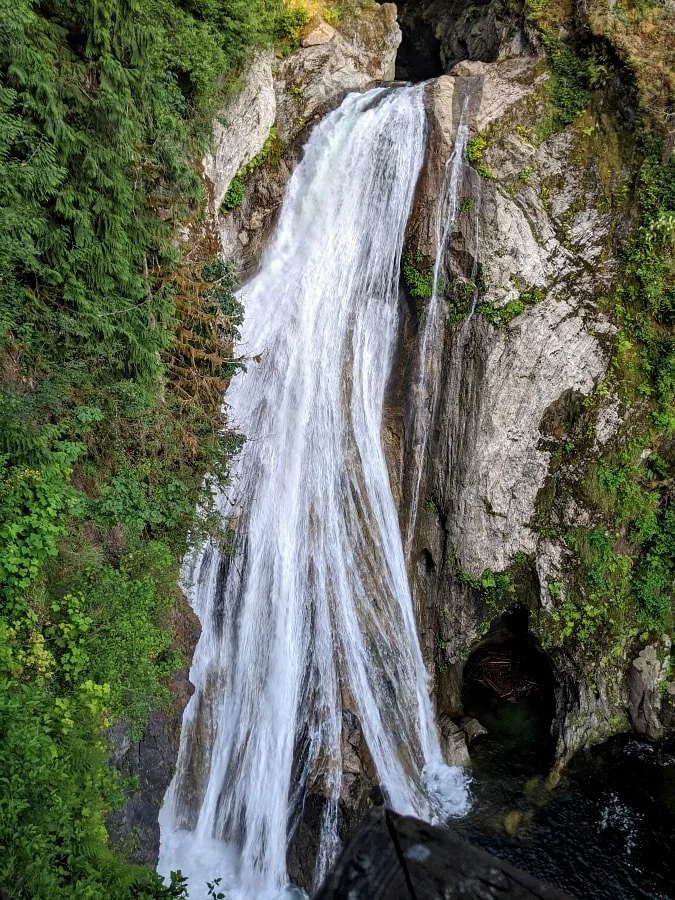 Location: North Bend area
Miles: 2.6 miles round trip (out & back)
Elevation Gain: 500 ft
Pass Needed: State Park Discover Pass ($10/day or annual pass)
Parking:  There is a large parking lot, but we saw tons of cars parked along the road on both sides coming in too (as this hike does get crowded)
Restrooms: Port-a-Potty in parking lot
Pet Friendly: Yes
Twin Falls is located in Olallie State Park near North Bend (just 10 minutes from the outlets). It's very quick & convenient off I-90 & easy to access. This park & hike is very popular, though! So, this would be one to definitely visit at a slower time like weekday, off-season times, rainy days, etc to beat the crowds. We went on a late Saturday evening and even then there were quite a few people (the trail is a bit more narrow in parts, so you definitely need masks accessible on this trail as social distancing is more difficult with the number of people).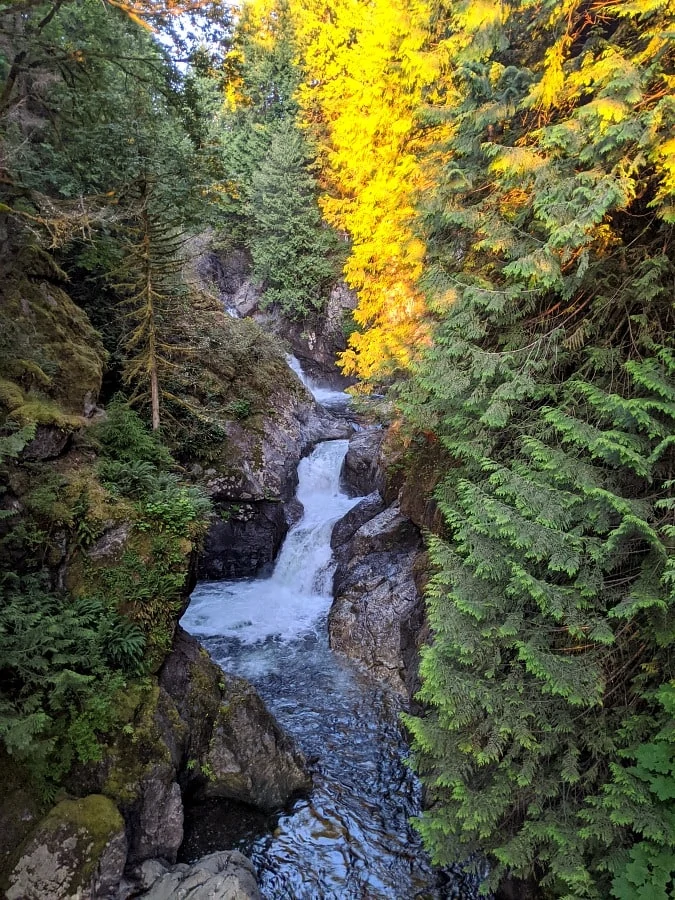 This trail is so worth a visit, though – the waterfalls are stunning. Twin Falls is actually 3 different waterfalls. About halfway to the waterfalls, you'll find a bench to rest your legs for a few minutes & enjoy a peek at the Lower Falls. After hiking a bit more, you'll come to the  lower falls, which are the tallest & definitely an amazing photo opp! They have a little side trail that goes off the main trail down to the viewing platform. You can either stop there & turn around or continue on a bit longer to a bridge that crosses over the river & from there you'll see the middle & upper falls cascading down. This is where we stopped due to time, but there is one more viewing area of the upper falls, from what I read, if we had continued on a bit further. These other 2 falls are much smaller, but still so pretty nestled in the canyon.
This trail is one that has a bit more elevation & goes up & down quite a bit but with switchbacks, so it will be a bit of a workout if you're not used to that elevation, but definitely still very doable for kids. And they will love the reward at the end of the trail with the gorgeous waterfalls & the bridge across the river. The viewing platform is all enclosed, which does go out over a ledge, but safe for kids to check it out. Definitely a must-visit trail!
Skookum Falls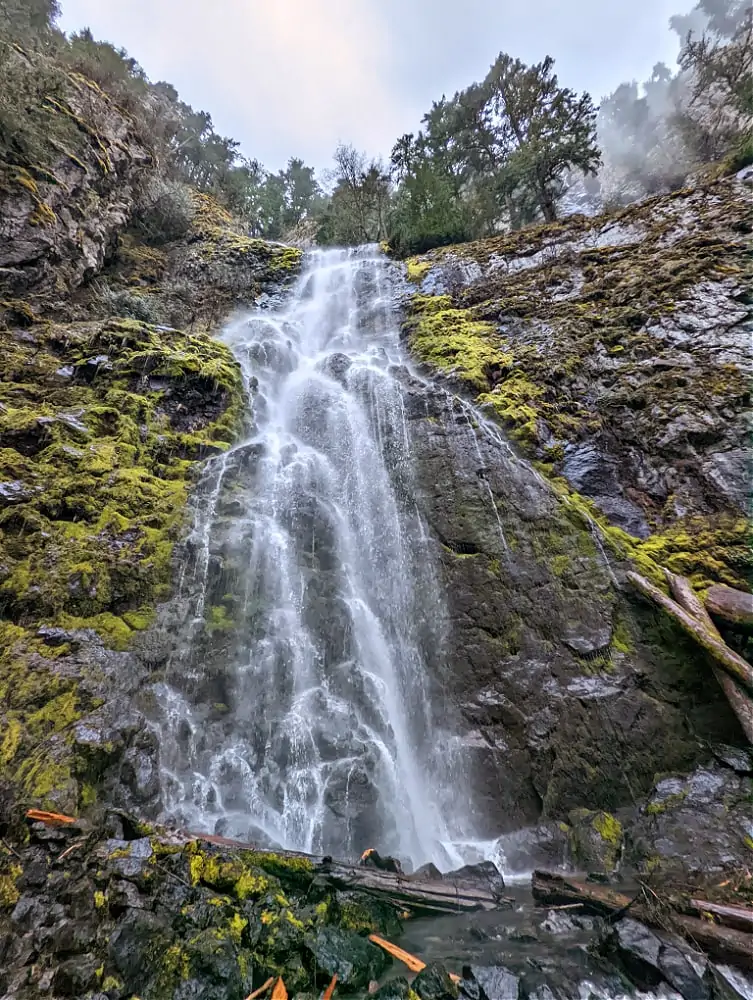 Location: off Hwy 410 near Greenwater & before the Sunrise entrance to Mount Rainier
Miles: 4.3 miles
Elevation Gain: this is not very clear (WTA says 100 elev gain & All Trails says 370) – it is a steeper scramble though in elevation if you want to get up close to the waterfall
Pass Needed: Northwest Forest Pass (or America the Beautiful pass)
Parking: small parking lot but it doesn't typically seem to get too crowded
Restrooms: Port-a-potty at trailhead
Pet Friendly: Yes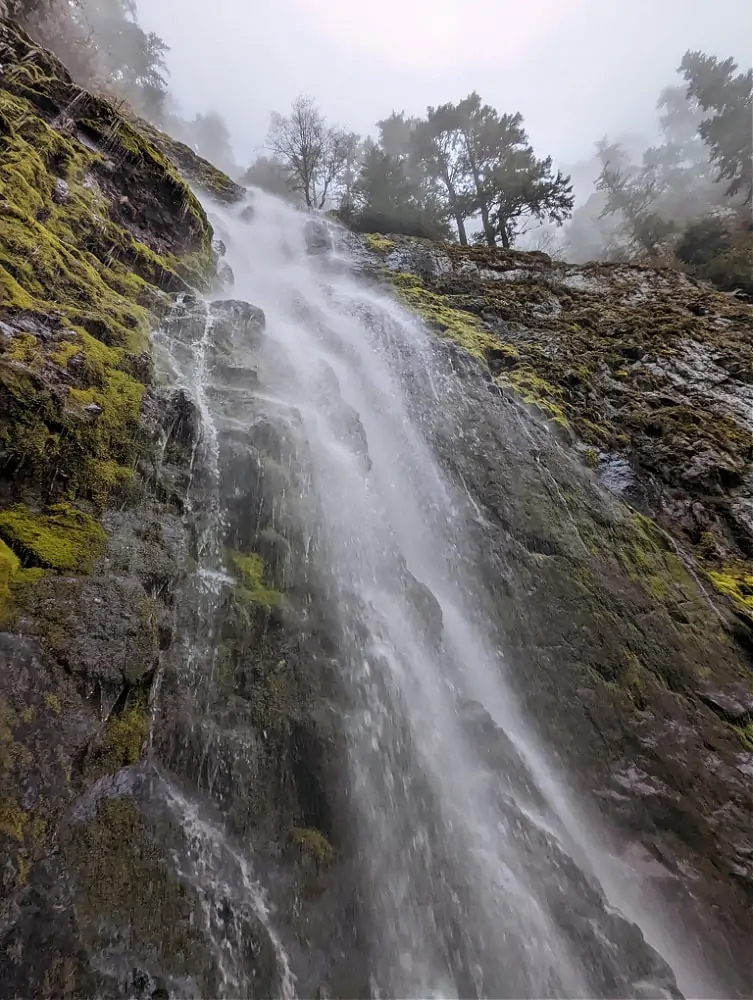 Skookum Falls trail is typically called the Skookum Flats trail (I'm not sure why they don't specifically list the waterfall is up & off the trail just a little bit but definitely visible from the trail). This is a trail is definitely best for visiting March – November, as during the winter, the snow may be too deep to get to the trailhead, so definitely read up on the trip reports on WTA or AllTrails before you go if you are going in the early spring or late fall.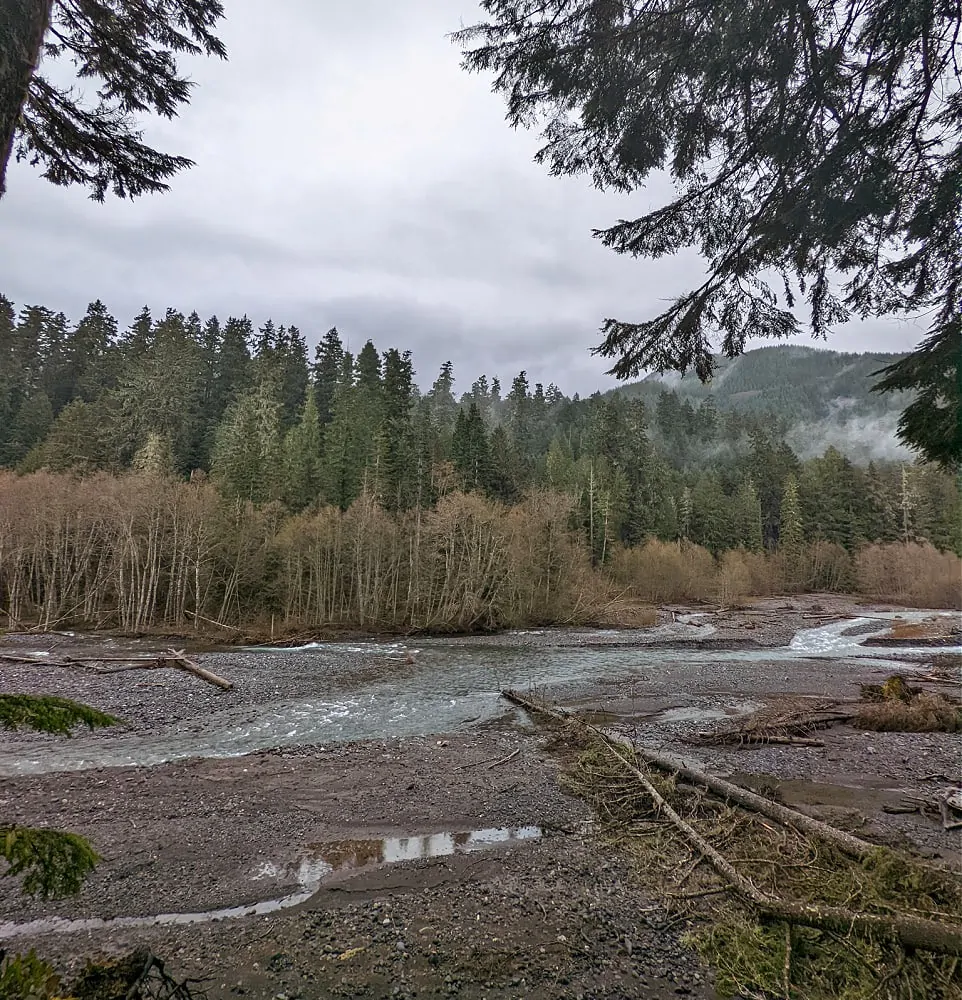 We visited this trail in early May after a good amount of rain, and it's a great rainy day hike as it's along the pretty river and the mud wasn't too bad compared to other trails. Plus, visiting in the spring means the waterfall is in full force & just beautiful. (I have heard it can get much drier in the late summer). The trail itself is a nice, easy trail along the river with lots of interesting features – old growth forest, river views, lots of downed logs & stumps to explore, and wildflowers in the spring & early summer (we were just starting to see white trillium flowers at the beginning of May). Plus, the waterfall is gorgeous & you can get up close & touch if you want to do the hike / scramble up to the base of the waterfall.
You can definitely see the waterfall from the trail & it's beautiful to see, but if you are up for it, it's amazing to see it up close & even touch it. But be ready for a scramble – if it's muddy or wet, you would want good hiking shoes and/or poles as it's very slippery & steep and it's a small boot path (not the regular trail but it is definitely a trail you can take – just a lot smaller). This is definitely one to take it very slowly going up & down but it was doable for all of us (teens & adults). We loved seeing it up close but be warned, you will get wet!
There are 2 different ways to access this hike – we opted for the shorter hike (4.3 miles) rather than a 5+ mile hike coming from the opposite direction from the Buck Creek area. This is a little tricky as we put in the trailhead on to our Google Maps & it definitely was taking us to the wrong location. So you will want to look for the Forest Service road (& they are not in order we found). For this shorter hike start location (the 4.3 mile hike), you will want to look for FS (Forest Service) road 73. You will drive .5 miles to the trailhead (which is just past the bridge &  you'll see the parking lot on the right side of the dirt road & the trail will start on the left side of the road, directly across from the parking area.
Overall, this is a great hike for all ages, even little ones, however, there are a few areas where there are some small little dropoff areas where you might want to hold hands for little ones on those little ridge sections (they are not steep, but just areas to keep them close in a few areas). But otherwise, it's a great hike for all ages to enjoy as it's so flat otherwise & interesting to follow! There are a few small little water crossings but there were logs & rocks to be able to walk across those areas.
I will also mention that this is very close to Mount Rainier National Park (Sunrise side) which is an area which has black bears, so you may want to bring your bear spray on this hike since it is in the same general vicinity of the park, just to be safe. We saw evidence of elk who had been thru the area (although we did not see any elk), but that's all the wildlife we saw. We have heard that this is a fairly quiet trail all year long, so it's a great hike to avoid the crowds.
Location: Eatonville WA
Miles: 4.5 miles round trip (out & back)
Elevation Gain: 500 ft
Pass Needed: None
Parking:  Park in the Bud Blancher trail parking – nice large parking lot
Restrooms: None
Pet Friendly: Yes
The Little Mashel Falls trail is one of my top favorite hikes – the waterfalls are truly stunning and there are 3 different ones, so you can visit just one, two or all three. We went down to two of them & saw the third falls, the Upper Falls, but on the day we went, it was too muddy & slick to get down to them.  The most important thing to know about this trail is that there are multiple entry points, but I strongly suggest you follow the directions for the Bud Blancher entrance for this trail (which I have linked). There is another trail that comes in from the Pack Forest side & also from above the falls, but many cars can get towed from both locations. If you go thru Eatonville, the Bud Blancher trailhead parking lot (& parking for the falls) is right after you leave town & very easy to find. It is a nice, large parking lot too.
This trail is another trail that has become very popular in the last few months, so it will be important to visit on a weekday, rainy day or off-season so you don't run into too many crowds. We went on a weekday afternoon after it had rained and it was quieter. But it is a muddy trail any time, just know that going in & be prepared. After a rainfall or in the rainy weather, it will be even more muddy which does make it a bit challenging for kids, especially younger ones, when you are going up in elevation. Hiking poles are extremely helpful on this hike in dealing with all the up & down & the mud!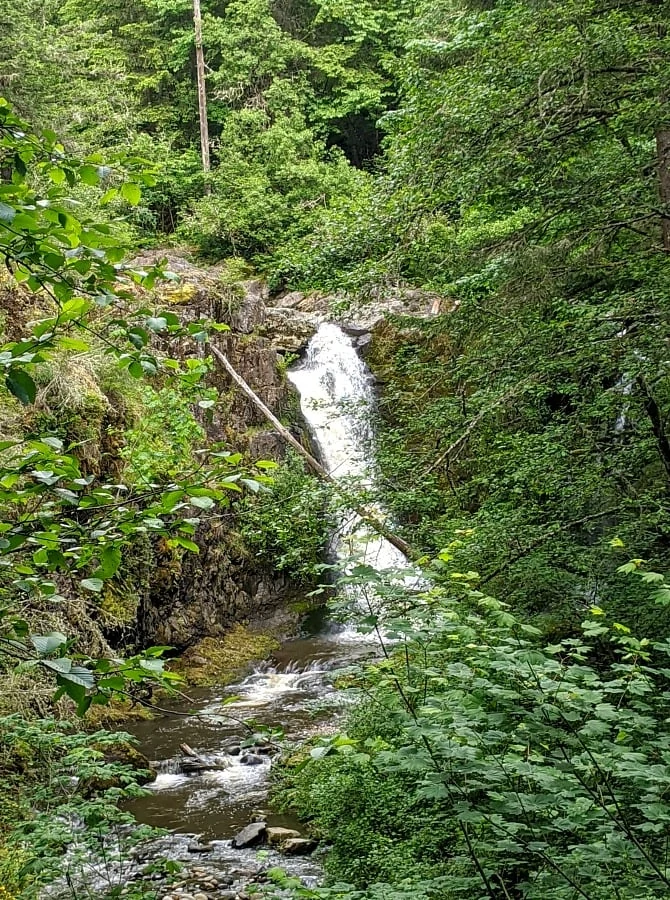 The first mile – mile & a half of this hike is on wide paths & nice & flat along the Bud Blancher trail. It's when it breaks off to the Little Mashel trail that you'll start to climb in elevation (& it gets a bit more narrow, so you'll definitely want to bring masks as it's difficult to keep social distance). It is a 500 ft elevation gain, but there is a lot of up & down so it feels like more. It can be slippery/steep heading down to the middle & lower falls with rock stairs, so you definitely want to hold kids' hands here to prevent falls.  In mid-late summer, it should be warm enough to go wading into the water too as there are some pool areas where the water is calmer. Upper Falls is harder to find (make sure to read the directions fully on the WTA site) and it was going to be much slicker & trickier to access those falls on the day we went, so we just took pictures from a distance (this trail was less maintained too). If you do all 3 waterfalls, it will be more than the 4.5 miles, I think we clocked about 5 1/2 miles total.
This is a great hike to add to a day trip to Mt Rainier or a trip to Northwest Trek or Pioneer Farms. We first visited the drive-thru at Northwest Trek & then headed out to this hike, just about 15 minutes or so from NW Trek. It's also on the road to Mt Rainier (Paradise side) if you are heading there to visit for a few days.
Location: near Duvall, WA
Miles: 5 miles
Elevation Gain: 500 ft
Pass Needed: none
Parking: There is no parking lot for this trail, so you will need to park along the shoulder of Mountain View Road only (make sure to observe areas which say no public parking)
Restrooms: none
Pet Friendly: Yes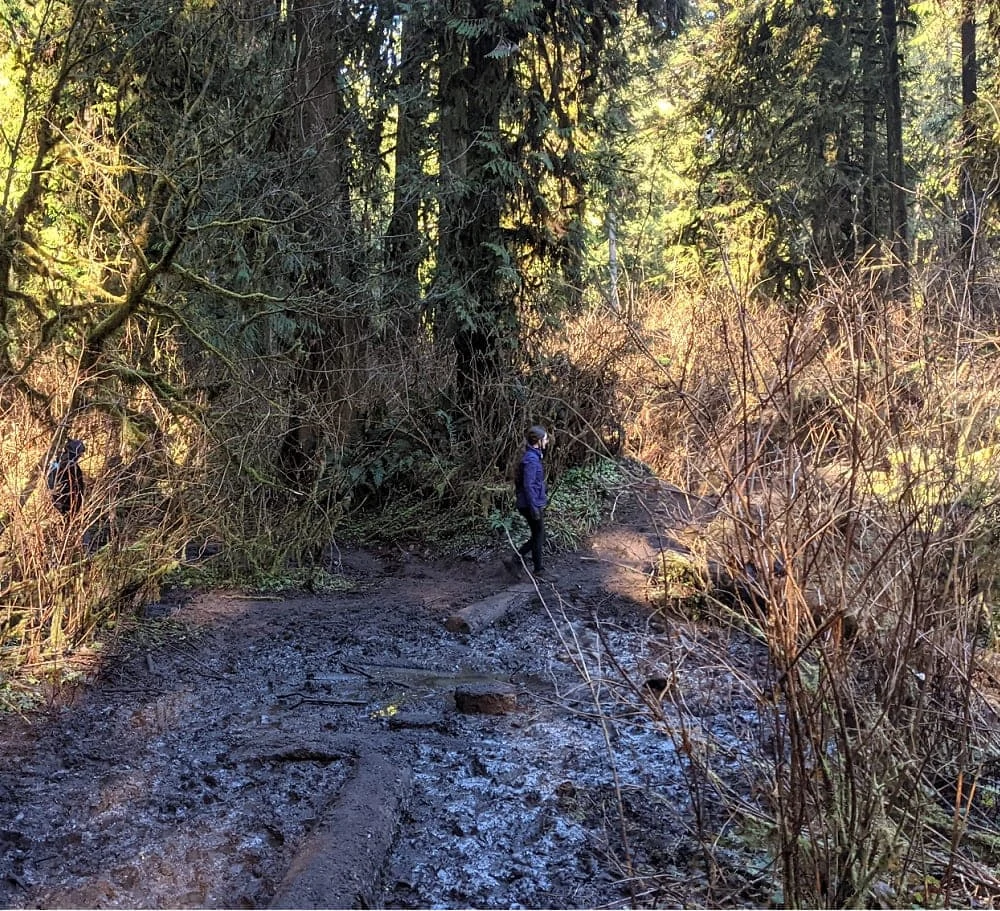 Cherry Creek Falls is located about 10-15 minutes outside of the small town of Duvall, WA, in the Snoqualmie Valley region near the Central Cascades. This hike would definitely be classified as the muddiest hike I have ever done – wet & muddy for sure! (Of course, we did go in January, so that was a big part of it!) But I think it's a muddier hike all year long, so just be prepared for the mud. It most definitely is absolutely worth it when you get to these gorgeous falls. There is a large area to view the falls right in front of the pool, which is great for distancing. In the summer, I have heard this could be a good place to take a little dip in the water, too, to cool off!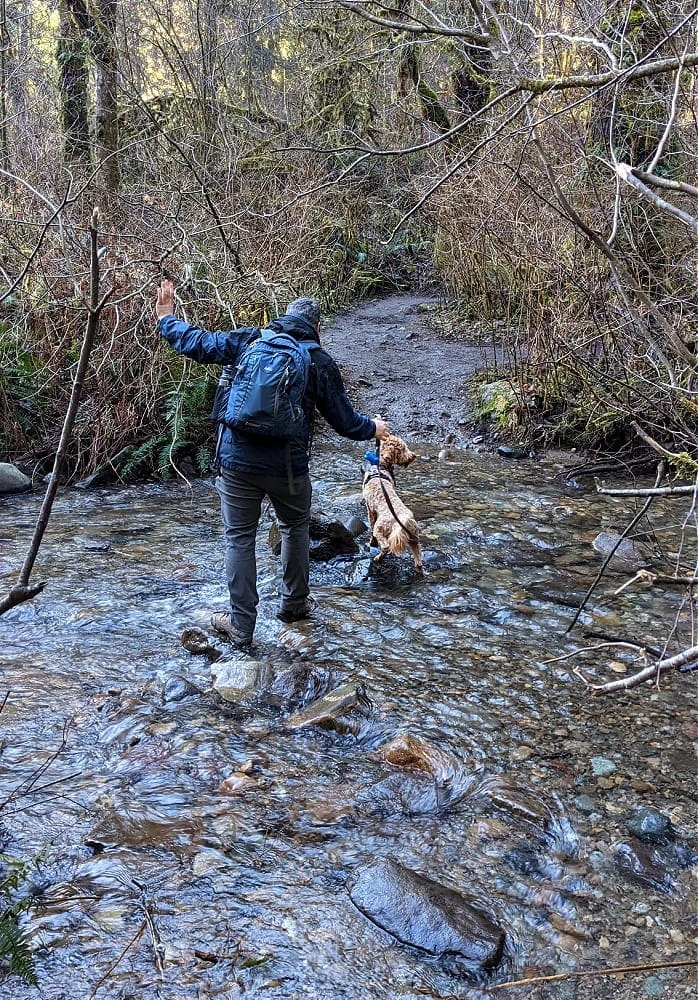 There are a few things to be aware of, though, when you set out for this trail. Not only is it very muddy, but it is also wet. There is a small creek crossing which is safe, but your feet may get wet. You can see it above that it's not deep, but it is challenging to get across without getting wet – especially when you have a pup pulling you across! :) So, you may want to bring an extra pair of socks or a pair of boots for little ones on this trail. Due to the mud & the water, I'd say it's not as younger child friendly (not for safety reasons, but just if they don't like to deal with the mud/water). But if you & they don't mind, then it's a great trail for any age.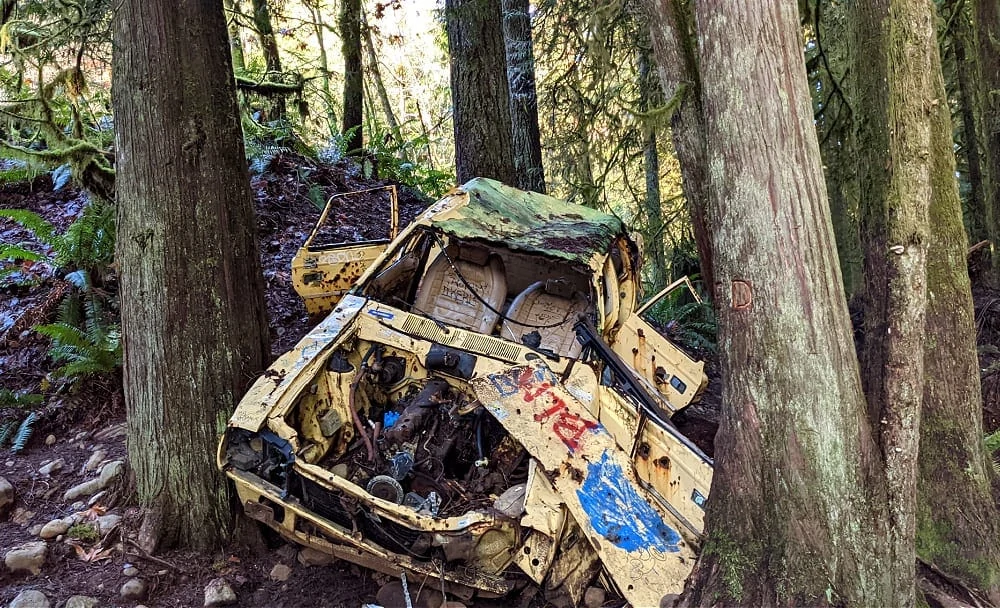 This is an interesting and pretty trail as you walk along too! It starts out wider & then will get more narrow as you get further along on the trail. We actually saw the rare "hair ice" when we visited this trail in January, which was so cool to see. They also have a few interesting "artifacts" like the old yellow car, which will have you scratching your head to figure out how in the world that car ended up in the middle of the forest.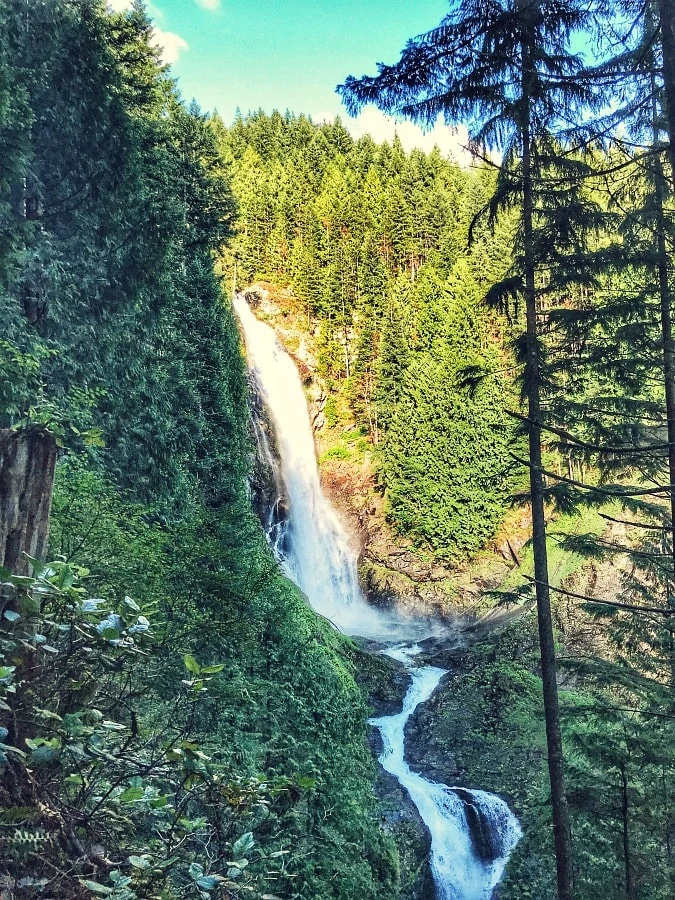 Location: Gold Bar (Hwy 2)
Miles: 5.6 miles round trip (out & back)
Elevation Gain: 1300 ft
Pass Needed: Discover Pass (State park) – $10 or annual pass
Parking:  There is a large parking lot, but this is also a very popular hike so we have seen cars parked out on the road
Restrooms: There are bathrooms at the parking lot & out on the trail
Pet Friendly: Yes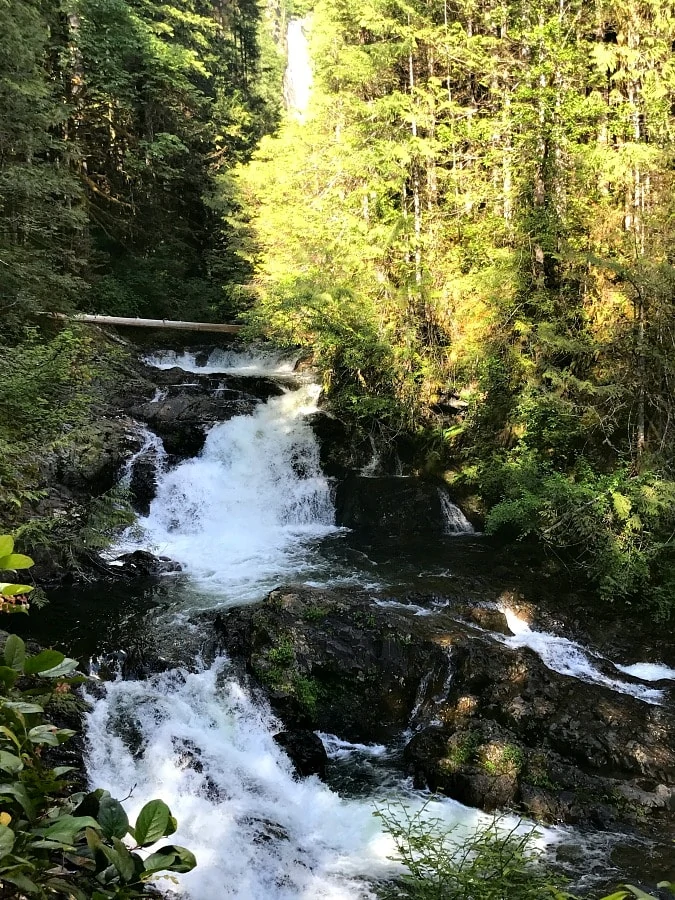 Wallace Falls trail is a located a bit off Highway 2 out of Gold Bar, on your way to Stevens Pass. This hike is definitely the toughest of all the hikes I've listed at 1300 ft elevation gain (it's rated as moderate on the WTA site), but we did see a number of kids on this trail and the rewards are so great with these long, cascading waterfalls. My husband and I actually did this trail a few years ago for a date day and it was such a gorgeous location to visit.
It is definitely a workout, though, with switchbacks & stairs heading uphill. There were 3 main falls & we visited 2 out of 3 due to time constraints (& tired muscles :) ). The 2nd & 3rd falls are where the most elevation gain is (the 3rd falls has the steepest area), so if your kids are not up for that, you can still go & see the lower falls, which are still very worth the hike. Once you get to the river, there are a lot of pretty viewpoints as you follow the river upstream watching the rushing river over the rocks & multiple little falls cascading over the rocks (they say there are actually 9 waterfalls total at this park). Definitely one of the prettiest hikes I have been on in the northwest!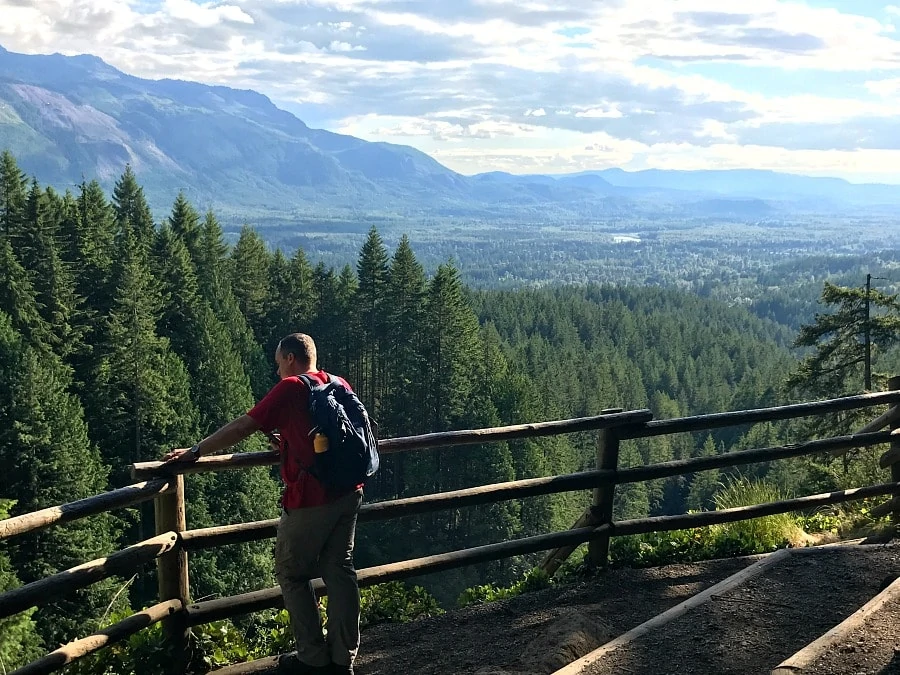 One of my favorite parts of this hike was not only the gorgeous falls, but also the incredible panoramic views of the valley from the main viewing area of the middle falls. You can see all the foothills & the river down below for some stellar views on a beautiful day. Just make sure to hold hands with little ones at these viewpoints & keep dogs leashed because of the drop-off areas beyond the trail & viewpoints.   This is most definitely a must-visit trail to put on your list – just work up to it if you aren't used to the elevation gain.
Location: Snoqualmie Pass area
Miles: 6 miles (if you go the entire length to see all the waterfalls, otherwise much shorter to the water slides)
Elevation Gain: 1345 ft (this is only if you go the entire length to see all the waterfalls, otherwise it's not as steep to the slides)
Pass Needed: Northwest Forest Pass (you can pay for a day pass while you are there too)
Parking: There is parking for Denny Creek & Franklin Falls in the same area, but it is very busy so we also saw a lot of people parking on the side of the road
Restrooms: Yes at the parking lot for Franklin Falls (although it may or may not be open)
Pet Friendly: Yes
I have not yet been on the Denny Creek hike, but Sia has been there several times and her family loves visiting this area. It is an incredibly popular area in the summer, though, this is definitely somewhere you'd want to check out mid week & know it will be more crowded on beautiful days. If you follow the entire trail as listed on WTA, there are several waterfalls you'll find, the Keekwulee waterfall & Snowshoe Falls, as well as the natural waterslides area. The entire trail is a 6 miles long and steeper elevation, but it is much shorter if you are going to the natural waterslides area.
This is a fun area to check out as the kids can play in the creek & in the little pools created at the bottom of the mini waterfalls & there are also some areas where you can slide down some rocks, too. It is a beautiful hike & the water play area is so fun for kids. But definitely make sure your kids have appropriate footwear to help prevent falls in the slippery water as readers have shared that there have been falls there when they've been there. So, you'll want to be watchful in this area, but with caution, it can be a fun area to cool off in the summertime & a great hike to see some beautiful waterfalls & the creek along the hike. Sia also mentioned that she saw kids with the inexpensive boogie boards (like from the dollar store) using them to slide down the rocks, which is a great idea to bring with you.
Future Waterfall Hikes on our List:
Here's a few more waterfall hikes on our list to check out hopefully this summer – let us know if you have been on any of these hikes & what you thought of them:
Any more waterfall hikes we should add to our list?