Denny Creek Hike & Natural Water Slides Review (One of Our Favorites!)
This post may contain affiliate links and I may be compensated for this post. Please read our disclosure policy here.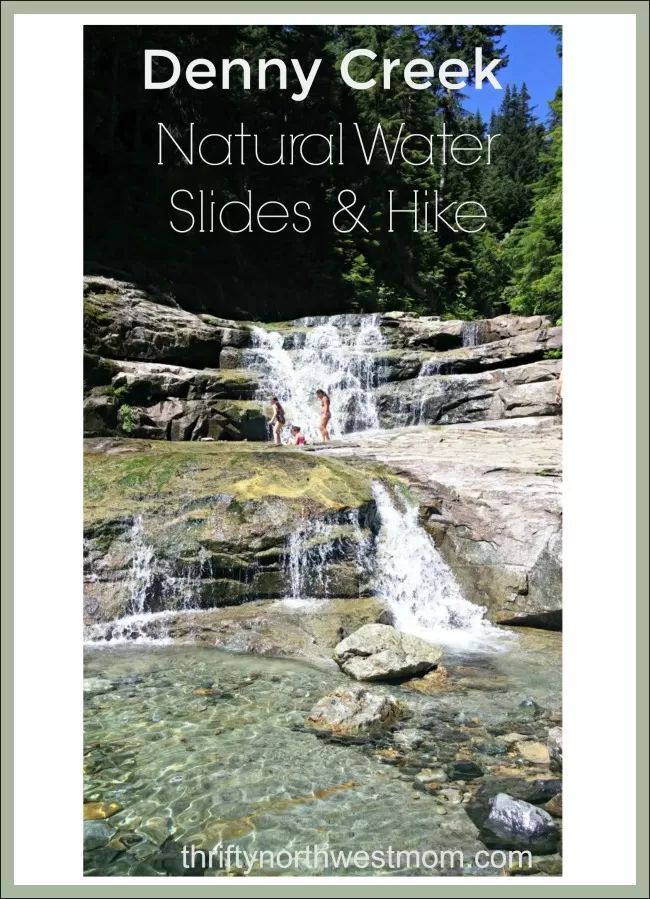 Heading to visit Denny Creek and the "Natural Waterslides" was on our bucket list for summer a few years ago. It did not disappoint, we loved it out there! It was about an hour drive for us from the Kent area (with traffic) and was a highlight of our summer.
My son had gone out with friends years ago and I heard the natural water slides where more prominent back then. On our visit, the kids did some sliding – but not much. That aside, it was an easy hike, beautiful swim and water play areas, and we cannot wait to go back!
If you're looking for a way to keep cool during the summertime, a trip out to Denny Creek might be the perfect answer.  The water was cool, the scenery beautiful, and the kids played until I finally made them leave.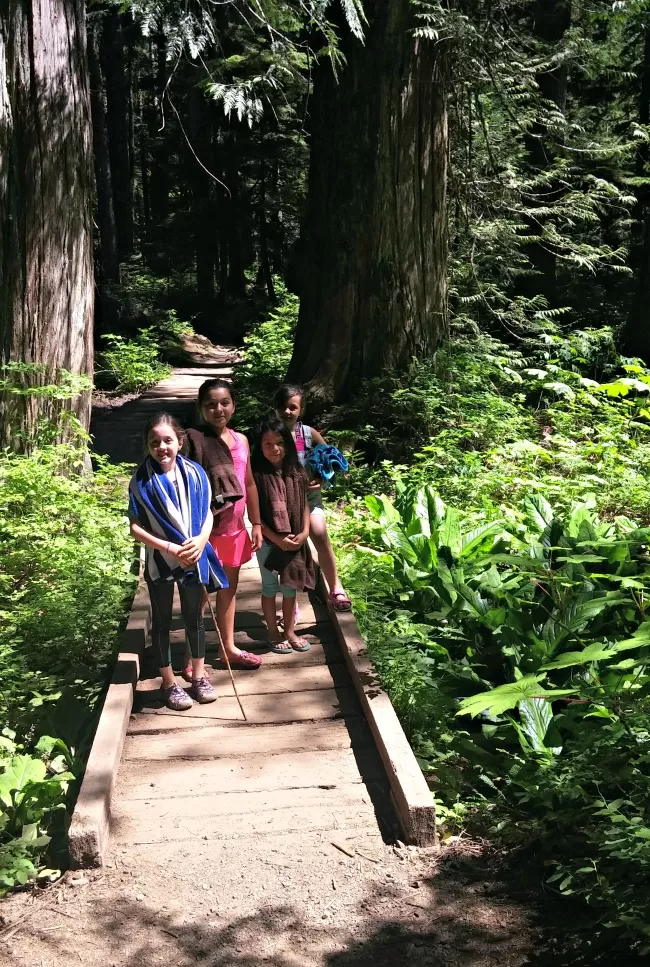 Location: Snoqualmie Pass region
Miles: 2 miles RT to get to the Denny Creek natural waterslides area
Elevation Gain: 400 ft
Pass Needed: Northwest Forest Pass (or an America the Beautiful pass will work too)
Parking: There is a parking lot to use for Franklin Falls & Denny Creek – both of these areas are very popular, though, so there is a good chance they could be packed & you might have to park down the road
Restrooms: There are restrooms at Franklin Falls trailhead that you can use
Pet Friendly: Yes
There are a few trails you can take at Denny Creek, so be sure to check out their website here for full details.  We took the main trail as we wanted to check out the Natural Water Slides. The trail was easy for the kids (I had kids from 5 to 11 with me). We did take a few water breaks along the way (lots of places to stop for a rest and sit on a log, etc), but it was a great trail for kids all in all!
The trail itself is well shaded and maintained (at least in the summer when we visited) and there is a reasonable incline the way there, and then its downhill the way back. There is a bridge you cross over the water on that is beautiful, as well as lots of other great scenery on the hike. There were a number of people there the day we visited, but it never felt crowded.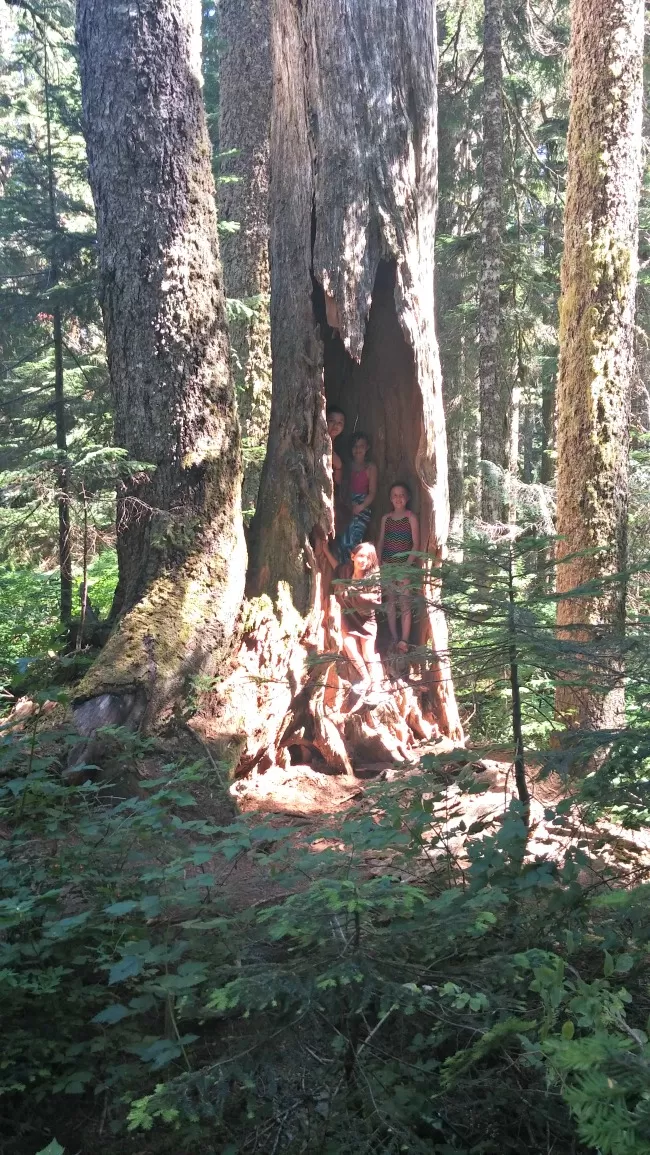 There are also lots of great photo opps along the way!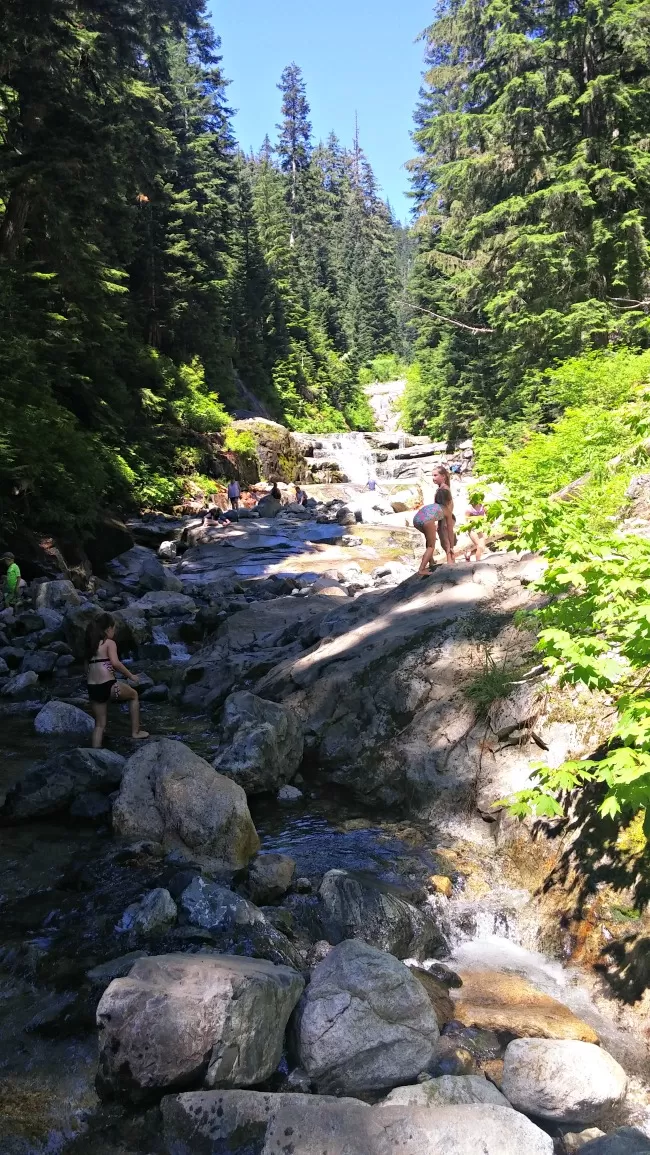 Just when the kids were getting tired of walking, we heard the sound of water and people. You come out of the trail to this beautiful area with multiple water falls. You can walk up it or down it and there are lots of spots to relax and small pool areas or small falls for the kids to play in.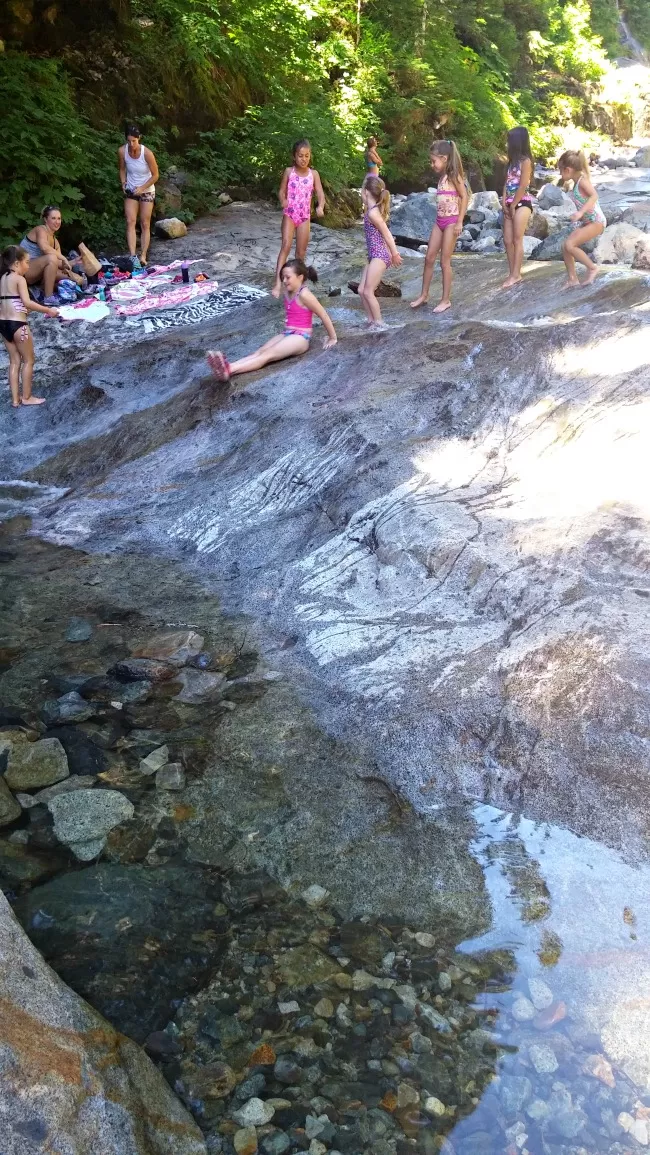 Here is one of the small natural water slides that the kids liked to slide down.
The first thing my kids did was find these small natural waterslides they could slide down. In all honesty, they are not fast thrilling slides, more like boulders they slowly slide down, but there were a few spots they could slide down and have fun. There were a few complaints of a rock scratching them but nothing too serious on our trip. It is something that is pretty cool to say you have done though!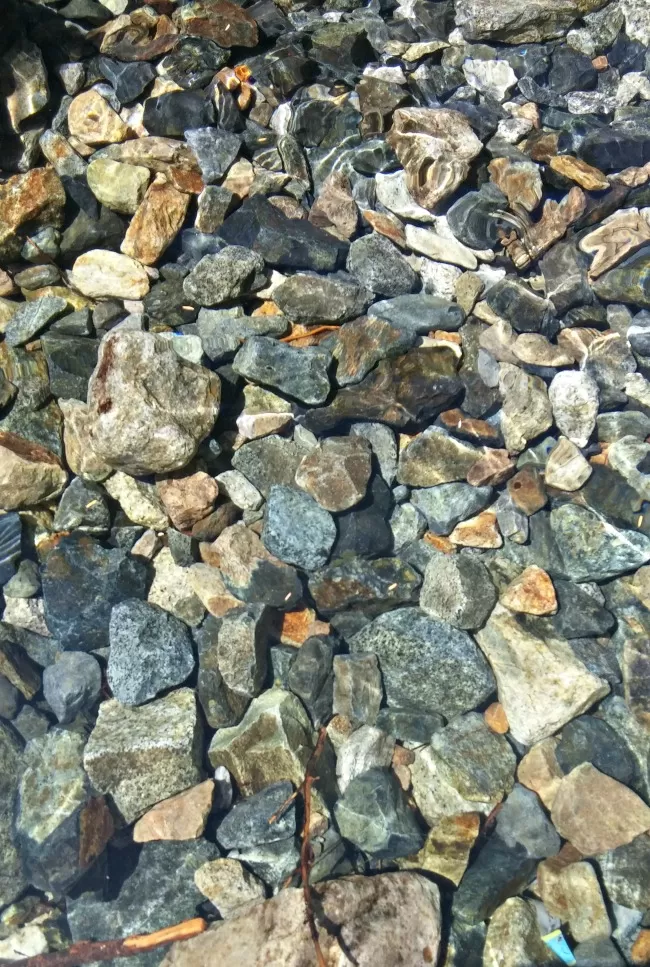 This is a picture of the river water. Its so clear it almost looks like I just took a picture of the rocks that are under the water!
The water was beautiful, but cold. Most of the kids found it refreshing, but the youngest kiddo we had with us found it too cold, and spent most of her time on the rocks. Looking for beautiful rocks was a real highlight for the kids too. They found ones that they thought looked like diamonds and from that minute on, they became diamond hunters for the day. I saw lots of kids playing with the rocks, so I think its more then just my kids who loved that aspect.
There are fun pools at the bottom of all these little water slides that are perfect for the kids to play in. They are not too deep (got about waist deep for some of the kids in the deepest areas), and again they are cold – but refreshing!
More water slide fun!
Pros:
I loved just about everything about this spot. I loved the ease of getting there. How it felt like we had traveled further out of the city then we really had. I loved the beauty of the location coupled with the fact that there was plenty of fun to be had for the kids. It was great to have the water play aspect at the end of the hike, to reward the kids and relax for the afternoon.
We will head back for certain, and next time I hope to do some camping and explore more of the trails.
Cons:
Parking was the biggest challenge for us. We got there around noon and there was not much left in terms of parking. We found one last spot remaining.
The only restrooms are at the beginning of the trail, so make sure the kids use the restroom before you head up. They smelled pretty bad (at least when we were there – my kids made a big deal out of it – so you may want to be sure your kids use the restroom before you leave home).
I have heard the trail can get muddy in the fall and spring (I have only visited in the summer, and the trails were great at that time). They did have crews working on the trails while we were there, trying to improve drainage for those seasons.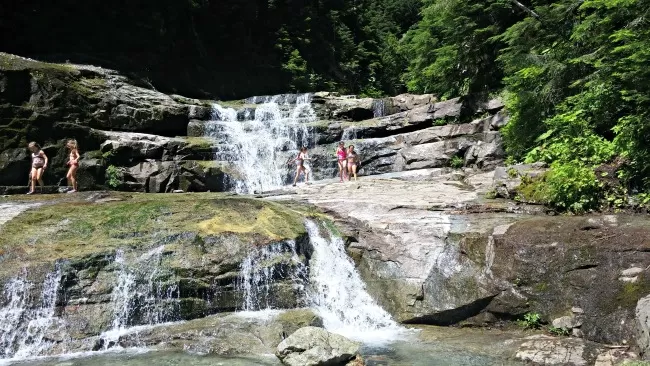 Tips:
Note that it does cost $5 to pay for parking, and you will need cash for that (you put it in a deposit box in an envelope).
Bring something to drink to stay hydrated.
Wear comfortable shoes for the hike. My kids wore shoes that they could walk in, but also were in the water as there are lots of rocks there.
We brought towels, but on a hot day you can easily dry off on the rocks. The kids did not like carrying them in, so I am not sure I would bother with a towel for each child next time (maybe just put one in my backpack they could share).
Want to do more than a day trip? Check out the Denny Creek campground. It would be a great base to explore more of the trails, and take more time to spend here (my kids were begging me to come back and camp here).
Have you visited Denny Creek? What are your favorite parks, or best tips?
More Hikes to Visit:
8 Waterfall Hikes around Seattle & Tacoma